Using texture in interior design – how professionals harness it to add depth and dimension to a room
Texture can determine how a room looks and feels, from warm and cozy to cool and contemporary...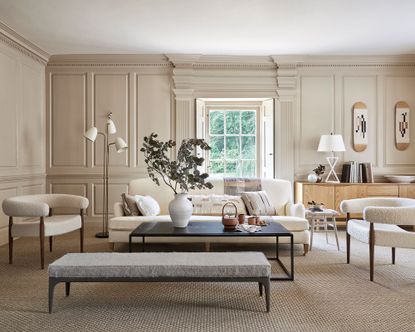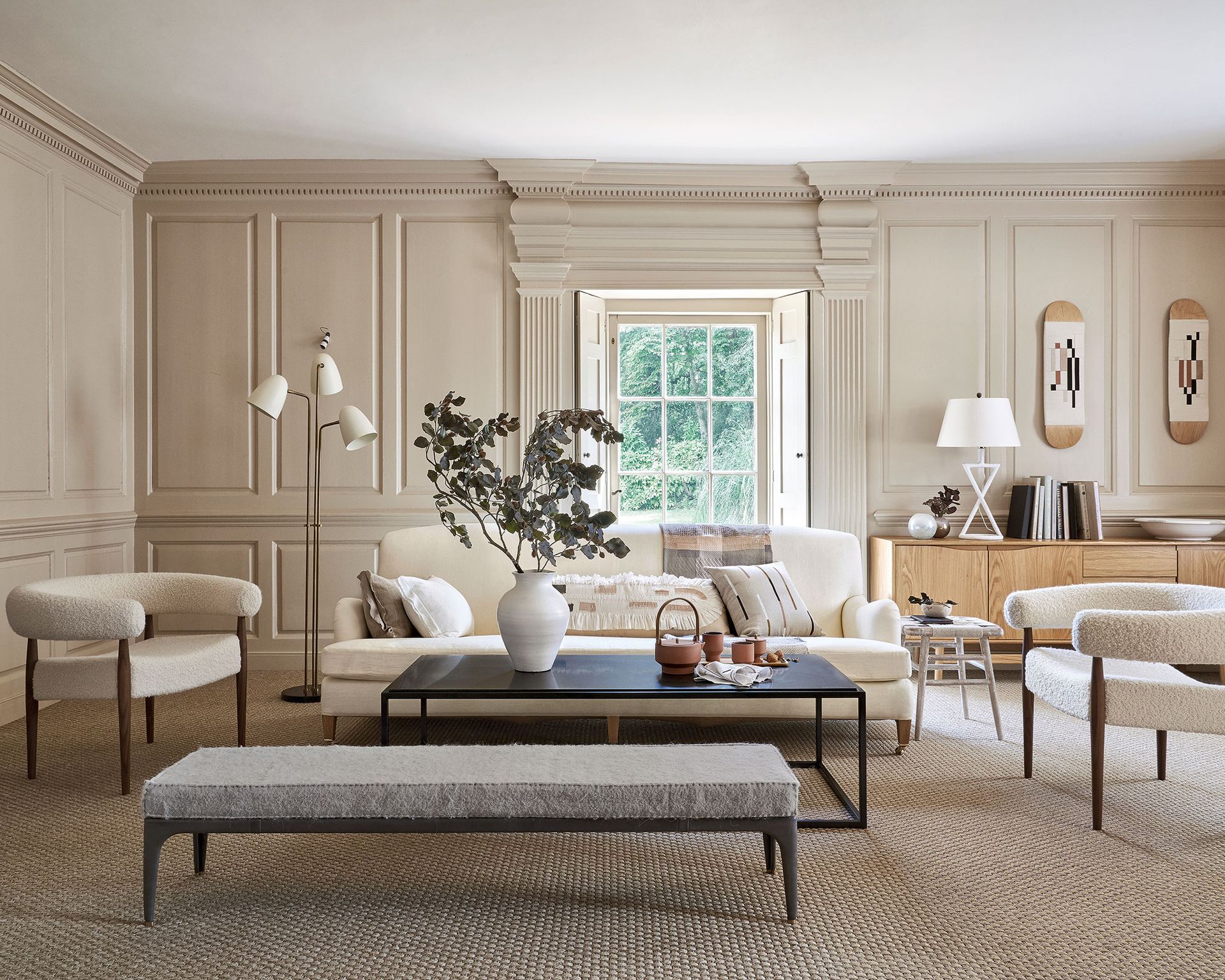 (Image credit: Future / Davide Lovatti)
Sign up to the Homes & Gardens newsletter
Decor Ideas. Project Inspiration. Expert Advice. Delivered to your inbox.
Thank you for signing up to Homes & Gardens. You will receive a verification email shortly.
There was a problem. Please refresh the page and try again.
Texture in interior design is vital, and is, quite literally, woven into the fabric of a designer's vocabulary and practice. Creating texture is not simply just about how decor and soft furnishings feel, but it's also about 'visual texture' – using different materials to add interest and breathe life into a room.
Quite simply, without texture, a space will fall flat. It's crucial to look at the room as a whole and bring an area together with mixed materials for vibrancy and warmth. It's a way of adding depth and dimension to a room as well as comfort.
See: Interior design tips – decorating secrets for the world's top experts
What is texture in interior design?
Interior designers use texture in the form of tactile objects like fabrics, wood and stone to add physical comfort and visual interest to a space. Mixing materials and layering is key to making textural elements work.
Tiffany Leigh, of Tiffany Leigh Design, explains: 'Texture in interior design is all about creating tactile moments that invite touch. It refers to the feel, appearance or consistency of a surface or material. Textures help to keep a space from feeling flat or one dimensional.'
Layering textures helps to add depth too. 'The layering of materials, colors and shapes all amount to give your interiors an overall texture which can define the look and feel of a space,' says Martin Waller, co-founder of Andrew Martin. 'Glossy surfaces like polished chrome, shiny marble and smooth leather all in tonal shades give a room a sleek, modern texture. For a more multi-layered look, tactile weaves like bouclé look amazing when layered against the luxurious feel of faux shagreen or rough-hewn timber to give a room some depth and sense of history. '
Martin adds that texture can be used to create accents, too, allowing certain objects to make a statement and stand out from others. He says: 'Alongside materials it's important to consider color too, a tonal palette consisting of a spectrum of tan and off-white can be greatly enhanced by the unique pairing of materials. Or, if you are using furniture in lots of organic materials use brightly colored cushions to bring areas of light and shade into the room and contribute to the overall texture of a room.'
How do you add texture in interior design?
Designers use texture to create a specific feel in a room. Rough and coarser textures like reclaimed wood or terracotta have more 'visual weight' and create a cozy, rustic aesthetic, while smooth or shiny textures, including metals like chrome, reflect more light and create a more contemporary finish. See below for how you can use texture to reflect the feel and visual impact you desire from room-to-room.
1. Use texture to add warmth to the living room
'There is nothing worse than a flat design,' says Camilla Clarke, Creative Director at Albion Nord.
Clarke continues: 'Try mixing different textures such as natural linens with soft velvets or robust leathers with thick wools. We use linen as the canvas of an interior. Its natural, soft and durable qualities make it the perfect material to upholster larger items in a living room such as sofas and curtains. It creates the perfect backdrop to layer on top of with color and pattern.'
Rugs are also an easy way to add texture, as well as color and print, to the room.
If you've opted for a sleek, dark room, you can use lighting as a form of texture to warm things up a little.
See: Living room ideas – clever ways to decorate living spaces
2. Inject texture into the kitchen with thoughtful accessories
'Adding texture to your kitchen can be easily done with the addition of some textile accessories, bringing softness to all those hard surfaces,' says Martin Waller. 'Cushions can be placed on bar stools and banquette seating to add comfort as well as create an inviting seating area.'
The above room designed by Sims Hilditch shows how you can mix materials to create a specific effect – in this case, modern country. Tongue and groove walls, rattan chairs, a wooden table and linen cushions are textures that all combine to create a modern rustic scene.
Adding a vintage-style or colorful rug to the kitchen area has also become an on-trend way to make things a little more cozy as well as stylish. Tiffany Leigh says: 'A vintage rug is a great way to add some rougher texture into a kitchen space.'
And we love these vibrant looks by Neptune (above) and deVOL (below), where the texture of the rug adds comfort under foot as well as a cozy factor.
Of course, you can also add personality and practicality with the use of different materials on your cabinets, countertops and backsplashes for textural interest. An expert at Life Kitchens says: 'Embracing a range of textures, colors and finishes can lead to striking results. Getting creative with mixed materials is easy and can have a transformative effect.'
Sleek, shiny finishes like stainless steel, quartz, marble and chrome will create a contemporary, glamorous look, while the use of timber on cabinets or countertops is more modern farmhouse. Life Kitchens adds: 'Consider timber as a practical built-in chopping board or butcher's block, or for lighter use areas like sideboards or breakfast bars – the addition of woodgrains adds a touch of interest and warmth to the kitchen.'
See: Kitchen ideas – decor and decorating ideas for all kitchens
3. Adopt textural elements for a welcoming bathroom
'Texture can make a sterile and functional bathroom into a vibrant and welcoming space,' says Barrie Cutchie, Design Director at BC Designs. It can easily be achieved through the use of natural materials and intricate details such as brassware finishing touches; there really are endless ways to give your bathroom depth and personality.
'Natural materials such as natural stones and wood are a great starting point when thinking about texture and are popular at the moment. Another way is through fluted finishes. We're seeing this on glass – windows and shower screens – but also on sanitaryware and baths (above). It raises the profile on flat surfaces and creates a ripple effect and when paired with colored ceramics, can create a striking focal point.'
Ben Adams, co-founder at Rust Collections, agrees that wood can bring in a refined rustic aesthetic, saying: 'Not only is reclaimed wood a sustainable choice, the grainy texture also brings a warm, organic touch to a room. Simply add a rustic timber stool next to your freestanding tub for a stylish addition that also works as a chic spot for your bath time essentials.'
Tiffany Leigh adds: 'Using natural bristle brushes can add a rough texture to the other smoother elements in the space. '
And don't forget the little things. George Miller, Home Designer at Neptune Fulham, says: 'Plants, books or ceramic accessories are a perfect addition where there are more smooth and hard surfaces to contrast, like your kitchen or bathroom.'
See: Bathroom ideas – stylish decor ideas for all bathrooms
4. Create a tranquil bedroom with earthy textures
The bedroom is meant to be a serene space that's also cosseting and cocooning. You can use texture to harness that chic yet tranquil feeling.
George Miller, Home Designer at Neptune, says: 'Whilst color and light have the potential to create texture in a room, more often than not we turn to materials to provide textural variation.
See: Bedroom ideas – designs and inspiration for beautiful bedrooms
'Materials such as jute, wool rugs and woven baskets are a great way to add texture, and, much akin to light needing shade, textures must be contrasted too. In the image above, our rattan Montague headboard, for example, juxtaposed with our Flax Blue or Burnt Sienna painted walls, would work perfectly when creating texture in the bedroom, and additional accessories like scatter cushions and throws create a more comfortable atmosphere.'
The addition of wood cladding or beams to walls or ceilings can also add interest and warmth, as can exposed stone bricks.
Sign up to the Homes & Gardens newsletter
Decor Ideas. Project Inspiration. Expert Advice. Delivered to your inbox.
Ruth Doherty is an experienced digital writer and editor specializing in interiors, travel and lifestyle. With 20 years of writing for national sites under her belt, she's worked for the likes of Livingetc.com, Standard, Ideal Home, Stylist and Marie Claire as well as Homes & Gardens.