How to plan bedroom lighting — pick the ideal combination for a soothing space
Learn how to plan bedroom lighting from scratch with these fail-safe tips from the experts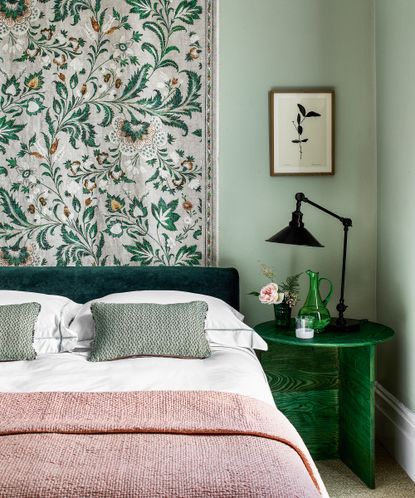 (Image credit: Future)
When you know how to plan bedroom lighting well, it can have a transformative effect on a space.
Choose the right mix of lighting and you can alter the function and feel of a bedroom, giving an area washed in bright light an instantly cozy, relaxed mood simply by the flick of a switch.
There's nowhere more worthy of a lighting makeover than a bedroom. As well as being a space in which we relax, unwind and rest each evening, we also need it to be well lit when getting ready each morning and this can be achieved with smart bedroom lighting ideas.
'When planning your bedroom, make sure that lighting is part of the plan from the very start as retrospective planning can sometimes lead to compromise,' advises Rohan Blacker, founder of lighting specialist, Pooky.
'The first thing to consider when planning your bedroom lighting is what you need on a practical level,' explains Niki Wright, founder of Lightsandlamps.com. 'The minimum number of lights in a bedroom is probably two: a ceiling light and a bedside lamp or pendant, but there really is no maximum.'
Discover below how to plan bedroom lighting successfully to ensure your room can easily switch from soothing to energizing.
1. Know your lighting types before you plan bedroom lighting
'Layering your lighting is the key to creating the perfect balance of warmth, cosiness and function in your home,' continues Pooky founder, Rohan Blacker. 'This is particularly important when thinking about bedroom ideas as you will need a combination of task and ambient lighting solutions for relaxation, reading or getting dressed.'
There are three main lighting types that you should be aware of and should be incorporated into your design. These are ambient lighting (or general), task and accent lighting.
Ambient lighting
Ambient or general light is the main light, usually via a pendant or ceiling light, that a room receives. It's perfect when you're doing general tasks, from getting ready in the morning when it's still dark outside and choosing your outfits for the day or just looking for something in your room.
More functional than mood setting, it's a must in any space, even though you may not use it that often.
'Different bedroom ceiling light ideas provide an opportunity to be more creative,' says Rohan from Pooky. 'Choose a colorful or ornate piece to provide a focal point in the room, or for the more adventurous, a chandelier is a great addition to a bedroom to create a sense of grandeur.'
If your ceilings aren't very high, or you or your partner are quite tall, you can either look to installing a pendant above the bed to ensure you don't walk into it or install recessed ceiling lights for a comprehensive wash of bright light.
'Consider hanging pendants over each bedside table for an interesting alternative to a table lamp or wall light,' Rohan adds.
Task lighting
Used to highlight an area for a specific 'task', like reading, this type of lighting is always found by the bedside and often, depending on the size of your room, elsewhere in the room where you need some well-defined light.
'Dressing tables, wardrobes and reading nooks are areas where more focused task lighting is required,' suggests Peter Bowles, founder and MD of Original BTC.
Top expert bedroom lighting tips include using angled lights and table lamps for bedsides, while wall lights, floor lamps and mirror lights are a good choice for the rest of your space.
'Keep bulbs shaded with material as opposed to with glass,' suggests Pooky's Rohan, 'unless you want to use the light source for reading. If you're a book lover, directional wall lights are far more effective than wall or table lamps with lampshades, but they are far less equipped to create warm, ambient light. Consider whether you have room to install both.'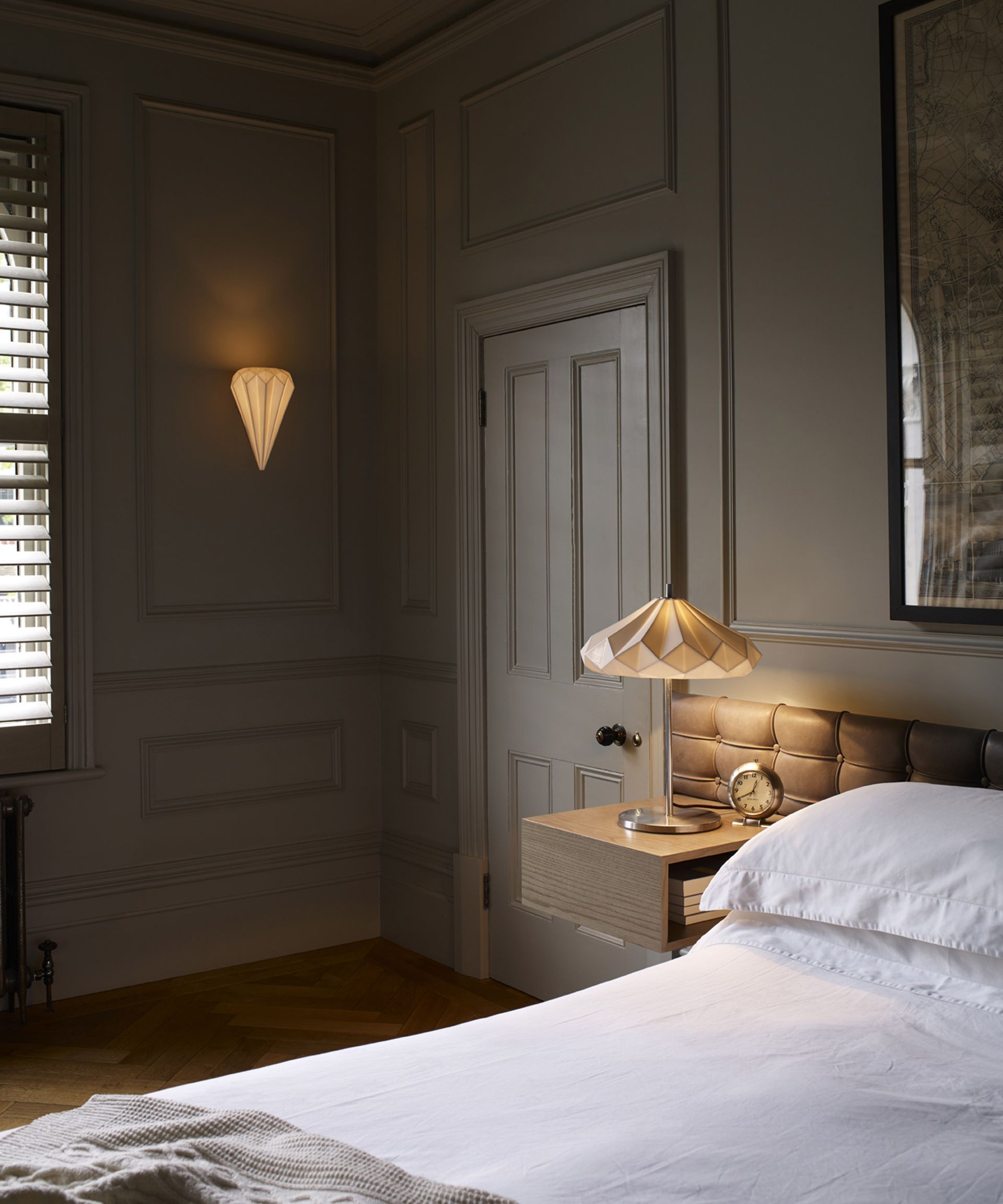 Accent lighting
Pretty self explanatory, the job of accent lighting in a scheme is to highlight certain areas in a space. Picture lighting and bedroom wall lights provide you with an alternative to using your main ambient light, when you need to brighten your bedroom.
2. Consider the placement of light switches carefully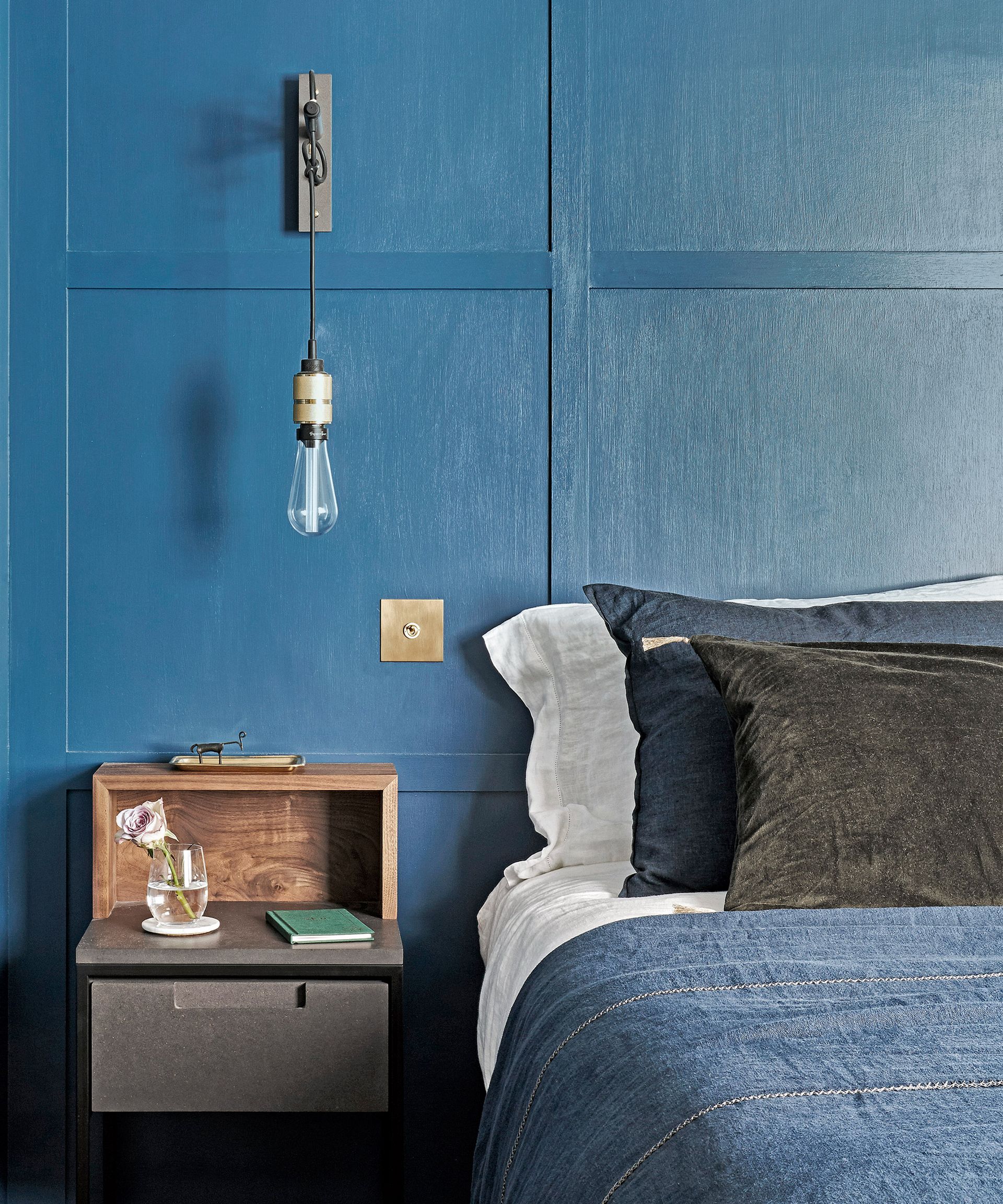 'First and foremost, the bedroom is for relaxation, so using lighting with dimmers is ideal for mood lighting and creating the perfect ambience,' says Niki Wright.
If you want to install dimmer switches for full control on your lighting, you'll need to check the lamps and bulbs before you buy, as some may not support dimmers.
The placement of light switches, too, can also help with convenience. 'Position switches near the doorway, as well as by the bed, so you don't have to get up to turn them off and return to bed in darkness,' suggests Peter from Original BTC.
3. Think creatively
Just because a light is a functional item, doesn't mean you can't be creative in your choices. The combined form and function of a lamp can combine beautifully to give out a wonderful glow. Take a look at the latest lighting trends for a steer on what styles are popular and decide from there.
Rohan agrees. 'Think about what feel you're after in the bedroom - pretty and feminine, warm and cosy, something with a more opulent flavour - then utilise your lighting scheme so that it will help you create that feeling.'
Fabric shades
Depending on the weight and colour of fabric used, these can give out a beautifully diffused light and are an excellent choice if you want to create a softer glow.
A great alternative to a bedside task light, a table lamp with a fabric shade will bathe your bedside in a soft glow.
'Whatever the fitting, bedrooms are the perfect room in the house to experiment with shades, using brighter bedroom colour ideas or patterns to add accent tones to scheme, perhaps to match a throw or a scatter cushion,' says Rohan from Pooky.
'Whether it be bold in colour, in pattern or a bit of both - we have seen an uplift in sales of our brighter, more vibrant shade varieties. Maybe customers are pairing with more neutral pared back interior schemes, or perhaps just finding the confidence to go for a more adventurous design,' he says.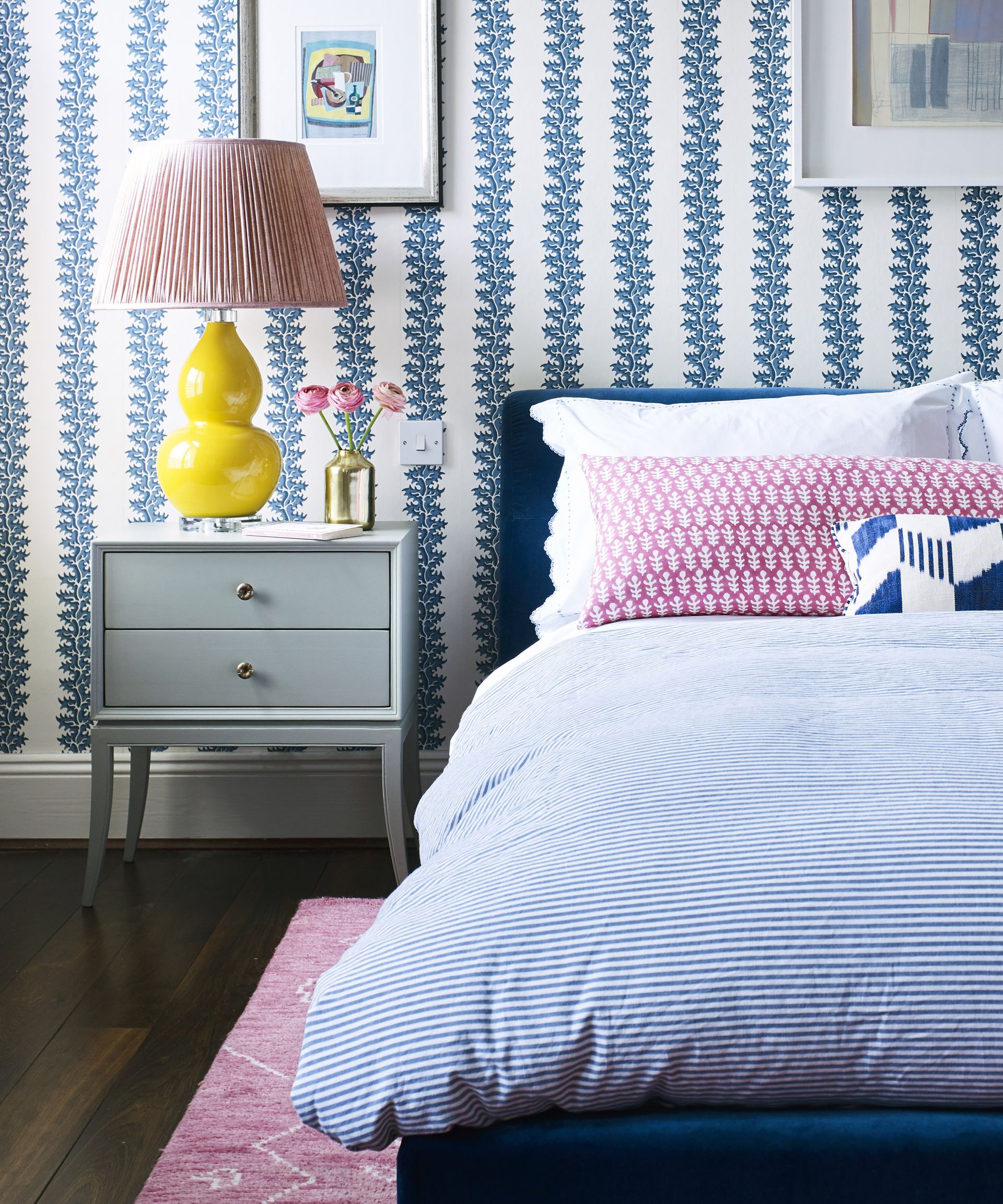 Space savers
If you don't have room for a bedside table or would rather a clutter-free space, consider wall lights or small pendants as an alternative for small bedrooms.
'Think creatively - floor lights with adjustable arms or even a pair of low-hanging pendants can make dramatic bedside lights,' advises Peter.
'Consider different types of light fitting, not just the light they provide,' suggests Peter. 'Wall-mounted lights are great space-savers in small, low-ceilinged rooms and are ideal for creating a clean, boutique hotel look.'
Simple form
If you'd rather your lighting take a back seat in your decor, there are plenty of options to choose from to make this work. Recessed lighting is ideal for ceilings, as well as inside cupboards and wardrobes, casting light only where and when you need it.
Choose lamps with a simple, unobtrusive design to blend in, rather than dominate, the decor.
4. Introduce smart lighting
Smart lighting systems, like Philips Hue, Lifx and WiZ can give you complete access to your lights via your smartphone.
'Smart lighting systems can be complicated, but if done right, they can really help to create the right atmosphere in the room at a touch of a button,' says Niki, 'and there is no better place for such a system than in the bedroom.'
You can set timers to have your lights switch on automatically in the evenings, as well as programming them to act as a SAD lamp, turning on each morning with a light that slowly goes from dim to bright, helping you wake naturally.
What lighting is best for bedrooms?
'Bedrooms are practical as well as relaxation spaces, so you'll need to plan your lighting accordingly,' says Peter from Original BTC.
The aim, he advises, is to 'create a layered scheme that will work at any time of day and across the seasons - cozy in winter, light and airy in summer.'
Every bedroom should have ambient and task lighting, no matter how small it is. A bright overall light and a separate focused light for reading are both essential.
Larger rooms should include accent lighting too, and if possible, install dimmer switches on all lights. If it's too late to install dimmers, invest in smart bulbs. They too will give you full control over how brightly (and dimly) you want your lights to shine.
How many lights do I need in a bedroom?
Lightbulbs are now measured in lumens. Roughly speaking, this represents the light that each one gives out. The higher the lumen, the brighter the light. A traditional 40W bulb gives off 400 lumens, while a 60W bulb around 700 lumens.
Generally speaking, a bedroom needs between 10 and 20 lumens per square foot of space so if you multiply your square footage by 10, 15 or 20 (depending on how bright you want it), you'll get the exact amount of light that the space needs. You can then divide this across a number of lightbulbs in light sources throughout the space.
Bear in mind that unlike kitchen and bathroom lighting ideas that need to be bright, bedroom lighting is mostly used at night so they tend to look their best when lit with low light. Even though you have a layered scheme that covers ambient, task and accent lighting, you'll rarely use all three types at once. It's far more likely that you'll light the space using just task and accent lighting.
How bright should a ceiling light be?
As ceiling or pendants provide ambient light, they need to cast a bright light over the entire room when switched on to fill in the gaps that any focused task lighting or accent lighting may not reach.
Usually ceiling or pendant lights should be decorative when switched off and practical light sources when on.
There's much debate on whether to choose cool white or warm white bulbs for your lights. Cool light can feel quite harsh in a bedroom, with warm white feeling a far more organic choice for a sleeping space. It's really a personal choice so if you're not sure, install a smart bulb as they will give you the choice of both tones.
Sign up to the Homes & Gardens newsletter
Decor Ideas. Project Inspiration. Expert Advice. Delivered to your inbox.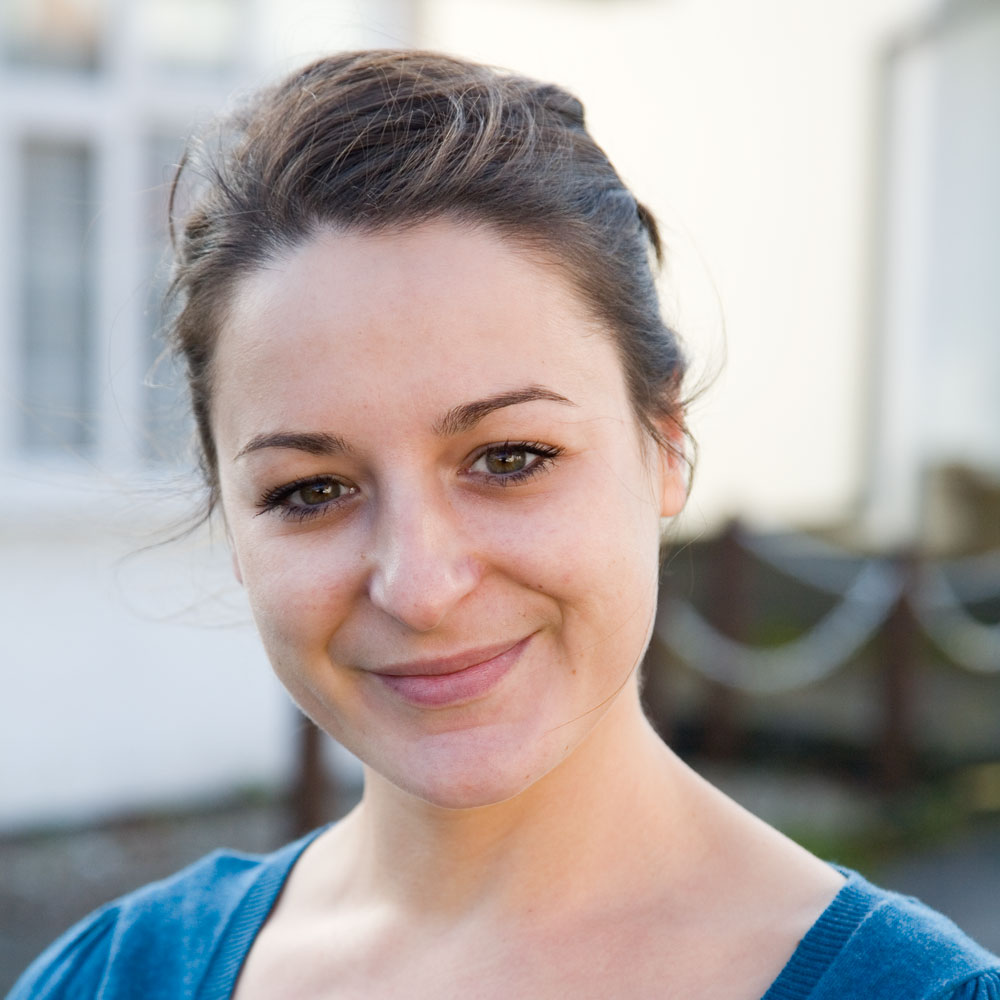 Ginevra Benedetti is Associate Editor on the Homes Content Team at Future. She has been writing about interiors for the past 16 years on the majority of Britain's monthly interiors titles, such as Ideal Home, Country Homes & Interiors and Style at Home, as well as Livingetc and of course, Homes & Gardens. This naturally lead her into writing for websites like HomesandGardens.com.