Living room bookshelf ideas – 10 stylish ways with living room bookshelves
Our living room bookshelf ideas will bring order to your space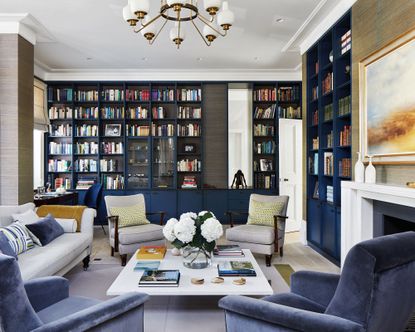 (Image credit: Future)
Books bring color and character to any room, but finding ways to store and stylishly showcase a large collection of books can be a challenge. While living room bookshelf ideas need to be aesthetically-pleasing above all, they also need to accommodate room size, architectural details and volume of books too.
When considering bookshelf ideas the options available depend on budget and whether the bookshelf is to be a permanent fixture or a freestanding bookcase that can be moved should it be necessary. Incorporating a bespoke built-in living room bookshelf is an investment that will need more consideration and planning, but it can make a handsome and practical addition to any family living room.
Living room bookshelf ideas
Living room bookshelf ideas aren't just about storage – living room shelving ideas are about giving a space soul, too. 'A room without books is like a body without a soul' goes the oft-repeated phrase. And it's true that books and home library ideas can be a wonderful feature that will enrich any space.
'You can spend an immense amount of time, money and effort on creating a beautifully designed space, with stunning furniture, lighting and accessories,' says interior designer Suzy Hoodless, 'but it's not until books are added that it becomes a home. For me, books are essential to completing a project and giving it character.'
1. Opt for bespoke built-ins
In many living room ideas, alcove areas on either side of a fireplace provide the perfect location and opportunity to incorporate a set of built-in living room bookshelves floor to ceiling. Alcoves are often awkwardly-shaped and a non-standard size that rules out off-the-peg pieces, so designing a home library space that is tailored to suit the dimensions is the perfect solution. And with living room shelves and walls painted a standout color, the whole area can become a fabulous focal point.
'I like painted shelves and I often paint the inside and outside of a bookcase or the back and side walls around it, in different colors,' says interior designer Charlotte Crosland. 'If the shelves aren't completely filled, it's nice to see the contrasting color behind. Shelves in natural wood or timber stained to a rich color, or even stone can look good.'
2. Frame a doorway with shelves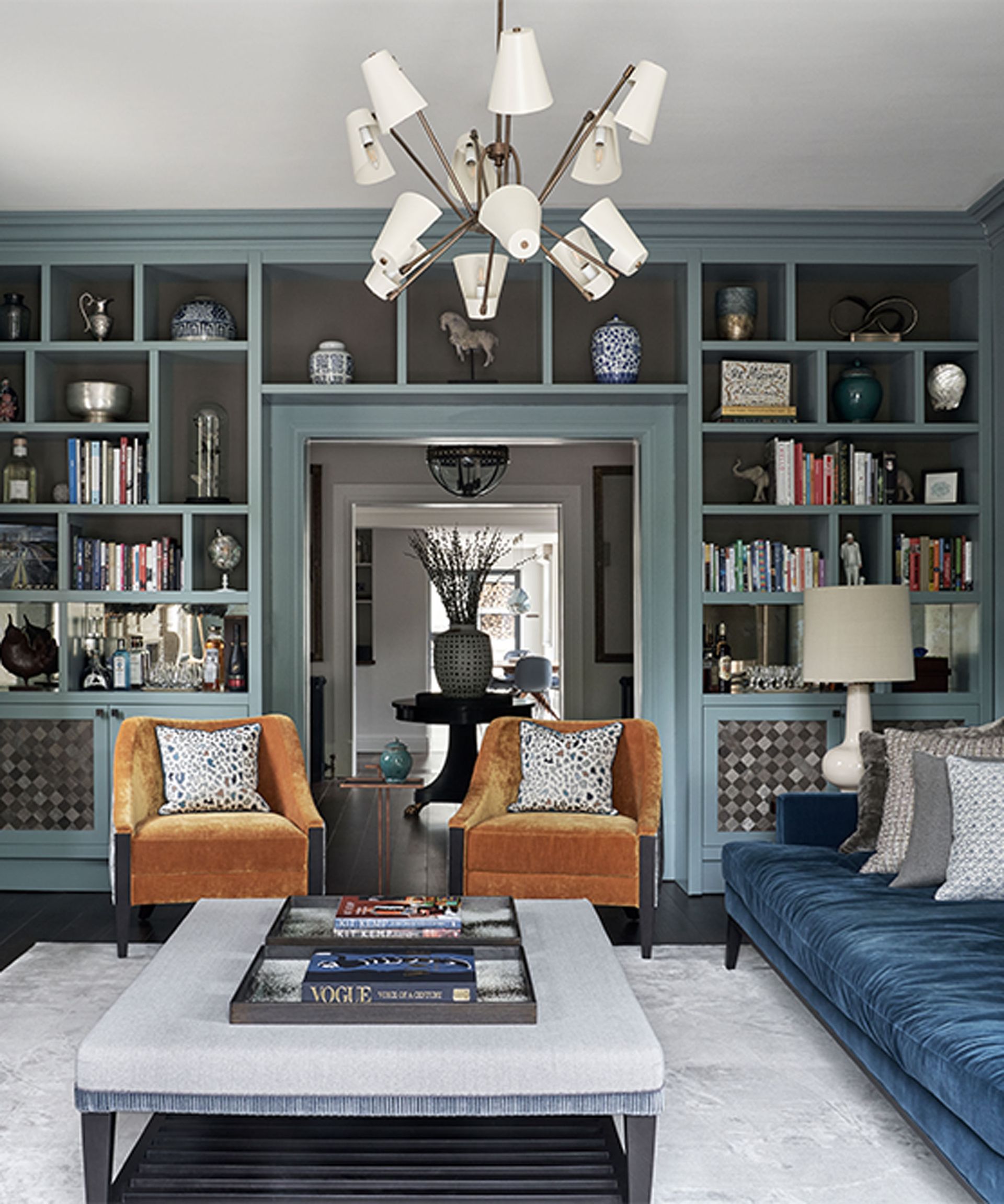 When thinking about living room storage, it's not always the most obvious spot that makes the best location for book storage ideas. Instead of focusing on prime areas, such as a chimney breast wall or the area behind a couch, it's worth considering if there are any overlooked areas that can be called into action.
Using the area above and around a doorway for bookshelves and built-in cabinet ideas for family rooms is a brilliant way of utilizing dead wall space that might otherwise be wasted. Floor-to-ceiling shelves that wrap-around a doorway, help to bring symmetry and focus to what would otherwise be just a thoroughfare and can look stunning when painted a bold shade that contrasts with the living room.
3. Create continuity with sleek built-in shelving
The appeal of built-in living room bookshelves is that they can be designed to accommodate the style and proportions of the space as well as being tailored to suit specific storage needs. Shelf size can be arranged and adapted, whether its shelves full of oversized art books that's required or smaller-scale cubbies for paperbacks and novels.
And while boldly painted shelves can make a fabulous focal point feature, using calmer colors and soft neutral shades for paintwork is a clever way of making shelves blend seamlessly into a living room or creating continuity in through-lounges and double reception rooms.
'I often find that in houses with a double reception room, the back hall ends up looking rather empty and gloomy. Lining the walls with shelves of books, including over the door, gives the space a purpose and makes a fabulous place to sit and read,' says Charlotte Crosland.
4. Consider storage in unexpected places
A bay window space with comfy seating makes the prime location for reading nook ideas, so it's worth factoring in extra book storage if there's space available. Framing a bay window with built-in living room bookcases utilizes sections of wall space that might otherwise be wasted and will give slimline storage for a few extra tomes.
Painting walls, woodwork and architrave in a co-ordinating color throughout creates a cohesive look so that walls and furniture blend in, whether it's a bold, standout shade like this, or a more muted, understated hue.
'Books can look great in a living room, they add interest and color, convey personality and take dominance away from the television,' says Simon Tcherniak, Senior Designer at Neville Johnson. 'A big advantage of getting a bespoke living room bookcase installed is that the size of the shelves can suit the collection on display. It's a good idea to organize books according to size or even color, to make the feature appear more striking.'
5. Make a bookcase the focal point
Whether built-in book shelves or an off-the-peg piece, how to style a bookcase can often be a conundrum. The trick should always be to make books and bookshelves an elegant addition to a room, rather than them becoming a distraction.
'Start with key books and build around them,' says Suzy Hoodless. 'Try to develop a rhythm, so you might have lots of big books spread out across the shelves, punctuated with smaller ones in between. It's not an exact science, but then I don't like things to look too perfect.'
'I often store books in a mix of vertical and horizontal stacks, with an object on top of the horizontal piles to create interest – rather like an open cabinet of curiosities and precious memories.'
6. Paint shelves to complement wall color
Color choice is a key consideration when it comes to built-in living room bookshelf ideas. Painting shelves to match wall color can help give the space a more cohesive, intimate feel with walls and shelves blending in as one. While going darker with your bookcase color will make books pop against the dark background and is a wonderful way of showing off a treasured collection of reads.
Alternatively, painting shelves a contrast color can create a more impactful look that will make bookcases stand out against walls. Or compromise by painting just the back panels of bookcases a bold shade that will add just a pop of color without overwhelming the space.
7. Conceal a secret door in a bookcase
Living room bookshelves that disguise a secret door leading to a hidden passageway are the ultimate in mystery. But aside from the fun factor, incorporating a door into a bookcase design is a clever way of concealing a smaller adjoining space or creating an uninterrupted run of shelving if a doorway is awkwardly positioned.
Turning a door into a bookcase will require expert carpentry – with heavy-duty hinges and a sliding mechanism – and you'll also need to decide whether this section will be a narrower fake shelf with faux books, or a full sized run of shelving.
8. Go semi-bespoke for a sleek look
As an alternative to bespoke built-in living room bookshelves, modular storage offers a less-pricey option that is far more flexible than standard freestanding bookcases. Modular bookshelves come in a variety of sizes, with different widths, depths and heights, making it possible to create a more tailored arrangement that will suit the shape and size of living room space available. And far from choice being limited, many different designs are available from wood finishes and colors to pre-primed options ready for painting, to give a more individual semi-bespoke effect.
'While living room bookshelves provide excellent storage, they can also transform the look and feel of a room,' says Sue Jones, Co-Founder and Creative Director of OKA. 'I designed our Ashmolean range after struggling to find the perfect bookshelves for my own home library. I wanted them to be really simple and timeless, so they would suit both modern and traditional homes. Combining tall and narrow versions can turn a dark corner into a cozy reading nook. I love using mine to display my favorite ornaments too; it really adds character to a space.'
9. Make it your own with a mix of media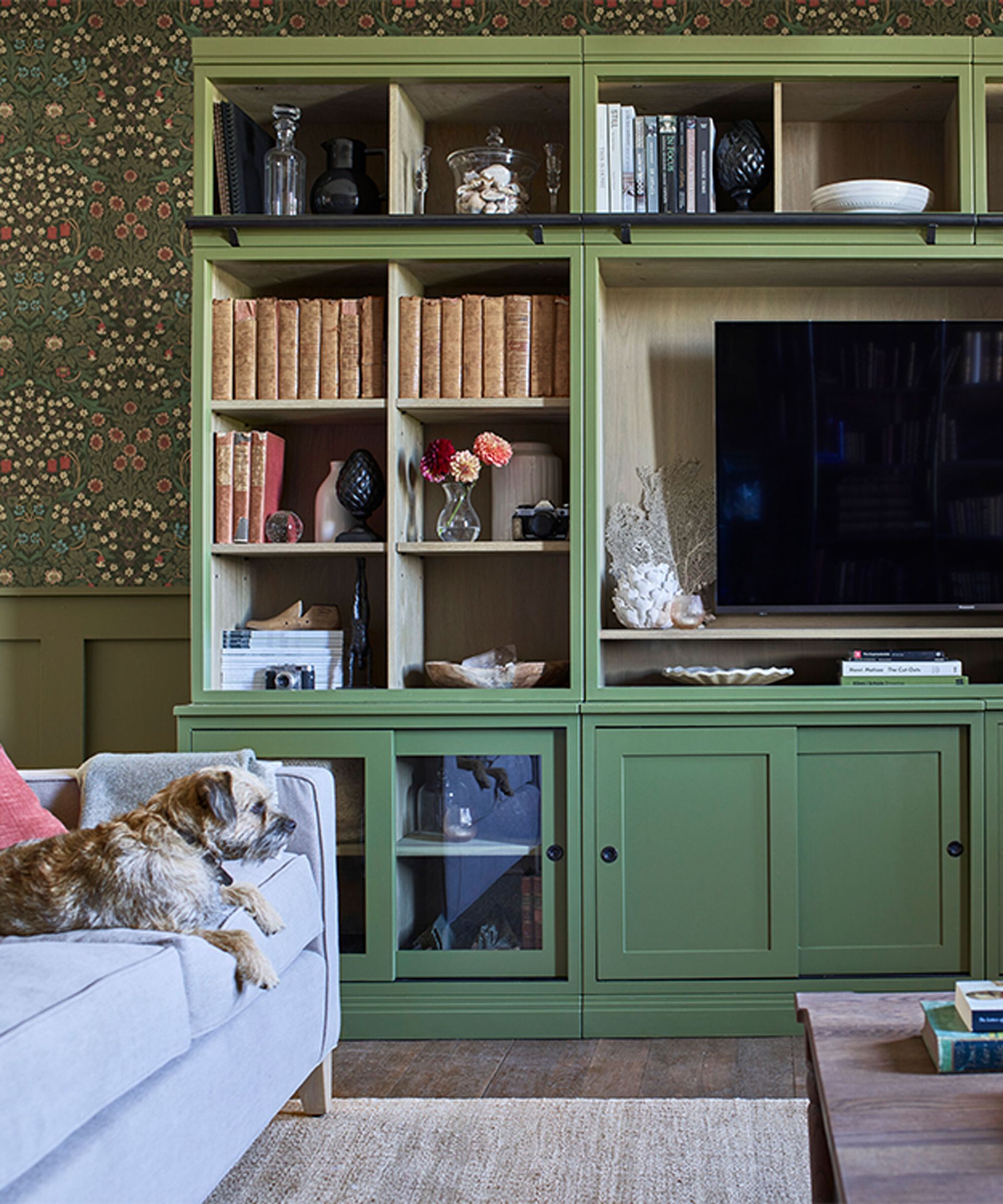 While a separate home library may be the dream, the reality is often a lack of living room space which means a compromise is necessary. A storage unit with a combination of living room bookshelves and media storage can make the perfect solution if living room space is tight, with room for books, TV, media kit and equipment.
Combining different-sized sections offers a 'make-it-your-own' style option that can be used to create a whole wall of media and book storage. While an added benefit of modular furniture is that pieces can be added (or taken away) further down the line for greater flexibility.
10. Try a freestanding bookcase
If built-in storage isn't an option, a freestanding living room bookcase offers a flexible solution. It can be moved to a different spot if the living room layout is re-jigged at a later date or the bookcase can be taken with you should a future house move occur.
Measure up and double-check the space available before buying, including height, width and depth, which is key if it's to fit a particular spot and you don't want the bookcase to protrude into the room too much. A design with adjustable shelves is a must, so that shelves can be arranged to suit book height. Tall bookshelves will also need to be anchored to the wall so that there's no danger of them toppling over. A stabilizing strap will often be included with an off-the-peg bookcase.
How do you organize shelves in a living room?
Just as with bedroom bookshelf ideas, it's all aesthetics when organizing shelves in a living room.
'Needless to say, most bookcases will hold more than a book or two, but the ways of displaying them are plentiful,' says Meaghan Hunter, in-house stylist at Neptune. 'There's the color-coded look, there's the painted-spine idea that gives all of your tomes all the same tone, and there's the ordered-by-genre and ordered-by-size approach.
'By allowing books to amass freely – red books next to yellow, leather-bound aside canvas-covered, paperback neighboring weighty hardbacks – you create a bank of texture that closely mirrors the nostalgic stacks seen on childhood library visits. Let some lean while others stand strong, mix brand new releases with salvaged stories whose pages have turned yellow-tinged. It's the perfect antidote to the untouchable feel that curated book displays can cause.'
What can I put on my shelves in my living room?
'If your bookcase is filled to the rafters, consider editing it down to focus purely on one objective,' adds Meaghan Hunter. 'Mix in the odd antique accessory – such as gilded frame oils, apothecary-esque bottles and jars, plus bell jars encasing novels withered, weathered and treasured – to break up the books and to heighten the feeling of warmth and familiarity you'll have already given rise to.'
Prefer to abide by books? Set it out as being a showcase for classic coffee table literature – your big books, your style-conscious reads, your judge-a-book-by-its-cover sorts. Stack them so that the spines are easily read, and if one cover is especially appealing, let it be by itself with nothing to distract from it.'
Sign up to the Homes & Gardens newsletter
Decor Ideas. Project Inspiration. Expert Advice. Delivered to your inbox.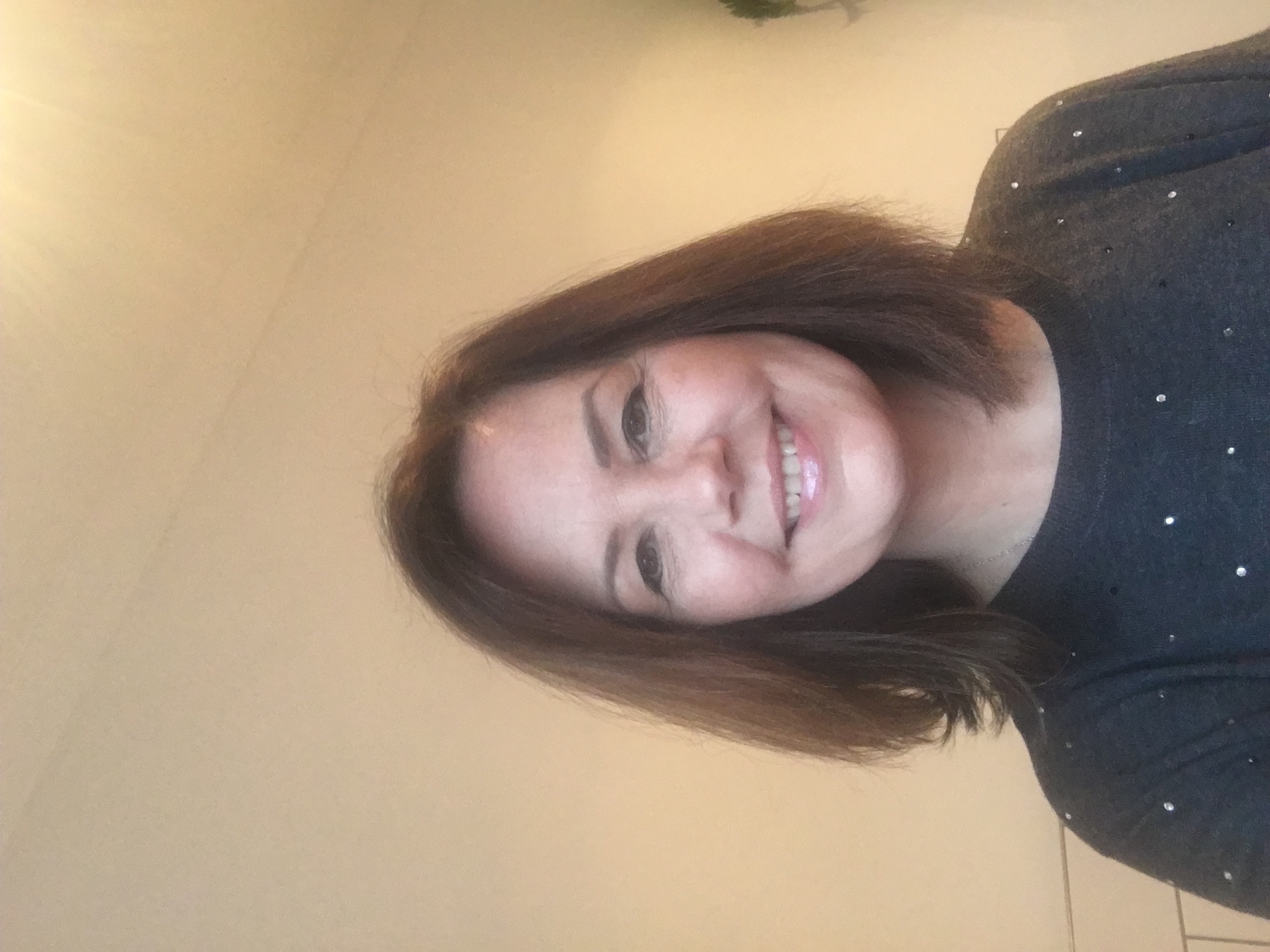 Lisa is a freelance journalist who has written about interiors for more than 25 years and has worked on all the major homes titles, primarily Ideal Home, but also including Homes & Gardens, Country Homes & Interiors, Style at Home, Livingetc, Woman & Home, Easy Gardens and Good Homes magazines. Lisa writes about interior design and decor ideas for Homes & Gardens.