How to style a bookcase – the 10 rules our decorating editors never break
Learn how to style a bookcase to display your tomes like a professional interior decorator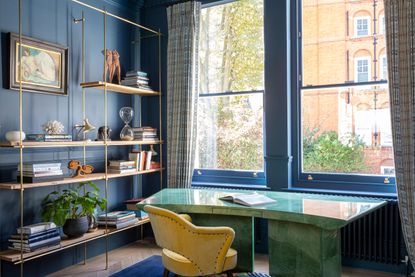 (Image credit: Kitesgrove)
Learning how to style a bookcase so it becomes an elegant part of a room rather than a distraction is vital to a successful scheme. So whether you are a book hoarder, are obsessed with stunning coffee table books or love a paperback novel, you can find out how to artfully display them from our experts, below.
It may be that you are searching for bookshelf ideas to elevate your collection of tomes at the same time – the material, layout and shape of these can be integral to your display, too. And don't forget your favorite keepsakes – style a bookshelf so it holds memories, too.
How to style a bookcase
Whether you are considering reading nook ideas, grander home library ideas or simply looking for book storage ideas that are as beautifully curated as the rest of your room, these rules for how to style a bookshelf will help you achieve your aim.
Note: these are not tips for organizing bookshelves; rather they are aesthetic – so, for example, if you love color then you can feature your most bright and cheery books to display, or, if you like the more natural look then consider turning your books around so you don't see the spines.
1. Leave space for display alongside books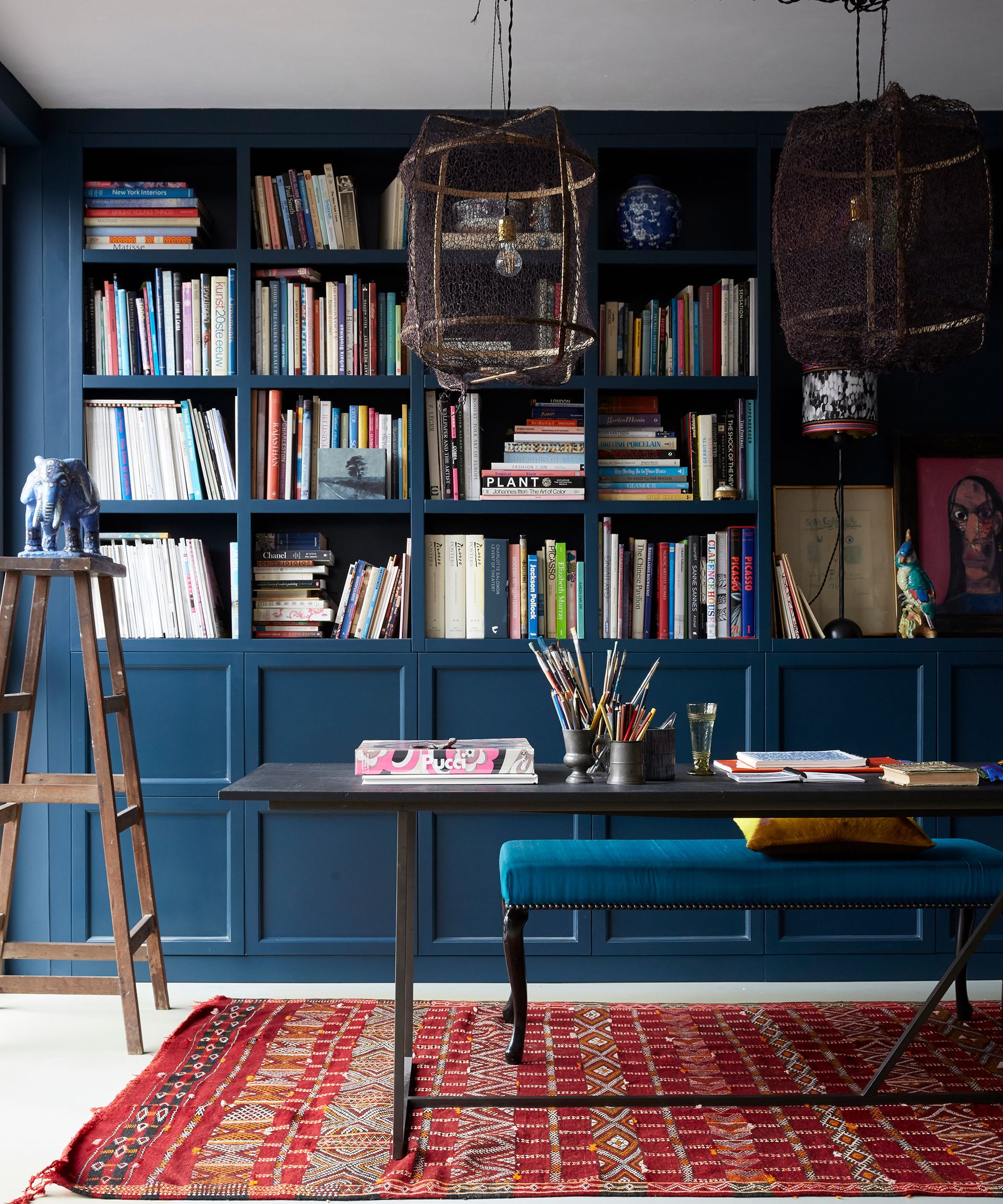 'If you are designing a home library, bear in mind that over-styling bookcases can be an issue. Books are usually beloved – not props, so don't worry too much about having a few books too many that need to be piled sideways. However, if you do this, ensure that some areas of the bookshelves are kept book-free and devoted to the display of a few key pieces that reflect the style of your space,' says Homes & Gardens' decorating editor Emma Thomas.
2. Work niches into your bookshelf design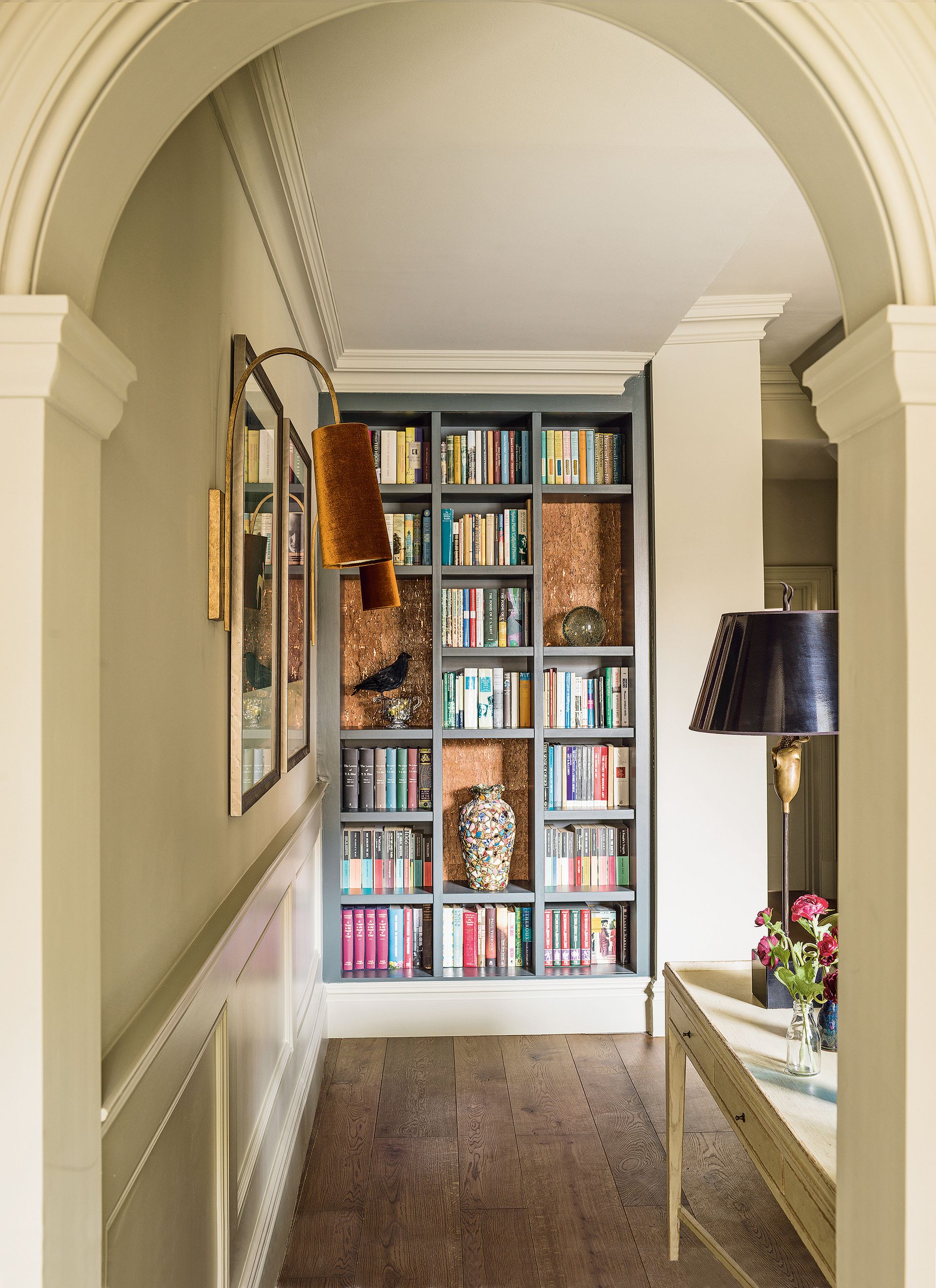 If you are designing bookshelves from scratch, it's worth structuring their layout with how you will style the bookcase in mind. This works particularly well in a space where the bookshelf is the most interesting element and perhaps even the focal point, such as at the end of a hallway, but is also one of those characterful home office ideas that is worth including in your home study. Here, the bookcase has larger, longer niches in which the owner can display artworks, set off by a contrasting metallic background color.
3. Display books stacked in piles
'You can style a bookshelf by grouping your coffee table books together in piles – odd numbers always work best visually,' says Homes & Gardens' digital editor Jennifer Ebert. 'If you do this, do leave some space around each pile so that they look deliberate and neat rather than accidental and messy. You could theme them depending on subject matter or team similar colors together, but try to keep to one pile of books and no more than two ornaments per shelf to retain a spacious and styled look.'
4. Display books by 'weight'
'To create a balanced look when styling a bookcase, it is always best to put the biggest tomes lower down, and the smaller reads on the top,' says Lucy Searle, Homes & Gardens' Editor in Chief. 'And look for organic shaped vases to contrast against the vertical lines of the bookshelf.'
5. Apply color scheme rules to bookshelves, too
Living room bookshelf ideas don't need to be the focal point of your space, in fact, they can act as a neutral background to the rest of your scheme. If you're a collector of classics then they won't have brightly colored spines anyway and you can remove those with colorful jackets to reveal a neutral spine underneath more often than not.
6. Display your vinyl on bookshelves, too
Vinyl records also look great on bookshelves and popping in some singles amongst the albums varies the heights perfectly. If you do have a key color in your scheme like the tangerine pieces shown here, add in a few pieces in the same color to tie in – a tangerine pot or vase or show off your Penguin classics that mostly have similar colored spines.
7. Style a bookcase with 'less is more' in mind
A common bookshelf styling mistake is to jam all of your books and ornaments together – as many as can fit on each shelf. The old adage 'less is more' is key here, and if you have a beautiful color painted behind your bookcase then you want to see it, right?
8. Showcase accessories alongside books
We asked Ben Stokes, founder and interior designer at KAGU Interiors why styling bookcases with more than just books is key to a happy scheme:
'The styling possibilities for a bookcase are endless, they can offer much more than just a place to store your books. Shelves are the perfect platform to showcase favorite decorative items and styling them can be an art in itself.
'Create balance by introducing trailing house plants, placing them up high, while adding in smaller succulents lower down. Finish the look with a set of statement bookends, displaying a curated collection of books and don't forget – using a freestanding piece to divide an open plan area works well, it helps to zone the space while still making the room feel connected.'
9. Display books imaginatively
Variety is the spice of life, yes? You don't need to store your books horizontally – in fact, a mixture of the two makes for a much more interesting and stylish bookshelf. And we don't mean tightly bunched together either – a couple of books gently leaning in on each other adds a more relaxed feel than a regimented look and it varies the heights. Horizontal books can have an ornament placed on them – a scented candle or a bud vase for example.
10. Showcase your bookshelf styling with color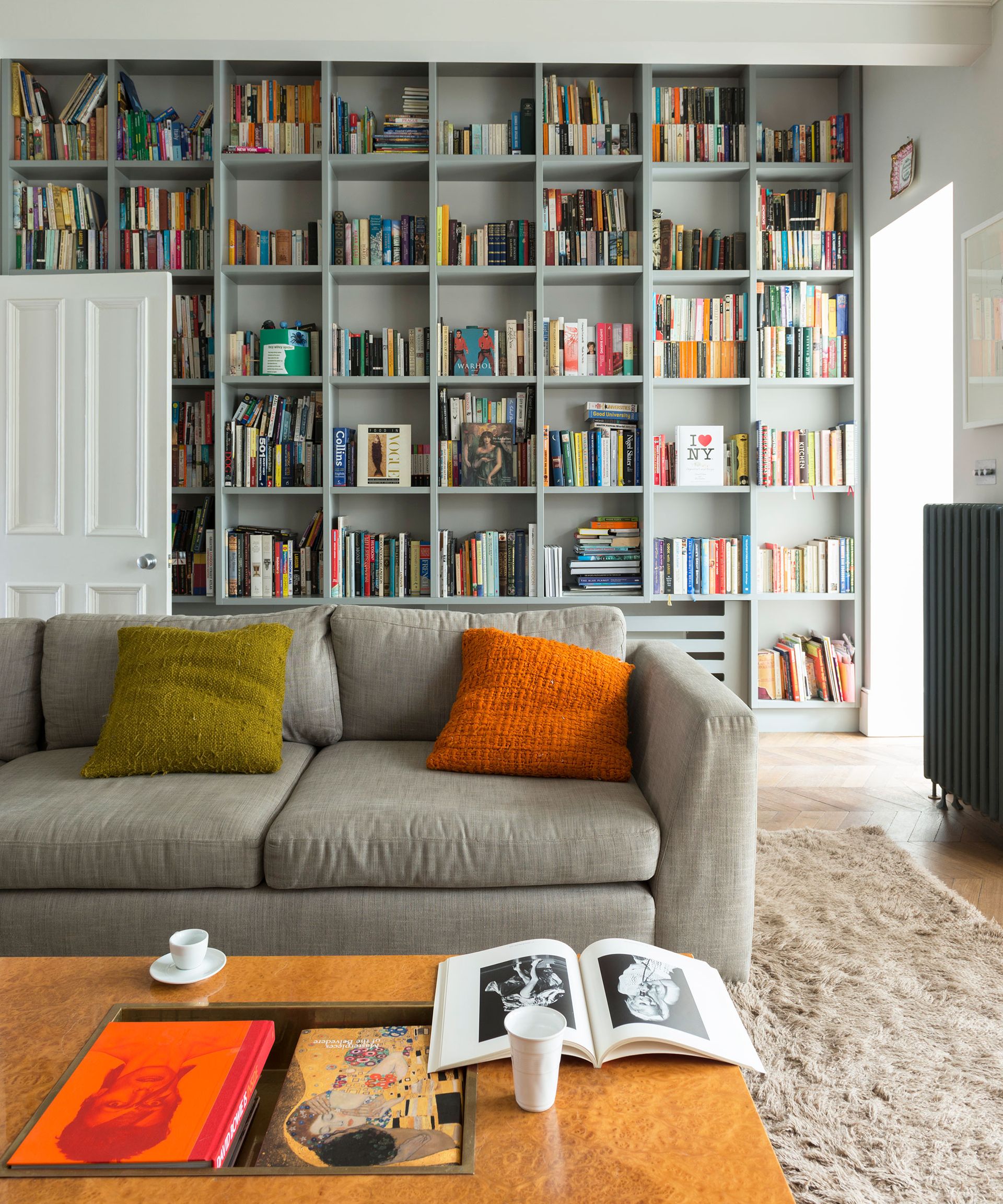 'You can use your color scheme to create interest and draw attention to your bookcase styling. Simply display colorful books against a dark background color so that they stand out,' says Homes & Gardens' deputy editor Jo Bailey.
How do you make a bookshelf look nice?
To make a bookshelf look nice you can use a number of techniques: first declutter the bookcase so that it isn't over-stuffed. Arrange the bookcase so that the largest, heaviest books are at the bottom; the smaller books at the top. Stack books on their sides, some on their ends, leaving space around them to create a neat display. Leave room for accessories to be displayed alongside your books, too. Display books by the colors of the spines, and paint the back of the bookcase a darker color, too, so that your bookcase styling is highlighted. These techniques are particularly important when looking for living room and bedroom bookshelf ideas, since both will create a chaotic feel if disordered, but will restore interest, character and texture if well-ordered.
How do you stage a bookcase like a pro?
To start staging a bookcase from scratch, the pros tend to empty it entirely then create groups of items that they want to go on the shelves by size or purpose. Larger items – whether books, storage baskets or even pieces of art will go on the lower shelves, with visually lighter and smaller items being placed higher up. It is worth alternating the displays so that accessories sit above and below a row of books, rather than having books above books and accessories above accessories. This will create pace in your bookcase staging.
Sign up to the Homes & Gardens newsletter
Decor Ideas. Project Inspiration. Expert Advice. Delivered to your inbox.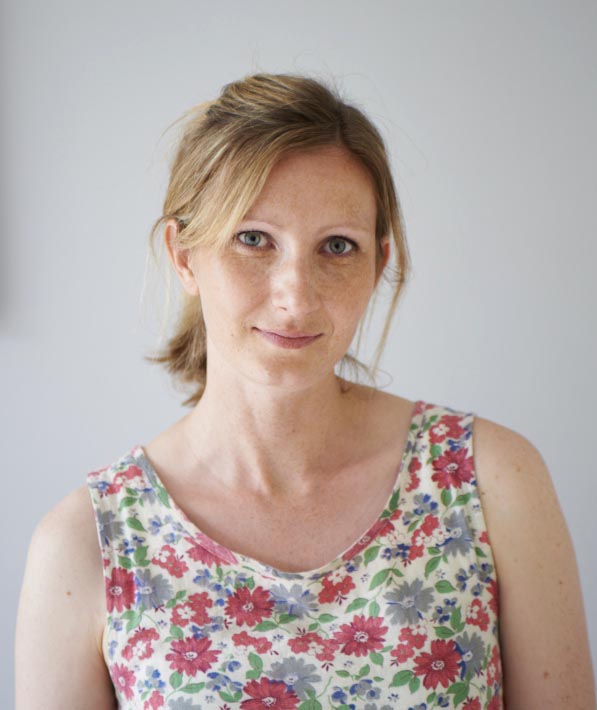 Sophie has been an interior stylist and journalist for over 20 years and has worked for many of the main interior magazines during that time, both in-house and as a freelancer. On the side, as well as being the News Editor for indie magazine, 91, she trained to be a florist in 2019 and launched The Prettiest Posy where she curates beautiful flowers for modern weddings and events. For H&G, she writes features about interior design – and is known for having an eye for a beautiful room.