Designing a home library – advice from an interiors expert
Emma Sims Hilditch explains the three things she always does when designing a home library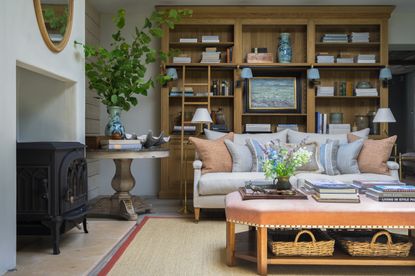 (Image credit: Sims Hilditch)
Designing a home library needn't mean having a dedicated room. In fact, it can be easily incorporated into an existing space. A home library's design, however, does infer that it's grander than just book storage – more of a dominant but beautiful element amongst your bookshelf ideas, that makes for a perfect corner in which to unwind with a book.
'Undeniably, many of us are immersed in technology throughout the working day. As such, there is something luxurious about escaping to a cosy nook with a comfortable chair and a good book.
'Home library ideas offer a relaxing escape from the daily grind, an oasis of calm amid the humdrum of a busy routine. We have installed many a library in the homes of our clients – and this is what we always advise,' says Emma Sims Hilditch of design studio Sims Hilditch.
Designing a home library
Choosing a quiet location – a space you can shut yourself away in – ensuring good natural or artificial light, and, of course, furnishing the room with plentiful book shelves and comfortable seating are all givens when designing a home library.
However, real insight comes from design experts in the field – with Emma Sims Hilditch a leading light. Here, she explains the elements that she includes in her library designs, from grand spaces to more intimate reading nook ideas.
1. Incorporate a library within an existing room
Book storage ideas are often best when limited to one room, even if that space isn't a dedicated home library.
'Why not consider installing a library within the bounds of another room? This is a great way to save space in your home. We incorporated a library into the south-facing study of our Grade I Regency Townhouse project in Bath (above).
'The natural light that floods the space makes it ideal for both working and reading for pleasure, and its dual purpose creates an environment conducive to regular breaks from work in a less formal setting.
'Plenty of comfortable armchairs close to the bookshelves are the perfect way to finish this versatile space, creating a welcoming haven for our client. With more people working from home, we find this a great way to balance work with leisure time throughout the day.'
2. Maximize unused spaces
'When most people picture a library, they see row upon row of books standing in columns from floor to ceiling. At Sims Hilditch we consider each home individually, thinking outside the box to create bespoke solutions which work well for our clients,' says Emma.
The library in Emma's Wiltshire home is a great example of this. 'We installed a bespoke library overhanging the open-plan sitting room and kitchen, filling what would otherwise have been a blank wall with an eye-catching feature which conceals the master bedroom on the first floor. Why not consult a local carpenter on how you might replicate something similar in your own home, thinking about how you might best use the space?'
3. Incorporate color
'Although a home library should be a relaxing and welcoming space, that's not to say you can't be bold with color. Make your space full of personality and character by selecting your favourite shade and painting the bookshelves in this color.
Expanding on how to style a bookcase, Emma says:
'A smoky or deep blue is a bold choice, which works well for smaller spaces, creating a lovely, cocooned feel. Make this pop by using lighter colored furniture and furnishings, or using a light colored flooring. This may seem fairly simple, but it is a very effective way to personalize this space, making it somewhere inviting to spend time.'
How do I plan a home library?
To plan a home library, these are the steps you need to take:
Have an overview of your book collection – this will help you ensure not only enough shelves, but shelving of the right depth. Typically, larger, deeper books will go on lower shelves; smaller ones above.
Have a book filing system – this might mean filing by author names alphabetically or by subject, stacking shelves so that favorite tomes you regularly return to are on hand or that they are sorted by who in the household reads which books.
Leave space on book shelves for display – break up the books with objets you love to allow the room to breathe a little. This is more important in smaller rooms where seeing the back of the shelves will create a greater feeling of space.
Where should a home library be placed?
Where a home library should be placed really depends on a number of factors. Do you like to look at your book collection or have it hidden away? If it's in a room you use regularly, this might mean living room shelving ideas that sit on show in alcoves either side of a fireplace, for example, or hidden on the wall of the door to the room where it will only be visible once you're in the room. If you are dedicating a whole room to a home library, the best option is to choose a room that's quiet, has a door you can close, and space for comfortable seating. Ideally, it will have a window that overlooks a garden, too.
Founded in 2009, the Sims Hilditch design practice has become one of the most trusted and respected in the industry. Its couture approach combines interior architecture, interior design and procurement management within one concept-to-completion, fully bespoke service. Creative Founder, Emma Sims-Hilditch is passionate about her belief that good design can transform not only how people live but also how they feel.