Home office ideas – 55 rooms that are smart, practical and stylish
Create inspiring yet functional spaces with these home office ideas, whether you're designing a dedicated room or carving out an office nook

(Image credit: Future)
The key to home office ideas is balancing practicality with style.
Ample storage, an ergonomic desk and chair, plus plenty of task lighting are all key considerations, but, being places in which we will spend lots of time, it's also essential that they are uplifting spaces we enjoy being in.
Introducing color, pattern, wall decor and statement furniture are all brilliant ways to bring personality to the space.
Now that more working from home is the norm for many in the post-pandemic world, having a dedicated room for a home office, or even a separate garden office, is becoming increasingly popular as a way to maintain a work-life balance.
However, for those that don't have the space for a dedicated room there are many ways to incorporate a workspace into your living room. Or perhaps your home office setup is in the corner of a kitchen? To help get you inspired we've rounded up a host of practical and beautiful schemes along with some tips from the experts.
Home office ideas
Home office ideas aren't limited to a dedicated space. With a carefully considered layout, it's possible to turn a guest room into a dual-purpose space that can accommodate overnight visitors and also work as an office, too. The key to this partnership and organizing a home office of any kind is built-in storage, which conceals clutter and work-related papers, keeping the room ordered.
Whatever your situation, these home offices ideas will suit all decor styles and spaces both small and large.
1. Add a statement wallpaper
Unlike the communal office, home offices are a space where you can really stamp your personality and a bold wallpaper is a brilliant way to add life and style. Using wall-to-wall office wall decor ideas can be too dominating; for something that's easier to live with, try it on a feature wall, or on a room divide used to separate a desk area from a storage area as done here.
'A wallpaper frieze reminiscent of mid-century abstract expressionism creates a giant artwork used as a room divider. Furniture is big, lighting sculptural and walls are in a deep neutral for a cosseting sense of drama,' says Emma Thomas, decorating editor at Homes & Gardens.
2. Create a nook in a living room corner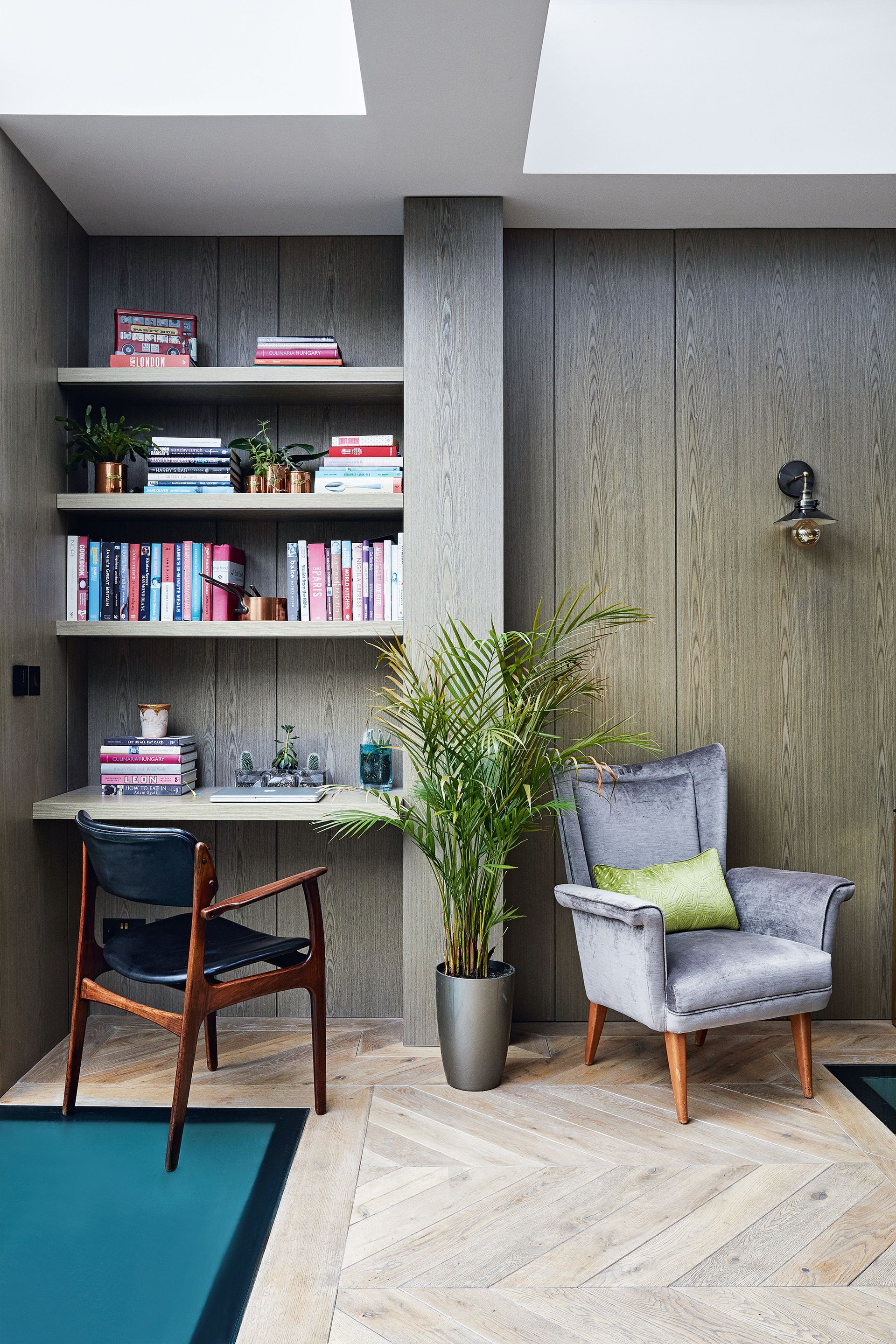 Now that so many people are working from home it can be challenging carving out a small nook to treat as your home office. Adding a partition to a living room is an easy way to create a small home office nook. To maximise the feeling of space, and to keep the room feeling airy, consider fitting a floating desk and shelves.
In this space the desk and shelves are made in the same wood as the living room paneling to give a streamlined and spacious look. A tall house plant also helps to screen-off the area, while also bringing an uplifting pop off green and softness to the room.
3. Use paint to zone an office area
If your office is connected to your living space then paint is a quick and easy way to 'zone' the space. Dark colors can work particularly well in small spaces such as home offices, helping to create a cocooning atmosphere to aid concentration.
'A good way to introduce a dark shade in your home is by painting just a section of a wall to create a zone within a room. This could work very well in modern properties with an open plan living space. It's perfect for a home office corner, a reading nook or a dining area. And by painting just a smaller section of the room you can go really brave or dark with your chosen colour,' says Justyna Korczynska, senior designer at Crown.
'Charcoal can really give a room a feeling of luxury and sophistication and works surprisingly well in a small area to give it some grandeur.'
4. Choose a hideaway office
For those homeworkers that don't have a separate room for a home office, the kitchen or living room often doubles as a workspace which can be a challenge for balancing work and home life.
Closet office ideas can be fitted into a versatile piece of furniture that combines ample storage with a slide-away desk, such as this Chester hideaway home office from Cotswold Co. It is also a great way to close the door on work at the end of the day so that you can switch off, plus will help conceal the clutter, too.
5. Opt for a multifunctional desk
For those that don't have a dedicated room for a home office think about flexible desk options suggests Simon Temprell, interior design manager at Neptune.
'Not everyone has a spare room that they can convert. Sometimes it can be as simple as a dining table with a storage basket nearby to keep all the paperwork hidden away,' he says. 'Our Heatherley dining table has a desk organizer that sits comfortably on top for the storage of paper, pens etc. It can be removed so that the table can perform for evening meals.'
'This kind of adaptability is important and there are many desks now that fold away to become consoles or dressing tables,' adds Simon.
'Small, rectangular tables are the most versatile as they can easily be pushed into a corner or under the stairs.'
6. Bring sophistication with a black and white scheme
If you're looking to create a luxurious and sophisticated home office for him, consider decorating with black and white and combining furniture with strong angles and streamlined shapes.
'We wanted this office to have a stately, masculine feel and the dark built-in office storage gave that sense of confidence and strength while also being very sophisticated,' says interior designer Corine Maggio of CM Natural Designs.
'The client needed a large surface area but, with the heavy built-in, we wanted the desk to have a lightness to it. We also wanted something modern and fresh since the owner is on the young side. This desk checked all those boxes which still allowing for some storage and the gorgeous, sculptural brass leg details are proportional to the desk but light enough to elegantly help tie in the other brass elements and help give this relatively small space some breathing room.
7. Don't forget the window treatments
Window treatments can easily be overlooked when it comes to decorating but they can help transform the look and feel of a home office. A fabric blind will help control light levels as well as obscure glaring midday sun making for a more calming working environment, but also offers the chance to experiment with playful fabric choices. With its jolly abstract design this Roman blind in Lucy's India fabric from Hare's Tail Printing brings an uplifting pop of pattern.
8. Think about lighting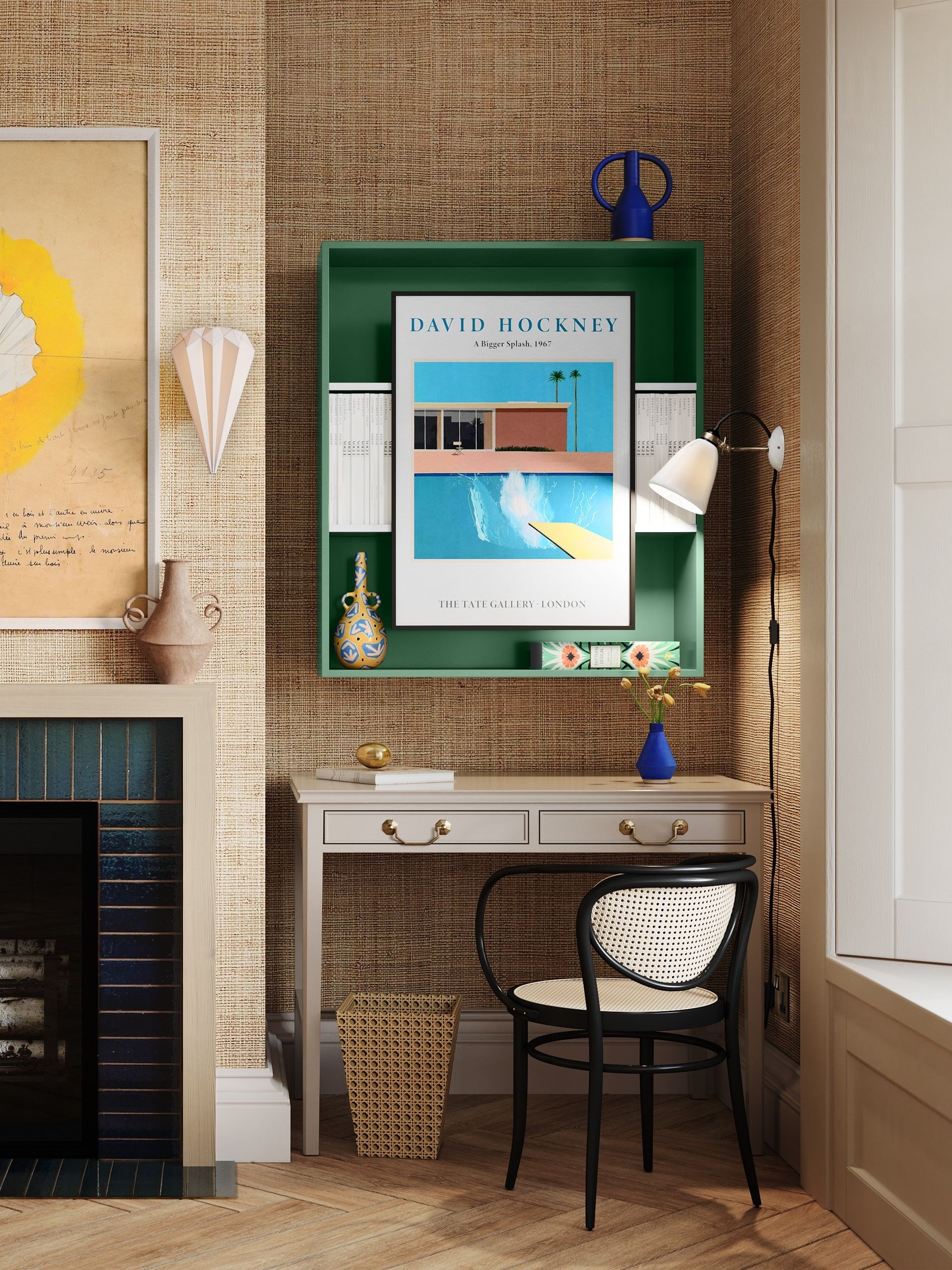 It goes without saying that lighting is essential for a home office. 'If you're working from home, a good desk light can lift the spirits and increase productivity,' says Peter Bowles, founder of Original BTC. 'Simple and refined, our lights sit comfortably on all manner of desks, from impromptu working-from-home corners to traditional studies.'
If you are creating a workspace in a living room it's particularly important to consider additional task lighting for that area, too.
'Lighting is an effective way to zone your living space, defining areas for different activities and making every corner count. A perfectly positioned wall light, overreach floor light or clip light can provide an immediate solution to illuminate targeted areas for the performance of specific tasks or activities. A bone china shade will create a soft welcoming environment you're eager to spend time in,' he adds, which is important when your home office is positioned in a room also used for relaxation.
9. Bring character with antiques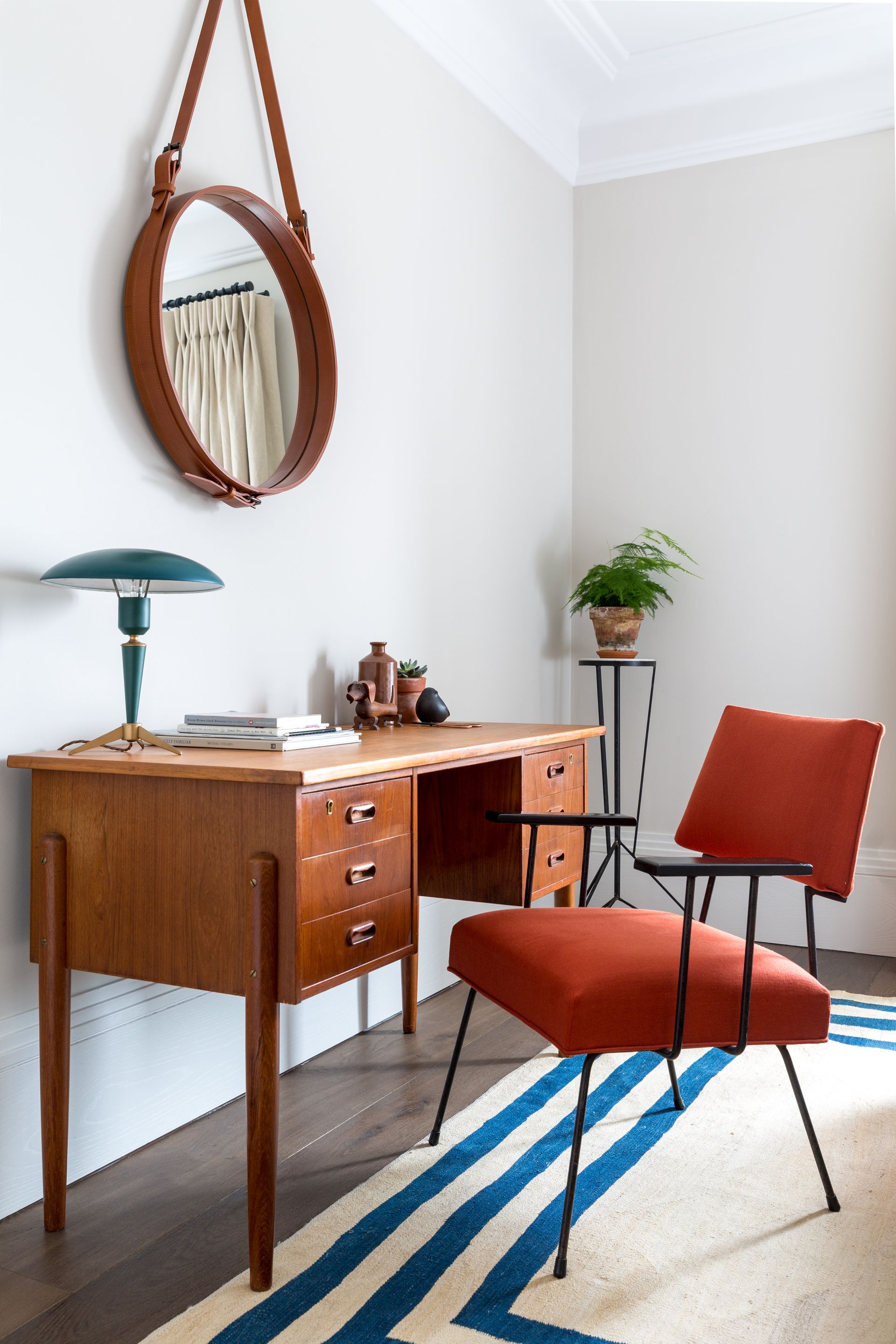 Decorating with antiques can be a great way to bring character and unique style to a home office, particularly if you want to keep the walls white or wall-to-wall bookshelves prevent you from hanging artwork.
'When styling antique pieces, it is important to respect the architecture of the house you are decorating, some houses are well suited to lots of antiques whilst others will benefit from a mixture of vintage and modern,' says Clara Ewart, head of design at Kitesgrove.
'Here an antique desk with brass handles is elegantly paired with a modern upholstered chair sitting on an art deco style rug, creating a smart home office space.'
10. Bring the outdoors in
As well as being calming and orderly, it's important that home offices are inspiring and uplifting spaces to be in order to stay focused and motivated. 'A great way to achieve this is by using colors and textures that help you recall the natural world whilst you're clacking away,' says Sue Jones, creative director at Oka.
'Green makes a soothing wall color, and try to incorporate organic materials anywhere you can – rattan furniture is a favourite of mine.' To brighten-up the space decorate with art and objects and artwork that you love to be around. 'And, most importantly, have plenty of light. If you can't put your desk next to a big window, you had better have a really great lamp.'
11. Introduce pattern to inspire a happy work space
Introduce a whimsical pattern into a home office scheme without overpowering the room by using colors from the same tonal scale throughout. In this home office, American interior decorator Brooke Crewe balances a mix of indigo on the Persian-inspired wallcovering and curtain fabric with a pale blue home office paint colors on the joinery and day bed.
Rather than opting for a blank canvas on the walls, add to the creative inspiration by way of patterned wallpaper. 'We are embracing combining a wide range of materials to create an uber luxe and inspirational workspace,' says Martin Waller, founder of design brand Andrew Martin. 'From tactile faux shagreen and deep pile velvet, to sleek chrome and hammered iron there's an abundant wealth of textures to choose from.'
12. Add art to your home office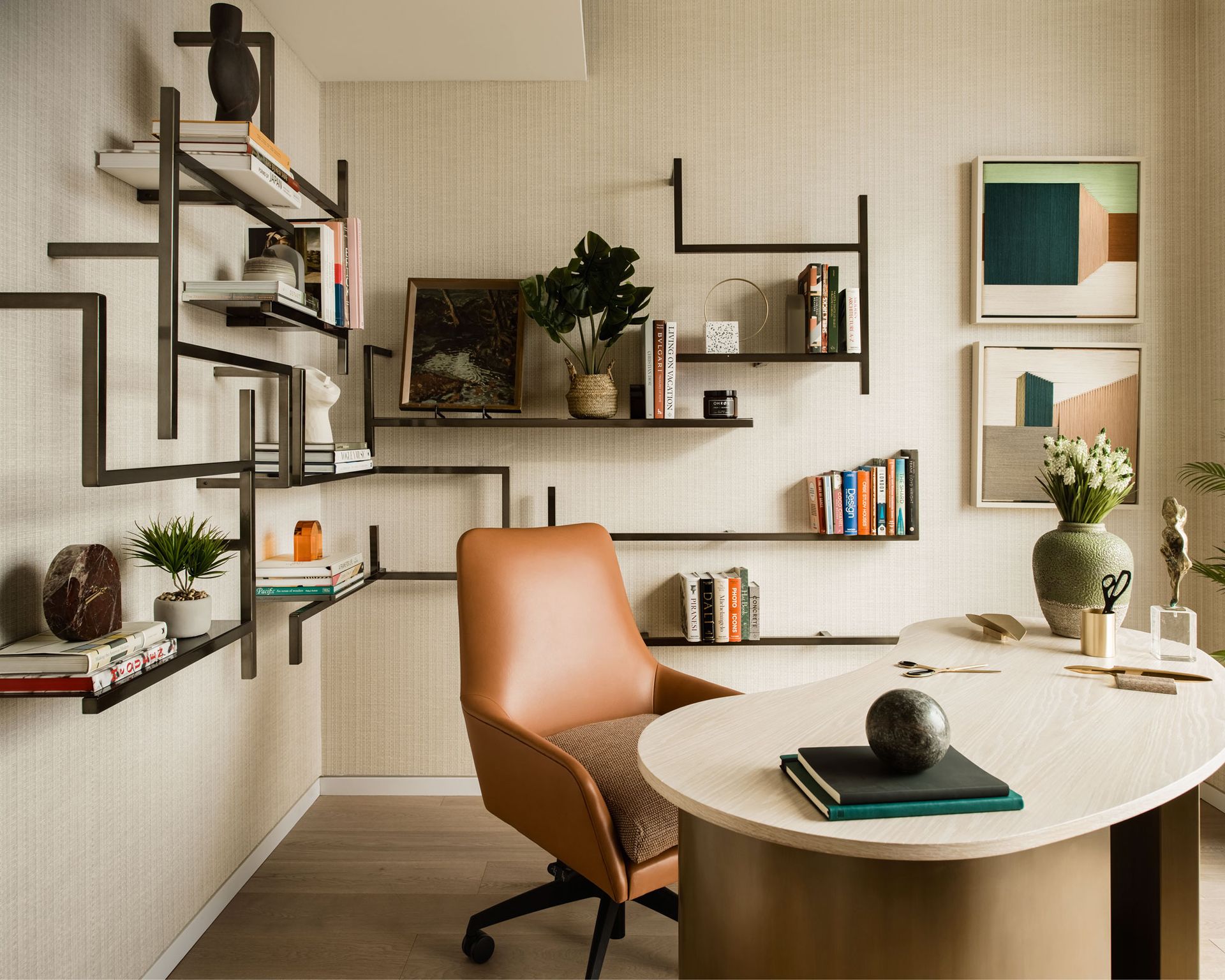 Seek out pieces of vintage or mid-century office furniture and lighting for a characterful result. Don't feel beholden to one era, a mix of styles will look more natural and collated. In this home office scheme, interior designer Charu Gandhi of Elicyon chose a modular joinery piece from the 1960s to create a statement and added contemporary pieces of art which inject colour and interest.
'When adding art to an office, think about the kind of medium, scale and style of art you'd like whilst walking around the space – never decide off-plan,' recommends Camilla Clarke, creative director at Albion Nord.
'This way you will feel the natural spots for art to be. This may be next to a window or vista through the house. Remember art doesn't always need to be hung on the center of the wall; it can rest on top of desks or layered next to sculptures or on bookshelves and joinery.'
13. Choose calm color for your working environment
'With many of us working from home these days, it is important to foster a creative and inspiring home working environment – and not to play it too safe when it comes to using color,' says Sarah Peake, founder of Studio Peake.
According to color psychology, green is the most stress-reducing shade – making this color an ideal choice for a home working environment.
14. Design a niche desk area
Making home office desk ideas work in an open-plan room can be a challenge but using the existing structural definitions can serve to demarcate.
In this design by Natalia Miyar Atelier, a niche between two structural columns becomes a purposeful study. The dark walnut wood joinery marks a distinctive contrast, helping to zone out the desk area from the rest of the room.
'Buy a decent chair, your back will thank you,' adds interior designer Joanna Wood. 'Something that looks like a cast-off from the bank manager's office won't work.' Options to tone down workaday items include re-covering chairs in another fabric or refinishing shiny chrome details in a patinated bronze.
15. Design an ensuite office
While previously rooms off bedrooms were transformed into dressing rooms, these are now being transformed into ideal studies, shut off from the distractions of the rest of the house.
'A home office should be a beautiful thing instead of a mess of files and wires. When it comes to designing it, consider it as a room with plenty of storage space, not a workstation,' says Rodrigo Moreno Masey, architect and founder of Moreno Masey.
A library books wallpaper adds a whimsical note and provides the ideal trompe l'oeil for a Zoom background.
16. Introduce wallpaper to add character to a home office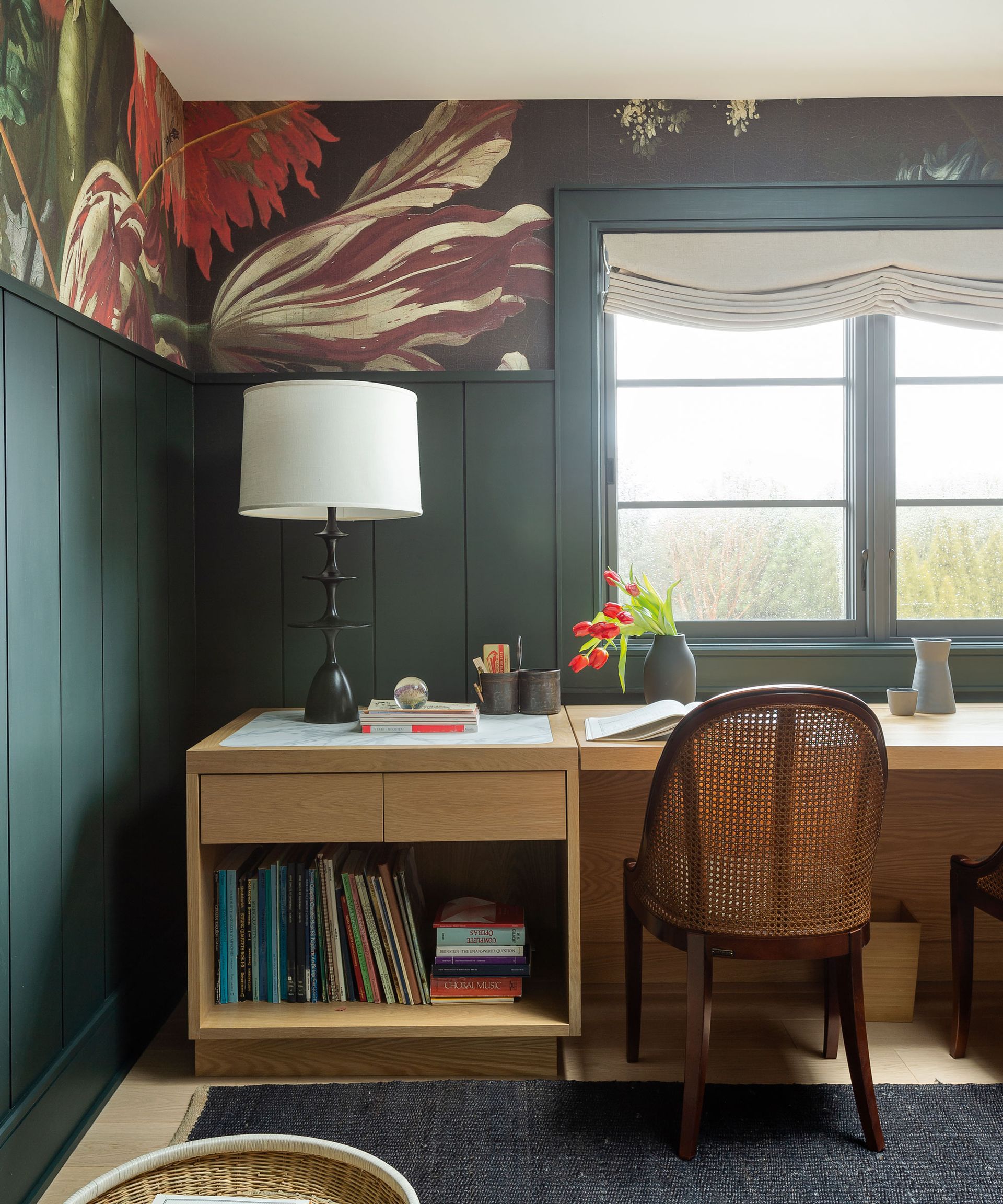 Introduce wallpaper into a study to inject a hit of pattern – it will ensure the room remains defiantly on the side of domestic despite the paraphernalia and machinery necessary to support working from home.
If the desk stands within a larger, open-plan space, wallpapering the joinery surrounding it will help zone the work area from the rest of the room.
If you're concerned that a bold wallpaper design might overpower a small room, panel the lower or upper half of the wall. This is also a great way of adding interest to walls without over-stretching the budget.
17. Carve out space
The challenge with modern home office ideas in many new-build properties is that they lack architectural features such as chimney recesses and alcoves that add character and distinction, as well as making perfect desk spaces.
When this is the case, the best bet is to work creatively with fitted joinery and build a shelf into the run of wardrobes – the minimum recommended depth for a laptop is 60cm – which can act as a desk.
In this scheme, Irene Gunter of Gunter & Co added an elegant, linen-like wallpaper to the woodwork paired with a cream boucle fabric on the walls and shadow-gap detailing on the pigeonholes above.
'This is certainly not for every household, but it was perfect for our clients,' explains Irene. 'We have a generous depth for the desk without jutting in front of the window, which we painted in our favorite gray-black finish.'
18. Disguise your working space
While kitchen tables frequently double up as desks, if the budget allows, try to carve out an area which can be closed off at the end of the day. This neat hidden desk idea was conceived by architectural designers De Rosee Sa and features pivot-sliding pocket doors to hide it out of sight when entertaining or off duty.
19. Soften a home office with curtains
When it comes to choosing curtains for a home office, don't be too conservative, especially if the rest of the room is relatively sober.
A striking pattern will inject just the right amount of flamboyance to add energy and foster creativity without dominating, as demonstrated in this study for an apartment by Studio Peake.
20. Consider bespoke cabinetry
Bespoke joinery – from drawers to bookshelf ideas – offers the most practical solution to take advantage of the space available – by some estimates it will allow 40% more room which is vital when designing an office for two.
There's little point in conjuring a beautiful working space only to find, a year or two later, that there's nowhere to store things. Mundane as it might sound, consider the matter of filing right from the start, says interior designer Kate Earle, co-founder of Todhunter Earle.
'Everyone files in a different way but whichever way it all requires lots of space.' She favors built-in joinery over furniture. 'It can accommodate all the cabling and sockets required for the IT equipment is ideal and the available maximize storage space.'
Sophisticated decorative details such as brass trims and handles paired with a small-scale wallpaper strikes a balance between a masculine and feminine space in this home office.
21. Pattern can add instant glamor to a home office
Busy home workspaces aren't suited to overly fussy schemes, but if you have created effective storage, adding pattern will create a more layered look that's easily elegant.
Interior designer Suzy Hoodless chose a vintage geometric Larssen blind fabric to introduce fun into this workspace. The colors are calm and elegant, and also create that connection to the garden outside.
Investing in good home office seating ideas is essential – a combination of ergonomics and aesthetics is always the aim, but being comfortable is vital.
22. Create a broken-plan layout for a home office
Broken plan living rooms are taking over from open-plan spaces, largely to make room for home offices. This year, desks and workspaces have been creeping into unlikely locations, namely bedrooms, living rooms and kitchens. With this comes the battle of being within earshot of someone else's video meetings, the radio and restless children.
Key to maintaining a level of professionalism and concentration is the ability to close a door; a wall of glass that lets in light but blocks out noise is also a great solution.
Here, a glass wall with industrial-style glazing bars opens into a smart study area with a rich jewel-hued Pavo Parade wallpaper by Cole & Son, raising the game from the average corporate work environment.
23. Create a serene space with neutrals
If you're looking for 'home office ideas for her', perhaps you're hoping to work a little more comfort and decorative detail into the scheme. This home office by California-based interior designer Ohara Davies-Gaetano uses beautiful antique pieces to decorate this space with Provencal flair.
'This house is at the front of the house and the French doors open to a beautiful 17th-century fountain set in a small garden. I was mindful of the tonality and textures and selected hues that highlighted the gravel, the old stone and the shades of planting,' says Ohara.
'The desk is an antique that we stripped down to its original oak. Most of the other elements in the room are new, but in textures and tones that reflect the landscape.
24. Angle your desk to create a versatile space
Looking for guest room office ideas? Believe it or not, this chic space was designed with them in mind.
'Our brief was to design a space that looks and acts as a study most of the time but also has a sofa bed in the bay window for guests,' says Henry Miller, who with Katie Glaister of K&H Design blended high craftsmanship with exacting details in this versatile London space.
The desk, which was designed by K&H and made in Colombia, 'is curved so that the papers fan around as you work. Cables are channelled down one of the legs and there's a shallow pen drawer so you can sweep everything away when guests arrive. A printer is set low in the shelving unit within swivelling reach of the chair.'
Organizing a desk impeccably is a must for a space where the desk faces into the room, so ensuring your home office storage ideas are capacious is vital.
25. Create a wall of shelving for display and storage
Finding the perfectly sized antique or vintage bookcase for your study can be a challenge, particularly if the wall space available is large and you want to make the most of it.
Maria Speake of salvage expert Retrouvius employs a reuse before recycle approach, scouring the country for discarded gems that might be re-imagined in different formats.
This fully-adjustable industrial shelving system – which can be configured in a number of ways – was reclaimed from an office and re-homed in this farmhouse, where it beautifully complements the timeless feel.
26. Create space in a garden room for a home office
This garden room idea for an office space is ideal for keeping work and living area separate. Using one end of the room for correspondence and filing and the other for more creative work helps towards a sense of serenity.
27. Pick a deep green for a calming effect
If you love intense home office paint colors but still want to create a restful space, go for a deep green, such as the shade above. You can increase the impact of the shade with artwork and artwork in bold designs.
A hallmark of Hockney's depictions of interior spaces is the juxtaposition of competition pattern. To offset the intensity of the effect in a home office, walls in green and a space to relax beside floor-to-ceiling windows bring a sense of calm, which can, in itself, boost home office productivity.
28. Make an artful noticeboard the focus
A board covered in sketches and photos makes a lively wall display. Recreate this idea by covering a large cork pinboard. A wall of black-and-white photographs in simple frames makes a good backdrop in almost any scheme, while a large blackboard is fun for children – and adults – in a family-friendly study area.
29. Work a home office into a living space – elegantly
The main reason to look for home office design tips is when you are incorporating a home study into a living space. So if you don't have a room to dedicate to an office, know that a well-defined work area will ensure you can still exercise your creativity. The elegant lines of a contemporary desk complement the light setting of a bay window in this living room.
Opt for home office storage ideas that coordinate with your scheme to create a pretty and practical decorative touch.
30. Create a wonder wall
Choosing an image you love and having it turned into a mural is a great way to add character to an office space. Wallpaper and murals are a great way to help distract from messy desks.
'A core belief of many designers is that every living space should have a focal point,' says Michael Ayerst, Managing Director at Surface View. 'Wallpaper murals depicting large motif designs fill this role wonderfully, even in small spaces, forcing the viewer to appreciate the artists' intricate detailing at a close range.'
Incorporating stimulating artwork like this design in your workspace is sure to encourage creativity and inspire.
31. Fit a home office into an attic room
A light-filled converted attic offers the ideal situation for a secluded office, while storage can easily be tucked under the eaves to make the most of unused space.
32. Create a dedicated WFH space with a framed desk
A stylish framed desk defines a work area in a multi-use space. Accessories in brass and natural blond wood bring textural interest and contrast to a desk top.
33. Put a home office in a niche
Take advantage of an interesting architectural detail by converting it into a functional space, giving the hallway a focal point. The area under your staircase is a golden opportunity for creating a compact home office, complete with desk space, compartments for storage and shelving – perfect if you are currently compiling basement office ideas.
34. Choose a feature wallpaper to give a home office character
'Home office ideas for him' tend to be a little more pared back, but that doesn't mean you can't add character. In fact, a home office should never be dull. After all, it is a place for creativity. This striking geometric wallpaper creates an enclosed, intimate feel, enhanced by open shelving that lets the pattern show through.
The use of charcoal linen on classic upholstered pieces brings these traditional designs up to date.
35. Pick a pattern clash for an interior designed look
Bold wallpaper ideas are a great way to add interest to a work space. This creative study features plenty of pattern, texture and color for a truly unique and characterful feel.
The large-scale pattern of this floor rug makes a design statement, which is balanced by monochrome wallpaper for a harmonious overall effect.
36. Let the desk take center stage