Home office ideas – 30 ways to decorate that are smart, practical and stylish
Be inspired by these home office ideas, whether you have enough space for a fully fledged home office or can simply dedicate a corner of another room to a work space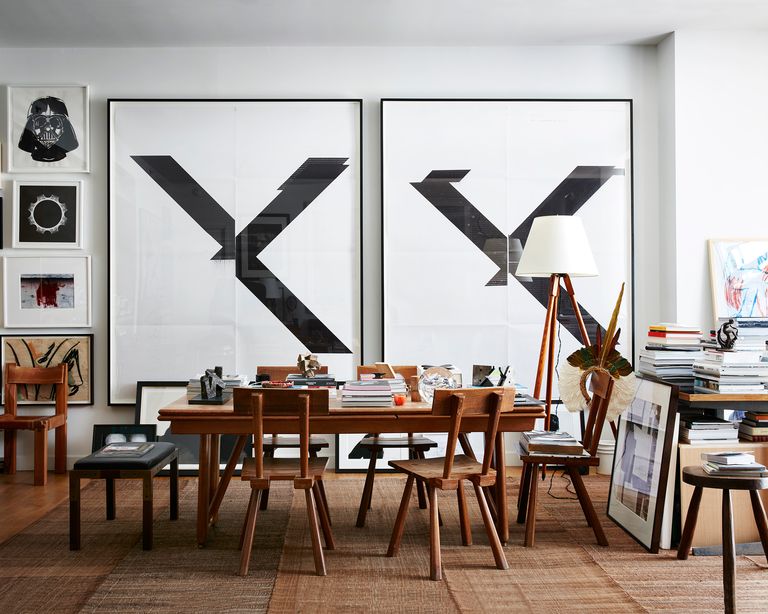 (Image credit: Robert Stilin)
Looking for home office ideas? As working from home becomes increasingly popular, it's worth dedicating a whole room or outdoor garden studio to office space, if at all possible. These home office ideas should help you create the study of your dreams.
Although the home office needs to be practical, that doesn't mean it can't be inviting. Think about using color and pattern to create an attractive work environment, but ensure the scheme remains calm to aid concentration.
With a carefully considered layout, it's possible to turn a guest room into a dual-purpose space that can accommodate overnight visitors and also work as an office. The key to this partnership is built-in storage, which conceals clutter and work-related papers, keeping the room ordered.
How can I decorate my home office?
The best way to decorate a home office is with a calming color – or one that you really love and have tried and tested elsewhere – and a layout/scheme that's not too busy – both will aid concentration and make the room feel like a place you can retire to in order to be productive.
Good-looking, effective storage tailored to your needs is a must, as is good lighting.
'It is best to site your work zone where there's plenty of natural light, although task lighting can always be incorporated into a design. Practical features, such as power and data sockets, will need to be considered.
'Always opt for more sockets than you think you'll need and include a charger drawer with power built in for your mobile phone and tablet,' explains Emma Sims-Hilditch, interior designer, Sims Hilditch.
See: Designing a home office – how to get your work space just right
Home office ideas
Below, we have featured home offices ideas that will suit all decor styles and spaces both small and large.
1. Create space in a garden room for a home office
This garden room idea for an office space is ideal for keeping work and living area separate. Using one end of the room for correspondence and filing and the other for more creative work helps towards a sense of serenity.
2. Pick a deep green for a calming effect
If you love intense colors but still want to create a restful space, go for a deep green, such as the shade above. You can increase the impact of the shade with artwork and artwork in bold designs.
A hallmark of Hockney's depictions of interior spaces is the juxtaposition of competition pattern. To offset the intensity of the effect in a home office, walls in green and a space to relax beside floor-to-ceiling windows bring a sense of calm.
Want more inspiration? Read about Home office paint colors and discover the shades that may make you less productive
3. Make an artful noticeboard the focus
A board covered in sketches and photos makes a lively wall display. Recreate this idea by covering a large cork pinboard. A wall of black-and-white photographs in simple frames makes a good backdrop in almost any scheme, while a large blackboard is fun for children – and adults – in a family-friendly study area.
4. Work a home office into a living space – elegantly
If you don't have a room to dedicate to an office, a well-defined work area will ensure you can still exercise your creativity. The elegant lines of a contemporary desk complement the light setting of a bay window in this living room idea.
Opt for home office storage ideas that coordinate with your scheme to create a pretty and practical decorative touch.
5. Create a wonder wall
Choosing an image you love and having it turned into a mural is a great way to add character to an office space. Wallpaper and murals are a great way to help distract from messy desks.
'A core belief of many designers is that every living space should have a focal point,' says Michael Ayerst, Managing Director at Surface View. 'Wallpaper murals depicting large motif designs fill this role wonderfully, even in small spaces, forcing the viewer to appreciate the artists' intricate detailing at a close range.'
Incorporating stimulating artwork like this design in your workspace is sure to encourage creativity and inspire.
6. Fit a home office into an attic room
A light-filled converted attic offers the ideal situation for a secluded office, while storage can easily be tucked under the eaves to make the most of unused space.
7. Create a dedicated WFH space with a framed desk
A stylish framed desk defines a work area in a multi-use space. Accessories in brass and natural blond wood bring textural interest and contrast to a desk top.
8. Put a home office in a niche
Take advantage of an interesting architectural detail by converting it into a functional space, giving the hallway a focal point. The area under your staircase is a golden opportunity for creating a compact home office, complete with desk space, compartments for storage and shelving.
Basement ideas – the ultimate guide to remodelling and finishing your basement space
9. Choose a feature wallpaper to give a home office character
A home office should never be dull. After all, it is a place for creativity. This striking geometric wallpaper creates an enclosed, intimate feel, enhanced by open shelving that lets the pattern show through.
The use of charcoal linen on classic upholstered pieces brings these traditional designs up to date.
10. Pick a pattern clash for an interior designed look
This creative study features plenty of pattern, texture and colour for a truly unique and characterful feel.
The large-scale pattern of this floor rug makes a design statement, which is balanced by monochrome wallpaper for a harmonious overall effect.
Discover more wallpaper ideas that might be suitable for a study.
11. Let the desk take center stage
One side of a double reception room in a classic Victorian house has been put to good use a family study.
The work table – a glass design, which doesn't feel bulky in the space – has been placed in the middle of the room so that the two main walls could be lined with bookcases. Note the ingenious ladder on wheels, for accessing the high shelves.
12. Pick open shelves for easy access – and display
This creative studio features open shelves that house both work folders and fabric samples, bringing color to the monochromatic scheme.
The unusual articulated wall-mounted task lights free up desk space and make striking sculptural features in their own right.
13. Give a small home office big design details
Carve a small but impactful home office out of an awkward semi-open-plan space. To link the two spaces, the decorative and eye-catching Hicks Hexagon wallpaper by Cole & Son has been used with practical furnishings, such as the classic Swan chair by Arne Jacobsen.
14. Pick a feature blind to link indoors and out
It's wonderful to have a view of the garden – or a green space – from a home office window, and you can exaggerate the calming effect of that with a blind that features foliage, to link indoors and out.
This 'Timonius Timon' roller blind by James Miller from the Natural History Museum Collection at Surface View can make your home study feel like a secret garden with its leaf-print interior, as it brings the effortless and inspiring beauty of nature right into your workspace.
Discover where to buy window treatments with our guide to the best in curtains, blinds and shutters.
15. Be unconventional with your home office design
This home office idea by designer Natalia Miyar doesn't attempt to hide away in this open-plan space – rather it faces into the room from its lofty position.
The diagonal siting of the desk isn't just for aesthetics – it also makes the seating more accessible in this narrow space. Meanwhile, the floor lamp saves desk space while providing functional but fabulous lighting.
16. Include built-in home office storage
If your home office is small – or within an open plan space, limiting it to one wall with wraparound shelving is a good, space-saving option. In this situation, use vertical space to your advantage, stacking rarely used files up high and oft-used paperwork to hand.
Make space around the desk for hidden storage, too, so that the inevitable clutter can easily be hidden.
17. Take a cue from the Scandis for open-plan home offices
If there's no option but to design your home office into an open-plan room, there are two key routes to success: the first is to choose a color scheme that's neutral and across the entire space; the second is to over-estimate how much storage you need and to make it part of that scheme.
Here, glass-fronted cabinets are perfect for display on their upper shelves – or the storage of good-looking china and glassware – and for hiding away home office paraphernalia in neat files on their lower shelves.
In a neutral scheme like this, it's important to work texture into the room for warmth – think wood, natural flooring, pottery and basketwork.
See more neutral room ideas in our dedicated gallery for inspiration and advice.
18. Reflect your interests
The owners of this project are travellers, so the designers from Maddux Creative gave this area a rather exotic, tropical theme.
With a home full of diverse cultural influences, why not reflect this in your home office? The focal point of this space is the 1960s Danish rosewood desk, which is offset by textured walls of split bamboo on grasscloth.
19. Take over an unused space
Home offices don't have to be squeezed into properties, or tucked away in a box room.
'This room is in my own apartment in New York City,' says interior designer Robert Stilin. 'It's a large living-dining area which faces west with floor-to-ceiling glass. I don't often host dinners, so it makes no sense to have the dining table taking up all that space and set for the ten times a year it's used.'
'It's about embracing and adapting to life as it evolves – using the things you have in a way that makes sense instead of being stuck in some set idea of what has to be,' explains Stilin.
20. Borrow natural light
Lighting is key in any home office, and nothing makes more difference than a big dose of natural light.
Take inspiration from this project where an extension allowed the addition of a home office behind the kitchen. With no external windows, Flower Michelin Architects installed a glazed door and wall to allow the office to borrow light from the extension.
21. Add an office corner to a bedroom
Particularly in smaller homes, the only space for a home office set up might be in the bedroom, and there are ways to make this work organically.
'A crucial factor when including a study area in a bedroom is to consider its impact on the wider scheme,' says Melissa Hamilton, interior design director of Studio Indigo, who designed this space. 'Even when this desk is not in use, it is a very aesthetically pleasing arrangement and gives joy throughout the day.'
Using an antique bureau for the desk makes this corner seem less like a place of hard slog but a perfectly beautiful and serene spot to ruminate at leisure.
22. Add personality with curation
To stop home offices from feeling too perfunctory, injected warmth and personality with a carefully considered choice of antiques, sculpture and art.
'I wanted this room, to feel calm and considered yet restrained and not overly decorated – less is 
so often more,' says interior designer Tamsin Johnson who designed this room. 'An antique Flemish tapestry forms the backdrop of the scheme. The desk is mid-century and always covered in favourite books; more of them sit on the white-painted floating shelves. This is both a tranquil space and a nice escape.'
23. Rethink a side return
Over the years, side returns of Victorian houses have typically been incorporated into the kitchen, but why not hive off a section and convert it into a private workspace instead?
Home offices do not need to be vast to be functional – especially if they have an outlook that gives the illusion of greater space, such as a 
large picture window, and are flooded with natural light. Use a strong but soothing colour on the walls and add a bright contrast with a cushion or lampshade detail.
Where floor space is tight, make the best use of the room's height by running a long shelf just below the ceiling to store work clutter out of sight.
24. Create a kitchen hideaway
In a generously sized kitchen, consider whether there might be a niche that could be converted into a compact office space.
It may not be
 to everyone's liking to work in the middle 
of what is probably the most high-traffic area 
of the house, but for those who want (or 
need) to remain at the centre of the action, 
this is a smart solution.
Remember that the 
main function of this room is a kitchen, so it's important to close up when the day's work 
is done. Here, a stool in an eye-catching print slides neatly under the desk. Shut the doors, 
and no one will even know it's there.
25. Go bespoke
Commissioning built-in joinery is never the cheapest way to create a workstation, so if you're going down this route, make it work harder 
by designing the space for two.
Each area should work in isolation, so double up on task lights and be sure the desk is deep enough to accommodate laptops and A4 folders. Here, there's an added benefit of a radiator on the back wall – it can be hard to stay warm sitting still for hours on end.
26. Keep it distinct
'Home offices should be places entirely distinct from your home life,' says designer Matthew Williamson. 'When you enter your home office, be it a separate room or even a corner in your living room, you should feel connected to whatever it is that you want to achieve that day.'
Matthew advises that if you're working in another room of the house, look to tuck it away when work ends and play can resume: 'My current workspace is in my lounge, so when I'm finished at work for the day, I hide that space with my new circular room divider from my recent collaboration with Roome London.'
Camilia Clarke of Albion Nord agrees. 'Usually, home is the sanctuary in which we can unwind after a testing day at the office,' says Camilla. 'However, these days the home is the office. For those without a dedicated study or home office, create a space in which you can 'go to work' and leave once the day is done. This way, when you're out of your work nook, your home will still feel like a home.'
27. Make considered choices
There are so many ways that you can go when curating your home office, but whatever your style, there are a few things to bear in mind across the board.
'A home office must be designed as a space to induce thought,' says Andrew Martin founder, Martin Waller. 'It wants to have crisp, clear lines, comfort and creative inspiration by way of artwork or patterned wallpaper. A desk light is a good way to add style and design-led angles to an office as well as being imperative for spot lighting. A chair has to be comfortable, but it is important to get the level of comfort right.'
28. Surround with inspiration...
Whether your home office space is more of a craft workshop or desk job area, it's important to layer up your surroundings with inspirational objects.
From coffee table books and photos, to plants and trinkets, choose what items you wish to look at everyday that can help you do your best and give your tired eyes a pretty view.
29. ...or embrace minimalism
If your work space isn't separate from the rest of your home and you have no easy way of blocking it off in the evenings and weekends, go for a minimal approach.
Also a good route for those who are easily distracted, keep your desk to only holding the bare necessities of a desk lamp and any required paperwork. Simply open your laptop each morning and slip it away when it's time to relax.
30. Add a comfy corner
In home offices it's all too easy to get bogged down in function. Provide yourself with some private respite by adding a comfy armchair and a handy coffee table when you need a brief screen break without distracting yourself by entering the main areas of the house.
This also provides family a place to perch if they pop in for a chat throughout the day.
How can I make my home office look nice?
'As someone who works from home – and has done for years – I really recognise the importance of knowing how to make a home office look nice,' says Homes & Gardens Editor in Chief.
'The first thing I'd say is that the color of your home office has to be one that you really love because if you are like me, you will spend up to 10 hours a day in the room. It's worth saying that I repainted mine three times in three different shades of blue before I got it right.
'Storage is hugely important – shelving, drawers and cupboards all feature in my home office and each is packed out with the things I need in an attempt to keep my desk space clear.
'Good lighting is vital – not just to ensure you look presentable on video calls but to ensure your home office is well-lit both functionally and aesthetically.
'Finally, artwork on the walls, a rug on the floor and plenty of house plants will make the space feel welcoming and comfortable. I also have a sofa in my home office, and if I take a long phone call, I'll often move to it from my desk for a change of scene.'