Broken plan living room ideas – 15 practical, sub-divided spaces
From internal glazing to screens, these smart broken plan living room ideas are a masterclass in versatile modern living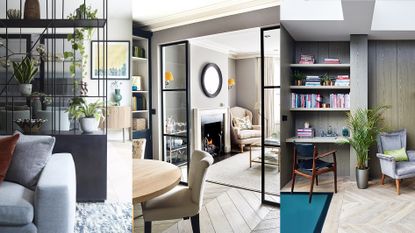 (Image credit: mary Wadsworth / Sims Hilditch / Future)
Broken-plan living room ideas have slowly been coming into their own over the past few years. Initially thought of as a response to the pandemic, it seems these divided spaces are certainly no fad, and in fact, their benefits outweigh those of an open-plan room.
We've chosen our favorite living room ideas that utilize the broken plan look, and show how this layout plan can be adapted to work in just about any interiors scheme.
Broken plan living room ideas
A broken-plan room can be much more functional than an open-plan living room, allowing different members of the family to inhabit the same space without distracting each other. But it's not just a practical move. Broken plan layouts can create cozy living rooms while still maintaining an open feel.
1. Add Crittall doors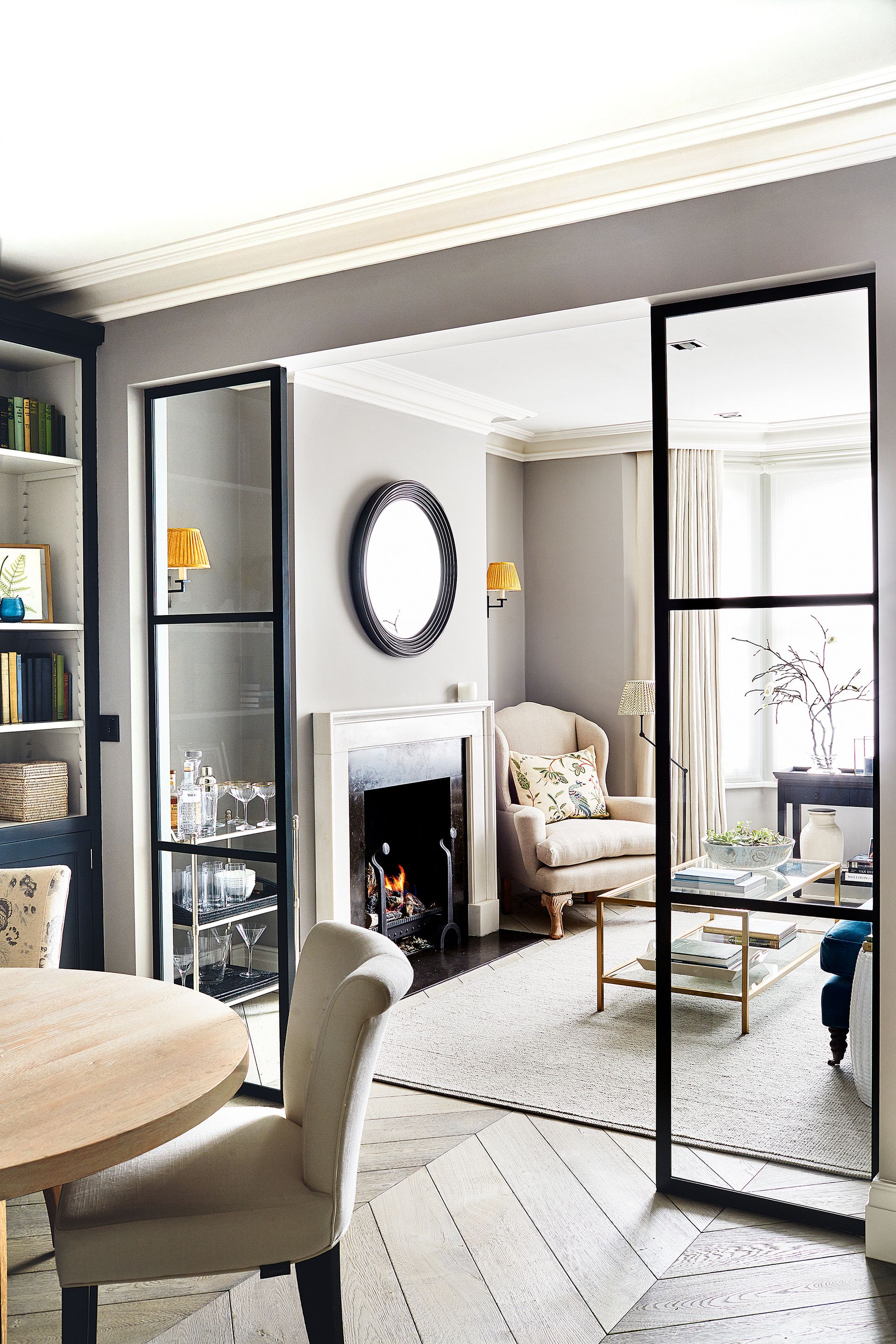 Dividing a living space with Crittall doors is a clever way to break up a room without losing the impact of light and space says Louise Wicksteed, design director at Sims Hilditch.
'We have split the space in this London townhouse into two, creating a formal room in which to entertain, complete with drinks trolley and velvet sofa – and an entrance hall with plenty of bespoke storage available.'
In order to keep the space feeling unified, the same chevron wood flooring and living room color ideas are used throughout, with accents of blue and yellow also carried through the two spaces.
'Yellow wall lighting by Fermoie adorns the bookcase in the entrance hall and sits either side of the sitting room mirror above the fireplace, creating continuity between the two spaces,' she adds. Pops of blue from the sofa and the cabinetry also connect the design, making it flow,' adds Louise.
2. Opt for open shelving
Adding open living room shelving is an easy way to zone areas of a living space while maintaining sightlines across the room and an open, airy feel.
With its series of strong horizontal and vertical lines, this architectural style shelving doubles as a piece of functional sculpture, bringing a contemporary feel to the space. Decorating shelves using an array of houseplants with different forms and leaf shapes is an effective way to soften open shelving – trailing varieties work particularly well.
3. Divide the space with bespoke furniture
Strategically placed furniture can be an effective way to zone a living space while also providing ample living room storage, as is demonstrated in this broken plan living room design design by Ammor Architecture LLP.
'This modest house only has a few rooms. The main living space is subdivided by millwork made by local craftsman. These pieces, conceived as furniture, are deployed to define distinct areas: entry vestibule, living-dining, and den,' says Goil Amornvivat, AIA and Partner at Ammor Architecture LLP. 'They stop short of the ceiling and rest on sculptural legs maintaining the sense of openness and light observed from the windows.'
Taking inspiration from Charlotte Perriand pieces from the owner's collection of rare and noteable mid-century furniture, this custom cabinet pictured is perfect for a mid-century modern living room.
4. Create an office nook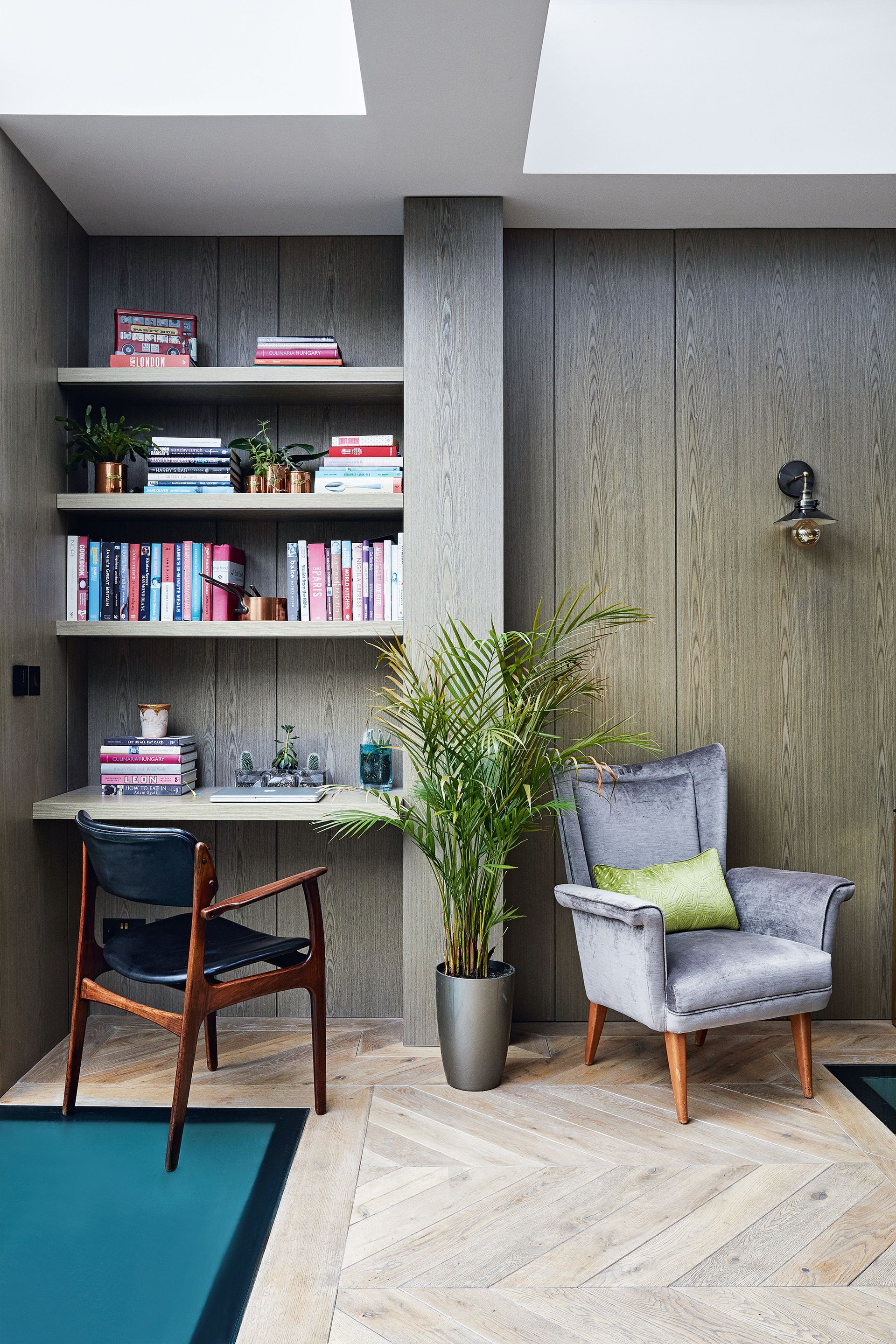 For those that don't have a dedicated room to use as a home office, carving out a workspace within the home can be challenging. Adding a small internal partition wall into as part of a broken plan living room can make for an effective small home office idea.
Here, slimline, floating shelves fitted snuggly into the recess provide a desk and storage while keeping the space feeling open. The tall house plant helps to further screen off the area and brings softness and life to the scheme.
5. Divide with a double-sided fireplace
A double-sided fireplace is a brilliant way to partition a broken plan living room but also makes a striking visual feature. An effective way to heat a large space, double-sided fires can be enjoyed from both sides and will zone a room while still allowing light to flow through the space.
However, there's more to consider when creating this feature than with a one-sided model says Marcus Hirst, an architectural technician and junior back-end engineer at Resi and contributor to Homebuilding & Renovating magazine. 'In particular, whether you're creating a new chimney breast or modifying an existing one, you'll need to ensure the opening has lintels front and back to hold up the wall above. You'll also need to make sure the heat output is enough to heat the rooms on both sides.'
6. Use seating to zone a broken plan space
Not all layouts lend themselves to becoming broken plan, but being smart with your furniture can still achieve the look.
This space by Wendi Wolf Lewitt uses furniture to create zones. High-backed seating is especially useful for this style.
7. Add a screen
Ensure you can create a broken plan look at a moment's notice with the use of moveable screens.
By choosing a decorative style, like Paolo Moschino, head of interior design firm Nicholas Haslam has done here, you can also create elegant backdrops – perfect for video calls.
'We love using screens to divide rooms,' says Paolo. 'For me, it's very important not to disclose everything at once and that is what screens are perfect for; they hide a surprise behind them and, especially for a large room, they confine the space and create cosiness.
'As a bonus, if you move to a new house you can just fold your screen and take it with you to new adventures.'
8. Transition using flooring
'Created to make impact on entry, this hallway floor helps lead guests through to the living area,' says Hayley Robson, creative director, Day True.
Reflecting this shift in tempo on walls as well reinforces the changing use of space.
9. Look to glazed partitions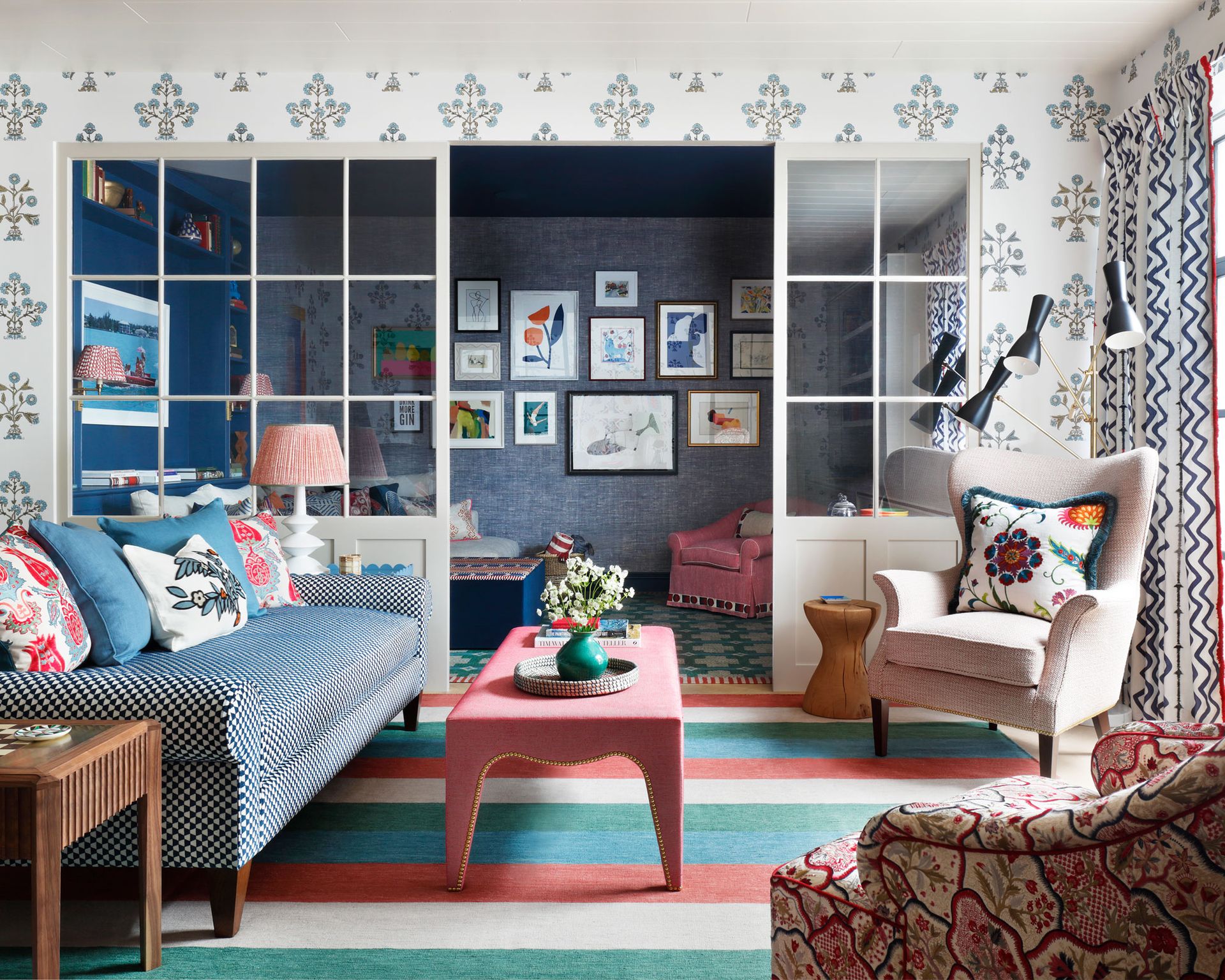 Integrate a glazed partition to separate a large room into two areas or 'zones', but take inspiration from this Studio Peake project. Here, the two zones feel separate from each other due to the internal glazing, but the gap allows unimpeded movement and increases the flexibility.
10. Sink the floor
Arranging a living space over different levels is a great way to zone the space without adding in walls or screens. This sunken space incorporates a cinema area without breaking the open-plan feel.
'Think about the "view",' says Emilie Mauran, EMR Architecture's managing director. 'If there's an aspect you want to see, make sure nothing gets in the way.'
11. Add an indoor window
In poorly lit spaces, such as small living rooms, indoor windows can 'borrow' light from elsewhere.
'It's a great option in smaller homes because you get the perceived space of adjoining rooms while still feeling some division,' says Thomas Cox, co-founder of Ham Interiors.
12. Utilize a sliding panel
One way to achieve the broken plan look is with doors that can be closed when required, but without impacting on the appearance of the room when opened.
This space uses floor-to-ceiling sliding panels clad in sections of parquet, which look just as much a part of the space.
13. Create a Crittall corner
This space from Clements Design adds extra interest by making use of Crittall Windows pocket doors, meeting on a corner.
The design also allows the walls to disappear completely when the office and living room become one, but can be shut whenever needed for work.
14. Use drapery to create a broken plan space
In winter, a large home – and particularly old homes – can feel cold; this can be remedied with drapes hung to divide a space. They needn't be pulled right across a room to utterly divide it, but they can create a beautiful pause, adding color and pattern to the space, too, as in the bohemian living room idea above.
15. Try a glass-walled fireplace
In order to break up a large room, Onesta designed this partition, featuring an entertainment system and a glass-walled fireplace.
'We used heat-resistant porcelain, which also helped to visually break up the spaces,' says Daniele Brutto, co-founder of Onesta.
What is broken plan?
Broken plan living is a midway point between the open plan layout and the more traditional space comprised of separate rooms.
You can achieve this in a number of ways, shown in the living room pictures above, by utilizing screens, internal glazing or by zoning furniture.
One living room trend that will achieve the broken plan look is by using Crittall. 'The Crittall windows screen is an interesting middle ground that has enabled us to de-mark areas but keep a flow of light between spaces,' notes Bunny Turner, co-founder, Turner Pocock .
'Substituting a solid plastered wall with a glazing system allows an increased sense of space by visually connecting rooms and offers the opportunity to bring natural light into areas which may not be served by windows,' says Chris Eaton, associate director at Stiff + Trevillion.
'Steel-framed glazing offers designers the flexibility to create pane sizes to reflect the proportions and rhythm of the rooms and surrounding architecture it inhabits. It can also neatly incorporate opening sections, either as doorways or casement windows. They can be prone to condensation forming on the steel frames, so avoid using in any areas where there is a temperature difference either side of the screen.'
How do you divide a room without building a wall?
There are many ways to divide a room without adding walls, including curtains, screens, internal windows, Crittal doors and strategically placed furniture such as cabinets and open shelving.
If you're not keen on having a physical partition, then consider ways of defining zones visually, for example painting an area in a different wall color. Choosing different types of flooring, or adding a rug, are also an effective way to separate different areas within an open plan living space without building a wall.
Thea Babington-Stitt is a Content Editor at Future. She has been an interiors journalist for nearly 10 years and has held positions at LivingEtc, Country Homes & Interiors and Homes & Gardens. Currently, she is writing for Ideal Home and Style At Home's websites and magazines.