Wood flooring ideas – 21 ways to create a beautiful foundation for your home
Nail your wood flooring ideas with these beautiful designs, from reclaimed boards to modern timber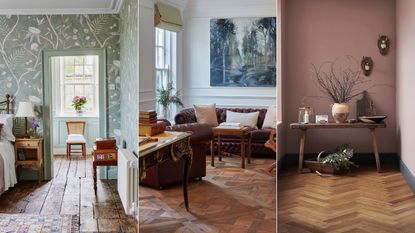 (Image credit: Future/Havwoods/Woodpecker)
Nothing beats the natural beauty of wood flooring ideas to bring character and a sense of heritage to a room.
Whether you choose the authentic, raw charm of solid or reclaimed boards, engineered timber with its added advantage of being compatible with underfloor heating, or a practical wood-effect alternative such as laminate, vinyl or porcelain tiles, there are so many exciting flooring ideas available.
We have gathered our favorite wood flooring ideas to provide you with some long-lasting inspiration for your home.
Wood flooring ideas
When choosing wood flooring ideas think about the timber's tone carefully: dark woods look more dramatic and add warmth, while paler or white-washed designs can help a space to look brighter and bigger. Plank length and layout also play an important role, affecting the flow of the space, while bespoke parquet patterns can elevate your wood floor to the height of luxury.
'With ever-popular wood and wood effect flooring, the focus is on hand-crafted and hand-worked finishes - with scraped, sawn, and treated grain effects in extra wide and mixed length planks adding depth and individuality to a space. Mindfulness and wellbeing remain a key topic in the home, and creating restful spaces to retreat to from our busy lives are more important than ever,' says Sarah Escott, Amtico design manager.
Heritage styles such as herringbone, basket weave and parquet have also seen a huge revival in popularity, adding inviting, rustic texture and appealing intricate patterns to hallways and living rooms alike.
1. Wood flooring to work in any room
Wood flooring ideas will always be a hugely versatile option for use in interior design, from providing beautiful bedroom flooring to versatile bathroom flooring. It is smart enough for a grand entrance yet with the durability to withstand splashes and spills in the kitchen or dining area, when laid throughout the home, it can create an inviting, seamless flow.
Now more than ever, wood flooring ideas have come to the fore, with modern technologies enabling a plethora of patterns, textures, and designs that weren't readily available before. From luxury vinyl wood flooring to engineered wood floor designs that can be used with underfloor heating, there are options to integrate into homes of all styles that elegantly combine the past and the present.
Wood flooring can also provide a subtle, neutral base that can be beautifully layered and decorated with rugs to create a cozy, textured environment as part of bedroom ideas. There are plenty of wood floor ideas for a bedroom that is sure to inspire.
2. Create interest with parquet
Using a unique parquet design for your wood flooring ideas can create a beautiful design, rich with intricate details and eye-catching patterns.
Geometrically designed, parquet flooring instantly imbues a space with character and personality making excellent wood floor ideas for a living room. Created using smaller staves of wood, rather than planks, it can be either solid or engineered.
'Marking the beginning of the trend for elaborate parquet floorcoverings, the Versailles pattern was replicated in royal residencies across Europe during the 17th century and has continued to make its mark in interior design since. It's a design that consists of squares held together by an interwoven mesh of wood strips, within a wood frame, creating a truly artistic appeal. Opt for a rich tone and pair with traditional details and classic pieces for a time-honored setting,' says Greg Elliott, head of technical at Havwoods.
3. Pick bamboo for sustainability
Even though it is actually being grass, bamboo has quickly become one of the most popular wood flooring ideas, and is also one of our favorite ways to be sustainable. Bamboo is one of the fastest-growing plants and fully regenerates every five years, plus it has the durability to rival solid oak. Bamboo wood flooring offers and excellent choice of eco decor to incorporate into your living room, bedroom, hallway, or den. However, despite its durability, bamboo flooring is not waterproof and should, therefore, be avoided when attempting sustainable bathroom ideas or sustainable kitchen ideas.
When purchasing bamboo flooring, look for strand-woven bamboo – bamboo flooring can be vertically laminated, horizontally laminated, or strand woven. 'Strand Woven bamboo flooring is twice as hard as vertical or laminate constructions and is one of the hardest types of natural flooring available today. It also looks similar to hardwood with the weaved fibers like wood grains, explains experts from Woodpecker Flooring.
4. Consider durability in the kitchen
When it comes to kitchen flooring ideas, durability is key. The floor must not only be able to withstand high traffic but also must be able to tolerate moisture, spillages and high humidity. This has led to the question 'is wood flooring suitable for kitchens?' However, with the right considerations, it is perfectly possible.
Wood kitchen flooring is one of the most popular options for the home, with designers looking for a combination of durability and beauty for this busy, hardworking space. 'While solid wood flooring ideas are not suitable for environments with high humidity and can't be used with underfloor heating, engineered boards can be fitted in most rooms in the house, including damp and humid areas such as the kitchen and bathroom, and can be floated or fixed to most types of subfloor together with an underlay,' explains Peter Keane, director of The Natural Wood Floor Company.
Alternatively, there are lots of wood-look tiles that would provide the aesthetic appeal of wood with the durability of porcelain.
5. Opt for handcrafted finishes
Engineered wood is one of the most common wood flooring ideas. On the surface, it is indistinguishable from solid wood, however, it is comprised of several layers. On the surface is a real wood wear layer with multiple cheaper or composite wood base layers below. This combination creates a durable, hardwearing design that, once installed, achieves the same beautiful effect as solid wood but with hidden strength and durability beneath.
6. Preserve original floorboards
If you are lucky enough to have original wood flooring in your home, then it is important to preserve it. 'An old floor of wide boards, scrubbed or polished for generations yet imperfect and uneven from wear, adds much interest to any room in a period property,' explains renovation expert Douglas Kent. However, they are often needlessly lifted or replaced in an attempt to deal with gaps, draughts, creaking or unevenness. 'Replacement is often unnecessary because localized repairs are often viable using well-seasoned matching new timber,' add Douglas.
7. Use hard-wearing solid wood
Whether you have original, solid wood flooring in one part of your home and want to continue this design in other areas, or are looking to establish a mid-century modern look with wooden flooring in a new property, solid wood flooring can create an organic and authentic appeal.
Strong and durable, solid wood is not the cheapest flooring option, however, investing in a solid wood design can establish a timeless permanence to your flooring and enrich the space with character, texture and warmth.
Solid wood flooring is not just reserved for older, period properties, there is now an extensive range of solid wood flooring designs that can effortlessly integrate into homes of all ages and styles.
8. Choose an uplifting light wood flooring design
Light wood flooring can create a calming, relaxed atmosphere in the home, as well as enhancing the feeling of light and space in a room.
Colin Roby-Welford, Creative Director at Fired Earth states, 'pale wood finishes are ideal for a pared-back Scandinavian feel, while rich, dark finishes have a more rustic appeal'.
Ideal for rooms that do not get much natural light, or for large, open-plan spaces to create an enriched sense of space, light wood flooring establishes a truly elegant, contemporary effect.
In this bathroom, the light wood flooring works with the other luxurious, natural textures and colors in the room to create a serene, inviting space. The light wood perfectly complements the marble and metallic accessories, as well as elevating the feeling of light in the room when paired with the white painted walls.
From oak, to ash and maple, there are a variety of options to choose from for your wood flooring ideas, as well as many light wood vinyl and laminate designs.
9. Create a luxe bedroolook with parquet
The natural beauty of wood is elevated further when using a parquet pattern, creating a stand out floor design that will add luxurious character to a room.
In this luxury bedroom and on the flooring beyond, the wooden floorboards have been laid in a stunning Bordeaux parquet pattern. A French-inspired design, defined by intertwining, complex geometric patterns, and contrasting shapes, the result creates a truly stunning effect, adding a beautiful element of grandeur to a space – perfect for establishing a Parisian feel.
10. Pick a versatile, engineered wood design
An extremely popular option for entryway floor ideas, engineered wood flooring ideas combine the beauty of solid wood with the practicality of modern technology and design. Engineered wood's popularity mainly lies in its flexibility, it can be laid on almost any surface and withstand changes in temperature and humidity – ideal for use throughout the home and for areas with underfloor heating.
11. Create drama with dark wood
Adding depth and warmth to a room, dark wood flooring can work wonderfully in both period and modern properties. Creating a beautiful, traditional effect rich with color and character, dark wood flooring can add a stylish element of drama to a room.
In this beautiful barn, with reclaimed dark wood flooring by The Main Company, the white walls and dark wood flooring unite to form an elegant contrast. The overall minimalist, relaxed design lets the flooring take center stage, with other wooden features, such as the uniquely crafted wooden headboard, enhancing the beauty and feeling of natural texture in the space. Retaining the character of the original barn but with an elegant modern twist, the design creates a characterful mix of the old and the new.
12. Get creative with paint
If you want to change the existing wooden flooring in your home without the cost and effort of replacing the floor, or add an element of color and contemporary style to a period property, painting your floorboards is an inexpensive way to dramatically change the look of a space.
'Creating statement floor designs in the home is becoming increasingly popular, with many traditional wooden floor designs being painted to inject color and personality into a room. From simple color block designs, to creating unique patterns and tile effects with paint, wooden flooring provides a creative canvas for your paint ideas,' says Homes & Gardens' Editorial Director Sarah Spiteri.
In this cozy, country cottage room, painted in colors by Morris & Co, the wooden flooring has been painted white to match the wooden paneling on the ceiling. The cohesive, calming design creates a relaxing bedroom retreat that combines traditional features with modern colors.
Whether you create a Scandi-inspired space with white painted floorboards, or go bold with darker shades, painting your wooden flooring can keep things fresh and exciting.
13. Go for a rustic finish
You may be asking yourself if wood flooring is suitable for the kitchen? The answer is a resounding yes! Designed with prestigious projects in mind, the Hand Grade collection from Havwoods consists of rich tones and beautiful rustic finishes. In addition, the triple layered engineered planks are up to four meters long and almost half a meter wide with top and base layers of European oak and a birch ply core.
Choose from a smooth sanded surface or textured finish to bring a natural touch to your kitchen. 'Kitchen flooring with character is becoming extremely popular,' says Yolande Meyer, Havwoods. 'It allows one to feel more in line with nature by being able to see the knots and the grains of the wood.'
14. Add warmth with honey tones
The latest engineered flooring to join Woodpecker's Berkeley collection is Cathedral oak. Meticulously hand-scraped, the timber boards have subtle undulating ridges and grooves that capture a charming aged appearance and come with a 100-year guarantee.
At the same time, the wood's natural honey, caramel and cocoa hues have been honed to offer a warm foundation to a room scheme, 'this is a rustic board with a subtle oiled finish, allowing the knots and natural features to shine through,' says Darwyn Ker, Managing Director, Woodpecker Flooring.
If your boards are looking a little tired, you can always refinish hardwood floors to return them to their original beauty.
15. Fake it with a lookalike
If a real wood floor is out of your budget or not possible in your home, there are some great alternatives around for your wood flooring ideas. One of those is luxury vinyl flooring (LVT), which is designed to replicate timber and can be laid in planks or tiles, with click lock or glue down techniques.
The Antique heart pine from Karndean comes as a loose lay longboard which has acoustic qualities, so it's great for upper floors, loft conversions or those who live in flats. It's also possible to replace individual planks if the need arises.
16. Introduce handsome herringbone
Admired in country homes for centuries, herringbone flooring is still a desirable choice for wood flooring ideas thanks to its enduring appeal.
'A herringbone layout adds a subtle sense of texture and decorative detail to a floor,' says Colin Roby-Welford, Creative Director at Fired Earth. 'Our Woodland Herringbone engineered tongue and groove planks simply slot together, making installation straightforward.
Made with FSC oak, the boards are brushed before a protective, low-maintenance matt lacquer is applied. The multi-layered construction gives strength and stability to help prevent warping in damp conditions or when used over underfloor heating.
'Variation in color and texture is part of the natural appeal of wood. Dry-lay your flooring first to ensure a balanced spread of color and graining before fixing it in place,' advises Colin.
17. Think about size and scale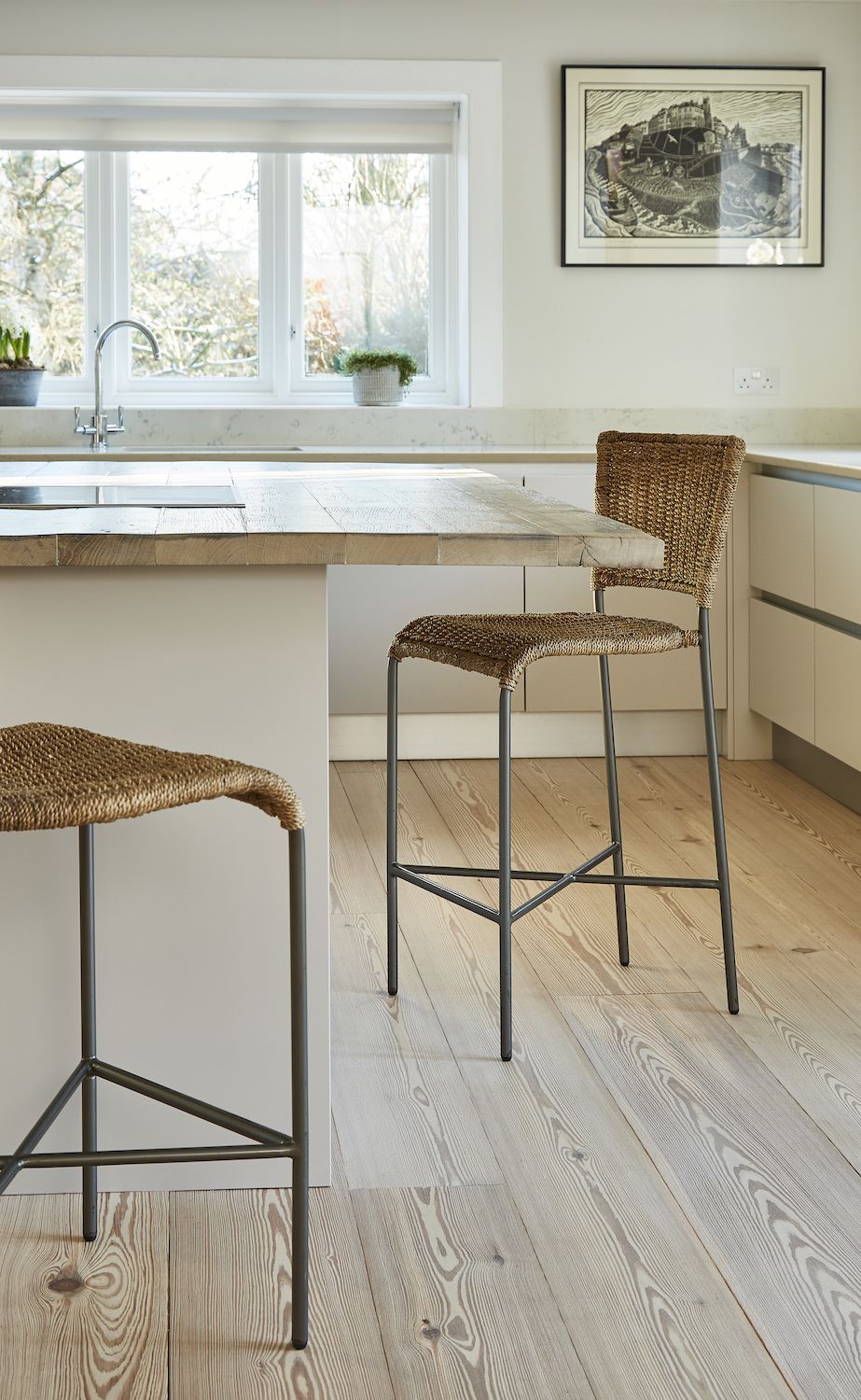 Crafted from reclaimed pine planks discovered in a disused warehouse at Garston Dock, in the UK city of Liverpool, these boards are popular due to their size, as much as their character.
Wider and longer than most salvaged boards, they have been transformed into engineered flooring and finished with a naked skin lacquer to accentuate the natural beauty of the grain, and would work beautifully in large-scale projects such as barn conversions. 'Reclaimed flooring provides a genuine connection to nature and adds a historical feeling to interiors,' says Robert Walsh, Founder, Ted Todd.
18. Raise the tone
This oak aged parquet has tumbled edges and a soft worn look, giving it the appearance and characteristics of an antique floor. In addition, it's finished with an ebony oil that enhances the timber's natural features and provides the drama of a dark floor without being overpowering.
'Extremely forgiving even in high-traffic areas of the home due to its high durability, the real wood parquet floor sets the tone for the whole space, perfectly blending old with new for a timeless finish,' says Peter Keane, Director, The Natural Wood Floor Company.
19. Try an alternative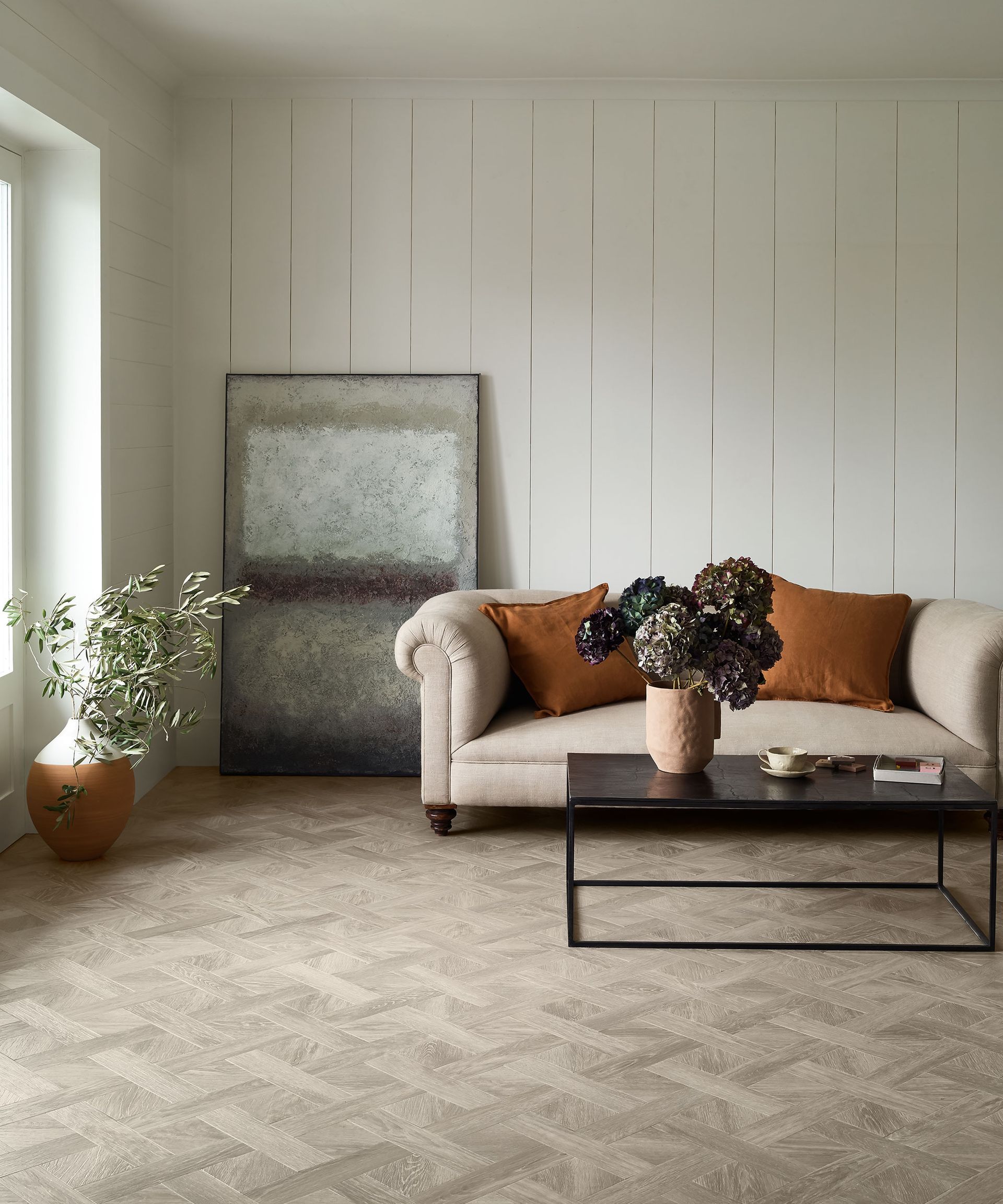 Real wood flooring isn't always a viable option for some, yet the style can still be achieved with good quality luxury vinyl tiles (LVT).
Extremely durable and waterproof, LVT can be a good option for either kitchen or bathroom flooring, where splashes and spills are more likely to happen. It's also great for living spaces as it's less prone to scuffing or scratching than timber.
The same trends in timber flooring are also present and in demand, such as this beautiful basket weave. 'Flooring patterns can completely change the look of a room,' says Lorna Williams, Head of Product Design at Amtico. 'Timeless patterns such as parquet, basket weave and French weave are popular with people wanting to create a classic and sumptuous look in their homes.'
20. Lay extra long boards
If contemporary country style is more your thing, consider extra long boards, like these oak planks from Dinesen for your wood flooring ideas.
Sourced from large European oak trees, the boards are up to five meters long and 50cm wide, so there are less joins than is often seen with traditional sizes. This gives a cleaner, calmer, more modern appearance and a seamless look when connecting living spaces in open concept or broken plan living room schemes.
21. Mix past and present with reclaimed boards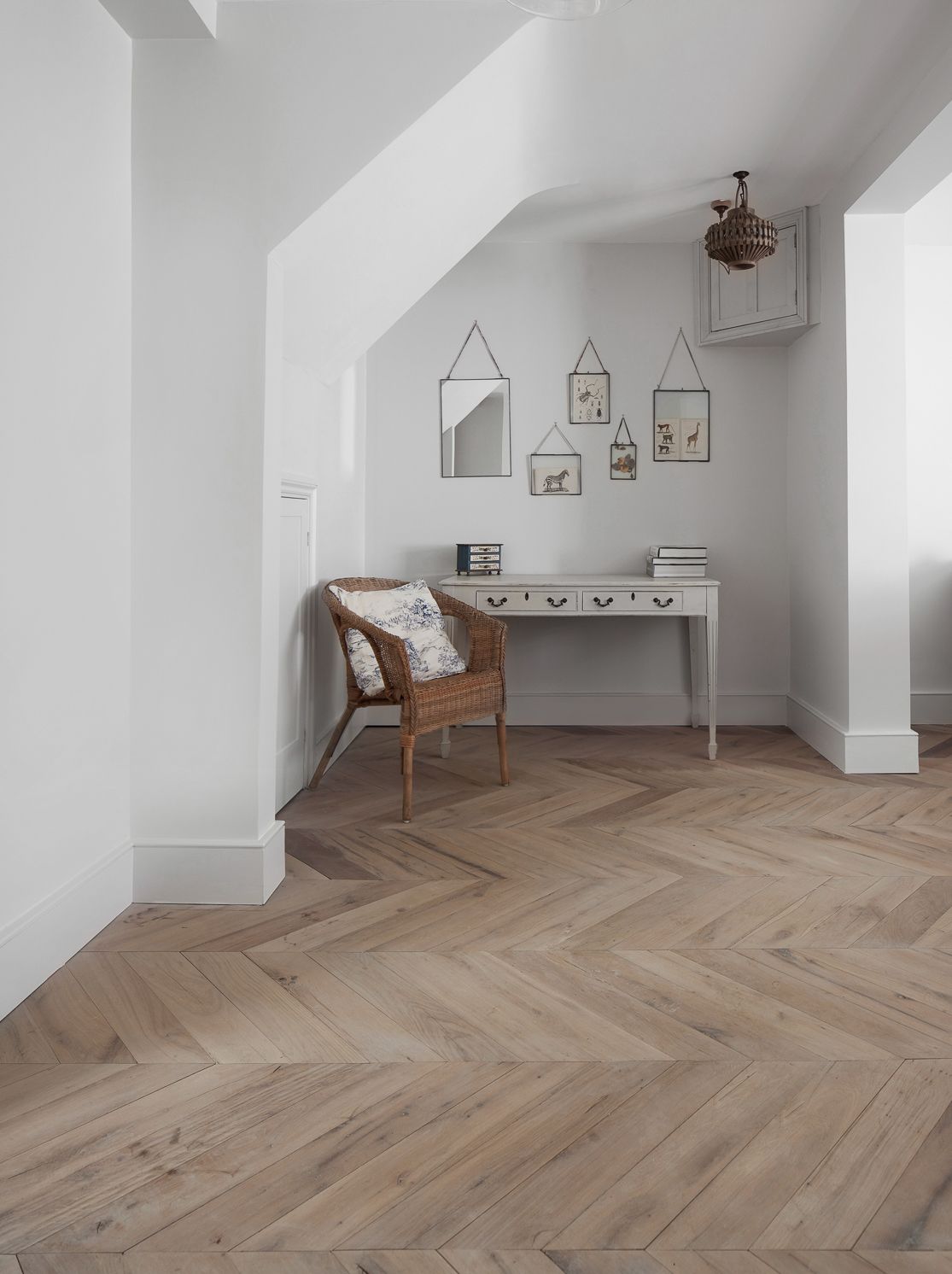 There's no need to shy away from wood flooring in the bedroom. This salvaged oak from The Reclaimed Flooring Company has been sourced from historic buildings across France, Central and Eastern Europe. Laying it in this classic chevron style gives subtle movement and a sense of grandeur to the simple room scheme.
It's also easy to see the beautiful flecks and characterful knots running through this light-colored timber, which is suitable for underfloor heating.
What is the most popular wood floor?
Oak is a popular choice as it has been used historically in homes and buildings for centuries. It's a durable hardwood that ages well and continues to look beautiful throughout its life. In addition much of it is sourced in FSC-certified forests.
'Boards with plenty of character are becoming extremely popular,' says Yolande Meyer, Havwoods. 'While prime grading was the favorite for some time, we are seeing more customers opting for planks with character grading, which will have more knots and traditional wooden characteristics such as visual cracks and sapwood, so offer a more "natural" look.'
What is the most affordable wood floor?
Wood floors are an expensive option and a long term investment. Some manufacturers offer warranties of up to 100 years, so you can expect a good-quality wood floor to last a lifetime.
If you're looking for an affordable alternative consider luxury vinyl flooring (LVT) as this can be less expensive than real wood.
At the budget end you can pick up softwood solid Spruce boards, however, these are unlikely to be compatible with underfloor heating and will need to be sealed.
What are on-trend wood floors?
'Herringbone has become extremely popular over the last year and will continue, especially in kitchens, bedrooms, and other spaces in the home,' says Yolande Meyer, Havwoods. 'Whether the pattern is used as an accent floor or an entire area, it's a great way to get creative but still maintain a calm and relaxing atmosphere.'
Neutral room ideas are also seeing a surge in popularity, with a real focus on natural materials, textures and colors used throughout the home. Wooden flooring provides the perfect foundation for your neutral room ideas, no mater the color, style or finish, you can create a beautiful neutral scheme shaped around your wood flooring ideas.
What is the most sustainable wood flooring?
Bamboo is the most sustainable wood flooring. Bamboo fully regenerates every five years without the need for fertilizer, which is much more sustainable than the decades of growth and acres of space needed for other trees.
Can I fit a wood floor myself?
'A competent DIYer could comfortably fit a pre-finished board floor. Installing parquet floors or sanding and sealing floors does require a higher level of expertise, requiring specialist equipment although this can be hired. If you are going to attempt fitting the flooring yourself, practice in a bedroom or less prominent room,' advises Peter Keane, director of The Natural Wood Floor Company.
Sign up to the Homes & Gardens newsletter
Decor Ideas. Project Inspiration. Expert Advice. Delivered to your inbox.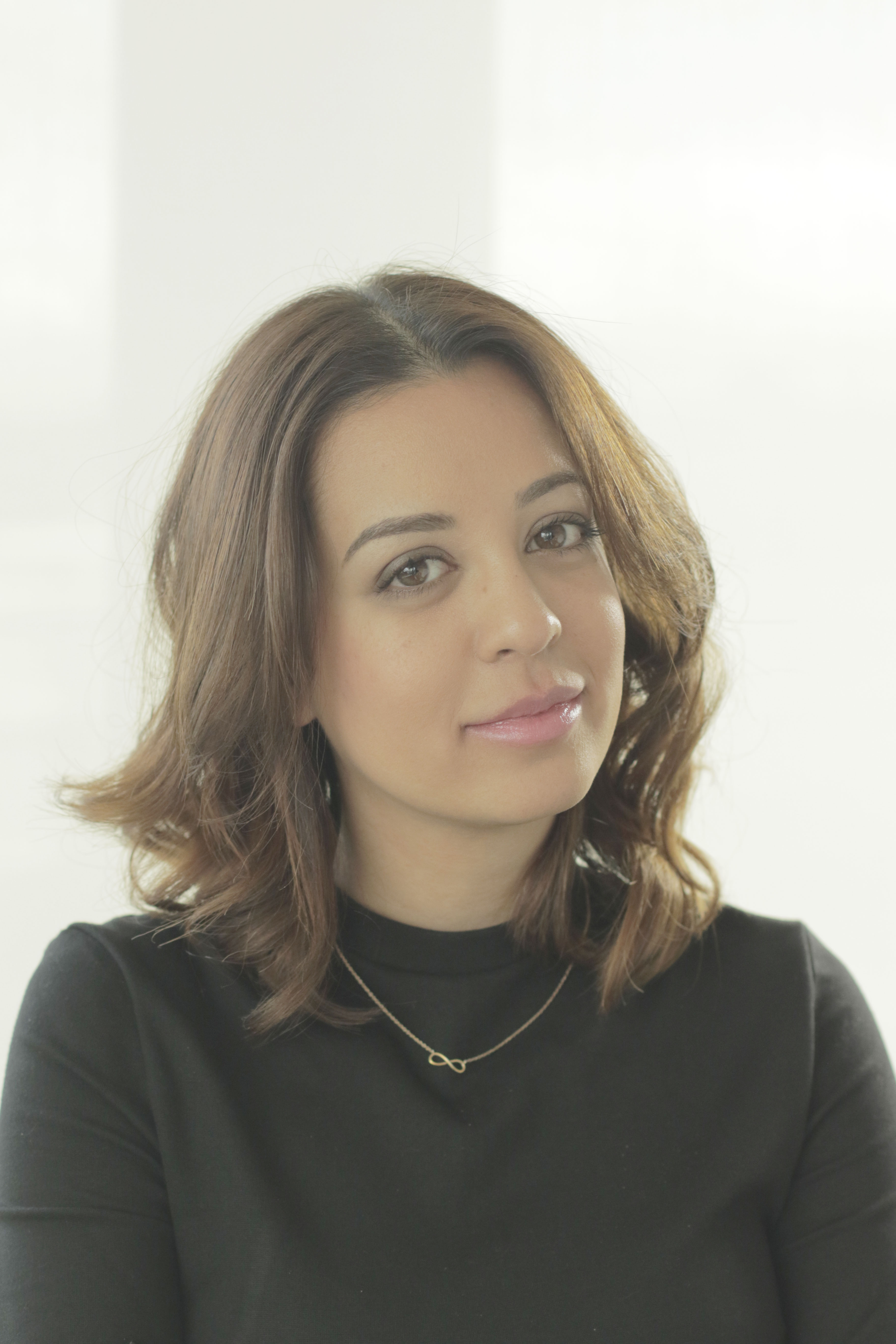 Jennifer is the Digital Editor at Homes & Gardens. Having worked in the interiors industry for a number of years, spanning many publications, she now hones her digital prowess on the 'best interiors website' in the world. Multi-skilled, Jennifer has worked in PR and marketing, and the occasional dabble in the social media, commercial and e-commerce space. Over the years, she has written about every area of the home, from compiling design houses from some of the best interior designers in the world to sourcing celebrity homes, reviewing appliances and even the odd news story or two.