Wood floor ideas for a living room – 10 practical and stylish looks for flooring
Create a durable and timeless foundation for interiors with these wood floor ideas for a living room
(Image credit: Future)
Are you in search of wood floor ideas for a living room? You're in luck as there's a huge array to inspire.
Hardwearing and durable, wood flooring is perfect for spaces in constant use such as living rooms, but it will also add beautiful character. Bringing the beauty of the outdoors into the home, and available in a host of attractive grains and subtle colors, wood makes a timeless backdrop for building stylish living room schemes in both traditional or contemporary homes.
From solid wood and engineered planks, to wood effect solutions, there's a wealth of options to choose from, so to help you decide we've rounded up an array of wood flooring ideas perfect for living rooms along with some handy tips from the experts.
Wood floor ideas for a living room – 10 beautiful style tips for your flooring
Choosing wood floor ideas for a living room can be tricky as there are many factors to consider, from the size of the room and whether you're seeking to connect it with other areas, to the mood you're looking to evoke. The key to getting flooring ideas right is to strike a balance between style and practicality, but also to think about longevity.
'The living room is, without a doubt, the most used room in your house. It's a place to spend time with family and to unwind. This means it's vitally important you get the interior design just right,' says Robert Walsh, founder and owner, Ted Todd Floors. 'Choose something that you really love as it is a big investment, and one that will last a lifetime,' he adds.
Hardwearing and durable, wood requires minimal maintenance and good quality designs can last for decades to come. As well as being practical, it can be beautifully decorative offering the opportunity to create all sorts living room styles depending on the type of wood and the laying pattern.
'With a variety of species and finishes available, you can make a real statement with a herringbone or chevron design or allow the floor to blend seamlessly with your existing décor with a plank format,' says Robert Walsh.
1. Lay geometric parquet for an elegant look
If you're looking to add a sophisticated touch of pattern to a luxury living room then consider a wood floor in a geometric parquet design.
'Subtle geometric patterns can make the room feel elegant and grand, like the floor has been in your home for centuries,' says Robert Walsh, founder and owner of Ted Todd. 'Think Parquet de Versailles – which is a design that was created in the 17th-century for the palace of Versailles – or basket weave, a continuous pattern that flows across the room.'
Alternatively, for if you're looking to make a statement 'try chequerboard or Parquet de Ardeche designs,' he adds.
2. Choose practical engineered wood
Combining the beauty of solid wood with the practical benefits of being easier to lay and fitted over underfloor heating, engineered wood is a popular choice for living room flooring, plus is available in a huge array of timbers, finishes and formations.
'An engineered board has up to 11 layers of hardwood backing, with each layer glued at a 90-degree angle to the adjoining layer. The thicker surface layer of a precious hardwood is then glued on top, resulting in a much more stable floor with a robust construction that is extremely hardwearing,' explains Peter Keane, director of The Natural Wood Floor Company.
If you're looking to brighten up a small living room, try this Oak Parquet in Silver White. It would also make a brilliant choice for Scandinavian living rooms which are often characterized by pale wood finishes.
3. Try light, wide planks for a clean look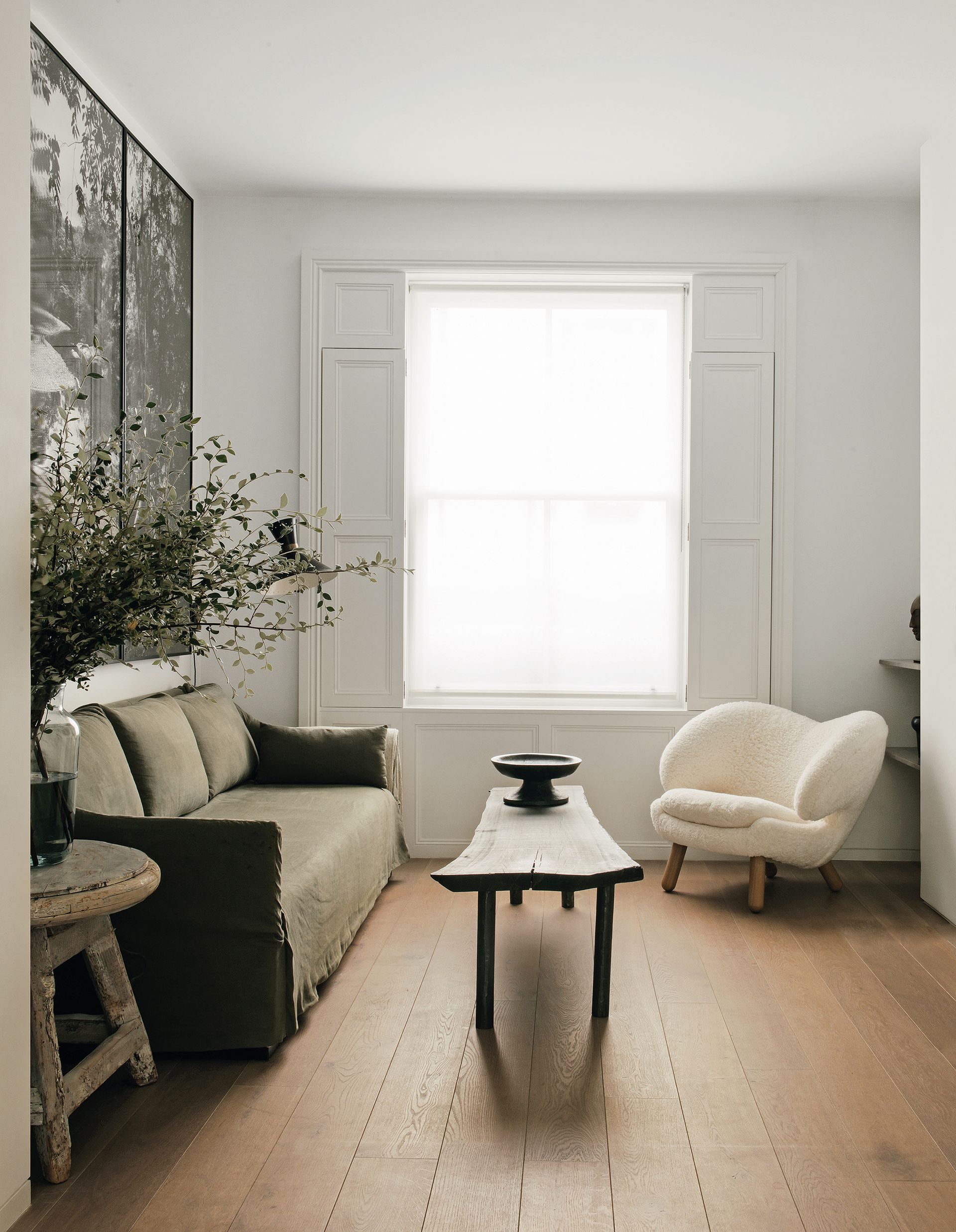 When choosing wood floor ideas for a living room it's important to think about the width of the planks and the grain of the wood as both of these factors can effect the look and feel of the space.
'Wide board plank floors will give a more uniform look, especially if you choose our Classic grade with very few color and grain pattern variations, says Richard Aylen, Technical Manager, Junckers. 'The Classic grade is made from the innermost part of the tree, where there is less variation in pattern and color.
'The long lines of the plank flooring can give an architectural look and works particularly well in open plan spaces,' he adds.
These wide, solid wood planks with a light, warm grain are perfect for bringing a pared-back, organic feel to this simple living room.
4. Add pattern with herringbone parquet
Popular in contemporary and period properties alike, herringbone parquet floors are a brilliant way to bring pattern and an elegant feel to living rooms.
'Herringbone and other patterned parquet floors are immensely popular and there are many options with a choice of timber, color, wider or narrower staves which will all give a very different look,' says Richard Aylen, technical manager, Junckers.
Boasting rich, golden tones, this oak parquet with a ultramatt lacquer finish brings essential warmth to this dark living room.
5. Consider the size of the room
Herringbone, chevron, and parquet wood flooring patterns are guaranteed to bring a classic, elegant feel and make a brilliant foundation for traditional decorating, but before deciding on a pattern consider the size of the room, advises Robert Walsh, as this will have a bearing on what type of pattern will work best.
'Large living rooms look great with a geometric patterned floor, as you'll really have the space to see the patterns run into each other from panel to panel. If space is at a premium however, or you have an odd shaped space, a geometric floor that flows across the space (i.e. a floor that isn't in a panel with a border) will look great as it will make the room feel bigger.'
6. Choose solid oak for a country look
Bringing the beauty of the outdoors in boasting beautiful natural graining, solid wood floors are the perfect way to give country living rooms a rustic feel.
As well as looking beautiful, solid wood floors can easily be revived with re-sanding and oiling or lacquering. When 'made in hardwood through and through, a wood floor can be sanded and refinished several times to good-as-new condition, or to add a new color or surface treatment to give it a completely new look,' explains Richard Aylen, Junckers' technical manager.
7. Try a wood-effect porcelain tiles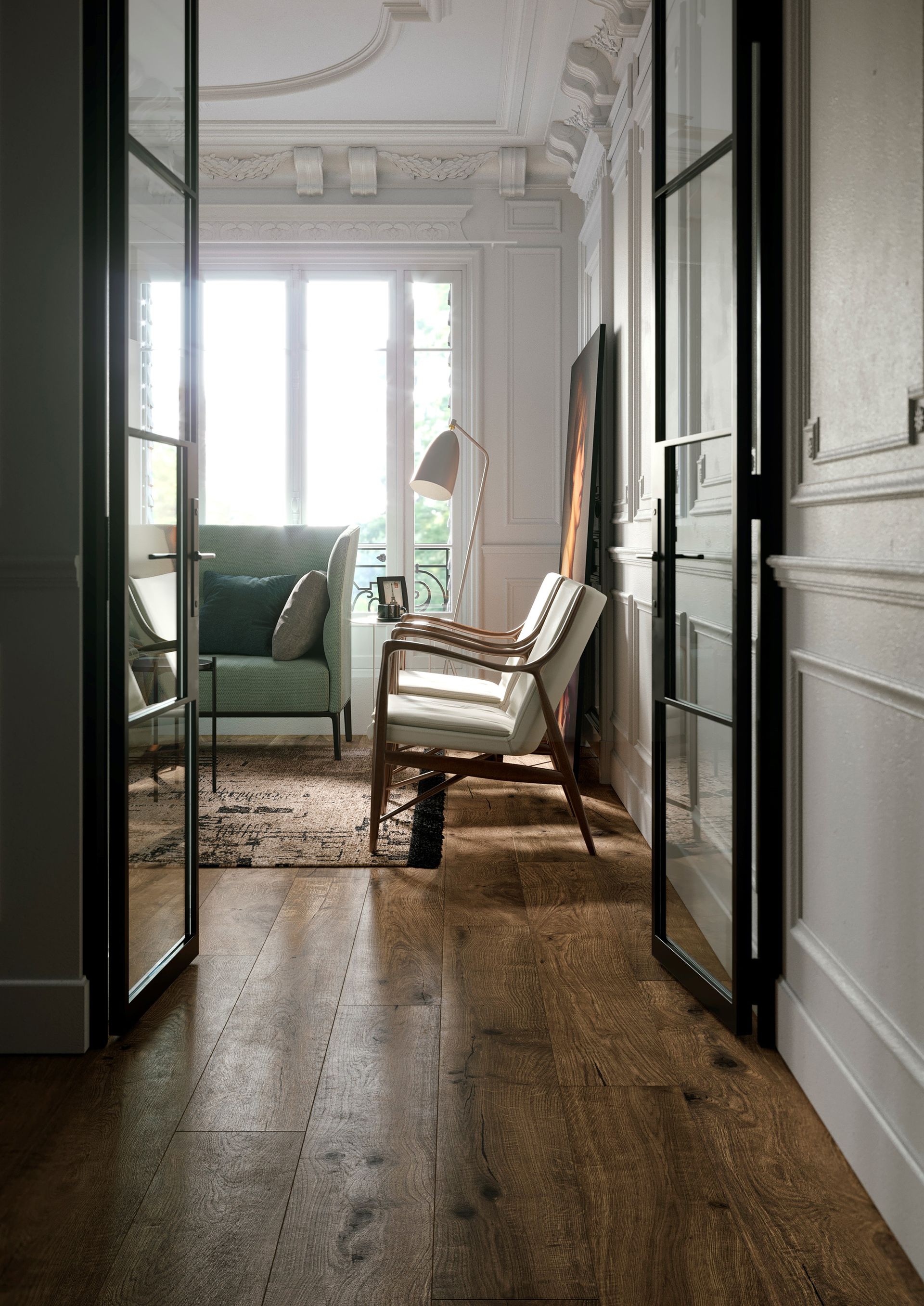 Available in a wide array of wood finishes, wood-effect porcelain tiles can make an effective alternative to solid wood or engineered planks. 'Easy to maintain, thinner, more stable and more durable than real timber, porcelain is an ideal surface for high traffic areas such as living rooms,' suggests Jason Cherrington, director at Lapicida. 'Available in planks, it can be laid in various formats to achieve different styles and a more decorative look.'
Durable and easy to clean, they are a practical flooring solution if you are looking for a seamless transition between a living room and other areas with high footfall, such as entryways and kitchens.
8. Try a wood-effect vinyl floor
Available in a huge array of colors, grains and sizes, luxury vinyl floor tiles offer a more affordable way to embrace the character of wood.
'Wood effect flooring works extremely well in the living room,' say Lucy Tunstall, creative director at Harvey Maria. Luxury vinyl floor designs, 'look and feel like real wood, but are incredibly practical, durable and easy to clean and maintain, plus they are waterproof and suitable for underfloor heating.'
Being a more economic solution, luxury vinyl is especially useful if you are looking to for wood flooring to cover a large open-plan living room.
9. Warm up wood flooring with a rug
While they are practical and stylish, wood floors can leave living rooms feeling cold underfoot, especially if there is no underfloor heating. Living room rug ideas are an easy way to add instant warmth and a cozy layer of softness which is essential when it comes to creating a comfortable and welcoming environment. With so many designs available, rugs are also a brilliant way to bring pattern and color to wood floors without concealing the characterful design fo the wood, plus rugs can help insulate sound.
When it comes to what type of material to choose for a living room carpet consider wool suggests Jodie Hatton, residential design manager at Brintons. 'Wool-rich carpets are known for their quality because they are highly durable, which helps maintain their appearance. Wool provides luxury underfoot and helps to insulate your home for warmth and comfort. It absorbs sound to give a sense of calm and tranquility. It is naturally fire resistant and fall-friendly for little ones.'
10. Reflect light with a white wood floor
Painting a wood floor white is an easy way to instantly brighten up a small living room, helping to reflect light back into the room. White wood floors are also a great foundation for a coastal living room helping them feel bright and breezy.
If painting a wood floor, 'it is essential to use a specially formulated floor paint that will be durable and hardwearing,' says Ruth Mottershead of Little Greene. 'For soft woods, knots should be sealed with a wood primer to prevent staining.'
Which wooden flooring is best for a living room?
The best type of wooden flooring for a living room will depend on a number of factors, from the size of your living room, to the look you are trying to create. From characterful solid wood and durable engineered wood planks, to wood-effect tiles porcelain and vinyl, each surface has various pros and cons.
Solid hardwood flooring is a durable and long-lasting solution which can be re-sanded and rejuvenated multiple times. 'A hardwood floor is a durable and long-lasting flooring option for living rooms. It won't dent or scratch as easily as a pine floor (original floorboards are usually pine), and it doesn't have any gaps between the floorboards to let in a draught or collect dust or dirt,' says Richard Aylen, technical manager at Junckers.
Engineered wood flooring is a popular alternative to solid wood planks. Comprising of several layers of solid wood bonded together, with the grain of each layer running in an alternate direction, engineered timber is extremely stable and durable. 'If you're looking to include underfloor heating, then we would recommend choosing a sustainably sourced, engineered wood floor as they are designed to work with heated floor systems,' says Robert Walsh.
If you're looking to cover larger areas then wood effect solutions such as luxury vinyl or porcelain tiles can be a more affordable solution and are available in a wide array of styles and textures. 'Wood effect tiles are perfect for hardworking areas of the home and are a lot more durable than their real wood counterparts. They're incredibly easy to look after and clean, needing minimal effort and upkeep to ensure they stay looking in great condition,' says Harriet Goodacre, brand communications manager and tile consultant at Topps Tiles.
What is the most beautiful wood for a floor?
Are you wondering what is the most beautiful wood for a floor? A natural material offering beautiful grain variations and subtle colors, wood makes a beautiful material for a floor.
With so many types to choose from, each with different visual and structural characteristics, it can be tricky to decide which is right for your room.
Richard Aylen has this advice: 'Oak, ash, beech and maple are all hardwood timber species, very hard-wearing and ideal for use as flooring. There are slight color and grain pattern variations between the different woods, they all have their unique coloring and structure, choosing which to go for is a personal choice.'
'Ash is slightly paler, with a more dramatic grain pattern, beech is more uniform with a warm color, and oak is a classic – by far the most popular timber for flooring in the UK.'
Do wood floors have to match room to room?
Wood floors do not need to match room to room. Hardwearing, versatile and suited to most rooms, wood flooring is a brilliant choice if you are looking for a smooth link between different areas, however it can also make a great way to zone spaces, too.
'Wooden flooring gives adaptability and longevity to a room and is a great way to transition seamlessly from one room into the next, without interruption from door bars and floor strips,' explains explains Amina Kamara, Chelsea showroom manager at Havwoods. 'Alternatively, wood flooring can be used to create 'zoning', where separate areas are given distinct dividing features. Separate the bedroom from the hallway by example by layering your floorboards in alternate patterns, or choose a slightly different tone.'
Sign up to the Homes & Gardens newsletter
Decor Ideas. Project Inspiration. Expert Advice. Delivered to your inbox.
Pippa is Content Editor on Homes & Gardens online contributing to Period Living and Country Homes & Interiors print issues. A graduate of Art History and formerly Style Editor at Period Living, she is passionate about architecture, creating decorating content, interior styling and writing about craft and historic homes. She enjoys searching out beautiful images and the latest trends to share with the Homes & Gardens audience. A keen gardener, when she's not writing you'll find her growing flowers on her village allotment for styling projects.