Living room flooring ideas – 11 of the best material types for your floor
From luxurious stone to cozy carpet and colorful rugs, be inspired by these living room flooring ideas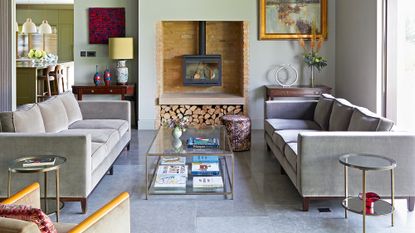 (Image credit: Future / Paul Massey)
Choosing the right living room flooring ideas is a big decision as they are areas in frequent use, plus living rooms are often one of the spaces with the largest footprint in the home, especially with the popularity of open-plan living spaces, this means that the flooring you choose can have a big impact on the look and feel of a space.
Flooring is a big commitment, too, as once it's down it's not easy to replace, so before deciding it's important to do your research and to examine exactly how you use the space. It's also worth getting in plenty of samples.
Ultimately, the decision is likely to be a balance between practicality and aesthetics. To help inspire your living room ideas we've rounded up a selection inspiring spaces with different types of flooring along with some tips from the experts.
Living room floor ideas
Searching for living room flooring ideas can be daunting as there is such a dazzling choice of materials and looks available. From luxurious solid stone and wood to edgy polished concrete and fitted carpet, each option brings with it a wealth of advantages and disadvantages, plus different maintenance requirements.
Living rooms are spaces to relax and unwind, and when it comes to creating a cozy, inviting room, a luxurious, deep pile fitted carpet will offer the ultimate in softness underfoot, but will also help deaden sound and can help insulate drafty floorboards, too. Low pile living room carpet ideas made from curable materials such as wool and sisal can be brilliantly durable options for high traffic areas such as family living rooms.
Hard floors of solid timber planks, stone tiles, porcelain and ceramic tiles or terracotta, terrazzo and polished concrete are generally all durable and easy to clean and are perfect flooring ideas for open-plan living room ideas. They can also work well with underfloor heating to take the chill off underfoot.
However, without underfloor heating hard floors can feel cold, adding a rug can help provide extra layer of warmth and texture as well as help zone the main seating area. If you add a rug be sure to plan its position. 'A larger rug will help pull the room together,' advises Andy Guard, creative director, Roger Oates Design. 'In open-plan living rooms placing all the furniture on the rug will define the space and unify the pieces. If possible the rug should extend 6-8 inches on each side.'
1. Create a feature floor with a flatweave rug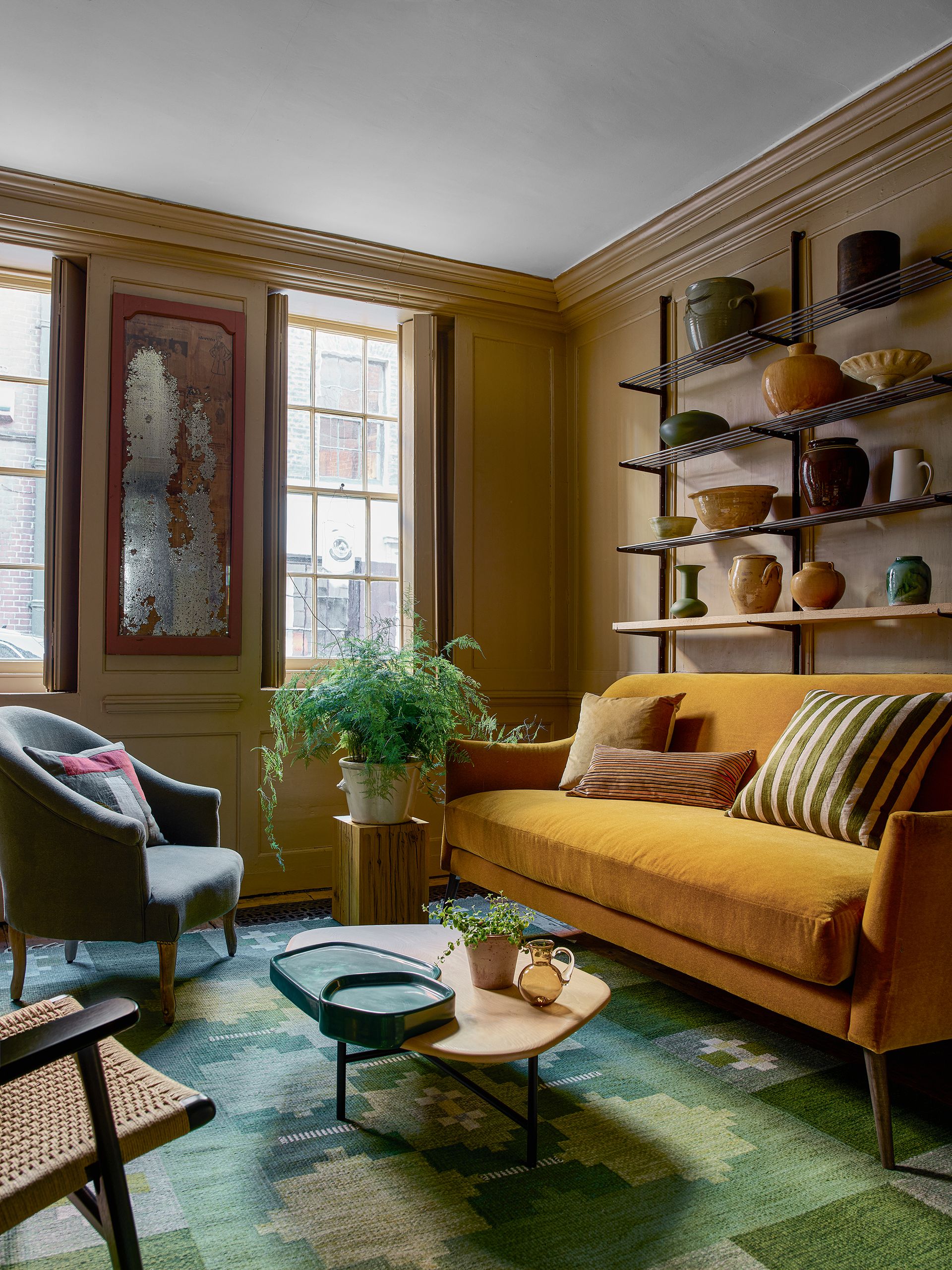 A statement rug is a brilliant way to bring pattern, color and personality to a living space, especially in a rooms where you may feel cautious about introducing bold shades and prints on walls. In this characterful living room the beautiful wall panelling has been painted in a warm neutral to let the detail sign through making the floor a perfect canvas for adding decorative interest.
With its myriad subtle greens and delicate geometric design this Swedish Silow flatweave rug by Robert Stephenson makes a lovely textural and versatile base for showcasing bold, sculptural furniture.
2. Choose a plush carpet underfoot
If there's one thing a living room needs to be it's relaxing and a soft, deep pile carpet in a bright neutral is guaranteed create a restful, welcoming space where you can kick your shoes off and put your feet up.
'In any interior scheme, decorating with neutral colors and the comforting texture of carpet brings a feeling of softness and calm,' says Jodie Hatton, residential design manager of Brintons. 'These are best suited to rooms where you spend a lot of time, such as a bedroom or living room, where relaxing is key to creating a happy space.'
3. Choose practical engineered wood
Capturing the beauty of solid wood but with practical benefits of being easier to lay and the ability to be fitted over underfloor heating, engineered wood is a popular choice for living room floors available in a huge array of timbers, finishes and formations.
'Helping to bring nature indoors in a very practical way, we are seeing engineered wood floors being increasingly chosen for living rooms,' says Peter Keane, director of The Natural Wood Floor Company. 'Not all wood flooring is suitable for every room in the home. Solid flooring, for example, has historically been the primary choice for interiors, but is not suitable for environments with high humidity and can't be used with underfloor heating. Engineered boards, on the other hand, can be fitted in most rooms in the house.'
This Oak Parquet in Silver White is perfect for brightening up small living rooms or for Scandinavian living rooms which are often characterized by pale wood finishes.
4. Create a tailored space with a fitted carpet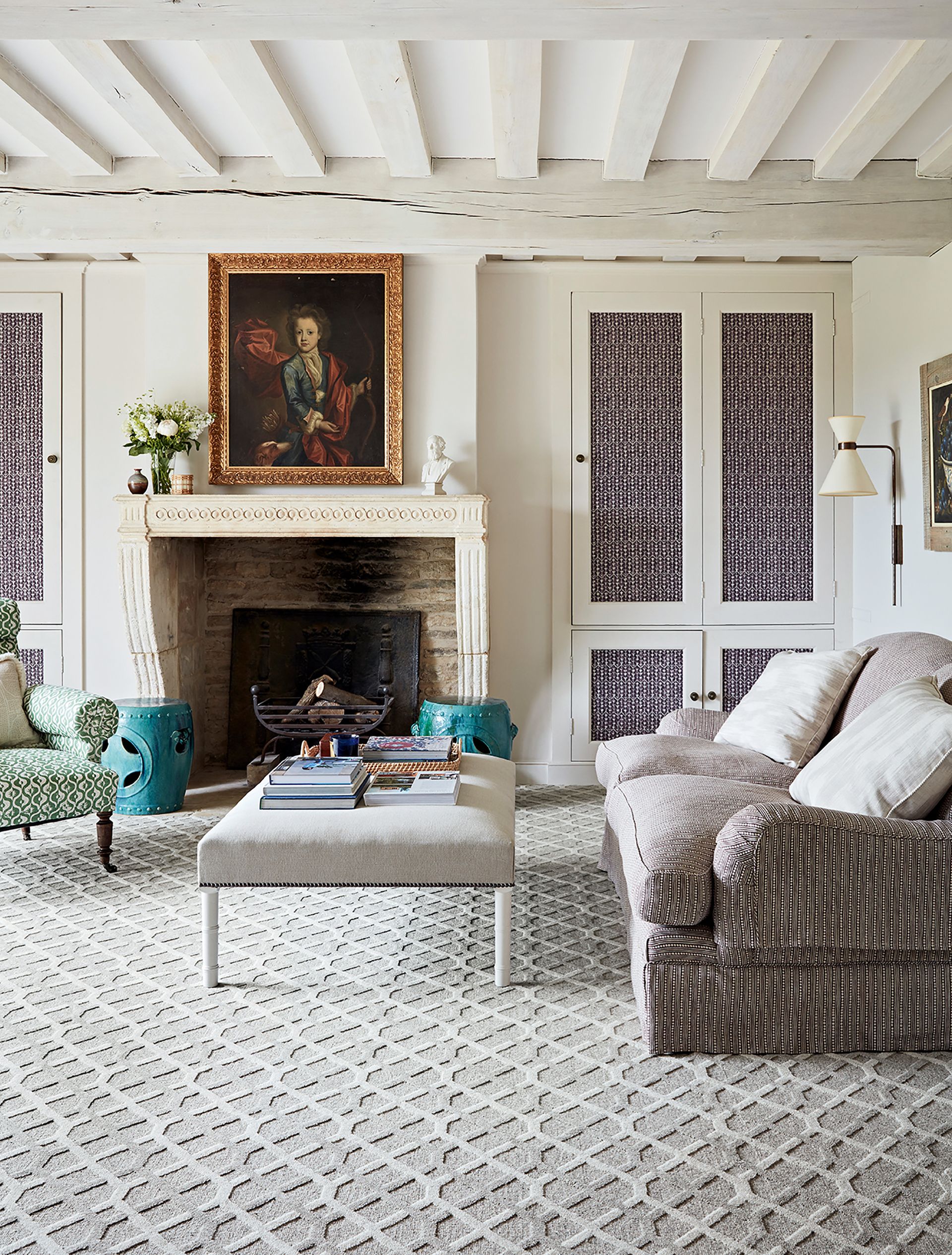 Carpet trends offer a wealth of benefits for living spaces. Not only do they bring comfort and warmth underfoot, they can help insulate sound – helping to create a feeling of calm – and heat, which is particularly useful in older properties.
For a look which is both practical and stylish but will stand the test of time, try a neutral carpet with a delicate pattern – muted colors provide an uplifting and versatile base for any look and the delicate pattern can help disguise stains and dirt making it a good choice for family room and living areas which are in frequent use.
5. Add pattern with a Berber rug
A monochrome carpet with a simple geometric design such as a traditional Berber rug can make a beautiful backdrop for layering colorful furniture and patterns as part of a quirky, Bohemian living room scheme as this space demonstrates. With a deep pile, Berber rugs will also bring ultimate softness under foot.
'By it's very nature, a Berber rug offers a sublime combination of luxury and charm,' says Luke Irwin. 'In many ways this is the most honest of all rugs. Made in the Atlas mountains, their primary purpose is warmth, but they have a decorative purpose too; simplistic, child-like designs that lift whichever room they are in.'
6. Bring rustic charm with a jute rug
Solid wood floors are beautiful country living room ideas but they can leave spaces feeling cold and clinical – a large rug that complements the grain will allow the floor to remain visible while bringing texture and softness to the space.
Country decor is all about celebrating the rustic charm of nature, so choose a rug made from natural fibres such as this beautiful Jute design from The White Company. Jute also comes with additional benefits as Mark Winstanley, chief creative officer of The White Company highlights.
'We love to use natural fibres, jute is a favorite that doesn't rely on insecticides or pesticides, therefore making it completely biodegradable,' It is also an incredibly efficient source of renewable materials only relying on natural rainfall (rather than extensive and energy-consumptive irrigation systems), it also absorbs carbon dioxide and releases oxygen much faster than trees, and enhances the fertility of the soil it grows in for future crops,' he adds.
'This particular fiber is Ideal on hard floors and carpets alike and feels remarkably soft under foot and is the perfect piece for protecting hardworking parts of your home like kitchens, hallways and living rooms.'
7. Create a contemporary feel with polished stone
Hardwearing, easy to clean and boasting beautiful natural grain, polished solid stone tiles or stone-effect porcelain tiles can make a practical and stylish living room floor choice, plus they work well over underfloor heating too. This benefit makes them particularly suitable for modern living rooms as underfloor heating removes the need for radiators allowing spaces to remain sleek and spacious.
8. Make a statement with vinyl
If you are looking to create a striking geometric look then luxury vinyl tile (LVT) could be a great option. There are hundreds of wood and stone effect designs to choose from but also a dazzling array of abstract tiles which can be laid in variety of patterns. Made up of a trio of monochrome tiles, this gingham design would make a stylish modern living room idea but can it help spaces feel larger, too.
Water resistant and hardwearing it makes a great kitchen flooring idea – and vinyl is also lightweight, flexible and easy to install.
9. Add color with an abstract rug
If you love art then the floor can make a great canvas for adding a decorative focal point, offering an extension wall. This colorful, abstract rug from Robert Stephenson helps balance the busy artwork-filled walls of this stylish living room and is complemented by cushions in abstract fabrics on the sofa.
10. Create a traditional look with an antique rug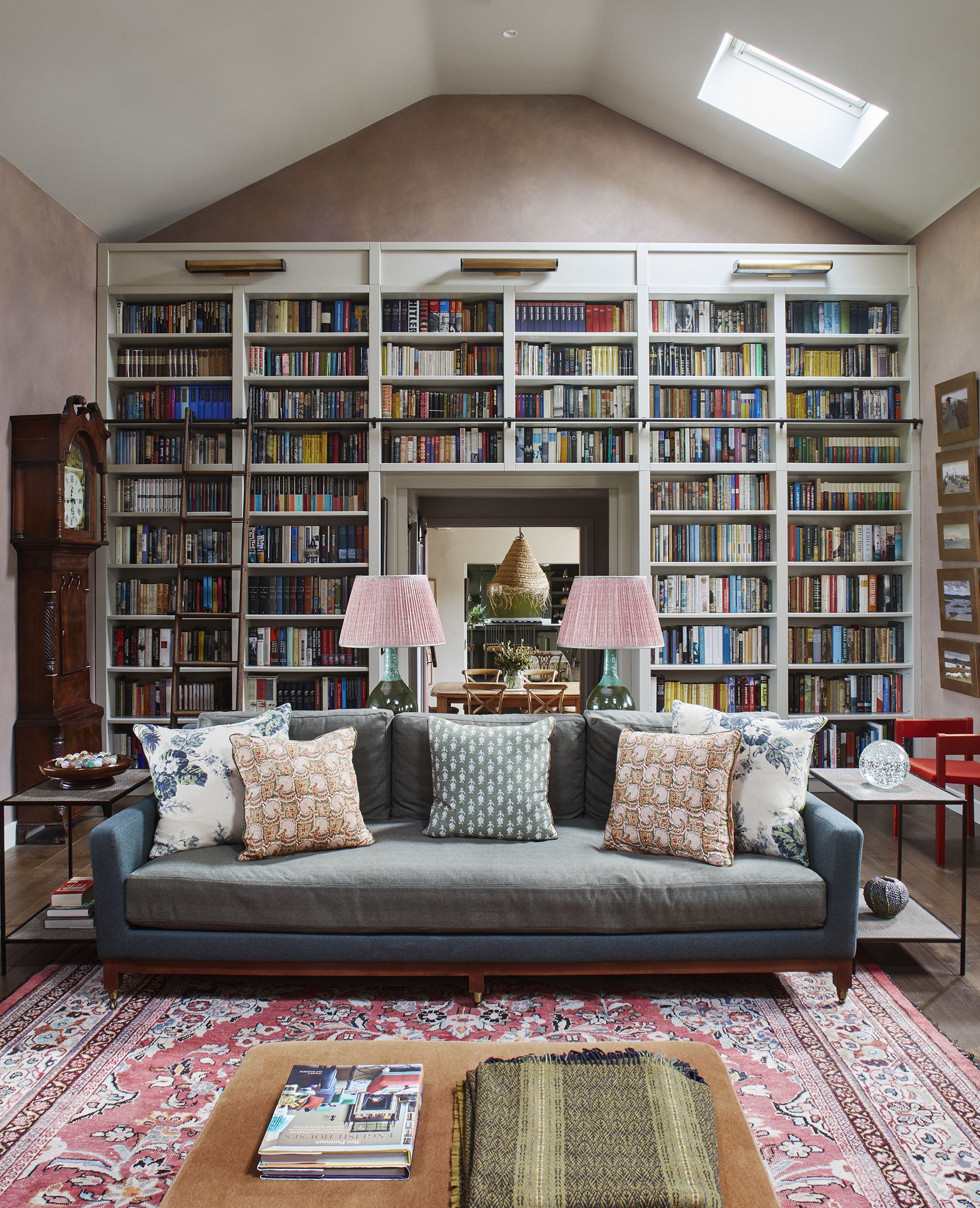 If you're looking to create a traditional living room then a large antique living room rug is a great way to bring timeless charm. Beautifully handcrafted and often unrivalled in quality, antique rugs with ornate patterns help create a cozy, homely feel. In this characterful space, the ornate pattern of the rug helps to balance the busyness of the floor-to-ceiling bookcase.
11. Combine flooring types to help zone spaces
Using the same flooring type throughout an open-plan living area is guaranteed to unify the space, however, it's also important for the different areas of a living space to have their own separate feel and personality, too. Engineered wood planks are a practical flooring choice for open-plan living spaces as they look stylish, bring the beauty of the outdoors into interiors and are durable – to distinguish the living area and give it an extra layer of texture, decorative interest and comfort consider adding a patterned rug.
Which is the best flooring for a living room?
The best type of flooring for a living room will depend on a huge array of factors, from the size of your living room to the look you are trying to create. From stone and wood to vinyl, each surface has various pros and cons.
Carpet can provide an instant refresh, it also adds comfort, natural insulation and is an excellent choice for living rooms, being warmer than hard flooring and softer on the soles of feet,' says Punum Chada, buyer at Carpetright.
'Underlay is important because it reduces wear of the flooring, making it more resilient, and, more importantly, offers a softer and more luxurious feel. Opting for a thicker underlay will boost the longevity of your flooring and a good underlay can make a big difference to a cheaper carpet, helping to make it feel plusher underfoot.'
In terms of carpet material Jodie Hatton, Residential design manager at Brintons suggests that 'wool is the ultimate sustainable choice for flooring. It insulates your home, it's easily recyclable and biodegradable, plus shearing sheep is essential for their welfare.'
'Wool-rich carpets are known for their quality because they are highly durable, which helps maintain their appearance,' adds Hatton. 'Wool provides luxury underfoot and helps to insulate your home for warmth and comfort. It absorbs sound to give a sense of calm and tranquillity. It is naturally fire resistant and fall-friendly for little ones.'
Alternatively, Robert Walsh, founder and owner of Ted Todd argues that, 'wooden flooring is best for living rooms as it's both durable and stylish.'
'If you're looking to include underfloor heating, then we would recommend choosing a sustainably sourced, engineered wood floor as they are designed to work with heated floor systems,' he adds.
Can you put vinyl flooring in a living room?
Luxury vinyl floor tiles are a good choice for living room floors as they are durable, easy to clean and they come in a huge array of designs, plus they can be very cost effective. Vinyl floor tiles work particularly well in kitchens, which in turn makes them a great choice for open-plan living areas where you may want to create a cohesive look throughout the kitchen, dining and living space.
'LTV is a great option to be creative with your flooring,' says Sarah Escott design manager at Amtico. 'It's extremely durable and robust and is resistant to stains making it great for any room in the home, in particular high traffic areas. Furthermore, LVT flooring is warm underfoot and can be used with underfloor heating making it the perfect choice.'
Sign up to the Homes & Gardens newsletter
Decor Ideas. Project Inspiration. Expert Advice. Delivered to your inbox.
Pippa is Content Editor on Homes & Gardens online contributing to Period Living and Country Homes & Interiors print issues. A graduate of Art History and formerly Style Editor at Period Living, she is passionate about architecture, creating decorating content, interior styling and writing about craft and historic homes. She enjoys searching out beautiful images and the latest trends to share with the Homes & Gardens audience. A keen gardener, when she's not writing you'll find her growing flowers on her village allotment for styling projects.