Carpet ideas – 12 looks to create warmth, texture and style underfoot
Find the right material, color and style for your home with our inspiring carpet ideas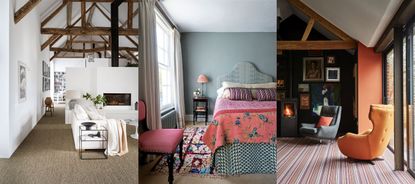 (Image credit: Fibre Flooring | Future | Carpetright)
A carpet can transform the look and feel of a room, and our carpet ideas explore a collection of looks for both modern and classic interior designs.
For flooring ideas, a carpet can not only make a room feel more cozy, comforting and inviting through tactile texture, but it can also provide a chance to get truly creative with color and material.
Claire Kimble, head of design at Crucial Trading says, 'the floor can become a canvas that can be ever changing, reflect a mood, and bring comfort and direction to our interior.'
Whether you want to make a bold statement for living room carpet ideas with a patterned carpet, or keep things simple and neutral for bedroom carpet ideas, there is an array of carpet designs to choose from that can best suit your space.
There is a lot to consider when choosing the right carpet for your home, such as the cost to install carpet, the underlay and material – from wool, sisal, seagrass and jute – to the pile, from woven, loop, twist, tufted and bonded, to low pile and high pile – and of course, don't forget the color and carpet mistakes to avoid!
Punam Chada, buyer at Carpetright states, 'when you're selecting your carpet think carefully about the use of the space and the existing color scheme. Consider a minimalist style if you already have strong focal points, such as statement wallpaper in the room, or look at bold and patterned options to brighten a neutral room.'
Carpet ideas
Rupert Anton of The Carpet Foundation shares his top tips for when exploring carpet ideas in the home. 'When buying carpet for your home, things to consider include: the room it is for, your color scheme, the purpose of the carpet/desired lifespan, your budget - including costs of fitting and underlay, a plain or patterned design.
Also remember, measuring the room - leave it to an expert! Ordering samples of carpet to see designs in-situ, underlay and the fitting of your carpet.'
With many designers and brands looking to make more sustainable carpet choices, today, there is an increased focus on using carpets in the home that have been crafted from natural and renewable materials that are better for the environment.
One of the most popular and enduring examples is wool, as Jodie Hatton, design manager at Brintons says, 'not only is wool on trend right now, but it comes with the added bonus of being a fantastic sustainable choice for flooring. It insulates your home, is easily recyclable and biodegradable, plus shearing sheep is essential for their welfare. Thanks to wool's hypoallergenic and antibacterial properties, using it on the floor helps to make the air we breathe cleaner.'
So, whether you are carpeting the whole house, or just the one room, we have curated a collection of beautiful carpeted looks, along with some valuable carpet advice from the experts, to help with the carpet ideas in your home.
1. Create a textured, organic look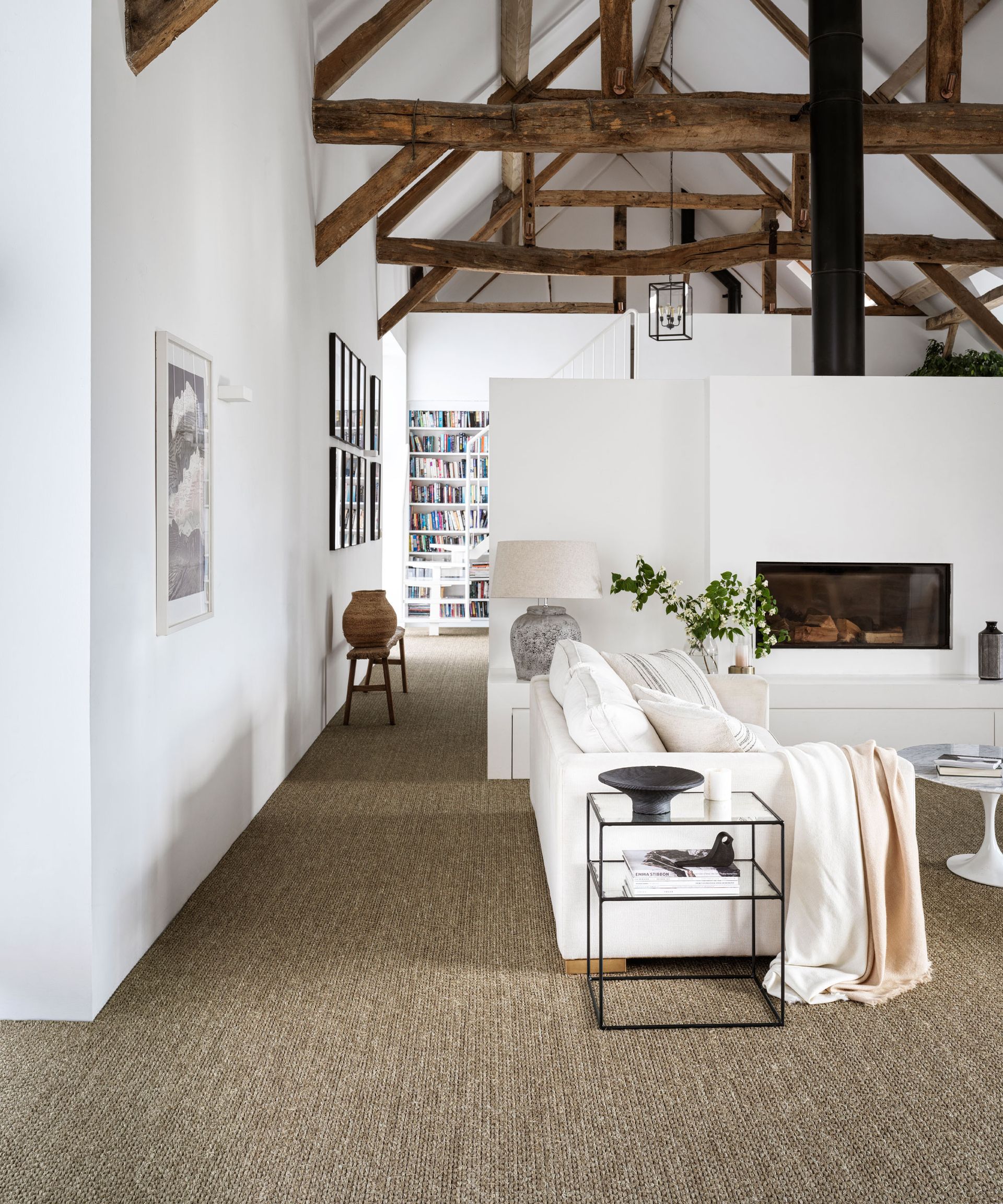 In this beautiful barn conversion, the flooring has been covered in the Kashmir Sisal Himalaya carpet from Fibre Flooring. The natural, sisal texture and earthy, brown colorway works in perfect harmony with the history of the property and the traditional architectural features, as well as with the fresh, modern white design.
Julian Downes, managing director at Fibre Flooring states, 'sisal is a natural, plant-based material which offers a range of patterns which can not only add texture, but allow you to use the design to make the most of an available space. For example, herringbone and stripes adds direction and make a space look longer as it draws the eye down through the room or along a corridor or stairs.'
Made from fibers extracted from plants, a sisal carpet can establish a timeless, organic look that brings the beauty and versatility of the outside world, indoors.
2. Make a statement with colorful carpet tiles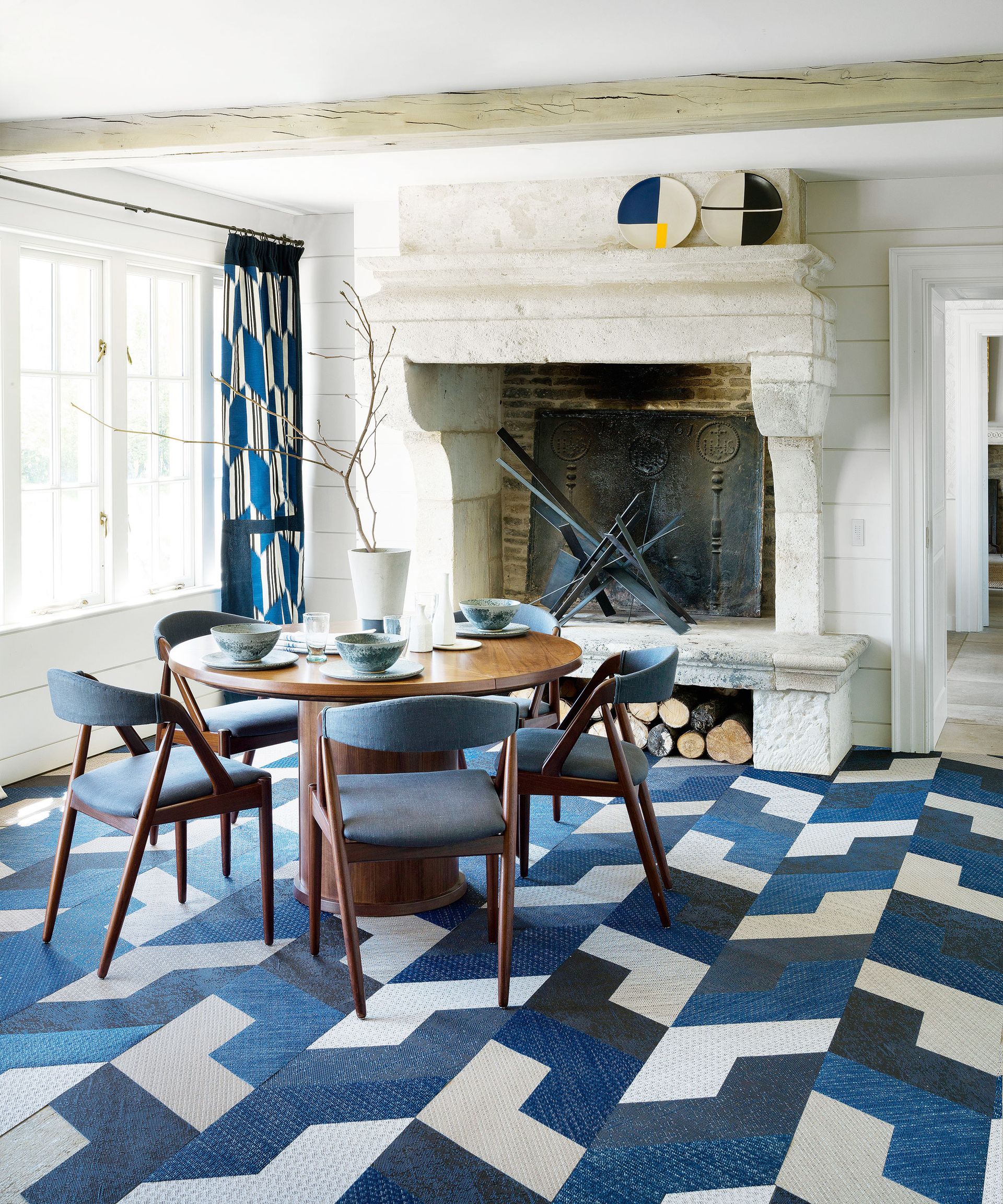 Carpet tiles unite the softness and coziness of carpet with the beautiful, intricate designs and patterns of floor tile ideas. Carpet tiles are swatches of carpet that can come in different shapes and sizes and can be neatly fitted together to create a unique, modular design.
Mike Richardson, general manager of Kersaint Cobb states, 'for the really bold, try experimenting with color with a vibrant carpet for a real style statement. Think about making the carpet the base of your design scheme, compliment the colorful flooring with a more neutral palette for furniture and accessories to create a modern look.'
As shown in this elegant dining room, the striking blue carpet tiles in a eye-catching geometric pattern, are enhanced by matching patterned curtains, blue upholstered dining chairs and the two decorative plates. Creating a unified, modern look, the blue is balanced by the white painted ceiling, paneled walls and traditional stone fireplace.
A stylish blend of the old and the new, these colorful carpet tiles steal the show in this blue dining room.
3. Create a calming sleep space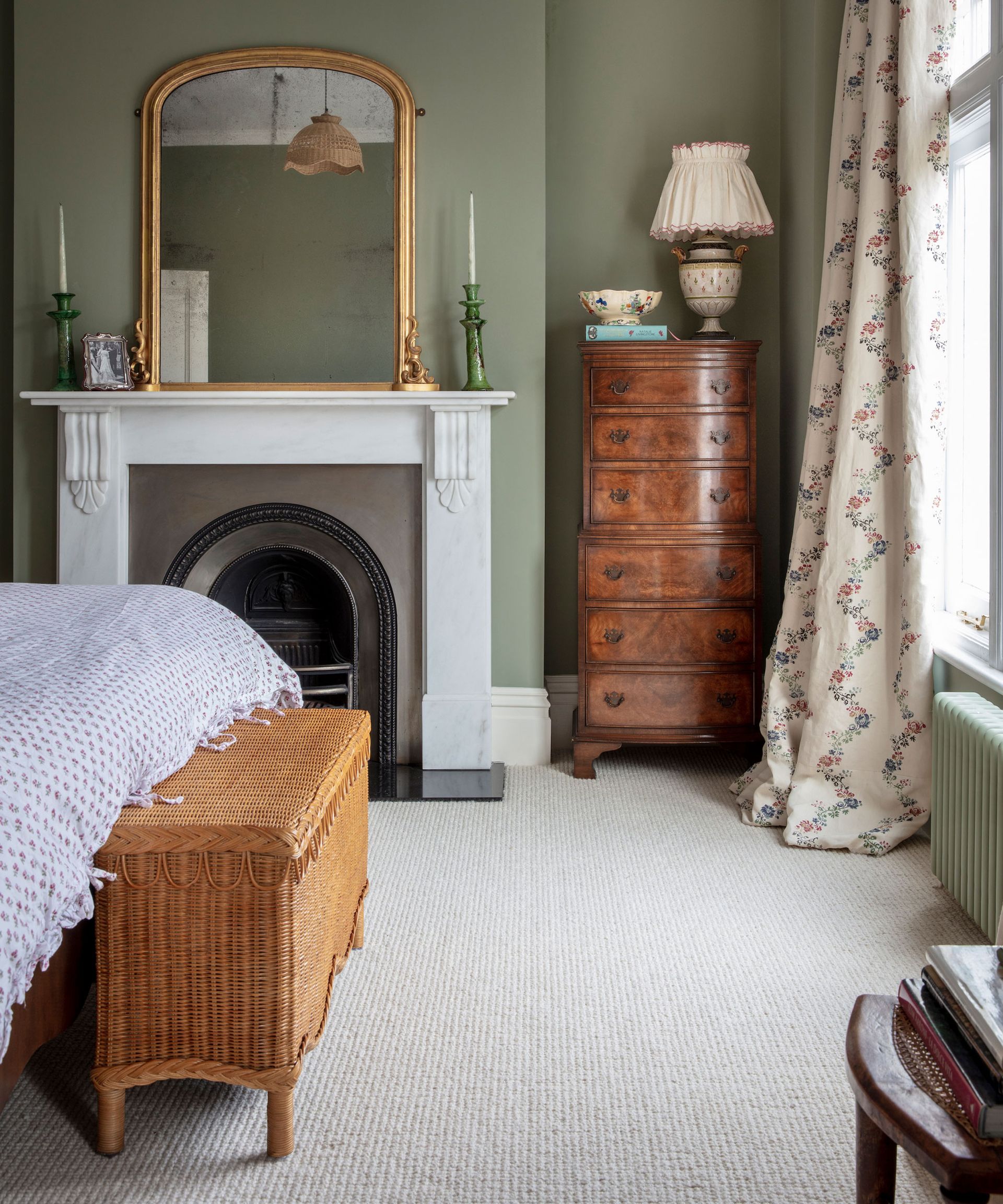 In this bedroom, belonging to broadcaster and journalist Louise Roe, the Alternative Flooring Wool Pebble Omaha carpet helps to create a cozy and soft atmosphere in the space.
Roe states why she chose this carpet, 'from a practical standpoint we wanted something squishy and soft to walk on at the end of a long day, and for a baby to crawl on. Aesthetically, something neutral but bright to reflect as much light as possible on a dark winter day.'
This carpet's light color can seamlessly complement and integrate into a range of styled spaces, with the thick 'pebble-like' weave adding eye-catching texture and a beautiful sense of depth.
Alternative Flooring, creative director, Lorna Haigh, states, 'wool is a wonder fiber: natural, renewable, easily cleaned and it retains its shape and bounce. An insulator and naturally flame retardant, a super textile for floors which lasts too. Deep pile luxurious wool carpets, such as our chunky Wool Pebble in beautiful lights creams are indulgent for bedroom carpets and upstairs but may not perform well in an area with heavy foot fall.'
4. Be bold with a striped design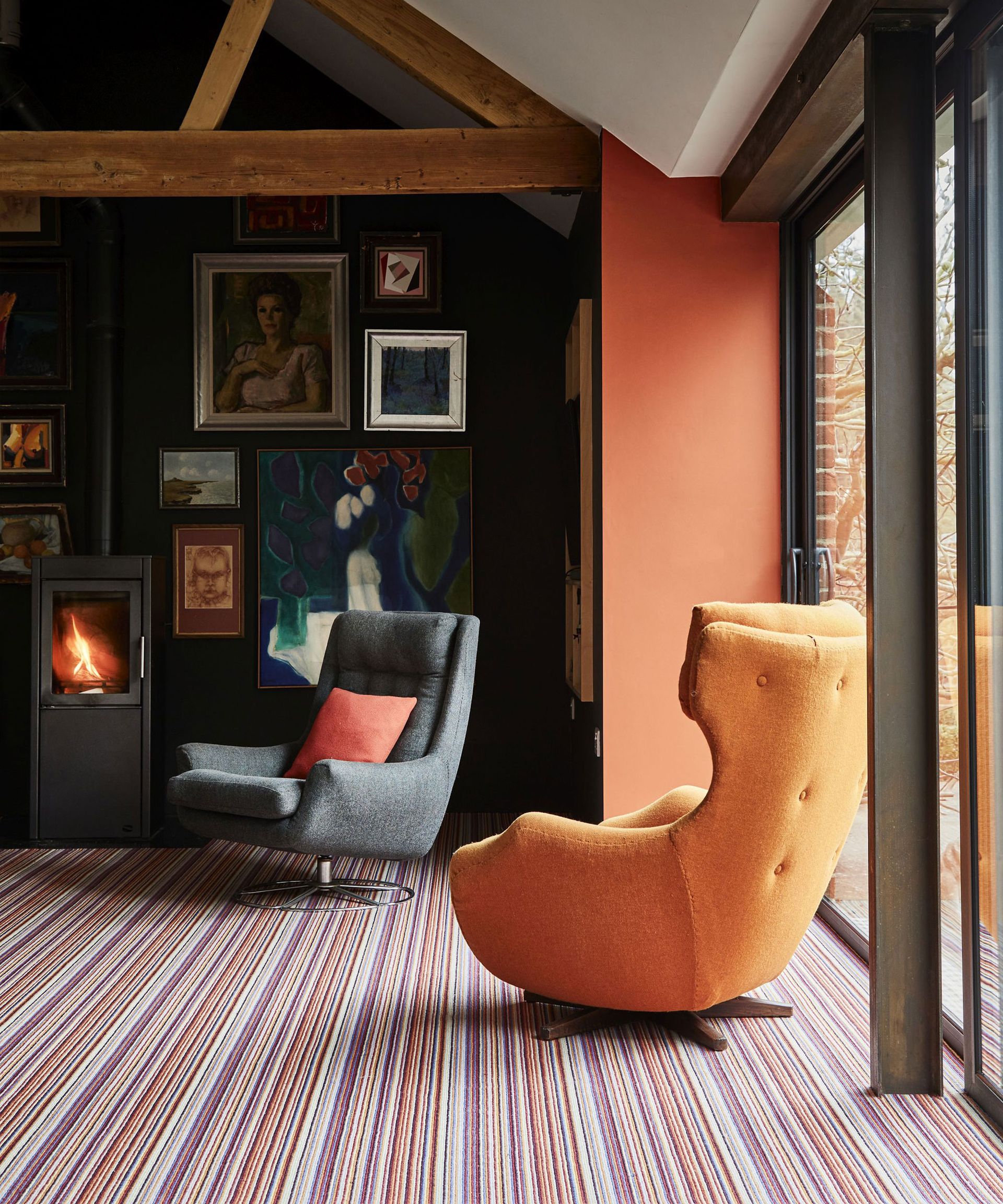 Decorating with stripes can not only prove timeless in interior design, but it can also work as a clever decorating trick to make spaces in the home feel bigger and wider than they actually are. Using a striped carpet can make a bold design statement as well as help to enhance the feel and size of a space.
As shown in this colorful living room, the Soho Stripe Loop Carpet in the Kingston finish by Carpetright is defined by a bold palette of oranges, reds, blues and purples, with the elegant, thin stripe pattern creating a mesmerizing effect. With the orange lounge chair and painted feature wall working in harmony with the carpet design to create a colorful, unified look, this traditional living room has had a beautiful contemporary refresh with bold colors and textures.
Punam Chada from Carpetright advises when working with a colorful carpet, 'you don't necessarily need to match prints and patterns but opting for a carpet that shares a color with something else in the room, such as the walls or bedding, will help tie the look together.'
5. Choose a carpet runner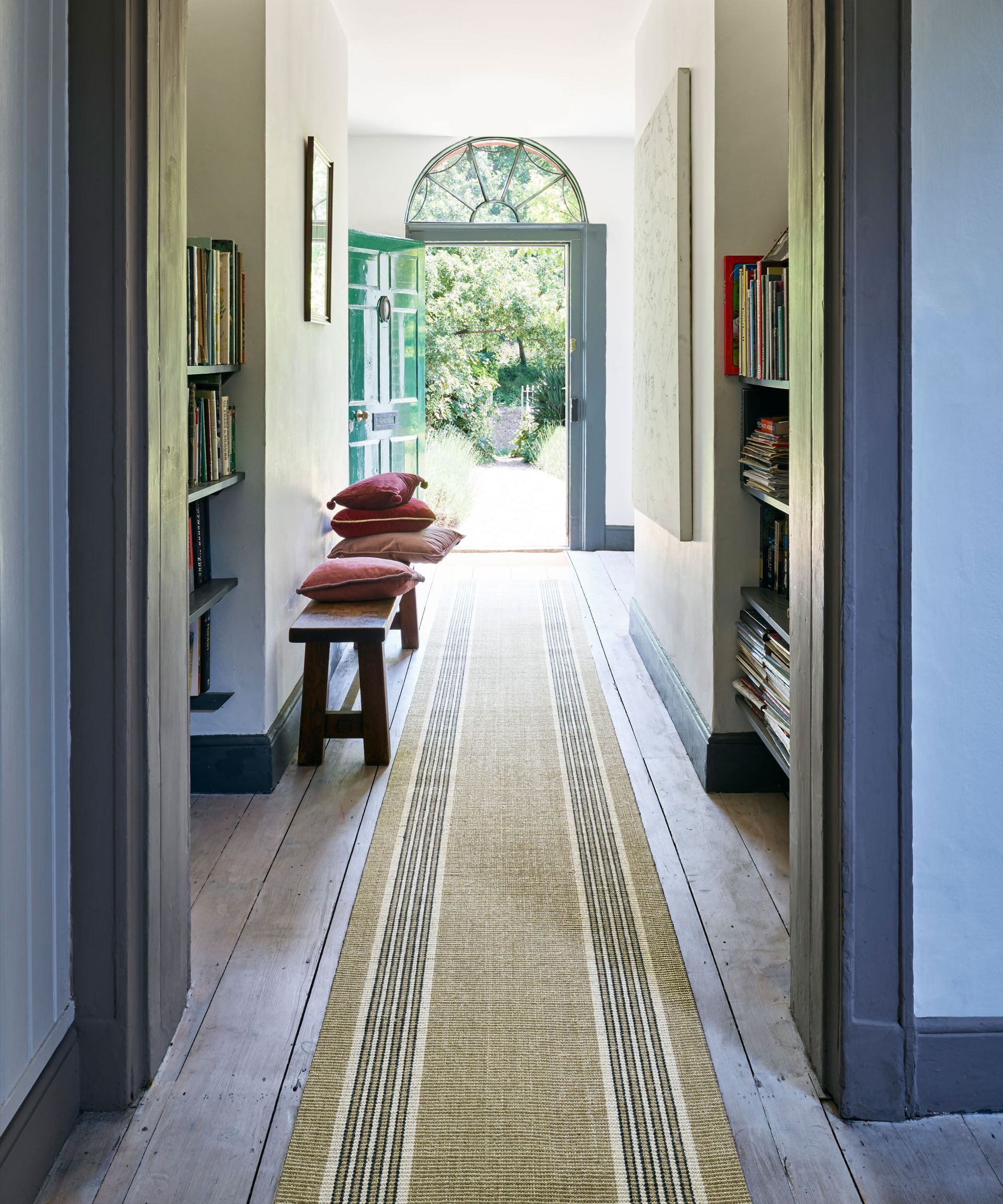 A great option for hallway carpet ideas, hallway carpet runners can create a zone of comforting texture, and establish a beautiful union of contrasting materials on the floor.
In this hallway, the Kersaint Cobb Morocco Runner in the Tetouan finish adds a subtle feature of color, texture and striped pattern. The design is also crafted from sisal, which is perfect for hardwearing, heavy traffic areas such as hallways, entryways and stairs.
Creating an inviting entrance into the home, this long runner works wonderfully with the light wood flooring to help you move through the entrance in comfort and style.
6. Create a layered look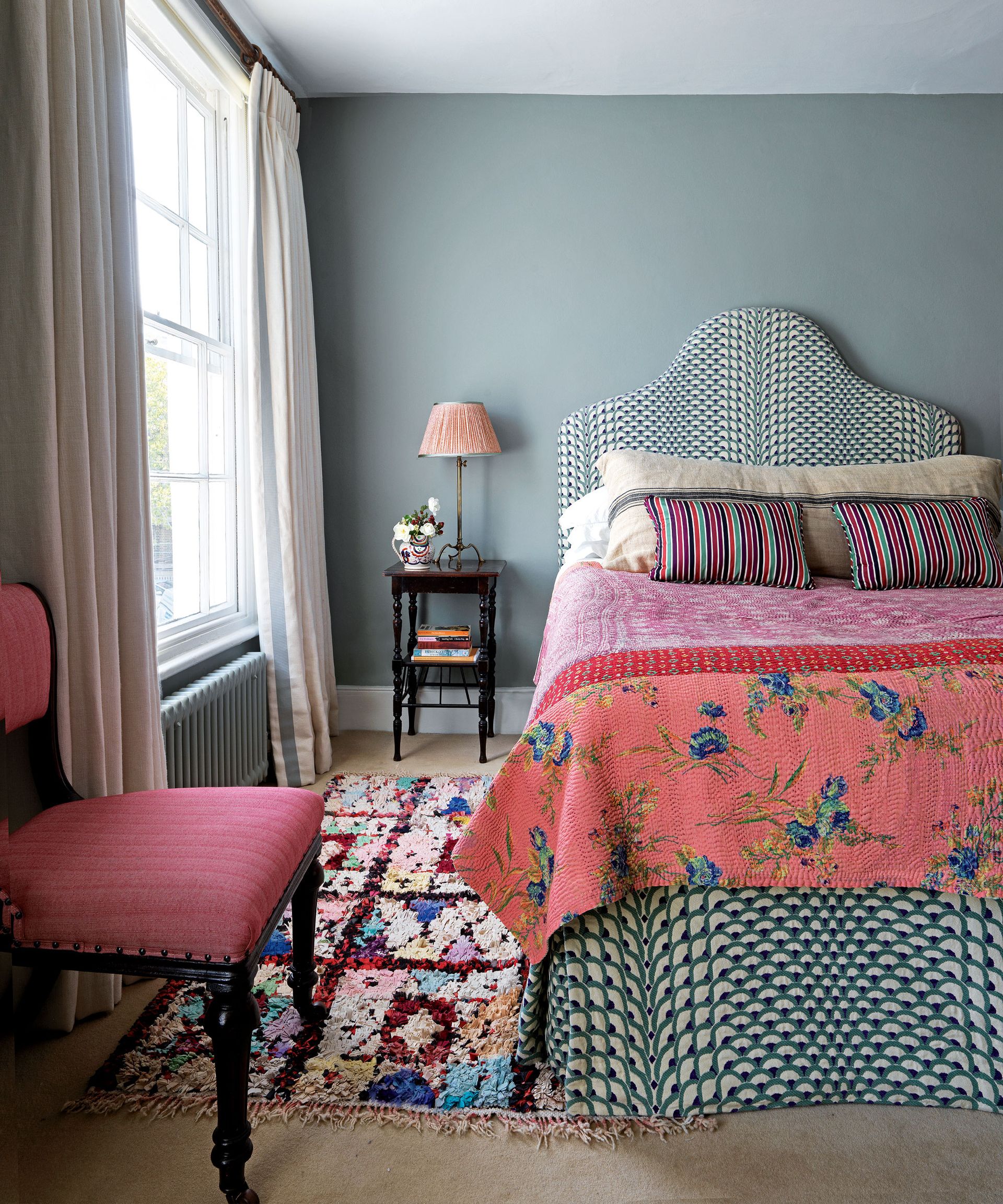 Mike Richardson says, 'use carpet as the starting point for your décor and a rug as the finishing touch.'
Rugs are often used on wooden or tiled floors, adding an element of softness and helping the space feel more inviting, however, they also work wonderfully on a carpeted floor, creating an enriched atmosphere of texture, warmth and coziness.
As shown in this bedroom, designed by Kate Guinness, the calming sea blue on the walls and natural, neutral beige carpet on the floor create the perfect backdrop for the mix of patterns and colors that take center stage in the scheme.
The colorful rug creates an eye-catching focal point and comforting, textured zone next to the bed, working with the other colorful soft furnishings and accessories to create a bedroom design full of character and unique style - a great example of bedroom rug ideas.
You can view the rest of this beautiful home designed by Guinness in our Design House feature.
7. Pick a textured carpet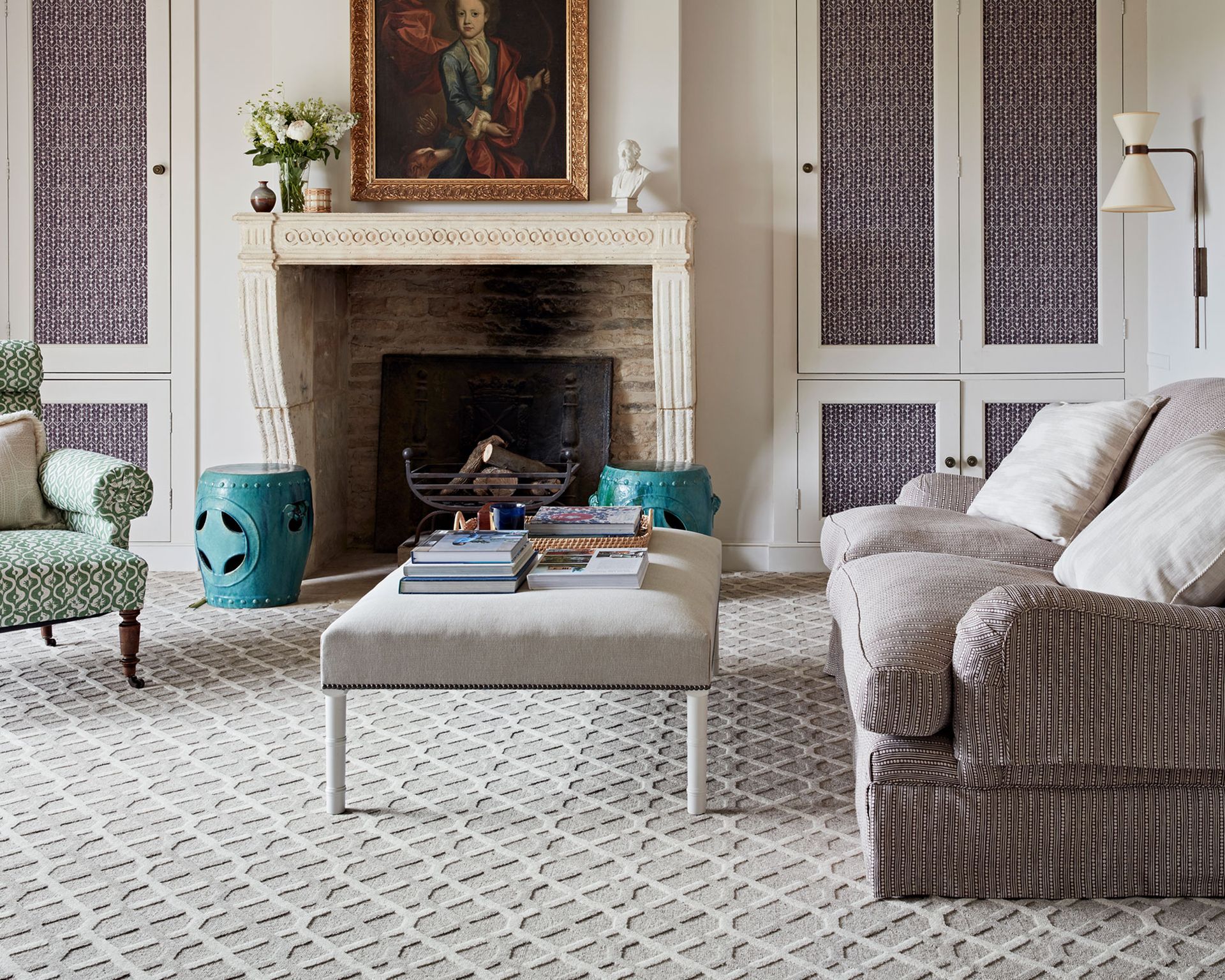 Woven from undyed British wool in a cut-and-loop weave, this unique, textured Plato Cloud carpet from the Country Life collection from Brintons, is defined by a calming, natural color palette and a unique hexagonal pattern, creating a distinctive, three-dimensional effect.
Fitting in perfectly with the character of this traditional living room, the textured design can also work well in more contemporary settings, with the innovative use of shape creating an eye-catching design focal point.
8. Embrace a classic pattern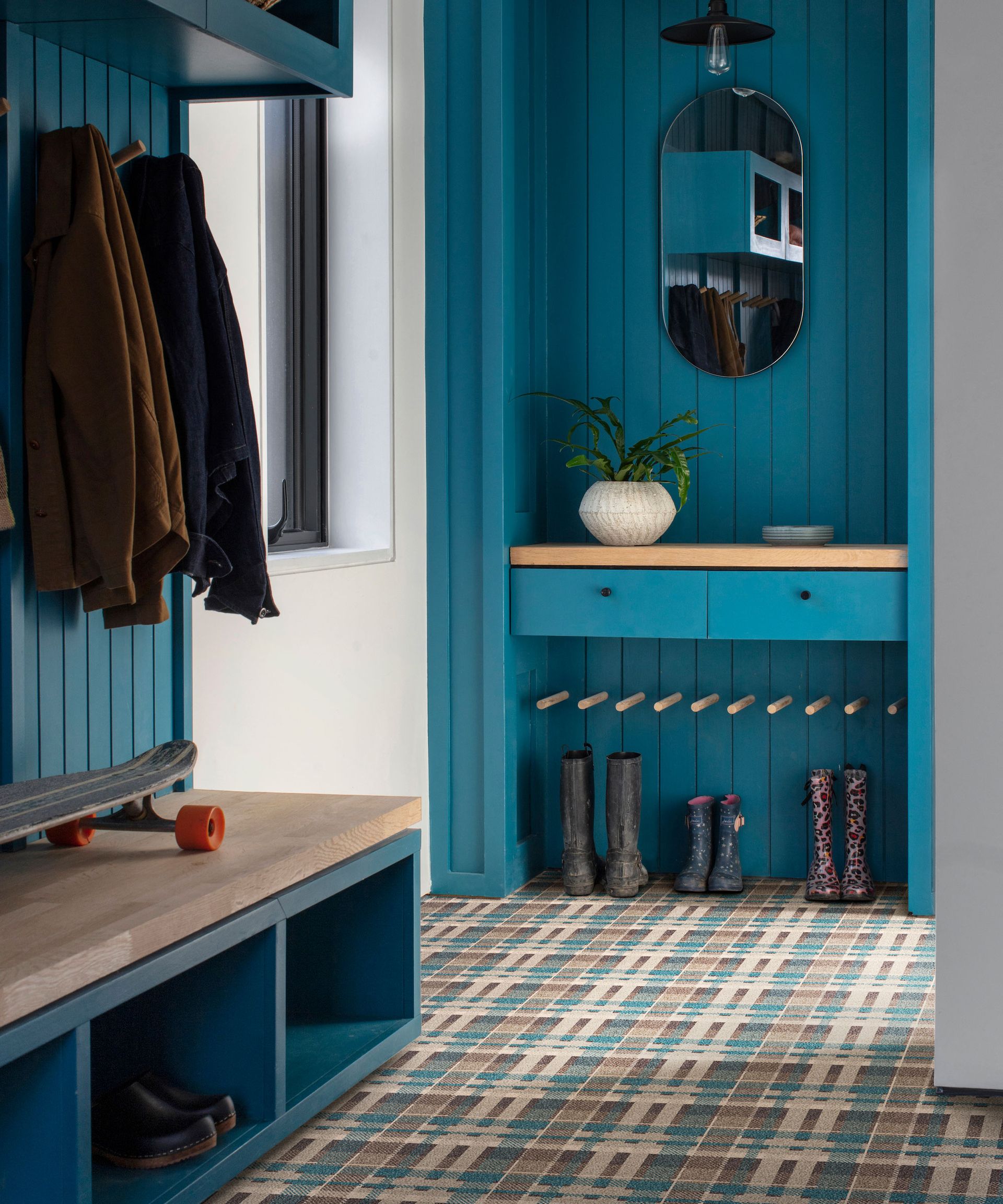 Carpet may not be the obvious choice for your boot room ideas, however, if you choose a durable and hardwearing material, as well as an eye-catching pattern, you can transform this transitional space into a room with inviting texture, color and personality.
The Alternative Flooring Quirky Tartan Mountain Daisy carpet used in this blue boot room has been designed by The Glasgow School of Art student, Sophie Anne Campbell, inspired by beautiful Scottish highland tartan.
Lorna Haigh states, 'patterned wool carpets instantly lift spaces; they become a focal point in a room and act as art for the floor. Quirky, is Alternative's patterned woven Axminster carpet, made from 80% British wool 20% nylon. Made in collaboration with British designers, these patterned carpet designs are also practical as they don't show spots and spills.'
A colorful, classic textile pattern that celebrates young British design talent and British manufacturing, this carpet makes a beautiful feature of the floor in a more functional room in the home.
9. Choose a vintage style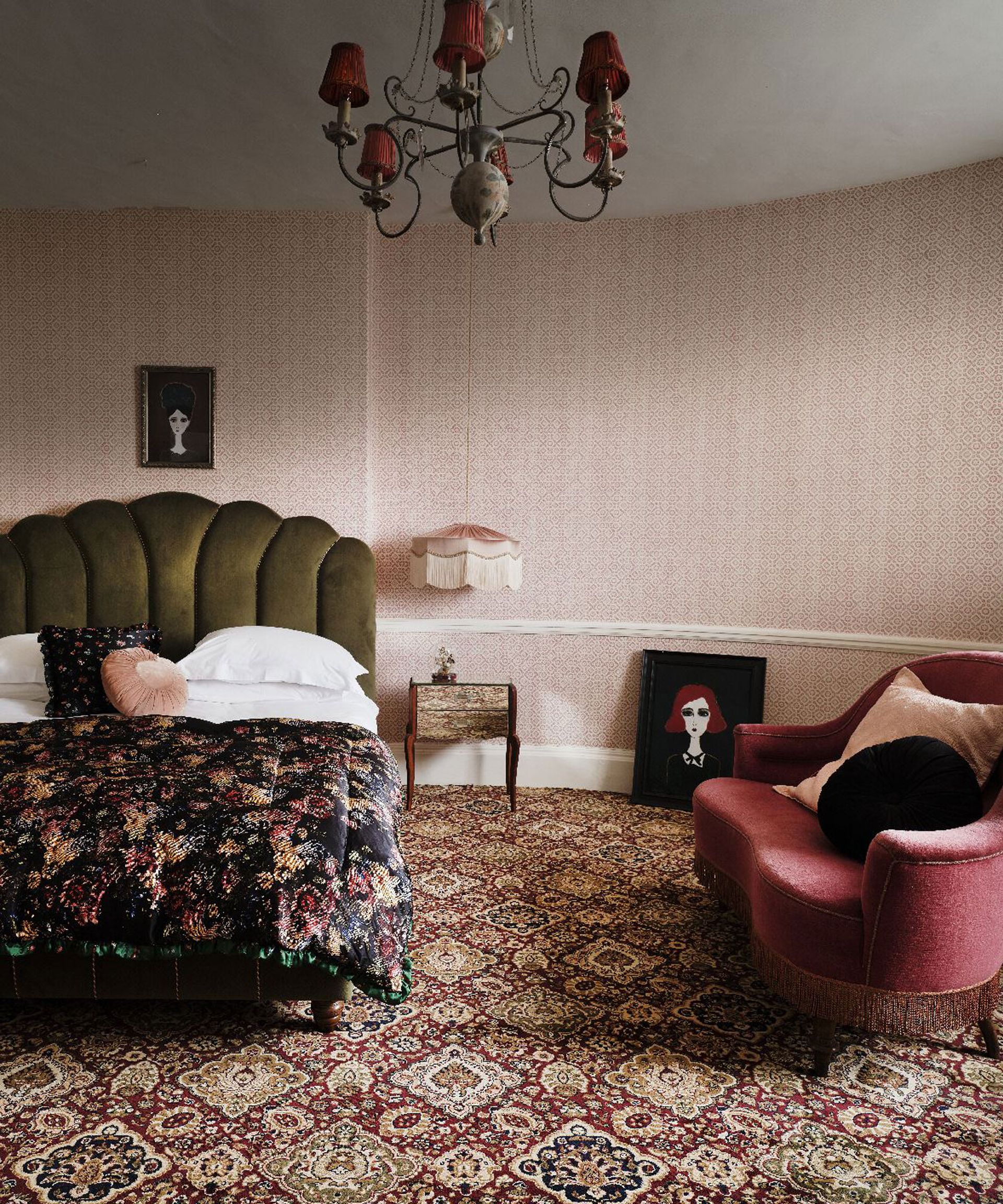 Jodie Hatton states, 'mention floral carpet and there can be a tendency to imagine out dated 70's styles, but florals don't have to be chintzy, they can also be dark and dramatic or carefully elegant. 'Floral' is an incredibly diverse design term, from bright and bold to small and subtle, floral carpet can be an inspired way to introduce pattern into your home.'
A beautiful example of vintage bedroom ideas, this design elegantly unites traditional patterns and furniture pieces to create a unique, refashioned retro look. The Carpetright Kenilworth Wilton Carpet in the Red Medallion finish, crafted using a classic Wilton weave, features a mix of detailed floral motifs, medallions and panel patterns, adding a vibrant and intricate design to the bedroom floor.
This style of carpet may not be for everyone, but impactful, patterned designs like this have proved popular for recent carpet trends and interior designs in the home.
10. Work with a timeless shade of gray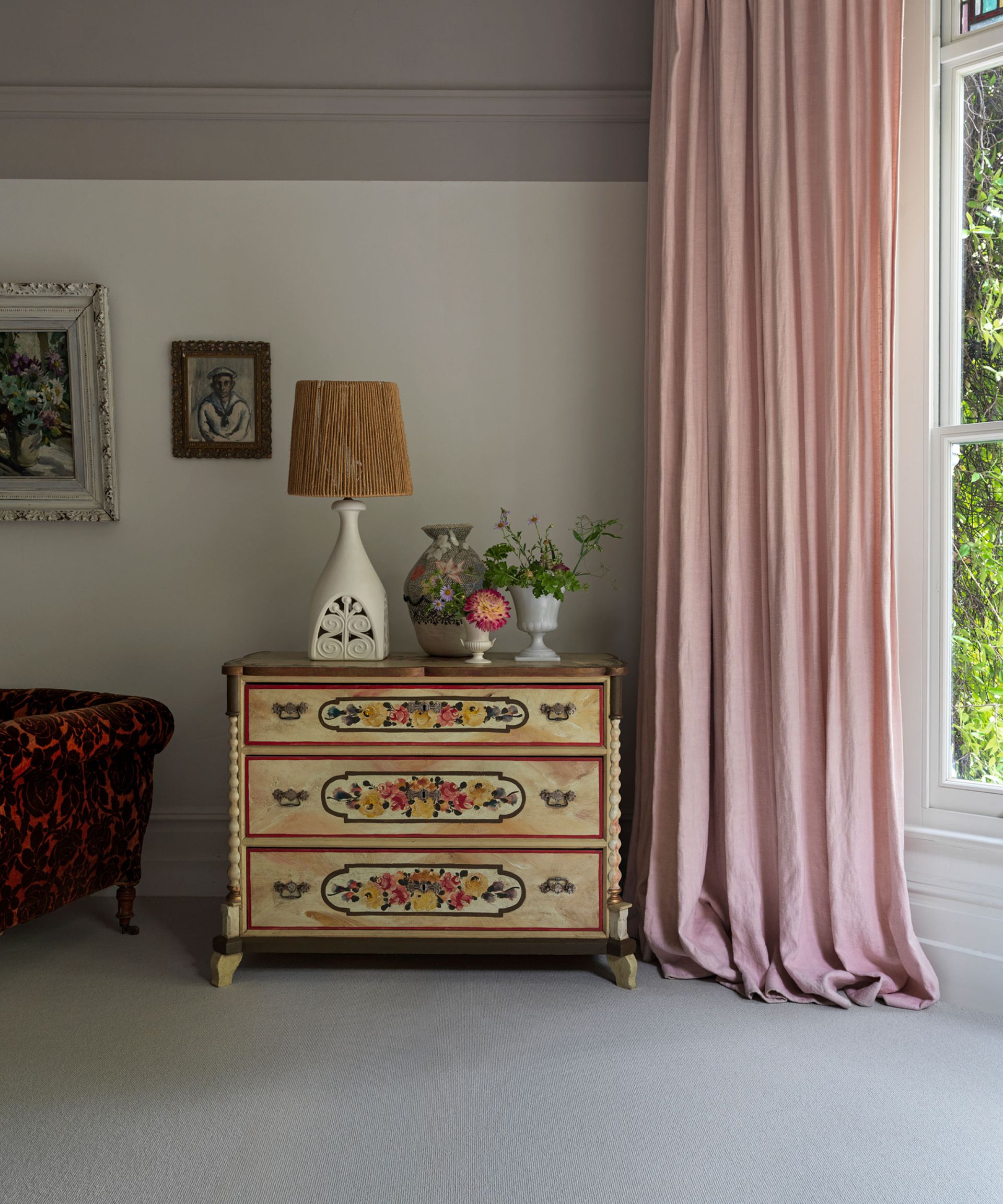 One of the most popular modern neutrals, decorating with gray can work in interiors of all styles, whether you need a calming, timeless backdrop or want to establish a layered, monochrome look. A versatile option for your carpet ideas, a gray carpet can establish an enduring platform for changing styles and decorating schemes over time.
The Weather Watching Snow Blanket carpet by Crucial Trading used in this bedroom works with the gray painted feature wall and classic furniture items to create an elegant mix of the old and the new, as well as helping to create a more restful bedroom environment.
Jodie Hatton states, 'gray is a wonderful, sophisticated color, constructed of various shades and undertones. Not only is it a wonderful companion to other neutral shades, it also has the power to balance out bold accent colors. Gray creates a calming backdrop for any pop of color, adding texture and introducing natural, tactile materials to your scheme.'
11. Add carpet to a staircase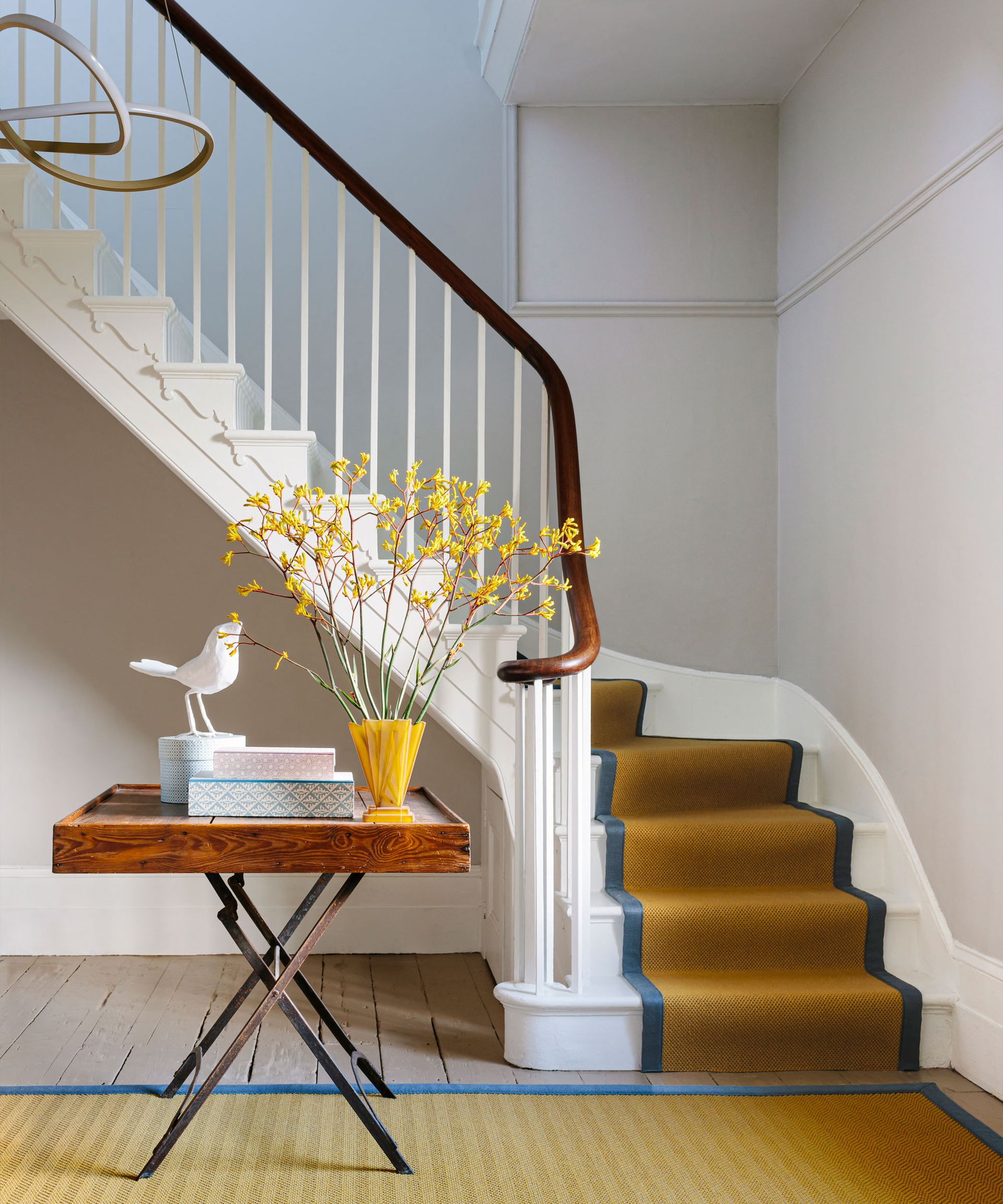 A staircase should be truly celebrated and decorated, rather than left as a simple connecting point from the downstairs to the upstairs in the home.
From staircase wall ideas to stair runner ideas and staircase carpet ideas, there are many ways you can enhance your staircase with unique style.
As shown in this colorful hallway, the matching Gorse Twill stair runner and Gorse Chevron rug from Fibre Flooring work in harmony to add uplifting color and texture to the space.
Crafted from wool, the rug and stair runner do not only add colorful visual interest to the space, but the durable woolen material works well to protect the wooden flooring in the spaces - ideal for busy areas in the home.
Lorna Haigh says, 'for stairs and hallways that get lots of traffic, a more tightly woven wool such as a boucle or Berber is preferable because it can be cleaned easily; or go for a carpet with a fleck in it, which hides a multitude of sins. Before choosing a wool carpet for stairs, either as fully fitted carpet or as a bespoke stair runner, check the products suitability; not all wool carpets are suitable for use on stairs.'
12. Create a luxurious look with velvet carpet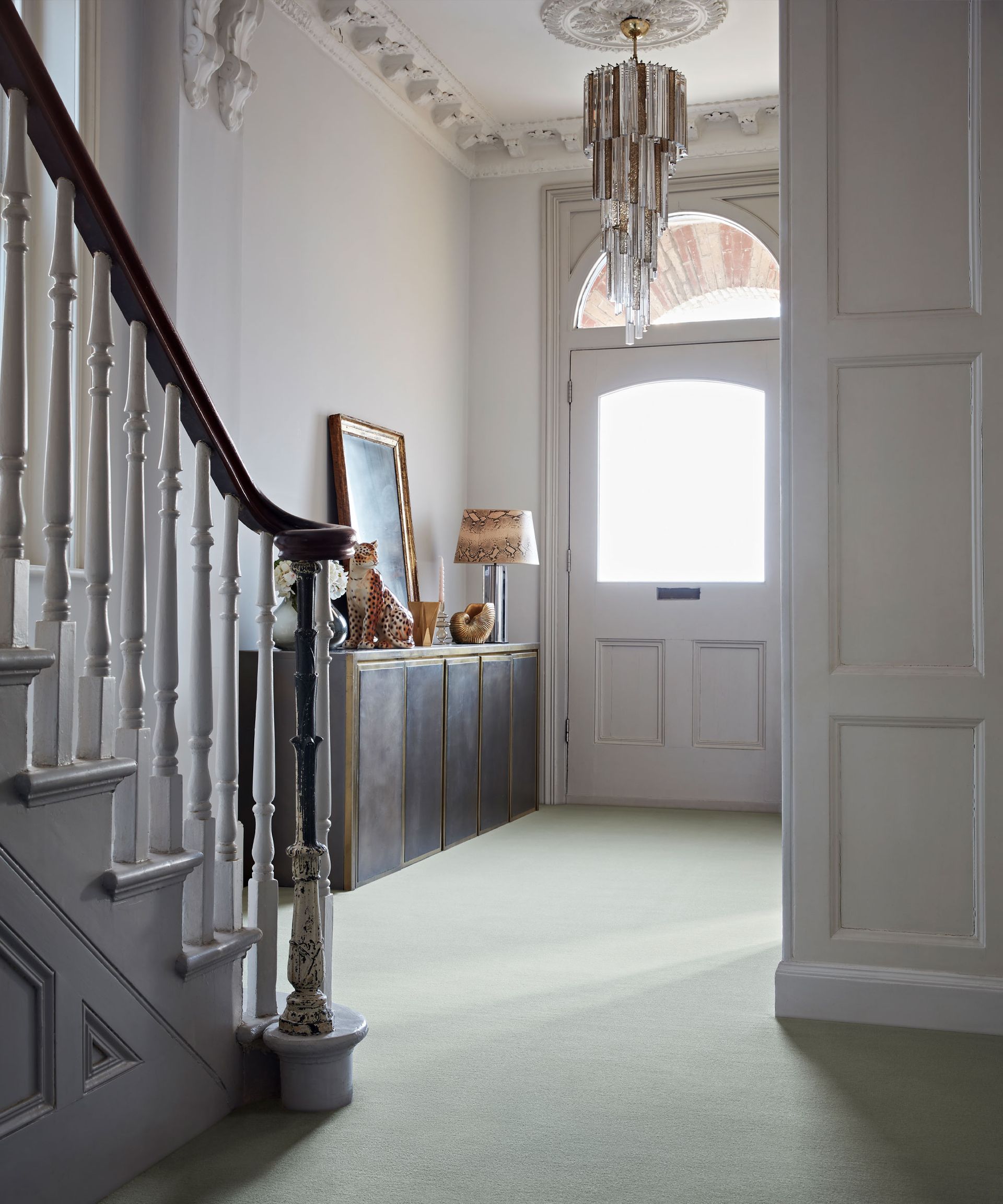 Usually featuring a much denser pile than other carpet materials, a velvet carpet can create a thick, plush look that feels wonderfully soft and cozy underfoot. Ideal for a bedroom or living room, or as shown here by Brintons, a hallway.
Establishing a luxurious and sophisticated look with an elegant, smooth finish, a velvet carpet is not necessarily made from velvet fabric, the name instead refers to the type of pile and weave used, with many velvet designs made from wool; making it both a stylish and durable option for your carpet ideas.
What are the different types of carpet?
Rupert Anton of The Carpet Foundation takes us through the different types and styles of carpet.
Types of carpet:
Axminster - A patterned carpet, using up to12 colors in the design. A traditional way of making carpet which ensures extremely good pattern definition and dimensional stability.
Wilton - The oldest method of weaving. A limited color palette, up to five colors in the design. It can, however, produce a variety of texture effects including loop pile, cut pile and cut and loop.
Tufted - By far the most popular form of carpet today and one of the most economical way of manufacturing carpet. Yarn is inserted into a backing fabric to produce cut or loop pile carpet.
Styles of carpet:
Twists - Very hard-wearing plains or heathers with a more coarse, textured appearance but a forgiving surface.
Velvets - Have a luxurious appearance and are like suede i.e., if you rub the pile one way it can appear to darken.
Saxony - Deep pile and sensuous appearance and feel, prone to flattening, avoid use in heavy traffic areas.
Loop piles - The carpet version of coir and sisal, avoid with pets as can unthread.
Patterned - Will have a smooth velvet finish.
Most popular types of fiber:
Wool - Wool has been used for centuries in carpet manufacturing and is still recognized as the best fiber for use in carpet. Wool is warm and soft, with very high luxury feel; it has a low propensity to soil and therefore has excellent appearance retention; it is easy to clean and maintain; it is naturally flame retardant and is environmentally friendly.
Nylon - Nylon is extremely hard wearing – and is often used in an 80% wool 20% nylon blend. Its advantages are, very high abrasion resistance, easy to clean, compatible with manufacturing processes i.e., dyeing and yarn production.
Polypropylene - This is a very highly stain resistant fiber with very good abrasion resistance. It is typically used in twists, loop piles and Saxony products. Its advantages are, hard wearing, low propensity to soil, easy to clean, very good color fastness.
What style of carpet is the most popular?
From carpets that focus on natural, sustainable materials, to impactful patterned designs, there are a whole host of carpet styles that are proving popular in the world of interior design.
Claire Kimble states, 'this is a time like no other, the home has never been so important to us, and it will continue to be in times to come. Bringing color and pattern within carpet and rugs into our homes uses the floor as a decorative platform that reflects our feelings and who we are.'
Andrew Gicquel, retail sales manager at Ulster Carpets states, 'plains like Ulster Velvet and our York and Grange Wilton ranges are always popular, but the latest trends are more of a push towards patterned carpet. We have had a lot of success with traditional styles that have been updated with colors to match modern styles. Overall, though, we are noticing that home-owners are looking at a carpet's environmental credentials as much as they are color and style.'
Jess Contomichalos, stylist at Cormar Carpets says, 'this year we have seen interior design trends start to move away from a sleek, minimalist look to create interiors that are more homely, using a range of natural elements to help us reconnect with nature. Many of our customers are now opting for a wool carpet as a great way to include a natural product that you can feel the benefits of on a daily basis. Along with providing that much-desired touch of nature, a wool carpet comes hand in hand with another popular trend – texture.'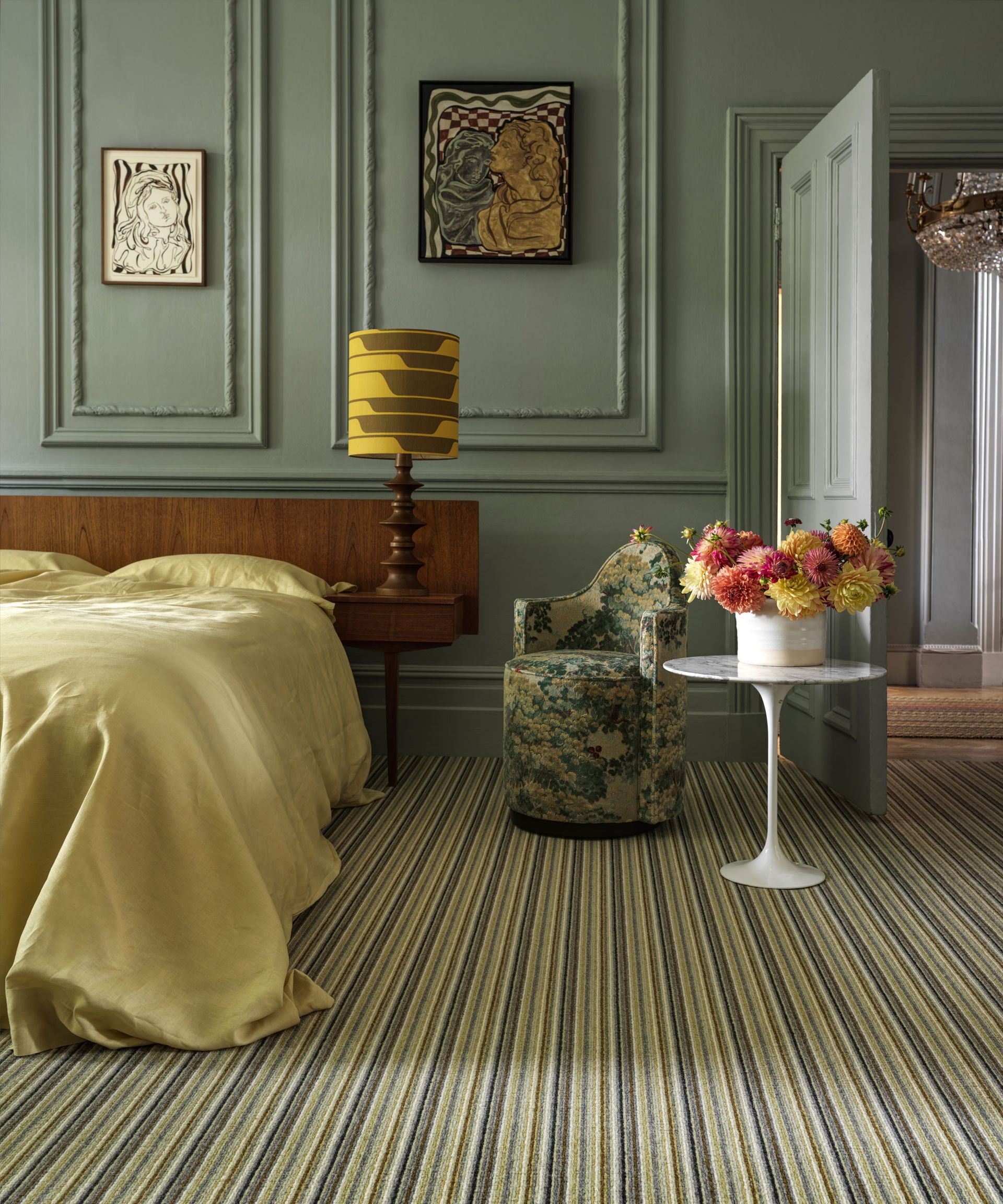 Should carpet be lighter or darker than walls?
In regard to having carpet lighter or darker than walls, Contomichalos says, 'this is totally down to personal preference, there is no right or wrong answer as it is dependent on your interior style and requirements. Using a lighter toned carpet can really freshen up a room and create a harmonious feel, whereas using bolder tones can add drama and interest. Some of our most popular carpets range from warming beiges to dramatic stormy grays to suit the needs of today's homeowners.'
What is the easiest carpet to take care of?
Wool is often the easiest carpet to take care of due to its durability and natural resistance to heat, dirt and stains.
Andrew Gicquel says 'when it comes to a natural product that is easy to clean, wool is the perfect solution. Wool is a natural stain repellent and is easy to maintain with simple, regular maintenance.'
Contomichalos also states, 'Many homeowners with a family or pets tend to opt for our easy clean ranges, which are made from polypropylene, they are stain resistant and bleach cleanable meaning they can be laid anywhere in the home without the worry of everyday spills and stains.
However, although a man made carpet seems like a more obvious choice when it comes to busy households, wool cannot be discounted, as many consumers look to bring a more sustainable element into their homes, a wool carpet is a great choice. Wool is a fantastic natural fiber that comes with a host of benefits and a big one is its resistance to dirt. This results in less time and money being spent on cleaning products, meaning that with regular vacuum cleaning, your carpet will look good for many years to come.'
See our guide on how to deep clean a carpet for some handy carpet cleaning tips.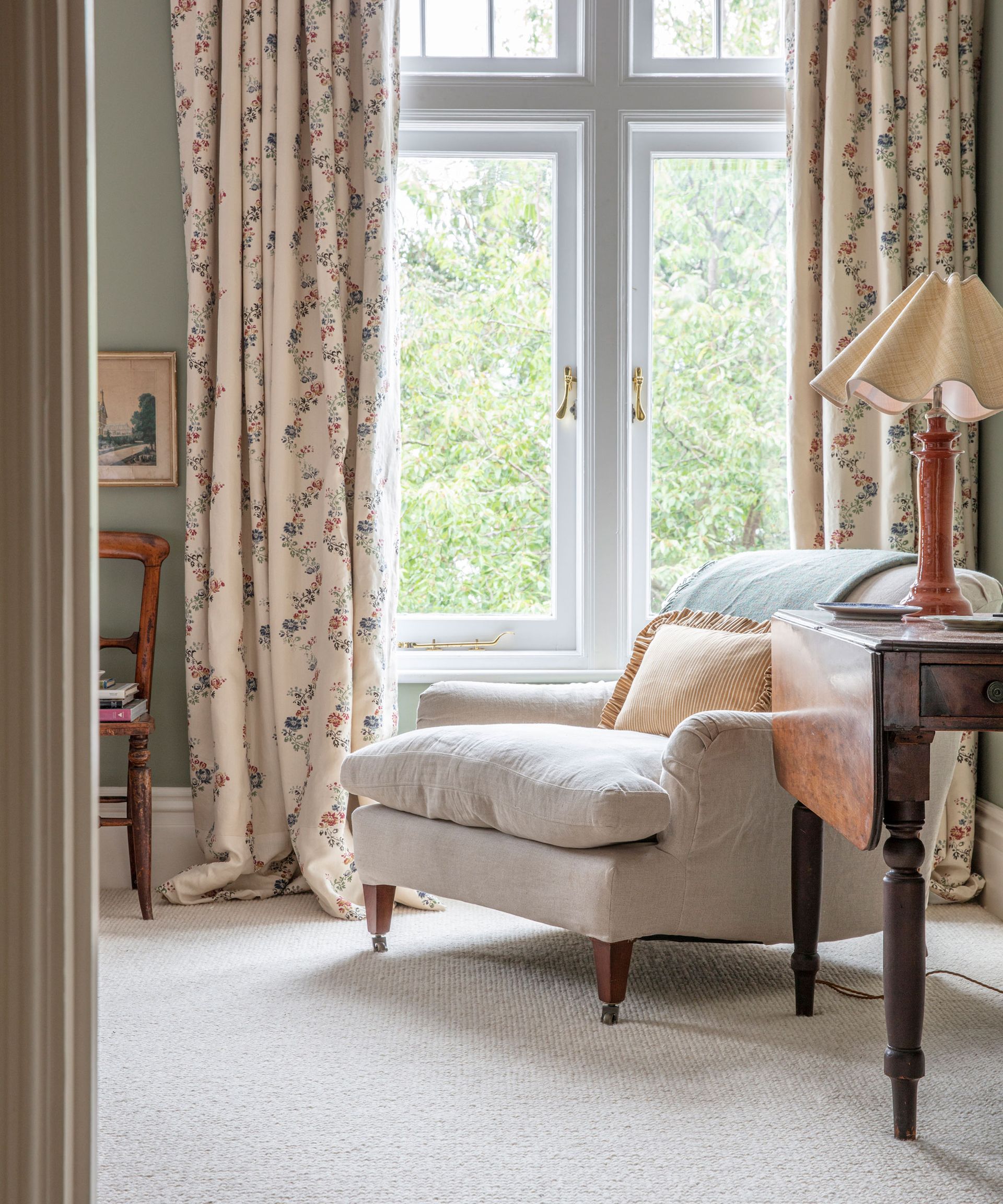 Sign up to the Homes & Gardens newsletter
Decor Ideas. Project Inspiration. Expert Advice. Delivered to your inbox.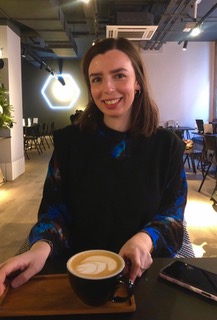 Zara joined Homes & Gardens in February 2022 as a Content Editor. After studying English Literature at University, she worked as an Ecommerce Website Editor, Content Writer and Buying Intern at multiple independent businesses within the luxury retail and lifestyle sectors. Her role at Homes & Gardens unites her love, experience and passion for the world of design and desire to create inspiring written content. She enjoys nothing more than discovering new trends, brands and products, whether that be in fashion, interior design or lifestyle.