Bedroom carpet ideas – 10 cozy flooring styles for your sleep space
Picking the best bedroom carpet ideas for your sleep space is essential to starting the day right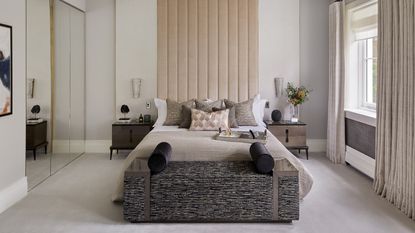 (Image credit: Millier London)
Bedroom carpet ideas are an essential part of making your sleep space feel like the sanctuary it needs to be after a long day.
Focusing on the soft furnishings among your bedroom ideas is crucial the success of any scheme, but the importance of the room's carpet can often get forgotten amid the emphasis on comfortable bedding and cosseting curtains.
As the first surface you feel when getting out of bed in the morning, bedroom flooring ideas aren't just about aesthetics – getting the feel of a bedroom carpet right is hugely important, while its look can completely transform a design scheme.
'Your carpet is the perfect place to start when creating a cozy bedroom space,' says Jodie Hatton, Residential Design Manager at Brintons. 'The texture of wool underfoot coupled with a warm color or welcoming pattern makes it the perfect base upon which to shape a comfortable and inviting interior scheme.'
Bedroom carpet ideas
From tactile piles and luxurious materials, to energizing patterns and calming colors, we asked the experts to share their top carpet ideas for a perfectly plush start to the day in the bedroom.
1. Choose wool for hardwearing luxury
'Wool floor coverings are ideal for bedrooms as they are hardwearing and soft underfoot,' says Jenna Kane, Product Development Lead at Kersaint Cobb.
The durability of wool makes it a good choice for high traffic areas and is popular for living room carpet ideas too, but it comes with extra benefits that really help in bedrooms.
'As a natural fibre, wool is also breathable and it will be warm in the winter but remain cool in the summer,' adds Kane. 'Incorporating wool into your scheme can offer a selection of benefits, including being a natural insulator and a great way to absorb noise to keep rooms peaceful.'
'Wool is the ultimate sustainable choice for flooring,' adds Hatton. 'It insulates your home, it's easily recyclable and biodegradable, plus shearing sheep is essential for their welfare.'
2. Create an elegant, calming space with neutrals
'In any interior scheme, decorating with neutral colors and the comforting texture of carpet brings a feeling of softness and calm,' says Hatton. 'These are best suited to rooms where you spend a lot of time, such as a bedroom or living room, where relaxing is key to creating a happy space.'
Neutral room ideas, including a warm grey carpet with a slight lustre, have been employed deftly in this project by Millier. 'The careful combination of muted colors, complimented by striking reflective accents, breaks any rigidity of form to achieve a fresh, international look for the discerning homeowner,' says Helen Westlake, Creative Director at Millier. 'We designed the main bedroom suite as a haven of tranquillity, with an opulent full height velvet headboard as the centrepiece. The neutral colored carpet and luxurious fabrics such as cashmere complete the elegant feel of the room.'
3. Don't be afraid of pattern
If you want to inject a characterful punch of pattern into your space, bedroom wallpaper ideas aren't the only way to go.
'Patterned flooring is a versatile option,' explains Hatton. 'For many years plain carpet has been the carpet of choice, however recently we are seeing a return to the patterned styles in on trend colors. At Brintons we are seeing a resurgence in classic patterns and prints such as tartans and plaids, which create a warm, cosy feeling.'
In this bedroom designed by Liz Caan for her son, a grey and black tartan carpet is a mature addition to the energetically maximalist scheme. While in this context it seems somewhat demure, a pattern like this can add sophisticated interest to simpler rooms.
4. Make a small bedroom feel bigger with pale colors and stripes
Looking for small bedroom ideas that make your space feel bigger? A pale carpet or one with an illusion-inducing pattern should be at the top of your list.
'Soft, pale colored flooring brightens up a small area, creating the illusion of space and gives a light, airy look,' says Kane. 'Stripes add visual interest to the floor and for those tight on space, it is worth remembering that linear stripes can help to enlarge the appearance of a room. Striped flooring is also ideal in high traffic areas of a busy home as it will withstand the effects of dirt and wear better than plain and flat single color flooring.'
5. Add interest to a neutral carpet with texture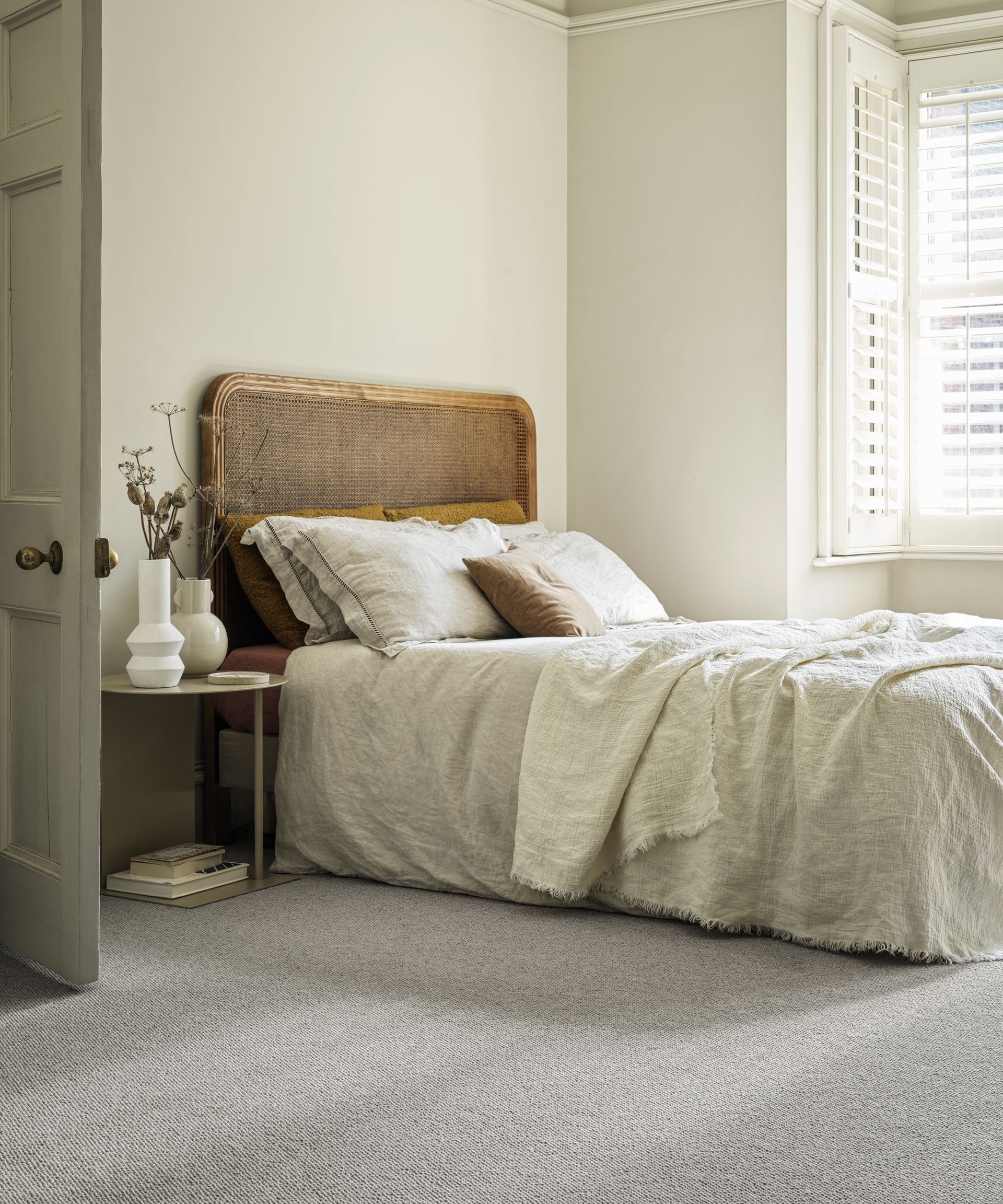 Even simple bedroom ideas will need to keep you visually interested and make you feel cozy in their clutches. If you're opting for a neutral carpet in a similarly pared-back room, think about picking a more tactile pile, like berber, loop or Saxony.
'The texture of the carpet is also key to preventing the overall neutral scheme from looking flat,' says Hatton. 'Where an alternative bedroom flooring like wood or tiles might make a room feel stark and bare, a soft woven wool carpet, layered with accessories in cashmere, mohair and linen will all work to soften a look to create an inviting space.'
6. Layer up with rugs
If you're looking for the coziness of carpet without the commitment, consider opting for a large scale bedroom rug ideas instead. 'Adding warmth to a bedroom with wooden floors, the addition of a rug will provide welcoming comfort whilst creating dimension to the space,' says Tasha Green, Director of Weaver Green. 'Think about combining a rug with a bold color that shares or compliments the color of your surrounding accessories for a lovely focal point.'
Just like with living room rug ideas, placing a rug on top of a wooden floor will add much needed snugness, but layering up on top of carpet will take it to the next level.
'Rugs offer a chance to inject a little personality into a room so don't be afraid to experiment with different styles, sizes and shape and find what works for you and your space,' adds Rhiannon Phillips, a Buyer for Carpetright, specializing in rugs.
7. Choose dark, warm colors for a cozy space
Dark bedroom ideas are trending right now – so consider getting your carpet involved in the action too. Dark colored carpets can help make a large bedroom feel more intimate, while choosing a shade with warm tones will emphasize the sense of being cosseted by the space.
'Deep and rich colored carpets will make a room feel more cozy and can be particularly effective in high traffic areas where dirt can become an issue,' says Kane. 'Warmer tonal flooring can help create a more inviting appearance in the home, whilst adding a real designer touch.'
8. Get an organic look with natural fibres
The use of raw, natural materials is another growing trend across all parts of the home, and it is possible to include them in your bedroom carpet ideas too. For an organic effect, explore sustainable natural fibre carpets.
'Sisal and seagrass have smooth fibres and offer a crisp, neat effect,' advises Kane. 'Jute is the softest of the natural floorcoverings, giving a comfortable feel underfoot. However, it is less hardwearing and more absorbent.'
While more popular among staircase carpet ideas, these carpets can be paired with crisp whites for a light, beachy feel, or create an all-encompassing nod to the natural world when paired with greens.
9. Make a statement with bold color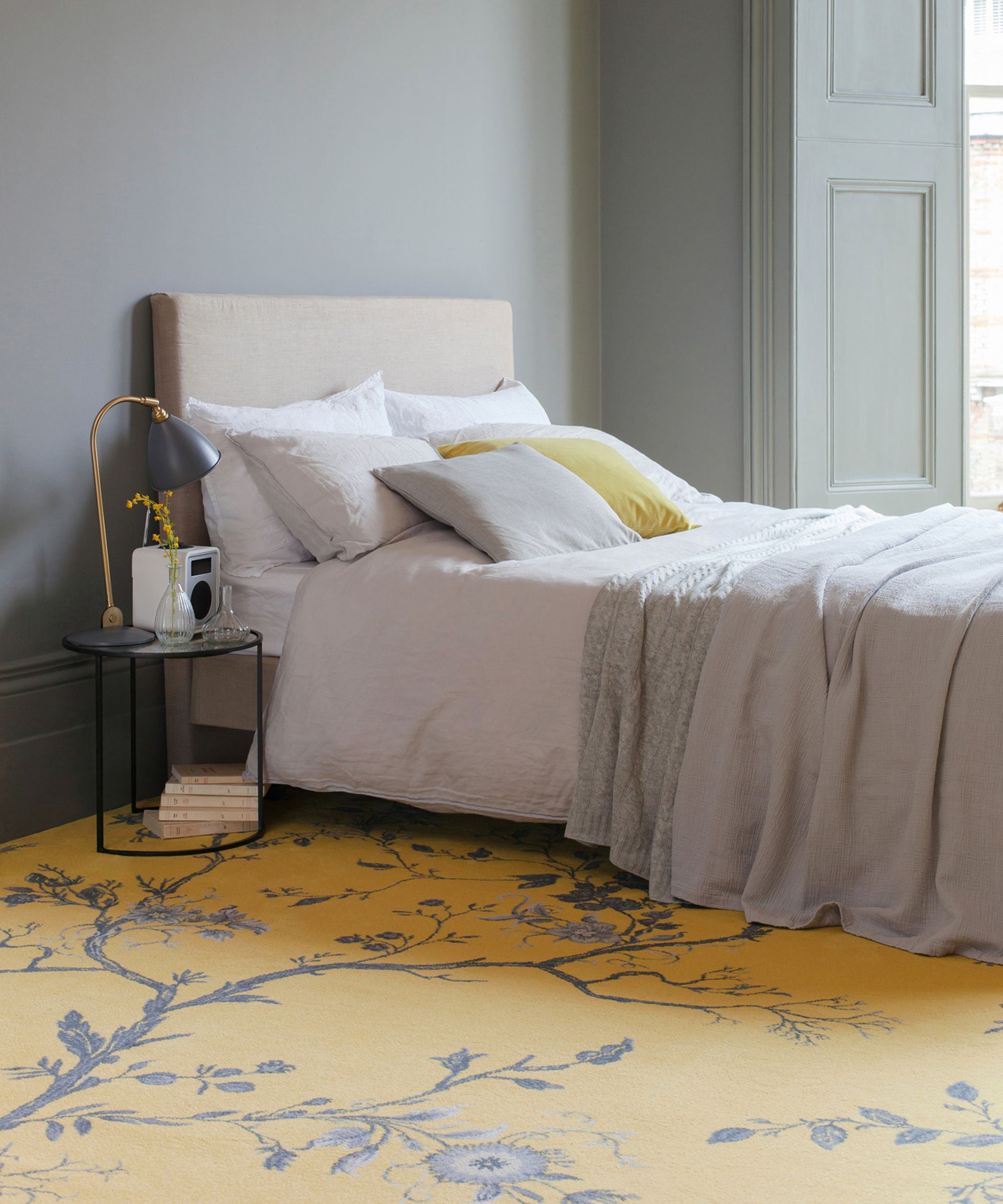 If you've decided to be brave with your bedroom color ideas, that doesn't mean your chromatic focus has to be on the walls. Invert the classic combination of bold walls and a neutral carpet with a dramatically colorful carpet choice.
'For the really bold, try experimenting with color with a vibrant carpet for a real style statement,' says Kane. 'Think about making the carpet the base of your design scheme, complement the colorful flooring with a more neutral palette for furniture and accessories to create a modern look.'
10. Get on trend with herringbone weaves
Zig zag-like herringbone patterns are making waves all over the home, from blankets to parquet floors, bedding to bathroom tiling. For a contemporary look in a modern bedroom design scheme, apply this pointed pattern to your bedroom carpet too. The motif also works really well in hallway carpet ideas, not only giving a playful, directional effect, but helping to hide myriad sins.
'Patterns are perfect for high-traffic areas, where dust and dirt are repeatedly trodden into the carpet,' says Hatton. 'We use an Axminster construction for our patterned carpets as this creates superior definition and creates a longer-lasting carpet.'
What color carpet is best for bedrooms?
A bedroom's prime function as a space of relaxation means that muted neutrals are consistently popular among carpet colors for sleep spaces. For a contemporary take, consider grey.
'Grey has consistently been one of the most popular home decorating shades over the last decade, and it shows no sign of slowing down any time soon,' says Punam Chada, a Buyer at Carpetright. 'It is often the go-to for wall color, but we have also seen this trend reflected in our flooring choices. Given that the bedroom is our sanctuary, a calm space where we retreat to for rest, recuperation and to recover, it's no surprise that this soothing neutral hue is our go-to color choice. Offering sophistication and versatility, grey works well as a neutral base, creating a warm or cool aesthetic, depending on the undertone of the chosen shade.'
Paler shades of any color will help make the room feel bigger, while darker colors will emphasize a sense of intimacy. Look for shades with warm undertones to make your carpet feel even cozier.
What carpet pile is best for bedrooms?
Due to its myriad benefits, wool is a perennially favored material for bedroom carpets.
'Carpets can be made from either wool or man-made materials,' explains Hatton. 'Wool-rich carpets are known for their quality because they are highly durable, which helps maintain their appearance. Wool provides luxury underfoot and helps to insulate your home for warmth and comfort. It absorbs sound to give a sense of calm and tranquillity. It is naturally fire resistant and fall-friendly for little ones.'
'The bedroom should be a sanctuary to escape to at the end of the day, so softer carpets, such as Saxony styles, are a good choice,' says Chada. Velvet carpets also offer that softness, but if you expect your bedroom to see a high degree of foot traffic, choose something more hardwearing like loop, twist or berber styles.
'As bedrooms are a place to relax, harder carpets, such as sisal or seagrass matting, are considered by many as less comfortable so should be avoided, unless they help to achieve a specific look,' adds Chada.
Sign up to the Homes & Gardens newsletter
Decor Ideas. Project Inspiration. Expert Advice. Delivered to your inbox.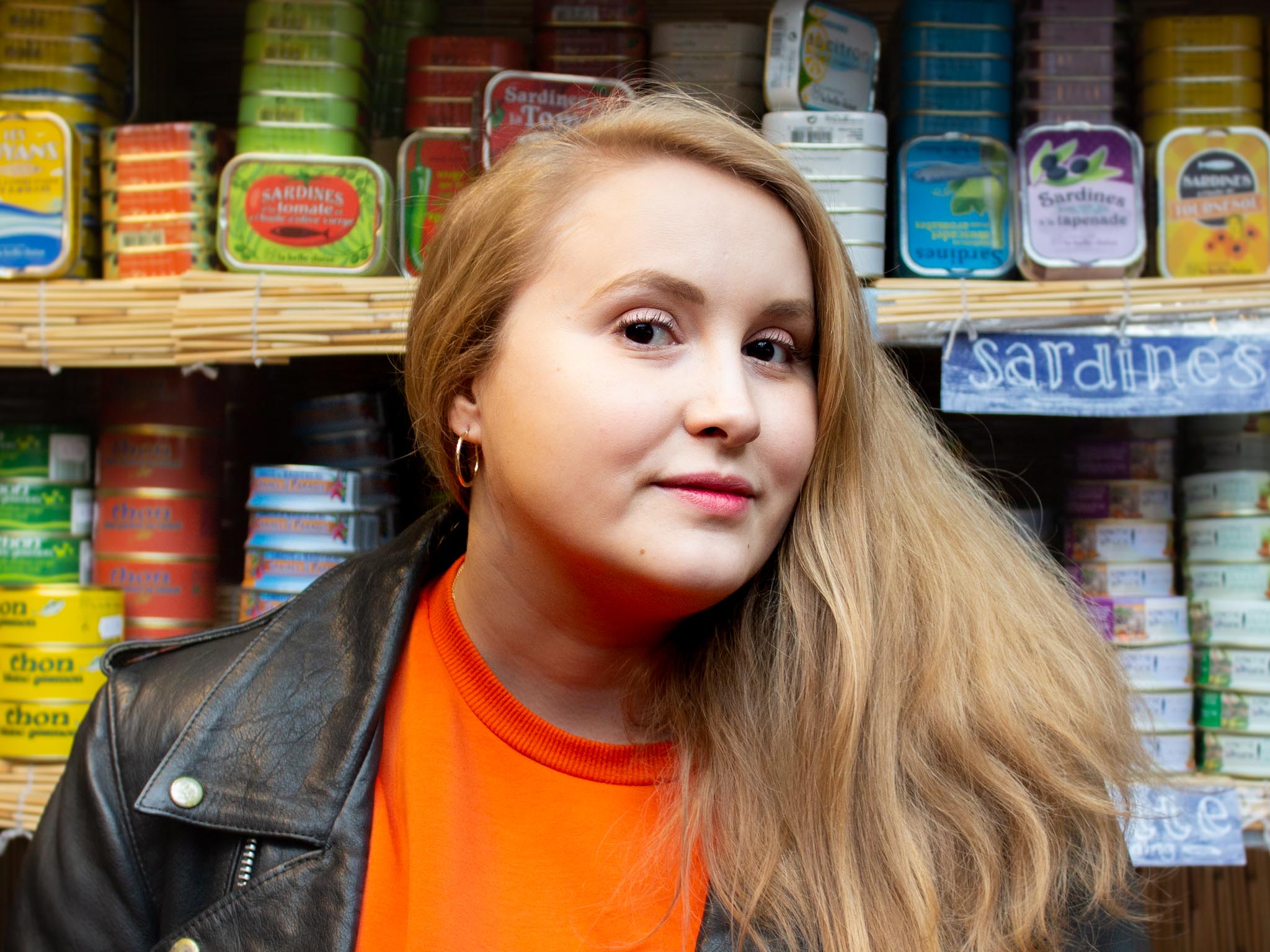 Ailis started out at British GQ, where a month of work experience turned into 18 months of working on all sorts of projects, writing about everything from motorsport to interiors, and helping to put together the GQ Food & Drink Awards. She then spent three years at the London Evening Standard, covering restaurants and bars. After a period of freelancing, writing about food, drink and homes for publications including Conde Nast Traveller, Luxury London and Departures, she started at Homes & Gardens as a Digital Writer, allowing her to fully indulge her love of good interior design. She is now a fully fledged food PR but still writes for Homes & Gardens as a contributing editor.