Hallway carpet ideas – 10 tips for cozy flooring to welcome you home
Give yourself and guests a warm welcome with hallway carpet ideas that are both stylish and practical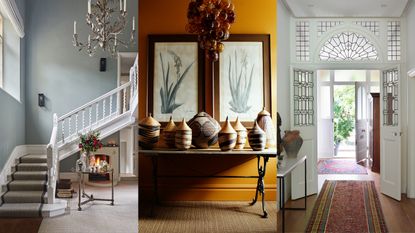 (Image credit: David Lovatti/Tom Leighton/Richard Powers)
Sign up to the Homes & Gardens newsletter
Decor Ideas. Project Inspiration. Expert Advice. Delivered to your inbox.
Thank you for signing up to Homes & Gardens. You will receive a verification email shortly.
There was a problem. Please refresh the page and try again.
Starting with the first step through the front door, hallway carpet ideas are exactly what you need to make yourself and your guests feel at home.
You'll need to make a few practical considerations to your hallway flooring ideas to ensure your carpet ideas can keep up with your lifestyle and stay looking its best, but the aesthetic benefits include the chance to add color, texture and crucial visual interest to either the first part of your home anyone will see or the easily forgotten areas that connect your rooms.
Hallway carpet ideas
From densely patterned runners to staircase carpets that will take your entrance hall to the next level, we've put together a selection of inspiring hallway carpet ideas, and asked the experts for their advice.
1. Brighten narrow hallways with light carpets
When choosing a carpet to work among narrow hallway ideas, keep it light. 'Light colors, texture and stripes are particularly effective in narrow hallways,' says Jenna Kane, a member of the Product Development team at Kersaint Cobb. 'Soft, pale colored flooring brightens up a small area, creates the illusion of space and gives a light, airy look.'
But you'll need to be careful with them if you have a busy household. 'Pale shades will show more visible signs of general soiling, discoloration in the heavily walked areas and stains that have proven difficult to remove,' warns Jodie Hatton, Residential Design Manager at Brintons. 'Darker colors will be more practical in hiding soiling and stains.'
2. Make small hallways feel bigger with stripes
As well as disguising dirt and adding pattern, striped carpets come with an added bonus that makes them ideal for small hallway ideas.
'Stripes add visual interest to the floor, and for those tight on space, it is worth remembering that linear stripes can help to enlarge the appearance of a room,' says Kane. 'This is especially effective in hallways as the stripe draws the eye along the design and thus appears to elongate the area.'
In this hallway, the diagonal stripes in tonal greys not only help this hallway feel longer, but wider too.
3. Bring the outside in with natural textures
Cozy, inviting, and comfortable underfoot, using rugs as part of your hallway carpet ideas is an instant win for anyone looking to add a little softness to their home's entrance, or keep a house's corridors feeling well-loved. In this hallway, a naturally textured, seagrass-style carpet is used against the yellow ochre wall, and paired with rattan baskets among the entry table decor ideas.
In warmer months, you can even consider making this connection to the outdoors a little more literal. 'By early summer, we put down the washed-out floral and pastel colors of our Andalucia range rugs, and even run them from the porch outside onto the terrace to give a sense of continuity in indoor and outdoor living,' says Tasha Green, Director and Co-Founder of Weaver Green. 'All our rugs, cushions and blankets are perfect for use outdoors in gardens and on terraces.'
4. Change up your hallway with a runner
If you don't want to commit to a full carpet, adding a rug or hallway runner ideas will soften a hard floor. 'Runners allow you to instantly update and change the feel of a hallway,' says Green. 'A statement runner can be the main design feature from which you complement other interior elements in your entrance.'
Along with hallway wallpaper ideas, runners make for a great way to add pattern and texture to the space. 'For example, a simple herringbone helps to create a classic timeless look from which you can add vibrant or strong patterns and prints with other accessories,' says Green.
5. Balance dark carpets with lighter walls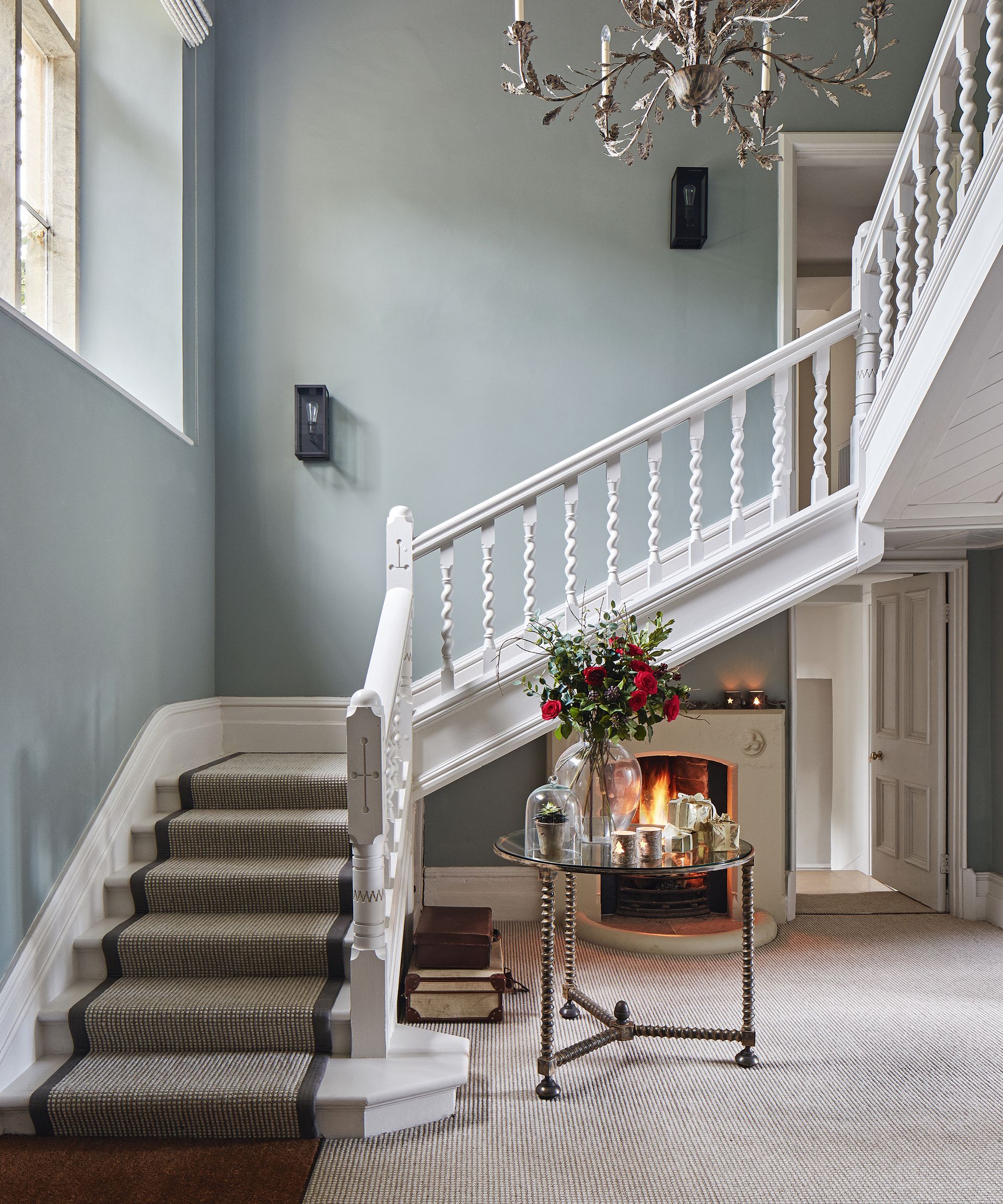 When choosing a carpet, you should always keep your hallway paint ideas in mind too.
'The popularity of dark carpets is growing as not only are they ideal for high traffic areas as they conceal dirt and marks, but they also add character to a room,' says Hatton. 'Rooms with lots of natural light work best for dark flooring. When paired with light interiors dark flooring offers a dramatic contrast, whilst also making a room appear larger and brighter.'
'Neutral tones in whites, greys, beige, and muted shades of all colors on your walls and furniture help balance the room and therefore make your interiors feel brighter.' In this example, a stairwell filled with natural light and painted pale blue can easily hold the darker tones of the grey staircase runner.
6. Add a pop of color to a neutral scheme
As well as adding texture to a hallway, a rug or carpet is also a great way to inject some color into a neutral scheme. In this white vaulted hallway leading to a largely white bedroom, the pale wood flooring of the corridor is given a flourish of characterful color with the use of a mustard yellow, geometrically patterned runner from Weaver Green.
7. Stay versatile with a grey carpet
If you're already onto the grey hallway ideas trend, then don't forget to take it to the floor. 'Grey is a versatile carpet shade, with the ability to provide a platform and set the scene,' says Hatton. 'For a dramatic look, pair grey with layers of dark, moody and mysterious shades like aubergine or midnight blue. For a fresh look, infuse the palette, with a lighter, softer shade that glows, like golden yellow or bright green.'
8. Highlight the staircase
Often, it's not just the hallway floor you're thinking about when it comes to carpet – if you've got a staircase in the mix, you'll need to take your ideas to a whole new level. While a simple solution would be to extend the lower level carpet up the staircase, don't be afraid to have a little fun.
Contrast a hardwood floor with a bright carpet on the stairs like in this example, or introduce a change of tone or pattern to its carpeting to turn the staircase into a feature.
Along with decorative hallway lighting ideas, it's a great way to draw the eye upwards and emphasize height, making the area feel taller and ultimately more spacious.
9. Change a rug seasonally to create a whole new look
One of the biggest benefits of choosing a runner or rug over carpet is flexibility – it can be there when you want it, or tucked away if you're in the mood for a simpler aesthetic. Consider investing in multiple runners and swapping them in as the seasons change.
'We swap our rugs each season, moving from the rich reds of our kilim nomad range in the autumn, through to the light Scandinavian blues and gooseberry colors of our herringbone and Juno ranges in spring,' says Green. In this room, a white rug with black dots works well to brighten the space during summer, but could easily be swapped in the winter for a rich, earthy alternative to bring out the terracotta walls and make the space feel cosier.
10. Choose a hardwearing material
Just like when you're planning your hallway storage ideas, planning a carpet for the space needs some practical considerations too.
'Carpet is a fantastic option for high traffic areas like hallways and stairways, due to its ability to withstand natural wear and tear,' says Hatton. 'The type of carpet that is preferred is down to personal taste and the usage of that particular room but cut pile woven carpets are the most hardwearing.'
What is the best carpet for a hallway?
To pick the best carpet for your hallway, think about what it needs to do for you practically. As a high traffic area of the home, hardwearing materials like cut pile woven carpets will be able to endure frequent use. If you're a household with kids or dogs, darker colors pr patterned carpets will hide the dirt dragged in from muddy walks, but you'll also want to choose a carpet type that's easy to clean.
'A wool blended carpet is a wonderful material for flooring as it has hypoallergenic and antibacterial properties, capturing the dust and taking it out of the air you breathe,' says Lynne Pound, Product Manager at Brintons. 'Wool is naturally flame retardant plus easy to clean and sustainable for the environment making it a quality choice with long lasting performance.'
How do I choose a hallway carpet?
When choosing a carpet for your hallway, you really need to think about the space as a whole. If your hallway is narrow or with little natural light, lighter color carpets will help keep the space feeling bright and open. For hallways with big windows that are a little lighter, darker colored carpets are becoming increasingly popular, adding drama to the space and more easily hiding any marks. If you're keen to make a hallway feel either longer or wider, choose a striped carpet to create an optical illusion of length or width.
Sign up to the Homes & Gardens newsletter
Decor Ideas. Project Inspiration. Expert Advice. Delivered to your inbox.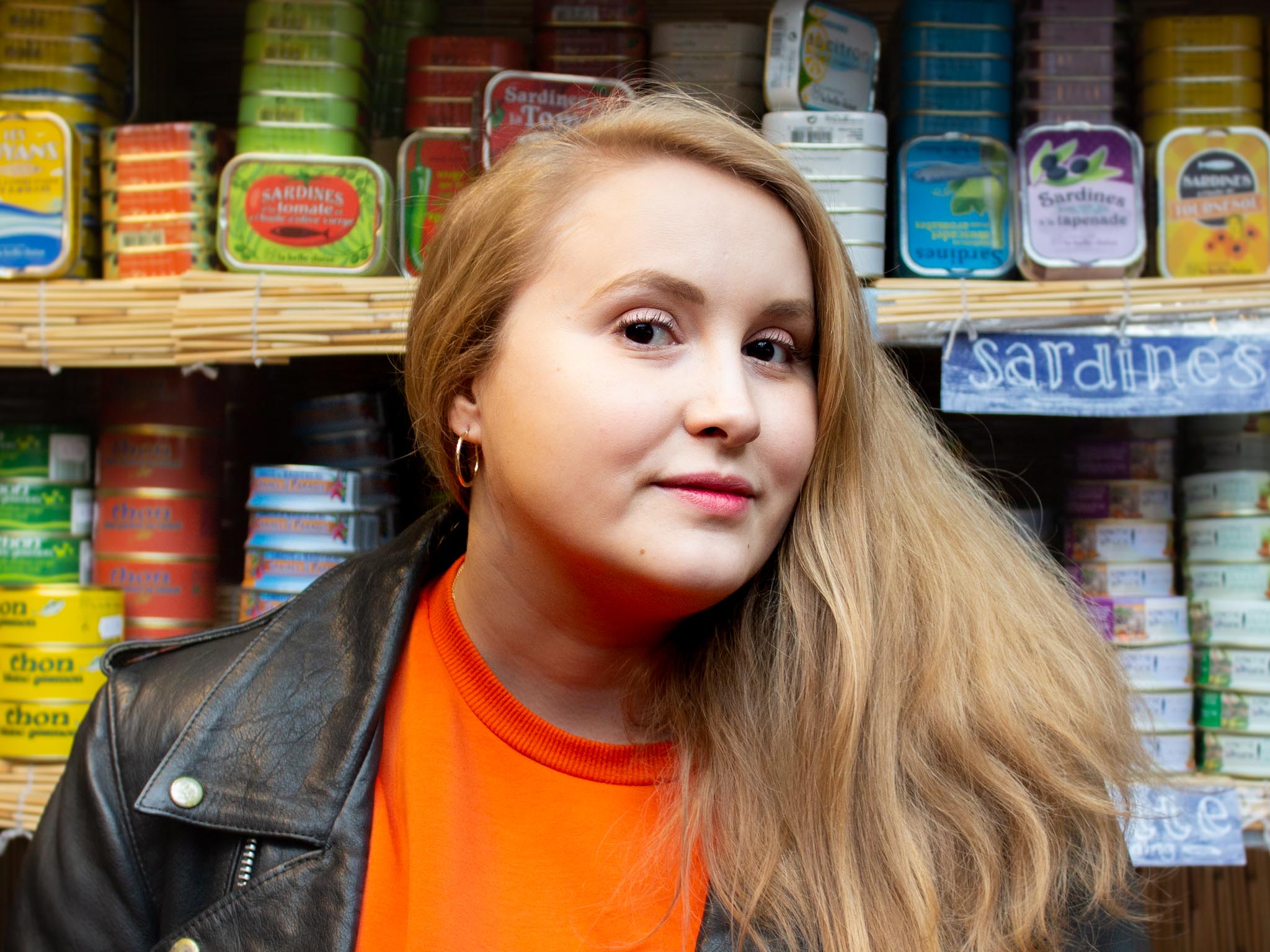 Ailis started out at British GQ, where a month of work experience turned into 18 months of working on all sorts of projects, writing about everything from motorsport to interiors, and helping to put together the GQ Food & Drink Awards. She then spent three years at the London Evening Standard, covering restaurants and bars. After a period of freelancing, writing about food, drink and homes for publications including Conde Nast Traveller, Luxury London and Departures, she started at Homes & Gardens as a Digital Writer, allowing her to fully indulge her love of good interior design. She is now a fully fledged food PR but still writes for Homes & Gardens as a contributing editor.