6 best carpet colors for bedrooms according to designers
These carpet colors are expert-approved for a practical and stylish look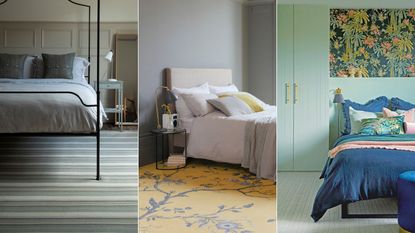 (Image credit: Roger Oates Design, Brintons, Future)
Choosing a carpet color for your bedroom is a decision you want to get right the first time: carpets can be a costly investment so it's important you make a practical choice that sets the tone for the rest of your bedroom decor.
'The bedroom is such a personal space and choosing the color of your carpet for that room should be guided by the colors you are naturally drawn to, the colors that draw you in and feel familiar,' says Emma Mellor, Founder of Emma Mellor Handmade Rugs.
To help you navigate which carpet colors are best for the bedroom, we spoke to the design experts to round up five of the best colors for bedroom carpet ideas; whether you're drawn to natural colors or prefer something bolder, experts say these carpet color trends are an excellent choice for the bedroom.
What carpet colors are best for a bedroom?
While as ever, the color of carpet you choose should above all else be a color that you personally love, experts generally agree that it's best to avoid bright-colored carpet ideas in the bedroom.
'It can be tempting to design your bedroom with bright colors that create a fun and energetic environment, but in reality, it's best to stick to gentle and restful colors that will promote relaxation,' explains Lorna Haigh, Creative and Marketing Director at Alternative Flooring.
'Not only does this kind of color scheme help create a distinction between your living area and your resting area, but it also provides a simple backdrop for smaller pops of color that add personality and depth to your design.'
1. Neutrals
Neutral-colored carpets will always be a fail-safe choice when choosing your bedroom flooring ideas. Not only do these subtle colors pair well with many different design styles, but they are also incredibly timeless so will look great for many years to come.
Designer Naomi Astley Clarke says: 'Nothing beats a crisp, clean neutral-tone carpet, particularly in bedrooms where creating a calm ambiance is key.'
'For longevity, it is recommended to choose a neutral color that works with both cooler and warmer tones,' says Melissa Read, Creative Director at Studio Burntwood.
Melissa Read attended the KLC School of Design in Chelsea before working at London's best-regarded interior design studios. Now Creative Director of Studio Burntwood, an interior design studio that specializes in luxury residential interior design for private clients and property developers.
Jeremy Grove, Managing Director at Sibley Grove adds that decorating with neutrals with the carpet means it's versatile enough to withstand decor changes elsewhere in the room: 'Neutral colors always look great, but they also enable you to refresh your space without the expense of replacing a carpet ahead of time.'
2. Deep hues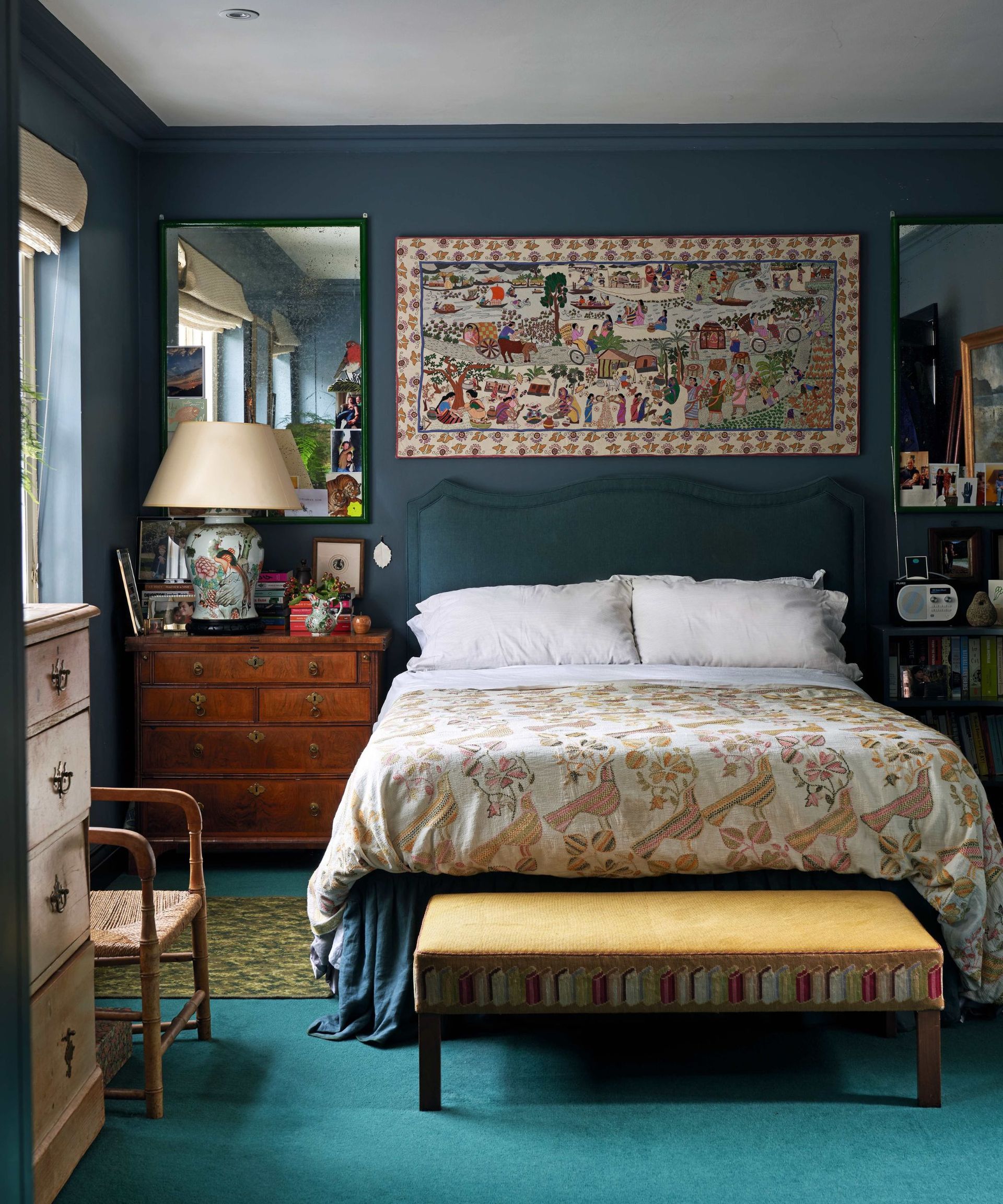 To create a moody yet equally cozy bedroom, opting for darker-colored carpets can be just as effective, and are perfect for adding extra warmth, as Grove explains: 'Dark colors can be a great alternative if you want to add warmth and coziness to a space such as deep burgundies and purples, navy or racing green.'
If you are inclined to choose a rich hue for your carpet color, it's important to carefully consider how this will last in your bedroom for years to come, as you're more likely to grow tired of statement carpets as opposed to light neutrals. Grove warns: 'Just be mindful that you select a color with longevity in mind.'
3. Pattern
'If you have children or pets, having a subtle pattern is advisable as it can help mask blemishes and extend the life of the carpet,' advises Grove.
There are of course many different patterns to choose from, whether you want to channel a bold modern design or rather a delicate floral motif that creates a traditional bedroom. This can also be a good option if you prefer to keep your walls and other decor elements understated to create more of a statement with the flooring.
Again, if you do choose to opt for a patterned carpet in the bedroom, make sure it's one that you won't grow tired of to ensure it looks great for years to come.
4. Stripes
Another take on a patterned carpet is stripes. 'Stripes are timeless and the variations are infinite. Fine pinstripes will appear neutral from afar, but individual colors can be picked out for paint and accessories,' says Andy Guard, Creative Director at Roger Oates Design.
'Play with perspective, when stripes are used across a bedroom it will make it appear wider. Remember a little pattern and texture can offer both practicality and interest to draw from,' Guard continues.
5. Pastels
Lastly, pastel colors provide a calming and relaxed feel which is perfect for the bedroom, and a great choice if you want to experiment with color instead of classic neutrals. 'Pastel tints are also popular for bedroom carpets, creating a cloud-like effect,' says Haigh.
Lorna Haigh is the creative director of the UK-based brand, Alternative Flooring, a company that has been producing beautiful carpets, rugs, and runners for over 25 years.
There are many different hues to choose from for a pastel room, from lilacs to soft greens. Make sure that you consider how practical pastel-colored carpets are, however, as these lighter hues will show any spills or marks a lot more than richer colors.
FAQs
What is the best carpet color for the bedroom?
The best color of carpet for your bedroom needs to consider what you are most drawn to, but neutral-colored carpets are no doubt the most timeless of choices for the bedroom. It's also important to consider the rest of your bedroom's decor, as Read explains:
'Choosing the perfect color for a bedroom's carpet depends on the overall scheme of the room, including the upholstery, wallpaper, paint, and accessories. To create an open and bright ambiance, consider opting for lighter carpets in smaller bedrooms that lack natural light.'
'It's crucial to pay attention to the woodwork paint color, particularly the skirting boards, as they will be sat against the carpet,' concludes Read.
What is the best carpet texture for the bedroom?
The texture of your bedroom carpet is also something to be considered, in addition to the color. 'Loop pile carpets look great and feel great underfoot. However, they are typically more difficult to clean and maintain than a tufted carpet. Selecting a high-density tufted carpet is a great way to combine luxury with practicality,' advises Grove.
---
Make sure that you carefully consider which color of carpet is best for you, as it can be a costly decor choice to get wrong. It's important to factor in practicality just as much as aesthetic appeal when it comes to choosing the best carpet, so make sure you end up with one that feels right for your own relaxing bedroom.
It's also important to know how to clean a carpet to ensure it remains looking fresh for years to come.
Sign up to the Homes & Gardens newsletter
Decor Ideas. Project Inspiration. Expert Advice. Delivered to your inbox.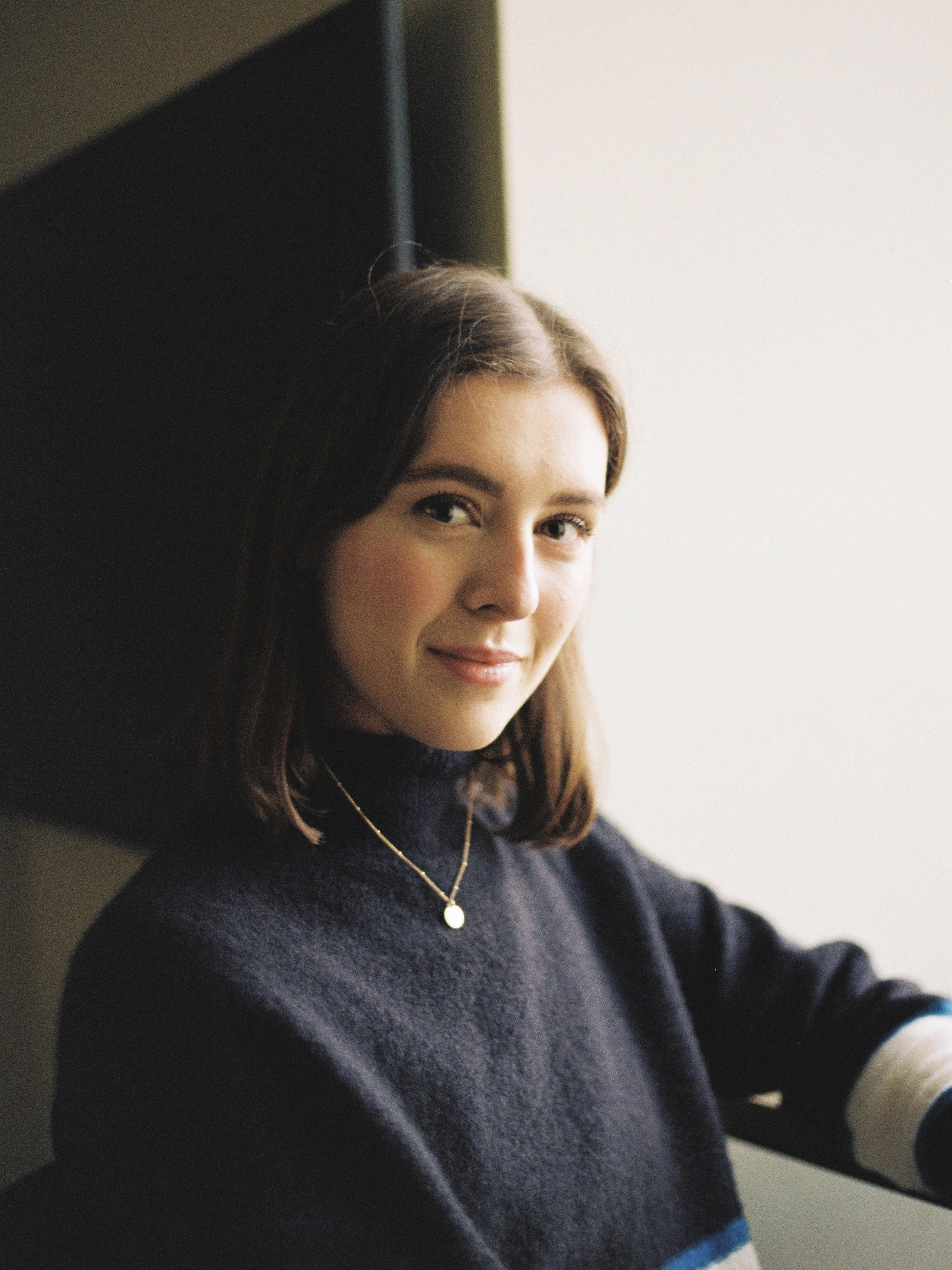 Emily Moorman is a News Writer at Homes & Gardens, working across a range of topics spanning interiors, celebrity and emerging trends. With a background in the fashion industry, Emily is well-versed in the world of design and trend cycles. Her undergraduate degree was in Fashion Communication and Promotion which she studied at Norwich University of The Arts, specialising in writing and digital communications.