5 colors that will make your bedroom feel calmer, according to designers
Color plays a key role in setting the mood of a room, and these are the most calming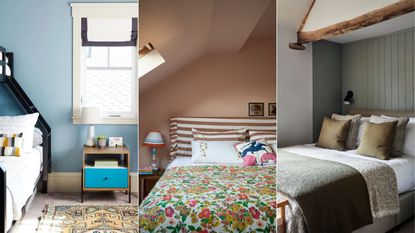 (Image credit: Liz Daly / KJM Interiors, Farrow & Ball, Future/Brent Darby)
There's most likely no room in the home that you want to feel as calm as the bedroom. Having a restful environment will no doubt result in improved sleep while helping you to switch off from the busyness of day-to-day life, so it's important to have this front of mind when decorating your bedroom.
'Our bedrooms need to bring a sense of calm and balance; a retreat from the world outside.' says Patrick O'Donnell, color consultant at Farrow & Ball.
There's no question that color plays a significant role in setting the overall mood of a space, so it's key to carefully consider which bedroom color trends are best, especially if you're trying to create a more serene feel.
5 colors to make a bedroom feel calming
'The bedroom is a space where you come to find comfort,' says Helen Shaw, Director of Color Marketing at Benjamin Moore. 'It should be a relaxing sanctuary where you can retreat to at the end of the day and wake up feeling positive the next morning.'
But what are the best colors to help achieve this sought-after relaxing feeling? We spoke to interior designers and color specialists to find out what the most calming bedroom color ideas are.
While you most likely won't be surprised that muted and soft colors certainly do have a relaxing effect, experts also suggest that more surprising bold hues can promote an equally calm feeling in the bedroom.
1. Earthy pink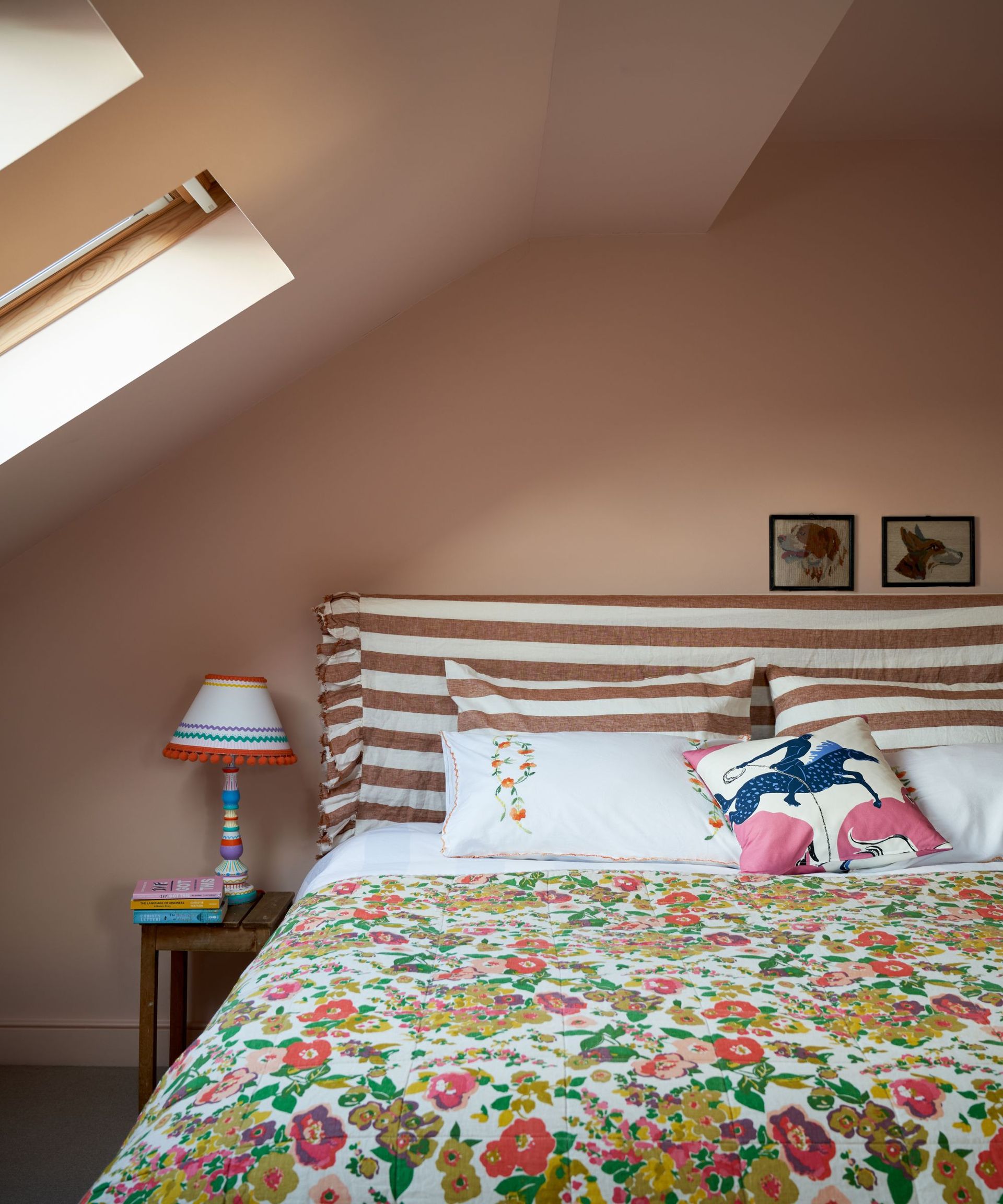 Opting for soft and delicate hues in the bedroom is one of the most obvious choices for creating a calming space. If you like to keep things understated with color, experts recommend a muted take on pink bedroom ideas to create a calm feel.
'For me, a bedroom always calls for peaceful neutrals and soft colors,' says Gaelle Dudley, color expert and founder of GLDESIGN. When choosing the best neutral hue for the bedroom, Dudley suggests taking inspiration from the pinks associated with sunsets, explaining: 'The colors of the sky are truly breathtaking and always filled with such warmth. From blushes to a dusty rose, the sky is an explosion of soft color,' continues Dudley.
O'Donnell also recommends delicate pink hues to create a calming bedroom, explaining: 'Gentle pinks lend themselves to successful bedroom schemes such as our sophisticated Setting Plaster. The gentle underlying brown notes avoid any overtly saccharine qualities often associated with pinks.'
Patrick O'Donnell is Farrow & Ball's color consultant & brand ambassador and has been with the brand since 2012. Patrick works with designers in the UK and North America, helping to bring their projects alive with the iconic, F&B color palette.
When styling subtle neutral-pink hues in the bedroom, O'Donnell explains that you can: 'Combine with a 'country house' aesthetic with old brown furniture and pretty floral motif prints or keep fairly monochromatic with plain ivory linen curtains and cane furniture. Keep woodwork simple for both looks by choosing Wimborne White and repeat the same color on your ceiling.'
2. Dark hues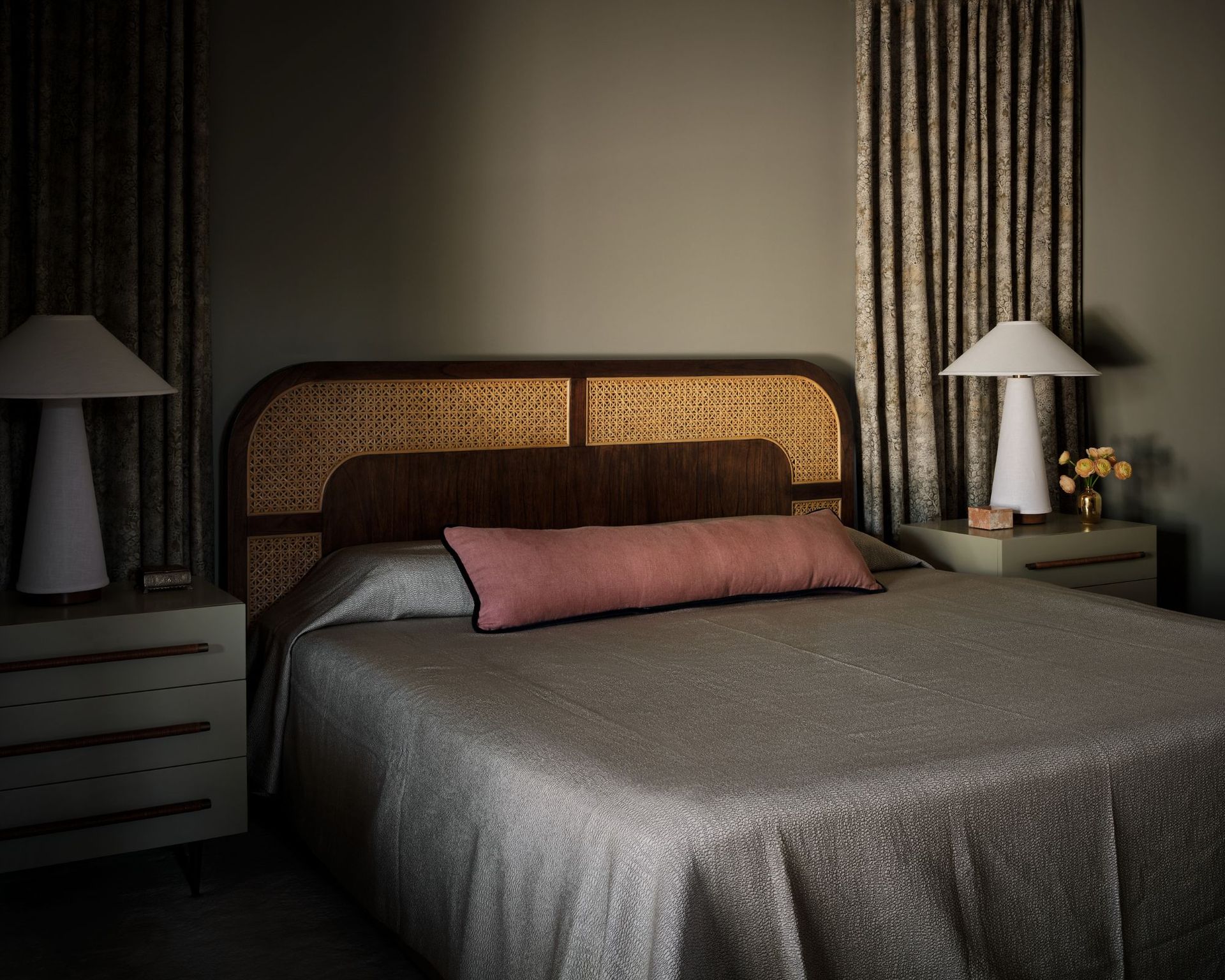 While you may naturally be less inclined to reach for dark colors in your bedroom decor if you're trying to create a calming feel, experts explain that dark bedrooms can actually be just as effective in creating a serene space.
'Dark colors can be soothing like a warm embrace when used properly,' says Ginger Curtis, founder of Urbanology Designs. Cori Pfaff, designer at Ashby Collective agrees, saying: 'While dark colors are not typically associated with creating a calming atmosphere, they can still be used effectively to create a sense of coziness and relaxation.'
Pfaff suggests incorporating light-colored furnishings into the bedroom if you decide on a dark paint color to create the ultimate intimate and warm space.
3. Blue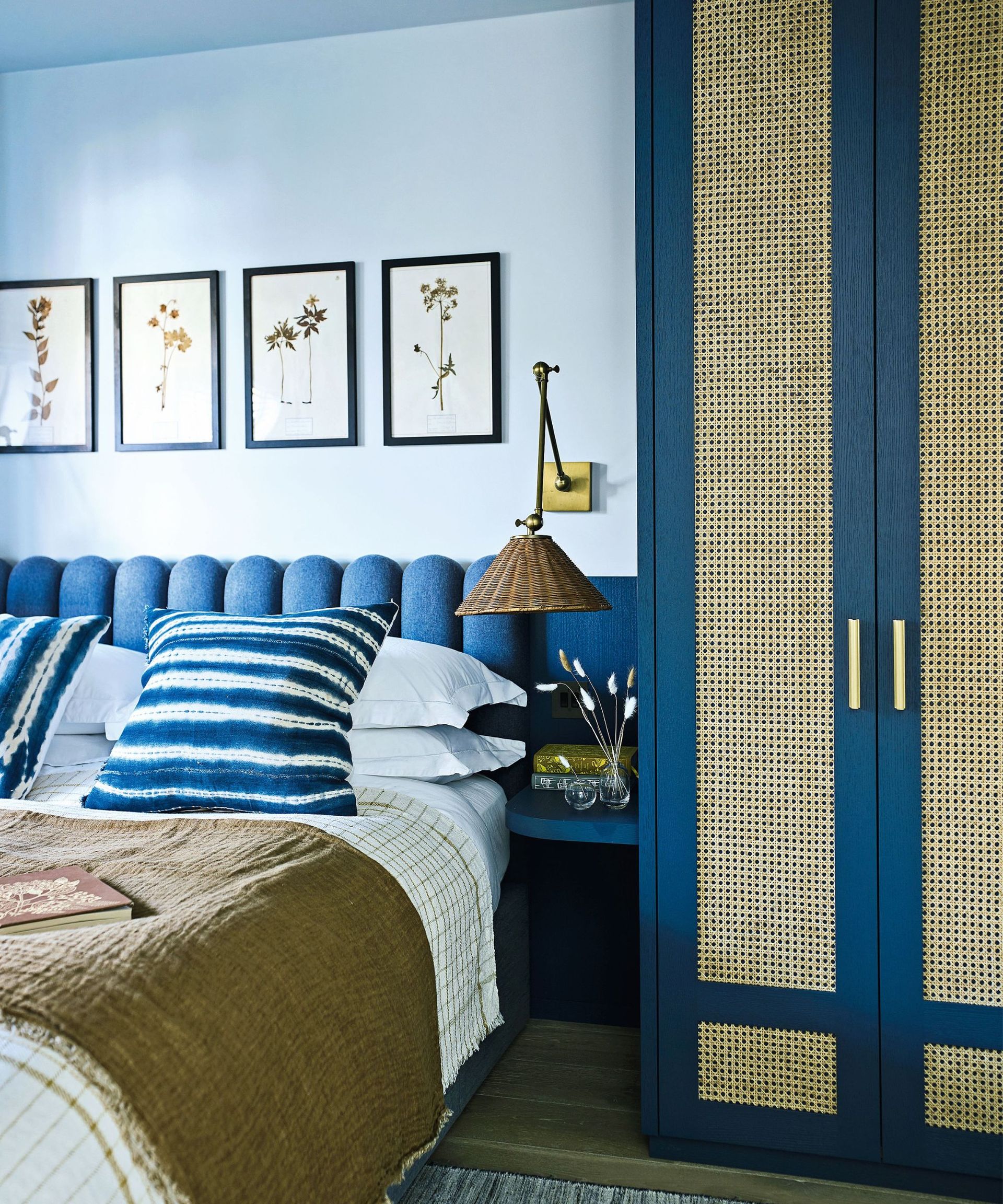 'For an on-trend look, opt for a blue with violet undertones,' suggests Shaw. 'This shade provides a reassuring feeling, adding both a strong sense of calm and serenity, whilst delivering a truly captivating room.'
Blue can be seen as a tricky color to style, but Shaw advises that there different ways of embracing a blue bedroom. First, you can opt to color-drench the room with your chosen shade of blue, which will help create a cozy and cocooned feel. Alternatively, Shaw suggests pairing the hue with 'soft time-trusted whites to create a classic look.'
Sue Wadden, Director of Color Marketing at Sherwin-Williams also recommends blue for a calm bedroom, explaining: 'A classic choice for a peaceful bedroom environment is going with a light blue like Krypton. Its slate-gray undertones make any space feel like a breath of fresh air.'
With a strong background in design and color leadership, Sue Wadden was appointed director of color marketing at Sherwin-Williams in 2016, and has been with the paint brand since 1998.
4. Pastels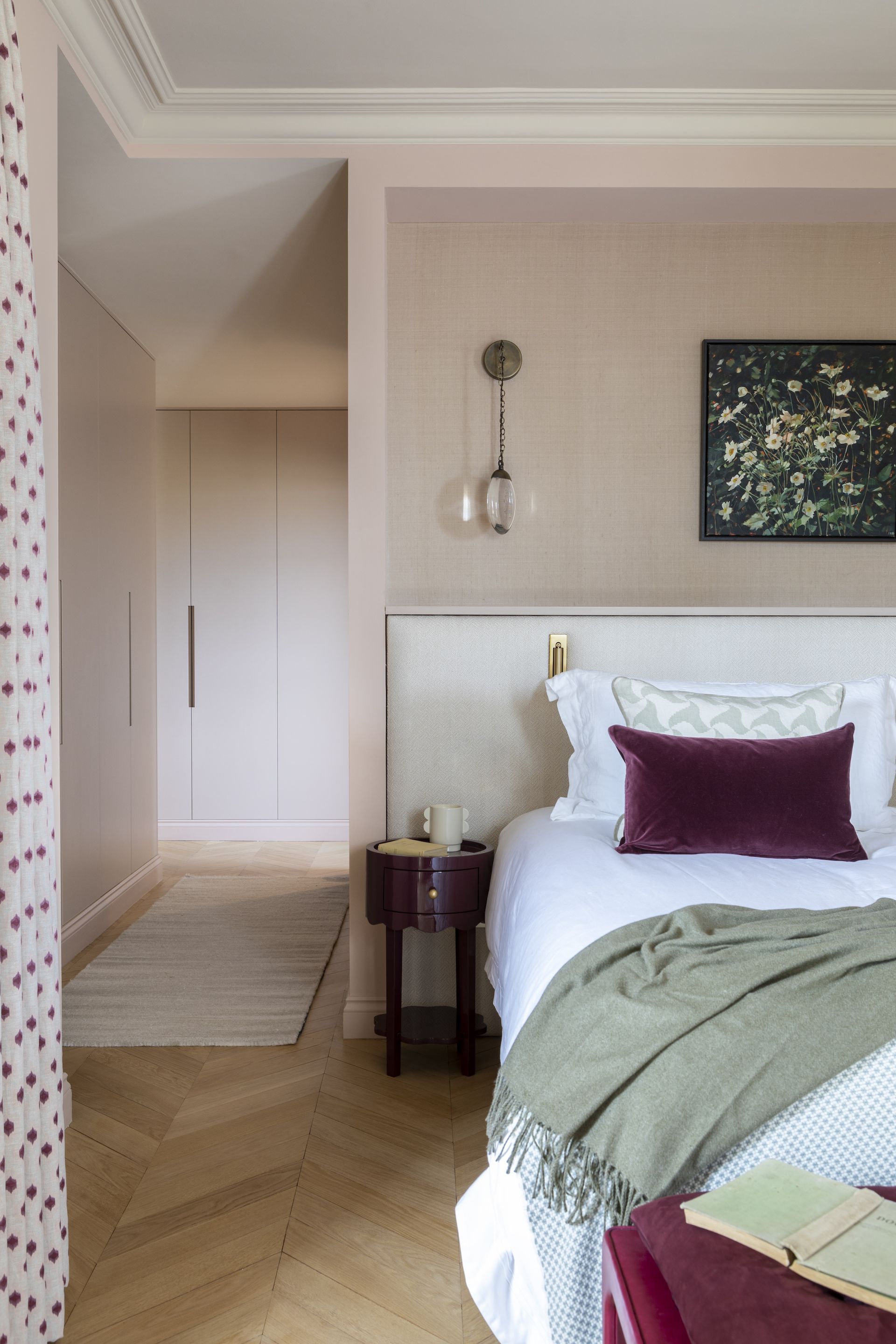 'Opting for light pastels such as soft pinks, sky blues or sage greens will evoke a strong sense of calm and serenity due to their association with the natural environment,' suggests Shaw.
With a number of different pastel colors to choose from, this option can be tailored to your style preferences, but pastel shades will universally create a relaxed feel while also bringing a splash of color to the bedroom.
When it comes to styling pastel room ideas in the bedroom, Shaw advises that: 'These shades can be used from ceiling to floor or, for a Scandi style look, pair with crisp whites and pale greys alongside natural accessories.'
Helen Shaw is part of Benjamin Moore's UK division. Color expert and international marketing director, Helen and her husband Craig are founders of Shaw Paints, acquired by Benjamin Moore in 2020.
5. Sage green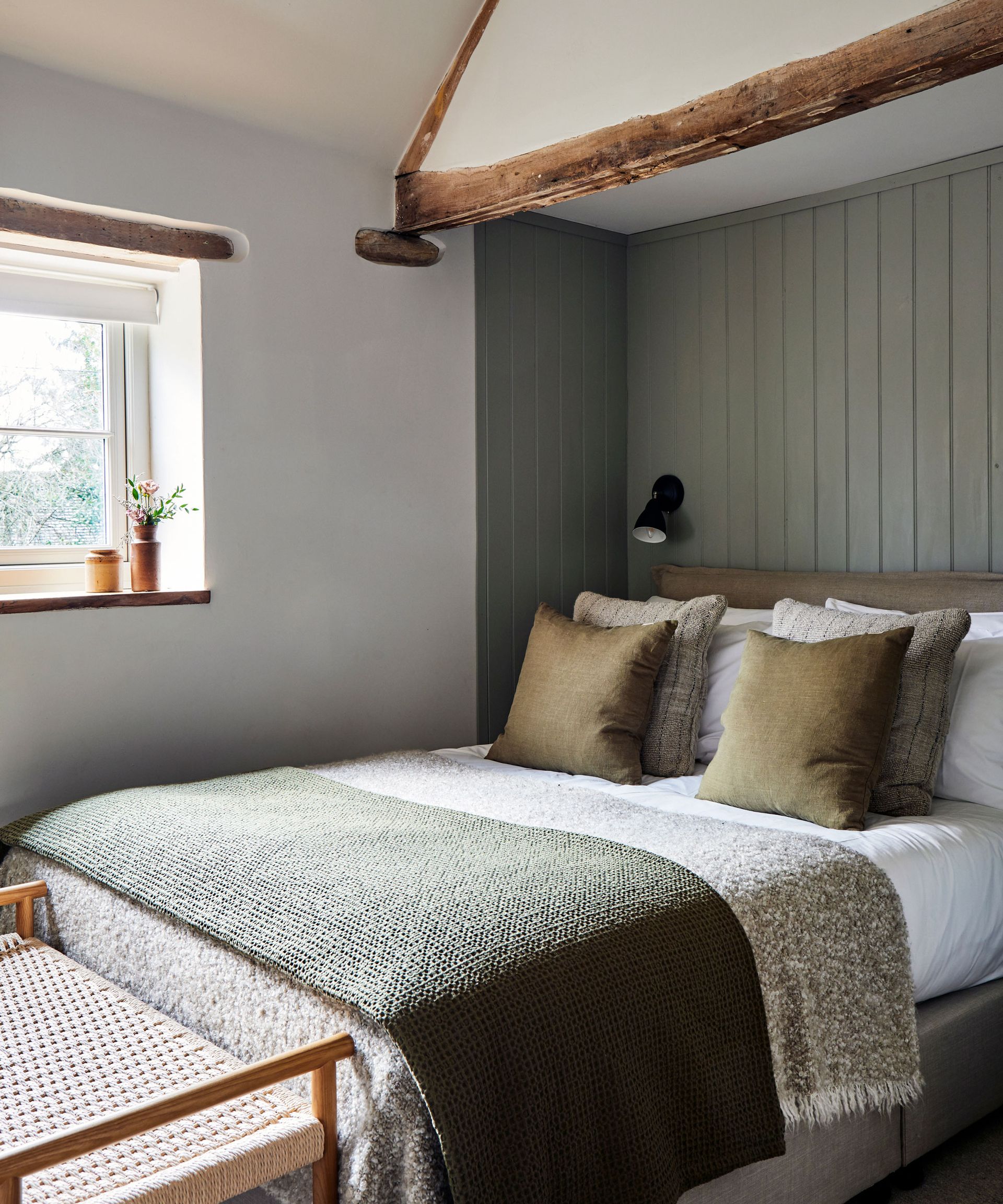 Decorating with green creates closer links to nature, so it's a good choice if you're looking to extend the peacefulness of nature into the home. 'Consider using colors such as sage greens,' suggests Melissa Read, Creative Director at Studio Burntwood.
O'Donnell also recommends opting for green colors in the bedroom, explaining that in addition to looking stylish, green can also have a positive impact on sleep, explaining: 'We all know that green is an inherently restful color, with its association to nature's elements. This palette is often a successful choice for a bedroom to help one relax and therefore sleep.'
If you're looking for green bedroom ideas without fully committing to painting the wall colors, O'Donnell advises that you can instead channel this calming hue on the furniture: 'If you have some furniture in your bedroom that could do with a refresh, try painting it Card Room Green for a pop of color.'
FAQs
Which colors should be avoided in the bedroom?
As well as knowing which colors are best placed to create a relaxing bedroom, experts warn that equally there are colors that can have the opposite effect. Read says: 'I would avoid using energizing colors like reds and yellows, which can interfere with your ability to unwind and rest.'
However, she also explains that your chosen colors should be a personal decision and so it's important not to rule anything out. 'Feelings around colors are deeply personal and preferences are typically rooted in our experiences and nostalgia.'
How does a room's light direction affect color?
Not only is it about settling on a color for your bedroom that you love, you need to also consider which direction to the sun your room faces and how much natural light it gets throughout the day. Colors can look significantly different when used in different rooms throughout the home, so it's worth taking this into account, as O'Donnell explains:
'When creating a calming sanctuary, it's important to consider the light direction entering the room. Soft aquas in east-facing bedrooms will react beautifully in the morning light, such as Pale Powder or Dix Blue.'
'South and west-facing bedrooms can take a little more color, such as the smoky Brassica with its restrained lavender tones,' he continues.
What color should the bedroom ceiling be painted?
It's also important to consider the ceiling color of your bedroom. While ceiling ideas are most commonly kept white, O'Donnell provides an alternative solution, which works especially well in rooms with uneven walls:
'For bedrooms with awkward ceilings, consider taking the wall color straight over the ceiling. This will help with the continuity of color and will feel less distracting on the eye.'
---
If you're looking for some more inspiration for your bedroom, we've rounded up the best color combinations for a bedroom to help you with your decor, as well as the best colors to paint a small bedroom that will achieve an equally stylish look.
Sign up to the Homes & Gardens newsletter
Decor Ideas. Project Inspiration. Expert Advice. Delivered to your inbox.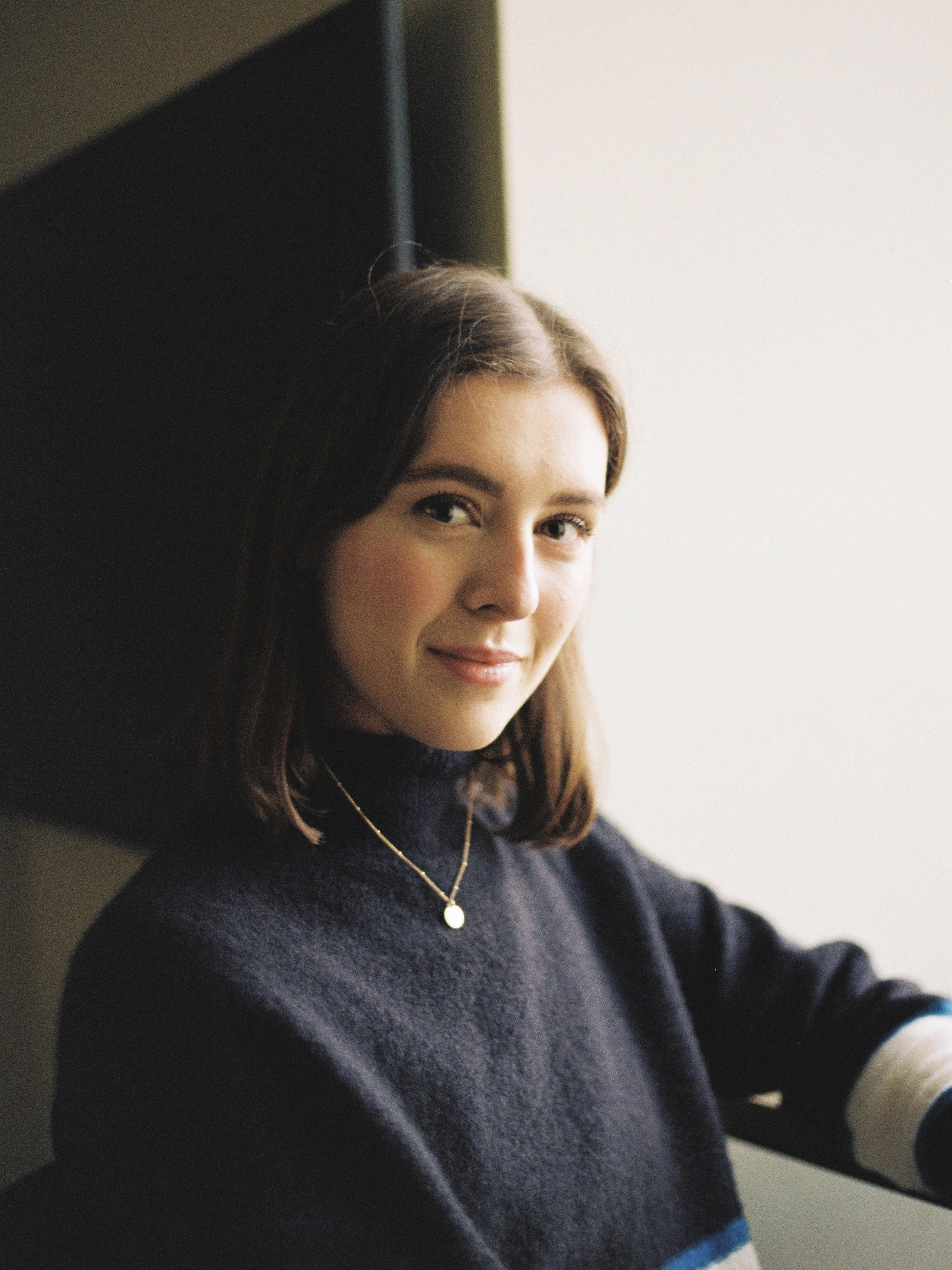 Emily Moorman is a News Writer at Homes & Gardens, working across a range of topics spanning interiors, celebrity and emerging trends. With a background in the fashion industry, Emily is well-versed in the world of design and trend cycles. Her undergraduate degree was in Fashion Communication and Promotion which she studied at Norwich University of The Arts, specialising in writing and digital communications.