Green is the color of 2023 – these designer-approved ways to use it are bold and beautiful
A homage to the hue that has the ability to soothe, inspire and excite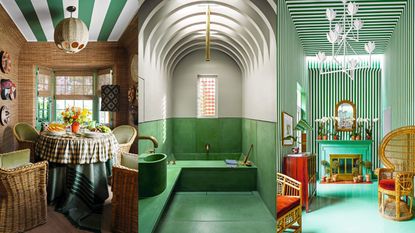 (Image credit: Douglas Friedman / Kyle Knodell / Gieves Anderson / Trunk Archive)
As the New Year arrives, we look for ways to refresh our homes and create sanctuaries of our spaces.
And there's no better way to do this than by decorating with green. It's a shade that we typically associate with nature, so it is often used to conjure up a calming, connected mood. But, used boldly, green room ideas can be exciting and brave.
Below, some of the world's best interior designers show us how.
1. Pretty but impactful pastel color-blocking
Chicago-based interior design firm M + M designed this fresh, colorwashed butler's pantry. The space might be small but the impact is mighty. By matching the soft pastel green hue used on the walls to the cabinets and woodwork, company directors Leslie Martin and Kim Meardon created a space that is filled with joyful color that will outlive any passing color trends or short-lived fads.
2. Small splashes, making their presence felt
Model and LUMA Beauty founder Jessica Hart called upon interior designer and long-term friend Carlos Mota to reimagine her home in the Hollywood Hills. A strong green features throughout the house, used on painted woodwork, for upholstery and textiles and in unexpected and creative ways, such as the wide-width striped ceiling. This contemporary twist helps to balance the combination of rustic textures.
3. Green tones, in lush layers
With endless shade options, green is one of the hardest working room colors. Its versatility allows it to be used as the protagonist within a room, as well as a support act for other hues. Contrary to popular belief, blue and green should certainly be seen, as interior designer Patrick Mele proves within this exuberant bedroom corner. The high-gloss finish on the window frame and ornate furniture bounces endless green light around this space.
4. Embracing the natural world
With the help of architect Jean Bosc, a modern addition was built on this French farmhouse. The Australian homeowners then enlisted Jane Charlwood, a Melbourne-based interior designer, with the task of brining their interior to life, while still respecting the local area. By using gentle touches of green throughout the property, she manages to connect each room to nature and the surrounding landscape.
5. High drama with an unapologetic approach
Decorating with stripes is thankfully popular again. New York-based designer Nicholas Obeid is the mastermind behind this bold sunroom that overlooks the garden within a spacious apartment in a mid-1800s Brooklyn Heights brownstone. Parsley Snips by Benjamin Moore was the paint color of choice for this space, used not only on the floor and fire surround, but as the vertical stripes up the walls and across the ceiling, adding a theatrical touch.
6. A tranquil transformation
Using pigmented concrete in a vivid shade of green, design practice Studio Ben Allen has created a bathroom that blurs the lines between minimalist and maximalist. To add height and extra light, the studio added a vaulted ceiling, inviting the light from above to stream in. This light highlights the natural textures in the chalky green surface, making it the focal point of the space and leaving visitors green with envy.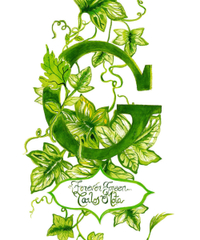 Adapted from G: Forever Green by Carlos Mota (available to buy at Vendome Press)
Interior designer and style guru Carlos Mota has such a passion for green that he has devoted an entire book to it. G: Forever Green celebrates the color in all its manifestations: in nature, food, fashion, jewelry, art, interiors, and architecture.
Formerly international style editor for AD and editor at large for Elle Decor, he is the author of Beige Is Not a Color. He lives in New York and the Dominican Republic.
Jo Bailey has been Deputy Editor of Homes & Gardens since late 2021, overseeing all features for the print edition. Previously, she worked as the News & Shopping Editor across H&G and Livingetc - one of Future Plc's sister brands - this is where she learnt to discover the best news stories, latest trends and honed her understanding of Homes and Gardens' over 100-year-old brand.
Before joining Future Plc, she worked as an interior stylist for over ten years, specialising in commercial photo shoots for luxury clients such as; Design Centre Chelsea Harbour, The Romo Group, Christopher Farr Cloth and Heal's. She has worked closely with Homes & Gardens and Livingetc for over a decade, having styled and produced editorial shoots and events for both titles over the years.