Color trends 2022 – the 15 latest key colors to use this year
From earthy yellow to dusky pink, these latest color trends will set the tone for the rest of your scheme in 2023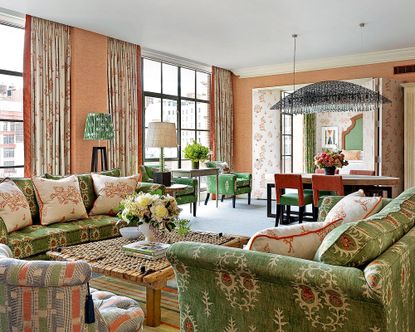 (Image credit: Kit Kemp / Simon Brown)
In search of the biggest color trends for 2023? Understanding color lies at the root of all interior design decisions.
If in doubt, consulting the color wheel – and basic color theory – will ensure your decorating scheme is soothing and that it flows effectively from room to room.
Color trends 2023
Here decorating experts have taken interior design trends and paint trends into consideration to help you achieve the perfect color scheme in every room.
1. Inspire optimism with a bold color choice
'Ae we move into thinking about pairing colors in 2022, I feel we might look beyond the nostalgic tones of the past year and be attracted to colors that are full of excitement, but somehow familiar,' says Joa Studholme, color curator, Farrow & Ball.
'I am keen to use more homely, uncomplicated colors that are full of memories. The combination of India Yellow with Green Smoke epitomizes the feeling of optimism so crucial to our homes next year.'
2. Pair pink with orange for a harmonious scheme
'Scale really drives how diverse you can be with color pairings: larger homes can take a looser palette; in smaller homes, it's best to keep the colors more concise – find three colors that harmonise and use them as a common thread for continuity,' says Charu Gandhi, founder and director, Elicyon (opens in new tab).
'I enjoy using ivory, egg-yolk yellows with hints of navy, mixed with copper and metal accents. Old rose pink, nude and orangey tones is also a nice palette – the combination of dull shades creates a calm but sumptuous aesthetic. We're also using pastel lilac with thistle green and soft amber, which gives a pleasing visual sense.'
3. Rethink color combinations
'In this suite at the Crosby Street Hotel (above), against the orange fabric-covered walls, I used my Friendly Folk design in Melon Orange for the curtains and cushions and in Basil Green on the chairs,' says Kit Kemp, founder, Firmdale Hotels (opens in new tab).
'Combined with Lewis & Wood's Tribal in Limpopo on the sofas, this playful reverse color combination adds freshness to the warm room. A solid orange trim on the curtains and cushions helps to frame the fabric, creating a sense of harmony.'
4. Introduce vintage yellows
It's the shade of optimism and joy, so after the global turbulence of the past year it comes as little surprise that yellow is decorating's color du jour.
But it is so much more than a flash in the pan – the right shade can have surprising longevity and add richness to more traditional schemes. 'Tigers Eye' by Zoffany (opens in new tab) is a case in point. A muddy yellow, it injects an infusion of sunshine while remaining on the right side of sophistication. It's now available in a new chalky-textured True Matt finish, which is wipeable so suitable for high traffic areas such as kitchens, hallways and children's rooms.
In her latest book, Recipes for Decorating, Farrow & Ball's color consultant Job Studholme notes that we are embracing stronger shades when decorating our homes. These include the range of hues from reds and pinks to oranges and yellows found on the warm half of the color wheel.
Much research has been done into how colors affect our mood. Yellow room ideas inspire optimism, creating a summery feel; team it with charcoal and black from a modern look. 'Current trends show a real shift towards brighter color with a clean-cut finish,' says Sue Kim, senior color designer at Valspar.
With this classic scheme in superb sunshine yellows, Veere Greenery provides a masterclass on how to brighten a north-facing room. It features wallpaper, bed curtains and valances in Belvedere in Straw with curtains in Verandah also in Straw, both from the designer's collections.
5. Revel in muddy greens
The past year has strengthened our connection with the outdoors, and elevated green to the decorating color of choice. There's a mind-boggling array of shades to pick from but for elegance and versatility, Neptune's (opens in new tab) 'Olive' ticks all the right boxes. Strong yet soothing, it gives a room an enveloping feel but can also sit quietly and allow bold colored furniture to shine.
It's said that green room ideas make us feel positive, which rings true in this space in Sage & Onions by Little Greene. For a modern look, it is carried over the woodwork and window frame, accented by a blue on the dado rail.
'Color on the cool spectrum – green hues from bright to blue, through to sea blue and cobalt on to purple and lavender – bring serenity to a space, so are ideal for your living room paint ideas and bedroom color schemes,' says Jane Rockett of Rockett St George (opens in new tab). And as they aren't overpowering, they can make a small room seem more spacious.
Of all the cool colors, green is perhaps the most versatile. 'It connects to nature and is said to evoke feelings of balance and vibrancy,' says Jane. 'It's all about what you pair it with,' adds Judy Smith of Crown Paints (opens in new tab). 'Greens with a blue base are impactful, so introducing soft tones of clay white and chalky grey in furniture and accessories, while keeping the flooring light, brights balance and a calming feel to a scheme.'
Greens with a yellow undertone, such as olive, pop alongside gold or bronze, which enhance their warmth.
6. Go for a grounding neutral scheme
The trend for dark shades in the kitchen shows no signs of waning. Contrasting black or deep grey with white is the most effective way to create impact in a predominantly white kitchen, but they key is to vary the proportions.
A 50/50 split could feel cold; instead pair dark cabinets with marble and another vital ingredient; texture. Grain-rich timber doors and accessories will break up the space beautifully, as shown in this Henley kitchen by Neptune (opens in new tab).
There's plenty of debate as to how to define 'neutral' colors. We tend to think of them as tones such as white, beige, grey, ivory and khaki that don't appear on the color wheel.
In general, neutral room ideas are calming and easy to use – they work with almost every other color, but it's important to consider how pigments are affected by light.
'The light in a room is a key to deciding whether to choose warm or cool tones,' says Ruth Mottershead of Little Greene. There is a difference between warm neutrals (with a green or yellow undertone), which work well in north-facing rooms as they bounce light around, and cool ones (with a bit pink, violet or blue).
When decorating with neutrals, texture and layering are essential. Mix warm metallics such as brass or bronze and natural wood with linen, velvet, sheepskin and chunky knits.
7. Create calm with blues
A shade that's always been popular in the world of interiors, soft blue is set to be spring's color du jour.
Powder Blue, the offering from Crown, has the quality of being both soothing and invigorating and offers plenty of design versatility. Used with crisp white, it creates a calming coastal feel, while as one block of color it can be an enveloping breath of fresh air. Of course, its natural home is with other pastels, such as barely-there lemon and delicate pink, but for a more contemporary edge earthy shades like rust and terracotta will make this color sing.
8. Spice up your space with deep tans
The return of the seventies has been influencing interior trends for 2022; with a palette of warm taupes, tan browns and caramel tones.
Here, like its namesake, Cardamom, from Benjamin Moore's Century collection, is enticingly warm and versatile. Deeper than ochre and earthier than gold, this rich yet understated tone strikes a refined note in south-facing rooms and creates an inviting, cocoon-like feel in less light-filled spaces.
This hue favors brown furniture and other colors rooted in nature like forest greens and creamy whites. But a burst of a bold bright will also give it a wondrous lift.
9. Decorate with white-on-white
It's the simplest of colors but, as anyone who has set off on the quest for the perfect white can attest, also one of the trickiest to get right.
Zoffany's Architects White, however, is an impressive multi-tasker. Warmer than its somewhat austere name suggests and therefore sensitive to north-facing rooms, it is also cool enough to escape the dreaded tinge of beige in sunnier spaces. A clever, calming hue that creates a clean yet liveable look.
10. Go for earthy browns
The nuances of brown are often underplayed but one look at Little Greene's (opens in new tab) 'Chimney Brick' shows how complex and interesting the shade can be. Part chocolate, part woodland and with a dash of purple grape there is an unexpected richness that reveals itself in different ways. In North facing rooms it will create a cocooning field and in brighter spaces it allows the opportunity to layer other shades of brown for more impact.
Brown; it was the color of the seventies in both fashion and interiors, it was back again in the nineties where it was all dark leather, faux suede and mocha walls. Could it be coming back to rival the place of grey in our paint schemes?
Earthy hues are enjoying a resurgence on both walls and furniture, so we are captivated by the delightfully-named Brown Betty – one of 14 new offerings from Atelier Ellis.
Inspired by the color of 'the teapot on nana's table', it has the perfect mix of warmth and sophistication. This deep shade holds it own, but can be softened with blush, teal, ochre and moss green. We're calling it our new neutral.
11. Strike a balance between blue and black
A deceptive but delicious black, the blue undertones of this shade – Beyond Blue from Paint & Paper Library's new Monochrome collection – give a pleasurable richness and depth.
When used with one of the whites in the collection, it will dramatically change the interplay of light and space in your room. Striking enough to take centre stage yet subtle and confident enough to allow other hues to shine, it's a dream to work with.
12. Dress down with a muted color palette
Bandstand is one of many muted heritage shades in Crown's Period Collection, reflecting a move away from bolder traditional colors. Fresh, uplifting and light-enhancing, it lends elegance and calm to a living space.
13. Paint with a dusky pink
Pink room ideas are the new decorating neutral – it has a natural ability to add warmth and interest without overwhelming a space or competing with furniture. But choosing the right shade can be a thorny task when you are faced with everything from a bold raspberry to playful bubblegum.
For longevity, the key is to pick a more serene hue – a quietly confident color which creates the perfect backdrop. Enter Dulux Heritage's 'Potter's Pink', a soft clay-like shade which looks pretty but is equally restful on the eye. The beauty is that it is versatile enough to complement most colors in a room but olive greens, rich browns and deep burgundy will truly make it sing. Potter's Pink vinyl matt emulsion, Dulux (opens in new tab).
A barely-there dusky pink, this irresistible shade is proof that our love for pale plaster hues endures.
Masilla (above) – Spanish for 'putty' – is a gentle neutral with red undertones for a hint of warmth. Such a delicate, unabashedly feminine hue will happily envelop most rooms, but would undoubtedly feel perfect in a traditional bedroom or bathroom.
14. Add depth with grey
This delicately understated grey, which was Benjamin Moore's Color of the Year 2019, and it is still as relevant now.
Metropolitan has an easy-living and beautifully balanced neutral feel. It's cool undertones adapt effortlessly to their surroundings, exuding a quiet intensity.
15. Go for hearty reds
Red can be a tricky color to pin down but choose a shade with more traditional leanings like Farrow and Ball (opens in new tab)'s 'Incarnadine' and it will breathe life into any space.
Country homes in particular lend themselves well to the hue because it brings out the charm in elements like rustic wood, gilded frames and aged leather – and as red is known to stimulate appetite, Incarnadine is ideal for dining room ideas.
What will be the color of 2022?
Sherwin-Williams has revealed their 2022 Color of the Year – and it celebrates the two most popular tones of the season. The aptly named Evergreen Fog merges green and gray hues to create a color that is almost guaranteed to be successful throughout the year ahead.
Following a chain of subtle neutrals and vibrant jeweled paints, Sherwin-Williams curated Evergreen Fog (opens in new tab) to mark the start of a new dawn of 'nostalgic mid-tones' – the basis of which we observe in the ever-increasing desire for gray and green paint ideas.