Decorating with teal – expert advice for using this bold and beautiful shade
Create vibrant, eye-catching interiors with our tips and beautiful ideas for decorating with teal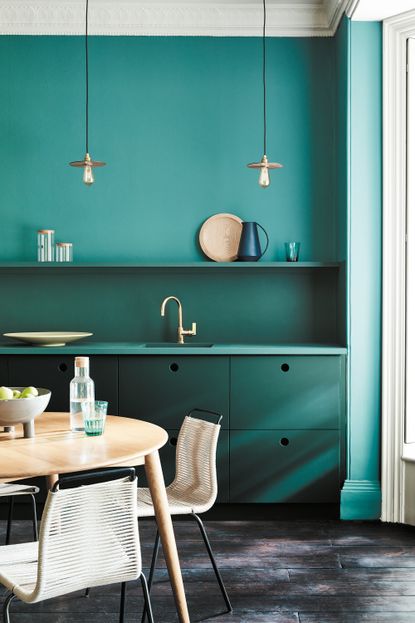 (Image credit: Little Greene Tea with Florence)
Decorating with teal is a fabulous way to bring personality to your interiors. Sitting between green and blue, teal is a versatile shade that pairs well with a wide range of other colors and can be used in both contemporary and traditional schemes.
With a spectrum stretching from cyan tones through to vivid turquoise and deep ocean blues, teal can be used to evoke an array of different moods and styles.
Whether you're looking to create a fresh new scheme or to breathe new life into an existing room, there are many ways to use teal as a warmer option when decorating with blue. To help inspire you to get it right, we've rounded up an array of beautiful teal rooms along with some tips from the experts.
Not sure what color teal is? Our guide will help you get the right shade in the right place.
Decorating with teal – what to consider
Decorating with teal is a popular room color idea with interior designers and homeowners alike, thanks to its versatility.
'A color that is beautiful, bold and sits so well with almost all other colors, using teal in interiors is always a great idea as it can be so dynamic,' says Emma Deterding, founder and creative director, Kelling Designs. 'Whether you go for a bright teal or opt for a moodier, deeper shade, it's versatile enough to add life and energy, whilst creating drama and atmosphere in any living space.'
Andy Greenall, head of design at Paint & Paper Library, also highlights how teal can be used to create a range of different blue room ideas suitable for any season. 'A perfectly balanced hue, it's neither too warm or too cool. It will create a sumptuous cocooning feeling in winter and an uplifting, almost Mediterranean decor feel when bathed in light on sunny summer days.'
For those confident with color, teal can look stunning used wall-to-wall and is great for bringing a sense of drama to living rooms and dining rooms. Alternatively, for a more pared-back approach to decorating, teal can make a fabulous accent color for bringing extra depth to neutral schemes and for livening up restful spaces such as bedrooms.
Make an impact with an all teal scheme
A bold, captivating shade, teal can make a stunning statement when used wall-to-wall. 'Super strong tones like teal are lively and exciting and add energy to a room, to make it pop,' explains Justyna Korczynska, senior designer at Crown.
When choosing teal paint ideas it's important to take into account the tone as this can have a big impact on the look and feel of the space. While bright teals can create a fresh, vibrant feel, darker teals with black in them can create a more moody, dramatic feel.
Deep teals can make a great dining room color ideas, as they will create an intimate atmosphere which is perfect for entertaining. To enhance effect, consider using teal on the ceiling and across all skirting and woodwork, too – this is known as color drenching and can look beautifully contemporary.
Think about the lighting of the room
If you're thinking of decorating with teal it's important to take into account the orientation of the room and the light it receives as this will impact how the color looks and feels and what warmth of shade you choose, explains Andy
Greenall, head of design for Paint & Paper Library.
'As teals span the color spectrum from bright turquoise tones to luxurious cyan hues, the base tone varies from green to blue, so consider selecting a bluer hue in south-facing spaces and a greener teal in a north-facing room, where the cooler light will emphasize the blue within the color.'
Use teal with white to create a feeling of serenity
Conjuring the alluring turquoise and cyan tones of the Mediterranean sea, decorating with teal together with white is a fabulous way to bring a restful feel to interiors. With its soothing, watery connotations, the shade makes a great bathroom color idea – after all, if there's anywhere that deserves to feel relaxing it's the bathroom.
If you're considering teal for your bathroom paneling ideas, as demonstrated here, then 'opt for a satin finish,' suggests Andy Greenall head of design at Paper & Paint Library. 'As well as being practical and durable, it offers a 30-35 percent sheen level, this will highlight the paneling and create a beautiful light reflecting surface.'
Combine different tones of teal
Decorating in a single hue, or with cool tones like blue, can sometimes leave rooms feeling cold or lacking in atmosphere. If you're thinking of an all-teal room then consider using a variation of tones to create layers of depth.
This is also a useful tactic for those cautious with using block color, explains Ruth Mottershead, creative director of Little Greene. 'If painting all elements in one shade feels a little overwhelming, select a group of tonally coordinating colors and utilize across the room,' she advises.
Team teal with natural wood
Conjuring the beautiful tones of sea and sky, teal works fabulously with natural materials and stands out beautifully when set next to the honeyed and blonde tones of natural wood as demonstrated in this dining space.
When decorating with teal, 'draw on the organic tones of the shade and include plenty of botanicals and raw woods to create a fresh and enlivening space,' says Helen Shaw, UK director at Benjamin Moore. 'Alternatively earthy and warm accents such as mustard or paprika will create a mid-century and dramatic feel,' she adds.
Pair teal with pink accents and navy
If you're looking for colors to pair with teal, consider pink. Sitting opposite green on the color wheel, pink works particularly well for balancing greenish-blue tones. 'Teal and pink is a winning combination as the colors sit so beautifully together and it is a pairing that can be seen used across many of our design schemes,' says Emma Deterding, founder and creative director, Kelling Designs.
'Whether you go bold with bright teals and fuchsia pinks in big pops on your walls, joinery and furniture, or whether you introduce it to a neutral space through accessories and soft furnishings, you can add an uplifting burst of color and pattern that's as easy on the eye as it is beautiful.'
Introduce teal accents
For a gentler approach to decorating with teal try introducing it through accessories such as throws, cushions and lampshades. For those that prefer pared-back neutral room ideas, adding colorful accessories in vibrant shea blues are a brilliant way to liven up the space whilst maintaining a feeling of calm.
Paint furniture in teal
For a playful approach to decorating with teal why not paint the inside of a cabinet or pantry for an unexpected color pop? Painting a glazed cabinet in a bold hue can make a brilliant backdrop for displaying china as it will allow pieces to really pop.
Use teal to highlight period features
If you love bold colors like teal, but are cautious of using them in abundance, then why not introduce them over woodwork or other architectural features such as fireplaces?

'Architectural features are a fantastic host for making a statement with color, be that skirting and doors, or if you're lucky enough, traditional window shutters which look resplendent in a statement color,' explains Andy Greenall head of design, Paint & Paper Library.
Pair teal with black and white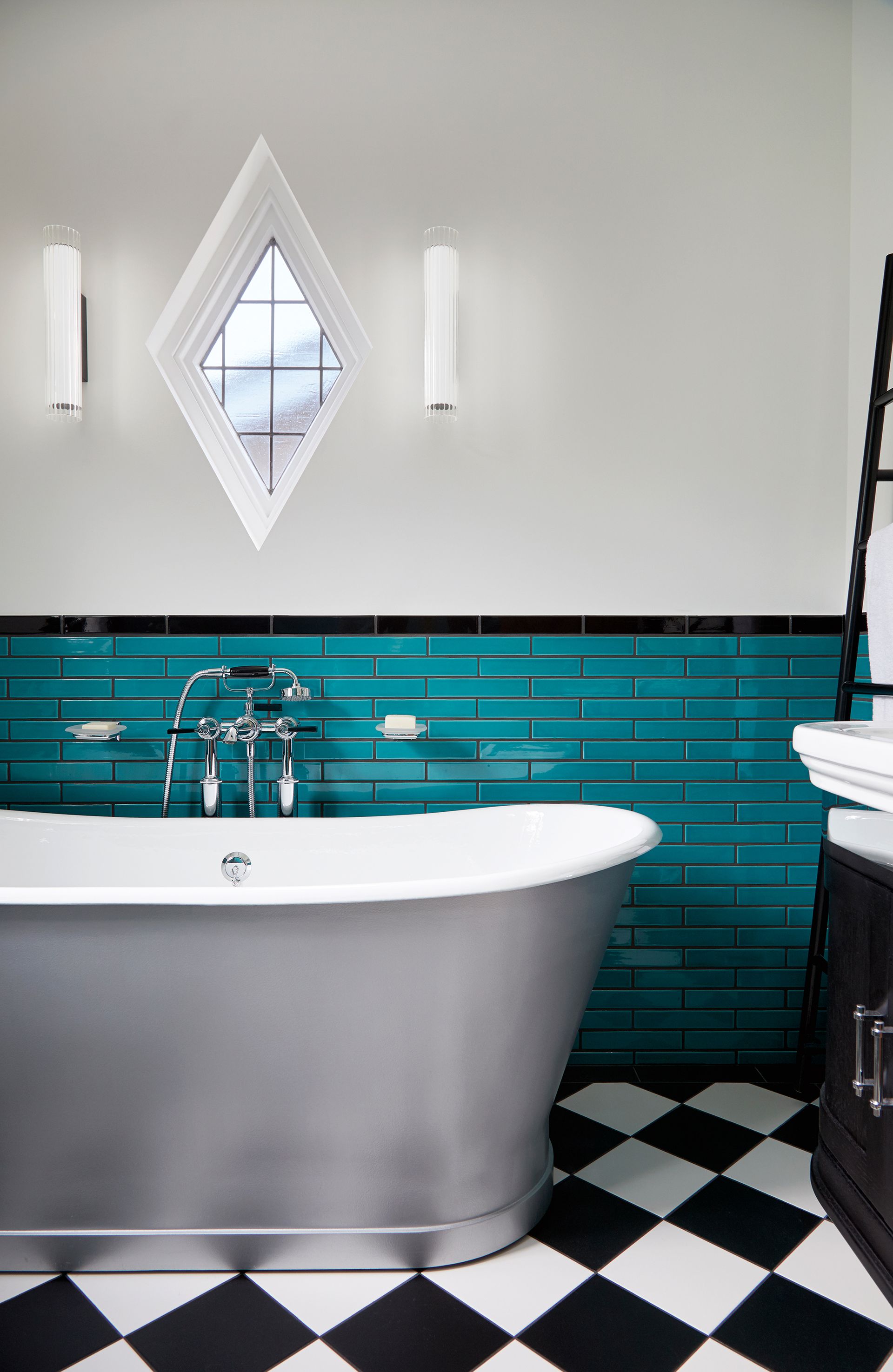 If you're planning on decorating with black and white then teal can make a beautiful complimentary color. Used in their pure form, black and white can look stark and flat so can really benefit from being tempered by another color and teal is the ideal candidate.
Bold and vibrant, teal has the ability to stand up to two-tone schemes as this bathroom proves. In this scheme teal bathroom wall tiles provide visual balance to the striking checkered floor while also creating a beautiful backdrop for this luxurious roll top.
Use teal to bring energy to a kitchen
Kitchens are spaces in which we spend lots of time, so it makes sense that they feel happy and uplifting and teal is a brilliant way to achieve this. According to the experts, teal has become an increasingly popular as a kitchen color idea, providing a fresh take on the classic blue kitchen.
'In kitchens we often see tones of blue or green being used to draw the eye to the center island, however more recently we have seen a trend for more vibrant hues coming through such as shades of teal or verdigris,' says Helen Shaw, UK director at Benjamin Moore.
What colors go well with teal?
Teal goes well with a host of other colors. Sitting between green and blue, it is a versatile shade which fits easily with many color schemes.
With orange sitting opposite blue on the color wheel, and green sitting opposite pink, as a mixture of the two, teal is a natural partner to both shades but also looks fabulous with other warm tones like yellow and red.
'I love it using teal in designs with reds, charcoals and saffron especially. It works wonderfully well as a back ground to these vibrant colors so great for walls as well,' explains Susie Watson, founder of Susie Watson Designs. 'Deep colors are now so fashionable on walls again and they do make an amazing back drop to the reds, pinks and saffron we love using.'
When thinking about colors to pair with teal Tobie Lewis, Senior Brand Manager at Valspar Paint suggests using it 'with a cleansing white to maximize natural light in a room, or in contrast with an earthy mustard yellow or burnt orange to add more depth to your color palette.'
How do you use teal in a living room?
There are many ways to use teal in a living room, in fact, being a hugely versatile shade, it can be used in most rooms.
If you love teal and a confident with color, 'go bold by painting an entire room or add a pop of it with a statement feature wall,' says Sam Hood, chief creative officer at luxury home store Amara. Alternatively, for a more subtle approach, 'a beautiful teal vase or decorative objet can bring depth and interest to any surface,' she adds.
'For furniture, teal velvet works well and adds a sumptuous texture to your living space.'
When deciding what tone of teal to use be sure to think about lighting explains Annie Sloan.
'In bright natural daylight, this color will lean more green whilst at night, under artificial light, the blue pigment will be more noticeable,' says the paint and color expert. 'This depth of shade will create a wonderful, snug, cozy feeling even in larger rooms,' she adds, however in smaller spaces she suggests to, 'use it on just one wall.'
Sign up to the Homes & Gardens newsletter
Decor Ideas. Project Inspiration. Expert Advice. Delivered to your inbox.
Pippa is Content Editor on Homes & Gardens online contributing to Period Living and Country Homes & Interiors print issues. A graduate of Art History and formerly Style Editor at Period Living, she is passionate about architecture, creating decorating content, interior styling and writing about craft and historic homes. She enjoys searching out beautiful images and the latest trends to share with the Homes & Gardens audience. A keen gardener, when she's not writing you'll find her growing flowers on her village allotment for styling projects.