Blue kitchen ideas – 10 beautiful rooms to inspire your scheme
Looking for a classic, cool color? These blue kitchen ideas will never date – and are right on trend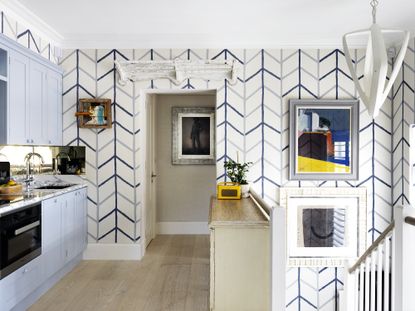 (Image credit: Kit Kemp)
Blue kitchen ideas regularly top the list of most popular kitchen color choices, and it's easy to see why.
Blue is a safe choice that works in most kitchens, contemporary or traditional, no matter their size. It's calming and easy to live with too – a must in such a busy space.
There are many shades of blue to choose from. From almost black, navy, cobalt and turquoise to sky blue and cornflower – so you can find the right shade for your room, whatever its orientation and your own kitchen ideas.
Best of all, blue kitchen cabinets look great with everything, from wood and stone to marble and granite.
Blue kitchen ideas
Blue room ideas are perfectly suited to kitchens. We've curated 10 different ways to decorate with blue, so that you can bring this beautiful shade into your kitchen, whether you want just a hint or all over blue kitchen ideas.
1. Go for floor to ceiling blue if you love the shade
If you are looking for kitchen color ideas that are bold and simply adore blue, a floor-to-ceiling approach can work if your kitchen is large enough or if the natural light is good – or if you're happy with a very cozy, enclosed finish in a smaller kitchen.
'We love experimenting with color,' says Keren Richter, co-founder of New York design studio White Arrow, 'be it utilizing a rich shade on vintage furniture, hand painting kitchen cabinetry, and in some instances painting the adjacent wall and ceilings to match the room's millwork.
'We experimented by running color from the custom Shaker cabinetry onto the adjacent beadboard, walls, hood, and hardware in our Pound Ridge kitchen. The color creates a fully immersive environment.
'The richly pigmented Fine Paints of Europe paint on all surfaces provides a stunning backdrop for our collection of ironstone ceramics, honed Arabescato countertops, and a white Aga oven.'
2. Make a small space feel bigger by limiting blue to base units
If you've fallen for a dark blue but are wondering how to make a small kitchen look bigger, you can have your cake and eat it by using the design technique above: dark colors to base units, pale units above.
In the case of this blue and white kitchen by Ikea, the white is on the wall units and panelling, and the base units indulge in the darker shade.
You can still carry the blue on to other elements, such as the window frame and the trim where the top of the wall meets the ceiling – doing so unites the scheme beautifully.
3. Balance out a cool blue kitchen with warm accents
If you're looking at painted kitchens in blue, consider the shade carefully. In the kitchen above, the blue is quite warm, and the space is given further warmth with the hints of yellow in the dining chairs.
'This stylish Townhouse kitchen has been designed in our modern British style using Shaker style cabinetry for the uncomplicated elegance it creates. Painted in Farrow & Ball's Oval Room Blue, it complements the rest of the room scheme,' explains interior designer Kit Kemp, founder and creative director of Firmdale Hotels and Kit Kemp Design Studio.
Note how the insides of the glass fronted cabinets are also painted in the same color – this is a great small kitchen design trick as it enables your eye to flow around the space with no interruption, allowing for a streamlined look.
4. Add a hint of blue in the kitchen island
If you are wondering how to choose a kitchen color scheme, let the pale blue and gray kitchen above be a masterclass in calm coordination.
If you love a pale scheme then opt for a beautiful light shade of blue. This island is painted in a color that is the same tone as the wall cabinet on the left and the walls, as Lara Hughes, kitchen designer at Neptune explains:
'One of the most popular routes to take is to have a colored kitchen island, such as our Flax Blue, that works harmoniously alongside our paler paints, like Snow, for example.'
The slightly darker wall color grounds the look, while the wooden floor and overmantel add texture and warmth. The overall feel is incredibly calming and welcoming.
5. Create drama by contrasting deep blue with metallics
One of the bonuses of blue, and why it's so popular, is that it's amazingly versatile. It looks great with metallics: these inky blue flat-fronted units look stunning against the gold leaf wall.
Paint and color expert Annie Sloan explains the thought process behind this striking look:
'One of my signature design touchstones is the use of complementary colors to create maximum impact. Here, the cool dark qualities of Aubusson Blue contrast with the warm, light-reflecting Imitation Gold to give a very deliberate, bold look to this kitchen.'
Chalk paint – as used on these units – is a great way to cut down on the cost to have kitchen cabinets painted, as it can be applied directly to most surfaces so no sanding is required.
6. Match blue with crisp white for a Hamptons feel
If you're a fan of blue and white decor – it's hard to go wrong with this combination, after all – this is a great way to use it to create that Hamptons-style, vacation home-feel.
This striking blue kitchen designed by Brooklyn based design studio White Arrow shows how well you can use blue with white without it looking cold and clinical.
Balance is key with a look like this and you do need to add in a few warming features, such as the copper pendants and matching faucet. The lime-washed floorboards also add texture.
7. Soften a blue kitchen with blush pink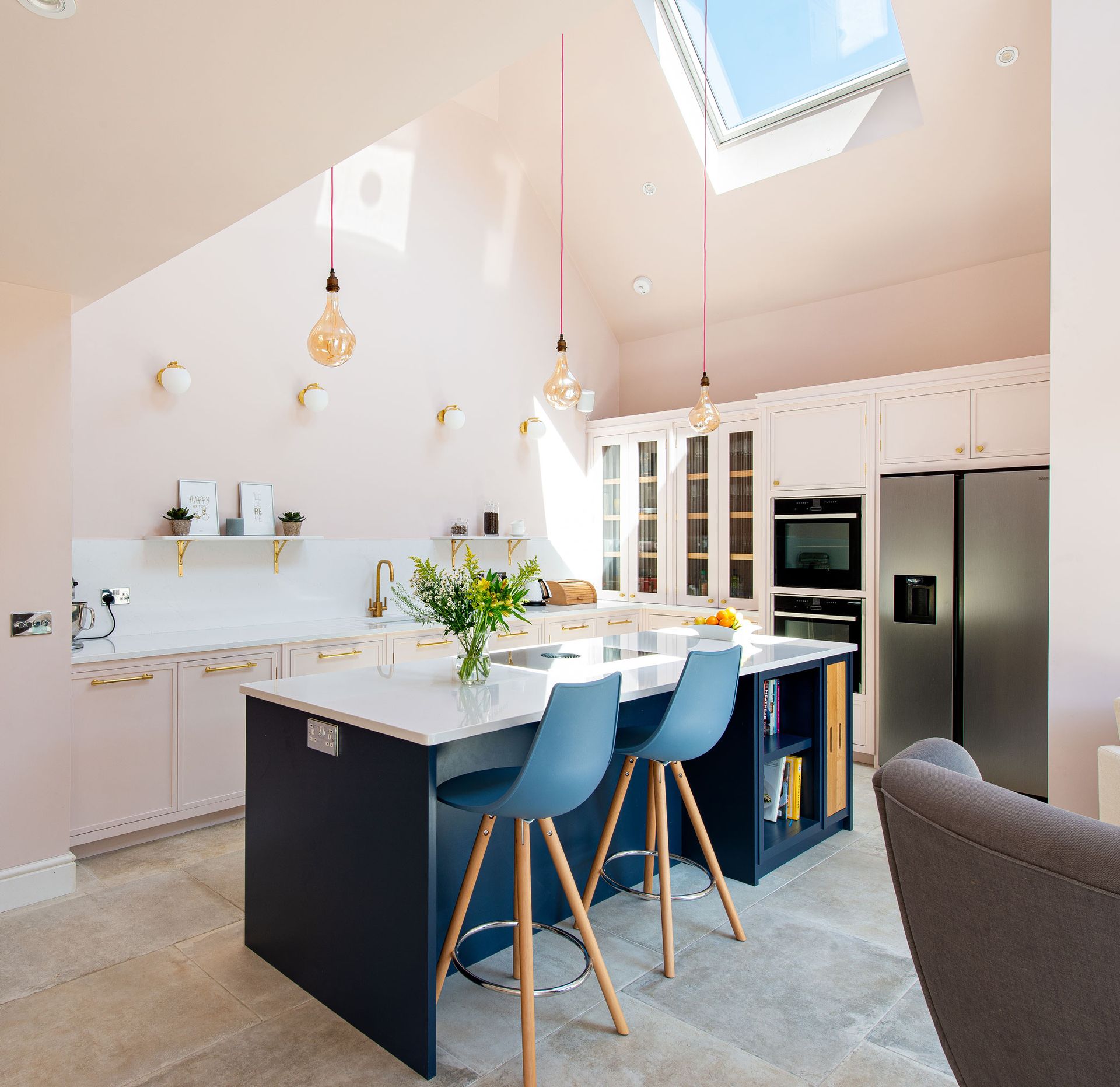 Perhaps not a color combination that one would normally consider, blue and pink are perfect for counter-balancing each other: the pink softens dark blue's tendency to be cool-looking, while the blue makes the pink look more grown up.
The deep blue in this Herringbone Kitchens space is Bond Street No.219 by Mylands, and the blush is Threadneedle No.262.
The blue's depth of tone makes it the perfect choice for anyone looking for kitchen island ideas where the color of this central feature is what defines the entire room's scheme.
8. Add warmth to a blue kitchen with wood
If yours is a relaxed, cottage style kitchen, a clever kitchen painting tip is to match a blue that's quite vivid with other colors or materials that soften its effect – here, the deep cherry tones of the countertop and the chalky white paint of the tongue and groove panelling, which is in Farrow & Ball's Wimborne White.
Farrow & Ball's Stiffkey Blue adds drama, as Joa Studholme, Color Curator at Farrow & Ball explains: 'Stiffkey Blue manages to feel both dramatic and optimistic, and has a somewhat more uncomplicated feel to it than other strong blues.
'Still charismatic in tone due to its unrivalled depth of color, it has a younger, less sophisticated feel which creates rooms that feel somewhat more upbeat than other blues. Its fresher tone lends itself to rooms full of activity, as well as spaces to relax in after a long day.'
9. Combine blue with chrome for a contemporary feel
Mid-blues are a versatile choice. If you favor modern kitchen ideas, opt for smooth matte units teamed with stainless steel countertops and oven.
The petrol blue here is the star of this industrial space by Carpetright, its shade contrasting perfectly against the exposed brick wall, light flooring and all the plants – yet it adds a warmth to a space that could look cold.
10. Add pattern to a blue kitchen with wallpaper
Wallpaper ideas can help you link a blue kitchen with other blue rooms. This is a perfect example of how well it can work, with the chevron print wallpaper complementing the painted units and carrying the blue theme across the entire open plan space.
'In this residential project in Chelsea, the kitchen – with cupboards painted in Papers and Paints' Mid Wedgwood Blue – is cleverly tucked into the hallway at the top of stairs, between the bedroom and drawing room.
'The walls are covered in our own One Way design for Christopher Farr Cloth in the indigo colorway, which gives the space a cool, fresh finish,' says Kit Kemp.
Is blue a good color for a kitchen?
Blue is a great color for kitchens. Lighter blues work best in smaller kitchens, while dark blues will look dramatic in larger kitchens without compromising on the feeling of space.
It's important to assess light levels in your space before choosing the shade of blue for your kitchen. However, don't just think about dark and light – a blue's warmth or cool tones are just as important for making blue kitchen ideas feel welcoming.
What colors go in a blue kitchen?
Most colors will go in a blue kitchen – and complement it perfectly. However, they will create different effects.
For a contemporary space, black and white will look sleek, and you can add warmth with fixtures and fittings in copper or brass.
For more traditional spaces, add in pretty yellows and pinks. The colors to avoid in blue kitchens include gray, brown and red.
Are blue kitchens trendy?
Blue kitchens are on trend – along with green kitchens, they have been incredibly popular for the past few years. And with good reason: blue kitchen ideas are classic and unlikely to date any time soon.
Sign up to the Homes & Gardens newsletter
Decor Ideas. Project Inspiration. Expert Advice. Delivered to your inbox.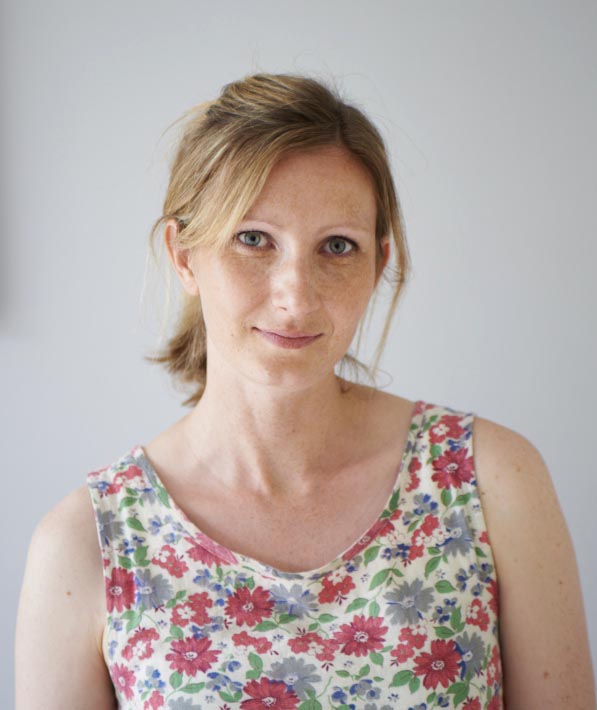 Sophie has been an interior stylist and journalist for over 20 years and has worked for many of the main interior magazines during that time, both in-house and as a freelancer. On the side, as well as being the News Editor for indie magazine, 91, she trained to be a florist in 2019 and launched The Prettiest Posy where she curates beautiful flowers for modern weddings and events. For H&G, she writes features about interior design – and is known for having an eye for a beautiful room.