20 spaces that show off blue and white decor – for a Hamptons-inspired home
Beautiful inspiration for a contemporary, Cape Cod-worthy blue and white decor scheme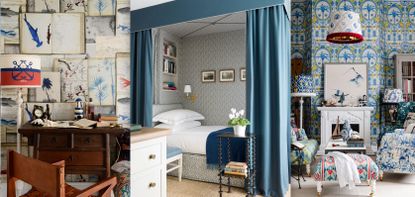 (Image credit: Future)
Sign up to the Homes & Gardens newsletter
Decor Ideas. Project Inspiration. Expert Advice. Delivered to your inbox.
Thank you for signing up to Homes & Gardens. You will receive a verification email shortly.
There was a problem. Please refresh the page and try again.
Blue and white decor is timeless, and one of the most classic interior design combinations, perfect for creating a serene yet fresh aesthetic. The pairing is often used in country or coastal retreats to create chic spaces that look relaxed and informal at the same time.
The blue and white color match dates back centuries, and was often seen on Chinese pottery, and is still popular with ceramicists like Wedgwood today. In the home, it evokes an easy-breezy aesthetic with a laidback beachside lifestyle at its core, although you don't need to have ocean views to incorporate the scheme into your own home.
We've rounded up some beautiful blue and white decor ideas and styling tips from top designers so you can achieve a modern, Hamptons-inspired decor scheme in your own home.
See: Interior design trends – top looks for the year ahead
1. Start with a classic blue and white stripe
A stripe is a classic element of a blue and white decor scheme. Wider stripes tend to look more traditional, pencil thin ones more contemporary, however it does depend what you pair the stripe with. Here, the Hamptons feel has been maxed out with a footstool in a check fabric.
'If your room is north-facing or light-starved, don't feel the walls have to be white or blue – a putty pink like this is a wonderful match for blue and white decor, and creates a warm feel for the space,' says Homes & Gardens' Editor in Chief Lucy Searle.
2. Add painted furniture to anchor the space
Painted cabinetry and furniture is another must-have element in a blue and white room, creating layers of blues that can complement each other and create depth. For a contemporary feel, choose an adventurous mix of graphic patterns that brings life to the scheme.
'Shades of white paired with a smoky blue on the cabinetry create a wonderful contrast and bring a touch of drama. The fresh white on the joinery gives a nod to the home's coastal surroundings,' says Emma Sims-Hilditch, of design studio Sims-Hilditch.
See: Living room ideas – clever ways to decorate living spaces
3. Hang art with a coastal scene
'When creating a 'beachy' theme, try to avoid being too overt with seaside décor,' says Emma Sims-Hilditch. 'Instead, add subtle reminders of the coast into the artwork, or accessories around the house.'
This lovely room, designed by the Mendelson Group, pairs an oversized coastal print with a bold blue and white rug to great effect.
4. Add a splash of red for warmth in cool rooms
Red is a great pairing for blue and white, bringing a shot of heat to the scheme, but also playing on that marine connection.
'As we are being faced everyday with the collapse of our ecological climate, there seems to be increasing interest in all things natural,' says Martin Waller, of Andrew Martin. 'This, of course, has translated into interiors trends. The awe-inspiring beauty of coral reefs and the vibrancy of this color shares such strong associations, that adding just a hint of nautical decor to your home will effortlessly evoke the fragile beauty of the sea.'
5. Layer blues and whites in a broken plan space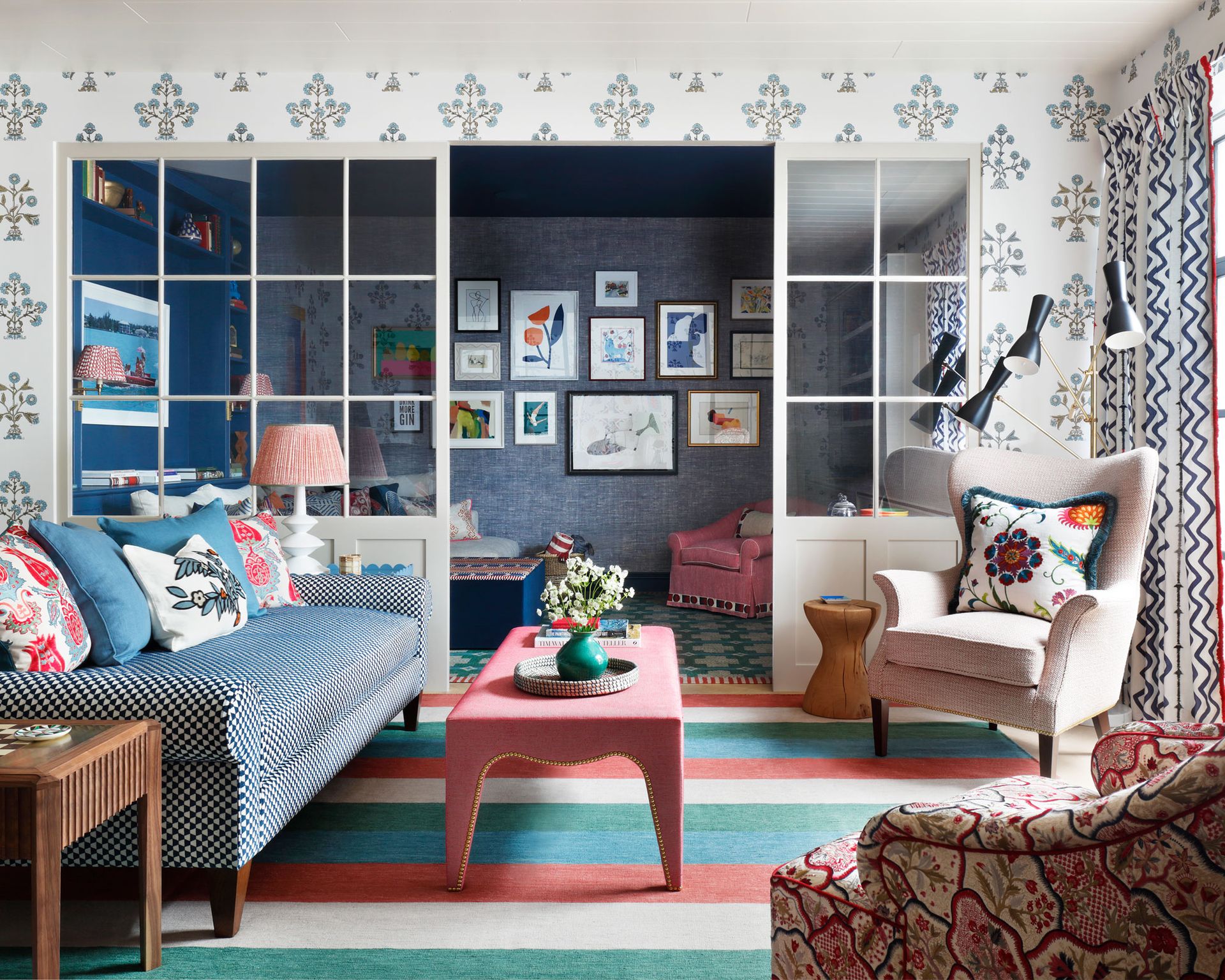 You can use blue and white decor to zone an open plan room and make it broken plan, such as in the broken plan living room idea above. Pick a light blue and white scheme for the space you want to spend time in during the day, enlivening it with a mix of pretty patterns, then reverse the scheme for the zone that you want to feel cocooning, such as a movie room.
6. Combine blue and white decor with natural materials
The key to a relaxed blue and white decor scheme is utilizing earthy, natural materials, from bleached woods to lovely linens and rattan.
Cara Fox, Owner and Lead Designer at The Fox Group agrees, saying: 'I love to incorporate lighter fabrics like linens. Heavy and dark fabric materials and textures can make a space lose the airy, playful feeling that encapsulates the beach house vibe.'
This room, above, was designed by LA-based Stefani Stein.
7. Pick a maximalist wallpaper for a traditional look that's on trend
Maximalist wallpaper is having a moment (again), and it's perfect timing if you want to create a blue and white room that's impactful, intriguing and traditional. For an eclectic look, designers are combining more than one design style – here, you can see the classic painted furniture alongside exuberant wallpaper and, in the foreground, a footstool upholstered in a contrasting fabric that's reminiscent of a kilim.
Room design, wallpapers and fabrics by Mind The Gap.
8. Statement and striped rugs create a coastal-chic look
'My perfect beach house accessory is a blue and white striped rug,' says Cara Fox. 'They are classic, timeless, and bring in a playful east coast feel without being overly beach-themed.'
Charlie Marshall, founder of Loaf, agrees: 'For me, it's all about creating a space that is light and airy. White-painted floorboards instantly create a sense of space and a blue and white palette along with stripes always smacks of coastal.'
He adds: 'Lovely reclaimed, weathered timber furniture works well too. Your home should be an extension of your personality and life.'
Bold Oriental prints, like the one above also work wonderfully for adding texture to a blue and white room.
9. Paint your kitchen cabinets a beachy blue
Painting your kitchen cabinets a sea or sky blue is a fresh and unique way to give your home a contemporary coastal feel.
Cara Fox says: 'For Hamptons or Cape Cod-style homes, I always suggest incorporating the colors of the sky. I love light blues and always tie in lots of whites.'
The room above, by Kristina Crestin Design, features a beautiful blue oven by Big Chill, and pretty floral wallpaper.
10. Pair blue and white decor with luxury materials
Adding texture into a blue and white space is – in our opinion – important for making it more interesting, but doing so can also add an element of luxury to the room. This means not just sticking to all white and all blue, but adding in natural materials, such as wood and wicker – as in the bar stools above – and marble, for the countertops.
"The room above, by the Mendelson Group, pairs blue cabinets with marble tops for a luxe feel, and utilizes modern art (curated by Cynthia Byrnes Contemporary Art) to add visual appeal."
11. Pair subtle shades of blue with shiplap in the dining room
Adding shiplap to a room instantly gives it a beachside retreat feel – but in a fresh, modern way.
Cara Fox agrees, saying: 'In terms of wall treatments for your Hamptons-style home, I would suggest vertical wall planking in either blue or white.'
Finish the look with contemporary pendant lighting and add the blue in the dining chairs for a country-meets-coast finish, like the lovely room by Neptune above.
12. Play with patterned wallpaper
Whether it's light florals, stripes, or something more bold, patterned wallpaper is an easy and clever way to add depth and charm to a room that's often neglected when it comes to decor detailing.
The stylish mudroom idea above looks beach-ready, with azure-blue cabinets and printed wallpaper paired with terracotta tiles and piled-high sun hats for a charming yet insouciant feel.
13. Choose subtle nautical accessories to highlight the theme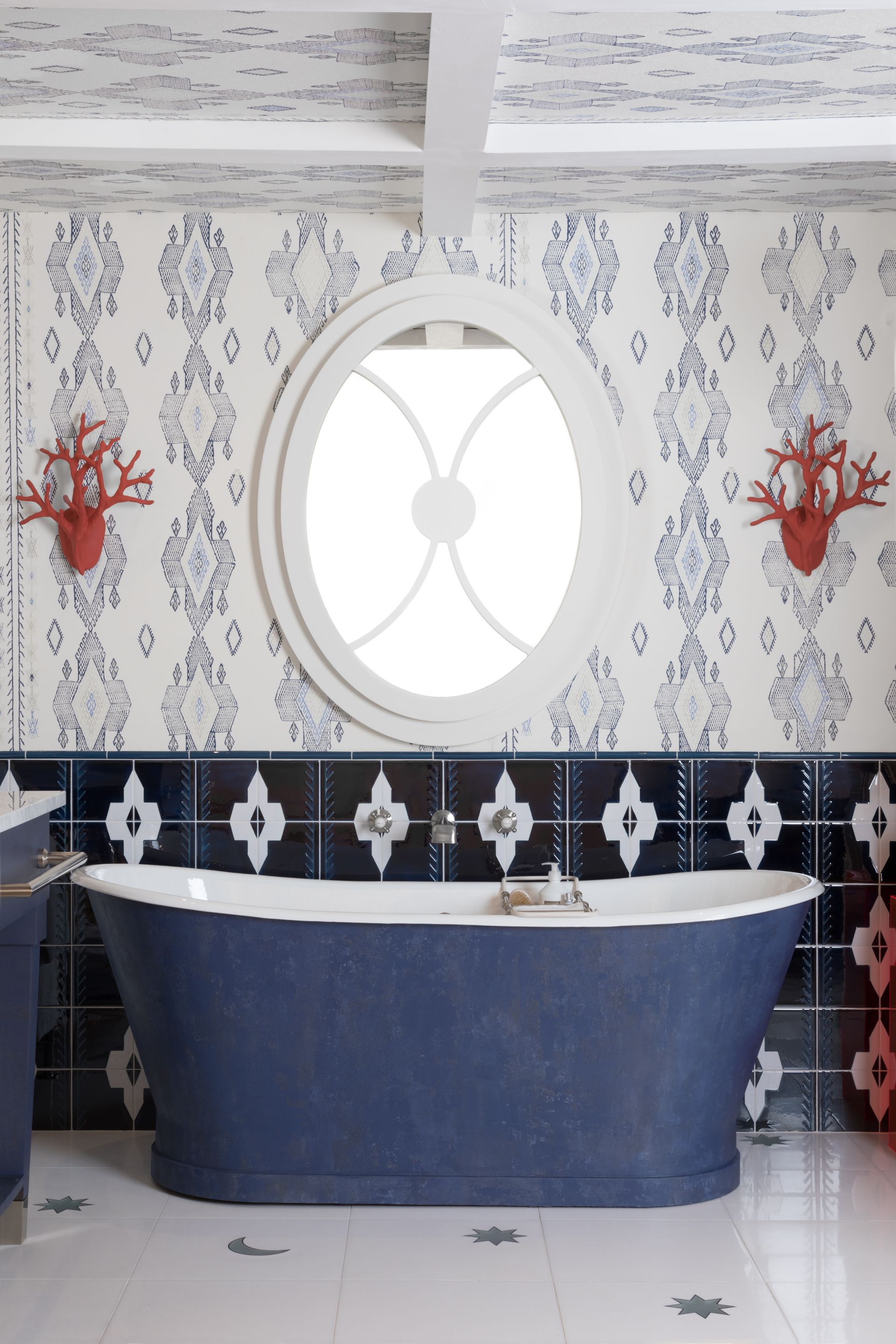 Blue and white decor of course invites nautical elements – but the key to success is to do it in a very restrained way. This bathroom designed by Kit Kemp is a case in point – the coral-effect light fittings complement the blue and white color scheme without being overt.
14. Team patterned wallpaper with painted woodwork for a smart finish
Rich, deep-blue framing in this powder room idea creates drama set against a pretty blue and white wallpaper in this small space by The Fox Group. The round mirror adds a nautical touch, while the marble sink offers an extra layer of luxury.
15. Use a blue and white mural to create design drama
Blue and white decor is a classic combination for a bathroom, but can be a little... predictable. So why not shake things up by using the colors in a whole new way – such as with a tiled mural or wallpaper. Picking a 'warm' blue as in the bathroom above is a wise move – bathrooms need to feel welcoming and cool colors can make them a little cold.
See: Bathroom ideas – stylish decor ideas for all bathrooms
16. Update the classic stripe in a bedroom
If you are looking for a more contemporary take on blue and white bedroom decor, perhaps for a teenager's room or guest space, pick a stripe that's more of a 'wiggle', and pair it with fun colors, such as pink and yellow, as in the bedroom above.
Note again how pink is used here to add warmth to a blue and white scheme – doing so with accessories only means the room can be updated quickly and easily when you want a change.
17. Create a classic nook bed in blue and white
We love the simplicity of this blue and white decor scheme: dark blue curtains create the frame for the nook bed, while the lighter interior is made interesting and bright with a light-colored pattern.
18. Paint panelling in blue and white to smarten a home office
The easiest of color schemes to implement, a blue and white home office is a serene space that is a pleasure to work in. A good complement for this dark blue and white color combination is wooden furniture – here, it's been given a coat of paint in a lighter turquoise blue for added depth.
The only thing we would add? A patterned rug for an element of comfort.
See more blue room ideas if you love blue – with anything.
19. Showcase marine-themed prints
This home office reminds us of a ship's captain's quarters – although actually the marine prints are another clever wallpaper design by Mind The Gap.
Matched with dark furniture, it's the perfect find for small spaces, such as home studies or powder rooms, that need an element of interest when the architecture is lacking.
20. Bring blue and white decor outside, too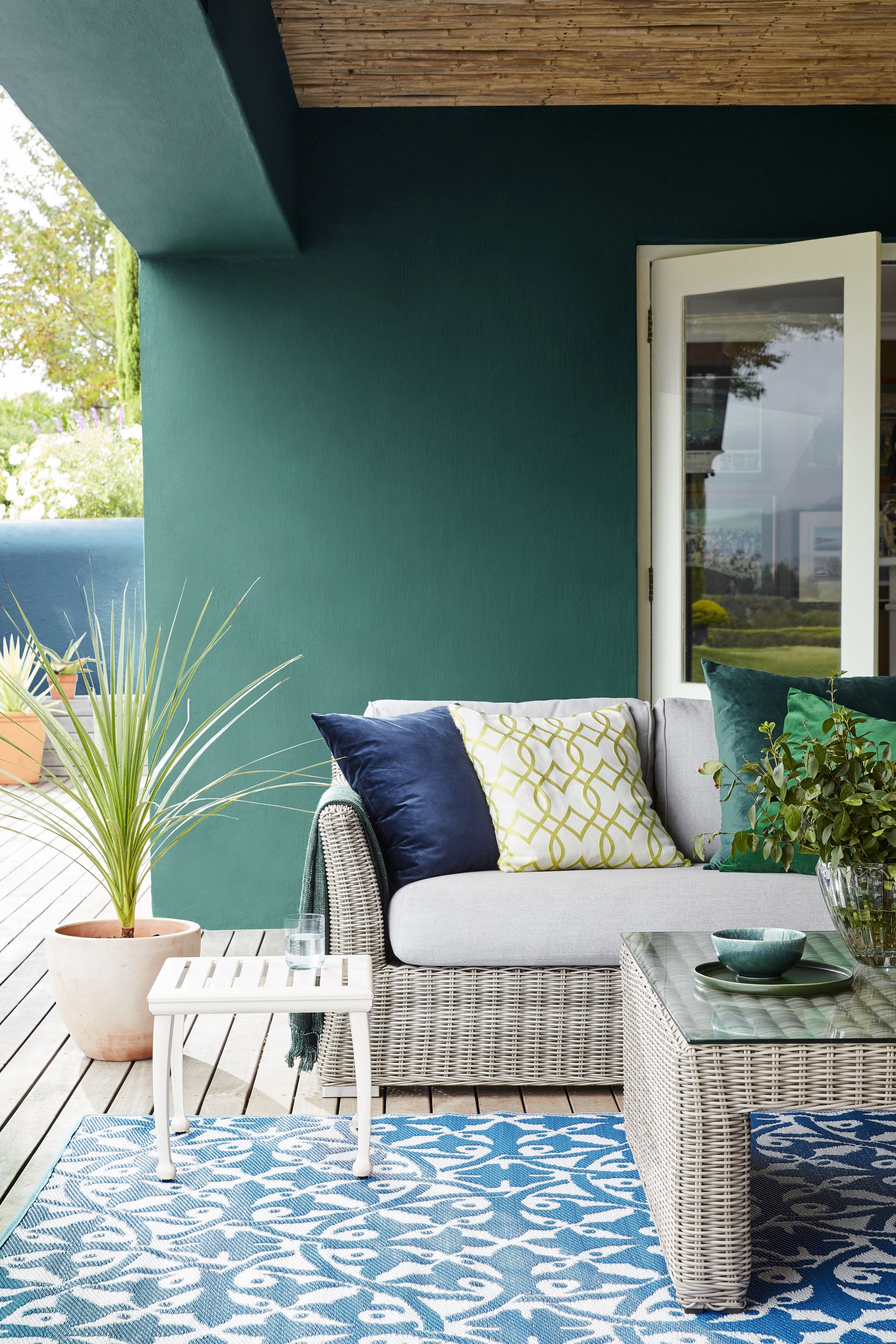 Blue and white is a wonderful combination if you are looking for patio ideas – and we think that bringing green into the mix is a clever way to tie planting to the decor. Blue planters, blue-painted furniture and a blue outdoor rug are all ways of introducing blue to a backyard, but don't forget to add pattern – modern florals being a favorite of the H&G team.
Sign up to the Homes & Gardens newsletter
Decor Ideas. Project Inspiration. Expert Advice. Delivered to your inbox.
Ruth Doherty is an experienced digital writer and editor specializing in interiors, travel and lifestyle. With 20 years of writing for national sites under her belt, she's worked for the likes of Livingetc.com, Standard, Ideal Home, Stylist and Marie Claire as well as Homes & Gardens.