Nook beds are 2021's biggest bedroom craze – and H&G approves
They're the welcome safe haven we're all craving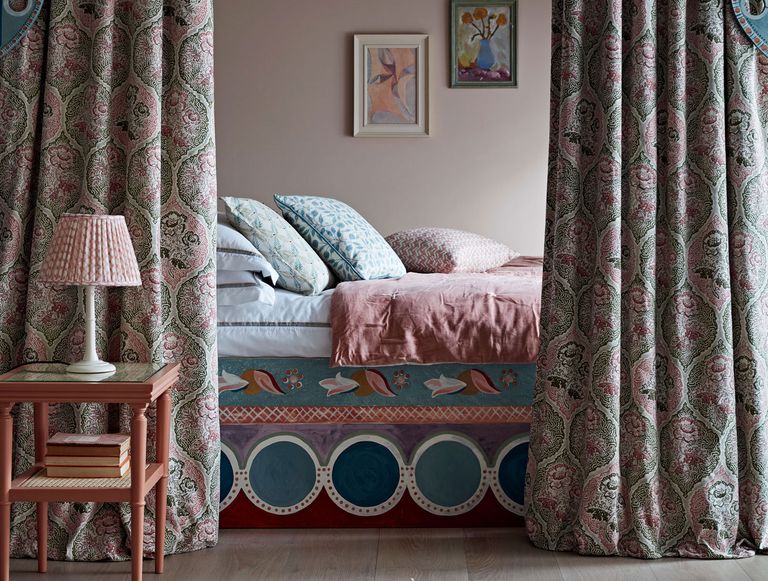 (Image credit: Jon Day/Future)
By Lucy Searle published
Nook beds are having something of a moment, appearing on the social feeds of internationally renowned designers – and Homes & Gardens (of course). We think we know why they're suddenly so en vogue: we're all craving comfort, shelter, warmth and reassurance at the moment, and they're the perfect retreat we've all been looking for.
Perfect for making large bedrooms feel cozier, for making brilliant use of space in small bedroom and for making bedtime an occasion in children's bedroom, we think every home should have one – or more.
These, below, are our favorites – but we think this feature may just continue to grow as we add more finds to it...
Nook beds, bed nooks and alcove beds
Whatever you call them – and you'll find them called nook beds and alcove beds when you're searching on Instagram and Pinterest – there's plenty of inspiration for creating your own perfect retreat... but these are the best we've found. So far.
1. The grand nook bed you'll stay in all weekend
Fit for royalty (we're thinking Marie Antoinette), this nook bed is taken from one of our own photo shoots, inspired by the Bloomsbury Set and the Arts & Crafts movement. And we think it's the kind of nook bed you'd never want to leave – hemmed in by the layers of fabrics, and calmed by the muted color palette.
'From dusky pink to chalky blues, the Bloomsbury Set loved color and embraced it in every room – furniture was painted then painted again, creating tonal depths that harmonized and contrasted with other furnishings and a medley of textiles,' says Homes & Gardens' Interiors Editor.
It's a wonderful example of how to mix patterns, we think, too.
2. The pared back but peaceful nook bed
A total contrast to our cozy nook bed above, this elegant design by Paris-based designer Benjamin Guedj is reminiscent of French coastal properties – and in fact is in a home in Biarritz on the west coast of France.
It's the perfect, restful-looking retreat that is probably more suited decoratively to warm weather, but we can picture pulling that curtain across and sleeping soundly...
3. The nook bed that's also a reading nook
The detailing in this little nook bed by Veere Grenney is exquisite – from the rope that draws the eye to the lantern in the ceiling, the subtle reading light on the wall, the coordination of the textiles and the shutters at the window.
Perfect for a child's room, this one is actually in a guest room – we want an invite! 'The VGA solution for a cosy single bed in a guest room,' say London-based Veere Grenney Associates. 'Cashmere walls and curtains and a little tented bed surrounded by books and even a little telly. Does it get much better?!' No, it really doesn't.
4. The alcove bed in a nook
We've noticed that interior designer Rita Konig is partial to a nook bed, and describes this one as 'The coziest, most calm corner – from @stevengambrel's Sag Harbor home'. And we agree – the pale blue color palette – one that Gambrel favors –is restful and inspiring.
However, it's the position of the nook bed that really caught our eye – it has its feet in the room's alcove, butting right up to the fireplace – it really is the perfect solution for a small bedroom. The room is an all-one-shade affair, which is a clever space-enhancing trick, too.
Picture: @ericpiasecki
5. The nook bed that makes great use of eaves
In attic bedrooms, eaves space is often wasted – or given over to awkward storage space. Here, in a bedroom refresh by @jeffersonstdesigns, it's been used to the max.
It's a simple look to recreate – we'd argue that it's simpler than building in storage – and the detailing with the wallpaper creates a real focal point in a bedroom that might otherwise have been... just ordinary. We like the little nook bed nook, too, where the lucky owner can store books and a lamp.
6. A child's nook bed that's fit for an adult
We love the smart suiting approach to the textiles used for this nook bed by @peterpennoyerarchitects and interior designer @katieridder, designed for their daughter's bedroom at the family in Millbrook, NY.
The vertical stripes actually perform a neat visual trick – other than looking incredibly smart – making this compact space feel taller than it is. The red keyline used around the nook and in detailing within is the perfect finishing touch – adding warmth, and framing the bed perfectly.
7. Proof that nook beds are better than bunks
If you have children sharing a room, bunk beds are a sensible, space-saving option – but they rarely look smart. Enclosing them within a frame like the one above by New Zealand-based Apple Tree Designs is the perfect solution, giving both beds much more status.
'Let your child's dreams come true!' they comment. 'A climbing ladder, a cozy sleeping space, each bed with its own bed light and nook and under bed storage. May the adventures begin!' Indeed.
My first job was writing a DIY column for a magazine for the over 50s (which seemed a long way off back then). I then moved to a DIY magazine as deputy ed, then freelanced my way around the homes departments of most women's magazines on the market before working on Your Home and Family Circle magazines as homes editor. From there, I went to Ideal Home magazine as associate editor, then launched 4Homes magazine for Channel 4, then the Channel 4 4Homes website before going back to freelancing and running a social media business (you can see where I had kids from the freelancing gaps!). I was tempted back to the world of big business by the chance to work with the great team at Realhomes.com, where I was Global Editor-in-Chief for two and a half years, taking it from a small website to a global entity. I've now handed the reins of the website to our American managing editor, while I take on a new challenge as Editor-in-Chief of Homes & Gardens.