Loft bed ideas — 12 tips for creating a magical yet practical sleep space
These space-saving loft bed ideas are perfect for kids rooms and adult-friendly spaces alike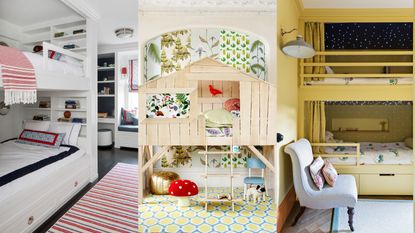 (Image credit: Alexis Hughes & Co/Raquel Langworthy/Rachel Whiting/Emma Lewis)
Do you have high expectations for your loft bed ideas? Then get a step ahead with some innovative inspiration for high rise sleeping spaces that cater for children and adults alike.
A playful twist on standard bed ideas, lofted beds have long been beloved by kids, adding some serious novelty to bedtime.
But, on a more practical level, lifting the bed overhead or stacking two (or even three) on top of each other opens up more floor space in a room.
As a space-saving solution, they are an excellent choice for adults trying to figure out how to make the most of box rooms, or creating guest rooms that may need to cater for more visitors than you strictly have space for.
Loft bed ideas
From magical sleep spaces that conjure dreams of enchanted forests to contemporary styles and even triple bunks, we've brought together some lofty inspiration and asked the experts to share their top loft bed ideas.
1. Up the whimsy with a themed loft bed
A loft bed automatically comes with a sense of whimsy, so why not use that feeling of a magic carpet ride to totally transport a child to another world?
Playful children's bedroom wallpaper and murals, creative headboard ideas and painted ceilings can all help create a themed room.
But add a loft bed shaped like a treehouse, a flying spaceship or a princess's turreted palace and you will create a sleep space that is truly enchanting.
2. Loft beds are for adults too
Lofted beds are not just for kids. They are also an excellent solution for adults looking for small bedroom ideas that make the most out of tight floor space.
'When designing the loft bed for our Hudson Valley barn project, we created sleeping platforms large enough for all ages, designed for Queen-size mattresses,' says designer Richard Felix-Ashman.
In this project, Ashman made the most out of a small guest bedroom inside a former stable by stacking adult-appropriate beds on top of one another.
'Headroom was a key consideration – for these beds we used 36" or 91cm. This dimension creates cozy sleeping spaces, and permits a roll-out storage drawer beneath the bed for linens.'
3. Use the lower bunk as a daybed
Wondering how to style a bed that no one is going to sleep in for a while?
If you have a bunk bed that is only used to its full capacity for sleepovers, don't waste the lower platform by keeping it ready for a guest at all times. Turn it into a daybed that your child can use as a seating space.
An ideal spot for reading, watching television or hanging out with friends, decorate the bed as you would a sofa, with throws and scatter cushions instead of sheets and pillows.
4. Build in plenty of storage
A lofted bed isn't just an entertaining way to fall asleep; it can be a source of creative bedroom storage ideas, too.
'A loft bed provides the perfect opportunity to add additional, customized storage to a bedroom,' says interior guru Alexis Hughes, who designed this bedroom for a family living in a Manhattan apartment.
'With space at a premium in the city, we wanted to provide an opportunity for the boys to have their own reading nooks. At the head of the beds, we designed bookcases to hold their favorite reads and special 'treasures'.
'The staircase of a loft bed is the perfect place to add additional storage. In this case, we designed the drawers to take advantage of all of the space under each step.
'The boys can even tuck their golf clubs away in the deepest lower drawers! And each child has his own deep drawer under the bottom bed for toys and an overflow of bulky winter clothing.'
5. Stay safe with a guard rail
Lofted bed ideas are great fun, but they also place sleepers at a great height. And considering you're using them at a time of day when your wits aren't entirely about you, it's best to play it safe to avoid any dangerous tumbles by kids and adults alike.
'It is preferable to create a guard rail for part of the bed, to give a sense of security,' says Felix-Ashman.
Ensuring the top platform has a protruding rail tall enough to catch anyone who might try to roll out of bed is crucial.
This bed has a rail that runs its full length, but removed on the perpendicular to allow access to a wide ladder at the less open, less dangerous end.
6. Triple up on bunks
A bunk bed will always add double the fun to your child's room, but to take your kid's bedroom ideas to the next level (literally) how about multiplying that fun threefold?
A triple bunk means no one is left out at the sleepover. Believe it or not, they are available to buy from numerous bed brands, or you can go for a custom, built-in version – just be sure to get your proportions right.
Unless you have super high ceilings, you may need to forgo a little bit of headroom, so these are best left for smaller children.
7. Keep it cozy with a cocooned bunk
While sleeping in a lofted bed is fun, it's all too easy to feel a little exposed when that high up.
Choosing a bunk bed with a closed top and sides will help create a cozy feeling on both the top and bottom.
This girl's bedroom idea sees each platform fitted with a shaped panel that even makes the access point feel slightly cocooned, as well as a curtain to allow the occupiers to close off the world completely.
Of course, cozy bedrooms go hand in hand with comfort – just because it's a bunk bed, it doesn't mean you should fit it with anything less than the best mattress you can find.
8. Add atmospheric lighting
When considering bedroom lighting ideas, it is always essential that switching the light off doesn't leave you with a long walk in the dark to get to bed.
Bedside lights are even more important for loft bed users, but are often more difficult to position. Think about incorporating lighting into the design or decoration of the bed, either with wall lamps, reading lights or, as in this example, fairy lights that cover the panel overhead and mimic stars in the night sky.
The interior designers we asked also thought lighting was a key element of loft bed design. 'We installed small LED reading lights and lined the curtains for privacy,' says Felix-Ashman of his Hudson barn bedroom.
'We also incorporated hidden lighting all along the inner edge of the beds so that there is plenty of light even if the primary lights are off in the room,' added Hughes, regarding her Manhattan apartment design.
9. Swap a ladder for a full staircase
Getting from the ground to the top bunk is an important step (or five) in your loft bed journey, so get creative with it.
A ladder will do the job, but if you want to create something a little more dramatic, take notes from this slightly surreal loft bed with its own full staircase.
The innovative design of this shared bedroom idea is kept from feeling bulky through the use of light colors and turning the under bed space into a bedside table nook for the lower bunk.
It also creates an easy way for smaller members of the family to access items on the ceiling-high shelving.
10. Make it grown up with modern styling
If you are looking for a bunk bed that will grow with your child, keep it contemporary. Loft beds are an option if you're looking for bedroom ideas for teenagers, but it's important to keep the styling grown up and sophisticated.
The modern silhouette of this bunk bed means it will still look cool in years to come, and last its younger occupant until later in life.
Also, be sure the bed can grow with your child physically too. Don't pick a loft bed so small it can't deal with a growth spurt or two.
11. Channel a dormitory vibe with multiple beds
From St Trinian's to Harry Potter, the notion of being bunked up in a dormitory with friends and chatting until late has enduring childhood appeal.
Recreate that vibe at home with a multitude of bunk beds, like this room that sleeps four. While this may not be strictly necessary for every night in your child's bedroom, it's a great way to plan a holiday home bedroom or even a dedicated sleepover room.
12. Create a magical hideaway
While the space under a loft bed can be used for myriad practical purposes – like for a desk or storage – we're willing to bet a child would much rather turn it into a magical hideaway.
In this room, decorated like an enchanted forest, a natural wooden bed has its lower half concealed by built-in walls. This wendy house-like space can be used as a homework area, but more importantly as a space for play.
How do you decorate a loft bed?
There are, of course, some practical measures to be taken when designing and decorating a loft bed.
'A ladder is obviously essential,' says Felix-Ashman. 'For ladders, there are two standard approaches: building a step ladder as part of the carpentry or using a rolling library ladder.'
Adding some form of accessible lighting is also important for safety – if you've turned the main light off to go to bed, you don't want to be climbing a ladder in the dark.
You can also turn this into a design feature, using the likes of fairy lights for atmosphere. Beyond that, the shared nature of bunk beds means that it can be a good idea to install curtains for privacy.
Can adults sleep in loft beds?
Yes, of course! As well as being a fun sleeping idea for kids, lofted beds are also great for maximizing floor space in a small bedroom.
By raising the bed, you open up the floor space below, which can be used as a desk, or as storage space.
Do bear in mind you'll need to design them a little differently than you do for children.
Ensure they are long enough, and also wide enough to allow an adult to feel like they have slept without restraint. Also be careful to make sure there is sufficient headroom for an adult to sit up.
Sign up to the Homes & Gardens newsletter
Decor Ideas. Project Inspiration. Expert Advice. Delivered to your inbox.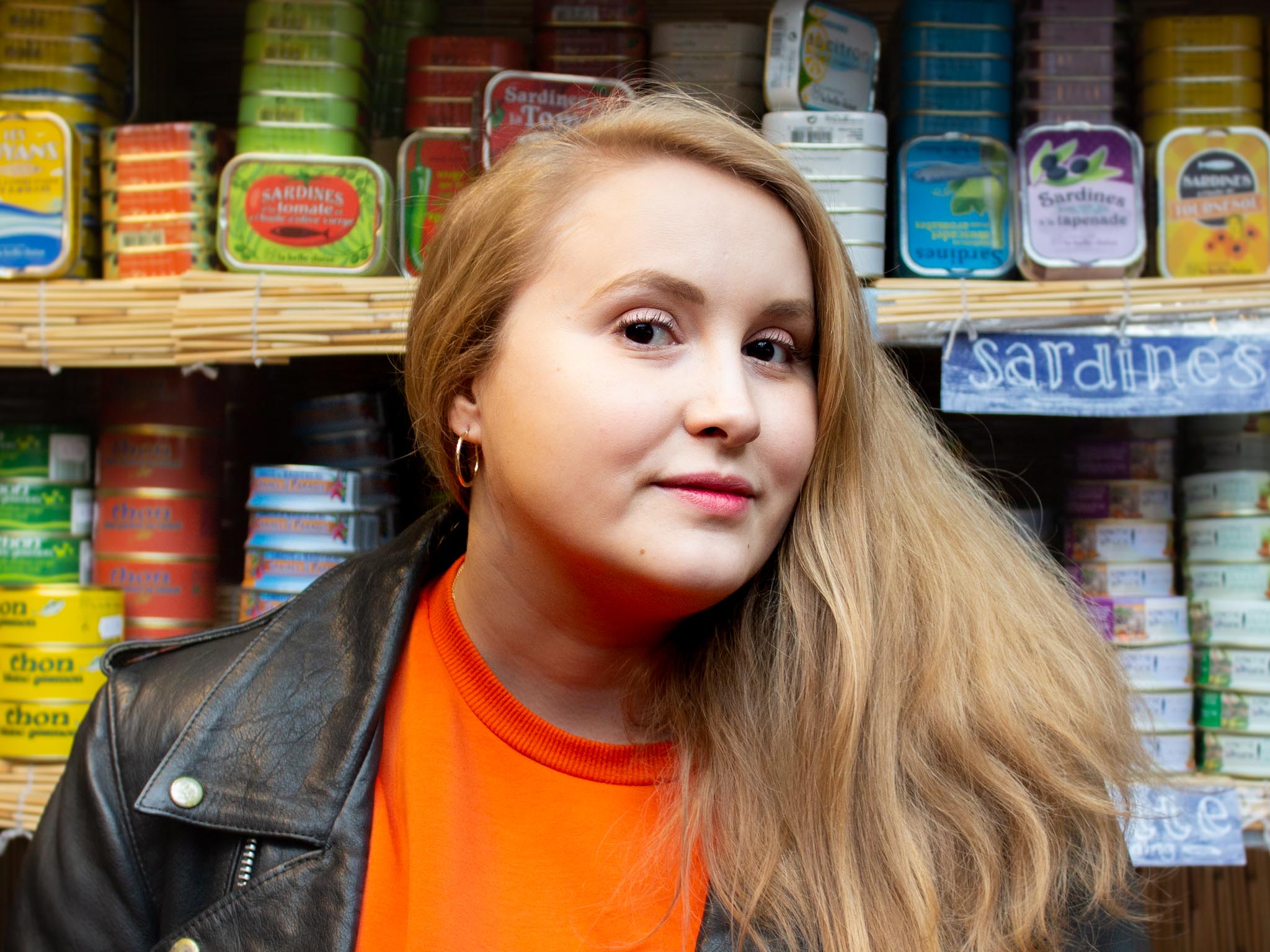 Ailis started out at British GQ, where a month of work experience turned into 18 months of working on all sorts of projects, writing about everything from motorsport to interiors, and helping to put together the GQ Food & Drink Awards. She then spent three years at the London Evening Standard, covering restaurants and bars. After a period of freelancing, writing about food, drink and homes for publications including Conde Nast Traveller, Luxury London and Departures, she started at Homes & Gardens as a Digital Writer, allowing her to fully indulge her love of good interior design. She is now a fully fledged food PR but still writes for Homes & Gardens as a contributing editor.