10 bedroom ideas for girls – rethink pink and create a room that will grow with her
Whether it's a pink palace or a cowgirl hideout you're after, here's how to build the bedroom of her dreams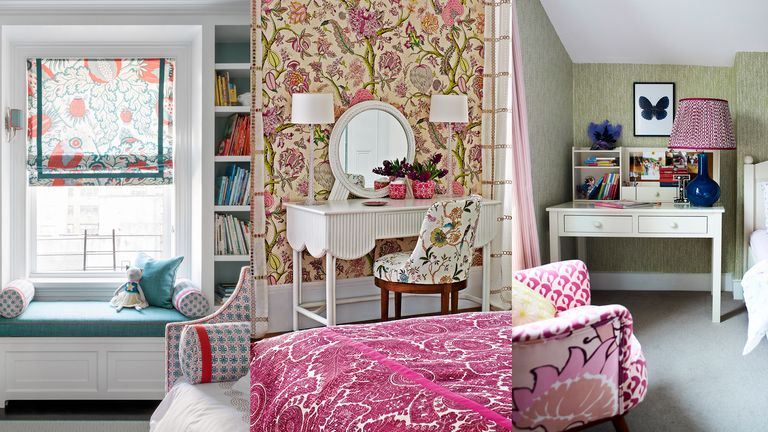 (Image credit: Future/Raquel Langworthy/Carloyn Barber/Mary Wadsworth)
If you're looking for bedroom ideas for girls who just want to have fun (but also do their homework and sleep like a princess), we've pulled together a wealth of inspiration to help make their room the stuff of dreams. 
Whether you're designing for little ones in need of kid-friendly play areas or for a picky teenager who requires a sophisticated sanctuary, these bedroom ideas for girls of all ages encompass the needs of all manner of young ladies. 
Read on for the best bedroom ideas – no matter their style.
Bedroom ideas for girls'
From pretty in pink retreats to gender-neutral rethinks, take a look at these stunning bedrooms and pick up some tips that that will help you wow the young woman of the house. 
1. Go all out with patterns on patterns 
When you're a kid, you can get away with lots of things – including packing all the patterns you like into your bedroom decor. Layering and contrasting a multitude of prints into a girl's  bedroom is an exhilarating way to inject a sense of carefree fun. 
In this bedroom, a densely floral wallpaper is contrasted with a checked daybed and a leaf-patterned throw. The key to making it all work is color – each print is underpinned by either a mauve or crimson, tying disparate elements of the room together harmoniously.  
 See: Bedroom ideas – designs and inspiration for beautiful bedrooms 
2. Create a fairytale feel with a four poster bed 
Every girl deserves to feel like a princess – and that means waking up in a four poster bed. Whether it's a classic fairytale affair with turned wood posts and a decadent canopy, or a clean contemporary take with a barely-there silhouette, this addition makes a magical impact on any bedroom. 
It also works wonders for girls young and old. For teenage girls looking to keep things chic, this black metal bed marries pared back modernity with a few twists and turns of Cinderella charm. 
3. Dress up their dedicated desk
We've all learnt the importance of carefully curating our home workspaces in the last year, and your child's bedroom desk is no different. It's hard enough to get kids to do their homework, so turn it into a space they really want to be. 
This nook features a statement lamp for nighttime reading, a small pinboard photo wall that they can personalise, a decorative framed print, and a creatively stimulating color scheme, as well as plenty of desk storage to keep that mess at bay. 
4. Rethink pink and plump for peach
While your seven-year-old may be clamouring for a sugar-plum pink color scheme in her bedroom, it's important to remember that she may not feel quite the same in a few years time. To keep a pink theme feeling fresh – and with more potential to grow with her into her teens – consider mixing a little orange into your wall tone. 
'Looking at what colors will play a dominant role in 2021, peach is definitely one to keep an eye on,' says Natasha Bradley, Interior Design and Color Psychologist at Lick Home. 'While the main color for this year is pink, peach is definitely a key player due to its orange undertones and soft pinks, which fills the color with joy, energy and happiness and therefore makes it a fantastic friendly color.'
Choosing an earthier tone will help keep it contemporary, like the color paired beautifully in this room with clean white furnishings and brown-pink textiles. 
5. Be bold with blue 
Not all girls like pink, and nor should they. Girls can go for any lead color they like, but if they want to completely flip the script, blue is a brilliant way to go. 
'Blue is another favourite for all kids' bedrooms – not just boys'!' says Judy Smith, Color Consultant at Crown. 'Beautifully calming, soft and fresh, it can look fun and youthful in a girl's bedroom.'  
In this room for a young girl, Interior Designer Alexis Hughes used blue as a base and warmed it by weaving red through carefully chosen prints. 'We selected a Phillip Jefferies turquoise blue grasscloth and made it more interesting by adding a sophisticated, but super fun Christopher Farr Cloth floral pattern called Carnival with pops of coral.'
'We then layered in more pattern with the primary fabric on the daybed from Quadrille with more of the turquoise, navy and coral and then added a hidden trundle anticipating many eventual sleepovers.'
See: Nursery room ideas – including the best and worst colors to choose, to flooring and lighting
6. Say their name with subtle personalization
Kids love to personalize stuff, from sticking stickers on their secret diary to making sure everyone knows exactly whose bedroom this is. Personalizing a child's bedroom with their name is a great way to make it feel special and unique, and it's also perfectly possible to do in a subtle, stylish way. 
Here, a selection of cushions embroidered with letters of the alphabet are used to spell out a girl's name in playfully mismatched colors and prints. Alternatively, using single-letter initials is a pared back way of putting their stamp on the room – consider showcasing the first letter of their name in framed artwork or in a subtle sculpture piece as seen in idea 3. 
7. Get country chic with gingham
If the rest of the house is dedicated to a neutrally toned farmhouse style, a gingham print is a great way to add a pop of color, youth and femininity into a girls' bedroom. As a classic print, it will stand the test of time, and will also tick all the right boxes for any horse-obsessed future cowgirls. 
Here, a wide print gingham fabric has been used as a headboard cover to make a real statement. Choose a bold color on white and keep the rest of the room simple to allow it to really stand out. 
8. Fill a gallery wall with childhood memories
It's not always easy to choose art for a child's bedroom – you're bound to have quite different tastes, and theirs is probably set to change any minute now. A gallery wall can help solve those problems, creating one wall feature out of a myriad of mismatched pieces, encompassing either artworks (purchased, or from her own artistic hand), photographs or both. 
The handiest feature of a gallery wall is its adaptability – she'll be able to add to the frame collection as she ages, and also easily swap out pieces she's outgrown. For a teenager, it's a great way to express personality and passions. 
9. Embrace all colors of the rainbow
Forget all pink, forget all blue – why not throw out the rulebook entirely, and fill her bedroom  with all colors of the rainbow? A brightly toned, multi-colored scheme is the perfect stimulus for budding artists, and will encompass whatever her favorite color is that week. 
To prevent it getting overwhelming, ensure you have a solid base of neutrals underneath. Here, the room starts with a taupe wall, which it built on with numerous patterned textiles – each rocking a wide range of bright colors, but always on a white base. 
10. Get tactile with textiles
For material girls both young and old, layered textiles are a great way to bring a sense of softness – both physical and aesthetic – into a bedroom. For younger children, the tactility that comes with an array of wools, linens, pom pom-edged cushions and snuggly blankets are both fun during the day, and set the tone for sleep at night.  
 What should every girl have in her room? 
The simple answer? Anything she wants. Don't stick to preconceived ideas of what a girl's bedroom should look like, but follow her personal passions, interests and preferences. As long as you stick to some key design must-haves – lots of storage, an area for homework or reading (if possible), as much space for play as you can leave – the specifics of the room should be led by her personality. 
Even Chicago-based Interior Designer Kate Taylor's key must-have is one that is fuelled by creativity and defined by subjectivity. 'Artwork that will grow with her!,' Taylor suggests. 'One investment piece she can hopefully have forever, from toddler room, to teen, to college, to her very first apartment.'
How can I decorate my daughter's bedroom?  
As much fun as it is, you don't want to have to decorate your daughter's bedroom too many times – so think about leaving room to grow. Instead of choosing a statement wall color, choose one that can be made to feel very different by switching just a few key pieces in the room (the bedlinen, artwork, a ceiling lamp). This could be neutrals, or it can be a tone of their favourite color that is perhaps a little more grown-up than they would initially choose. 
When it comes to choosing those key pieces, ask your daughter for help. Helping to design their own bedroom can be hugely empowering for a young girl, and a really exciting creative process for them. You're also more likely to get an end result that they'll love for years to come.