Nursery ideas – 20 beautiful rooms new parents will love
If you are browsing nursery ideas, no doubt you are as excited as you are anxious about decorating the space right. These nursery pictures and advice from interiors experts will help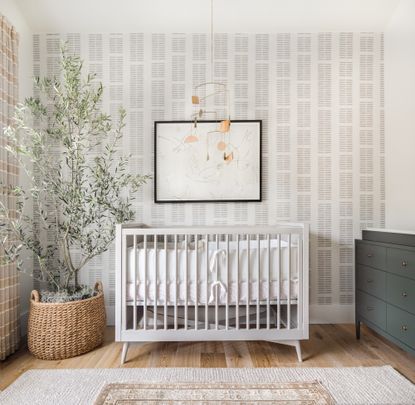 (Image credit: Lindye Galloway Studio + Shop/Chad Mellon)
Sign up to the Homes & Gardens newsletter
Decor Ideas. Project Inspiration. Expert Advice. Delivered to your inbox.
Thank you for signing up to Homes & Gardens. You will receive a verification email shortly.
There was a problem. Please refresh the page and try again.
Nursery ideas have changed a lot in recent years. Although we might think of girls' nurseries in pink and boys' nurseries in blue, for many years, way back at the beginning of last century, the colors were the other way around: blue for girls, pink for boys. And it was only from the middle of last century that the switch began.
Now, many of us search for gender neutral nursery and kids' room ideas – partly, perhaps, because we don't want our boys or girls conditioned from early on, but also because it gives us greater decorative freedom.
These nursery ideas are designed to suit all tastes, and while they are mostly gender-neutral, there are more traditional boys' and girls' nursery ideas to browse, too.
Nursery ideas
These are our favorite nursery ideas – covering everything from the basics to color scheming and adding details to organizing a nursery.
1. The best – and worst – nursery colors to pick
What are the best and worst colors to choose when decorating a nursery?
Your decorative tastes aside, this is what Lee Chambers MSc MBPsS, psychologist and wellbeing consultant, has to say about how bedroom color ideas can influence everything from mood to physical wellbeing:
'When shopping for that nursery color scheme, we are so often drawn in by the loving details, the delicate patterns, and the neutral colors. In our minds, we are looking to create a place of serenity for our precious bundle of joy.
'There is another consideration to think about when selecting the best bedroom colors for your nursery ideas, and that is how the psychology of color can impact on feelings and behaviors.
'The easiest way to partition colors is into those that are warmer, and those that are cooler. Research has continued in this field and started to highlight some trends.'
The most popular nursery color is yellow, with over 50% of us choosing that shade – perhaps due to the fact that it works equally well in girls' and boys' nursery ideas. 'Yellow is the wonderful color of neutrality,' says Lee Chambers. 'A happy aura comes from a room the color of the sun, and it can increase focus and motivation.
'The brighter the yellow, however, the more it stimulates frustration, and in research, yellow made babies cry more than any other color.'
Next most popular is pink, with nearly 40% choosing it. 'A popular color for a bedroom, but not so often elsewhere, pink takes some of the benefits of red and takes the edge off the stimulation.
'It is calming initially, and can increase compassion, but over time it can become irritating, leading to a disruptive child.'
Purple is third place. 'Purple can be a great choice for something different. Combining the fire of the red, with the relaxed nature of blue, it can create a nice balance, or can be tailored towards more energy or more serenity by changing the shade. It does have an element of grown up about it, which may take the childish edge off.'
Blue comes in fourth place, surprisingly. Lee Chambers has this to say: 'A popular color, blue bedrooms create a calming atmosphere that reduces stimulation and helps children to settle.
'It also invokes a sense of the body cooling, which helps when children fall asleep. It's worth being mindful of the tone: too dark can become almost gloomy and uninspiring, but too pale reduces some of the benefits.'
The harmonious and fresh color green comes in fifth place: 'The symbolic colour of nature, and the color we can see the most shades of,' says Lee.
'With its connotations to growth and the outdoors, it takes some of the happiness from yellow and some of the calm of blue. A green bedroom will promote concentration and soothe the mind, but it doesn't motivate or inspire energy or communication.'
Orange is next. 'Another joyous color not often used but very welcoming. It is the color for inspiring communication if you want to promote chatter, but again is a color that generates underlying anxiety that decreases children's attention.'
Coming in last place is the color most associated with anger and passion, red, with very few parents choosing this color for nurseries.
Lee Chambers provides an explanation as to why this may not be the best choice: 'The highly emotive color of energy and anger, red is likely to lead to an excitable, confident child willing to push the limits.
'However, it is also likely to increase aggression, decrease concentration and overstimulate children.'
Thanks to Home Edit for this research.
2. Bring nature in with Chinoiseries
'A nursery is the perfect opportunity to create a space full of wonder and joy, and there are no two better words to describe Tempaper's Canopy print. Walking into this room is like entering a whole other world, one that's stimulating and soothing all at once. The perfect room for parents to welcome a little one – and spend many happy hours in themselves,' says Anne Sage.
3. The best nursery colors work for an easy transition from baby to child
'In terms of color choices for your nursery ideas, neutral shades are very popular as these will make the transition from baby to toddler seamless. They also work brilliantly with other rooms in your home,' says Cydney Ball, assistant buyer of nursery at John Lewis.
Neutral shades also have the advantage of working well for gender neutral nursery ideas, and are a blank canvas for a whole host of decorative options.
'You can use accessories to add character, which can be easily updated as your baby grows rather than having to redecorate the whole room. Fun and playful prints have also been hugely popular.
'It's also worth considering the position of the room. If it's North facing, you may want to decorate with warm and bright colors to keep the room feeling cozy and inviting.
'Don't feel you have to opt for one color either: using various tones of the same color gives the space depth, or pull out key colors from your chosen bedroom wallpaper ideas.'
4. Nursery window ideas – which to choose?
When it comes to selecting bedroom curtain ideas for a nursery, Cydney Ball advises: 'It is important to pick these based on the size of the window and what direction your nursery is facing.
'Blackout curtains or blinds will help your baby sleep for longer and block out any distractions. There are lots of colorful options available, which means this can be a space to incorporate pattern and color into your nursery design.'
If your baby's room faces the street, doubling up on blinds and curtains will help cut down on traffic noise and the voices of passersby, too.
5. The best flooring for nurseries
'It's very much a personal decision whether you want to carpet the room or opt for something that is more practical to clean,' says Cydney Ball.
'If you do go for hard flooring then soft rugs will make a room more inviting and will also be essential for playtime on the floor.'
6. Picking lighting for nursery rooms
'Soft lighting tends to be preferred for this space, and there are some lovely fairy light options to add a little night time magic to a nursery.
'A soft night light will prevent you stumbling around in the dark during those night time feeds and a small reading lamp will make bedtime stories much easier to read.
'There are some really fun children's bedroom lighting ideas available, such as dinosaur lamps or shark pendants, which add character to the space and are sure to be popular with children for years to come,' concludes Cydney Ball.
Or, of course, you can also pick eye-catching bedroom ceiling light ideas – such as a central pendant that hits all the interior trends you want it to, but which is colorful and bright for your baby, too.
7. Make room for you to relax, too
Your baby's nursery is not just a space for them to sleep, it is also a place for parents to relax and unwind. When picking out nursery furniture, incorporate a comfortable chair or seating area for you to rest when feeding or soothing your baby.
If you are on a tight budget, upcycling is an affordable way to breathe new life into existing furniture. Sanding, painting and reupholstering an old wooden rocking chair could make for a great spot for you to relax.
8. Make room to grow
Justin Segal of Storkcraft has some advice for finding nursery ideas that will stand the test of time: 'Embrace the process – browse Pinterest, scroll through Instagram, and gather inspiration from all of your favorite interior designers and home décor resources.
'But don't forget – it's your nursery, and it needs to reflect your own values and personality. So whether that's placing a family heirloom on the dresser or weaving in a piece of your family's history, adding a personal touch to the nursery never goes out of style or looks out of place.'
Designing a nursery that will suit your child as they grow will save you both time and money in the long run, too. Where possible, opt for styles and products that will see your child through to their early years – you will be surprised how fast the time passes. Think, for example, of a changing table that doubles up as a chest of drawers, or a decorating scheme that won't date quickly – like the nursery above, that incorporates bedroom ideas for boys to minimize the redecorating needed later on.
'"Combination" nursery furniture is a really interesting thing for families to consider, especially for families that have less space to work with,' continues Justin Segal. 'Furniture to look out for includes chests with a built-in changing topper, cribs that have an attached changing table and storage, and double dressers that are compatible with changing toppers. These are all great items to consider when needing to maximize on nursery space efficiency and functionality.'
9. Add texture
Textures and tones are a great way to freshen up any nursery. In general, it is best to stick to three statement materials in any one room – for example, a beaded wall hanging would work well alongside a woollen rug and a wicker basket.
Aside from accessories, indoor plants are a great way to add a pop of greenery and texture into a space, and this is no different for a nursery. For a low maintenance option, indoor faux foliage is an easy, affordable alternative to real plants.
10. Incorporate storage for all those nursery must-haves
'Investing in nursery furniture with added storage – such as a crib with a built-in drawer – can make life so much easier for parents,' advises Justin Segal of Storkcraft.
'Keeping things tidy and organized allows parents to focus on what matters most in the nursery – your baby – and minimize any unnecessary stress caused by clutter and misplacing essential items.'
Although babies don't take up a lot of space, the stuff they require will, so incorporating adequate bedroom storage ideas into a nursery is key. If space is tight, invest in a changing table with shelves below to store essentials like wipes, diapers and towels.
Open shelves are a stylish small bedroom storage idea, where you can store toys or ornaments without taking up any floor space. Make sure to baby-proof your floating shelves with a horizontal bar or clear edge, to prevent items from falling.
Solutions like baskets and boxes are useful for storing an overflow of blankets and clothes in early months, and eventually to fill with toys. Where possible, make storage accessible to your child, so as they grow they can use them too, helping them feel independent and involved.
11. Make a mural the centerpiece of your scheme
'Don't be afraid to go bold with the bedroom wall decor in your nursery. An eye-catching wall is the perfect way to add life, and is your opportunity to play with unique textures and wallpaper ideas to really let your personality shine through,' says Justin Segal of Storkcroft.
'So whether it's brick, marble, concrete, animal print or pastels, a bedroom accent wall in the nursery can really bring your space to life.'
A mural is wonderful as a backdrop behind the cotbed or changing table – it adds character to the room and gives the baby something to focus on while trying to self-soothe or while on the changing table. Natural schemes or animals will be popular children's bedroom wallpaper designs as they get older.
12. Use natural and artificial light well in a nursery
No matter the space, incorporating both artificial and natural light will add vibrance to any room. When designing your nursery, utilize natural light where possible, as this will make it instantly more inviting, but make sure you have adequate curtains or blinds in place for when your baby is napping mid-day.
Made to measure blinds will allow you to control the amount of light let into the room at any time, creating a cozy sanctuary for your baby all day long.
Whether you're tweaking a previous guest bedroom or starting from scratch, be sure to take time to plan, shop around and visualize your nursery ideas before making any important decisions. Getting a head start early on will prevent any hiccups later down the line.
13. Think: safety first in a nursery
'No matter your design goals, safety must always remain the number one priority when setting up the nursery,' advises Justin Segal. 'Before embarking on your nursery design journey, be sure to carefully research all things related to baby-proofing the nursery.
'And remember – going "all in" on safety doesn't mean compromising on style. The goal is to design the most stylish nursery that reflects your personality, vision, and values, put together in the absolute safest possible way for your baby.'
14. Use a dark color for a cocooning aesthetic
Deep colors can have a soothing effect so they're worth considering when you're choosing a scheme. Eggplant is a more versatile shade than you may think – it's great with greys, turquoise blues and white. Add in some warmth from wooden floorboards and rattan and you'll have a great mix that's cozy and calming.
'A deceptive but delicious purple, the blue undertones of this shade give a decadent richness and depth to this small nursery room,' say Jennifer Ebert, digital editor, Homes & Gardens .
15. Use color in various forms
We love to add accent colors through furniture and other décor in the room to keep it interesting, and this makes it easier to switch up as your child grows older. The beige on the walls is still warm and cozy in the space. 'The freestanding furniture can be moved for heightened functionality in the room, but we made sure they have very sturdy bases to avoid any tipping,' says Jessica Davis, owner & principal designer of JL Design.
16. Hang a wallpaper that tells a story
Decorating bedrooms for kids doesn't mean you have to scrimp on style, in fact, it is the perfect excuse to choose children's bedroom wallpaper designs that are playful and tell a story.
Choosing a bedroom wallpaper that spark imaginative thought will give your baby and toddler key early memories. 'A neutral design will only serve to enhance the restful feel,' says Melanie Griffiths, editor, Period Living.
17. Install bespoke storage to suit your individual needs
Investing in custom storage is just that, an investment, however, it can absolutely be worth it if you plan ahead. For example, floor to ceiling wardrobes will always be needed and as your baby grows, so will their clothes.
'We love this Susie Maddox designed nursery as the current changing area can later be a dressing table, and the combination of open shelving and drawers will be invaluable,' says Andrea Childs, editor, Country Homes & Interiors.
18. Have a fun themed nursery
A nursery room is the perfect place to experiment with colors, patterns and scale in interior design. Think in themes, too. Our favorite themes are ones that incorporate as many fun elements as possible, while still looking tailored.
'Although it is a good idea to avoid anything too current, such as cartoon characters they might grow out of, there is a wonderful choice of nursery room designs to choose from that can provide your child with a stimulating and magical environment to grow up in,' says Jennifer Ebert, digital editor, Homes & Gardens.
19. Pick a calming color scheme
There's a lot of value in having a neutral nursery scheme, and if you already love the pared-back look then it's only natural you'll extend that into this space.
Wallpapering one wall is enough, keep it subtle and you can keep it as your baby gets older. A simple linear print is easy on the eye and a dark grey changing unit will have longevity. Add in a plant or tree and some lovely textures and keep it clutter free.
20. Invest in freestanding storage
Newborns grow so quickly and before you know it, they need their own wardrobe. A freestanding design will be a flexible choice as they fit into small spaces and you can take them with you if you move. Make it unique by papering the interior back panel so there's a splash of pattern and color when you open the door. Peg rails and wall mounted shelves are fabulous ideas – you can never have too much nursery storage even if you're tiny!'
What do you need in a nursery room?
'Designing a nursery is a perfect way to start preparations for welcoming a new arrival to your home. Whether you live in a small apartment or a large house, creating a soft and cozy space for you to bond with your baby is key. This needs to be a room where, as much as possible, the stresses of the outside world melt away,' advises Cydney Ball, assistant buyer of nursery at John Lewis.
'Wherever you decide to put the nursery in your home, it is always useful to try to incorporate as much storage as possible. There will undoubtedly be lots of new clothing, bedding and toys that will all need a home, so creating a simple system where you can easily find items will make a huge difference.
'Look for space saving options too like a changing mat that goes on top of a chest of drawers or a footstool with storage so you can recline during feeding.
'When it comes to designing the space, one of the first decisions to make is where your baby will sleep and in what kind of bed. There are plenty of options when it comes to cribs, cots and cotbeds. Again, there are designs which have storage, incorporating a drawer into the base of the cotbed.
'For those who would like a bed that will grow with their baby, a cotbed can, as the name suggests, change from a cot into a bed that is suitable for a toddler and will fit in with future boys' or girls' bedroom ideas.
'As you will spend lots of time in the room don't miss the softer details which will make you comfortable. A rug on a hardwood floor for example will feel lovely underfoot but also help with acoustics making it feel more cosy.
'Shelving is great for displaying books, toys and presents that become happy vignettes in the room. For an extra personalized touch, why not dig out your favorite childhood books and add them to the shelves ready for bedtime stories?
'A nursing chair provides the perfect spot to relax, read or feed from. They can be specially designed to offer support for your back; rocker options can be super soothing, and gliding options move seamlessly so as not to wake your baby when they have dropped off to sleep.
'For parents-to-be looking to accessorize their nursery, storage baskets, canopies and cushions are all a great way to create a comfortable and welcoming space.'
Sign up to the Homes & Gardens newsletter
Decor Ideas. Project Inspiration. Expert Advice. Delivered to your inbox.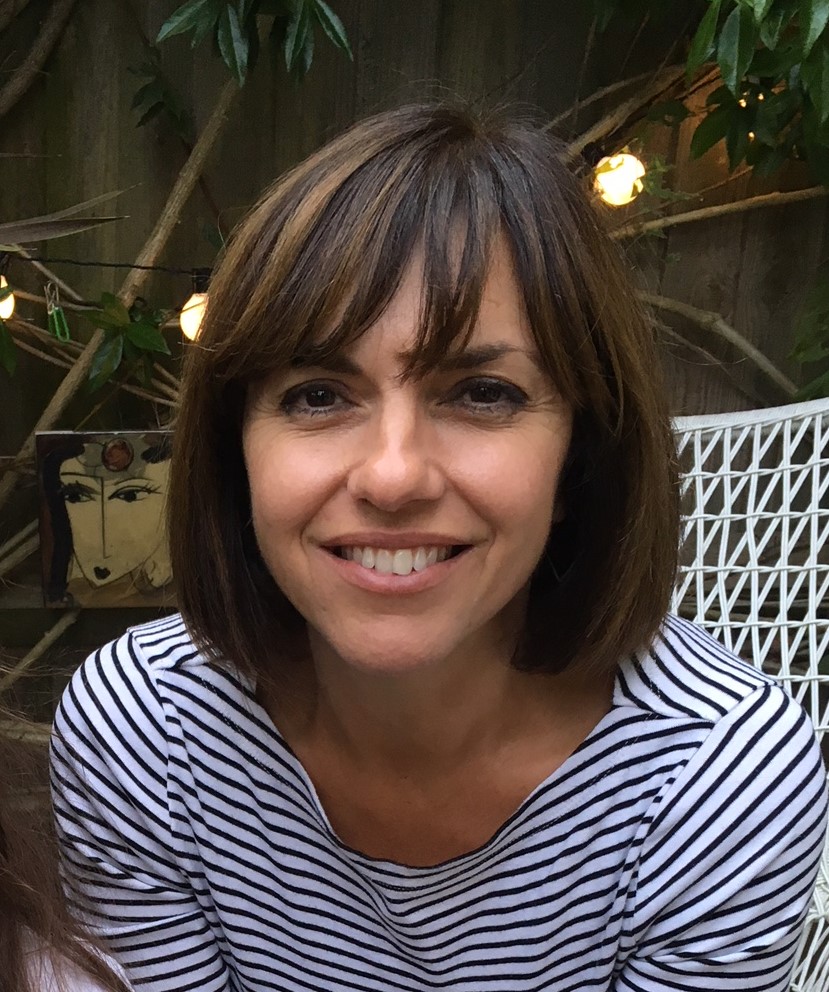 Lucy Searle has written about interiors, property and gardens since 1990, working her way around the interiors departments of women's magazines before switching to interiors-only titles in the mid-nineties. She was Associate Editor on Ideal Home, and Launch Editor of 4Homes magazine, before moving into digital in 2007, launching Channel 4's flagship website, Channel4.com/4homes. In 2018, Lucy took on the role of Global Editor in Chief for Realhomes.com, taking the site from a small magazine add-on to a global success. She was asked to repeat that success at Homes & Gardens, where she has also taken on the editorship of the magazine.