Baby boy nursery ideas – 17 tips for creating a soothing sleep space
For baby boy nursery ideas that range from calming color schemes to comfortable seats for mom and dad, here's how to ensure the nursery is the oasis you need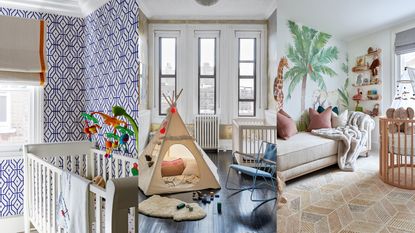 (Image credit: Mark Bolton/Matthew Williams/Ventura)
Sign up to the Homes & Gardens newsletter
Decor Ideas. Project Inspiration. Expert Advice. Delivered to your inbox.
Thank you for signing up to Homes & Gardens. You will receive a verification email shortly.
There was a problem. Please refresh the page and try again.
Pondering over baby boy nursery ideas is a joy – but with a new family member on the way, a little helping hand never hurt.
That's why we've done the thinking for you, and come up with some beautiful ideas for the new arrival.
Creating a soothing space is key to help baby sleep, but you'll also want your nursery ideas for baby boys to be equipped for play, and to last until they're a little older. And remember, you're not just designing for a baby, you're designing for a busy mom and dad who need practical solutions in a busy stage of life.
Baby boy nursery ideas
From traditional blue schemes with contemporary touches, to sensory tents and dazzling murals, we've asked the experts for their favorite nursery ideas for baby boys, and found some beautiful examples that will inspire all new parents.
1. Get creative with wall paint
When picking your paint, think about how you can turn a plain wall into a playful feature. 'Personalized designs are great when it comes to nursery ideas,' says Judy Smith, color consultant at Crown. 'Work out a design on paper then scale up for the walls.'
Creating your own simple mural – like the polka dot design in this room – is an easy way to add interest, and it works just as well with baby girl nursery ideas too.
'To add some fun, use masking tape to create simple stripes or checks, or for a more complicated pattern go for a stencil. The beauty of paint is that the scheme can be easily and inexpensively updated as the child grows.'
2. Don't be afraid of florals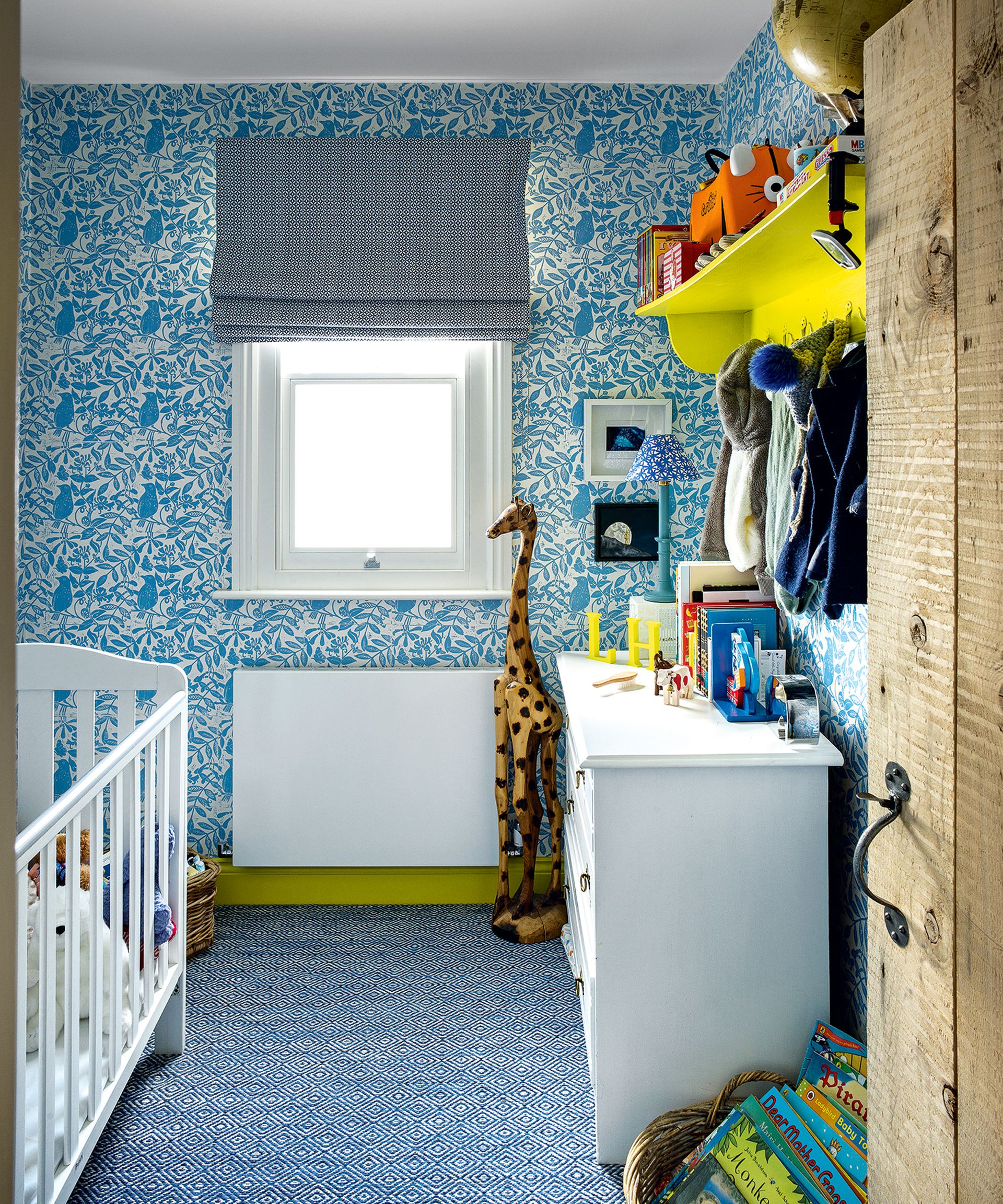 You may be conscious that you're designing for a boy, but it's important not to give in to outdated gender stereotypes.
Flowers can absolutely have a place in a boy's nursery – as can pink, princesses, butterflies and more. This is demonstrated in this stylish nursery, where a floral pattern featuring perched songbirds softens the wallpaper's bright blue hue.
Picking nature-inspired wallpapers is a great choice for gender neutral nursery ideas too. Choose palms for an escapist, tropical feel, or fill the walls with trees or foliage to channel an enchanted forest.
3. Go bold with an artistic mural
When considering children's bedroom wallpaper ideas, repeated patterns are one way to go – alternatively, choose a wallpaper that doubles as an atmospheric mural. As demonstrated in this nursery by Ventura Designs, incorporating a large scale artwork or mural can be transportive and really fire up a child's imagination.
'For adding long-lasting personality to the nursery, I like the idea of incorporating a big, bold piece of art that can continue to be utilized throughout all stages of childhood,' says Justin Segal, director of product and brand management at Storkcraft.
'An eye-catching piece of art that adds a splash of personality to the nursery – yet will look just as good in a 'big kid' room when it's time to transition out of the nursery – is a nice, personal design touch.'
4. Opt for a design that will grow with them
With all kids' room ideas, it's really important to consider how the design will grow with them. This goes for both the style, and the practicality of your furniture pieces.
In this nursery, a crib with removable sides has been chosen, which will last a child from newborn to toddler years and beyond. The design of the room uses a neutral and adaptable white at its base, with a rainforest wallpaper that works just as well even for an adult as it does a baby.
5. Mix blue and gray for a versatile scheme
Blue is a classic among bedroom ideas for boys – but more importantly, its soothing qualities make it an excellent choice in nurseries for all genders. To make it feel contemporary and extra calming, keep it pale and pair it with gray.
'Blue and gray is a very versatile scheme for a nursery that will grow with them into their older years,' says Charlotte Cosby, head of creative at Farrow & Ball.
In this room, a duck egg blue crib sits with a backdrop of textured, gray checkered wallpaper in soft tonalities – a wall design that will last as your child grows and even works in bedroom ideas for teenagers.
6. Use a tent as a sensory space
Amid the crib, changing table, feeding chairs and more, it's important to make space for play in a nursery. While you'll want the room to feel calming to help induce a good night's sleep, young children also learn from sensory stimulation.
A tent filled with fabrics they can feel, mobiles they can watch and sounds that echo will intrigue a baby, and it becomes a great place for more sophisticated play as they get older.
The teepee-style tent in this stylish nursery is sure to be loved for years to come, and will be just as at home as part of future playroom ideas.
7. Paint a captivating design on the ceiling
When thinking about kids' room paint ideas, don't forget to look up, especially in a nursery. As a baby is laid down in its crib, it will inevitably spend a lot of time looking at the ceiling – so make it interesting for them.
'To add an injection of color, try painting a mural on the ceiling, such as a space scene or circus tent,' says Cosby. 'Using the ceiling as a fifth wall creates a canvas for their little imaginations as they drift off to sleep.'
8. Lower light levels with a canopy
Inducing sleep is the most important function of a nursery, as many a tired parent will tell you. Soft, ambient bedroom lighting ideas and a feeling of coziness are essential to hurrying along the process, so give yourself a helping hand with a crib canopy.
Doubling up as something for a baby to ponder while it falls asleep, a canopy can also help shield light from around the child's head – especially if chosen in a darker color, like the yellow ochre canopy in this playful nursery.
9. Build bold colors onto a white base
While pale shades are often considered the best bedroom colors for a nursery because of their calming characteristics, they aren't the only option.
If you're keen to incorporate bolder, brighter colors into the room, build them onto a base of crisp white to keep them soft and relaxing. In this room, a geometric pattern in the form of delicate dark blue lines on top of white, with a matching white crib makes for a modern combination.
'Nurseries have a license to be fun,' says Smith. 'Therefore, why not add a bit of playfulness by painting furniture to match or contrast with the bedroom wall decor.'
10. Ensure mom and dad have a comfy seat
The nursery is for the baby, yes, but mom and dad deserve quite a bit of TLC too. For round-the-clock feeds, a comfortable place to sit is essential for a weary parent.
In this room, a cozy, upholstered armchair complete with a cushion, throw and footstool is tucked into the corner – the perfect spot for a repose in a doubtlessly busy day.
11. Use a combination of blues for an elegant look
Use the best children's bedroom wallpaper ideas to help you create a room you will love as much as they do, filled with fun touches and cute color schemes. You can be so much more adventurous with wallpaper in kids' rooms, so this really is the opportunity to indulge your love of bold wallpaper ideas and designs.
Stéphanie Coutas designed this elegant boys nursery using a subtle diamond patterned wallpaper. The blue and white stripe canopy creates a cozy sleep space above the crib whilst the hardwood floor adds a warmth.
12. Look to the ceiling for inspiration
The best ceiling ideas offer scope to expand your creativity beyond your four walls. Ceilings in nurseries are a great way of adding another layer of interest and making a space feel cozier yet stimulating. All too often they are an afterthought but we make sure to consider their potential.
'This nursery was designed with texture and pattern at the forefront,' says Mel Bean, lead interior designer at Mel Bean Interiors. 'I incorporated tone-on-tone wallpaper for the ceiling, a textured pompom garland for the wall, black molding to frame the ceiling and the windows, and a textured chair with ottoman and a Moroccan pouf for seating options.'
13. Create memories with individual touches
'This nursery was designed for my son Léon; it was really important to me that this nursery space felt ethereal, playful and a touch moody,' says Lorri Hicks Cazenave, principal designer at HC Interior Design.
'There are bits of velvet, lovely animals in the wallpaper, and playful youthful touches like the Bambi stool and the custom chandelier that we ordered from France as a nod to my husband's French roots. We have incorporated many hidden special touches to this space, and its forever a favorite memory creating this cozy space.'
14. Paint an alcove
Alcove ideas can harness the potential of organizing a nursery, giving nursery and playroom ideas a style boost, as well as fulfilling a useful function.
Alcove shelving creates a sleek storage solution that also makes a great design feature. 'Here we paired Enamel Blue™ No. 78, a vibrant, calming blue, with a bold Red Post Hill™ No. 68 to make a feature of the alcove shelving, providing an unexpected contrast and lots of excitement and character for displaying beautiful toy storage ideas,' says Dominic Myland, CEO of Mylands.
15. Choose a wallpaper design you love
Beautiful bedroom wallpaper ideas are a wonderful way to make your baby boy nursery really sing out. There are really no rules when it comes to nursery room ideas. However, it's recommended to steer away from decorating with stimulating colors, as babies can be hard enough to put to bed as it is.
'Here the "Zeus" wallpaper by House of Hackney is calming and beautiful, the pattern is a favorite,' says Jamie Haller, principal designer at Jamie Haller Interiors. 'One thing I like to do with a small child's room is design it to please the parents. So much time is spent in a child's room in the early years, it should bring joy to them too.'
16. Go for a gender neutral scheme
Gender neutral nursery ideas allow you to step away from customary color palettes and create a room to be enjoyed by a girl or a boy, or for sharers. Unisex nursery decor can provide a beautiful space for the new addition to the family, and works particularly well in modern or minimalist homes.
Ginger Curtis, owner and principal designer at Urbanology Designs says: 'We kept the room tonal with rattan accents and warm wood tones for a minimal yet pleasing aesthetic. If you're going for a predominantly single colored scheme then keep it interesting by using textures and pattern in the same shade.'
17. Don't forget your lights
The key to a well lit nursery is to introduce multiple layers that integrate both ambient, decorative and task lighting seamlessly. Never underestimate the quality of good lighting in any room – it is just as important to your wellbeing and preservation of eyesight, as it is to aesthetics.
'Bright lights are a no-no so choose something that's fun yet subtle as you want ambient lighting in the middle of the night when feeding,' says Jennifer Ebert, digital editor, Homes & Gardens.
What is the best color for a baby boy's room?
When thinking about nurseries for baby boys, bedroom color ideas really should be as soothing as possible – both for baby and his parents.
Pale pastel colors work really well – blue is a traditional choice for a boy, but its calming qualities mean it works very well for all genders. For a contemporary scheme, try shades of gray accented with white, and even details in black for a little edge.
If you're looking to incorporate bolder colors, try building them over a base of crisp white, using them as accents – this will mean that the overall scheme can still have a calming effect.
How can I decorate my baby boy's room?
When it comes to decorating a baby's room, practicality has to come first. Ensure you have everything you really need in the room, then decorate around those pieces – namely a crib, changing table, feeding seat and lots of storage solutions.
If you're painting the room, think about the type of paint, as well as the color, advises Smith. 'A lot of the Crown matt or silk emulsion is ideal in a nursery because it has a Breatheasy formula that means it is 99% solvent free,' she says.
'Easyclean in particular is perfect because it is scrubbable and can be used on walls and ceilings, as well as wood and metalwork, so you can blend in windows, skirtings and radiators.'
Sign up to the Homes & Gardens newsletter
Decor Ideas. Project Inspiration. Expert Advice. Delivered to your inbox.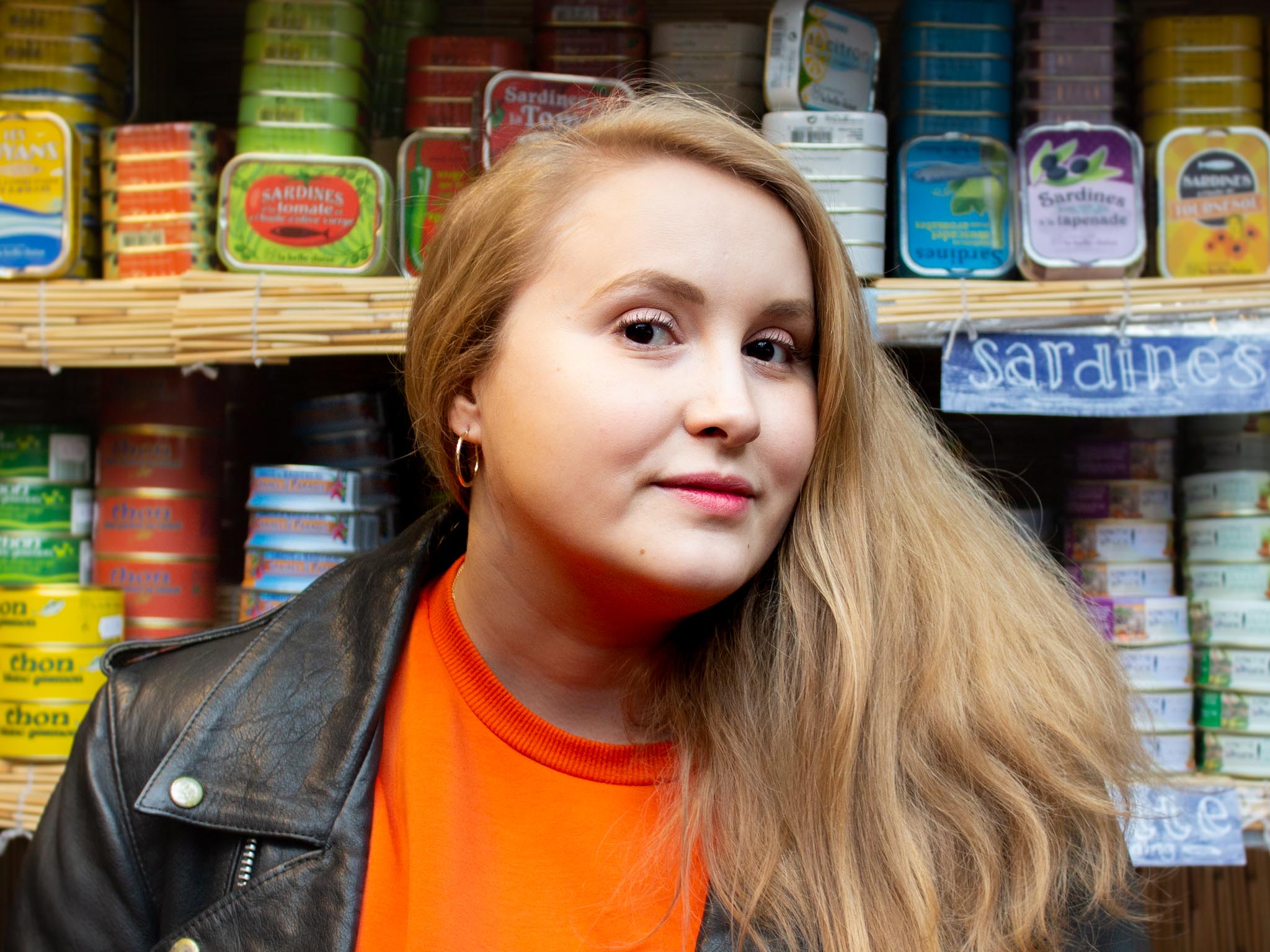 Ailis started out at British GQ, where a month of work experience turned into 18 months of working on all sorts of projects, writing about everything from motorsport to interiors, and helping to put together the GQ Food & Drink Awards. She then spent three years at the London Evening Standard, covering restaurants and bars. After a period of freelancing, writing about food, drink and homes for publications including Conde Nast Traveller, Luxury London and Departures, she started at Homes & Gardens as a Digital Writer, allowing her to fully indulge her love of good interior design. She is now a fully fledged food PR but still writes for Homes & Gardens as a contributing editor.