Baby girl nursery ideas – 10 ways to think pink and beyond for a calming bedroom
With these baby girl nursery ideas, you can ensure a soothing space for the new arrival, whether its with a DIY mural or a scheme filled with warm neutrals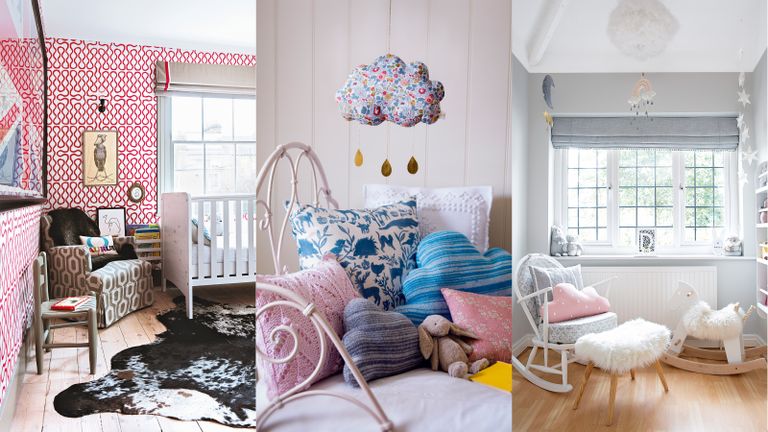 (Image credit: Alexander James/Sean Mayer/Simon Bevan/Hasselblad H3D/Katie Lee)
Few interior design jobs are more exciting than dreaming up baby girl nursery ideas.
Creating a special space for a new arrival is an important ritual for many parents, particularly because coming up with bedroom ideas for a newborn takes a little bit of extra thinking.
Preparing a room for their earliest months means thinking practically as well as stylishly, but also being conscious of creating a cozy environment that both baby and parents enjoy spending time in.
Baby girl nursery ideas
From do-it-yourself painted murals to rethinking pinks, we asked the experts to share their favorite nursery ideas for baby girls, and found some beautiful examples to help inspire expectant parents.
1. Choose pale colors for a soothing atmosphere
Being careful with color is key when it comes to planning both girls' and boys' nursery ideas, as choosing the right shades can do wonders for creating a restful environment.
'Paler colors tend to be more calming and soothing – both for the baby and parents – so a background of soft blues or aqua and warm pinky grays can be a good basis from which to add more color,' says Judy Smith, color consultant at Crown.
In this room, Lavender Garden by Mylands is used as a gentle backdrop to pops of primary color.
2. Stay contemporary with gray
Gray bedroom ideas are having a moment right now – and soft tones of gray work really well in nurseries too. In this nursery, a pale gray on the walls is built upon with slightly darker shades in and among the textiles, and contrasted with crisp white in the room's woodwork.
Pink works especially well as an accent color as it adds warmth, while gray acts as a great base color for baby boy nursery ideas too.
3. Layer warm neutrals for a light but cozy aesthetic
Blending coziness with a feeling of cleanliness makes for a golden ratio in a nursery – and an easy way to do that is to go all out with warm neutrals.
In this room, rustic whitewashed floorboards are built upon with cream furniture, fabrics and accessories, with light brown woods pulling the scheme towards gentle, natural browns.
It's a scheme that works well with gender neutral nursery ideas too, and especially well when filled with layers of textiles.
4. Rethink pink with warmer tones
When it comes to girls' bedroom ideas, it's hard not to think pink. While the idea of gendered colors is pretty outdated, soft pinks are nevertheless a great choice for a nursery because of the gentle warmth they can bring to a neutral scheme.
Warm, rusty pinks are on trend all over the home, and are also easier to adapt for when a child grows up – they can even work in bedroom ideas for teenagers.
'For longevity, steer away from sugary pinks in favour of warmer tones that feel more grown up,' says Nina Tarnowski, founder and designer at Woodchip & Magnolia. 'This will ensure the decor grows with them. Consider shades of mature pinks and soft peaches, balanced by soft neutrals.'
5. Make it personal with monogrammed accessories
For any age, kids' room ideas that make the space feel unique are an instant win. Children enjoy seeing their name in lights, or even woven into their pillow – and new parents love it too.
'For a personal touch, consider adding something monogrammed to the nursery, be it a wall decal, a decorative pillow nesting on your nursery glider, or a blanket,' suggests Justin Segal, director of product and brand management at Storkcraft.
'Remember, the nursery is your very own calm, serene space to bond with your baby. Seeing your child's initials monogrammed on something in the nursery is a nice, custom touch to make your special space feel even more personal.'
6. Create a whole new world with a mural
'Reimagine your children's nursery into a space they could only dream of with wallpaper or a mural,' says Tarnowski. 'Be brave with your choice of color and pattern and create a bedroom that the kids can't wait to play and sleep in.'
You can either choose children's bedroom wallpaper ideas that build up a whole muralistic scene, or create a theme with a simple painted design, like the star-studded wall in this nursery.
'Murals are a great way to add interest to more neutral nursery schemes, and there are numerous ideas, from characterful crayons to cute animals,' says Charlotte Cosby, head of creative at Farrow & Ball.
'If a mural sounds a bit daunting, start with something easy to execute such, as a mountainscape where the help of masking tape comes to the rescue.'
7. Create a sensory zone with textiles
Nurseries aren't just a place for babies to sleep – they're an important space for them to learn about a brave new world. Providing furnishings that stimulate the senses can help with that all important early development.
As well as mobiles over the crib to key their eyes entertained, think about using textiles to create a sensory zone, where they can feel all sorts of different textures. Just remember to keep them all easily washable in defense of any messy mishaps.
8. Mix and match mid tone colors
Getting to grips with kids' room paint ideas is always an excuse to have fun with color – and designing a nursery is no different. While you will need to be conscious to keep it a relaxing space, think about using tinted mid tones and even mixing and matching contrasting hues.
'I think that clear mid tones work really well in nurseries, like sky blue, lemon, soft orange and mint green,' says Smith. 'If you choose colors of the same depth of tone, you can easily put three or four together.'
9. Give hand-me-down furniture a new lease of life
There is a good chance this isn't your first rodeo. If you're welcoming baby number two or even three, it's still a good idea to give an existing nursery a celebratory spruce up.
A lick of paint for the walls is one thing, but apply the same mentality to your hand-me-down changing table, bedroom storage and crib for a fresh new look.
'It is a great idea to paint inexpensive or second-hand furniture, like cupboards and chest of drawers, to make them colourful and unique,' says Smith. 'Rub down, then use a wood primer before adding a topcoat of satin or gloss.'
10. Soften bolder colors with white
If pastels aren't your thing, it's still perfectly possible to make bolder hues work in a nursery – you just need to apply a gentle touch.
Practice restraint when using brighter or deeper colors in a nursery and use them as accents over white. In this room, an exuberantly patterned wallpaper idea lays red tracks over a white background with a white crib, softening the red's impact, while earthy neutrals are used across the rest of the room.
How do you decorate a baby girl's nursery?
Funnily enough, nursery ideas for baby girls don't have to be all about pink. While pale pinks are actually great color for a nursery for the soft warmth that they bring, think about pale shades of all sorts of different hues, from lavender to powder gray and soft blues.
But before you even get to thinking about colors, ensure you have all the practical essentials ticked off the list. Choosing a crib that has removal sides means it can last your baby through to its toddler months and beyond.
Ensure you also have a comfortable seating space for feeding, a changing table, and lots of storage space for concealing the inevitable messy parts of parenting a newborn.
How can I decorate my newborn baby's room?
When designing for a newborn, it's best to take things gently. Creating a calming environment is important for all bedroom designs, but doing your best to create a sleep-inducing space for a baby will pay serious dividends for weary parents.
The best bedroom colors for a nursery are gentle and restful: choosing pale pastel colors or warm, light neutrals will help construct a soothing environment for baby, mom and dad.
If you really want to add in bolder colors, do so with white as a base and use them sparingly.
I started out at British GQ, where a month of work experience turned into 18 months of working on all sorts of projects, writing about everything from motorsport to interiors, and helping to put together the GQ Food & Drink Awards. I then spent three years at the Evening Standard on the GO London team, covering restaurants and bars, and getting to eat and drink a veritable smorgasbord of wonderful things around the city. I left the paper in 2020 and went freelance, writing about food, drink and homes for publications including Conde Nast Traveller, Luxury London and Departures. A little less than a year later, I started at Homes & Gardens as a Digital Writer, allowing me to fully indulge my love of good interior design.