Blue bedroom ideas – 12 soothing colors for the sleep space of your dreams
These blue bedroom ideas offer an ideal backdrop to sleep, centred around the most calming color proven to relax the mind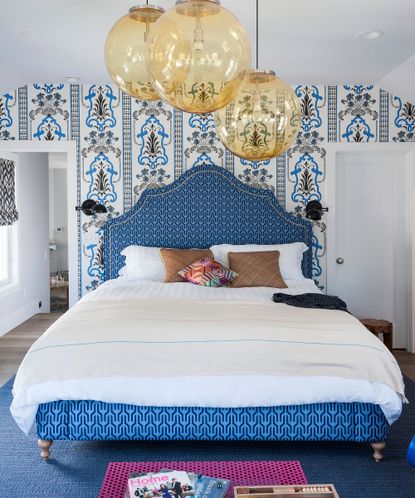 (Image credit: Future / Matthew Williams)
These blue bedroom ideas will help turn any sleep space into a tranquil retreat.
'Blue is a colour that gives a feeling of openness and a sense of space, creating a calming and restful backdrop for any room,' says Judy Smith, Color Consultant at Crown. 'Due to its connection with nature and its relaxing qualities, it's incredibly popular in bedrooms.'
For bedroom ideas associated with cloudless skies and rippling seas, the color blue is a go-to. Blue has been proven to induce feelings of calm and soothe stress, making it ideal for a pre-slumber environment.
Blue bedroom ideas
From dark inky blue boltholes to periwinkle havens, discover the bedroom color ideas of your dreams. Below, we look at blue room ideas to suit every size and style of space.
1. White and blue always works, but add depth with tones
Decorating with blue is an eternal favorite in the bedroom, you're unlikely to fail with a blue and white bedroom ideas. Fresh but calming, the combination works with any blue – but if you want to add interest to this classic pairing, bring in more than one.
Using many tones of the same color will add depth to a blue bedroom. Here, a dark blue four poster bed is paired with soft furnishings in a purer tone of the same hue, while a densely patterned wallpaper gives an illusion of a lighter tint.
2. Go big with navy blue
Navy blue is a bold choice, so go big in your usage of it. This popular shade can really hold its own on a large surface area, its soothing qualities preventing it from feeling aggressive.
'People seem to think paler and powdery shades of blue work best in a bedroom, but dark and bright tones, such as navy or royal blue, work just as well to create a cosy and relaxing space,' says Smith.
Use it in cabinetry, block-colored linen, or go all out and use it as a wall paint color, either for a bedroom accent wall or the entire room (as long as it's large enough to not feel too dark). The result is a cocooning, but impactful space.
3. Soothe with a gray and blue bedroom
If you really want to lean into the calming qualities of blue, then pair it with gray bedroom ideas. A more gentle combination than blue and white, picking closely related tones of each color will allow them to blend softly.
The pairing works with both warm and cool tones. In this room, a tonal gray fireplace and upholstered headboard are paired with white and blue bedding, the blue nudging the room from potentially austere to welcoming.
4. Brighten a monochrome room with royal blue accents
For those who like their blues bright, it can be a challenge to make them work in the bedroom. In an environment that should ready you for sleep, a bright royal blue can verge on the garish – but use it sparingly, and you can make it work.
Here, royal blue peppers a largely monochrome room through a vibrant – but not domineering – wallpaper. The shade also appears in the drapes and soft furnishings, toned down through the use of black bedroom accents at its side.
5. Darken a yellow and blue scheme for renaissance romance
Yellow and blue is a favorite for kids' room ideas – but tone it down, and things start to get grown up. Using darker shades of both colors will transport you into the realm of renaissance paintings, where earthy ochres pair masterfully with jewel-toned blues.
Above, a teal, fabric-textured wall is paired with a warm yellow ochre headboard and brass toned velvet cushions.
6. Add texture to walls with blue grasscloth
Bedroom wallpaper ideas don't get cooler than grasscloth. If you're looking to add texture and interest to a wall without making too much of a fuss about it, this contemporary favorite hits the nail on the head.
Luckily, grasscloth rarely works better than in a shade of blue. In this blue bedroom, a bright shade is calmed by ripples of white, but it also works well in deep navy or light blue tones too.
7. Invoke the natural world with watery patterns
For dreams of peaceful lakes, breaking waves and soft clouds, blue's watery qualities make it one of the best bedroom colors. To bring a little of the natural world into a sleep space, embrace blue shades in dappled, painterly patterns.
In this artistically inclined bedroom, an impressive cyan mural creates impressions of a forest-lined lake, but you can more easily bring these sensations into a room with the use of watercolor-style bed linens.
8. Add allure with blue velvet
Sensual, sultry and tactile, blue velvet is a daring but dependable bedroom fabric. Velvet's lustrous texture has the ability to make a color feel impossibly deep – by incorporating it into your headboard ideas and soft furnishings, you'll create a bed to really sink into.
In this example, deep blues are used across multiple richly textured fabrics, with velvet adding a shimmer of luxury.
9. Keep a room warm with woods
It's all too easy for a blue bedroom color scheme to end up feeling cold. To swap cool for cozy, pay attention to your woods. Warm, natural colors and textures will help make a room feel more inviting, whether paired with warm or cool blues.
This is done in spectacular style in this room, where a periwinkle blue wall color is lifted with a cognac brown statement bed frame.
10. Usher in the night with midnight blues
As night falls, our eyelids start to feel a little heavier and our body clocks tell us it's almost time to sleep. The darkening world is a chromatic cue that you can recreate for your blue bedroom ideas by taking inspiration from the night sky.
Midnight blues and a medley of inky tones make this room feel ripe for slumber, with particular assistance coming from the striking bedroom wall decor featuring a beautiful mural of a jungle at twilight.
11. Go classic with stripes
From Napoleon III to Jean Paul Gaultier, blue and white striped shirts are an enduring design classic – but the pattern can look just as chic in your home too.
Go for a lighter blue with lots of white and the look will feel a little more seaside, but keep it navy for a more fashion-focused take on nautical.
12. Contrast blue and pink for a little fun
Too much blue on your hands? To add contrast, there's no better candidate than pink. Rosy accents in a blue bedroom scheme will add warmth, comfort and visual interest.
Allow the two a little space with white, as in this pattern-centric bedroom, and the room will feel the benefit. Adding in complementary yellow or green bedroom accents will help bolster the blue's dominance and dampen pink's cutesy tendencies.
What color blue is good for a bedroom?
As you can see from above, a wide array of blues can work well in a bedroom setting – from light blue bedrooms with shades of periwinkle and duck egg blue, to dark bedrooms using deeper tones like navy, or even brighter cyan schemes.
'It's hard to go wrong with blue, but it's best to find the right shade to suit the size of your room,' say the experts at Dulux. 'Pale blues like sky blue, aqua and ice blue are expansive, airy and will help to make your bedroom seem larger and brighter.
'Darker shades like denim, indigo, or slate blue are sophisticated and warm and will lend large rooms a more intimate appearance.'
How do you style a blue bedroom?
Unless you're going dramatically monochromatic, you'll need to pair your blues with one or two other colors.
'Chalky whites, sandy tones and soft terracottas are the kind of colors that blend and harmonize with blue the best,' says Smith. 'They give it warmth while maintaining its restful character, which is what most people aim for in their bedroom.
'You can also bring the scheme into focus and give it an edgy, unexpected element by adding touches of grey, charcoal and yellow for definition.'
'If you choose a light blue as the primary color in a room, balance it with warm hues for the furnishings and fabrics to keep the room looking and feeling cozy,' say the experts at Dulux.
The same principle applies for using wood – warm natural tones will help the room feel more welcoming.
Ailis started out at British GQ, where a month of work experience turned into 18 months of working on all sorts of projects, writing about everything from motorsport to interiors, and helping to put together the GQ Food & Drink Awards. She then spent three years at the London Evening Standard, covering restaurants and bars. After a period of freelancing, writing about food, drink and homes for publications including Conde Nast Traveller, Luxury London and Departures, she started at Homes & Gardens as a Digital Writer, allowing her to fully indulge her love of good interior design. She is now a fully fledged food PR but still writes for Homes & Gardens as a contributing editor.