Teenage girl bedroom ideas – 10 tips for fun and sophisticated design schemes
Teenage girl bedroom ideas aren't just about rethinking pink – they are about inspiring her to make her mark on the world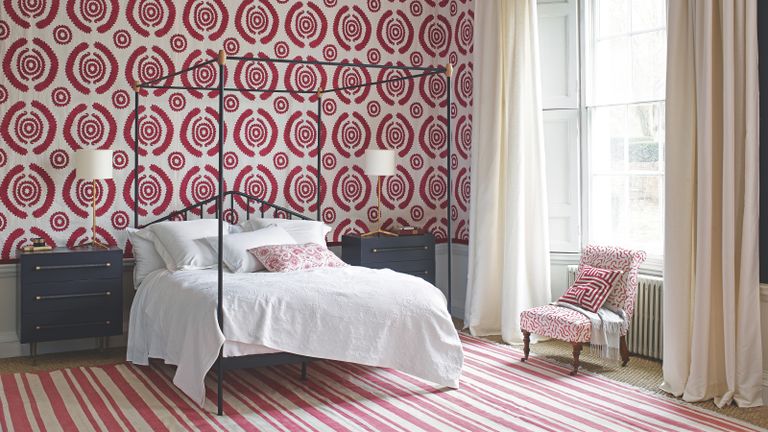 (Image credit: Polly Wreford)
Coming up with teenage girl bedroom ideas is a pretty daunting prospect – but it can also be one of the most rewarding interior design projects you will ever undertake.
While they may disguise their enthusiasm by filling the room with empty glasses that should have been taken downstairs weeks ago, bedroom ideas are actually hugely important to teenagers, who are just starting to really define their personalities and learn how to make their mark on the world.
Empowering a teenage girl to make design decisions and express her personality, tastes and priorities through her bedroom decor is a really important part of creative development and can help boost confidence. It may take a little patience, but working with her on the project will help it become the exciting, unique, personal haven she really wants it to be.
Teenage girl bedroom ideas
From giving pink color schemes a very modern makeover to bold wallpapers packed with personality, we've found some stunning inspiration for teenage girl bedroom ideas, and asked the experts to share their tips on creating a scheme for the future superwoman of the house.
1. Create a space that will grow with them
The key to getting all kids' bedroom ideas is thinking ahead – what your child might like, want and need now is almost certainly going to be different in 3, 5 or 10 years time. If you're designing for a young teenage girl or tween, choose features that are more likely to grow with her. While choosing an adaptable, sophisticated paint color is the easiest way to do this, this bedroom's twilight jungle mural is fun for younger kids, but its maturity means it will last them even into adulthood.
2. Choose earthier pinks
'Pink has had a bad rap but if there's one thing teenagers can be relied upon for, it's upsetting the status quo,' says artist and color expert Annie Sloan. A longstanding favorite among bedroom ideas for girls, getting pink right in a teenager's room is all about bucking stereotypes and embracing a modern approach.
'Banish thoughts of saccharine pinks and insubstantial colour by using a strong, earthy, unexpected pink in a teenage girl's bedroom,' says Sloan. 'Use pink alongside rich, strong, dark colours for extra inspiration, and to ensure that bedrooms remain cozy spaces where busy adolescent minds can find some refuge.'
'Inspire her to investigate the history of interiors and the fashion of color through the ages by pointing out that it wasn't until the 20th century that pink began being branded as a color for girls – the fascinating backstory might spark a life-long curiosity about color.'
3. Personalize wall paint with a stencilled design
As teenagers start to get more independent, it's important to have a corner of the home that feels uniquely their own.
'Features and personalised designs are great when it comes to teenagers' bedroom design,' says Kathryn Lloyd, Color Consultant at Crown. This is true for bedroom ideas for boys too, and needn't be an expensive process – all you need is a paintbrush and a little bit of know-how. 'Work out a design on paper then scale up for the walls, using good masking tape to create crisp lines. Why not add a bit of playfulness by painting furniture to match or contrast with the walls?'
In this room, metallic bronze polka dots are matched with with similarly toned metallic pendant lights and plant pots.
4. Update a period room with bold modern wallpaper
The one thing you need to avoid above all else when it comes to bedroom ideas for teenagers is feeling 'old fashioned'. Teens are rarely happy with being surrounded by too much of anything before their time, which can be an issue if you're living in a property with lots of period features. A great way to make a historic room feel modern is to swap paint for a bold, graphic wallpaper. Get your teen involved in choosing the design and allow them to make a big, bright statement in the space.
5. Prioritize a desk over a dressing table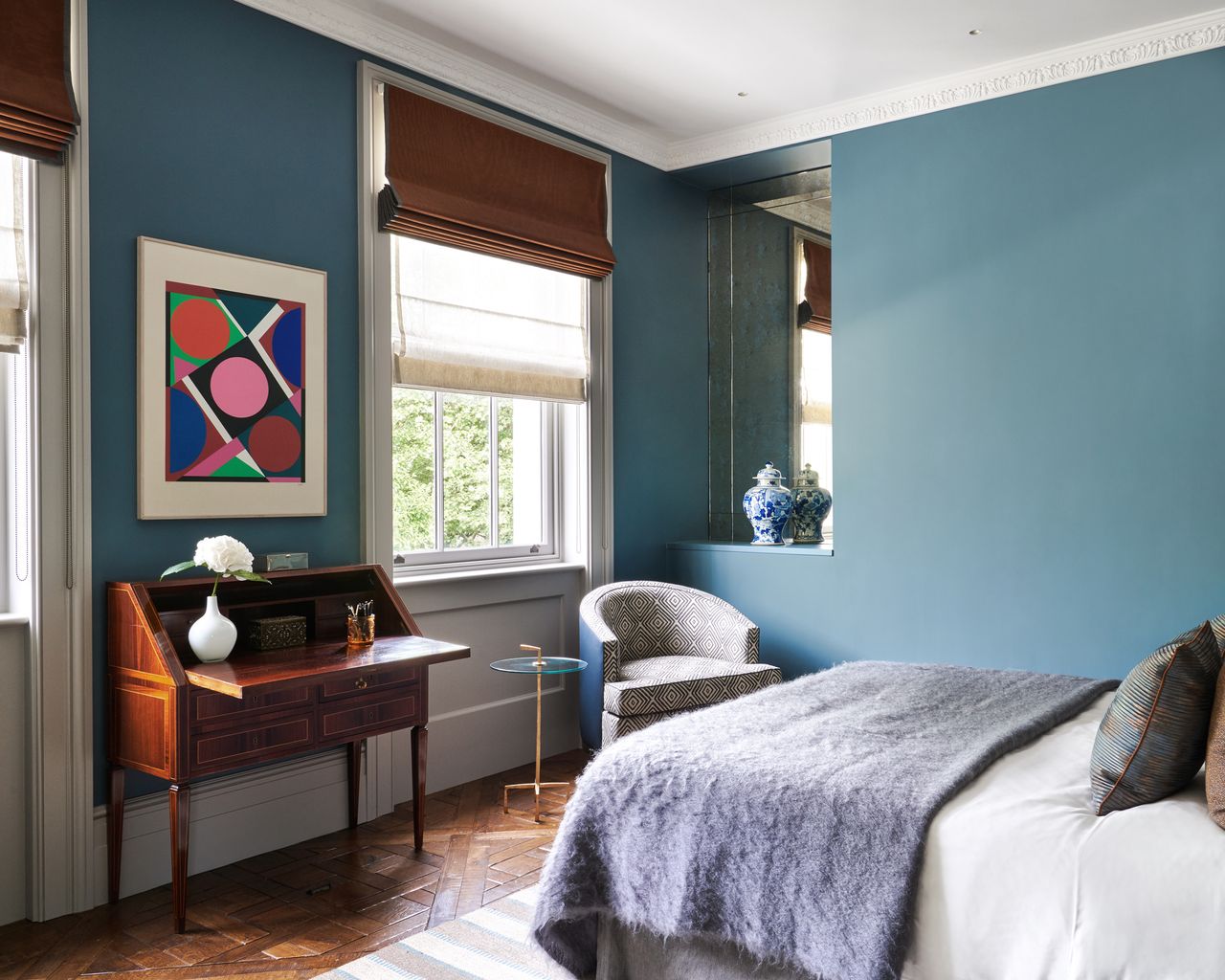 As kids tend to get lumbered with the house's smaller bedrooms, there will likely only be one area suitable for housing a table in their room. With teenage girls, that can spark a quandary.
A dressing table might be a tempting prospect as they start to explore their glamorous sides, but fitting a desk in a teenager's bedroom should always be a priority, as having a quiet home office space to do homework is hugely important.
If you want a space that can do both, choose a particularly pretty writing desk like this antique example, and think about including lots of storage space that can accommodate both stationery and make-up for a quick change.
6. Break the mould with contrasting colors
Of course, teenage girls' rooms do not have to be pink – but if not, what instead? A little rule-breaking is always on the cards at this age, so swap harmonious colors for barnstorming contrasts and clashes. In this room, a grungy but chic denim blue headboard is contrasted with a bright orange bedside table and yellow details in the bedding – a scheme that works well for teenage boys' bedroom ideas too. To make things a little more palatable, a largely neutral wallpaper is used, but with flecks of green to add yet another color into the mix.
7. Use pink sparingly
If pink is still a hard and fast must-have in her bedroom color palette, think about how you can use it minimally to soften a scheme rather than lead it.
'You can use pink as the envelope or the accent,' says interior designer Liz Caan. 'In my daughter's room, we created a bed in 2 tones of light pink and then put the lighter blush on the ceiling to create a glowing feel in the space.' In this scheme, the perceived 'girliness' of the sophisticated pale pink is offset with a wide ranging color palette that features lilacs, aquamarines and grass greens, as well as graphic-style artwork and skull patterns.
8. Invoke elegance with a four poster bed
She may have grown out of her princess phase, but we dare anyone to turn down the luxurious feel of a four poster bed. When it comes to bed ideas for a teenage girl's room, a four poster can bring an instant sense of grown up elegance to the space. It doesn't have to be a chintzy affair either – stick to contemporary cube beds or pared-back metal versions of curved styles, or even invest in a unique piece like this bohemian bamboo bed with beautiful detailing.
9. Pile pattern on pattern
Dull is pretty much the worst thing a teenager's bedroom can be. If she wants a room brimming with personality, then pack it with patterns on patterns, from children's bedroom wallpaper ideas to beautifully layered bedding. Maximalism is all the rage right now, meaning a teen's youthful exuberance is actually a stylish asset – ask them to choose one piece or pattern that they really love and build complementary patterns from there. In this room put together by Jonathan Adler, a geologically inspired purple-grey wallpaper is matched with geometric bedding and floral artwork.
10. Display memories with a gallery wall
Showcasing their likes and dislikes through bedroom decor is going to be important for any child. 'Bedding, lampshades, their favorite books, photos of their friends and family all help channel their personality,' says Caan. 'We love letting them pick their favorite photos and we will frame them in fun lucite frames so they support the room design and also feel familiar and fun!'
Using gallery wall ideas in a teenager's bedroom is a great way to display photographs from childhood to now, as well as choice artwork – and when they've outgrown one element of it, it's easy to unhook a small frame and swap it for a new one.
What should a teenage girl's bedroom include?
Naturally, a teenage girl's bedroom needs the key items of furniture that all bedrooms need – namely a bed, a bedside table and clothes storage. As teenager's are historically not known for being the tidiest creatures on the planet, storage is perhaps more important than it is in any other bedroom. Ensuring there's enough space for every item to be tucked away will help in the neverending battle to get them to tidy up.
We also highly recommend creating desk space to allow them a quiet area in which to do their homework. For smaller rooms this may mean you need to make a choice between this and a dressing table, but a workspace should always be top priority. Consider making the space work in both ways by dividing storage between getting-ready paraphernalia and stationery, and adding a mirror above the table.
What's the best color for a teenage girl's bedroom?
Of course, there is no one color that is best for a teenage girl's bedroom – the answer to this question is whichever color she wants. While it's easy for parents to instantly gravitate towards pink, ensure the color scheme is her choice. If she wants pink in the mix, then think about making it modern and sophisticated with earthy tones, or using it as an accent in the room instead of all over the walls. Alternatively, trending bedroom colors like grey, blue and white work really well in a teenage girl's bedroom – add in bright accents to keep it feeling lively and youthful.
Ailis started out at British GQ, where a month of work experience turned into 18 months of working on all sorts of projects, writing about everything from motorsport to interiors, and helping to put together the GQ Food & Drink Awards. She then spent three years at the London Evening Standard, covering restaurants and bars. After a period of freelancing, writing about food, drink and homes for publications including Conde Nast Traveller, Luxury London and Departures, she started at Homes & Gardens as a Digital Writer, allowing her to fully indulge her love of good interior design. She is now a fully fledged food PR but still writes for Homes & Gardens as a contributing editor.