What are good things to have in a dorm room? 5 top tips to make you feel right at home
Explore our list of good things to have in a dorm room to ensure you design the dorm of your dreams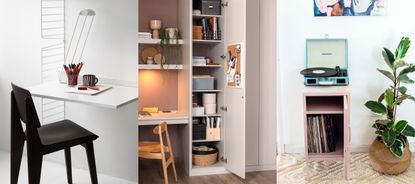 (Image credit: String Furniture | Sharps | Antipodream, Mustard Locker)
Sign up to the Homes & Gardens newsletter
Decor Ideas. Project Inspiration. Expert Advice. Delivered to your inbox.
Thank you for signing up to Homes & Gardens. You will receive a verification email shortly.
There was a problem. Please refresh the page and try again.
An exciting new chapter and venture, moving away to college comes with a lot of planning and preparation, with one of the key elements to consider being, what are good things to have in a dorm room?
Your home away from home, your dorm room will become your main base on campus, and you want the room to feel like a welcoming and relaxing retreat away from the business of college.
When planning your dorm room ideas, in order to make the space feel organized and unique to you, there are some key things to bring with you that will help make the most out of the space available, as well as create a stylish and unique setup, just like bedroom ideas for teenagers.
What are good things to have in a dorm room?
From the importance of storage to the creativity that can be had with artistic decorations, our ideas are great for both teenage girl bedrooms and teenage boy bedrooms.
So, for some inspiration for your space, explore our five top tips for ideas of good things to have in a dorm room.
1. Start with storage
You'll be used to having belongings stored in multiple locations in your home, but you will need to condense these down so they can all easily fit into just the one dorm room – this may sound impossible but don't worry, it can definitely be achieved! So, one good thing to have in your dorm room is lots (and lots) of storage designed specifically for organizing a bedroom.
Most dorms are designed with built-in storage areas, many feature high beds with underbed storage, and large built in desks, closets and shelving areas. However, it pays to bring your own boxes, baskets, crates, clothes and closet organizers to ensure that your possessions are stored and displayed in a neat and accessible way.
'Small bedroom storage ideas come in many shapes, sizes and designs, so being smart about the storage in your dorm room will make the world of difference – as the saying goes, a tidy room is a tidy mind,' says Homes & Gardens' digital editor, Jennifer Ebert. 'Closet organization ideas will be key, since this is the biggest storage opportunity, so need to be maxed out. We really like Amazon's closet organizers, which offer plenty of choice and which suit a student's budget.'
Ensure to purchase storage designs and plan storage ideas that seamlessly fit into your dorm room and have a proper purpose, rather than creating more mess with things that you do not need.
2. Uplift the space with lighting
Lighting is one of the most important aspects of a room. From purposeful task lighting when studying at your desk, to cozy, ambient light when relaxing in bed, ensuring you have multiple light sources in your dorm room will not only make it feel more inviting, but can help to zone the space, creating a healthy separation between different areas of the room.
Small bedroom lighting ideas are often made up of a large, bright main light, such as a pendant or a series of spotlights, and other, alluring pools of light, such as bedside and floor lamps.
For a dorm room, a desk lamp can help you to productively study at all times of day, or if it works for you, through the night! If space allows, a floor lamp can also bring in both welcoming and functional lighting. As shown at the desk above, the sleek, black floor lamp by Pooky, neatly slots beside the desk and does not take up too much room. The practical lighting designs shown at this desk also add a stylish, contemporary character to the space.
Decorative and atmospheric lighting, from string lights to novelty neon signs and colorful LEDs can transform the look and feel of your dorm space, helping the transition from studying and working to relaxing and socializing. Again, Amazon's dorm room lighting range is wide, imaginative and fun.
3. Bring in coziness and comfort with your bedding
The bed in your dorm room is probably going to be the largest piece of furniture and the one feature that commands the space in the room, so enhancing this area with colorful, eye-catching bedding, scatter cushions, blankets and throws will make for a stylish sleep space and the coziest of settings.
'Your bedding can also help to center a color scheme. If you have a bright, patterned design, like this beautiful Jody set from Anthropologie, use similar colors for other objects and decorations around the room, guaranteed to create a stylish, well-thought out and cohesive look,' says Lucy Searle, Homes & Gardens' editor in chief.
To elevate your bed ideas for your dorm room one step further, many students purchase unique headboard designs to neatly slot behind the bed to add extra comfort, texture and style to the space; those with built-in storage are a clever buy, in particular.
4. Ensure you have all the studying essentials
The main reason you are attending college is to study... right? Of course! So, ensure to have everything you need in your dorm room for a productive study session, whether that's because you prefer working from home, or just can't get a seat in the library.
Many dorm rooms come with built in desk spaces and chairs, but it is down to you to style these areas so you have a well-equipped, inviting space you can sit and work from.
Desk calendars, bulletin boards, notepads, desk organizers, pens and paper, as well areas to keep your books, laptop, computer, keyboard and mouse, are just some of the tools required and things to remember for organizing a desk and studying in your dorm.
If you want to mix things up a little and study from your bed or another chair rather than sitting at your desk, there are many lap desk designs (Amazon's lap desks are very reasonably priced) that can help make studying more comfortable and productive.
5. Don't forget the decorative accessories
For many, one of the most exciting parts of moving into a dorm room is getting creative with decorative decorations and ways to make the room feel truly your own.
So, good things to have in a dorm room also include unique wall decor ideas such as wall hangings, mirrors, decals and galleries of photos, beautiful ornaments, indoor plants and meaningful objects; there is great fun to be had when decorating your dorm room.
These simple yet meaningful finishing touches can help transform your dorm room from a blank canvas into a space bursting with character and personality. Decorating your dorm is a chance to experiment with colors, design ideas and pieces that bring you joy and happiness, so go all out to create a stylish sanctuary that showcases who you are.
What should I have in my dorm room?
There are some dorm room must-haves that we haven't covered above, and these include extension cords and power strips, a first aid kit and your own pillow from home. All of these will make college life easier, safer and more comfortable. Amazon's dorm room essentials include all these buys and more.
How can I make my dorm room better?
As we have explored, there are many good things to have in a dorm room that can make it better.
Dorms are fitted with only the basic essentials, usually a bed, closet, desk and chair, so it is completely down to you to style the space to make it look how you would like.
To make your dorm room more homey and cozy, bring in heaps of texture through soft furnishings and decorate with personal mementos such as photographs and meaningful ornaments.
You want your dorm to be both aesthetically pleasing and able to store all of your possessions with ease, so make sure you have organized storage systems in place so the room does not feel cluttered and overwhelming.
What should you not buy for a college dorm?
When considering what you should not buy for a college dorm, remember these rooms are not the biggest of spaces, so you do not want any large, unnecessary furniture items taking up space.
When packing up your things at your current home, you will have to carefully consider what will be able to fit into your new dorm room – you won't be able to bring everything! So, ensure that every item in your dorm has a purpose, from storage to decoration, you will then have the perfect balance and hopefully a well designed space that can stand the test of time as your enjoy your studies at college.
Sign up to the Homes & Gardens newsletter
Decor Ideas. Project Inspiration. Expert Advice. Delivered to your inbox.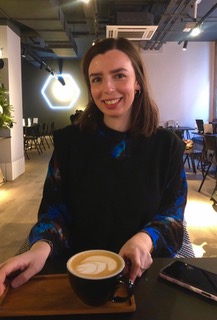 Zara joined Homes & Gardens in February 2022 as a Content Editor. After studying English Literature at University, she worked as an Ecommerce Website Editor, Content Writer and Buying Intern at multiple independent businesses within the luxury retail and lifestyle sectors. Her role at Homes & Gardens unites her love, experience and passion for the world of design and desire to create inspiring written content. She enjoys nothing more than discovering new trends, brands and products, whether that be in fashion, interior design or lifestyle.