Closet organizers – 7 ways to showcase outfits and maximize storage
These closet organizers are the most stylish way to integrate more storage options into your space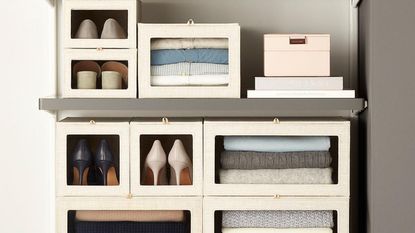 (Image credit: The Container Store)
Closet organizers enable you to arrange your clothes and accessories in a refined way, with your sense of style maximized in the way you can now keep your outfits. They can make your clothes storage element an integral part of your decor too, and let you work your shoes or dress collection into the carefully constructed look of your closet.
There are so many ways to integrate closet organizers into your pre-existing storage unit, as well as a myriad of options to easily work with a blank space. That includes options with shelves and cabinets to keep your things neat, as well as hanging elements to keep clothes crease-free. Genius closet organization ideas make mastering the art of storing your clothes and shoes instantly easier, and here we've listed seven products to help you focus on how to arrange your prized outfit pieces.
---
7 closet organizers to revolutionize your clothes storage
1. Freshen up your wardrobe with this closet organizer unit
2. This hanging closet organizer is crafted for extra shoe storage
3. This closet organizer has drawers to keep your folded laundry within reach
4. A closet organizer for purses provides a solution for your storage woes
5. This closet organizer for accessories is the ultimate way to store extra elements
6. This closet organizer divider is the simplest way to bring calm to your space
7. This closet organizer is crafted specifically for protection against dust
---
Browse more closet organizers...
Each closet is different and each space comes with unique challenges when it comes to perfectly organizing in order to complement your design vision. If you're still searching for the perfect organizer to keep everything in its place, browse below to source something for your needs.
Molly is the Ecommerce Writer for Homes & Gardens and spends her time searching the internet for the next best thing for your home, with a focus on shopping edits and buying guides. Before joining Homes & Gardens, Molly graduated from the University of Exeter with a degree in English Literature, with previous internships undertaken at The Economist in her summer breaks.