Teenage boys' bedroom ideas – 10 tips for seriously cool sleep spaces
Make it personal with teenage boys' bedroom ideas, and you'll create a space that encourages them to be their authentic selves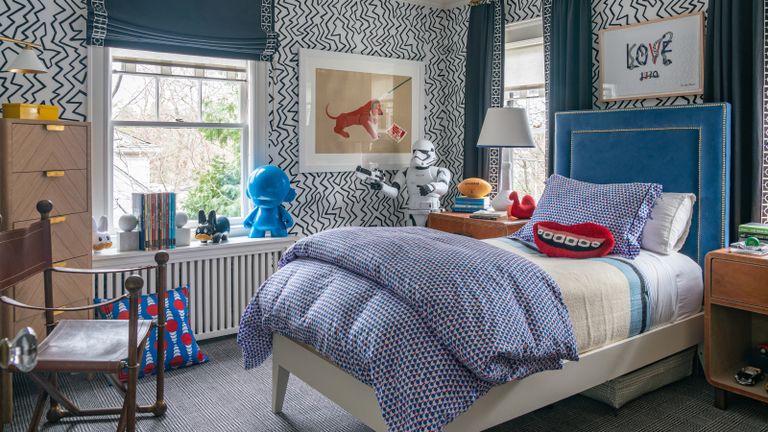 (Image credit: Liz Caan/Eric Roth)
If you're stumped for teenage boys' bedroom ideas, we don't blame you. Unravelling the mind of a teenager is no mean feat, especially when it comes to working out their likes and dislikes, which have a habit of changing from week to week.
As they become more independent, it's hugely important that teenagers have a space in the house that feels like their own. Working out which bedroom ideas will go the distance and last them for years is tricky, but collaborating closely with them on creating the space will give them ownership and responsibility over the room.
Excitingly, redecorating a room can be the biggest creative endeavor they've ever taken on, and a great way to encourage them to come out of their shell and display their personality and passions to the world.
Teenage boys' bedroom ideas
From adventure-inspiring wallpaper designs to color schemes that feel both modern and mature, we found some seriously cool inspiration for your teenage boys' bedroom ideas and asked the experts to share their top tips.
1. Choose artwork they can relate to
An important part of all kids' bedroom ideas is creating a space that feels tailored to them. Artwork is a great way to make a space feel unique and personalized. 'I like finding things they can relate to like vintage concert posters or bandanas,' says interior designer Liz Caan. 'They can hang their instruments if they play one. I also love buying art that is graphic and bold and that appreciates, like vintage fashion posters for example.'
In this example, the wall art has been chosen for a young car enthusiast – from photographs of contemporary Ferraris to a vintage Route 66 sign – with colors from the art echoed in the rest of the decor.
2. Make a statement with wallpaper
'I love wallpaper in a teen room,' says Caan. 'I feel like it creates an immediate energy and vibe and helps them really showcase their personality.'
If you want to communicate a passion in a big way, wallpaper is a great technique for making an impact and works just as well with bedroom ideas for girls. Work with your teen to choose a bold, graphic print, or even choose a muralistic pattern. In this room, wallpaper is used on the ceiling rather than the walls and mimics a global Atlas, inspiring dreams of future travels and providing some under-the-radar education too.
3. Use bolder blues as electric accents
Blue has long been a popular choice in bedroom ideas for boys, but that doesn't mean you can't approach the color in a fresh, modern way. 'I typically use blue as an accent and I love it with black – very chic,' says Caan. 'In a younger child's room, a more energetic electric blue can be really fun and I find as they get older, they usually gravitate towards deeper moodier blues.'
In this room created by Caan for her young teenage son, blue punctuates a pattern-filled decor scheme, and ranges from a cerulean upholstered headboard in lustrous velvet, to a subtler teal on the blinds. The whole scheme is given even more energy by the black and white zigzag wallpaper.
4. Create a desk space for quiet concentration
We've all had to think a little more about home office ideas recently than we might have expected – but, pandemic or otherwise, teenagers will always need a space to do homework at least. That's why it's really important to plan desk space in and among your bedroom ideas for teenagers, and ensure that it is a part of the room that is pleasant to spend time in.
In this bedroom, a feature chimney breast is covered in a concrete-effect wallpaper for an industrial vibe, while the desk and chair follow a cool, mid-century modern aesthetic.
5. Shut out the light to help their sleep routine
If there is something that teenagers are worse at than tidying up, it's keeping a healthy sleep routine. Creating a space to wind down in is an important aspect of all bedroom design, and ensuring natural light stays out will aid sleep – for kids, consider using shutters rather than curtains.
'We're seeing more and more customers having carefree fun with colour on their shutters in bedrooms – particularly in teen rooms,' says Chrissie Harper, Customer Experience Manager at California Shutters. 'Opting for a calming color allows you to achieve beauty and a calming space to help get some shut eye. A playful but mature color will age beautifully over time.'
6. Follow a theme for a sense of adventure
Children's bedroom wallpaper ideas are a great way to help underpin a themed room – but their usage doesn't need to stop when they reach their teens. Creating a subtle theme across a teenager's bedroom decor will help create coherence and encourage them to follow a dream.
In this room, a sense of adventure is encouraged in a loft bedroom where forest wallpaper makes it feel like you are peeking out through the doors of a tent, with model airplanes, helicopters and aviation-themed poster art providing inspiration for a possible future pilot.
7. Give neutrals a cool edge with grey
Color schemes for teenage boys are tricky, but lean into a cool neutral and it's difficult to go wrong.
Grey bedroom ideas are trending from nurseries to adult bedrooms, lending a modern, fresh take on pared back schemes. In this bedroom, greys in both warm and cool tones are brought together for a subtly cozy aesthetic that doesn't stray too far into the homely. Keeping the decor clean and simple will help create a sophisticated aesthetic for older teens.
8. Create interest through layered textures
For teen boys who aren't so keen to commit to passion-led decor or just want to keep it subtle, create a grown up aesthetic through layering textures rather than bold patterns. In this room, blue paneled walls painted in a gloss finish are paired with denim bedding, herringbone tiled wooden floors, a mid-century modern bedside table with a beautifully grained wooden top, and an exposed bulb bedside light. The effect is a semi-luxe approach to utilitarian style, which can be easily personalized with framed artwork.
9. Embrace the dark bedroom trend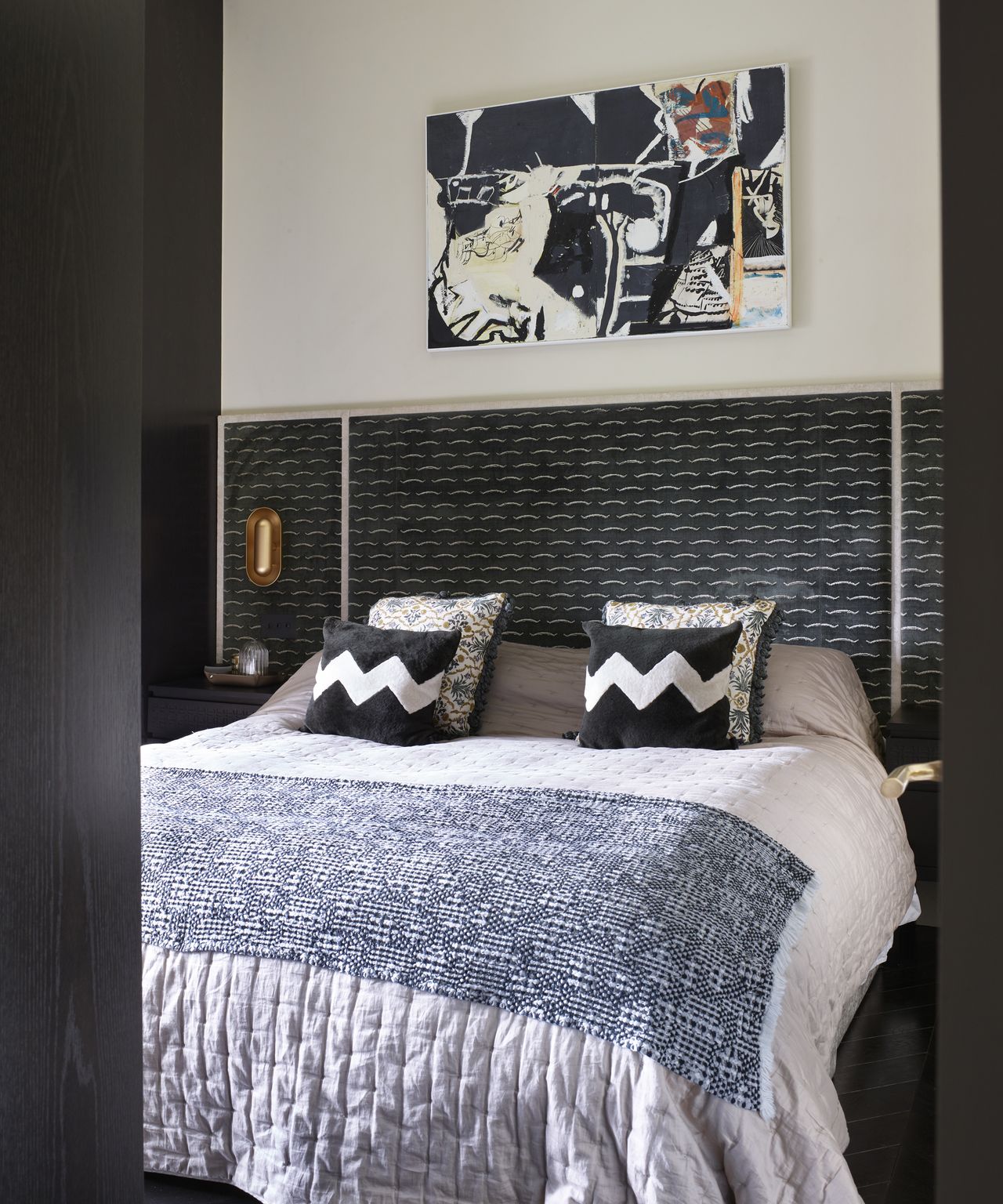 Far from being the reserve of moody teenagers, dark bedroom ideas are taking a chic turn across interior trends for adults. This means there is plenty of inspiration out there for those looking to make a teen's desire for a dramatic bedroom scheme look stylish. Black is making real waves in bedroom decor, so try it out as a feature wall or headboard like in this room, teamed with crisp white accents, graphic patterns and tonal variations to add softness.
10. Use open shelving for self expression
Planning a teen's decor to the nth degree is never going to work – you'll need to leave them some space to tinker and alter the look of their room as they grow with it. Making art easy to interchange is an important part of this – choose multiple smaller pieces rather than one or two big pieces – and implementing open shelving that they can stack at will is a great way to turn bedroom storage ideas into a means of self-expression. Encourage them to reserve the shelves for objects that are aesthetically pleasing and that convey their passions.
How do you style a teenage boy's room?
First and foremost, you need to follow their likes and dislikes. Choose a color scheme that reflects them, but one that is likely to grow with them also – if they don't have a strong chromatic preference, choosing cool neutrals like white and grey are great for building onto with darker or colored accent pieces that are easily swapped out as they age.
Keeping decor simple is a good way to create a timeless blank canvas onto which they can bring in more personalized decor. Graphic prints are perfect for wallpapers, bedding and scatter cushions as they will continue to feel modern and fresh into their latter teens, while more personality can come through artwork that they've chosen – frame posters to give them a grown-up upgrade.
How can I make my teenager's bedroom look good?
As well as following the above styling advice, ensure their room is fitted with tons of storage. Teenagers are famously untidy, but ensuring there is a place for everything to be put away will help encourage them to keep their space looking and feeling good. For items they might have outgrown but aren't sure about throwing away just yet, try underbed storage through fitted drawers or an ottoman style bed.
Ailis started out at British GQ, where a month of work experience turned into 18 months of working on all sorts of projects, writing about everything from motorsport to interiors, and helping to put together the GQ Food & Drink Awards. She then spent three years at the London Evening Standard, covering restaurants and bars. After a period of freelancing, writing about food, drink and homes for publications including Conde Nast Traveller, Luxury London and Departures, she started at Homes & Gardens as a Digital Writer, allowing her to fully indulge her love of good interior design. She is now a fully fledged food PR but still writes for Homes & Gardens as a contributing editor.