Dorm room ideas – 11 ways to make this space truly your own
Transform your dorm room from bare to beautiful with our favorite dorm room ideas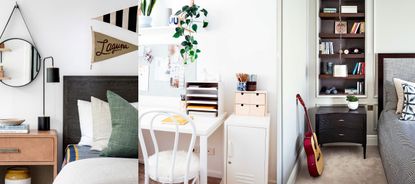 (Image credit: Lindye Galloway Studio, photography by Chad Mellon | Antipodream, Mustard Locker | Time Inc (UK) Ltd)
Our dorm room ideas can help you to create your very own stylish sanctuary and home away from home on campus.
Often compact rooms defined by a minimalist, functional design that contains only the essentials, a dorm room is space crying out for decoration and creativity.
More than just a tiny bedroom, a dorm room is a place for relaxing, socializing and of course, studying, so finding the perfect balance between style and practicality is key when planning your bedroom ideas for teenagers.
Exploring dorm room ideas, whether you're looking for teenage girl bedrooms or teenage boy bedrooms, and ways to make this small bedroom feel more homey and personal will ultimately create a more inviting space that you will want to spend time in.
Dorm room ideas
From taking inspiration from beautiful bedroom ideas, to decorating with plants, our dorm room ideas explore the fun that can be had when decorating and planning a design for a dorm room.
1. Make it personal
This may seem obvious, but bringing in decorative objects, meaningful mementos and designs that spark joy and happiness will help to make your dorm room feel more personal and unique - as well as remind you of home.
From styling a shelf with ornaments, to having pieces such as instruments, paintings or record player, a curated collection of decorations can make the world of difference in a dorm.
Peter Erlandsson, co-owner of String Furniture says 'shelves should be a reflection of our personalities and exhibit the objects that we have collected throughout our lives. Selecting just a few beautiful pieces to display can make the most decorative impact and be the most sentimental. Coordinating different colors on your shelves is another simple and effortless way of making these pieces stand out and decoratively tie a room together.'
As shown in this room, both the decorated, colorful shelf and guitar placed on the floor create characterful focal points and a personal touch to the space.
2. Choose a relaxing color scheme
A place to relax on your own and with friends, as well as an area to study and sleep, a dorm room is a truly multifunctional space, and a relaxing color palette can help to make the room feel more calming and tranquil.
Whether you choose to decorate with neutrals, or embrace a muted, pastel color scheme like in the beautiful room above, a more relaxed color palette can be both timeless and therapeutic.
3. Create an area for study
Creating a comfortable area where you can sit and study is one of the most important features of a dorm room.
'With many dorms already fitted with built in desks, if yours is without, it is definitely worth investing in a compact, adaptable desk design and desk chair that can grow with you throughout your time at college,' says Homes & Gardens' editor in chief Lucy Searle.
When organizing a desk, ensure the space is clutter-free and you have enough room for your laptop or computer, books and desk organizers – finish with a plant and table lamp and you will then have the perfect desk feng shui.
4. Make the bed cozy and inviting
The bed is often one of the largest pieces of furniture in a bedroom and central design element in a room, so making your bed cozy and inviting will not only make for a better night's sleep, but can add tactile texture, color and pattern to your dorm room.
From colorful covers to soft throws and scatter cushions, bed ideas can be a great way to get creative and show off your personal style, so be sure to make the most out of your sleep space.
5. Keep things practical and beautiful
There is no reason why you cannot add small touches of luxury to your dorm room, as after all, it is a space you spend a lot of time, so it pays to make the room feel both practical and beautiful.
From decorating with mirrors, to a beautiful table lamp or bedroom rug ideas, these simple, elegant touches can bring joy as you step into the space, and create a stylish, design-led focus in the room.
6. Incorporate additional storage
If it's one thing that a dorm room needs plenty of, it's storage. Condensing a collection of belongings from your home into a new, small room is no mean feet, so it is worth cleverly thinking about creative storage ideas so your dorm room feels organized and spacious.
From modular shelving, to underbed storage ideas, there are many options for small bedroom storage.
Peter Erlandsson says, 'many forget that storage can be part of the interior design scheme and by displaying and styling our objects, we can merge function with decoration.'
In this room, a sleek and stylish locker from Antipodream by Mustard Made Lockers, creates a handy storage space beside the desk, as well as another practical surface area to rest other objects, ideal for books and stationary. A timeless design that can adapt with you as you move from dorm to off campus, bringing in additional storage pieces to your dorm room can both elevate it's style and keep the space tidy and clutter-free.
7. Decorate the space with plants
Decorating with plants and flowers in the home is renowned to bring a positive, uplifting energy to a space, as well as beautiful natural life, texture and color.
With so many to choose from, from small succulents to beautiful grasses, there are many bedroom plants that can transport the beauty of the natural world into your dorm room.
Choosing how to store and display your plants can also add a beautiful decorative element to the space, whether you use ceramic plant pots, woven baskets, or plant hangers on the walls and ceiling.
Aesthetically pleasing and mood enhancing, adding plants to your dorm room can be the perfect finishing touch. For more plant inspiration, explore our best indoor plants guide.
8. Add decoration to the walls
From photographs, wall-hangings, artwork and twinkle lights, the walls in your dorm room are a canvas for creating unique, artistic displays that reflect your personality and style.
Adding color, texture and originality to your dorm room, bedroom wall decor ideas can uplift a bland bedroom with unique visual interest and personal expression.
9. Keep a twin dorm zoned and organized
If you are sharing your dorm room with another person, organization and communication is key for twin bedroom ideas, to ensure you have enough room and space for all of your belongings, as well as comfortable areas for you both to relax, study and socialize.
To help zone a dorm room and add a degree of separation, designs such as a folding screen or a canopy or curtains to add to your bed can be a great way to add privacy.
'If you are sharing with someone who has a similar style to you, why not collaborate for your dorm room ideas and choose matching bedding and storage designs, guaranteed to help make the space feel more cohesive, balanced and visually appealing,' says Jennifer Ebert, Homes & Gardens' digital editor.
10. Choose multipurpose designs
As we have discussed, one of the most important features of a dorm room is maximizing on the space available, and embracing clever storage ideas and hacks that create more room.
Choosing multipurpose designs will condense the amount of objects and furniture pieces in your dorm room and help to keep the room feeling more spacious, organized and functional.
From adaptable shelving, such as the innovative desk and shelving unit shown here from String Furniture, to beds and stools that contain hidden storage compartments, duel-purpose designs are perfect for more smaller, compact spaces.
11. Bring your own headboard
A popular dorm room idea that adds luxurious comfort and an element of texture and stylish design to the bed, as well as to the overall room, many students bring their own headboard ideas to their dorms to neatly slot behind their beds.
There are an array of beautiful patterned designs available from brands such as Dormify and Dormco which can really elevate the space with beautiful color and pattern. With many headboards also incorporating clever features such as charging ports, a headboard can be both a beautiful and practical addition to your dorm room.
What are good things to have in a dorm room?
As we have explored, your dorm room should contain the perfect mix of practical must haves and decorative designs that add character and personality to the space.
Practical items include storage zones for clothes, shoes and toiletries, as well as a place to sit and work and areas you can store your studying equipment.
Bedding of course is an essential, but it is also a chance to get creative with color and design, so choose inviting sets that reflect your style.
Then it's time for the fun stuff! Making your individual mark on the room and choosing decor such as wall art, lights and ornaments will make the room truly feel like home, so get creative and start planning your dorm room ideas for a welcoming and stylish space.
For more inspiration, see our what are good things to have in a dorm room guide.
Should I decorate a dorm room?
You should absolutely decorate you dorm room. Moving away to college is a big change, and creating an inviting, relaxing and unique dorm space will help to make this new room feel just like home!
Exploring dorm room ideas is an exciting opportunity to purchase practical pieces and fun designs to curate a stylish new bedroom that will stand the test of time throughout your studies.
Sign up to the Homes & Gardens newsletter
Decor Ideas. Project Inspiration. Expert Advice. Delivered to your inbox.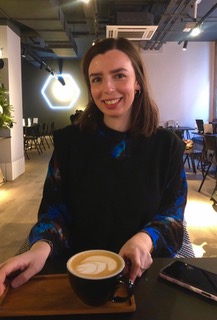 Zara joined Homes & Gardens in February 2022 as a Content Editor. After studying English Literature at University, she worked as an Ecommerce Website Editor, Content Writer and Buying Intern at multiple independent businesses within the luxury retail and lifestyle sectors. Her role at Homes & Gardens unites her love, experience and passion for the world of design and desire to create inspiring written content. She enjoys nothing more than discovering new trends, brands and products, whether that be in fashion, interior design or lifestyle.