Organizing a desk – 10 ways to keep your office in order
Whether you're organizing a desk for WFH, studying or just keeping on top of household paperwork, clutter management is key to boosting productivity…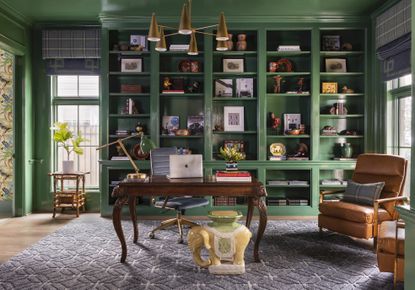 (Image credit: Creative Tonic Design)
Organizing a desk well is at the heart of any home office area that is designed with efficiency in mind. The ultimate desk will support you through the working day by keeping essentials close to hand, without disrupting creativity or flow.
Ideas for organizing a desk are all about allocating a place for everything so that it's easy to maintain order. But a neatly organized desk is also about adopting best practices, like daily tidying, monthly clear-outs and going paperless wherever possible.
Working in a restricted space isn't necessarily a bad thing as it forces you to be more organized with your home office ideas – if you don't take control of clutter, it will quickly take over your desk making it hard to focus! A well-organized desk allows you to quickly find what you need for a specific task, making it easier to focus and get on with the job in hand as quickly and efficiently as possible.
'Study spaces that are kept clutter-free are calm environments to work in, so designing appropriate storage, where paperwork, files or IT equipment such as printers can be tucked away is functionally important,' says interior designer Charu Gandhi, founder of Elicyon.
Organizing a desk
Desk organization ideas are key to organizing a home office and, here, we provide tips from the experts to help make working from home as productive as any professional workplace – but with added comfort and style.
So before you remodel your home office or start hunting for new home office desk ideas, see if you can't create a transformation just with these tips. Otherwise, a desk organizer (or two) might make this job a little simpler.
1. Install a spacious corner desk
One of the best ways of achieving an organized desk is to ensure it's big enough for your needs. An L-shaped desk allows plenty of clear workspace in front of you, while keeping everything you need close to hand. Interior designer Beth Dadswell, director of Imperfect Interiors, created this built-in corner desk for her own home office.
'It allows me to be flexible about the position of the chair and provides loads of useable worktop,' she enthuses. 'Painting the desk the same color as the walls helps it to blend in quietly for a serene workspace.'
Choose a swivel chair on wheels for easy access to the desk's entire surface.
2. Build in lighting
Every good home office setup calls for decent task lighting – an essential addition to any office area – but desk lamps, and their trailing cables, can take up precious counter space.
For interior designer Fiona Duke, integrated home office lighting ideas are the way forward. 'If you're commissioning a bespoke home office, it's always smart to include built-in lighting. Not only will it free up space on your desk, but you can achieve a more even distribution of diffused light, which is better for computer work than a single light source,' she says. 'Position built-in downlights roughly above where your keyboard will sit to avoid shadows on the monitor screen.'
Good lighting can also assist in organizing a bookshelf in a home office allowing you to locate reference materials and the volumes you keep in the space.
3. Go high with a desk organizer shelf
If you can't spare space for a wide desk, focus on the vertical footprint instead and take storage right up to the ceiling. 2LG Studio founders Jordan Cluroe and Russell Whitehead keep the desk in their own home clutter-free with a mix of open and enclosed storage overhead.
The high, sturdy shelf is strong enough to hold box files in frequent use, while the cabinet above hides away bulk-buy office supplies. 'This design idea is particularly effective in homes with high ceilings – anything above 2.4m – as you can achieve decent storage without feeling claustrophobic while you work,' explains Jordan. 'We always recommend including a narrow drawer beneath the desk, too. It only needs to be 20cm tall to comfortably store pens and notepads and will help encourage a clean desk.'
4. Organize a desktop with designer accessories
While a paperless office is the dream, there are still many companies and job roles that require a paper trail – all neatly organized and filed away of course. In this situation, a hole punch, stapler and perhaps paperclips need to be instantly accessible, ideally within arm's reach on the desk.
In a domestic setting, desktop accessories should be as attractive as they are functional. Think luxury pen holders, letter trays and stationery in on-trend materials like brass, bronze and leather. Even if they're not required on a daily basis, beautifully designed desk accessories are a worthy investment that can prove mood boosting and help get you motivated for a productive day's work.
5. Tidy up cable clutter
Cable clutter, both on the desk and underneath it, can really take the shine off a beautifully organized desk space. While the advent of Bluetooth and Wi-Fi has certainly reduced the number of cables required, most people still have multiple phone chargers, monitors and laptops hard-wired beneath their desk. There are several ways to corral cable chaos into order but one of the most satisfying solutions has to be a desk with integrated cable tidies. This clever home office designed by Albion Nord features just such a desk, with leads and the power supply neatly concealed inside.
If a new desk isn't on the agenda consider cable management pipes, which hide numerous cables within neat ducting. Look for paintable versions that adhere to the wall but don't forget to label plugs according to the device they power to make them easy to isolate if required.
6. Wall mount your monitor
Organizing a desktop is sometimes as easy as mounting your computer screen to the wall to achieve a clean, neat space, particularly if you work on two or more monitors.
'Mounting the monitor can make significant space savings in a smaller home office, allowing a narrower desk and thus more floorspace for your chair and other furniture,' adds interior designer Angela Simpson, co-director of Simpson & Voyle.
Opt for adjustable mounting brackets that can be pushed out of the way when required and also adjusted to the perfect height for ergonomic comfort. To check your monitor is suitable for wall-mounting simply look for four screw holes in the back, which will be positioned to fit universal wall brackets.
7. Embrace a pinboard
Digital calendars and alerts are all very helpful but there's nothing like a visual reminder of important events, schedules and meetings to keep you feeling ahead of the game and super organized. A strategically placed pinboard above your desk area will help keep you on track and can also be used to host photos, paint charts and postcards that would otherwise litter your desk, great for dorm room ideas.
This upholstered example, in the home office of interior designer Sarah Peake of Studio Peake, demonstrates a sophisticated approach that looks as good when fully loaded with her swatches and samples, as it does empty.
8. Hide the printer with an under desk organizer
There's nothing pretty about a printer but most households need them, even if it's just for churning out returns labels and spelling tests. Instead of allowing a bulky printer to clutter up your desk, collecting dust, why not install a clever printer cupboard as part of your sleek home office set-up?
This clever bespoke design by Barbara Genda features integrated power points and a pull-out shelf for the printer, allowing easy access for photocopying and scanning. If you don't have sufficient space near your desk, don't forget that a Wi-Fi connected printer can be hidden away elsewhere in your home.
9. Max out every inch with desk organizer trays
A desk that mixes up the storage options will make light work of staying organized. This stylish workspace by Figura may not be very big, but it packs in plenty of storage, both hidden away and open access.
Cubby holes are great for storing reference books, instruction manuals and any household paperwork that needs actioning, while drawers are the place to file away items you don't need on a daily basis. We love the magnetic chalkboard here – perfect for leaving family reminders and compiling shopping lists.
10. Adopt a clean desk policy
In the workplace a clean desk policy is generally more about removing sensitive business information and putting important files back where others can find them than tidiness. However, it's a great working practice that translates well in the home, helping to prevent documents, print outs and notepads piling up over the weeks.
The process is simple, at the end of each day you clear the workspace down, only leaving permanent fixtures like IT equipment on show. You might even consider investing in a built-in screen lift, which will electronically hides the monitor down inside the desk at the press of a switch.
In practice it may take a little while to master, but the five-minute task is a great way to transition your brain from work to home mode on the days you don't commute. Ensuring ample storage close to hand will speedy up the process but don't be tempted to sweep everything into a drawer. Allocating a place for everything will take the stress out of logging in the following morning.
How should I organize a small desk?
To organize a small desk and, more importantly, keep it that way, you need to embrace a tidy mindset. With less room to spread out, it's more important than ever to keep it clear.
'Try to only have out want you need for the task in hand. If you work with lots of paper, get some in-trays to separate work projects and home paperwork,' says designer Dyfed Price, of Morph Interior.
'If there's space for slimline desk organizer drawers beneath the desk, use internal organizers to keep contents under control and prevent smaller items like pens and staples getting lost at the back of drawers.'
A portable cart next to the desk adds storage and can be wheeled out of the way and 'parked' elsewhere when not in use.
Hidden desk ideas are the most minimalist of ways to make the most of small desk organization, with clutter hidden within the desk – and even the desk itself a subtle addition to a room.
How do I maximize my desk space?
One of the most effective ways to maximize your desk space is to go paperless. Scan important files (most phones have a scanner or you can download a scanner app) and store them on your computer, ideally backed up to the Cloud.
Next, invest in a desk-top organizer for pens and other peripherals – as stylish as you can find – to encourage tidiness. A laptop or monitor stand will provide a little extra space beneath for a notepad or two.
If you still lack space on the actual desk, a wall organizer with plenty of storage cubbies will take the strain. A pegboard system is great for hanging scissors and other stationery without getting in your face. Install shelves higher up, at least 3-4 inches above your forehead when sitting, so the shelves don't loom over you while you work.
Be mindful that you're not trying to make space for more than you need, though. It's easy to accumulate too much on a desk, so declutter first.
Sign up to the Homes & Gardens newsletter
Decor Ideas. Project Inspiration. Expert Advice. Delivered to your inbox.
Linda graduated from university with a First in Journalism, Film and Broadcasting. Her career began on a trade title for the kitchen and bathroom industry, and she has worked for Homes & Gardens, and sister-brands Livingetc, Country Homes & Interiors and Ideal Home, since 2006, covering interiors topics, though kitchens and bathrooms are her specialism.