Organizing a bookshelf – 15 ways to keep on top of your tomes
Keep books in check with these novel ways of organizing a bookshelf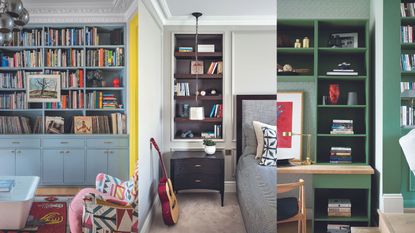 (Image credit: Future)
There's no one-size-fits-all approach to organizing a bookshelf. Whether you sort alphabetically, by genre, in height order or something else entirely, if you can find what you need and you're happy with how it looks, that's all that matters.
As part of organizing a living room, good-looking bookshelves can truly lift the spirits – and encourage us to pick up a book more often too.
'Having books on display really adds a homely feel to any interior scheme. How you organize them really comes down to personal taste – there are no right or wrong answers,' says Adam Brown, Director at The Painted Furniture Company.
Depending on how many books you have in your collection, organizing a bookshelf will likely take you the better part of an afternoon to do well. However, once you've decided on a system that works for you, it's easy to keep it looking artful, particularly when complemented by meaningful keepsakes, photos and artwork.
Organizing a bookshelf
We've compiled the best expertise to help you realize your bookshelf ideas and create a library-worthy level of bookshelf organization that's not just practical to use, but beautiful to look at as well.
1. Edit your book collection
A common mistake when organizing a bookshelf is to try to fit in your entire book collection. This often results in a haphazard arrangement that makes it impossible to create orderly book storage ideas. Set yourself up for success by starting with a good decluttering session. Empty your shelves completely and give them a good clean.
According to the KonMari method, you should only keep books that bring you joy – everything else should be donated or gifted.
Most public libraries will accept book donations to sell at their semi-annual book sales, while children's books can go to area preschools and local school aftercare programs. Certain charities won't accept books, so check in advance,' advises home organizer Ben Soreff, founder of House to Home Organizing.
If you're still struggling to decide, we recommend creating a 'maybe' pile. Position these away from your 'keep' collection temporarily, perhaps a week or two, somewhere you can easily see them, then take your time deciding whether to move any of them over to your main collection.
2. Order books alphabetically
There are several ways to order books, so think about what makes the most sense for your home library ideas. If it's a bookshelf that you frequent regularly, we'd recommend an alphabetized system. It might not be the most creative way to arrange and organize books, but it certainly makes it quick and easy to find what you're looking for.
If you're alphabetizing based on the book's title, you'll likely have quite a few books that start with 'A' and 'The', so you're best of leaving out the first word and organize based on the second word in the title instead. Be sure to let everyone in the household know to avoid any confusion.
Another option is to arrange alphabetically based on the author's last name, like they do in bookshops and libraries. The only downside is remembering who wrote what… but if you're someone who has a few favorite authors, this might be the system for you.
3. Group by genre
Whether you're designing a home library, or you're the sort of person who often picks books based on your mood, organizing books by genre is a great idea. You could keep it simple, fiction and non-fiction for example, or break things down into general categories: action, mystery, romance, fantasy and so on. There's likely to be some cross-over, so keep a log of where you've filed your books for ease.
4. Create a rainbow effect
Organizing a bookshelf in order of color is not the most practical method but it's certainly the most aesthetically pleasing and one way to style a bookshelf. Unless you're someone who remembers books based on their covers, we'd recommend reserving it for bookshelves you don't access very often.
To create a stylish ombre effect, organize book jacket colors from dark to light, bottom to top – black, navy and charcoal books on the top shelf, white on the bottom, with all the colors in between. If you don't have the book collection – or the inclination – to create a full rainbow spectrum, simply color block your shelves to complement your room's color palette.
If you're organizing a bookshelf with children in mind, professional organizer Kathryn Lord of More to Organising says:
'Color coordinating your bookshelf means your child can easily put things back. It also means they can find their favorite book without pulling everything out as even before they can read, they know what color their favorite book is'.
5. Reserve prime space for favorite books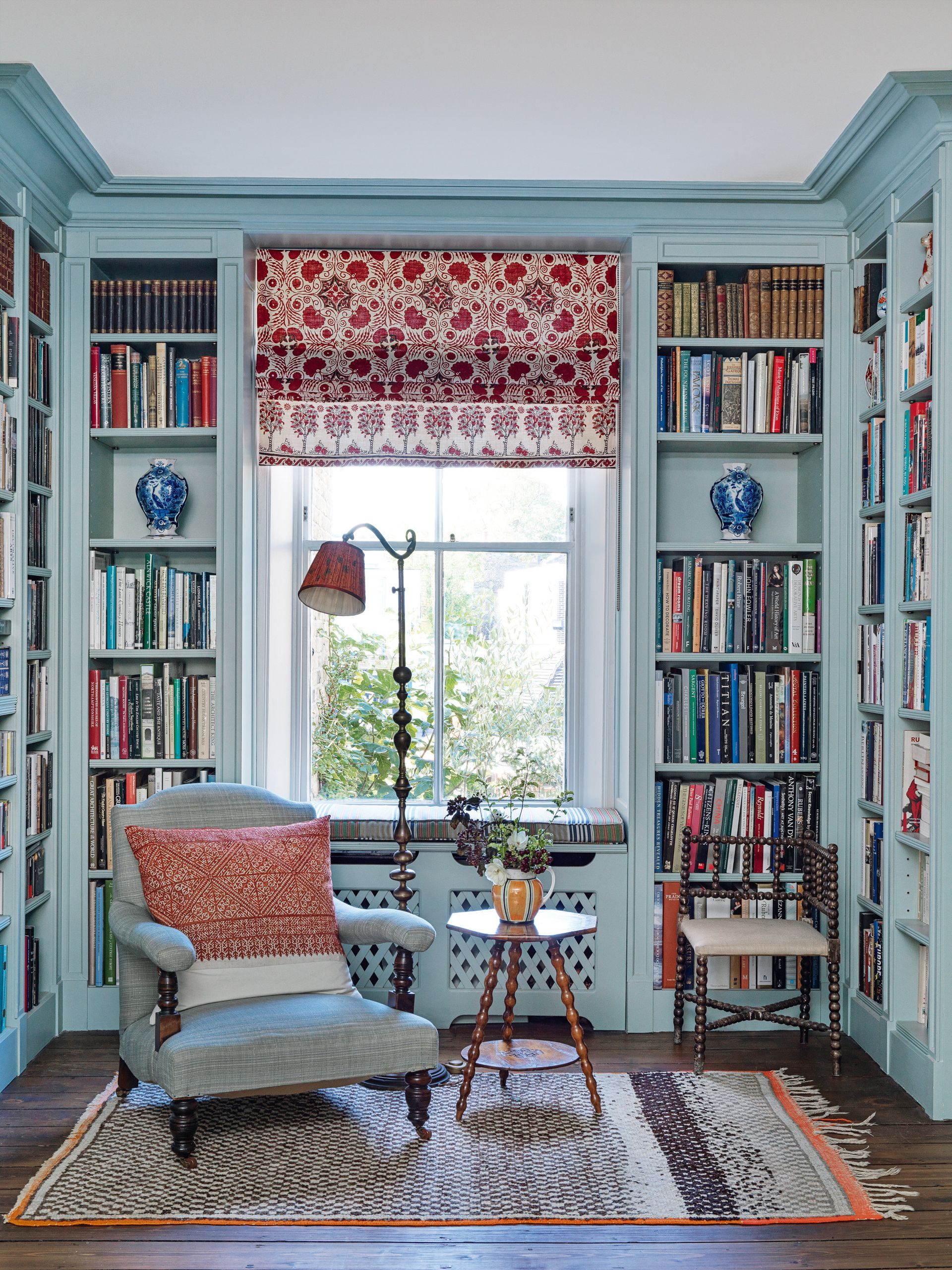 If you're considering reading nook ideas, this is the perfect opportunity to create a smaller group of your favorite books, or those you need access to most regularly, separately from your primary organization system. Position them within easy-reach (middle-section shelves for most, depending on your height) to save you having to find them each time. Keep them separated from the rest with book dividers or use objects and book stacks either side.
Avid book readers might also find this technique useful for grouping not-yet-read books, so they're easy to find and flick through when looking for something new.
6. Organize books by height
Grouping books of a similar size and height together will give your collection a clean, streamlined look, perfect if you are looking for smart living room bookshelf ideas. However, depending on the look you're going for (and how functional you want your organization to be) you could have a little fun with different arrangements. Maybe keep tall books on the edges and go shorter in the middle, or alternate shelves starting with the tallest book, then the shortest, and so on.
7. Stick to the two-thirds rule
Ensuring your books have space to breathe is not only good for their shelf life, but also the functionality and style of your display.
'Crowding books tightly on shelves make them impossible to pull out, while overcrowding can make for a cluttered feel,' says home organizer Ben Soreff.
According to the experts, this can be avoided by instilling the 'two thirds rule': only fill two-thirds of each shelf with books. What you do with the empty space depends on what look you're trying to achieve. Add in decorative accessories or leave it clear for a minimalist vibe.
8. Build stylish stacks
Oversized hardbacks can overpower a bookshelf arrangement when arranged standing up, not to mention take up space. Stack them with spines facing outwards, starting with the biggest book at the bottom. If your shelf is at eye-level, choose a book with an attractive front cover to go on the very top.
Stacking is also a good tactic for differentiating types of books, such as non-fiction, recipe or reference books, for example.
9. Leave space for other items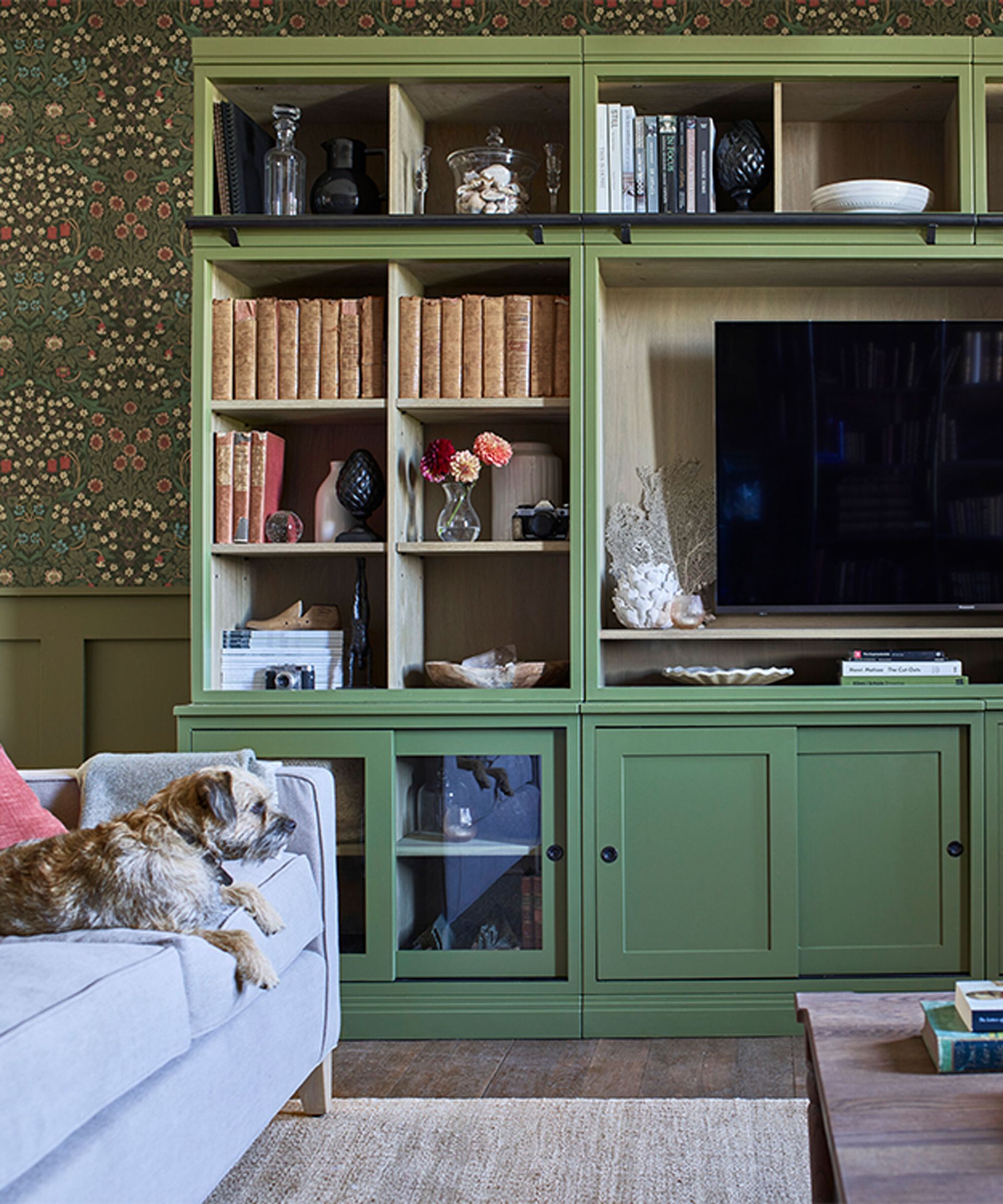 Bookshelves aren't just for books. Family photos, heirlooms, vases with flowers… anything that brings you happiness when you look at it deserves a designated place.
'Styling can often be an undercover organizational tool for shelving,' says Heather Hoerzen, design editor at Havenly. 'Creating a little vignette with a tray, diffuser and pretty faux plant not only sparks joy, but it can also serve as a reminder to put things back as you found them'.
A good rule of thumb is to group items in odd numbers ensuring plenty of space around them. Keep your room's color palette in mind but try not to worry too much – over-styled bookcases can look a little cold, while meaningful items will automatically inject warmth and personality into the room.
10. Prop up artwork
Adding your favorite art pieces to your bookshelf adds visual impact, turning it into a stylish focal point rather than something that's purely practical. A propped collection comes with the benefit of no nails, so can be effortlessly transformed on a whim for a whole new look.
Position your most prominent pieces in the center of the shelf and then work outwards with smaller pieces. Combining different styles, sizes and colors of picture frames creates a lovely lived-in look, along with postcards and canvases to break it up. Pick out key tones within your prints, or maybe even a theme, to ensure your display feels considered.
11. Arrange by style
While most libraries like to organize a bookshelf alphabetically, and this tried-and-tested system works wonderfully for those wanting to find a specific author with ease, we sometimes like to throw the rulebook out of the window by arranging our books by the style of the spine. For example, those of us who are more visual might be inclined to remember a book by what the cover or spine looks like, rather than wanting to search alphabetically.
Here, this aesthetically-pleasing space doesn't follow any particular system, yet it still somehow works. After all, our brains are wired differently, so do what is best for you and your family.
12. Match books to the color scheme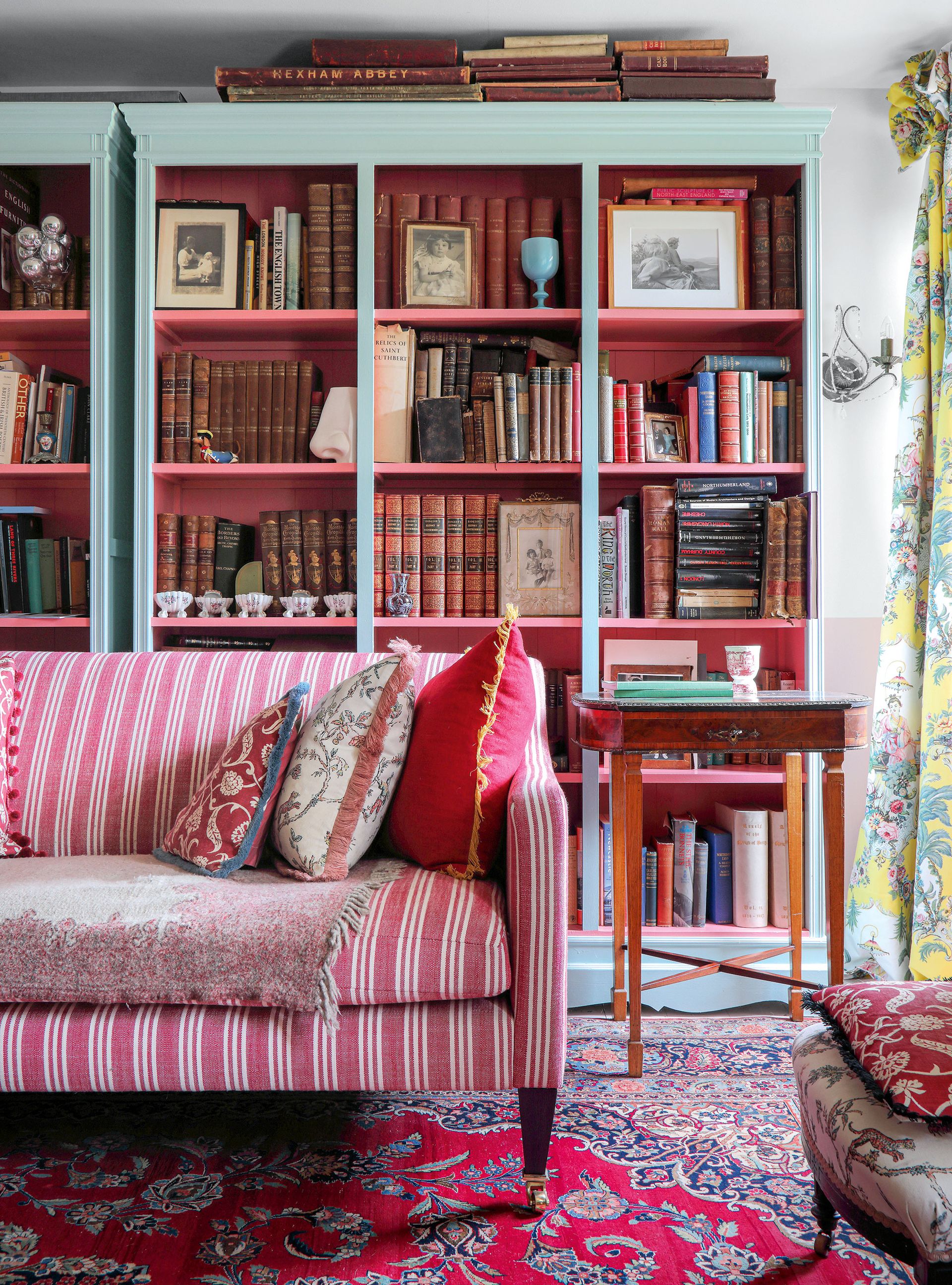 Are you a particularly visual person? Us, too. That is why this space works so well; the books seamlessly color coordinate with the rest of the room. There is absolutely nothing wrong with wanting to ensure that your scheme remains cohesive and tailored, especially when covering your books with the same color jackets is so easy to do. The result? A space that looks like something out of a story book.
13. Leave empty spaces
Just because you have the space, it does not mean that you need to fill every nook and cranny. This bookshelf is a perfect example of letting a space breathe; hugely important in a home office or bedroom.
I have seen time and time again, that people like to cram as much onto on bookshelf as they can, so once you've done a declutter, think about keeping it simple, especially if your bookshelf looks as beautiful as the one above.
14. Use art to divide books
Rather than just simply arranging your books on a shelf, think about breaking up the space between genres, authors, colors or styles with art. Use prints, objects and vases to add interest and visual break points to rest the eyes and draw attention away from old or tattered books.
Here, this bookshelf draws the eye to every single visual breakpoint beautifully and wonderfully stimulates the senses without causing disruption to the central focus; the TV.
15. Place lesser used book on the top shelf
If you have books that you've read but just can't bear to part with, then consider placing them on the top shelf, just high enough to admire, but also ensuring that they are well out of the way. Keep the lower bookshelves free for books and other objects, like vinyl, and more regularly used items.
What is the best way to organize a bookshelf?
Contrary to popular belief, maximizing space on your bookshelf space does not mean filling every inch with book upon book. Instead, think about clever ways to store books that utilize the space you have in the best way, while still allowing for some empty areas. This will help create a pleasing aesthetic overall, especially important for creating a calm finish, for bedroom bookshelf ideas or when you're organizing a home office, for example.
Stacking books rather than lining them up makes the most of vertical space that would otherwise go unused. Start with bigger, heavier books at the bottom and go down in size from there. Alternatively, consider layering two rows of books along one shelf. If you decide to do this, it's worth investing in shelf risers. Position the back row on the top of the riser for extra visibility and use the cubby hole underneath to store other books that you use less often, or don't look as nice on display.
Look at using the very top of your bookshelf – could you line it with baskets for extra storage? Also look to see if your shelf heights can be easily adjusted. If so, you could squeeze in an extra shelf at the top to house smaller books or items.
How do I organize a bookshelf?
Organizing a bookshelf in a home is a personal choice and, unless it's your preference, doesn't have to follow an established system. However, there are a number of ways you might approach the task.
If finding books speedily is crucial, arranging in alphabetical order, or perhaps alphabetical order within subject-specific sections, is a good idea. Of course, if each section isn't large, then just putting like with like so, for example, interiors books are together, will suffice.
For a stylish display, arranging by color is a popular tactic and you might choose darker spines for lower shelves with colors becoming progressively lighter as shelf height increases.
At an individual shelf level, meanwhile, arranging by height with taller books on each side of the shelf can create a balanced impression.
For interest consider shelving some books horizontally as well as placing them vertically, and show off decorative objects along with books to give the eye plenty to appreciate.
Sign up to the Homes & Gardens newsletter
Decor Ideas. Project Inspiration. Expert Advice. Delivered to your inbox.
For 10 years, Tara King worked as a Content Editor in the magazine industry, before leaving to become freelance, covering interior design, wellbeing, craft and homemaking. As well as writing for Ideal Home, Style at Home, Country Homes & Interiors, Tara's keen eye for styling combined with a passion for creating a happy – and functional – family home has led to a series of organization and cleaning features for H&G.