Living room organization – 10 ways to maximize your storage with ideas from the pros
A place for everything creates the foundation for a reassuring sense of order. These hard-working living room organization tips will sort things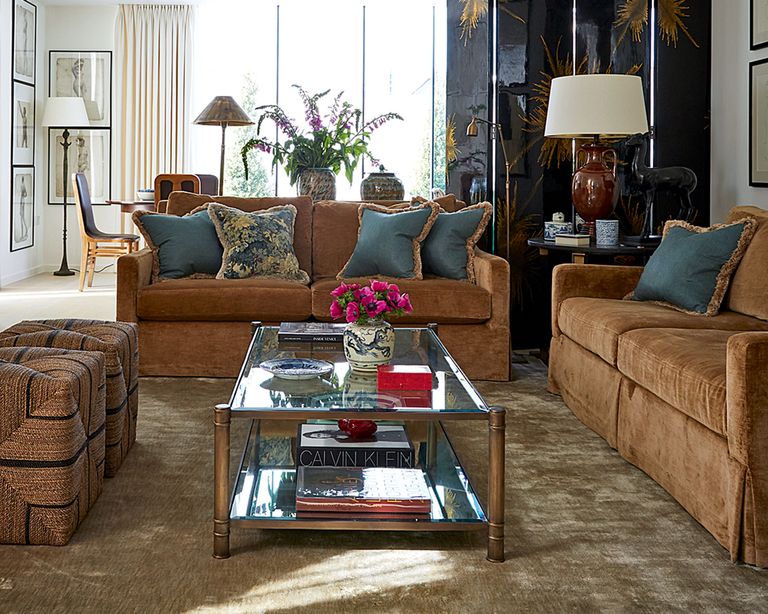 (Image credit: Paolo Moschino / Nicholas Haslam)
By Jennifer Ebert published
The pursuit of the best living room organization tips may seem like a never-ending mission, but keeping your living room organized is vital to achieving your dream space.
Disorder is often a sign of a lived-in, homely space, and we'd hate to get rid of that notion entirely. After all, not every space needs to look like a minimalist or purist haven. What we do want to do is make things easier to locate – and, beautiful enough to admire every day.
We've asked the design experts to share the best living room organization tips they've learnt through the years – all for your living room ideas.
10 best living room organization ideas
'As we spend more time at home, we become more aware than ever of the need for space,' says Simon Tcherniak, senior furniture designer at Neville Johnson. 'Rooms that were once forgotten are being rejuvenated as tranquil spaces or multifunctional living zones.'
'The living room is where the demand is greatest at the moment. Homeowners are looking for a dynamic space that allows them the time to focus on their daily tasks but also one they can close off in the evening to really benefit from the additional family time we have all been afforded in recent months.'
1. Declutter visible surfaces
One way to create the illusion of space in a small living room is to rid the surface areas of clutter – but be realistic before setting out. It's never going to be entirely possible to live without various small and useful things, which need storing away somewhere, believes Sandrine Zhang Ferron, founder of Vinterior.
'Instead, create small areas of living room storage that are both practical and add style to your space, from roomier pieces like freestanding cabinets, down to side tables and living room shelving which can be nicely squeezed into an alcove or corner.'
2. Convert the space under the stairs – if you have an open-plan living room
Built-in living room furniture will make every nook and cranny work as hard as possible and offers the chance to be inventive when it comes to finding extra space that can house shelving and drawers.
'We've seen substantial growth over the past few years in homeowners converting their under-stair area – in an open-plan living room – due in no small part to the increasing strain our homes are under in terms of space,' says Simon Tcherniak, senior furniture designer at Neville Johnson.
'Currently, the focus seems to be on using it as a storage space or workspace area for all the family – though it's also being transformed into more of a multifunctional area, especially now that more of us are deciding to renovate rather than relocate.
3. Hide behind a screen
'We love using screens to divide rooms,' says Paolo Moschino, head of interior design firm Nicholas Haslam. 'For me, it's very important not to disclose everything at once and that is what screens are perfect for; they hide a surprise behind them and, especially for a large room, they confine the space and create coziness. As a bonus, if you move to a new house you can just fold your screen and take it with you to new adventures.
Alternatively, room dividers are a wonderful way to make use of unexploited space and to create a broken-plan layout within the home,' says Simon Tcherniak, designer at Neville Johnson. 'When designing a room divider to fit around the home's natural architectural features, consider using extra tall bookcases – perhaps with the addition of a ladder – to make use of the height. You could also opt for open or hidden shelves which allow you to either display your ornaments or hide clutter.
4. Plan for a multi-use living room
Over the past year, those of us lucky enough to have a dedicated room in which to shut ourselves away have gratefully recognized the peaceful retreat they provide. However, now working from home is likely to be the norm for many of us, we are thinking about how best to incorporate a work station into our living rooms. But how to add beauty to what is, after all, a functional living space? It can be done.
For a living room – one that doubles up as a study – to look truly serene, organized storage that blends into the background is essential for retaining a composed look. Again, take note of the built-in shelving and desk in this curated scheme. It's subtle to the point of being invisible, allowing the decorative elements of the living room to take center stage.
5. Make space for treasured items
Few of us are happy with the idea of getting rid of favorite books, so unless the house is very large, finding room for the ever-expanding library can be a challenge. After exhausting space on the living room shelves – including double stacking if necessary – have a look around to see if there's any 'dead' space that could be put to better use.
'Many older properties have natural shallow recesses and alcoves – within the lounge or family room – making this suitable for books or objets d'art,' recommends Eamonn Agha of Huntsmore, a design and build company. 'This immediately makes the home feel warm and lived in.'
You can also look at boxing in radiators and building bookshelves around this – it has the effect of drawing the eye to the books, not the joinery.'
6. Access all areas
When in search of extra living room storage space, make the most of ceiling heights available. Built-in joinery or off-the-shelf solutions can provide the perfect amount of extra room to house items only used for special occasions or rarely read books.
However, where possible, think about adding a ladder for access. 'They work particularly well in period conversions,' recommends Annie Ebenston, designer at Blakes London. 'Why waste all that high-level storage potential when you can design in a ladder. Aside from the obvious practical benefits, they add character and a focal point to a room.'
7. Keep everything in full view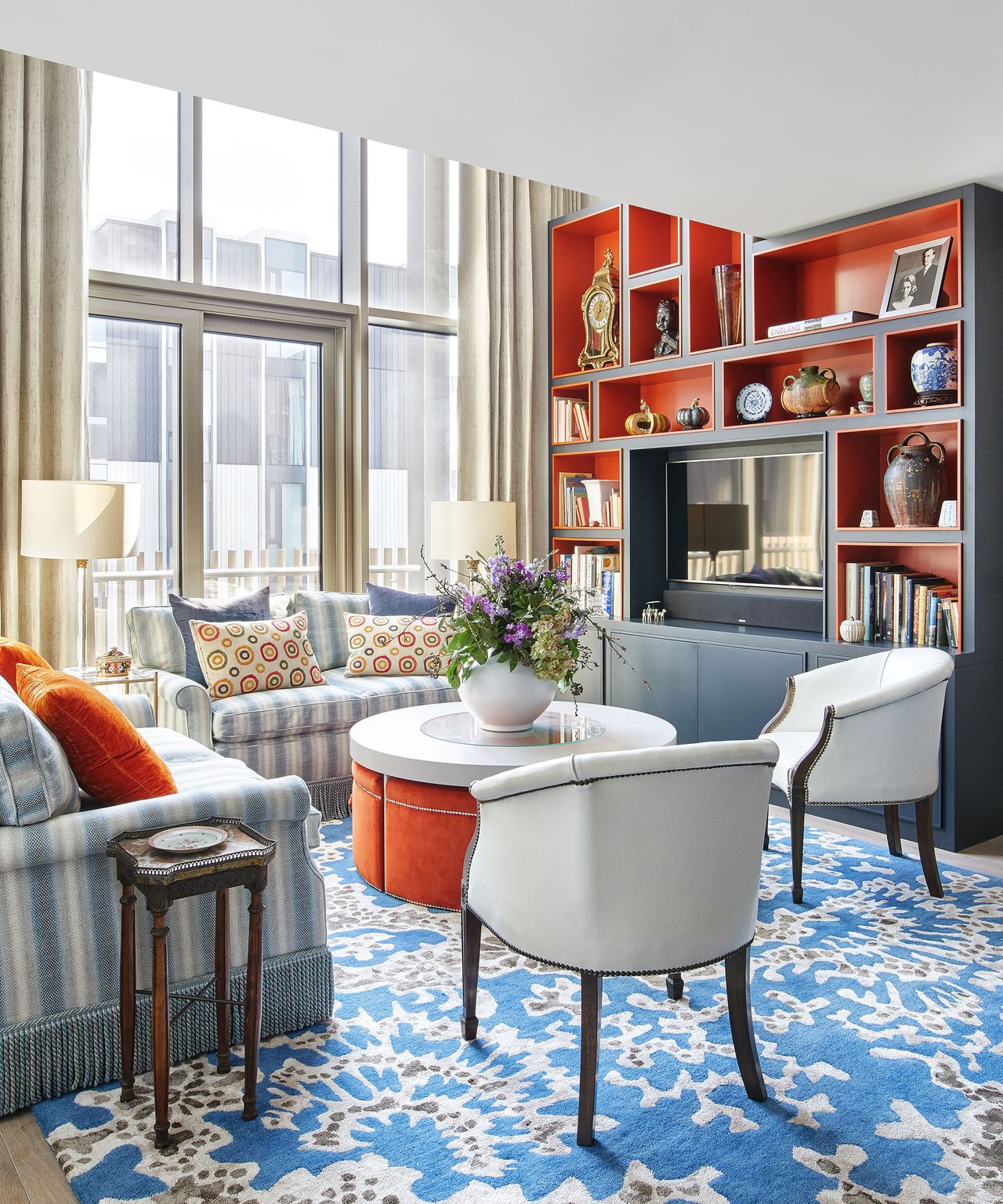 Keeping objects in full view may seem counterproductive, but there is method to the madness. Not everything needs to be hidden away when it comes to living room storage – in fact decorative solutions can make a huge difference to your look and feel. Plus, if it is in plain sight, you will be forced to keep it neat, tidy and organized.
A cluster of simple floating shelves, or beautiful wall decor ideas, work particularly well in an open-plan living room, where there may be a fair amount of blank wall space. They add an element of interest that draws the eye, all while helping to keep side and coffee tables clear. It's best to mount open shelving just above eye level and within easy reach if you intend for the shelves to hold day-to-day items. For a stylized look, stack collections of your favorite photography, books, and incorporate small pieces of art along a run of open shelving.
8. Use color to distract from necessary storage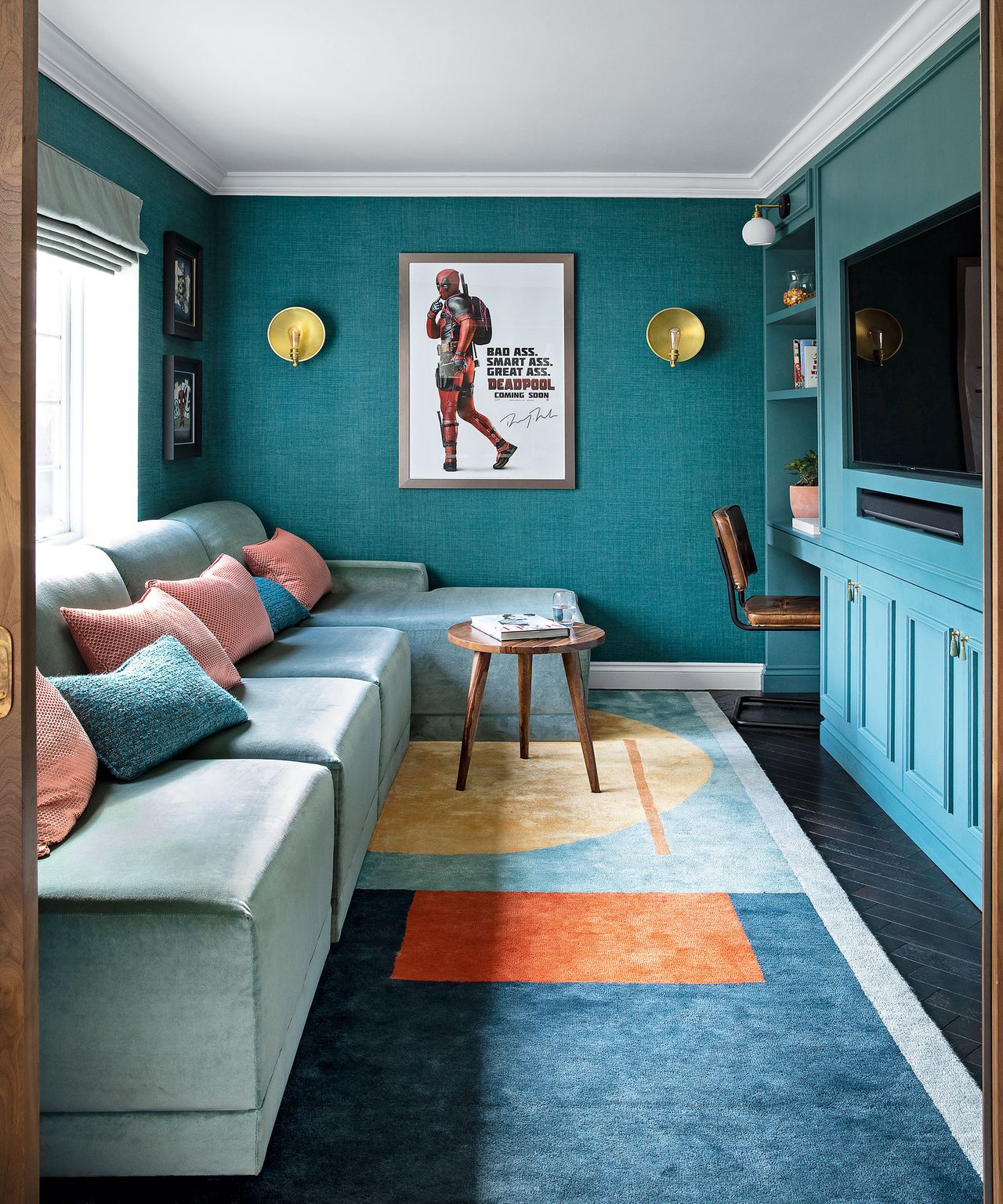 When contemplating an organized living room scheme, function – such as storage – must be central to your design, but does not have to be visually dominant.
While technology is undeniably an important factor in most living rooms, the trend is towards totally concealed solutions. In this well-designed scheme, the living room TV has been kept 'hidden' within a dedicated small living room storage space, along one side of the wall. Choosing a focus, such as a complementary living room color scheme, will distract from the room's purpose and make it feel as considered as any other living area.
'Your design approach to a living room is not unlike any other room in the house,' says interior designer Athena Calderone, founder, EyeSwoon. Remember it is a delicate dance between aesthetics and utility, designed to motivate you each day but also be grounded in practicality.
9. Invest in double duty furniture solutions
Built-in and freestanding storage benches have come a long way in recent years, with many designs today certainly not compromising good looks for the sake of extra stowaway spots. They can be particularly useful for keeping soft furnishings such as throws and cushions close to hand, or a quick place to tidy toys away when not in use.
If you're not in the market for a new sofa or side table but your current model has legs, consider placing some low storage boxes underneath it in the same color or material, for a close-to-seamless appearance.
10. Invest in a wall of concealed storage
If living room organization is the last thing on your mind, fret not. Not everyone has the time to devote to constant cleaning, especially in busy households. The ultimate fuss-free option, a wall of concealed small living room storage is the perfect solution for those who don't like clutter. Make the most of the ceiling height by fitting extra-tall cupboards and storing rarely needed items at the top.
How can I organize my living room?
The most important thing to do when organizing your living room is to look at everything you own – art, books and objects – and work out what living room storage you need. Designer Nathalie de Leval says, 'Thinking about how you store items – whether you prefer having items on show or hiding them in cupboards and drawers – helps define what you need.'
Interior designer Louise Bradley recommends assessing what you use most. 'Which items do you reach for daily? Having them closer to hand will make living organization effortless and fuss-free.'
Deborah Bass, creative director of Base Interior, counsels against too much uniform storage. 'Have freestanding items as well – an antique chest, for instance – to avoid that show-home look,' she says.
We also recommend that you regularly tidy and throw away anything that you do not deem to be useful or sentimental. 'To throw away what you no longer need is neither wasteful nor shameful,' says organizing consultant Marie Kondo. 'Let them go, with gratitude. Not only you, but your things as well, will feel clear and refreshed when you are done tidying.'
Jennifer is the Digital Editor at Homes & Gardens. Having worked in the interiors industry for a number of years, spanning many publications, she now hones her digital prowess on the 'best interiors website' in the world. Multi-skilled, Jennifer has worked in PR and marketing, and the occasional dabble in the social media, commercial and e-commerce space.
Over the years, she has written about every area of the home, from compiling design houses from some of the best interior designers in the world to sourcing celebrity homes, reviewing appliances and even the odd news story or two.