How to make a small living room look bigger – 12 tips from design experts
Learn our top tricks on how to make a living room look bigger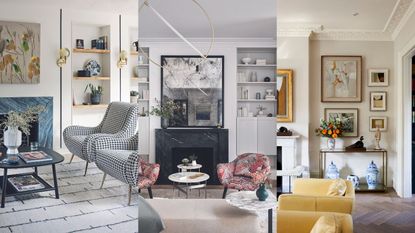 (Image credit: Future)
Does your small living room need to look bigger? Is space tight or is a lack of light make it feel compact? We've come up with sure fire ways to make a living room look bigger, lighter and brighter – and we don't mean by going minimalist and painting everything white – though that will work.
From options that include white ceilings, light wood flooring and not having fussy window treatments to clever ways with mirrors, these expert tips will be useful if you are looking for small living room ideas that are purely space-enhancing.
How to make a small living room look bigger
Whether you're looking for small living room ideas for apartments or want to make a small living room look bigger in a vacation home or cottage, our curated advice from industry experts will help.
1. Choose a simple color scheme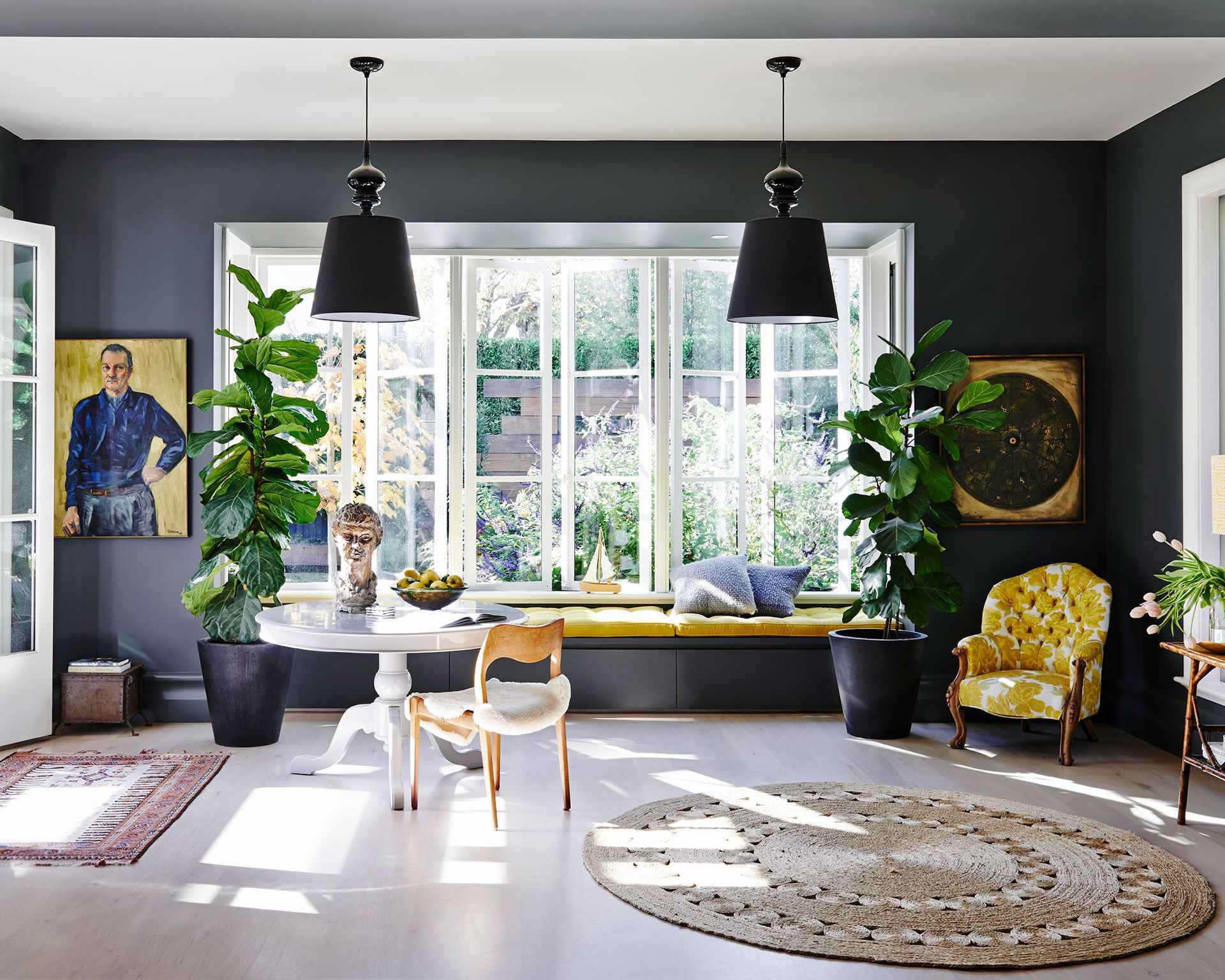 The primary thing to remember when designing a small room is to ensure all tones stick to the same color palette – thus creating flow throughout the room. Bobby Berk regularly emphasizes the importance of creating a cohesive space on his blog. Despite his adoration for color, Bobby's living room paint ideas tend to be based around monochromatic and tonal hues that will accentuate the scheme further.
When choosing our palette, Bobby reminds us to think of the space as 'one cohesive space' instead of using different colors and patterns that will divide the room and make it feel smaller.
'With studios especially, the instinct is often to cut the main room into separate sections to create the illusion of a larger room – but what you're actually doing is cluttering up the space and making it appear much smaller,' he warns.
'That doesn't mean that it can't be colorful, but that does mean sticking to a tonal palette, whether that be cool tones like blues and greens or warmer tones like terracotta, beige, and rusts,' Bobby explains.
'By keeping things within the same palette, the space will feel larger and more cohesive, which will allow it to feel less disjointed. In a smaller space, we usually like to use a matte finish to help hide imperfections in the wall, which will make the dark color feel more expansive visually,' he adds.
2. Use color, but wisely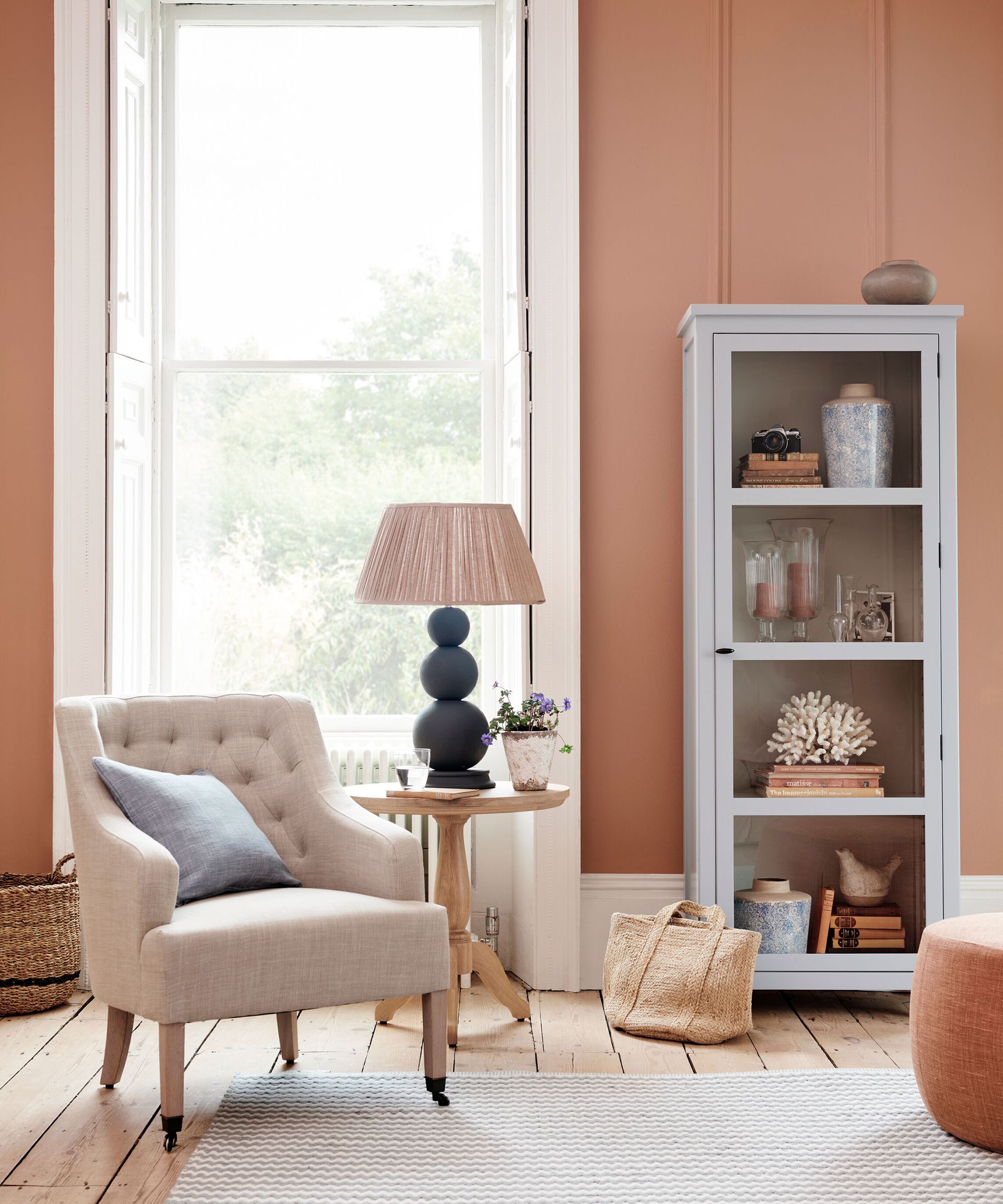 Creating a bigger and brighter living room doesn't mean you can't have color. A dark shade on your walls will create the opposite feel, but if you choose a light warming shade like coral for example it will lift the space.
Use white on your woodwork and skirtings and if you have shutters all the better – if not, and you can cope without drapes, then let the light pour in. Instead of investing in dark wood furniture, opt for painted pieces instead and rustic wood suits this look really well.
3. Opt for beautiful textures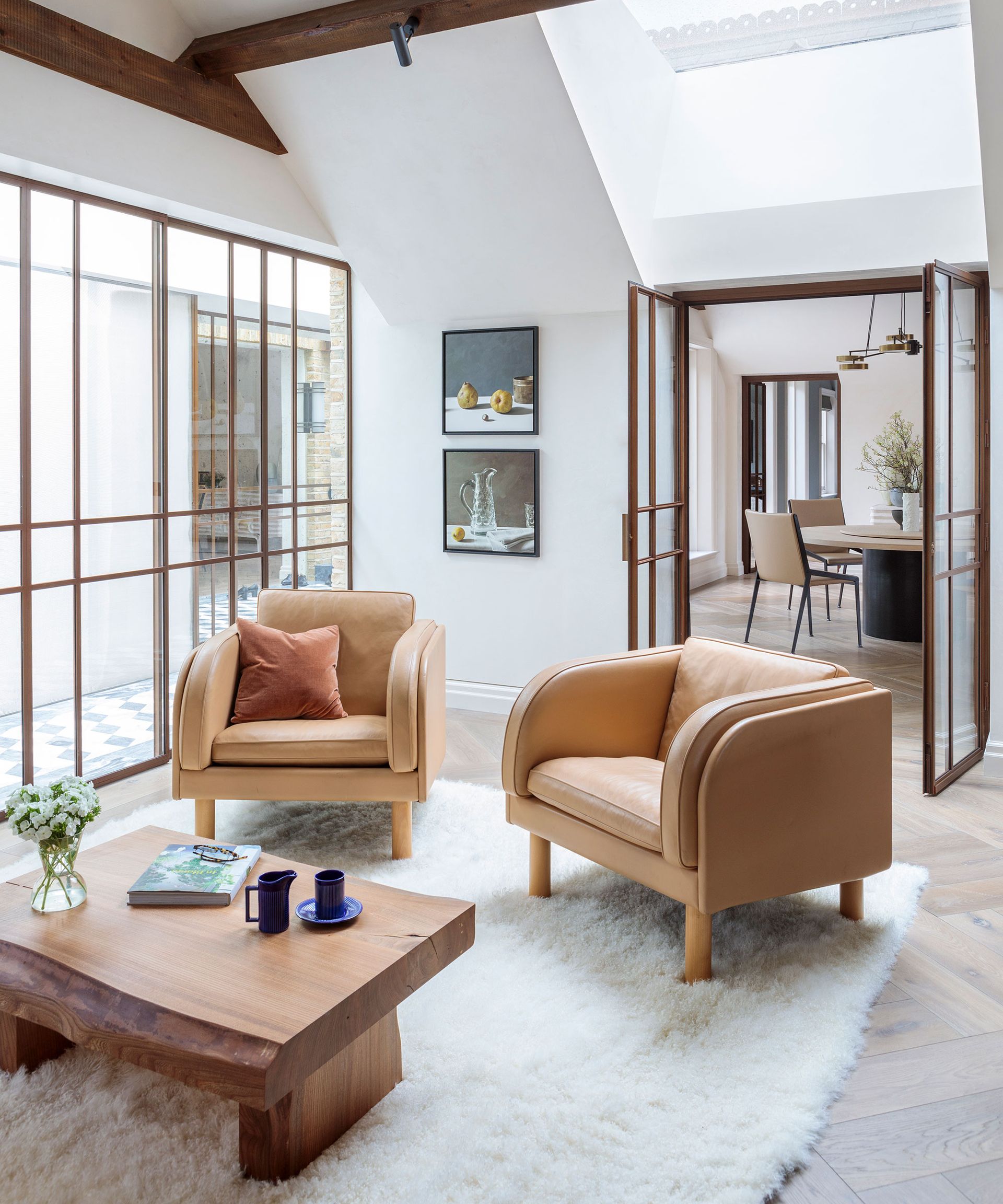 To make a small living room look bigger, you will want to pare back clutter – but you don't want to create a sterile scheme with minimalism and all-pale shades – which, we know, create space-enhancing light spaces. Instead, keep it cozy with sumptuous textures that don't take up space visually.
Sheepskin rugs, beautiful grained wood pieces, limed floorboards, velvet cushions and oh-so-soft tan leather armchairs will all warm up a scheme instantly, particularly when used in otherwise minimalist apartment living room ideas.
4. Embrace magic of mirrors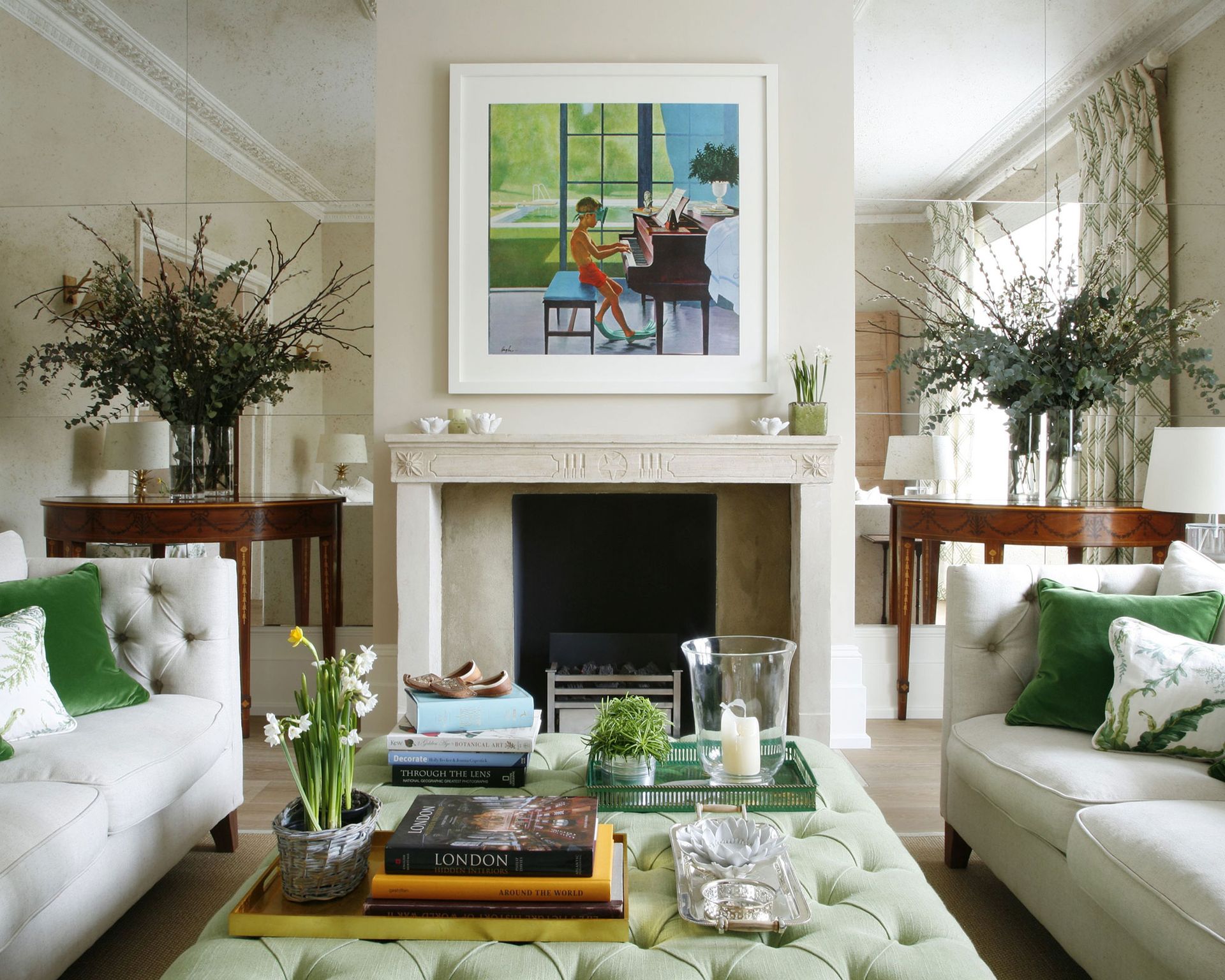 We 100% believe in the power of decorating with mirrors because they can make a small living room look bigger – if you get their placement right.
VSP Interiors show you how fabulous they can look in this living room. This pair of mirrored alcoves immediately bounces the light from the windows and reflects everything back. It's the sure fire way to add light and brightness, but go large with your mirrors – there's no room for small and dainty here.
5. Layer lighting to make a small living room look bigger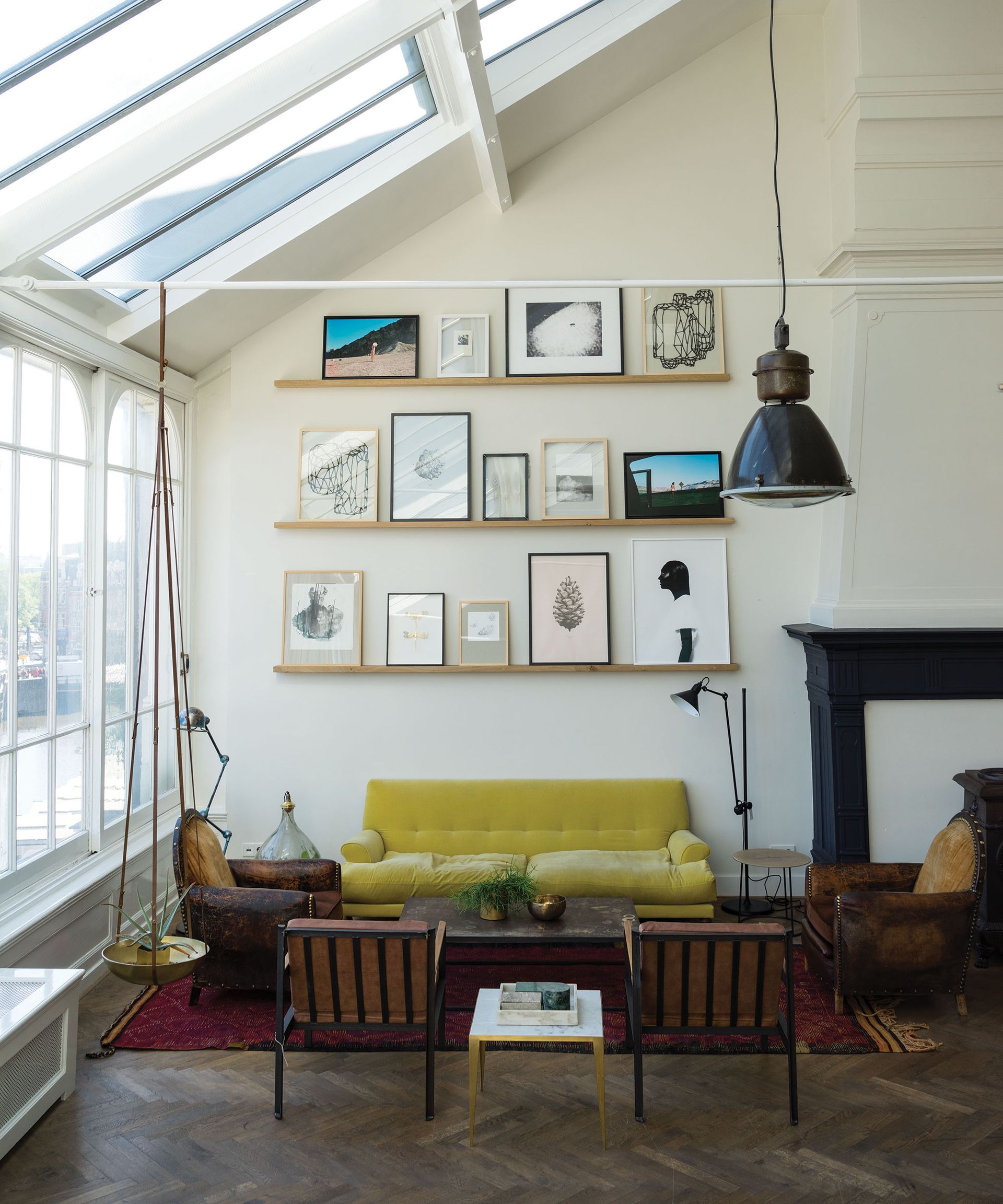 Small living room lighting ideas can make your space feel bigger at night, even if the room has oodles of natural light in the day time. Layering the heights of your lighting is key – so ensure you have a pendant light overhead with a dimmable control, lots of lamp light and wall lights. Choose shades that can both direct light for tasks like reading, and create pools of light for atmosphere. Having wall lights that direct soft shafts of light up and down will also make the space look taller.
6. Keep your furniture refined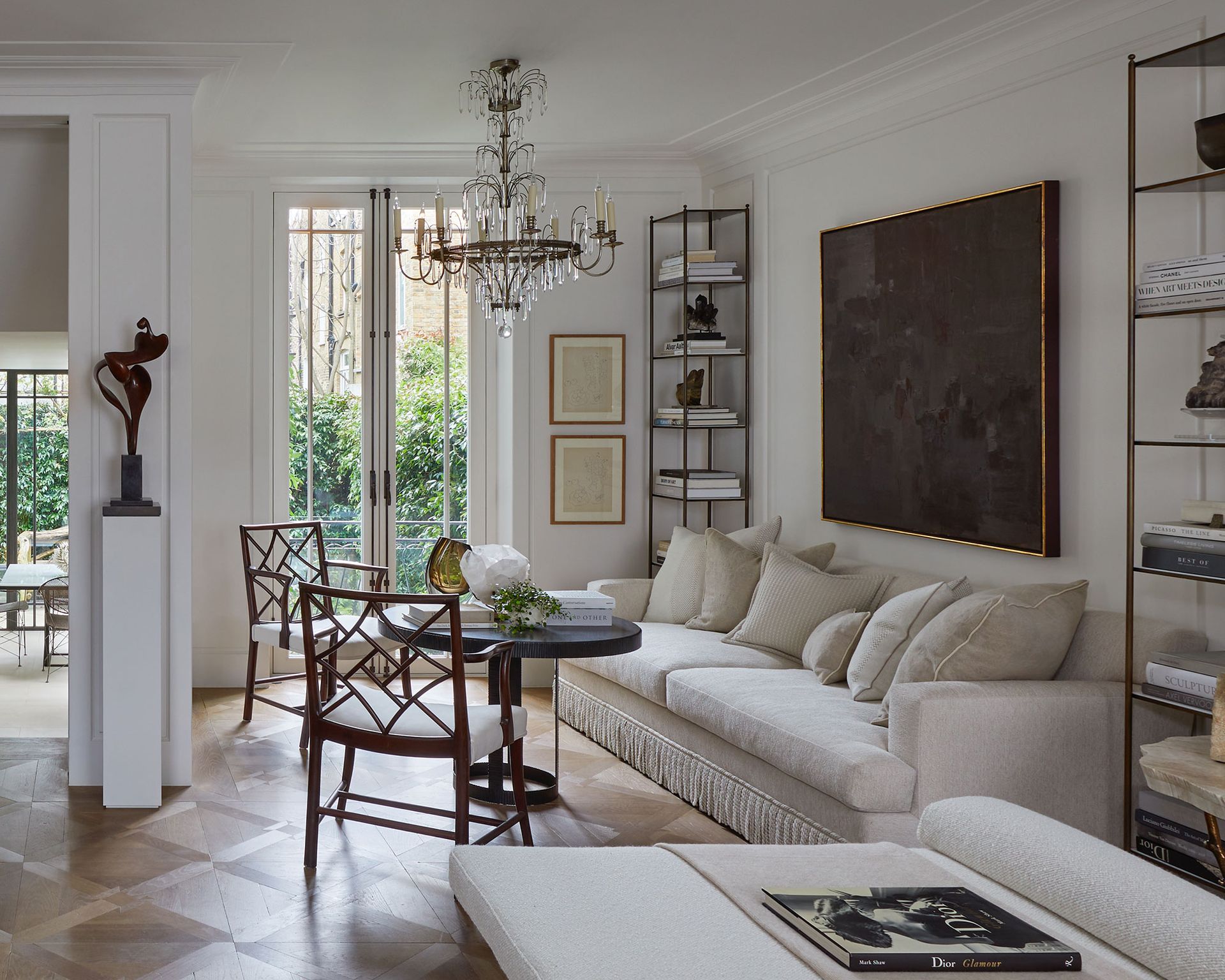 To make a small living room look bigger, you need to remove visually heavy furniture which will drain the light from your living room, and chunky pieces that are simply too big. Think 'light' with tapered legs and thin frames sections, glass is also worth considering. The sofa is key: knowing how to buy the right couch for a small living room will ensure your space feels as big as possible.
'To achieve a light and spacious feel within a living room it is best to incorporate refined furniture pieces in lighter toned natural finishes such as soft timber veneers, artisan silver leaf or polished marble,' explains Louise Bradley, Founder of Louise Bradley Design Studio.
'When selecting a piece, be mindful to consider the scale and avoid oversized options which can sometimes make a room feel darker.'
Plus, choosing furniture with show legs (the legs on furniture that you can see as part of the design) instead of legs hidden beneath upholstery is one of the most effective ways to ensure your room does not appear smaller. Funiture that sits on the floor without legs is amongst the top items home organizers say make rooms feel small. Other things to avoid include board game packaging and small appliances on your kitchen worktop.
7. Go for neutral pieces as a starting point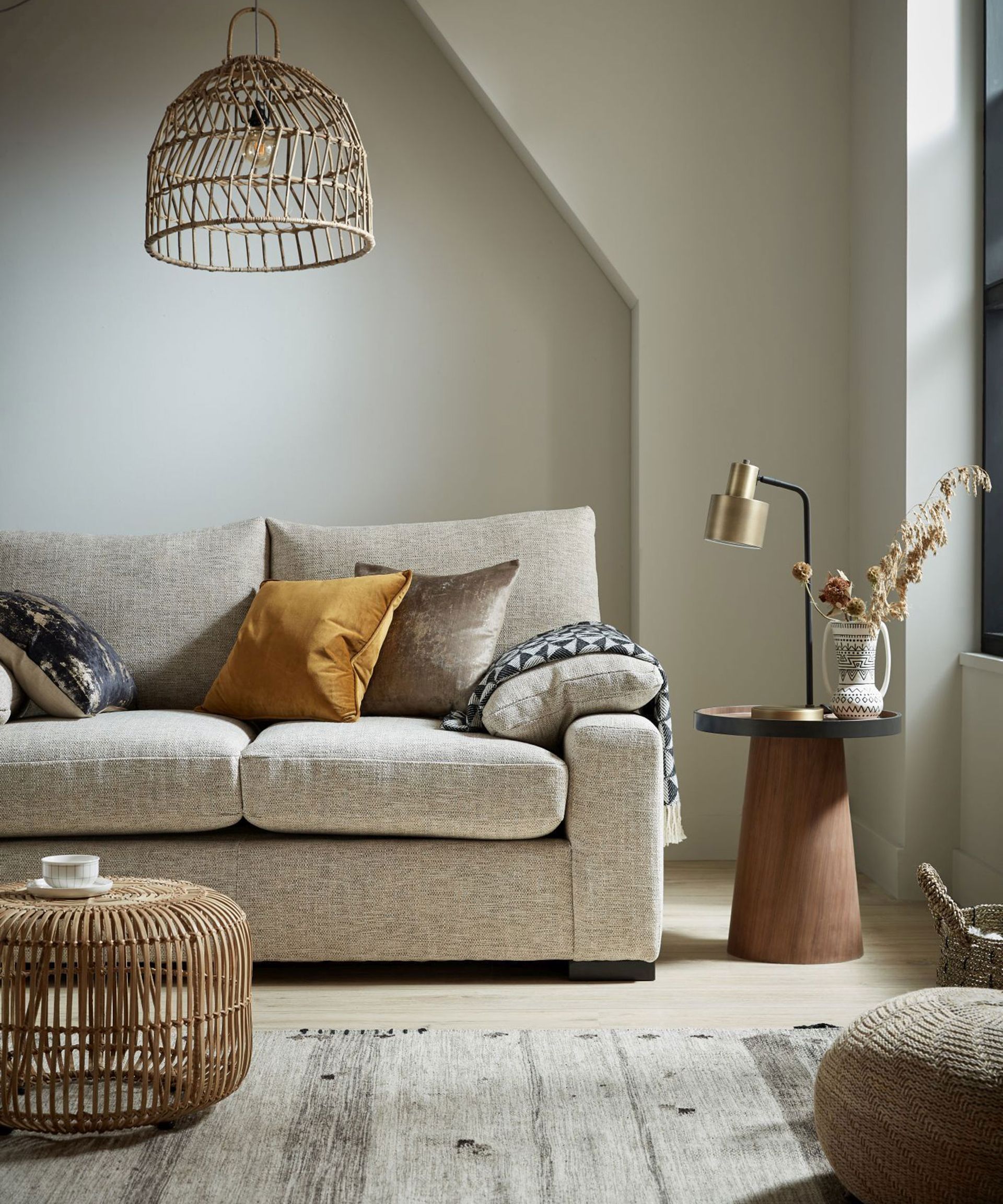 The sofa is going to be the largest piece of furniture in your living room, so it pays to get the color and size right.
'A neutral sofa can help lighten the space, however it's worth remembering that neutral doesn't have to mean selecting a plain design. Opting for styles with beautiful details, such as curves, buttons or fluting, will add character to a small space without overpowering your scheme, advises Suzy McMahon, Buying Director at Sofology.
'Additionally, cushions and throws in bolder shades and patterns can keep the look from feeling too pared back. Alternatively, an accent chair is a great way to add a pop of colour and will effortlessly lift a darker space.'
8. Choose light and airy drapes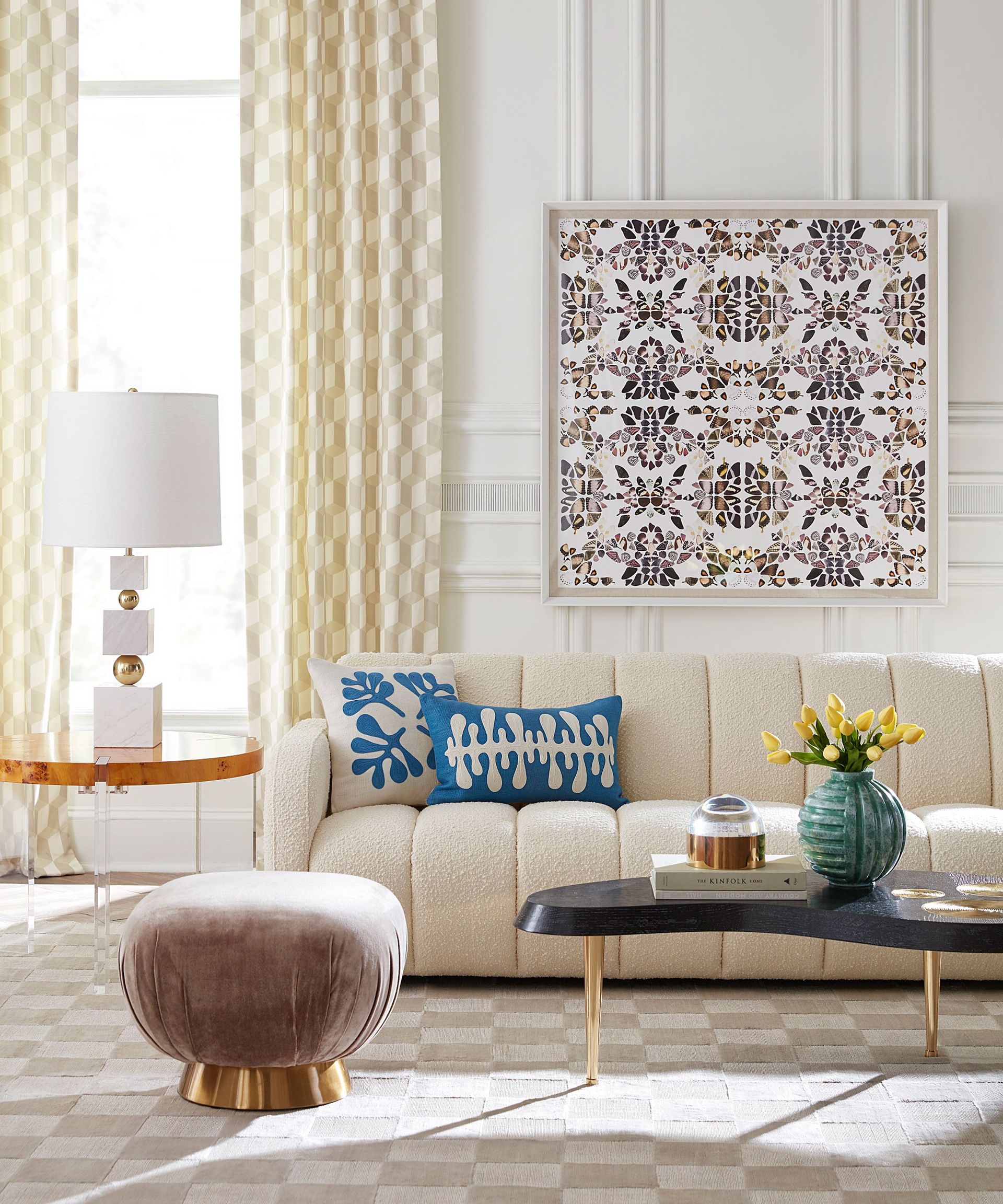 What you use on your windows is really important, dark heavy drapes will block the light and create a moodier feel in your living room – fine for creating an autumnal feel, but not conducive to a light and bright scheme.
Follow Jonathan Adler's lead – you can still use pattern and color, simply choose pale shades and a subtle design. These drapes enhance the living room perfectly and the design is reflected in the huge chequered rug – something else to consider as it helps to draw the eye to another light aspect in the room.
9. Invest in good storage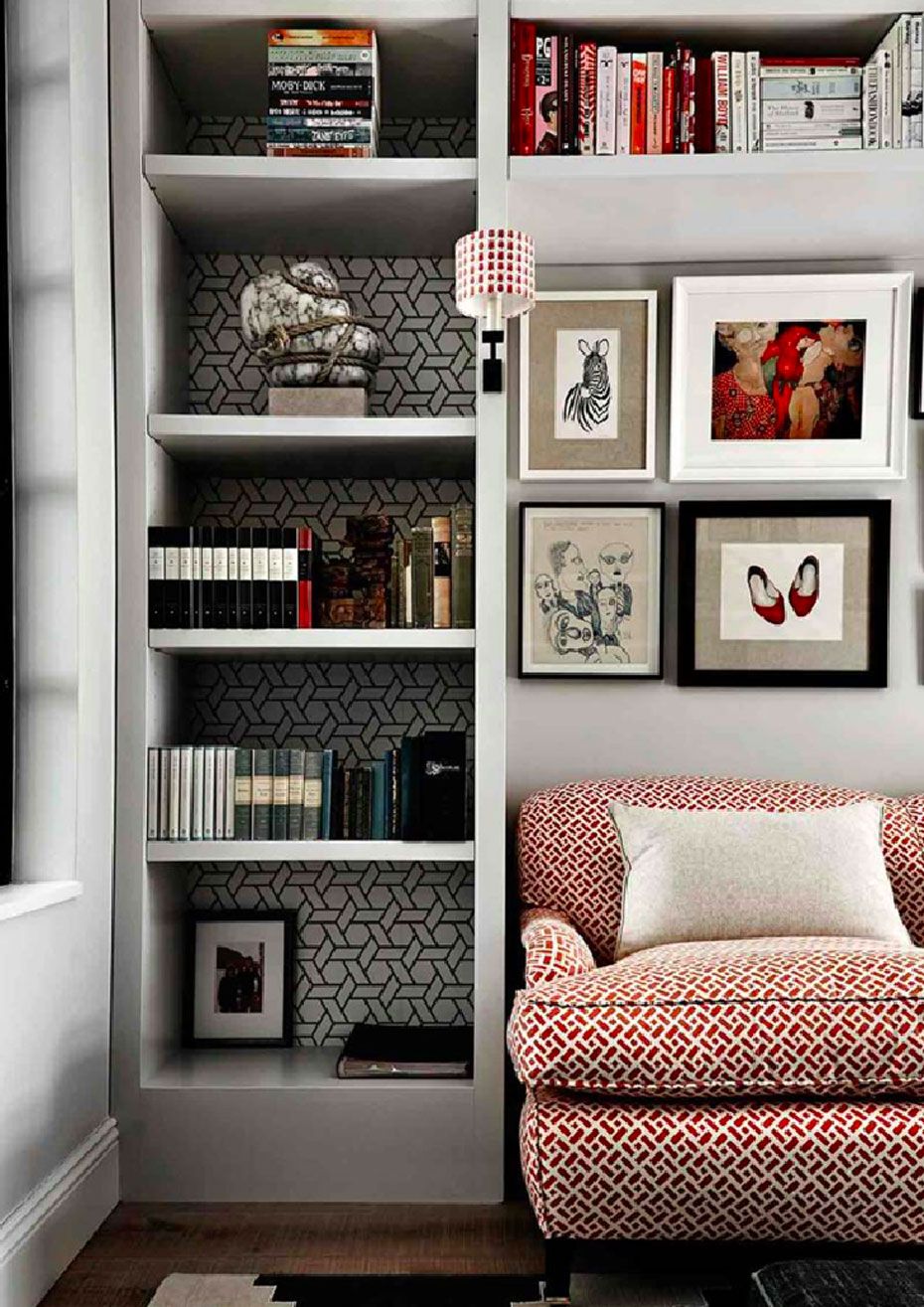 Ensuring you have invested in the very best small living room storage ideas is key to making a small living space feel bigger. Using vertical space is a key way to maximize storage potential while taking up the smallest of footprints.
10. Embrace the space enhancing fifth wall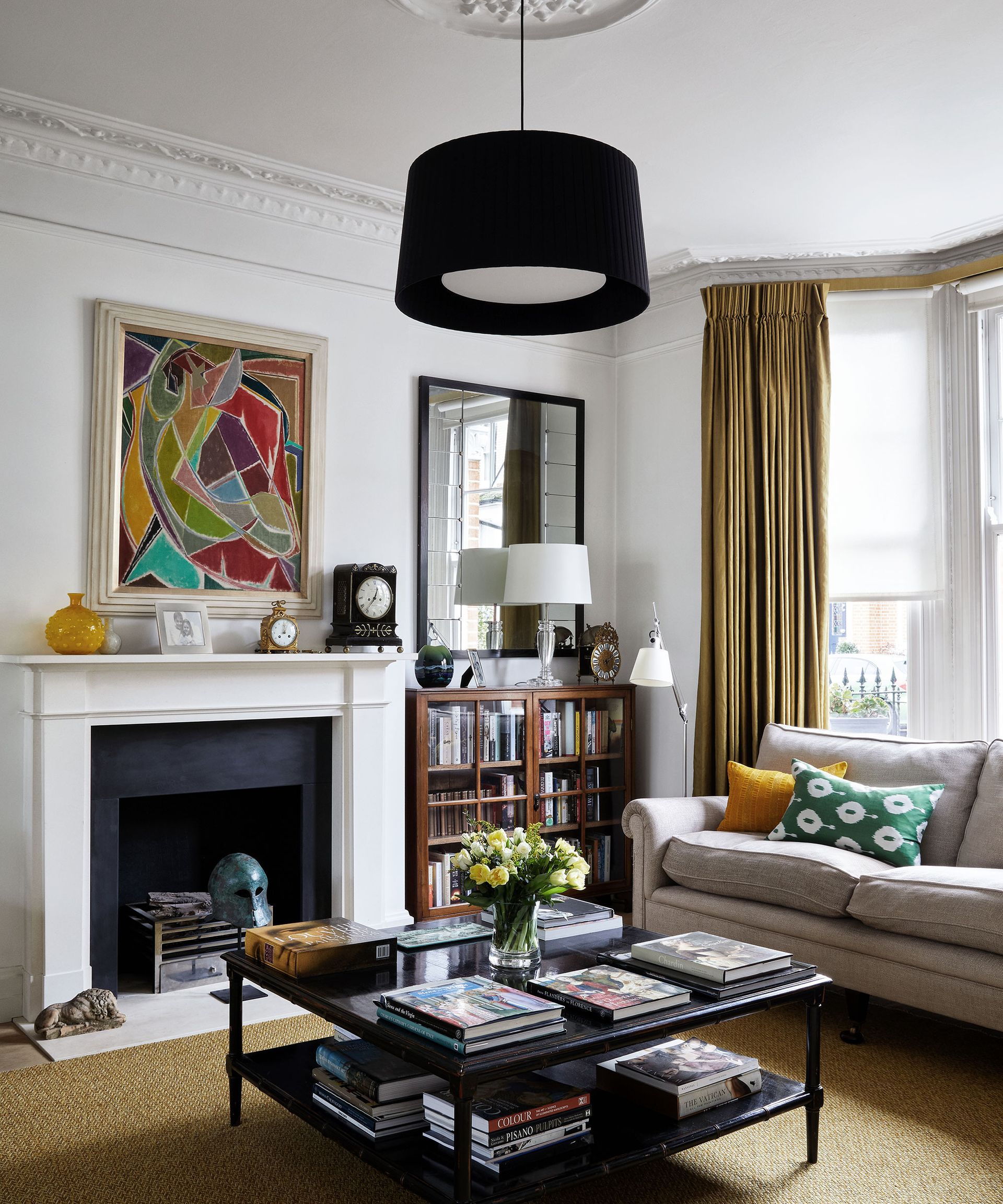 The best way to make a small living room look bigger without really changing much about a current scheme is to pay attention to the fifth wall – and even the sixth. We're talking about ceilings and floors.
White or pale-colored finishes for both will make the room feel lighter, brighter, and bigger. 'A gloss finish for ceilings is a hot trend at the moment, and it has its uses if you're trying to make a small living room feel bigger,' says Lucy Searle, Homes & Gardens' Editor in Chief. 'I'd advise against choosing a gloss finish for the floor in this case – and a gloss ceiling should only be attempted if the finish is 100% perfect or imperfections will be highlighted.'
11. Choose compact furniture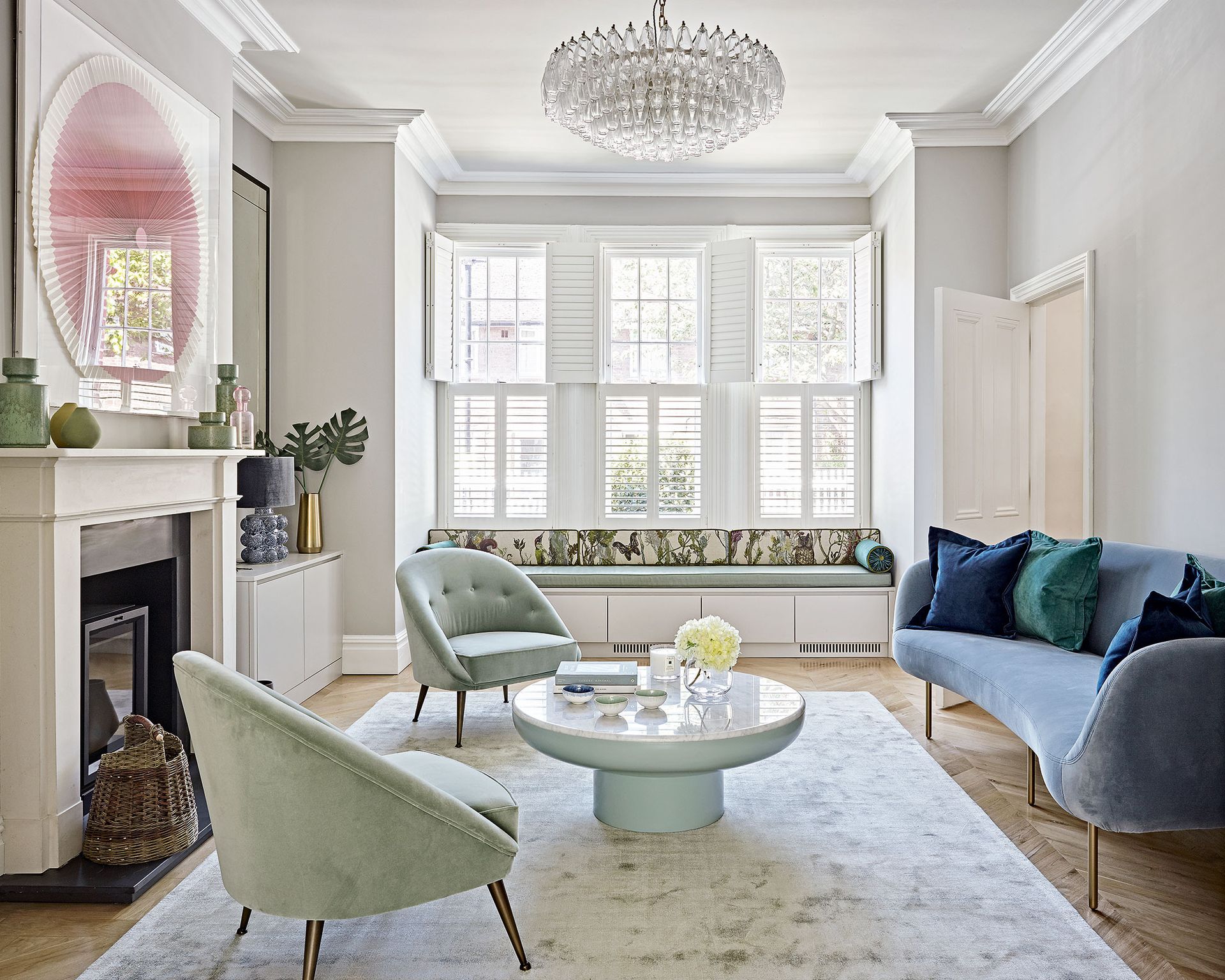 In smaller homes, ideally, look for multifunctional pieces to save on space. Ottomans with integrated storage and sofa beds are some of the most widely used. Living spaces, especially, will really benefit from multifunctional pieces. A living room might be doubling up as a guest room, a home office, or a playroom, so will need to cater to all of these.
Finding the right living room furniture often has to do with scale and putting the perfect pieces in the right spot. If you need to maximize space, it's worth having something made or going the extra mile to find an antique with the right proportions.
12. Paint the fifth wall the same color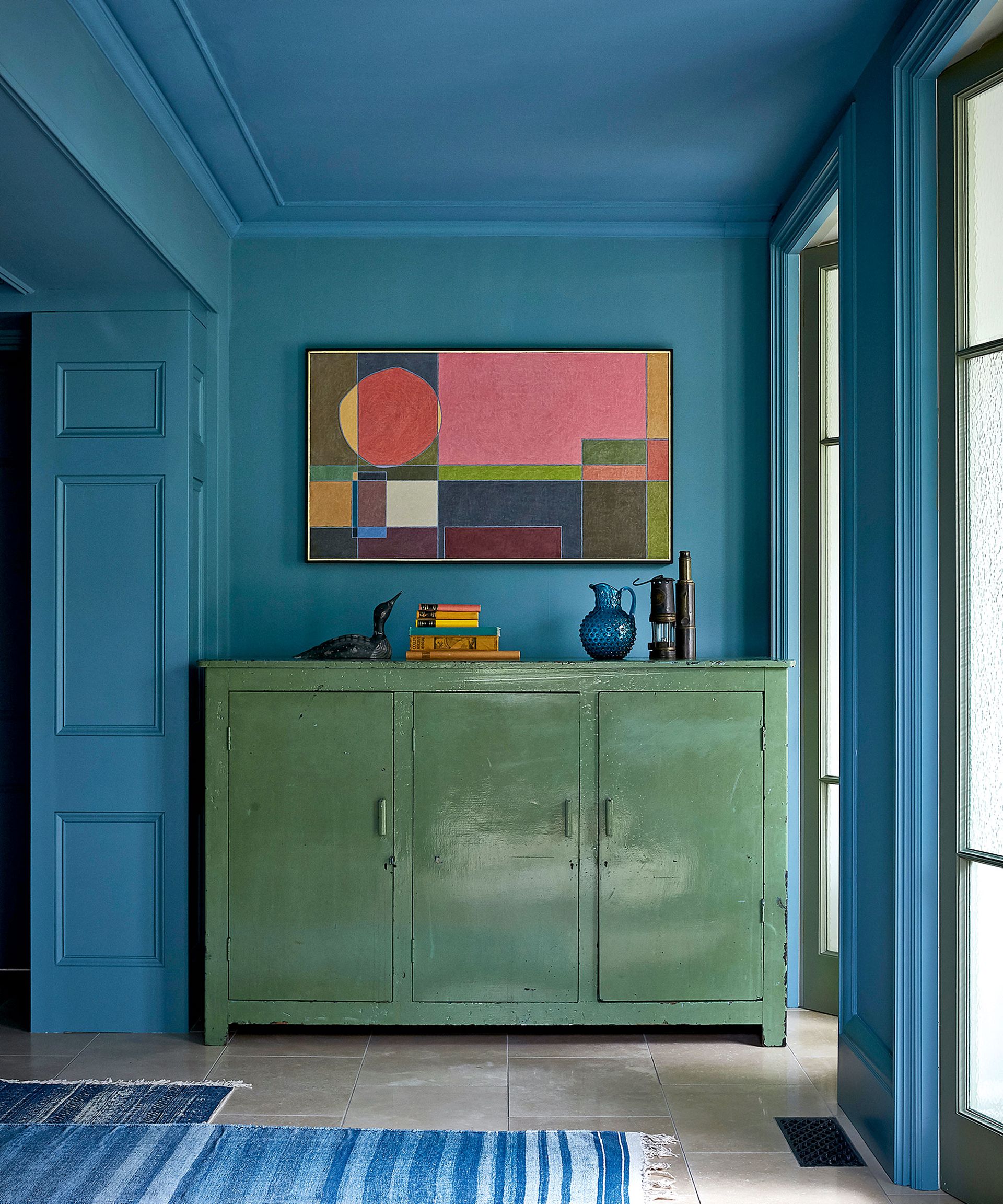 'Ceiling ideas can add another layer of interest and make a small living room feel bigger. All too often they are an afterthought but we make sure to consider their potential,' confides interior designer Nicola Harding. Using statement color and paint ideas on the ceiling helped extend the walls in this tiny living room.
Nicola starts by thinking about how she wants the room to feel, ultimately, and she also takes into consideration the amount of natural light – which comes here from the floor-to-ceiling glazed doors.
What patterns make a small living room look bigger?
Stripes make a small living room look bigger. Use them vertically to make a low-ceilinged room look taller or horizontally on the narrowest wall to make a narrow space feel wider. You do not have to use pronounced stripes – they can be subtle to have an effect. And they do not have to be limited to walls – striped curtains can make windows feel taller.
What are the best tricks to make a small living room look bigger?
The best tricks to make a small living look bigger are:
Painting walls and ceilings a pale or light color.
Choosing reflective finishes for walls and floors – in tasteful moderation.
Hanging mirrors.
Decluttering and investing in smart storage to keep surfaces as clear as possible.
Ensuring furniture has small or low proportions too or is visually small, ie, in clear glass.
Displaying one large piece of art rather than busy gallery walls.
Ensuring the windows are clutter-free and that curtains and blinds can pull back or up to allow in as much light as possible.
Sign up to the Homes & Gardens newsletter
Decor Ideas. Project Inspiration. Expert Advice. Delivered to your inbox.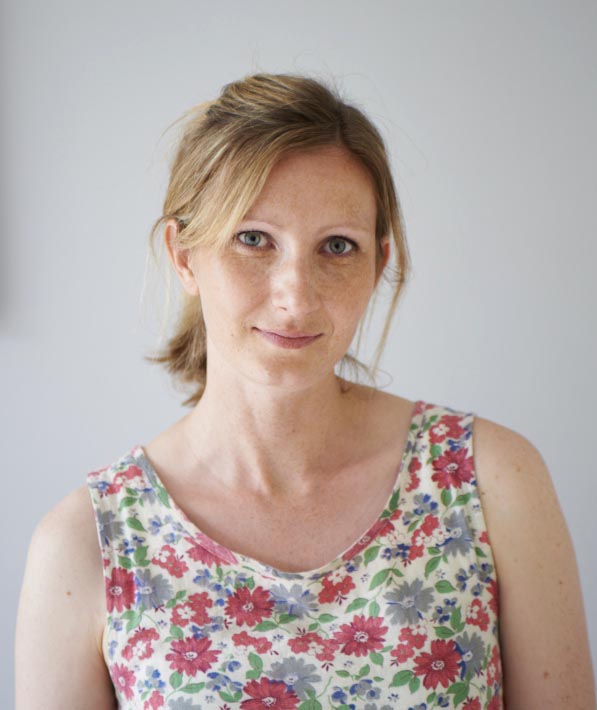 Sophie has been an interior stylist and journalist for over 20 years and has worked for many of the main interior magazines during that time, both in-house and as a freelancer. On the side, as well as being the News Editor for indie magazine, 91, she trained to be a florist in 2019 and launched The Prettiest Posy where she curates beautiful flowers for modern weddings and events. For H&G, she writes features about interior design – and is known for having an eye for a beautiful room.