Small living room lighting ideas – 29 designs and expert advice
Use small living room lighting ideas to make your space feel brighter, better and even bigger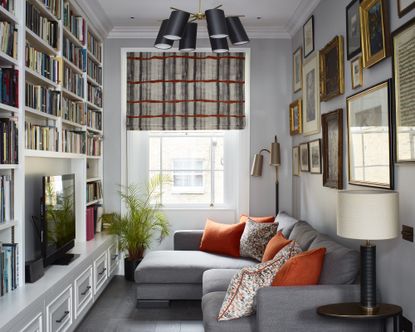 (Image credit: Yellow London/Matt Clayton)
Small living room lighting ideas aren't just about picking light fittings with the right proportions.
Lighting can make or break a scheme, and as stylists and interior designers will often explain, there's no space where it matters more than in multi-tasking, small living rooms.
The key when you're looking for living room lighting ideas for more compact spaces is to introduce multiple layers that integrate both ambient, decorative and task lighting seamlessly.
Below, we explain how, with expert input, you can transform your small living room ideas, and give you plenty of visual inspiration, too.
Small living room lighting ideas
Planning living room lighting is all the more important in tight spaces as lighting ideas can make them feel larger if chosen and positioned well. These are our favorite small living room lighting ideas – and we've added lots of useful advice from lighting experts, too.
1. Choose lighting designs that look beautiful on or off
Small living rooms really only need one focal point, and that can be a light, whether a central pendant, wall light or table lamp.
'We are designing products with exaggerated scale to create interest and a sense of fun,' explains Niki Wright, founder of lights&lamps. 'This could be across a collection of lamps with a similar textured surface, or the use of geometric shapes such as domes, cones and globes. A statement lamp can have such gravitas in a living room whilst a similarly shaped lamp in a smaller scale can be a lot more practical in a nook or placed on a small shelf whilst still coordinating.'
2. Light up shadowy corners
The most important job of small living room lighting ideas is to make sure the whole room gets the light it needs, when it needs it. In compact rooms with less-than-ideal levels of natural light, it's much easier for corners to become shadow traps, making the space feel even smaller at night. Good lighting can make a small living room look bigger.
Banish this problem by situating light sources in these corners, as demonstrated in this design for a living room TV nook by Yellow London, which tucks table lamps and standing lamps where they are needed most.
3. Choose a light design for the period of the property
'Period properties are usually blessed with high ceilings and so scale is a key element in bringing the two together. Equally we see modern designs used in as many period style homes as modern and with a minimalist style and exaggerated proportions, they can fill a space without jarring against an ornate ceiling rose. Again, traditional materials such as marble sit comfortably in a period property but used in more contemporary forms mean the two marry well,' says lighting expert Niki Wright.
4. Choose lamps that double as works of art
By definition, smaller rooms mean less space to fit in the more frivolous aspects of interior design – and that can mean artwork gets bumped down the priority list behind more useful objects. To pack as much unique character as you can into a small living room, look for light fittings that double as works of art.
In the home of furniture expert Christine Retlev, the living room sofa is flanked by a pair of highly sculptural plaster lamps from Blackman Cruz. If you have wall space to spare, consider sculptural living room wall lighting ideas that give as much character to the space as a painting, but with added glow.
5. Highlight design elements in a room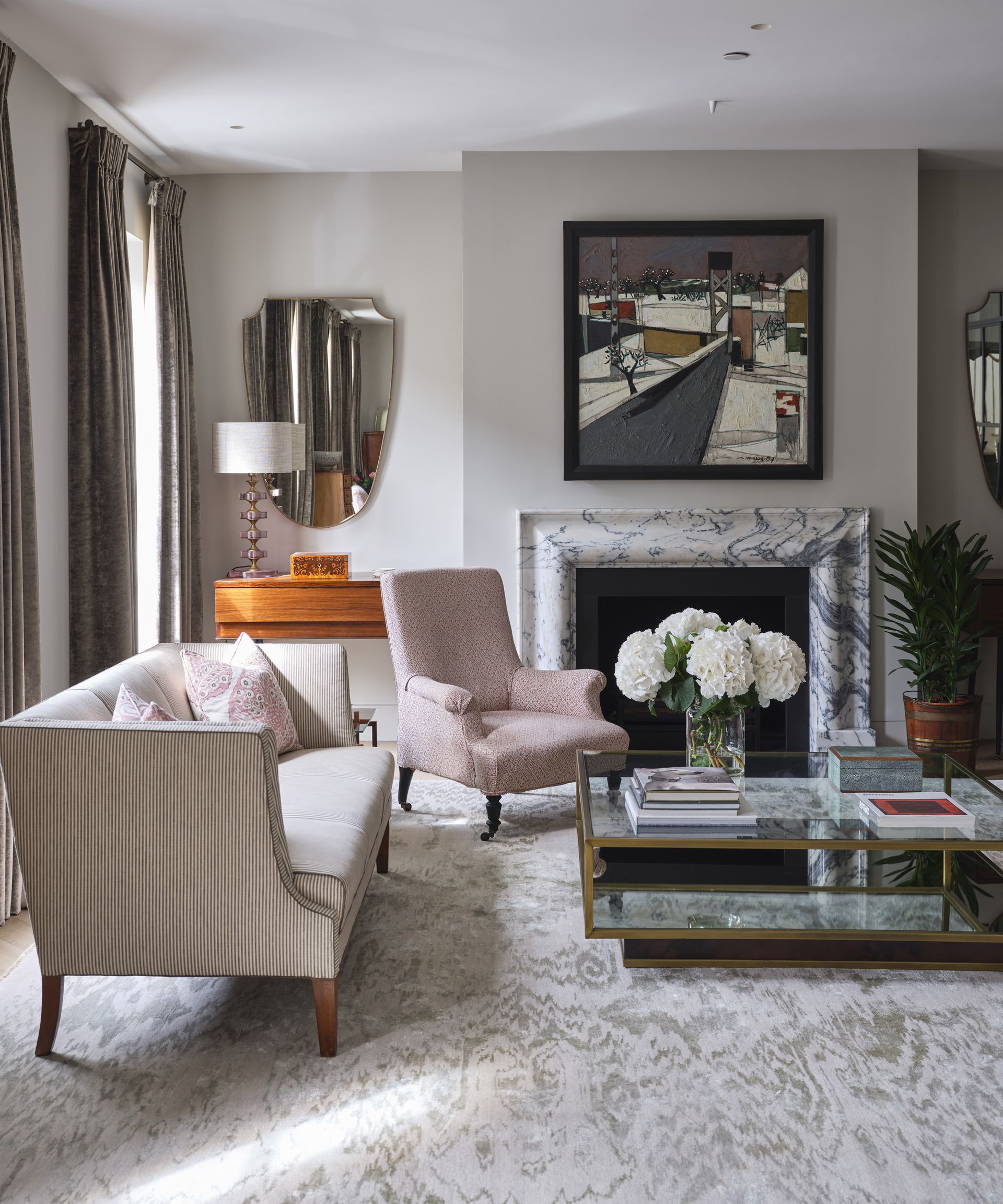 Lighting can be effectively used in small living rooms to enhance architectural spaces, from fireplaces to alcoves.
'Lighting can absolutely change the atmosphere in a room. It can highlight other design elements within the space, it can make a room appear bigger if positioned correctly, it can even change the feeling of temperature in a room; but also, with the use of interesting materials or exaggerated scale it can make a statement in its own right,' notes Niki Wright.
Here, the living room alcoves are highlighted by shapely table lamps, and the effect exaggerated by mirrors behind.
6. Put downlights on a separate circuit
'Put all lights on dimmer switches and have a variety of circuits in each room – usually one for downlight, one for table lamps and one for the central light,' advises lighting specialist, Lucy Vaughan.
For small living room ideas with a lower ceiling like this one, a statement chandelier might be too imposing, but it's still important to get some light into the centre of the room. Use downlights, controlled separately, to illuminate the coffee table.
7. Consider chandeliers for small living rooms
'Large scale lighting does have a place in small living rooms, so you can consider over-sized living room ceiling ideas and even living room chandelier ideas,' says Lucy Searle, Editor in Chief, Homes & Gardens. 'However, it will be the focal point of the space, so the rest of the scheme needs to be quite muted – that's not to say boring – so that the room doesn't feel crowded. The other rule to consider is the height of the light; it needs to hang at least 7ft from the floor.'
8. Create zones with lighting
When thinking about small living room lighting, consider how its usage can actually help alter the layout of the room. In a small room that has multiple jobs to do – a living room can at once be a playroom, a home office, a TV room and more – it can be harder to add a sense of division to dedicated areas.
Specific task or mood lighting can help zone an area: in this room by designer Lisa Staton, a reclined armchair is accompanied by a floor reading lamp, indicating that this part of the room is perfect for perching in with a good book.
9. Choose a multi-directional chandelier
One of the biggest living room lighting trends right now is adding a contemporary spin to classic chandelier design. The most popular way to do this is to opt for a sputnik chandelier – a mid-century modern-style lighting arrangement that usually sees bulbs attached to the ends of spokes that shoot out in myriad directions.
Not only is this a dynamic choice, but it also works well in smaller rooms with less natural light, casting its glow across all parts of the room, and even into shadowier corners.
10. Choose minimal but impactful fittings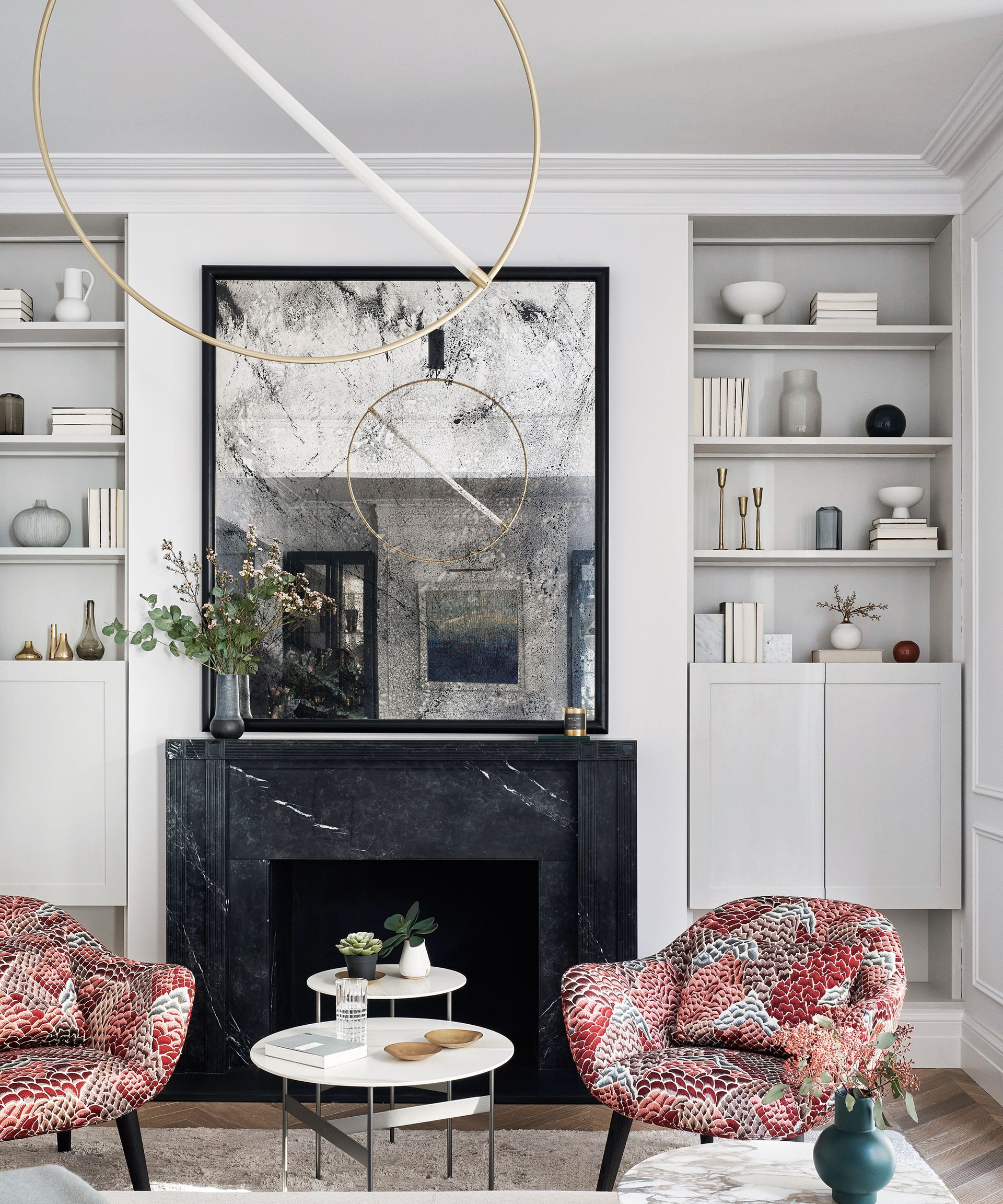 A small living room can't always handle a dramatically large light fitting. If you want to make a statement without crowding the space, consider a more minimal ceiling fixture that makes an impact because of its interesting design, not its physical size.
In this room, a light fitting consisting of a brass hoop with an LED bar across its middle puts a very contemporary stamp on the room, but its simplicity and embracing of negative space means its presence is far from overbearing.
11. Use living room lighting to enhance mood
Changing just a few light fittings can have a huge impact on any interior, but particularly when looking at apartment living room ideas.
The easiest way to update your scheme is to add floor and table lighting. Not only are they visually appealing but, when placed carefully, can help enhance the atmosphere of a room making it warm and romantic, crisp and bright, or cool and sophisticated.
A bit of imagination, a modest budget and a plug socket are all that is needed. Although it might seem more complicated, changing pendants needn't be daunting – and needn't cost much.
12. Make a statement with living room lighting
Creating a statement scheme is a big look right now. Decorative shades, such as patterned options in linen, are easy updates and great for adding bursts of eye-catching color to a room, day or night, without having to change your wall color or furniture.
13. Be sure to have enough light
Layers of light are the most effective way to illuminate a room that is likely to be used for different purposes, including entertaining and relaxing, reading a book or watching television. This can be achieved with a combination of decorative wall and table lamps with architectural lighting, so that you can switch between them as required.
'It's important to create layers for practicality and ambience; a mix of downlights in the ceiling, tasking lighting for work or to ready by, and decorative lighting,' explains Vaughan.
14. Highlight important details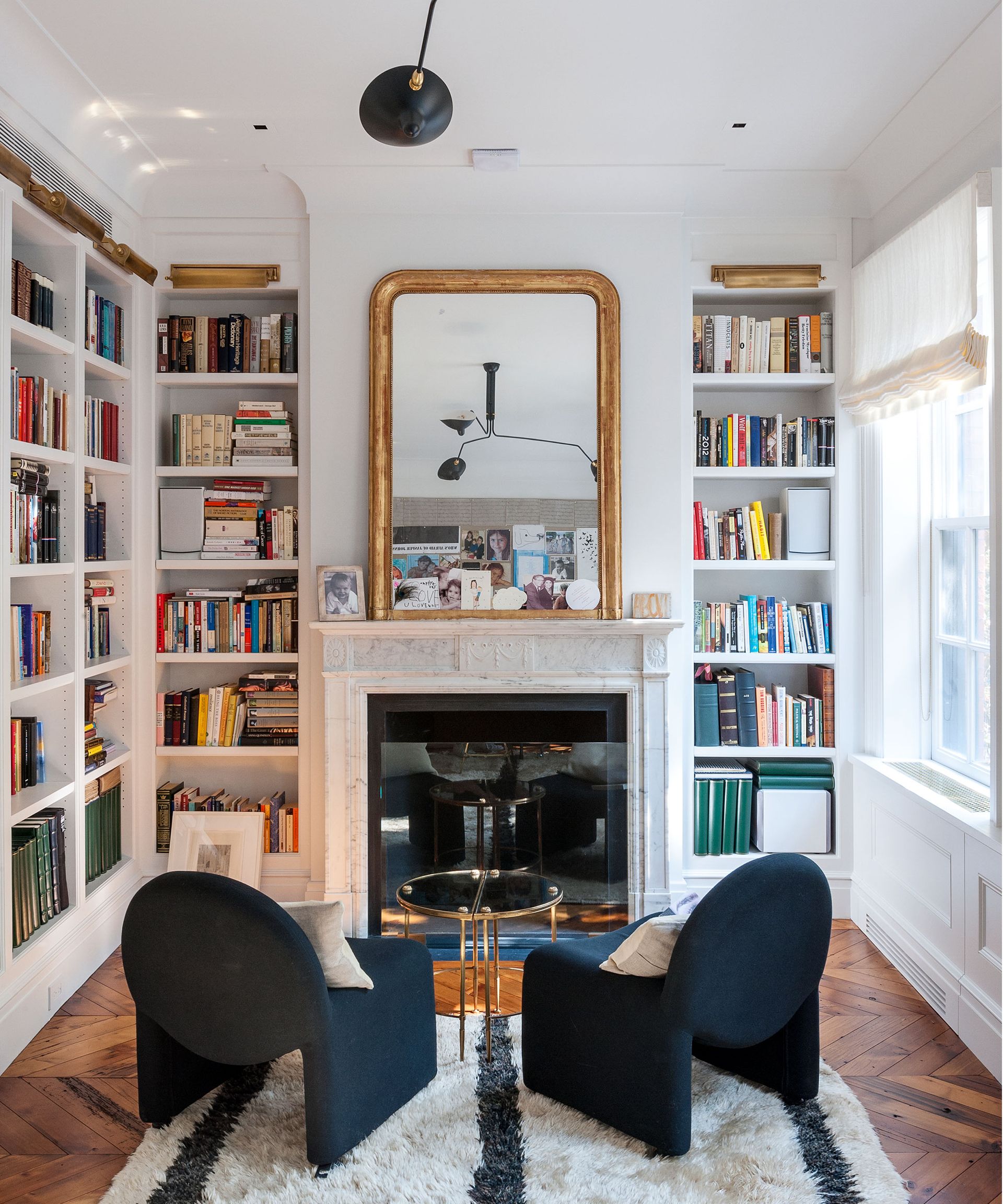 Give your eye something pleasing to focus on when entering your living room. More directional LED downlights can be used to illuminate a bookcase or curtains, while others can be used to highlight the coffee table and provide a central focus. A traditional picture light can work well above a painting, but a directional LED downlight is a good if there is insufficient room to fit a picture light.
15. Go for mobile – or wall hung – small living room lights
Traditional decorative table and wall lamps create general light and can be switched on and off according to mood. Table lamps are are brilliant choice for small living rooms as they can be moved around easily when not in use.
16. Invest in a large living room light fixture
Don't be afraid to go big with your small living room lighting ideas. Oversized pendant lighting is a surprisingly wonderful option for small spaces.
It takes a little bravery, but you can afford to use larger lights than you might at first think sensible. Big chandeliers, drum pendants and giant floor lamps are all very much in vogue for those who like their lighting to make a statement. Try making a similar splash by choosing large-scale pieces that will anchor a scheme.
Ultimately, your lights will spend more time off than on. They have to sit well within your scheme and look great all the time – not just when they're on. Remember that you can change a lampshade quite inexpensively, so don't be afraid to be bold.
17. Think about materials and texture
'Effective lighting can transform your home, defining space, highlighting design schemes and creating atmosphere and interest,' advises Peter Bowles, Managing Director at Original BTC.
'Consider materials and function – bone china gives a gentle, ambient glow, prismatic glass exaggerates and intensifies light, while aluminum and other metals bring a more industrial flavor and greater visual impact.'
18. Utilize every light source
Be generous with your small living room lighting ideas. The more sources of light you have, the more moods you can create. Narrow living rooms can often feel cramped, dull and dim, so you want to make the most of every element of light available.
Clustering a few small lamps is a great way to add impact to an alcove or mantelpiece. A handful of small pendant lampshades over a coffee table will have a bigger visual effect than using one alone.
19. Create symmetry in a small living room with lighting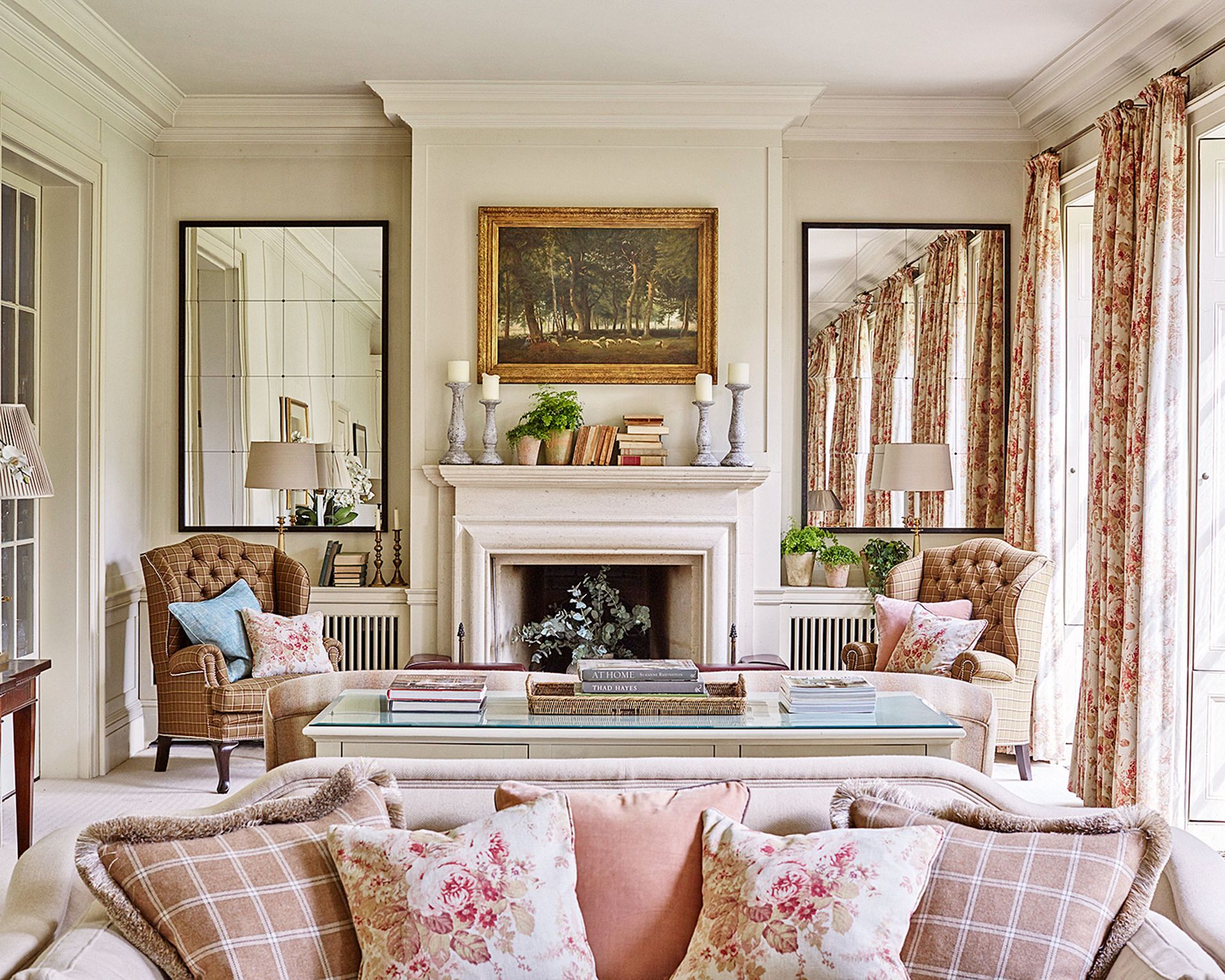 If you want to create a smart, designed look then go for symmetry with your lighting and small living room storage ideas. Paired lamps on matching console tables or at either end of a mantelpiece will frame whatever is between them and give a structure to your scheme.
20. Use light fixtures to add color and intrigue
'Creating the right ambience is essential within any space,' advises Claire Anstey, lighting buyer at Heal's. 'Lighting is becoming more decorative; it's a brilliant way of injecting color or personality into any room, at minimal cost.
'Whether it be a statement pendant in a living room or a classic reading lamp in the corner, using lighting to refresh a space is a really easy but affordable way to update your home.'
21. Make it match
It is often said that sticking to neutral color scheme will help to create a simple, bright scheme, and that certainly rings true for small living room lighting ideas, too.
'Add a sense of harmony to your scheme by matching accessories and soft furnishings to the colors of your lampshade,' says Sophie Amini, designer at Pooky.
22. Position furniture first
Consider the layout of furniture first, and then plan lighting to suit. Incorporate floor sockets that can be hidden under a couch for a small living room and wiring that can be hidden behind objects. The light fittings in this basement living room visually blend into the scheme for an uncluttered, minimal aesthetic.
23. Factor in a functional, family-friendly scheme
With clever small living room lighting ideas, the same scheme can create many different settings, from cosy dinners and family homework sessions to late-night movie watching. Banish the overpowering light hanging from the centre of the room and go for layers, up and down, so you can adapt to different moods and activities.
This means a mixture of overhead lighting, pendants, floor-standing lights and table lamps. Task lighting is essential of course, but one glaring light doesn't make for a relaxing or pleasant chill-out.
24. Highlight selectively with clever small living room lighting ideas
Avoid lighting every picture or feature in a room; instead decide at the outset which will be the main points of focus. Too much accent light will lessen the impact and create only general background light. In this room, the fireplace is gently lit with uplights for a subtle highlight, leaving some shadow elsewhere.
25. Use mirrors to double lighting effects
This small living room has an extra trick up its sleeve: the symmetrical table lamps on the console table sit in front of a large mirror. In daylight, the mirror makes the room feel larger and brighter – and creates wonderful double views of the furnishings, including the lights.
At night, the soft, warm glow given off by the table lamps is doubled, enhancing the depth that the mirror gives the room still more, making this one of the most effective space-enhancing small living room lighting ideas.
26. Include a wall light in a small or narrow space
Efficient living room wall lighting ideas are exceptional space-savers – and make a wonderful addition to small or long living room.
You can wall lights them to highlight key areas, such as exquisite artwork, architectural details or statement pieces of furniture. In this room, the brass design is illuminating the record player and will cast a glow on the artwork too. They can be used as a pair or make a feature of a single design.
27. Create an eclectic look by mixing up styles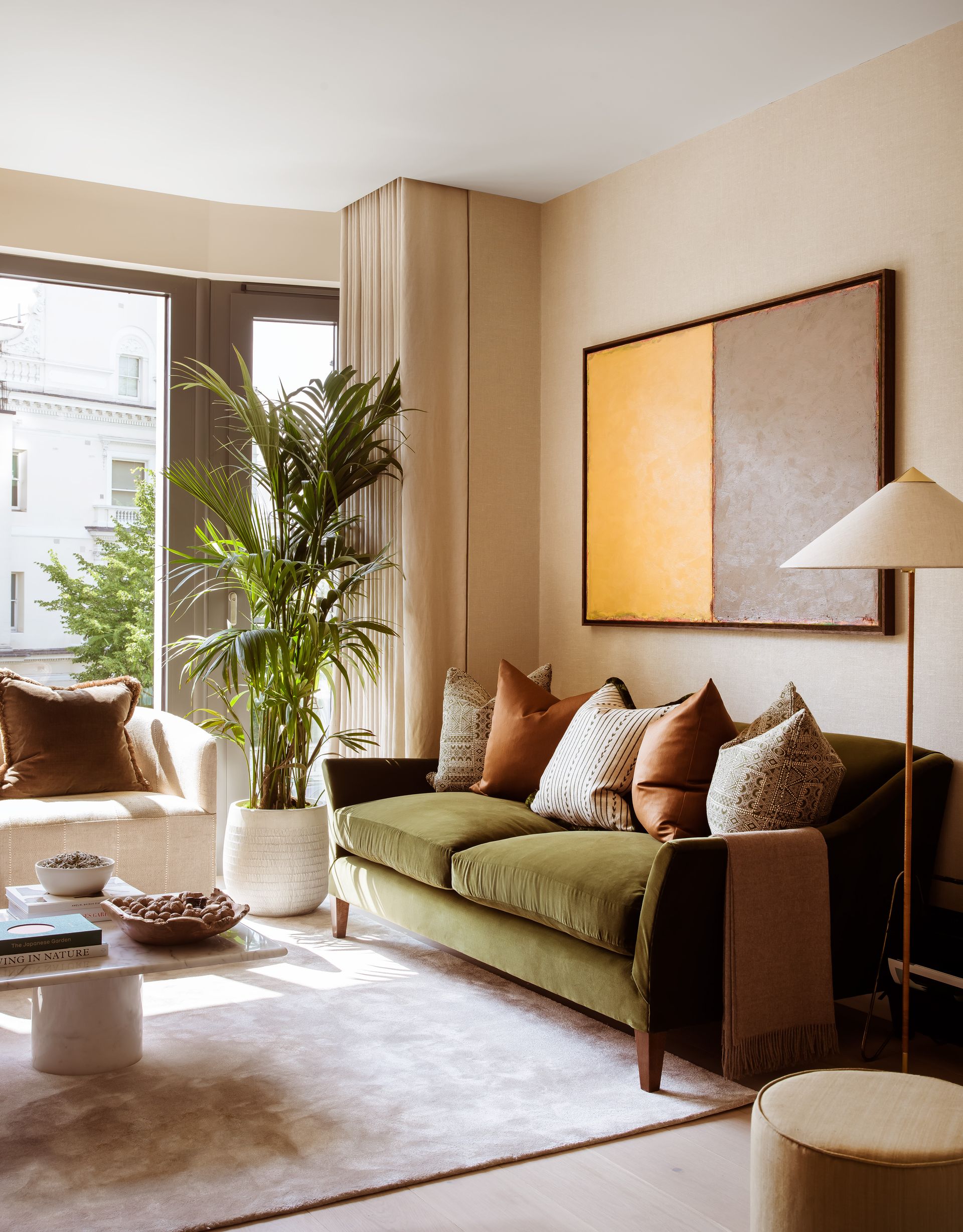 'Employ a modern floor lamp beside an antique living room sofa to create a curated look, and likewise, a pair of contemporary lamps on antique tables work particularly well. Similarly, antique lamps on contemporary side tables,' says Camilla Clarke, creative director at Albion Nord.
This light-filled space has a cozy feel thanks to the carefully-chosen living room color scheme, while the vintage floor lamp blends in perfectly. The shape of the shade will ensure that once the natural light fades, it will offset a beautiful diffused glow.
28. Use a table lamp to create a decorative corner
There are many statement table lamps on offer today like this beautiful design with its bold colored base and decorative shade. Use this kind of style to brighten up a dark corner and match it to your color scheme. All you need to do is pull out one or two key colors and carry that through into your soft furnishings and accessories. This one works particularly well as the sofa and pillows are plain, but one has a neon trim that matches the trim on the lampshade – it's these kinds of details that count.
29. Go high with your placement
We talk about layering your lighting in terms of pendants, wall lights, floor and table lamps, but you can also layer in terms of height too.
Table lamps tend to be placed on side tables and consoles, but why not put one higher up as Jonathan Adler has so done here?
It will create a glow lower than a pendant, but higher than a standard lamp-on-side-table arrangement so will create a glow in a different way, the key is to mix it up a little and not to conform to the standard placement.
How do you light a small living room?
Getting the balance right between lighting types, sources and styles can be tricky, especially in small living room lighting ideas.
'Lighting helps create the atmosphere in a living room,' says interior designer Amy Jones. 'It's the space where a multitude of activities take place from entertaining friends and bingeing on box sets to reading – so you need a carefully considered lighting plan that facilitates all of those things.'
Simon Wallis-Smith, director and designer at Fritz Fryer Lighting, add: 'A well-conceived lighting scheme can enable you to highlight a small room's architectural features, as well as provide task lighting where you need it most, and set the right mood. Without a good lighting scheme, it's all just a guess.'
It's not always about the quantity of lighting fittings in a compact scheme. It depends on the space you have and what it's used for. The best small living room lighting schemes layer different types of light, allowing maximum flexibility within the room. Smart small living room lighting ideas can help you visually divide or zone an open-plan space, as much as furniture can, by illuminating each part differently.
What kind of lighting is best for a living room?
Rapid changes in technology combined with an ever-increasing array of finishes, styles and shapes have made lighting one of the most exciting areas of contemporary design.
In terms of living room lighting ideas, you need to split your lighting into task, accent and ambient – they each require very different lights.
Desk and floor lamps, with their directional lights are best for task lighting; while accent lighting is useful to illuminate artwork, furniture and features (think picture lights or recessed spots on a tall wall to highlight its height).
Ambient lighting, which should be considered last in a scheme, adds atmosphere and creates mood. It's a combination of all three that makes for a comprehensive and considered scheme.
Good quality LEDs will provide an attractive quality of light and color rendition – discreet, low glare fittings work best.
How can lighting make my room look bigger?
Small living room lighting ideas certainly have the ability to make your space look bigger. 'It's all about illuminating the corners of a room and layering light,' explains Wallis-Smith.
'The trick is to incorporate as many layers as possible, so that no one light source is trying to do too much in your room.'
Sign up to the Homes & Gardens newsletter
Decor Ideas. Project Inspiration. Expert Advice. Delivered to your inbox.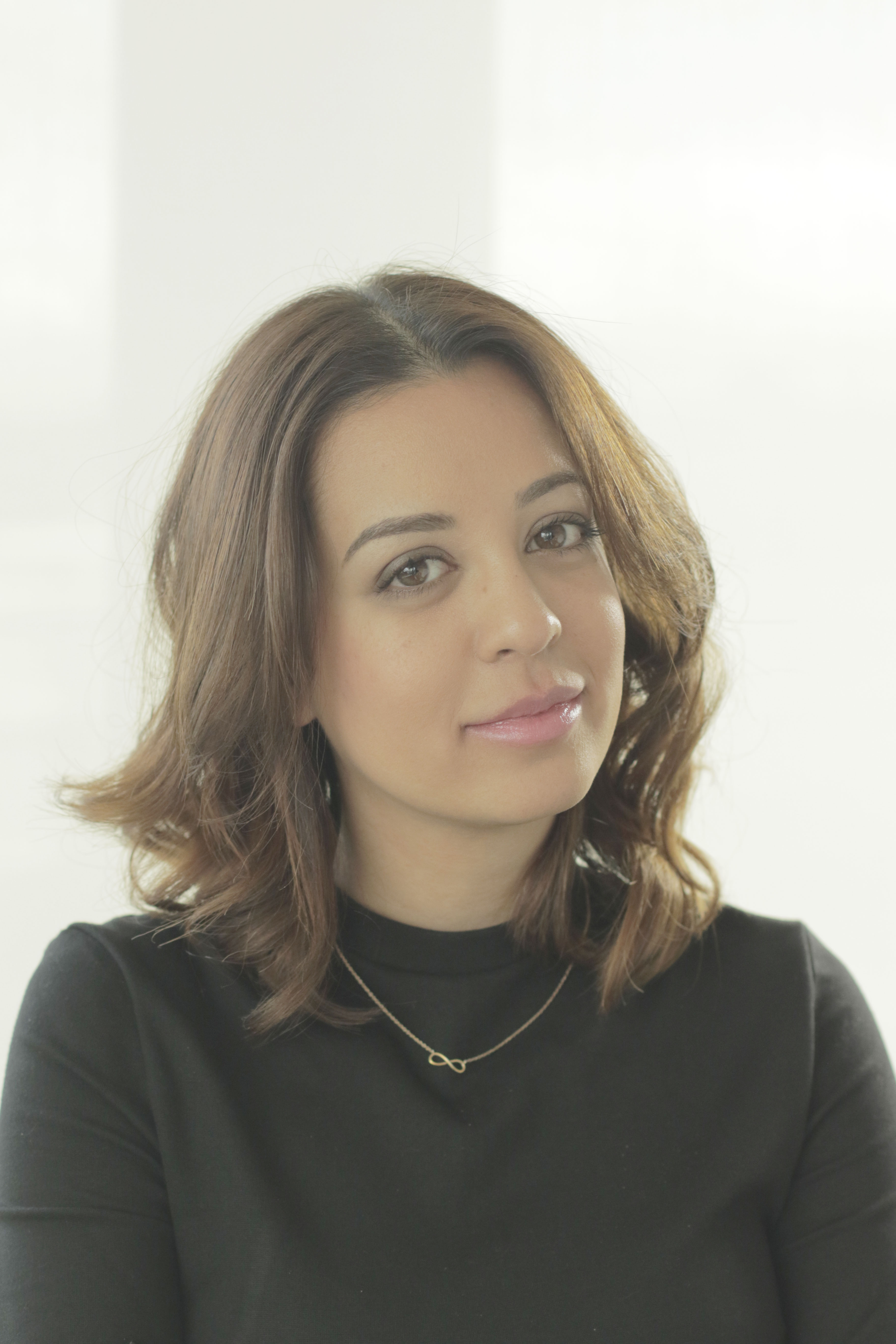 Jennifer is the Digital Editor at Homes & Gardens. Having worked in the interiors industry for a number of years, spanning many publications, she now hones her digital prowess on the 'best interiors website' in the world. Multi-skilled, Jennifer has worked in PR and marketing, and the occasional dabble in the social media, commercial and e-commerce space. Over the years, she has written about every area of the home, from compiling design houses from some of the best interior designers in the world to sourcing celebrity homes, reviewing appliances and even the odd news story or two.