Living room lighting trends – 10 fashionable ways to light a lounge
Give your lounge a gorgeous glow with these on-point living room lighting trends from in-the-know experts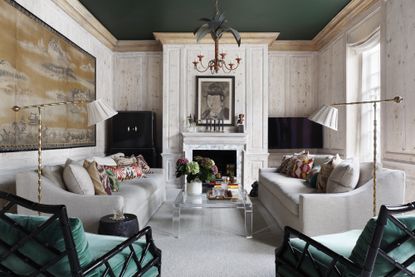 (Image credit: Studio Duggan)
Why should we give currency to living room lighting trends? Well, other than the fact that we, at H&G, like to keep a close eye on what's fashionable for homes, new lighting designs really do have the potential to determine not just the atmosphere of a living room – they can also be the focal point. And, as we head into a new season, they are an easy way to update our living room ideas.
So, what living room lighting trends should be investing in for 2022?
George Miller, Home Designer at Neptune, says: 'It's time to start thinking about ways to make your living spaces all the more cozy and comfortable as we begin to see shorter days, and darker evenings of the new season.
'Whether it's by including a freestanding lamp, installing wall lights, or even candles, you can make a huge difference to the atmosphere and ambience within your living room.'
Living room lighting trends
When considering new lighting trends with a view to investing in pieces for your living room, ensure the balance is correct for your space.
'The welcoming warmth of a good lighting scheme has the power to lift the spirits and make your house a home,' says Charlie Bowles, Director, Original BTC.
'Shadow-free task lighting is vital for reading or working, accent lighting highlights areas of interest while ambient lighting creates a cozy atmosphere that makes you feel instantly comfortable and relaxed. The key to the perfect scheme is a mixture of all three.'
Below, we list the latest living room lighting trends, from organic shapes to decorative lampshades.
1. Lighting as a work of art
View your living room lighting ideas as a way to make an impact visually, as well as a way to brighten up a room; form meets function to make a design statement.
Interior designer Raili Clasen says: 'We are specifying more and more extra large fixtures for the living areas, almost to take the place of an art installation. Small groups of pendants clustered together make such a bold statement in these main rooms.'
2. Traditional chandeliers, reimagined
Katie Glaister and Henry Miller-Robinson, co-founders of K&H Design, agree that living room lighting trends are tending towards design-led features, not just a functional form, adding: 'Artful ceiling lights, which playfully combine color with glass in mixed finishes, are definitely on-trend.
'Clients want more than just a glass chandelier in their living room, they want a work of art. Margit Wittig does this brilliantly with her combination of colorful resin gem pieces, combined with glass shades and metal finishes.
'In the room we designed above, the decorative lighting adds to the drama and color in the room and brings together the contemporary and the traditional with the antique Chinoiserie lamp. They also create different moods in the room by day and night.'
Helen Pett, Design Ambassador at Arteriors London, says: 'We've seen a demand for jewellery pieces, those statement lighting designs that really add something different and special to the home.
'In the past, these were more common in commercial and trade customers designing hotels and restaurants, but this year a notable growth in chandelier sales has taken off within our residential customer base, particularly seen in living rooms.
'Residential is normally where we'd see most of our more pared-back pendant lighting sales, but everything has phased a little differently in 2021. Perhaps rather than buying a new house, people are choosing to renovate and update their homes with luxury pieces which ultimately add value (along with style) to existing decor schemes.'
Rohan Blacker, Pooky founder, confirms that 'traditional chandeliers reimagined' is a trend on the rise, adding: 'The ornate, balanced with a mix of brass and glass - a mixing 'match made in heaven' - work to create newness, uniqueness and designs that are familiar albeit modern with an unexpected edge.'
3. Oversized and organic shapes
The trend for oversized living room lighting is gathering pace, and makes a statement focal point in your living room.
'Oversized dominant pendant lights or chandeliers are very popular at the moment,' says Elliot Barratt of Elliot James Interiors. 'They add a sense of grandeur whilst also offering an element of fun to the living room.'
Original BTC's Charlie Bowles says: 'When it comes to scale, dramatically proportioned lights are the most obvious way to create impact. A generously sized pendant will create a talking point, whether lit or not. '
Jane Rockett adds: 'One living room lighting trend we're loving at the moment is the use of pools of light that recreate the warm glow and atmospheric shadows of the setting sun.'
4. Decorative, vintage-style lampshades
This is a living room lighting trend for maximalists: fringing and florals have certainly made their way back into our hearts – and our living rooms.
Elliot Barratt confirms: 'Decorative, vintage-feel lampshades are making a big comeback, using highly patterned fabrics, like Phillip Jeffries, House of Hackney and Mind The Gap (above).'
Pair your elaborately printed lampshade with a brass base for extra gravitas and glamor. Mix pattern on pattern for a lively look, or use a printed lampshade as a stand-out piece.
Cox & Cox Product and Creative Director Dani Taylor adds: 'Lamps are more than a light source, they bring the most warmth and character and can be a real decorative statement. Opt for a statement large lamp or one in a bold color or print to bring a sense of depth to your home.'
5. Layer on layer
'Layered lighting is key,' states Cox & Cox's Dani Taylor. 'Use living room wall lighting ideas, floor lamps, and table lamps all in the same space to create zones and bring a sense of warmth, which is perfect as we move in to the colder months.'
Elliot Barratt adds: 'It is important to offer different levels of lighting to create ambience and cater for different needs from that space. Lamps at different levels remain popular.'
A mixture of ambient, task and accent lighting will ensure the room is multi-functional as well as cozy.
George Miller, Home Designer at Neptune, suggests: 'It might be an idea to include a floor lamp to create a warm steady glow that emanates calm throughout the room. Wall lights are perfect for adding a touch of mood lighting, particularly if you have a feature wall or limited floor space. For a smaller change, you could pop an array of candles on your mantelpiece to create a pretty and peaceful setting as the nights close in.'
6. Ceramic sculptures as lighting
After the world was thrown into turmoil during the pandemic, our homes became our sanctuaries more so than ever before. As a result, living room lighting trends have steered towards restful, cozy schemes that are conducive to relaxing.
Low-level lighting feeds into this design philosophy – as does the trend for handmade, sculpted bases. Nicky Mudie, of Violet & George, says: 'Low-level lighting is a top trend. Think lots of fabulous wall lights, table lights and floor lights. Items that are full of character and can be moved around for great atmosphere. Mood lighting over task lighting – trying to move away from spotlights and bright overhead lighting.'
Camilla Clarke, Creative Director at Albion Nord, agrees: 'Keep the lighting as soft and warm as possible, use wall lights or table lamps where possible and avoid too many spotlights, which make it feel stark and imposing in a space that's purpose is for relaxation.'
And Sue Jones, OKA co-founder and Creative Director, adds: 'As the nights draw in, lighting becomes all the more essential. For the autumn season, it's all about creating ambience; layer low-level lighting with colorful and patterned shades for a warm and inviting glow, or pair a brass or gold base with a shade in moody hues for a sultry, evening feel.'
This Volta Clamp was designed by Spanish ceramic sculptor and Soho House Barcelona member, Marta Bonilla for Soho Home. Crafted from red clay and coated in a satin finish to create a subtle sheen, it has an arched base and a natural raffia shade, paying homage to the designer's simplistic, raw and earthy aesthetic.
7. Bobbin lamp bases
If you are looking for small living room lighting ideas that are on trend – but not too expansive – turn to table lamps. Whether pleating and fluting on your lampshade or a bobbin design for the lamp base, these table lamps are a modern reinvention of classic styles.
Both add texture and depth to your lighting scheme as well as a sculptural element. Play with print and color or keep it cool and calm with a sleek white base.
8. Rustic-smart wall lights
'Wall lights for living rooms are – as far as I'm concerned – all about creating atmosphere and emphasizing a room's proportions,' says H&G's Editor in Chief, Lucy Searle.
'This isn't an easy task – the lighting levels need to be adjustable, the bulbs need to be the right warmth or the shade needs to diffuse the light warmly, and ideally the shade should through light either upwards and downwards – to make the room look taller – or downwards to make it feel cozier.
'All that aside, I feel it's vital that living room wall lights have a textural appeal that makes the room feel inviting, even when switched off – and that's why any wall shade made with natural materials is a great buy.'
9. Refined rustic aesthetic
The au naturel trend is more refined rustic than shabby chic. Clay lampshade bases are particularly popular and can add a modern farmhouse feel to any space, beautifully demonstrated in the room above, by Studio Duggan.
'People's love for organic, textural and "handmade" looking pieces, such as natural clays, ceramics, and tasseled rattan, celebrates a refined rustic aesthetic, which is ideal for adding raw texture that brings warmth to a scheme,' says Pooky's Rohan Blacker.
10. Primary color-revival and block color
Color purists will love this living room lighting trend, which sees the return to popularity of red, yellow and blue.
Block colors of green and pink are also proving popular.
Rohan Blacker explains: 'Pop art-inspired color palettes, block color and retro shapes and styles are being used as a key accessory, accent or central feature to build the rest of your interiors around.'
Sign up to the Homes & Gardens newsletter
Decor Ideas. Project Inspiration. Expert Advice. Delivered to your inbox.
Ruth Doherty is an experienced digital writer and editor specializing in interiors, travel and lifestyle. With 20 years of writing for national sites under her belt, she's worked for the likes of Livingetc.com, Standard, Ideal Home, Stylist and Marie Claire as well as Homes & Gardens.