Living room lighting ideas – 39 ways to decorate and illuminate your space
Explore living room lighting ideas to suit every one of the room's functions and moods – and that look great, too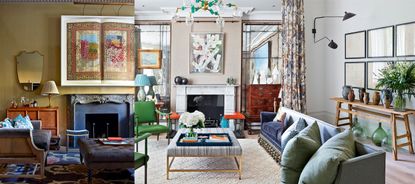 (Image credit: Future)
Sign up to the Homes & Gardens newsletter
Decor Ideas. Project Inspiration. Expert Advice. Delivered to your inbox.
Thank you for signing up to Homes & Gardens. You will receive a verification email shortly.
There was a problem. Please refresh the page and try again.
Living room lighting ideas are an essential part of the design of the space. Layers of lighting provide the illumination for every one of the room's functions, and allow changes of mood.
Lighting can also help realize your living room ideas by making the very most of the space's architecture, highlighting objects on display and artwork and, of course, creating a beautiful element of the room in its own right.
We've put together a selection of living room lighting ideas for rooms of every proportion and style to inspire your choices.
Living room lighting ideas
We have covered living room lighting ideas that are more than just about looks – they also encompass practical solutions, along with a ton of advice from top lighting and design experts.
1. Complement artwork with lighting
Successful living room lighting ideas harmonize with the space. According to , "the shape of a light needs to complement the rest of the room,' explains Natalia Miyar. 'A minimalist geometric light, for instance, might reflect the lines of an abstract painting.' This Miro-inspired mobile light is a perfect companion for the abstract curved brushstrokes of the painting.
2. Create intimacy with low hanging lighting
Adding a low hanging chandelier or pendant light to a seating area will help create a cozy sense of intimacy by lowering the visual plane. In this example, a simple six-branched light fitting acts as a centerpiece for a collection of armchairs and a sofa. Crucially, fittings that hang at head height or below should always be in areas where you aren't planning to walk or stand – place them over a table to avoid any mishaps.
3. Bring the outside in
Connect indoors to out with living room lighting ideas. This delicate foliage design light is from a project by Pandora Taylor and its leaves reflect what is seen through the window.
'This space was inspired by the gardens outside, so we introduced subtle floral motifs throughout, including the patterned sofa and the chandelier by Richard Taylor Designs.
'We needed something large as the room is so big, and the delicate spread of the light's arms is perfect for creating bulk in an elegant way.' The chandelier silhouette sits sweetly against the pale green walls, another clever reference to the garden beyond.
4. Experiment with contemporary LED lighting styles
Classic lighting structures like candle chandeliers, shaded pendant lamps and half moon wall sconces have stood the test of time, but don't be afraid to embrace a brave new world. LED technology has made it possible for light fittings to come in a wider array of designs, including this hoop arrangement fitted with an LED bar. The artfully tarnished mirror also creates a visual contrast to the fitting's slick lines, and will help bounce the light around the room.
5. Generate subtle warmth with lighting
Give a living room in a neutral palette with delicate highlights of small-scale patterns an edge with the introduction of a burnished brass pendant shade. The soft metallic sheen of the light will cast an inviting glow across the space.
6. Consider the color of the light your fittings shed
'It's important that you consider the color of the light shed by your fittings, whether that be the bulb color or the light diffused by the color of the shade,' says H&G's editor in chief, Lucy Searle.
'In fact, if you are clever, you can alter the mood of a room, just with a bulb or shade color – here, in this beautiful space by Elicyon, the light given off by the table lamp will be muted and warm, perfect for a living room.'
7. Introduce a new material
Living room lights don't have to be covered in dripping crystal droplets to make a statement, according to director of Original BTC Charlie Bowles: ceramic designs are having a moment, he says.
'For living rooms, bone china products are our best sellers. It's an ideal choice, bringing a lovely softness of finish and a beautifully translucent glow. This soft light is ideal for creating a cozy atmosphere that makes you feel instantly comfortable and relaxed.'
8. Make space for task lighting in a living room
Now more than ever, our living rooms are having to multi-task, which means our lighting needs to, too. The newest addition to your living room lighting arsenal has to be light to work by. It needn't be purely functional, even a pretty table lamp like the one above will create a pool of light to work by.
9. Create personality with living room lighting ideas
A retro-inspired ceiling light in bronze will work well with an eclectic mix of pattern and texture in a living room – don't be afraid to embrace clashing prints. Unify the look with a coffee table in the same material as your lighting.
10. Get textural with lampshades
As well as covering up unsightly bulbs and helping diffuse light around a room, lampshades are also a chance to inject extra personality into a design scheme. As well as thinking about color and pattern, consider texture too: in this living room, a wicker lampshade adds another layer of tactility to a fabric-centric scheme. As a fairly solid shade, it will keep most of the light pointing downwards, but breaks in the material will allow for a diffused glow above.
11. Mix mid century lighting and contemporary decor
Classic lighting designs can be successfully combined with decor from different eras. This London project from Studio Duggan features limewashed walls, terrazzo floors, a vintage marble coffee table, and a Ligne Roset sofa together with a mid-century brass Sputnik chandelier from 1stDibs that elevates and takes center stage. All the proof you need that you should mix the classic and the contemporary to hit the style top notes.
12. Blend lighting and artwork with neon
A light fitting can be so much more than a nighttime tool – chosen with a bit of creativity, it can double as a work of art that will help to make your living room beautiful.
A cool, contemporary way to do this is to seek out neon pieces: lettering and line drawings in bright colors will add personality to a room, while also acting as a glowing light source for moody evenings. You can even go all out and commission a neon artist to create something bespoke for you, featuring a favourite quote or even your own handwriting.
13. Complement living room patterns with lighting
Patterned textiles whether on an upholstered sofa or drapes can inform the decoration of a living room, including the lighting. Here, the curtain's print in parakeet green, indigo blue and brilliant white is reflected in the green walls, blue artwork, and clear white chandelier.
Interior designer Samantha Todhunter explains, 'We chose a vintage Mazzega Venetian chandelier from Vincenzo Caffarella (via Alfies Antique Market) in this London sitting room for its shape. It felt like a comfortable fit with the modernist and graphic scheme and gives a translucent focal point to the space.'
14. Use lampshades to create decorative accents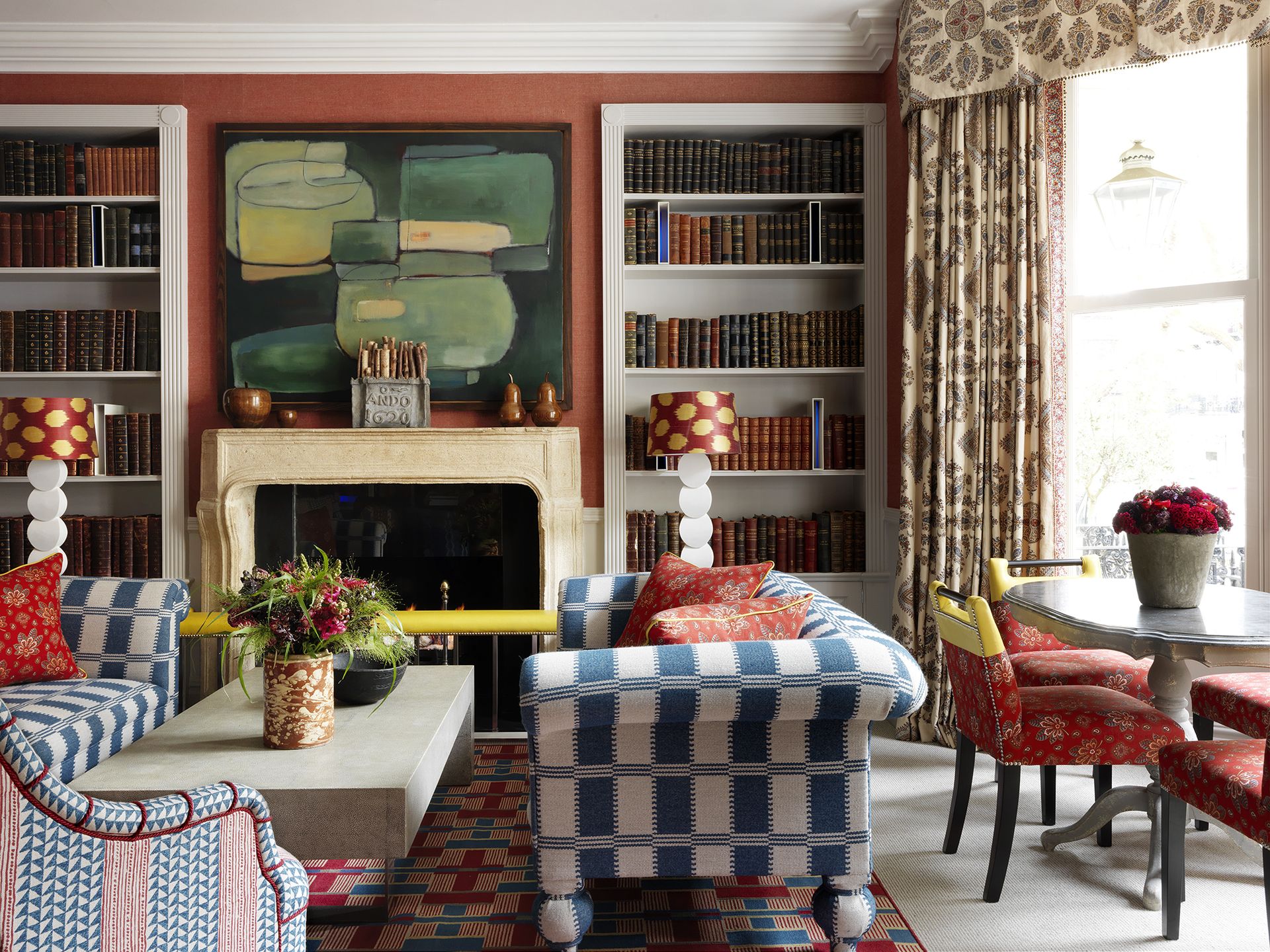 We are big lovers of pattern at H&G, so it's perhaps unsurprising that we have picked out adding pattern as one of the bonuses that lighting can bring to a room. Our advice? Use it as an opportunity to add a new accent pattern in a different motif size to the others in your room – and of course, take the opportunity to add a new color, too.
15. Enjoy salvage style
Look for a vintage light to create a unique room. Interior designer Lucy Cunningham explains of this project, 'With this room we actually worked backwards. The client loved these vintage lights, which were already in place, so to create a contrast and allow them to become a feature we opted for a neutral color palette and some pretty patterns, creating a light and airy feel around the heavier more contemporary look of the lights.'
16. Make a feature of wall art
A contemporary living room needs a very layered approach to lighting, as it has many functions. 'Downlighters should be nearly invisible, their light picking out art on the wall or shining directly down onto a central console table,' explains interior designer, Staffan Tollgård of Tollgård Design Group.
A traditional picture light can work well above a painting, but a directional LED downlight is a good choice for contemporary artwork or if there is insufficient room to fit a picture light.
17. Go pale – and interesting
To achieve a smart and serene living room stick to neutral white paint for the walls and ceiling. This will highlight the architectural details making the room appear taller. As for lighting, enhance the airy feel of the room by selecting matching shades.
Here, the lampshades on the OKA Fortuna metal floor lamp and those on the Vaughan Colombier chandelier complement one another. Introduce a hint of color with sofa pillows.
18. Use a dimmer
Lighting creates mood and atmosphere, and it needs to be versatile so that it works on a dull day just as well as it does for an evening party.
'If you have a large living room with three or more lighting circuits, it's worth considering a control system to avoid the need for a big bank of dimmer switches,' advises Sally Storey, design director of John Cullen.
19. Make maximum impact
When you walk into your living room the ceiling light should be the first thing you see according to founder and director of Elicyon Charu Gandhi.
'In a recent London apartment project, we suspended a floating blanket shaped chandelier made of cast glass, designed by Preciosa, which frames the main living area and can be seen from the entrance to the apartment, so it draws your eye into the space and then to the window and view.'
20. Think about lighting as a finishing touch
Matthew Williamson is renowned for a joyful, expressive style in his interiors and homeware collections. Here he shares insights on living room lighting.
'I've always been a maximalist, a lover of ornamentation,' he says, 'I want to create things that make others feel happy. I've never been able to get my head around minimalism or flat color. When I start a room design, I always to think how I can make an empty space give joy and raise a smile.
'Table lamps complete a room in the same way that jewellery completes an outfit. They are relatively affordable and so even, if you are working to a budget, a few new lamps are a wonderful way to give a whole room a lovely lift.'
21. Light up a reading spot
Ambient or general lighting is usually provided by table lamps, so make sure you have sufficient power points, including some in the floor if the room is large. A floor lamp, ideally with an articulated head that can be angled to direct light, is useful for reading, although a table lamp at just the right height – so that light is cast downwards towards your elbow level – will do too.
22. Create areas of interest
Even if you are looking for small living room lighting ideas, you needn't dial down on choices. In fact, the more options, the more layered the room will feel. Add uplighters in corners to add drama to modern schemes. They are often used to create pools of light and shadow. You can also place them behind sculptures and around furniture for a theatrical effect.
23. Go for grandeur with a chandelier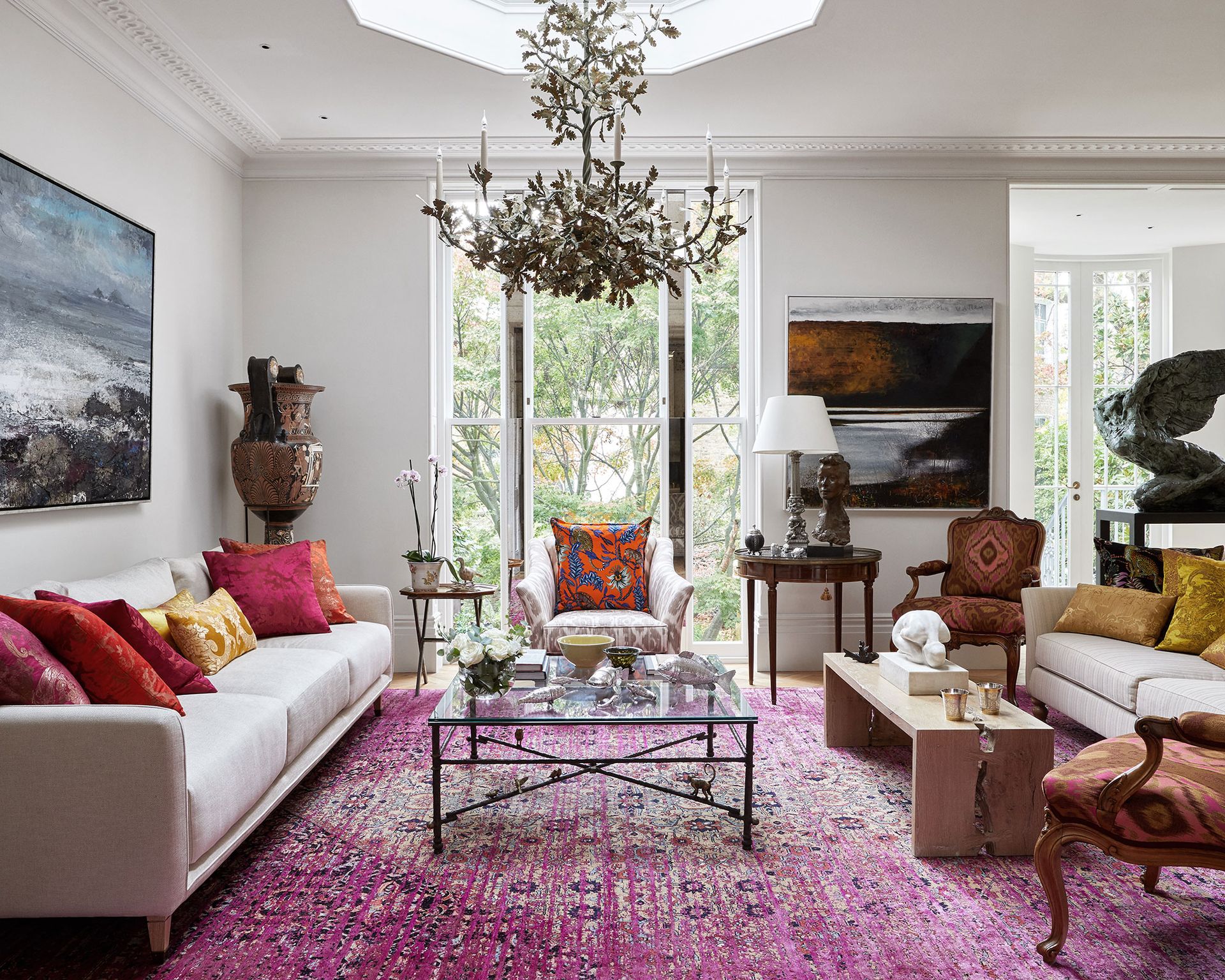 A chandelier or hanging light will add a decorative flourish to any interior, great for living room ceiling ideas.
A striking chandelier increases the light levels in the room and acts as an elegant statement piece; consider hanging it as low as functionally possible.
24. Play with scale
The sense of scale is a key principle for successful interior design – when thinking about how to plan living room lighting, try mixing it up. This striking version of a table lamp throws in an unexpected change of scale, and injects humor into this space. It also adds impact and draws the eye to the couch it looms over.
Don't shy away from adding a large piece to a room for fear of it being overpowering; in fact, a large-scale pendant, table or floor lamp often makes a space feel much bigger. Playing with light and shadows is a good way to create a visual impression of additional space.
In very few instances does bigger mean better, but in lighting that is quite often the case. 'When pondering the size of a decorative light, bigger is generally better – anything too small tends to look mean,' explains John Cullen Lighting's Luke Thomas.
25. Think about shade size
When choosing a shade measure the diameter carefully and if in doubt go bigger.
'A grander, broader shade will have more presence, like a wide-brimmed hat,' says interior designer Matthew Williamson. 'I often team contrasting colors for the base and shade. A color wheel is useful to choose colors that are direct opposites. I have a lamp with a dusky pink shade on a plain green base at home. Blue with orange or rust also looks fabulous.'
26. Highlight zones
When planning living room lighting, consider the different zones and features you would like to highlight. 'Use accent lighting focused on a prized possession or artwork above the mantlepiece, while table lamps dotted around the room on shelving and console tables diffuse light across the space, ensuring a cozy effect,' says co-founder of OKA, Lucinda Waterhouse.
27. Work with existing architectural features
A living room is a fun space in which to create lighting scenes. According to interior designer Rebecca Leivars, you should 'aim to design a room that reflects the property's existing architecture and natural light orientation'.
Try incorporating floor uplights to create interesting shadows and highlight artwork, and downlights to cast gentle scallops of light onto favorite pieces and to drop pools of illumination onto tables.
28. Think in three when it comes to lighting
Try to incorporate three layers of lighting, including floor, wall and ceiling, which will allow you to create different atmospheres at different times of day. Combine them with localized lighting, such as decorative table lamps, which add warmth.
29. Have fun on the ceiling
'I love to add a big dramatic ceiling light – I don't think I've ever done a room without one,' says interior designer Matthew Williamson. 'You should always hang a pendant light lower than you think – that definitely adds an extra dimension to the room.'
30. Add color with the right lamps
If you tend to err on the side of caution when it comes to using bold patterns in living room color schemes, lampshades and bases are a good way to experiment with print and color.
A simple lamp base can be transformed into a focal point with the addition of a patterned lampshade, but don't allow your chosen shade to compete with your base; an elaborate base requires a more subdued lampshade.
31. Make sure to light a seating area
Ensure that each seating area has its own lighting. While a floor lamp may be best placed by an armchair, a couch better suits table lamps at either end. Alternatively, consider living room wall lighting ideas if you are short on space.
32. Craft a cozy corner
Go for low-level lighting, with table, wall and picture lights. Use lights that are dimmable and with a very warm white color temperature. By this, we mean a yellow rather than blue undertone. A dimmer is the quickest and easiest way of changing the atmosphere.
33. Think about tech with a smart lighting system
Smart lighting is growing, especially controlled through an app. These smart systems allow you to set lighting scenes for the room. For instance, you could tell the app that you're now working in the space so need a brighter light, which can then be changed again later when you're relaxing. This lamp, from Ikea, is a smart light and speaker, in one.
34. Dramatize a large living room
There's an art to choosing pendants that are the right size for a space, but if you're in doubt – and if you have tall ceilings, like this room – it pays to err on the larger side. 'Overscaling is a secret trick of the interior design trade,' says Philippa Thorp, director of decorating firm Thorp Design.
This black wire chandelier is expansive without feeling heavy, echoing both the proportions of the table beneath and the mirror on the wall opposite.
Filigree designs, such as this Ligne Roset parachute light, can cast complex shadows around the room, but if you want to soften the effect, take another tip from Thorp. 'I tell all my clients to use pearl bulbs in order to create a gentle glow,' she says.
35. Add to the atmosphere with wall sconces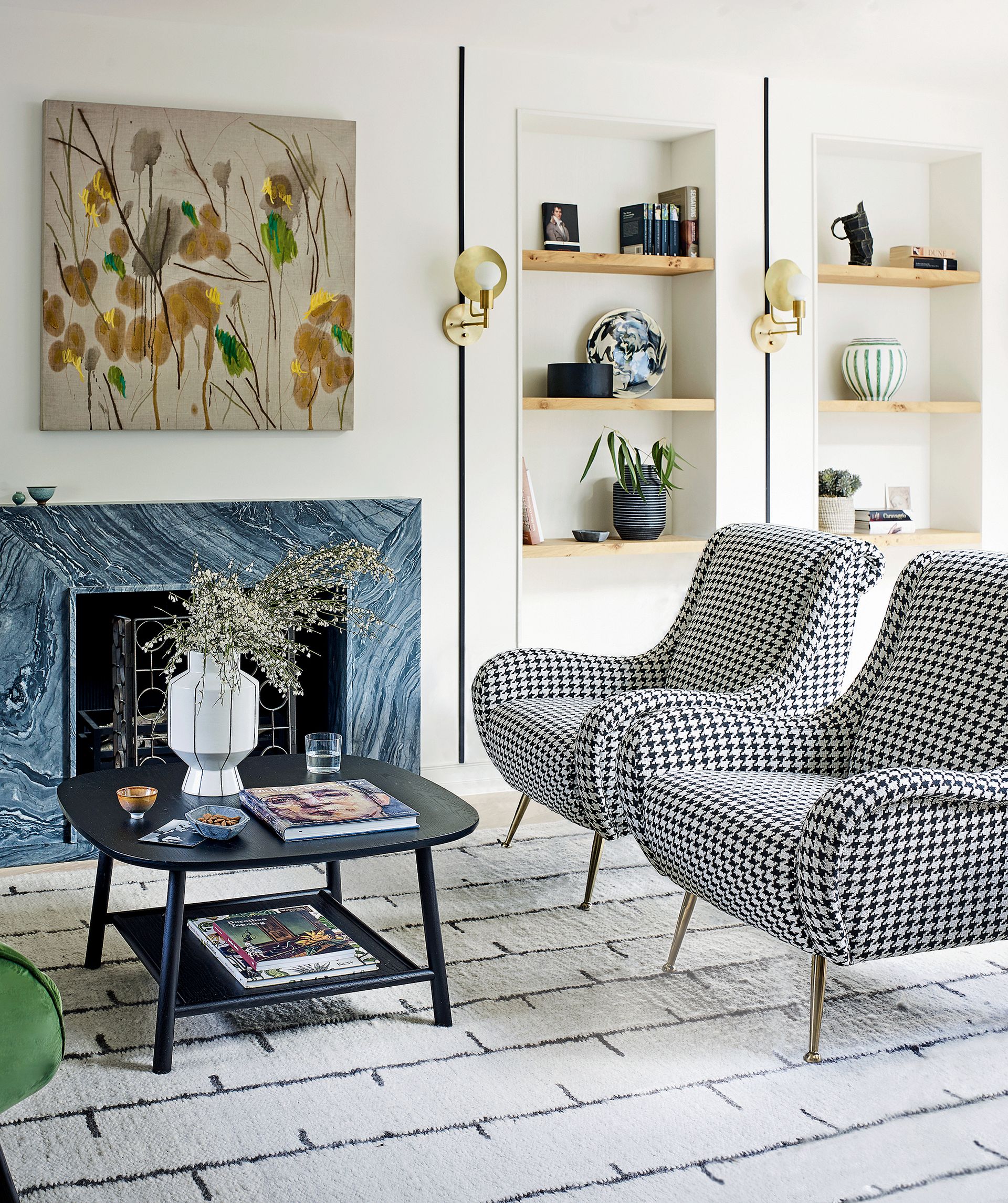 Traditional wall lighting fixtures that usually direct light upwards, sconces have been used within interiors for centuries, but are becoming increasingly popular with today's interior designers. While historically they would have held candles or oil lamps, today there's an array of bulb sconce lights with a fresh, contemporary take on the traditional design.
'Layered lighting is key to ensure your room feels its best all year round, and wall sconces can act as a supplementary light output to work alongside pendants to achieve this. Many of our wall lighting is made for creating cozy corners out of alcoves, archways and other architectural nooks. However, sconces are also extraordinarily apt at creating pockets of subdued light in larger rooms for boosting the ambience where needed,' says Sheena Lawrence, co-founder at Jim Lawrence.
When it comes to where to position sconce lighting, Lucy of LCT Home, has this advice: 'generally they are placed at just above eye level, high enough that the light can reach the areas above and below that you wish to illuminate, whilst also being able to add an aesthetically pleasing decoration to a room when they are not on.'
36. Take a cue from the architecture
A magnificent double height living space is the ideal space to showcase a statement pendant light and nothing commands attention like a show-stopping chandelier. While they may be associated with traditional look, they can make a striking statement when fitted in a contemporary space as this beautiful scheme proves.
'Placing an interesting, statement light in the centre of the ceiling provides a great focal point and design interest in the room, especially if you are keeping a muted palette in the space. Go for something mid-sized or go for an oversized chandelier if you have a large living room with high ceilings to make a real statement. Afterall, lighting should look beautiful whether switched on or off,' says Shalini Misra, Interior Designer and Founder, Shalini Misra Ltd and The Design Buzz.
37. Add pattern with table lamps
If you are looking to create a traditional living room you can't go wrong with table lamps and according to Penny Morrison you can never have too many. Perfect for creating a cosy mood and easy to reposition throughout the room, they are also a great way to add a pop of color and pattern.
'I always light rooms with lamps only, except where there are very dark corners where I will put small down lights in the corners of the room on dimmer switches which can be used to gently enhance the illusion of daylight on a really dark day,' says interior designer Penny Morrison.
'When the room is large and there are a lot of lamps (a large drawing room can have up to 12 lamps) it makes a huge difference if you use gently patterned fabric shades so as not to see a sea of white or cream on entering the room.'
38. Use wall lights to highlight artwork
Wall lighting is a brilliant way to add atmosphere in a living room but can also be used to highlight wall decor and artowrk, too. rather than opt for traditional over-head picture lights, why not add an eye-catching design that serves as a piece of wall art in its own right? 'This light highlights the art in a modern way rather than using traditional picture lighting, and its sculptural silhouette adds a modern touch,' says says Clara Ewart, head of design at Kitesgrove.
39. Add a floor lamp for reading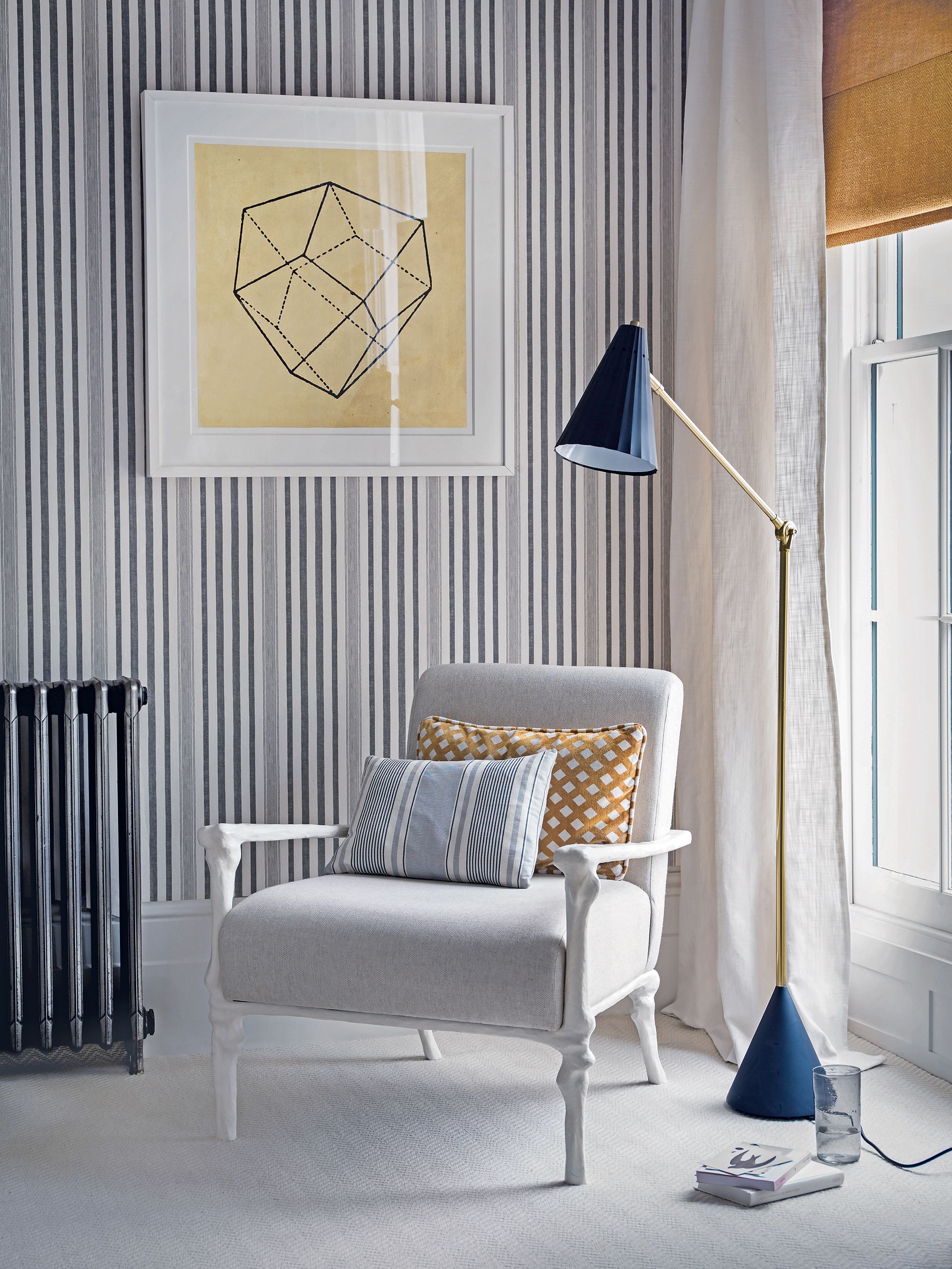 When it comes to living room lighting, 'you need to create a layered lighting scheme to have the right light for different moods and tasks,' explains Shalini Misra, interior designer and founder, Shalini Misra Ltd and The Design Buzz, so be sure to think carefully about how you use the room and to factor in a variety of light sources to meet the requirements.
'Think about flexible light sources for different situations: a floor light with a swivel arm is ideal as an evening reading lamp behind a sofa or chair,' says Hollie Moreland, creative director of David Hunt Lighting. 'Remember that shade colours can affect the mood of a room, so for added ambience, choose darker tones which will feel moodier and cosier.'
if you are adding floor lights then you may consider having sockets set into the floor at the centre of the room by sofas to avoid having trailing wires.
What is the best type of lighting for a living room?
Living rooms tend to be one of the most sociable rooms in the home, used for relaxing, entertaining, watching TV or reading, so lighting needs to be flexible, with each effect controlled separately to change the mood.
Currently, the most popular modern lights are actually re-workings of traditional fittings. One of the top selling light bulbs over the past year has been the squirrel cage lamp. The filament in the bulb gives a soft warm glow and it is designed to be seen directly. The lights can either be suspended from the ceiling as naked bulbs in clusters, or used with spun steel pendants for an industrial look.
Recent advances in technology have provided several new lighting opportunities, and in turn, broadened our horizons when it comes to fittings. A single pendant light can add wow factor, as can a cluster of etched glass bulbs hanging at different lengths. In other areas, discreet lighting creates a coolly contemporary touch – small 1-watt uplighters, for example, will add drama to elements you'd like to highlight.
Try to combine ambient, task and accent lighting instead of relying on just one type of light in a room, which can result in a flat effect. Instead, put picture lights, shelf lighting, lamps and downlights on different dimmable circuits to create a layered effect with plenty of flexibility and control.
Bear in mind that classical rooms often benefit from being offset by very modern fittings, while contemporary schemes are frequently enhanced by traditional or retro-style lighting. Try to avoid grids of downlights, as their beams can be too harsh, and don't neglect darker areas. Lighting corners can often help maximise a sense of space.
How should I light my living room?
'Aim for a mix of traditional and contemporary styles within a home. In a period drawing room with decorative cornicing, for example, why not consider a very modern chandelier, rather than a classic option,' advises Luke Thomas of John Cullen Lighting. 'Discreet, low-glare, architectural style lighting can work well with most schemes, as it will subtly enhance your chosen style.'
To make a bold statement, either use a really decorative light fitting which is a feature in its own right, or opt for much more discreet lighting to highlight an architectural feature.
Another easy way to create drama and add more light is to use recessed uplights to skim light over a textured wall, the jambs of a fireplace or even columns.
Where should lamps be placed in a living room?
Lamps should ideally be placed near furniture to create a cohesive living room lighting scheme. Avoid just placing lamps around a room's perimeter, which leaves a dark hole in the center. The key to a well lit living room is to introduce multiple layers that integrate both ambient, decorative and task lighting seamlessly.
Layers of light are the most effective way to illuminate a room that is likely to be used for different purposes, including entertaining, relaxing, reading a book or watching television. This can be achieved by combining decorative wall and table lamps with architectural lighting, so that you can switch between them as required.
Every fitting is different, so working out exactly where to position a light should be considered on an individual basis. However, as a general rule, wall lights are best positioned around head height, while pendants hanging over a coffee table can be lower. But take care that they do not cause obstruction. Opt for those that allow adjustment to the drop length from the ceiling.
Sign up to the Homes & Gardens newsletter
Decor Ideas. Project Inspiration. Expert Advice. Delivered to your inbox.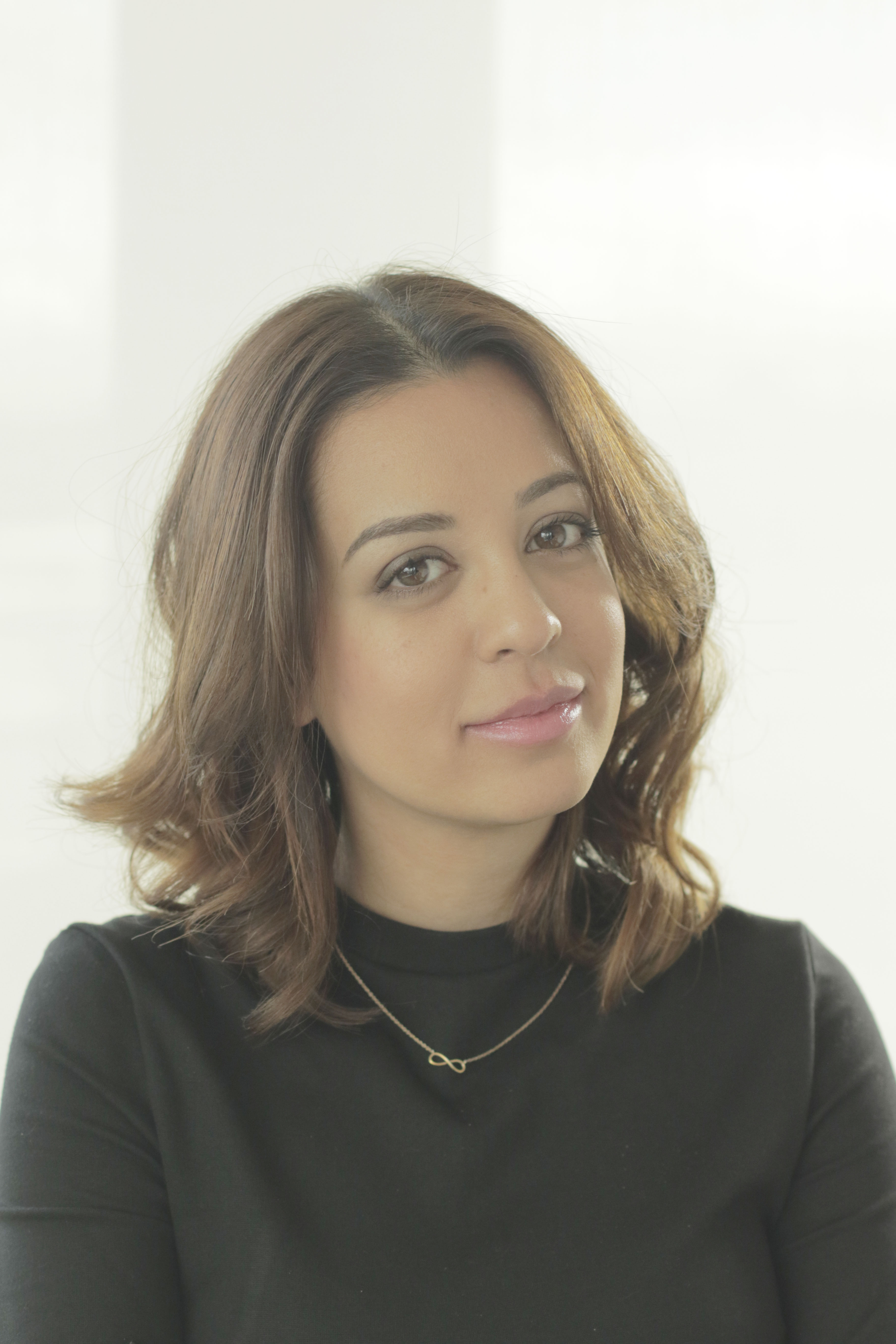 Jennifer is the Digital Editor at Homes & Gardens. Having worked in the interiors industry for a number of years, spanning many publications, she now hones her digital prowess on the 'best interiors website' in the world. Multi-skilled, Jennifer has worked in PR and marketing, and the occasional dabble in the social media, commercial and e-commerce space. Over the years, she has written about every area of the home, from compiling design houses from some of the best interior designers in the world to sourcing celebrity homes, reviewing appliances and even the odd news story or two.