How to plan living room lighting – that fufills every need
Find out how to plan living room lighting that is versatile as well as stylish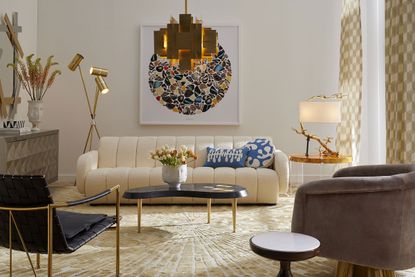 (Image credit: Jonathan Adler)
Sign up to the Homes & Gardens newsletter
Decor Ideas. Project Inspiration. Expert Advice. Delivered to your inbox.
Thank you for signing up to Homes & Gardens. You will receive a verification email shortly.
There was a problem. Please refresh the page and try again.
Learn how to plan living room lighting and you can create the right illumination levels and atmosphere for each of its functions.
Combining a range of living room lighting ideas creates the layers that are necessary – making the space warm and relaxing for evenings, bright enough for reading or other close work, or evoking the right ambience for watching a movie, or entertaining, for example.
As well as considering different types of lights that might be incorporated into the room, how they are controlled is also key to planning success, and our guide has all the details.
How to plan living room lighting
A single layer of lighting is never sufficient for a living room, and it's important that living room wall lighting ideas, ceiling lighting, wall and floor lamps, along with other types of light are all considered. Compact room? Bear in mind that small living room lighting ideas should still consist of different layers to ensure that the compact space is well illuminated.
'There are two main things to think about when layering lighting in any room,' says Ally Dowsing-Reynolds, co-owner at Dowsing & Reynolds. 'Firstly, how you want to feel in the room and secondly, what you want to use the room for. This allows you to combine functional task lighting with decorative lighting to create your desired atmosphere.'
Use this guide to discover how to plan living room lighting, from the different types of lighting you need to include, to who can help you create the perfect lighting scheme.
What are the main types of lighting for a living room?
There are three main types of lighting and every room in your house should include a combination of these, which should be factored into the cost to install new lighting. The three lighting types are especially important in living rooms, where you need the lighting to be able to transform the space from somewhere for after-dinner drinks to a home movie theater.
1. Ambient lighting
'Think of ambient lighting as a foundation or a canvas upon which to paint a distinctive lighting picture,' says Carla Jordan, from Kichler.
Ambient lighting is also called general or background lighting, and it gives overall illumination to your room. In living rooms, it usually includes your ceiling light fitting, spotlights and fixed wall lights, as well as natural light.
2. Task lighting
This one does what it says on the tin – it lights up the area where you need to carry out a task, whether that's reading, working or cooking. In a living room, it normally includes table lamps, adjustable floor lamps, swing-arm lamps and movable wall lights. Task lighting should be easily adjustable, like these examples from Anglepoise.
3. Accent or mood lighting
'Accent lighting is about casting a glow on your favorite things,' says Jordan. As well as providing atmosphere and influencing mood, accent lighting is used to highlight architectural features and important objects, and to draw attention away from the things that aren't as pleasing.
In a living room, accent lighting would normally include picture lights, niche lighting and lighting inside cabinets.
What is the best combination of lighting for a living room?
One of the expert tips for lighting a living room from interior designer Abigail Ahern is that every room should incorporate eight different sources of lighting. It may sound a lot, but once you factor in all the different options available – from ceiling and wall lights to floor and table lamps, plus more natural sources like candles and fireplaces – it's a realistic target.
'Start by using a large centralized ceiling light to create an even layer of background lighting,' says Will Earl, director at J Adams & Co. 'Use a combination of dimmable task lights, such as floor and table lamps, across the room to allow you to adapt the mood of the space for day to night. Then use accent lighting to highlight architectural features and artwork.'
Downlights can be used in addition to a central light, but steer clear of a grid and choose those that can be angled towards joinery or living room curtains, which will reflect their light. Think, too, of using uplights especially if there's a fireplace in the room, turning it into a feature even when it's not in use. You might also want to fit LED strip lighting to shelves to illuminate the objects on display
Plan living room lighting that's dimmable
Whatever style of lighting fittings you choose and whether you want to follow living room lighting trends or opt for more traditional options, both specialist lighting companies and interior designers are unanimous in their passion for the humble dimmer switch.
'Don't underestimate the power of dimmable light sources; being able to adjust brightness will make all the difference in tweaking atmosphere to suit the mood,' says Helena Åkerberg, for Buster + Punch.
How do you design a living room lighting layout?
You are the best person to plan out your living room lighting as you know all of the ways you will use the finished space
If you'd rather somebody did the work for you, then an interior designer, qualified electrician or specialist lighting company will be able to create lighting plans after chatting to you about your likes, dislikes and lifestyle.
If your living room is part of an extension or remodel project, then your architect will be able to help.
If you're happy to plan living room lighting yourself, then gather the family and make a list of everything you'll do in your living room, from watching movies to playing board games, reading or doing homework.
Then make a second list of any features – both architectural or decorative – in the room you'd like to highlight, for instance artwork or alcoves.
Once you've got two lists, you can start planning the lighting you'll need for each activity or feature. Draw out a simple floor plan of the room and then sketch on where you need each type of lighting to be.
For instance, where do you need a table lamp so you can read easily? Which walls need wall lights as an alternative to the ceiling light?
It's a good idea to color code the different types of lighting on your final lighting plan. Choose one color for those that are wired in – for example ceiling lights and wall lights – and a different color for those that are plugged in – for example, floor and table lamps – as this will help your electrician.

Bear in mind that adding new lights and socket locations to your living room will involve chasing out the plaster from the walls to hide the wires and is a messy job, so it's crucial to plan ahead.
Make sure you mark any sockets that will need to be set into the floor, for instance, so that you can have a lamp on a table that's located in the center of the room without any unsightly wires on show. Your electrician won't be best pleased if you decide to add these a few months down the line!
What are the best bulbs for living room lights?
There are four main types of light bulb, which are available with different sized screw caps or bayonets to fit your light fittings.
1. LED bulbs

These emit a bright light, don't give off heat, are energy efficient and long lasting. Smart light bulbs, which come in white or coloured options, are always LED.
2. Incandescent bulbs
These are the cheapest bulbs and found in older properties. They last around a year and aren't very energy efficient.
3. Compact fluorescent bulbs

These are cheaper than LEDs and last longer than standard incandescent bulbs. They take a while to get brighter so are better for basements, lofts and garages.
4. Halogen
These bright, energy efficient bulbs are great for pendant lights and under cabinets. They have a short lifespan and get hot, so you have to be careful what they're placed against.
What's the best way to control living room lighting?
Before you call in an electrician, you'll need to have an idea of how you'd like to control your lights. Do you mind getting up off the sofa to dim your lights before the film starts? Or would you rather be able to tap your smartphone?
If you're happy to use traditional switches, then don't simply opt for the cheapest options. Screwless designs look sleek and contemporary, while metallic finishes can help tie your switches into the rest of your room. Howard Solomons, head of design at Wandsworth Electrical, which has supplied switches to Kensington Palace and Ham Yard Hotel, says the devil is in the detail.
'Light switches are the most interactive part of your interior design and should be an integral part of the design process from the beginning. Any design feature that is so frequently handled must reflect your design in not only the look, but also the quality of the touch.'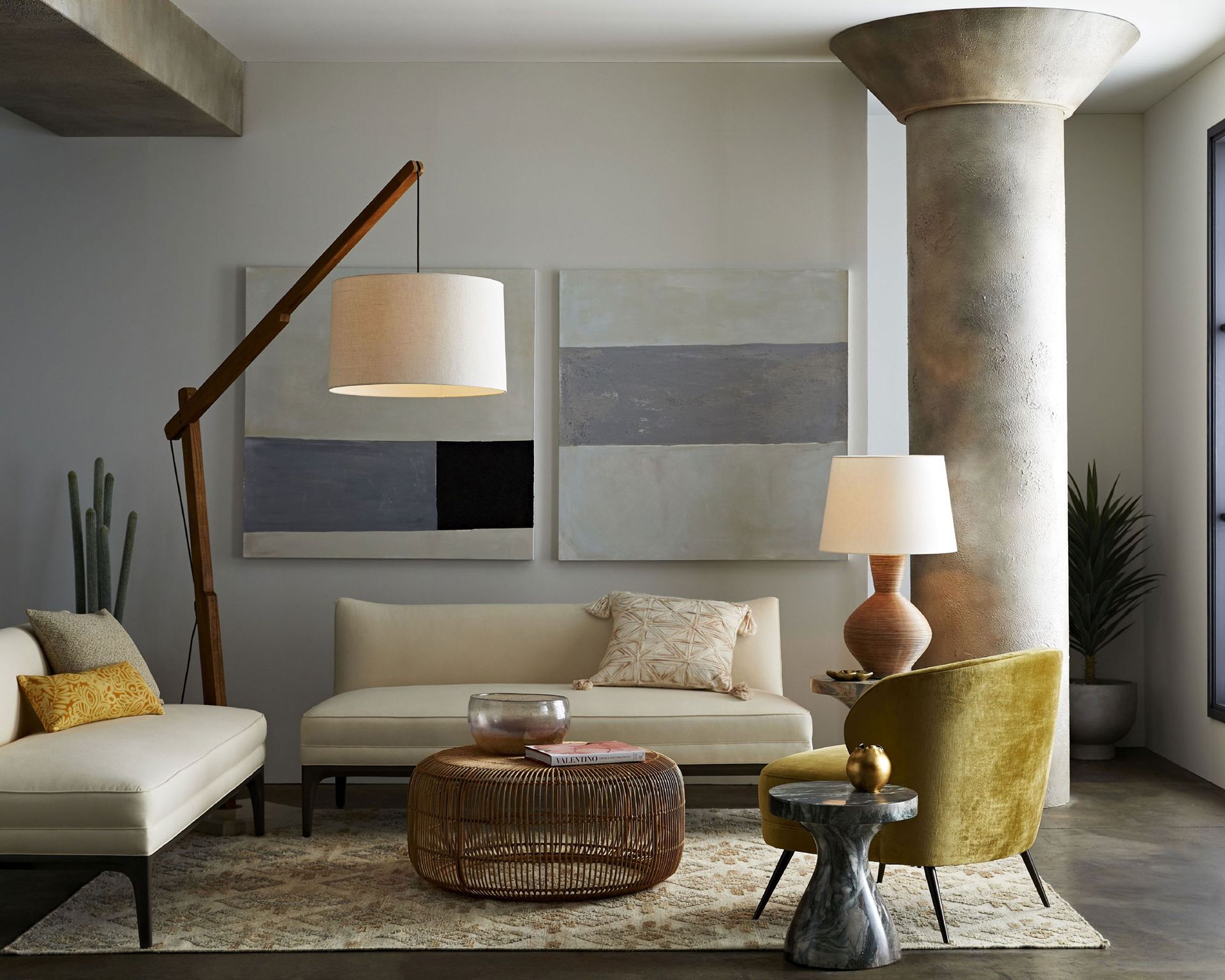 Finally, if you'd like to be able to control your lighting from the sofa, or even the other side of the world (as long as you have an internet signal), then consider smart lighting. This is where you install smart LED bulbs, which can be controlled via an app or your voice assistant. They allow you to alter the brightness and even color of your lights at a tap of the finger. The most popular brands include Philips Hue, Hive Active and Ikea.
Can you install living room lighting yourself?
If you're simply replacing a light fitting or changing a basic light switch for a more attractive option, then a competent DIY-er should be more than up to the task. For anything more technical, you'll need an electrician.
Look for a tradesperson registered with a government-accredited scheme, such as NICEIC in the UK, or a state-registered electrician in the US.
Always get at least three written quotes from three different electricians and compare. Give them all the same set of plans – whether you've created these yourself or a designer has done them for you – so the quotes are comparable.
It's perfectly reasonable to ask to speak to previous customers. And make sure you do a quick internet search for reviews before you commit to the work being carried out.
Sign up to the Homes & Gardens newsletter
Decor Ideas. Project Inspiration. Expert Advice. Delivered to your inbox.
Brand Development Director
En route to joining Homes & Gardens, Laura was a newspaper reporter, Editor of a regional magazine, and Editorial Manager for a travel company. She started at Real Homes in 2015 as Deputy Editor and then become Editor before taking on her current position, which focuses on video and events across all our brands, including Homes & Gardens.