Modern farmhouse ideas – creative ways to perfect this style in your home
Take the on-trend modern farmhouse style into your space with this breakdown of how to embrace this look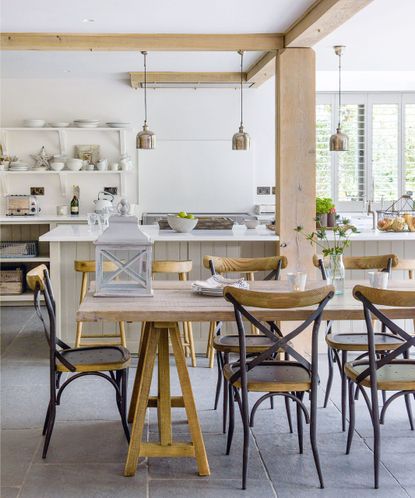 (Image credit: Polly Eltes)
Modern farmhouse ideas are quite simply inspiring. The use of whitewashed walls, timber cladding and cool contrasting metalwork creates the unexpectedly calm yet cozy environment that we're all looking for at the moment.
Breaking down the walls between contemporary and country, the modern farmhouse look is full of opportunities for you to find your own take on the style, and to allow it to reflect your interiors personality.
As with integrating any new look into your home, there may seem like there are an overwhelming number of options to consider. From colors and materials to scale and style, we break down how the modern farmhouse design can work for you.
What is modern farmhouse?
Essentially, the modern farmhouse style is the more sophisticated cousin of traditional country style. It is the perfect combination of everything we love about contemporary minimalism mixed with the warm and comforting rustic look. For example, in a kitchen, think sleek shaker style cabinetry paired with cool metallics, and design-led furniture in pared-back natural woods.
While the classic farmhouse look might make you think of old barns and overly cluttered spaces, the modern interpretation is worlds away. The new style takes the trad style and makes it fresh.
Modern farmhouse ideas
We love these modern farmhouse ideas – and they are so easy to try out at home.
1. Keep it neutral
Whichever way you choose to go in designing your own modern farmhouse look, there's one key which links them all. Neutral color palettes are the base for creating this style – layer up varying shades of whites, creams and grays. By going neutral at the beginning, you're immediately adding a fresh feeling, checking off that contemporary box. It's an approach that works particularly well for farmhouse kitchen ideas, where freshness is key.
2. Explore contrasting colors
While the look is grounded in neutrals, consider adding in pops of color – especially grays, navy blues and dark greens. Natural materials are the bread and butter of this style, but by painting them, or the walls, you're steering away from going too classic rural and starting to create the contemporary version you're aiming for with modern farmhouse.
3. Use a mix of textures
Natural materials are everything with this style. Layer up woods and stones all the way through from the architecture into furniture. When it comes to accessorizing, mix and match materials like linens and velvets to add an extra dynamic dimension while keeping things considered and timeless.
4. Combine old and new
Juxtaposing modern buys with vintage finds is an easy way to achieve the modern farmhouse look and add your own personality into the interiors. Interior designer Kate Lester recommends to 'Reuse and recycle. Don't be afraid to bring in vintage or found objects. These items add history and depth to the space and ground the whole look.'
5. Use natural finishes
Explore the beauty of raw pieces, such as unwaxed woods and unpolished metals. When contrasted with the contemporary, high-shine pieces and placed in the neutral palette the overall impression is of a refined and refreshed rural feel, which is what modern farmhouse is all about.
6. Celebrate the imperfect
Embrace natural patinas of stone, wood and metals to instantly add that rustic effect to a space. Weathered materials tell their own story and add a sense of history to your home, creating a warmth and charm. As with natural finishes, this look relies on the contrast with the sleek modern elements, such as vintage backsplash alongside a perfectly smooth composite work surface.
7. Embrace semi-minimalism
The classic country look often conjures up imagery of dust-laden shelves piled high with knick-knacks. For this modern interpretation, carefully consider each piece you place in your home. Keep your favorite objets and antiques on display, but curate every surface to keep lines clear. When in doubt, go back to what William Morris once said: 'Have nothing in your houses that you do not know to be useful, or believe to be beautiful.'
8. Play with scale
Farmhouses were traditionally viewed as fairly large in size, so if you have the available space, make a feature of it by scaling things up. Lighting is key to making a room feel warm, so amp up with extra-large fittings. In a large modern farmhouse kitchen, consider the on-trend double island look. Like in the pictured kitchen, retaining the classic clapboard style on the walls, islands and even ceiling, stops the look from becoming too grand and instead retains that cozy, welcoming feel.
9. Incorporate industrial
The use of concrete, exposed bricks, light fittings and pipes are all ideal for creating that industrial look, which links in perfectly with modern farmhouse. This harkens back to classic rustic styling, and acts as a cool contrast to the warm neutrals and use of soft materials in the home, situating the theme delicately on the boundary between trad and modern.
10. Keep it family style
Modern farmhouse styling is a fresh, contemporary look, but at its heart it's all about feeling warm, welcoming and friendly. Use large islands and kitchen tables to encourage family and friends to linger. The additions of benches at tables for guests to pile on, or a few bar stools on the island emphasize the 'tuck in' feel.
WHAT ARE GOOD FARMHOUSE COLORS?
Neutrals play an important roll in the modern farmhouse look. Keep things fresh and clean with whites throughout, but integrate creams, grays and maybe a few pastels like blush pink and sage green, to add the warmth that modern farmhouse requires.
For the contrasting shades of modernity, look to navy blues, emerald greens, charcoal grays and pitch blacks. With both the neutrals and the deep accents, look at painting on textures surfaces like wall panelling, which creates extra depth and interest to the space, while moving the look from simple contemporary into the more layered modern farmhouse style.
WHY IS MODERN FARMHOUSE SO POPULAR?
In 2020 we all spent a lot more time at home, and the stark lines of minimalism no longer feels as comforting as we would like. Modern farmhouse style is the next step when creating a grown-up relaxed, but chic look.
Modern farmhouse is the perfect melding of the warmth of rural styling with fresh and refined modern interiors. The style is sophisticated, easy to achieve and allows you to put your own personality on a space without feeling that it's becoming cluttered.
Thea Babington-Stitt is a Content Editor at Future. She has been an interiors journalist for nearly 10 years and has held positions at LivingEtc, Country Homes & Interiors and Homes & Gardens. Currently, she is writing for Ideal Home and Style At Home's websites and magazines.