Modern farmhouse ideas – 15 clutter-free, cozy, welcoming interiors
Fall for modern farmhouse ideas that blend the rustic and contemporary in a look you'll love to live with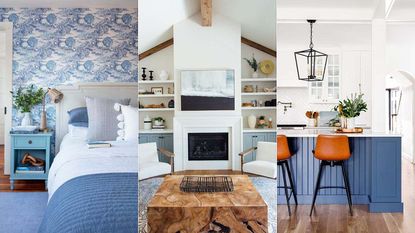 (Image credit: Storie / Michelle Lisac Interior Design Photograph: Jennie Corti / Four Brothers)
Modern farmhouse ideas are fabulous for today's homes. They draw on classic farmhouse style, but incorporate contemporary touches that make rooms created with this look highly liveable and spacious-feeling.
Natural finishes make it a style that's inherently warm and welcoming and pleasing to the sense of touch as well as vision. Neutral palettes keep modern farmhouse rooms open and airy, while carefully chosen accent shades add depth. And materials such as metal and stone combine with timber to create plenty of interest in every interior. What's more, modern farmhouse is a look that works whether your home has authentic farmhouse credentials, or you want to bring character to a newer build.
Here, we've put together a whole host of modern farmhouse ideas to inspire along with expert advice on bringing them to your home.
15 modern farmhouse ideas
Essentially, modern farmhouse style is the perfect combination of everything we love about contemporary minimalism alongside warm and comforting rustic elements. For example, in a kitchen, think sleek Shaker style cabinetry paired with cool metallics, and design-led furniture in pared-back natural woods.
These are our favorite takes on the look that takes trad style and makes it fresh.
1. Boost character with rustic accessories
While a neutral palette is typical of a modern farmhouse interior, these are interiors that are rich in interest.
In this modern farmhouse project by Four Brothers the goal was 'to use a palette of neutral colors/earth tones with pops of rustic accents in furniture or millwork,' says Sondra Zabroske, AIA, architect and team leader.
This needn't mean shopping new: vintage finds or family heirlooms can give a pared back modern farmhouse interior a more characterful feel.
2. Balance traditional and contemporary decor
A combination of old and new is key to the style and the comfort of modern farmhouse decor.
'We used a classic toile style, paired with traditionally inspired furnishings,' says interior designer Sarah Kruse, founder of Storie, of this bedroom. 'The wallpaper was the first item selected, and then we continued pulling items in the blue family to give the room a serene feel. The shape of the headboard and detail on the nightstands represent elements of antiqued furnishings, while the bedding and accents kept the space contemporary.'
3. Focus on introducing textures
Pay attention to using texture in interior design is particularly important in making modern farmhouse decor feel authentic and welcoming.
In this home, Four Brothers wanted 'to pair contrasting textures from smooth and repetitive surfaces, for example high gloss bead board or wainscoting, with rough and organic textures like wood and leather,' says Sondra Zabroske.
It's an approach that works particularly well for farmhouse kitchen ideas, ensuring a functional modern room offers warmth and welcome.
4. Celebrate nature in materials and colors
Look outside for inspiration for your modern farmhouse decor ideas. 'A key element of modern farmhouse design is incorporating elements we see in nature with varying natural textures,' says Sarah Kruse.
'For this living room, we had a beautiful backdrop of the original stone fireplace and original paneled cabinet doors as our inspiration. In keeping with the home being surrounded by greenery and epic views, we selected two mid-century style sofas in green to flank the fireplace, and brought in the wood blocks for that added nod to nature. To the left is the dining room, where a classic farmhouse chandelier hangs (these elements include exposed bulbs and a wood frame), as well as a hefty trellis dining table that grounds the space.'
5. Layer neutral shades for warmth
Whichever way you choose to go in designing your own modern farmhouse look, there's one key which links them all: decorating with neutrals.
Neutral color palettes are the base for creating this style – layer up varying shades of whites, creams and grays. By going neutral at the beginning, you're immediately adding a fresh feeling, checking off that contemporary box.
'When considering neutral room ideas, I'd suggest going back to texture, and the best way to introduce this into a modern farmhouse decor scheme is with heavily grained wood,' says Lucy Searle, Editor in Chief, Homes & Gardens. Remember that the tone of the wood you choose will affect how the room feels: darker woods make a room feel more formal, lighter woods make it feel more relaxed.'
6. Explore contrasting colors
While the look is grounded in neutrals, consider adding in pops of color – especially grays, navy blues and dark greens. Natural materials are the bread and butter of this style, but by painting them, or the walls, you're steering away from going too classic rural and starting to create the contemporary version you're aiming for with modern farmhouse.
7. Pick natural materials for flooring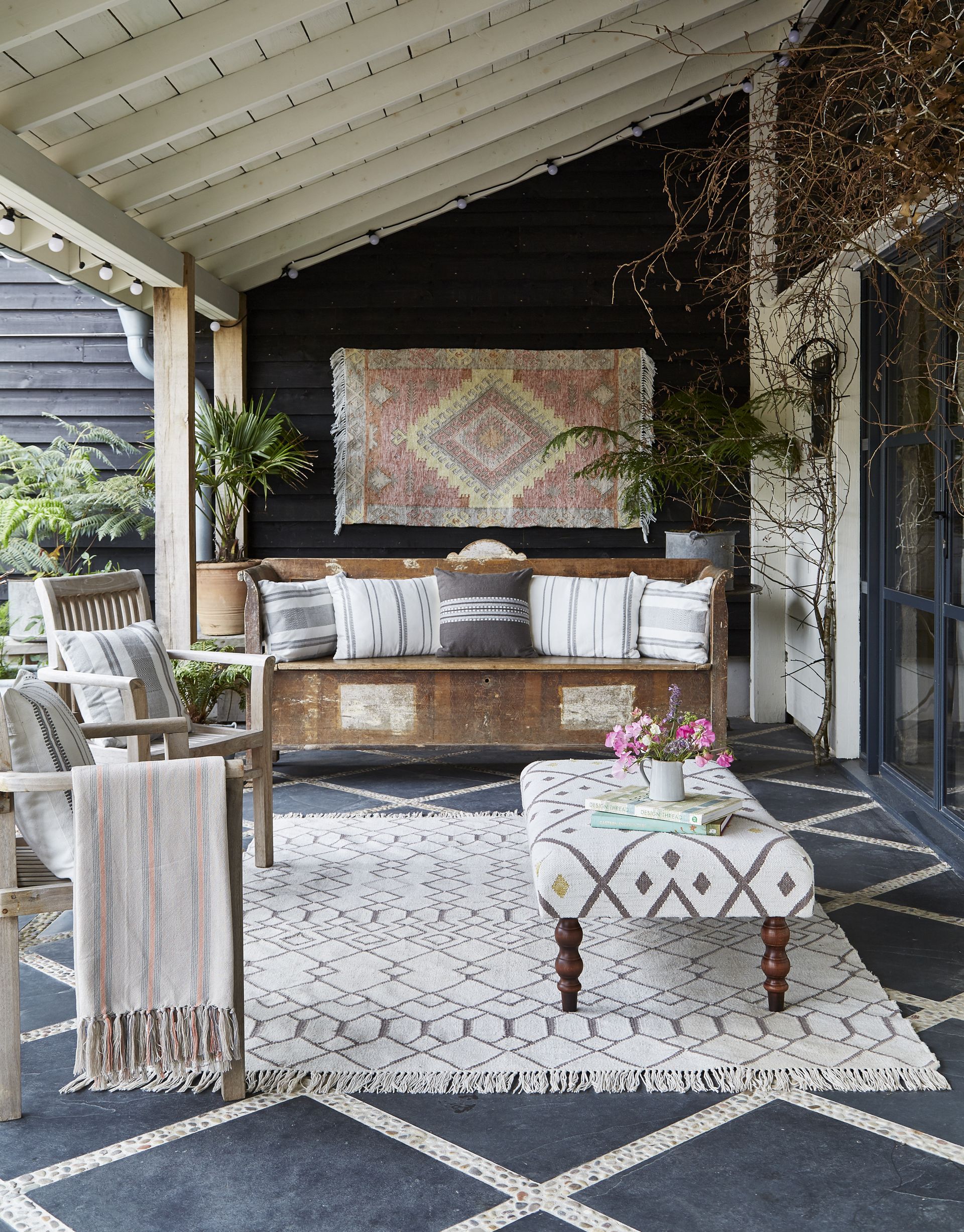 Natural materials are everything with the modern farmhouse decor style. Layer up woods and stones all the way through from the architecture into furniture, but be sure to use it for flooring.
When it comes to accessorizing, layer hard flooring with soft rugs, and mix and match materials like linens and velvets on furniture to add an extra dynamic dimension while keeping things considered and timeless.
8. Mix old and new furniture and finds
Juxtaposing modern buys with vintage finds is an easy way to achieve the modern farmhouse look and add your own personality into the interiors.
Interior designer Kate Lester recommends, 'Reuse and recycle. Don't be afraid to bring in vintage or found objects. These items add history and depth to the space and ground the whole look.'
This is easy when you are looking for farmhouse dining room ideas: a modern table can be combined with antique chairs and contemporary lighting can be styled with an old world feel.
9. Choose contrasting, but beautiful finishes
Explore the beauty of materials both natural and manmade. The contrast of contemporary, high-shine pieces and the organic within a neutral palette creates the overall impression of a refined and refreshed rural feel, which is what modern farmhouse is all about.
10. Celebrate the imperfect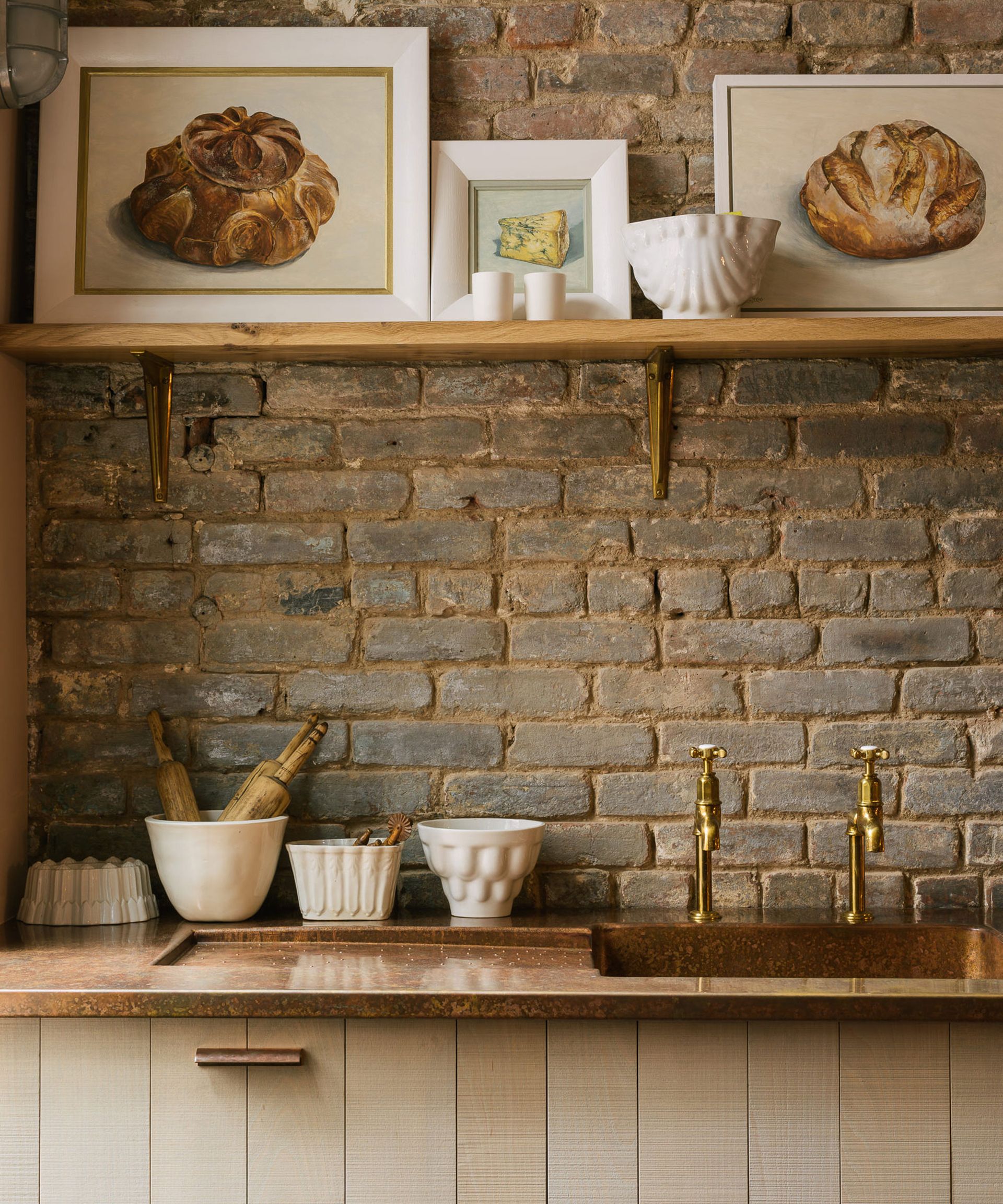 Embrace natural patinas of stone, wood and metals to instantly add that rustic effect to a space. Weathered materials tell their own story and add a sense of history to your home, creating a warmth and charm. As with natural finishes, this look relies on the contrast with the sleek modern elements, such as vintage backsplash alongside a perfectly smooth composite counter surface.
11. Embrace semi-minimalism
The classic farmhouse look often conjures up imagery of dust-laden shelves piled high with knick-knacks. For a more modern interpretation, carefully consider each piece you place in your home. Keep your favorite objets and antiques on display, but curate every surface to keep lines clear.
When in doubt, go back to what William Morris once said: 'Have nothing in your houses that you do not know to be useful, or believe to be beautiful.'
12. Play with scale
Scale in interior design is key to a balanced interior. Modern farmhouses are often viewed as fairly large in size, so if you have the available space, make a feature of it by scaling things up. Lighting is key to making a room feel warm, so amp up with extra-large fittings above an island or over the dining table.
13. Incorporate industrial
The use of concrete, exposed bricks, light fittings and pipes are all ideal for creating that industrial look, which links in perfectly with modern farmhouse. This looks back to classic rustic styling, and acts as a cool contrast to the warm neutrals and use of soft materials in the home, situating the theme delicately on the boundary between trad and modern.
And it translates into your window treatment ideas, too. Keep them pared back, choosing unadorned or simply dressed windows or shutter ideas over thick drapes.
14. Make the layout sociable
Modern farmhouse styling is a fresh, contemporary look, but at its heart it's all about feeling warm, welcoming and friendly.
In kitchens, use large farmhouse kitchen islands and kitchen tables to encourage family and friends to linger. The additions of benches at tables for guests to pile on, or a few bar stools on the island emphasize the 'tuck in' feel. In living rooms, arrange furniture around a coffee table.
15. Introduce character to walls with paneling
There a many wall paneling ideas that you can use for modern farmhouse character. For rustic looks, choose white-painted wainscoting ideas; for a more modern appeal, choose a simpler, more streamlined design, painted in a neutral but spicy shade which will add both layered character and warmth to your spaces.
FAQs
What are good farmhouse colors?
Neutrals play an important roll in the modern farmhouse look. Keep things fresh and clean with whites throughout, but integrate creams, grays and maybe a few pastels like blush pink and sage green, to add the warmth that modern farmhouse requires.
For the contrasting shades of modernity, look to navy blues, emerald greens, charcoal grays and pitch blacks. With both the neutrals and the deep accents, look at painting on textures surfaces like wall panelling, which creates extra depth and interest to the space, while moving the look from simple contemporary into the more layered modern farmhouse style.
Why is modern farmhouse so popular?
The stark lines of minimalism don't feel as comforting as we would like. Modern farmhouse style is the next step when creating a grown-up relaxed, but chic look.
Modern farmhouse is the perfect melding of the warmth of rural styling with fresh and refined modern interiors. The style is sophisticated, easy to achieve and allows you to put your own personality on a space without feeling that it's becoming cluttered.
'Overall a modern farmhouse style should be a comfortable and functional space,' says Sondra Zabroske, AIA, architect and team leader, Four Brothers. 'A space you want to hang out in, but also be able to store and use things easily from your everyday life.'
Sign up to the Homes & Gardens newsletter
Decor Ideas. Project Inspiration. Expert Advice. Delivered to your inbox.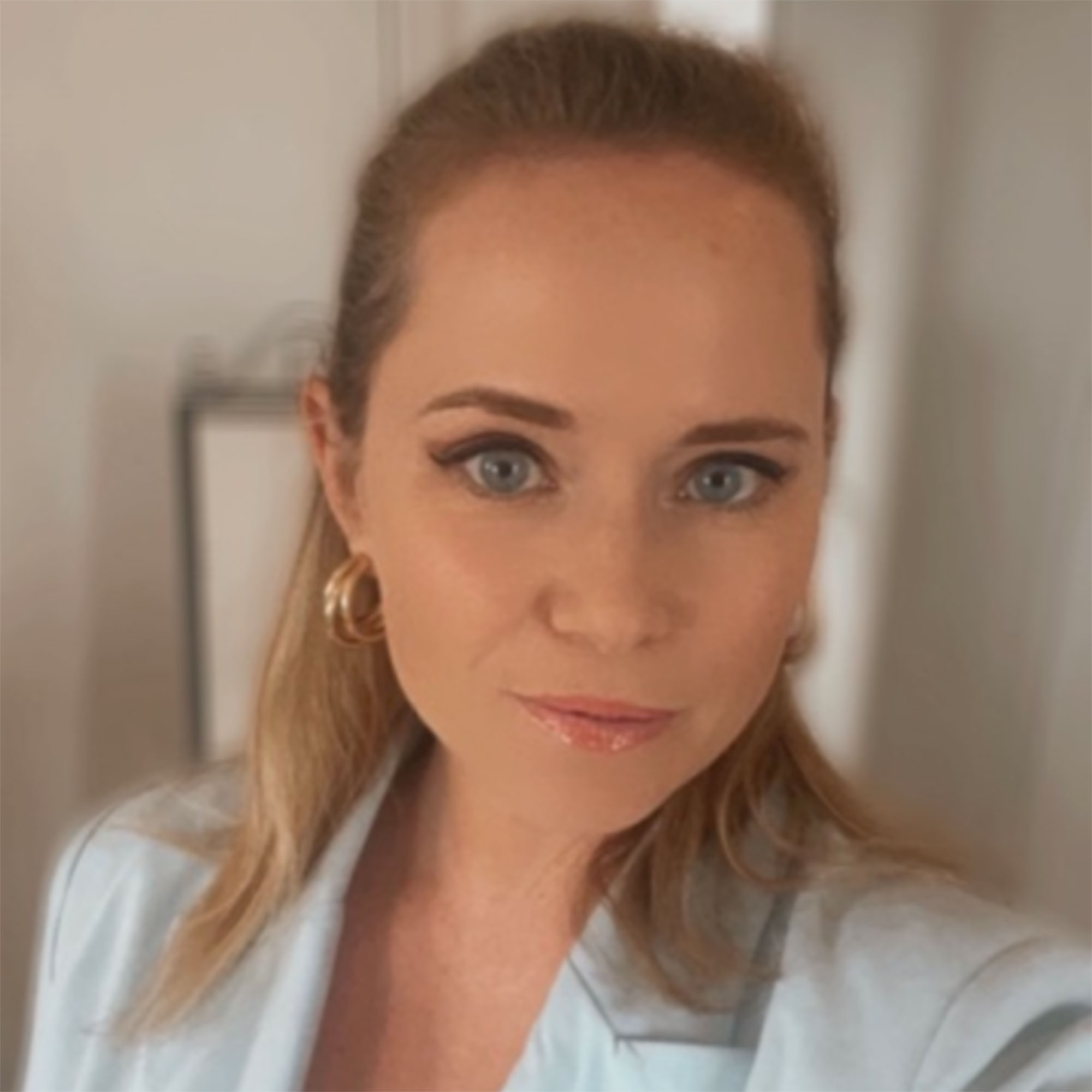 Thea Babington-Stitt is a Content Editor at Future. She has been an interiors journalist for nearly 10 years and has held positions at LivingEtc, Country Homes & Interiors and Homes & Gardens. Currently, she is writing for Ideal Home and Style At Home's websites and magazines.