Neutral room ideas – 15 ways to use timeless shades
Neutral rooms are calming, easy and super stylish. Here, we offer inspiration and ideas for decorating with them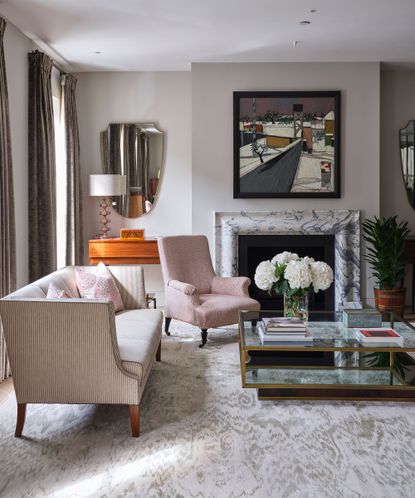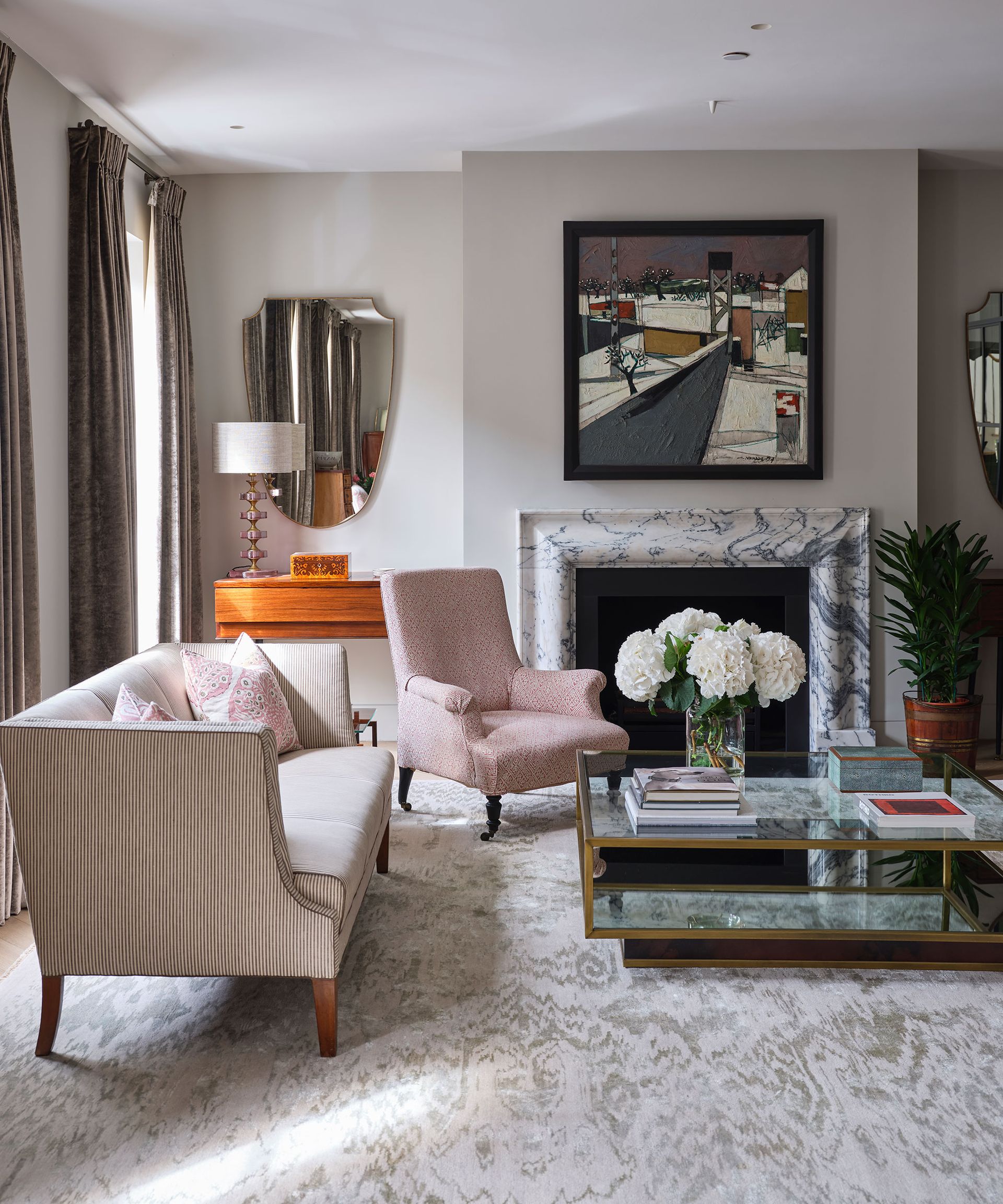 (Image credit: James Merrell / Future)
Sign up to the Homes & Gardens newsletter
Decor Ideas. Project Inspiration. Expert Advice. Delivered to your inbox.
Thank you for signing up to Homes & Gardens. You will receive a verification email shortly.
There was a problem. Please refresh the page and try again.
There's plenty of debate as to how to define a 'neutral' when it comes to neutral room ideas – some believe they are those that don't show up on the color wheel such as white, beige, grey, taupe, khaki and ivory. Other decorators say that any one color, if it dominates in a room, becomes a neutral and allows other elements to stand proud.
'Rather than the Bauhaus modernist phrase of "Less if More", my latest phrase is "More is Less",' says Maria Speak, co-founder, Retrouvius. 'The more of one color you have, it then becomes neutral.'
As a general rule, however, neutral room ideas tend to be calming and easy to decorate with – they work with pretty much every other color but to get it right it's important to understand the base pigment that suits the light that a room receives.
'The light in a room is a key consideration when thinking about whether to choose warm or cool tones,' advises Ruth Mottershead of Little Greene. There is a difference between a warm neutral (with a green or yellow undertone) which will tend to work well in north-facing rooms as they help to bounce the light around and a cool one (with a bit of pink, violet or blue).
Neutral room ideas
There is a movement towards the 'new neutrals' in room color ideas, with interior designer fans such as Charu Gandhi of Elicyon using them masterfully in their schemes to create spaces that ooze warmth. These new neutrals include all the basics, from cream to grey, but are peppered with earthy or spice shades, such as pinky-terracottas, cinnamon and turmeric. Here, we show you how to use neutral room ideas to create spaces that are far from 'neutral'.
1. Boost a neutral scheme with texture and metallics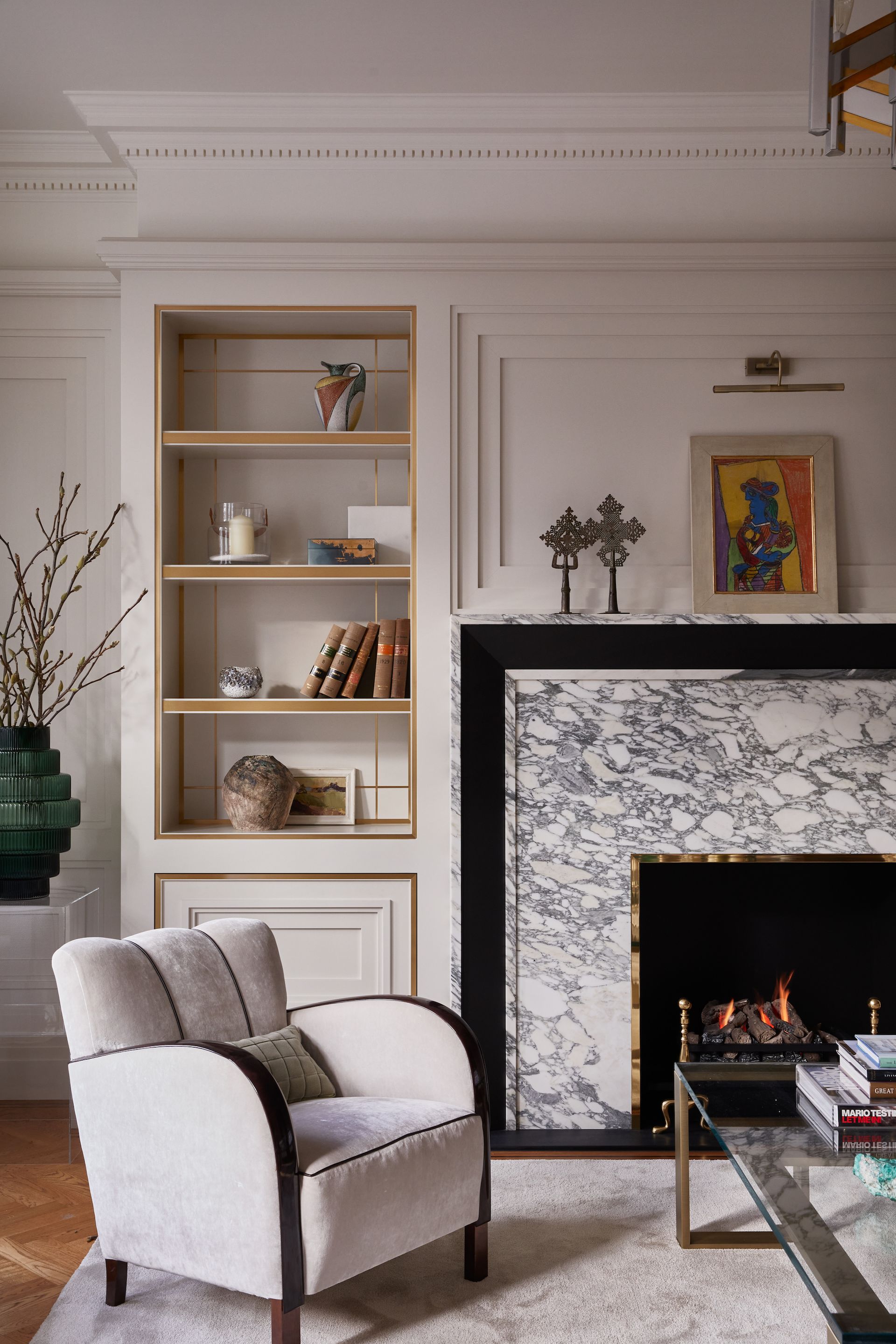 White is the classic neutral that many of us opt for to make spaces seem brighter and bigger, and it makes the perfect backdrop for all accent colors to be laid upon. However, neutral living room ideas – and white living room ideas – can be layered, textured and interesting.
Using texture in interior design is vital in a neutral scheme if you want to create a cozy living room. Quite simply, without texture, the space will fall flat.
'Textures help to keep a space from feeling flat or one dimensional,' says Tiffany Leigh, of Tiffany Leigh Design. 'Texture in interior design is all about creating tactile moments that invite touch.'
Texture, though needn't be identified by touch alone – visual texture works wonders, too. Here, it is layered in different materials: in the marble of the fire surround, the metallic trim of the shelving and the piping and upholstery of the armchair.
2. Choose an earthy tone for a warm neutral backdrop
The neutrals and warmly pigmented hues from Claybrook's paint palette inject a chalky texture with a summery feel into this room, especially when offset by the raw texture of the handmade pale terracotta brick tiles underfoot, evocative of the floor found in a Mediterranean finca.
'Neutrals can be used two ways. Often, they are the quieter partner to stronger shades seen in both complementary paints and other soft furnishings and furniture. In this way they are required to be pretty much seen but not heard. Not the star attraction but more of a supporting artist,' says Rob Whitaker, Creative Director, Claybrook.
'The second way is when paler and simpler hues form the focus to a scheme. When utilized in this layered way, the contrast between them becomes apparent with subtle shade variations and tones highlighted.'
3. Layer subtle pattern into a neutral room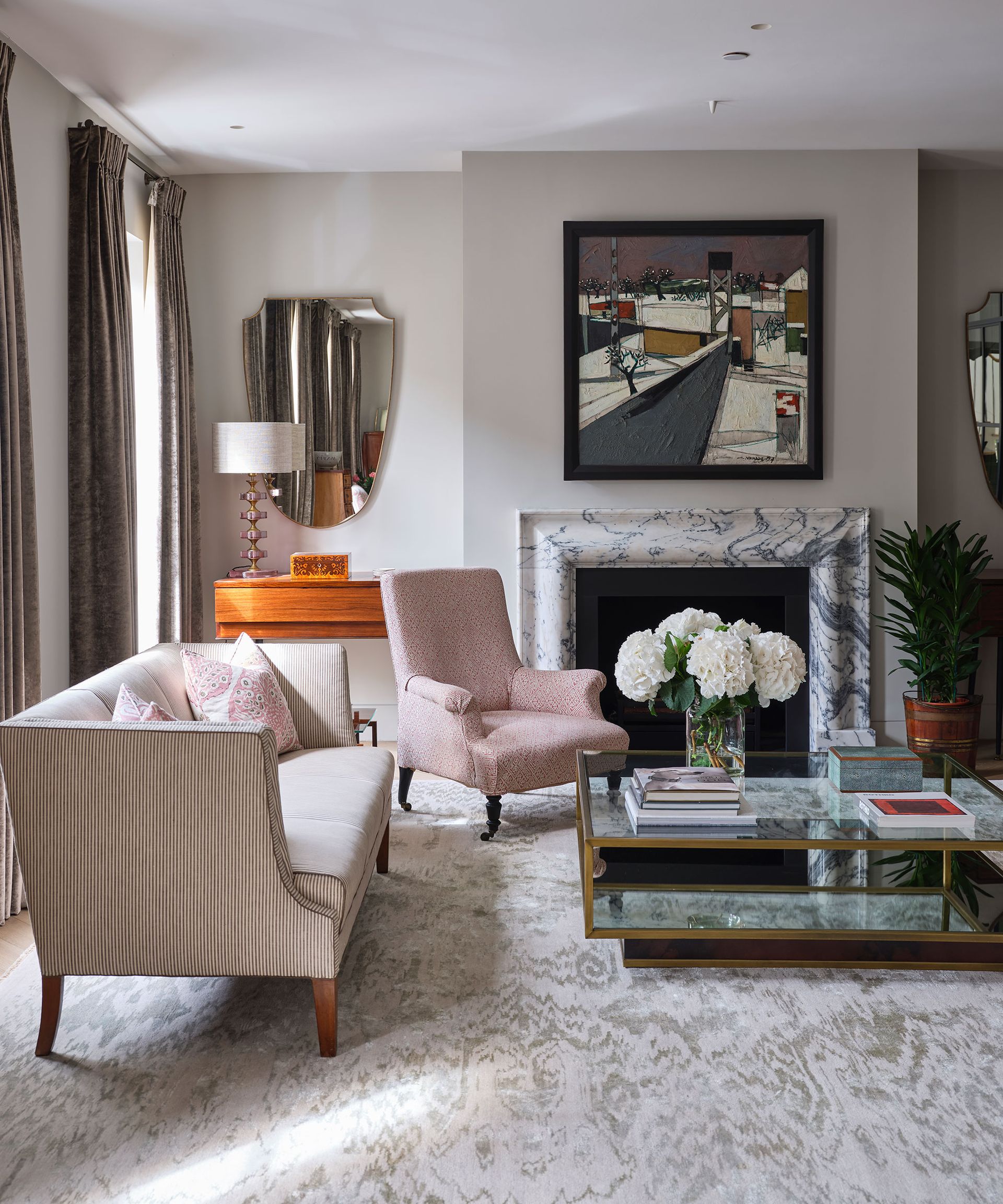 Neutral rooms do need pattern to add interest, but if you want to preserve the peaceful feel, blend barely-there patterns in neutrals. Doing so will achieve depth and interest.
In this scheme, subtle patterns, all in a muted tonal palette and in a variety of scales, are combined with textural detail. Nothing dominates, which allows the room to feel calm and relaxing.
4. Pick a strong neutral for impact
Deep, complex shades make for versatile neutrals that work well throughout the home. While a strong color can appear daunting at first, once you've taken the plunge, it's surprising how adaptable it can be.
At the lighter, least challenging end of the scale, you might look to warm beige living room ideas; for sunnier spaces, grey living room ideas are perfect, or you can use a deeper color palette and layer neutral furniture into it; this is where green living room ideas can come into their own.
5. Decorate with monochromes
Decorating with black and white remains the most effective way to add impact to a predominantly white kitchen but key to the success is to vary the proportions.
A straight 50:50 split between black and white could make a home feel rather cold; instead, pair marble with dark kitchen cabinets, in this case it's Neptune's Charcoal and add another vital ingredient: texture. Grain-rich timber doors or accessories will break up the space.
'Last year we started to see deep and dark shades working their way into the kitchen and it's a trend that shows no signs of waning; brave charcoal in particular sets a strong mood,' believes John Sims-Hilditch, co-founder of Neptune.
'It has instant impact but in a more dramatic way than a lighter grey, especially when paired with contrasting hardware or a spectacular stone worktop. By taking dark colors from walls to cabinetry, you can really start to explore. Bring in light with gloss tiles and marble worktops, or dramatize it even more a moody backdrop that sets a bold tone.'
6. Boost warmth with natural finishes in a neutral kitchen
A plain white backdrop will bring interesting materials into sharp relief. The striking grain of natural elm wood on this island really stands proud against the crisp white units behind.
'White alone can look a touch stark. Pairing wood with white cabinetry brings warmth to this scheme, alongside texture and depth,' explains Pluck's co-founder Leila Touwen.
'The warm timber also accentuates the subtle undertones that exist in all whites.'
It's worth understanding how undertones work before committing to neutral room decor. Cool whites have hints of blue undertone, while warm whites have more yellow. Use this intel to help coordinate other materials and colors on your mood board.
7. Introduce wood grain for a chic modern look
Considering neutral room ideas for a kitchen is all about a clever choice of materials. A wonderful alternative to tiles or tongue and groove, the pale grain of horizontal warm wood walling offers a refined yet modern approach to crafted kitchen design. Complementing this is the mottled tones of the smooth grey stone worktop. Unfussy open shelving offers a ledge upon which to display textural ceramics.
'This kitchen perfectly illustrates how a natural palette can feel rich and full of interesting detail. The textural layers of wood, stone and ceramics in all their variety of shades and finishes are a delight to behold,' says Emma Thomas, Homes & Gardens' Style Editor.
8. Exude elegance with natural materials
The organic nature of wood, linen and jute and the tactile quality and tones that come with them, bring a warm, inviting feel to the home. It is a look with a timeless feel, that can easily be updated and added to as the seasons come and go. A round pedestal table like this oak one from Neptune will soften the room with its curves and can be dressed to feel traditional or more contemporary. A jute rug under-foot can always be relied upon to add a natural touch. And soft white linen sheer tie top curtains will keep the look feeling fresh and airy.
For a new take on the classic country jug of garden flowers, take a terracotta planter and fill it with herbs, ferns or pretty, low level planting.
9. Stick to the same family of neutrals
By all means choose just a single neutral color and be faithful to it but be aware that, for a room to work (and not resemble a clinical space), it needs to have layers and use hues from within the same family.
Farrow & Ball make this process easier by gathering their neutrals together into different groups; Joa Studholme, creative director of Farrow & Ball, argues that people are naturally drawn to one of these groups which means the overall decision is largely based on instinct.
This neutral kitchen diner takes inspiration from the Scandinavian design book with calm and light grays (using their paints Ammonite and Purbeck Stone) which provide an easy backdrop for furniture and works of art. The door in Down Pipe is the exception to the rule – coming from a more minimalistic family of grays.
10. Choose a new neutral for dramatic impact
Neutral room ideas downstairs might tend towards lighter shades to ensure spaces feel bright and as large as possible. But when you are searching for the best bedroom color ideas, you might be looking for something cozier.
'Earthy colors are having a real moment, and they are perfect for bedrooms,' says Lucy Searle, Editor in Chief, Homes & Gardens. 'Pick colors with a touch of yellow, such as the putty color above; this will ensure warmth, even with a dark color. These neutral shades are being layered with a strong accent – here, blue offers contrast, but if you wanted a complementary shade, warm spice shades, such as turmeric, or blush pink, would look beautiful too.'
11. Create highlights with black
When pushing back on neutral colors bedroom, be sure to address the question of materiality and architectural detailing; it's perhaps particularly important in a children's room where a monochrome palette could arguably end up subduing some of the magic of childhood.
Showing how to achieve a grounding palette that evokes balance and serenity and yet create a room filled with fun and charm, is the designer, Cortney Bishop who is based in Charleston, South Carolina.
'This particular client felt more comfortable working with neutrals. We continued the home's black and white palette in the bunk room, and further punched it out by adding graphic pillows and rugs, and playful accessories to the kids' bookshelves. The little ones absolutely loved the room, and the magical interior details created by the architect, Mark Maresca, helped even further strengthen this room. It was actually his idea to paint the ceiling black in the 11th hour!'
12. Choose earthy metallics for warmth
Bronze, gold and copper aren't often thought of as classic choices for neutral bedroom ideas but they are warm colors which set magical mood accents.
Bronze works perfectly with brown tones, black, wood and really all natural tones. When married with painted surfaces or other neutrals such as white, beige, tan, grey, taupe and, especially, green, it works as an indulgent and glamorous color choice.
Some people turn to neutral backgrounds in order to pick out accents and highlights with others but providing you stay within the same tonal family, use patterns and textures to add interest and harmony.
13. Choose yellow-toned neutrals for warmth
Neutrals that stem from the yellow family, which range from something with a hint of orange through the sandy shades towards apricot and finishing in a silty brown, will work well in sunny or south-facing rooms which are already warm and full of light.
A café au lait color on the walls pairs particularly well with furniture painted in shades of white for a soothing and clean finish – ideal for a bedroom in a hot climate.
'Calming, subtle hues of pale yellow and beige create a sense of serenity in this Hamptons bedroom, where we have layered a textured grasscloth wallpaper with soft linens and painted furniture to evoke the fresh feeling of summer,' explains Philippa Thorp, decorator and founder of Thorp.
14. Choose natural materials to add textural beauty
In neutral rooms, the shapes of furniture and fittings is all the more important to add interest. The elegantly tapered outline of this free-standing washbasin in a beautiful natural smooth limestone brings refined and sculptural elegance to this bathing space. The crisp lines of a simple white linen curtain with a design of punched holes for added textural interest gently contrasts with the smooth and chalky finish of a raw plastered wall.
'A bathroom, by its nature, can sometimes seem cold and clinical with all the necessary furniture and fixtures, but this bathing space shows how natural materials and finishes can be combined beautifully to add warmth and texture,' says Emma Thomas, Homes & Gardens' Style Editor.
15. Create a calming haven with natural materials
What we love in this neutral room is the combination of the simple wood shelf with the naturally aged brass taps and the glossy uneven effect of the zellige tiles in their gently varying natural and neutral tones.
The oak shelf from Rowen & Wren, a perfect bathside perch, brings the organic tactile warmth of carved woodgrain into what is often regarded as a clinical space thanks to its cool smooth ceramic finishes.
How do you style a neutral room?
The first thing with neutral rooms is to identify the type of light the space gets and to choose a color that complements it. So, cool light in east- or north-facing rooms is best matched with warm neutrals, such as cream. In warmly-lit, west- or south-facing room, you can be freer with your choices. Next, introduce texture and subtle pattern within natural materials, furnishings and fabrics. Finally, ensure lighting is layered too, so that lamps create different pools of light around the room. Again, warm lightbulbs will make the space feel more welcoming.
How do you add color to neutral rooms?
The best way to add color to neutral rooms is with no more than two to three accent shades. To do this you can: layer sofas and beds with throws and pillows; layer flooring with area rugs; hang curtains or blinds with subtle accent colors within the pattern; choose accessories, such as vases or picture frames with subtle accent colors; paint accent shades on trim, within artwork or on furniture; add floral arrangements or indoor plants.
Sign up to the Homes & Gardens newsletter
Decor Ideas. Project Inspiration. Expert Advice. Delivered to your inbox.
With over 30 years of working in journalism on women's home and lifestyle media brands, Rhoda is an Editorial Director, Homes Content, at Future. Over time, Rhoda has worked on the entire homes and gardens portfolio including Homes & Gardens, Country Homes & Interiors, Livingetc, Ideal Home, Style at Home, Woman & Home, 25 Beautiful Homes, Amateur Gardening and Easy Gardens. She was also editor of Country Homes & Interiors for 14 years, leading it across print and creating the blog Country Days. She has also worked at Woman's Weekly, Family Circle and Practical Parenting.