Grey living room ideas – 15 inspiring neutral schemes that you'll love for years to come
Breathe new life into your living spaces by choosing a grey color scheme to suit your style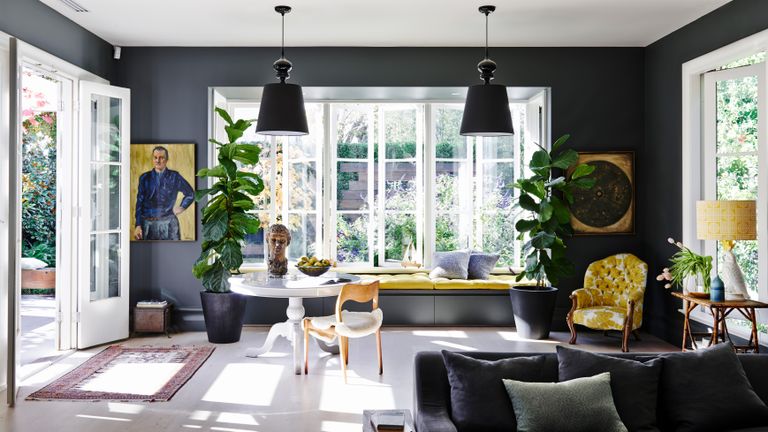 (Image credit: Future / Lisa Cohen)
Grey living rooms are hugely popular, and it is easy to see why. Grey is the biggest-selling paint color after white, and the hue has secured its position as the modern neutral. 
Finding the right grey is exactly like buying a red lipstick: you choose one with the undertone that suits your skin shade.
'For centuries grey has been regarded as a workmanlike, utilitarian non-color,' says Kate Watson-Smyth, author of Shades of Grey. 'The shade of prisons and battleships; items that either don't need to be a more interesting color, or things that are waiting to be painted. Grey is what we had before color arrived – think of television and photography. It's also supremely practical as it doesn't show the dirt easily, making it perfect for public spaces.'
This is how to get the right shade for every room, every time. Below, you'll find our favorite grey living room ideas – plus tons of design inspiration and advice. 
Grey living room ideas
These are our favorite grey living room ideas – each one uses grey in a different way to create a space that's timeless, elegant and restful.
1. Create depth with greys in different tones
Pick a plump sofa for lounging. This charcoal grey number adds elegance and interest to a minimal room. Explore the many depths of a grey color palette by layering tones to create a scheme that looks cohesive. By using the same color, but in both its palest and deepest incarnations, you can create a rich, contrasting look that is co-ordinated. A glass coffee table and side table add a glamorous note.
2. Combine greys with black and white for a smart finish
Panelled walls painted soft grey provide a sophisticated backdrop for this scheme, which artfully balances black and white upholstered furniture. Blocks of pattern, in the form of tailored cushions and artwork, add interest and personality to the modern look.
3. Choose a dark grey for a dramatic feel
A rich wall color combined with walnut veneers and velvet fabric make this space a cosseting retreat.
Darker tones of charcoal can be used to add drama anywhere in the home – with clever lighting you can create a look that is both strong and atmospheric. These dark greys are also a perfect strong background for small amounts of contrasting color, like warm mustard and cobalt blue.
4. Pick pink for a warm, on-trend contrast
Use the gentlest of greys as a springboard for blush pink, plum and buff tones. Mid century-style furniture rubs shoulders here with contemporary pieces in brilliant hi-gloss white. The floor-to-ceiling curtain adds a lovely touch of dip-dyed pink, while cushions and floral displays channel rich plum tones. Grey and pink is a winning combination, particularly suited to contemporary schemes.
5. Introduce warmth with touchable textures
Adding woolen soft furnishings to an understated grey living room will transform it from cold to calming in an instant. The abundance of texture and pattern in the wool, plus the burst of bright yellow prevent this room from looking too gloomy. Everything in the room is very tactile, from the pendant light cover to the footstool. Plus the wall-mounted sculptures add a certain je ne sais quoi.
6. Add warmth to a north-facing room with greige
Dark colors can transform the mundane and ordinary by conjuring theatrical glamour. And grey paint creates the perfect backdrop for standout colors and pattern. 
However, if your room is starved of warm daylight, choose a grey with a touch of warm brown in it – you'll get the elegance of a grey room without it feeling too cool. Opt for soft furnishings in your favorite colors – they will really sing out.
7. Go for glamour in a grey living room with metallics
Use grey to create a harmonious look that will make a great impression. Whether it's pale or slight darker, dove grey is a great all-rounder. you can dress it up with silvers and metallic shades for a luxe look or keep it simple with natural colors and earthy textures.
8. Contrast dark grey with hot neons for a contemporary feel
Grey walls are the perfect canvas for a variety of bright, bold colors. A deep, dark grey will really make strong colors sing out. Think standout artwork, electric pink fabric and patterned rugs.
9. Complement greys with blue for a serene scene
Grey is one of those wonderfully versatile shades that works with just about any color. And what better color to mix it with than blue?
Blue is scientifically proven to be a subconsciously calming shade, and when paired with grey, it will make you relax without you even realizing it.
10. Use grey walls as the perfect backdrop
Jane Rockett, co-founder of the uber-trendy online interiors store Rockett St George is a huge fan of grey paint.
'Grey paint creates the perfect backdrop for treasures that fill a home as items really "pop" against a dark background creating great definition,' Jane says.
11. Paint your walls a deeper shade of grey
There is something quite delightfully decadent about a dark, deep grey. It is cold yet warm at the same, and can be used a backdrop to highlight a carefully-curated selection of wonderful curios and artwork. What's more, dark grey is perfect color choice if you have children, as it will hide any unsightly fingermarks on the walls. It is a win-win if you ask us.
12. Decorate with grey in a small space
When decorating a small room, create a focal point – one area or feature that will draw the eye, so there's less emphasis on the room's layout. In the living room, the L-shape sofa, upholstered in a blue-grey color is the star of the space.
13. Opt for a monochromatic color scheme
A monochrome color platte doesn't have to mean black-and-white. Add some sunshine to your living room with splashes of yellow. This uplifting color scheme has positive vibes that can pull of grandeur or contemporary as well as cozy, farmhouse chic.
13. Use the same color in a variety of hues
A monochromatic color scheme, using different tones of the same color, will help to make the furniture and other features recede and appear to take up less space. Soften the palette by adding warm blue furniture and accessories rather than a harsh black or white.
14. Highlight a standout feature with grey
If the rest of your room is a little on the pale side, use a deeper shade of grey to highlight your favorite feature. 
In this apartment space, a smokey yet pale grey can be seen on the built-in cabinet doors, thus enhancing rather than detracting from this rather interesting architectural detail.
15. Accesorize with grey
An unusual and less obvious way to add grey into your living room, a tarnished grey mirror instantly draws to eye upwards, making it ideal for a small living room. 
This mirror will reflect both natural and artificial light to make a room brighter during the day and night and it will bounce light deep into the room, making it appear larger.
What grey paint should I use?
If you hold together a fan of grey paint charts, you'll see how widely the tones vary. The cool end of the spectrum has blue undertones, passing through tints of green and yellow, ending up at warm shades with red bases that give them brown, pink or purple tints.
Just a quick peek at a Farrow & Ball paint chart suggests the myriad possibilities of this favorite decorating shade and explains its enduring appeal: from the barely-there neutrals of Dimity and Ammonite, to the mid tones of Lamp Room Gray and Calluna, through the green-edged Mizzle and Pigeon, blue-hued Parma Gray and Lulworth Blue and out the other side to deep dark Down Pipe, Plummett and Brassica.
How can I make my grey living room look warm?
Your journey starts with deciding on the 'temperature' of color your room needs – cool or warm –then how far you dare to take it. From moody dark grey to light pastel grey, here we show you how to choose and update your living room with grey.
The first question you need to ask yourself is how much natural light does your room get? Does that light come from the north, south, east or west? 'The orientation of your space will affect the way a color looks on the walls and is the reason why exactly the same shade of grey paint can look completely different in different surroundings,' says Kate Watson-Smyth.