Grey living room ideas – 30 inspiring ways to use this versatile shade
Create a timeless and comfortable space with these grey living room ideas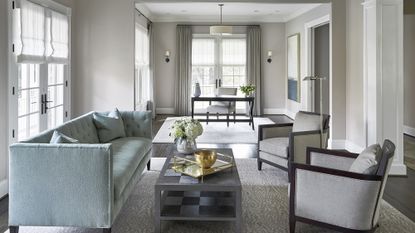 (Image credit: Interior by Tracy Morris / photograph by Greg Powers)
Sign up to the Homes & Gardens newsletter
Decor Ideas. Project Inspiration. Expert Advice. Delivered to your inbox.
Thank you for signing up to Homes & Gardens. You will receive a verification email shortly.
There was a problem. Please refresh the page and try again.
Grey living room ideas are timeless and versatile, so it's no wonder they're also hugely popular.
Used on walls, grey is a brilliant neutral base for layers color, print as part of a characterful scheme and can be used to create myriad living room looks from cozy and cocooning to chic and dramatic depending on the tone and temperature you choose. However it can also a popular choice for furniture, too.
Whether you're looking to redesign a room or update your living room ideas with a few key pieces then these grey living room ideas and expert tips are guaranteed to get you inspired.
Grey living room ideas – 27 inspiring ways to use this versatile shade
When it comes to decorating a grey living room, choosing the warmth and the depth of grey is the best place to start – you can use the color wheel to achieve this effortlessly.
Shades of grey can range enormously, from cooler tones to warmer 'greige' hues – a mix of beige and grey – to those with yellow and red undertones. While cool greys dominated for some time, warmer greys are securing their place as the new neutral for those thinking of decorating with grey, explains Ruth Mottershead, creative director of Little Greene.
'Grey has universal appeal, serving as a timeless and elegant backdrop upon which to build character, however we are seeing a move towards warmer stone toned greys, which offer a sense of comfort. Dolphin, Serpentine, Grey Moss are becoming the go-to colors for creating a sense of cosiness in living rooms whilst still delivering the sophistication and elegance that grey offers.'
There's nothing more timeless than living room color scheme in this neutral shade. Here, we show you how to use grey in all its guises.
1. Go for a layered grey living room scheme
An easy way to start with grey if you've never used it in a living room is to go with a procession of light greys. Start with your most dominant piece in the room, whether the sofa or, as here, the living room bookshelf, and choose the darkest grey you dare to.
From there, layer the rest of the room with lighter greys. It's important that these greys are in the same tones as each other, whether that's cool or warm.
2. Opt for a dark brown grey for drama
Albion Nord interior design agency is well-known for its use of bold colors. Here, they have used the deepest and darkest of muddy greys in a living room to create an incredibly cozy feel.
'What I love about this grey living room is the attention to detail in the layering of the grey,' says Lucy Searle. 'The trim around the door and the baseboard are in a deeper, darker shade of grey, which makes the space feel both elegant and grown up and leads seamlessly into the grey hallway.
'This is the type of color scheme you can easily recreate in a room with great natural daylight, or one that you really only use at night, and which will glow invitingly under lamp light.'
3. Pick a cool grey for a warmly-lit room
This grey room idea obviously has elements of warmth within it: the red sofa shouts heat, and the piles of books create a lovely, lived-in look. However, the rest of the surfaces are pared back, and even the artificial lighting is dramatically pared-back on materials.
So what makes it successful? 'The cool grey of the walls is the perfect match for the stone flooring and marble central table,' says Sarah Spiteri, Editorial Director of Homes & Gardens. This single-toned approach acts as a backdrop to and allows for more dramatic elements, such as the sofa and light, within the room. However, its success does to a degree rely on the natural daylight being warm, meaning it is ideal for a south- or west-facing room, but less so for coolly lit north-facing spaces.'
4. Create depth with greys in different tones
If you are looking for grey sofa ideas for living rooms, pick a plump sofa for lounging. This charcoal grey number adds elegance and interest to a minimal room.
Explore the many depths of a grey color palette by layering tones to create a space that looks cohesive. By using the same color, but in both its palest and deepest incarnations, you can create a rich, contrasting look that is co-ordinated. A glass coffee table and side table add a glamorous note here.
5. Combine grays with black and white for a smart finish
Living room paneling painted in soft gray provides a sophisticated backdrop for this scheme, which artfully balances black and white living room furniture.
Blocks of pattern, in the form of tailored cushions and artwork, add interest and personality to the modern look.
6. Decorate with dark gray for a dramatic feel
A rich wall color combined with walnut veneers and velvet fabric make this space a cosseting retreat.
Darker tones of charcoal can be used to add drama anywhere in the home. With clever living room lighting ideas you can create a look that is both strong and atmospheric.
These dark greys are also a perfect strong background for accent color ideas such as warm mustard and cobalt blue.
7. Pick pink for a warm, on-trend contrast
Use the gentlest of greys as a springboard for blush pink, plum and buff tones. In this grey and white living room, Mid century-style furniture rubs shoulders here with contemporary pieces in brilliant hi-gloss white.
The floor-to-ceiling drape adds a lovely touch of dip-dyed pink, while cushions and floral displays channel rich plum tones. Gray and pink is a winning combination, particularly suited to modern living room ideas.
8. Introduce warmth with touchable textures
Adding woollen soft furnishings to an understated grey living room will transform it from cold to calming in an instant.
The abundance of texture and pattern in the wool, plus the burst of bright yellow living room accents, prevent this room from looking too gloomy. Everything in the room is very tactile, from the pendant light cover to the footstool. Plus the wall-mounted sculptures add a certain je ne sais quoi.
9. Add warmth to a north-facing room with greige
Dark colors can transform the mundane and ordinary by conjuring theatrical glamour, and gray paint creates the perfect backdrop for standout colors and pattern.
However, if your room is starved of warm daylight, choose a beige grey with a touch of warm brown in it, inspired by beige living room ideas – you'll get the elegance of a grey room without it feeling too cool. Opt for soft furnishings in your favorite colors – they will really sing out.
10. Go for glamor in with metallics
Use gray to create a harmonious look that will make a great impression. Whether it's pale or slight darker, dove gray is a great all-rounder.
You can dress it up with silvers and metallic shades for a luxe look, or keep it simple with natural colors and earthy textures.
11. Contrast dark gray with hot neons for a contemporary feel
Grey walls are the perfect canvas for a variety of bright, bold colors. A deep, dark grey will really make strong colors sing out. Think about decorating with art, electric pink fabric and patterned rugs.
12. Complement grays with blue for a serene scene
Grey is one of those wonderfully versatile shades that works with just about any color. And what better color to mix it with than blue living room accents?
Blue is scientifically proven to be a subconsciously calming and, when paired with grey, it will make you relax without you even realizing it.
13. Use gray walls as the perfect backdrop
Jane Rockett, co-founder of the uber-trendy online interiors store Rockett St George is a huge fan of grey paint ideas.
'Grey paint creates the perfect backdrop for treasures that fill a home, as items really "pop" against a dark background, creating great definition,' Jane says.
14. Paint your walls a deeper shade of gray
There is something quite delightfully decadent about a dark, deep grey. It is cold yet warm at the same, and can be used a backdrop for wall decor ideas as well as a carefully-curated selection of wonderful curios and artwork.
What's more, dark grey is perfect color choice if you have children, as it will hide any unsightly fingermarks on the walls. It is a win-win if you ask us.
15. Decorate with gray in a small space
When planning decor for small living rooms, create a focal point – one area or feature that will draw the eye, so there's less emphasis on the layout of the room
In this cozy living room, the L-shape sofa, upholstered in a blue-grey color, is the star of the space.
16. Opt for a monochromatic color scheme
A monochrome color platte doesn't have to mean black-and-white. Add some sunshine to your living room with splashes of yellow.
This uplifting living room color combination has positive vibes that can pull of grandeur or contemporary as well as cozy, farmhouse chic.
17. Use the same color in a variety of hues
A monochromatic color scheme, using different tones of the same color, will help to make the furniture and other features recede and appear to take up less space.
Soften the palette by adding warm blue furniture and accessories rather than harsh white or black living room accents.
18. Highlight a standout feature with gray
If the rest of your room is a little on the pale side, use a deeper shade of grey to highlight your favorite feature.
In this mid-century inspired apartment living room, a smokey yet pale gray can be seen on the built-in cabinet doors, which enhances rather than detracts from the interesting architectural detail.
19. Accessorize with gray
An unusual and less obvious way to add grey into your space, a tarnished gray living room mirror will instantly draw the eye upwards, making it the ideal addition to small apartment living room ideas.
This mirror will reflect both natural and artificial light to make a room brighter during the day, and night it will bounce light deep into the room, making it appear larger.
20. Choose a warm tone of gray for a cozy snug
Decorating with grey has a multitude of opportunities to select a shade of grey appropriate to your space and light. Cooler, paler shades may work well in a south facing room or a light and airy bedroom or kitchen.
But for cozy living room ideas or a snug, a warmer putty shade of taupe grey will help to make the room feel warm and welcoming. It offers the perfect backdrop for an array of wonderfully colored and patterned upholstery, such as the stripes and geometrics here. This tone would work well in a traditional living room or contemporary space.
21. Create a striking living room corner
A soft pale powdery grey wall offers a subtle backdrop for a gallery wall of monochrome framed prints.
More interesting than white, pale grey feels like a chic choice for a quiet, understated scheme, allowing the furniture, lighting and artwork to stand out and take center stage.
22. Pale grey and cool blues are a heavenly pairing
A soft pale grey is a chic choice for a formal living room with a modern classic feel. Here it has been paired to great effect with a set of monochrome map prints and a metal and glass coffee table.
The upholstery and rug underfoot in a mix of pale grays and soft blues all combine to create a cohesive feeling scheme.
23. Use pale gray walls as a quiet backdrop for more colorful pieces
A pale dove grey is a great choice with wall paneling, for a modern classic look. It sets a calm tone in a living space.
As with most neutral living room ideas, pale grey allows other key players in the space to take center stage, as is the case here with the large framed map print and the vibrant blue velvet sofa with its contrasting yellow cushions.
24. Go dark for a rich and dramatic look
Navy, grey and red is a harmonious color combination. Dark living room ideas, such as the deep, almost blue-black charcoal walls here, create an intimate environment for lounging. This dark rich tone also works brilliantly as a canvas against which to allow statement pieces to sing out.
Here the sculptural white hanging pendant light stands out against the dark background. And the vibrant pops of red from the coffee table, rug and cushions are made all the more vivid when seen in contrast to the dark, dense walls.
25. Add texture for soft gray walls
Sometimes grey can feel like a flat or cold choice to use in the home, but textural wallpaper ideas offer the perfect solution by allowing this chic, neutral shade to do its job, but with the added softness and warmth from a textural grass-cloth like finish.
It works really well here, in combination with the geometric lines of the wood sideboard, and the vibrant pop of apple green and dusty pink from the table lamp.
26. Pair gray with blue for modern coastal look
Think of coastal decor and the idea of decorating with blue and white usually comes to mind. However, if you're after a chic, contemporary take on the nautical look you may want to consider switching the white for grey. In this scheme interior designer Tracy Morris wanted to use a palette of watery hues to allude to the coastal hometown of owners, so chose a warm grey as a base to set them off.
'Our clients were moving from a coastal location. I knew we were going to use many tones of blue in the house, so I needed a clean backdrop that would bring out the blue tones – Benjamin Moore's Revere Pewter was the perfect complement! This warm paint balanced the cool tones in the fabrics and rugs creating the perfect backdrop for this home.'
27. Use gray to create spaces to grow with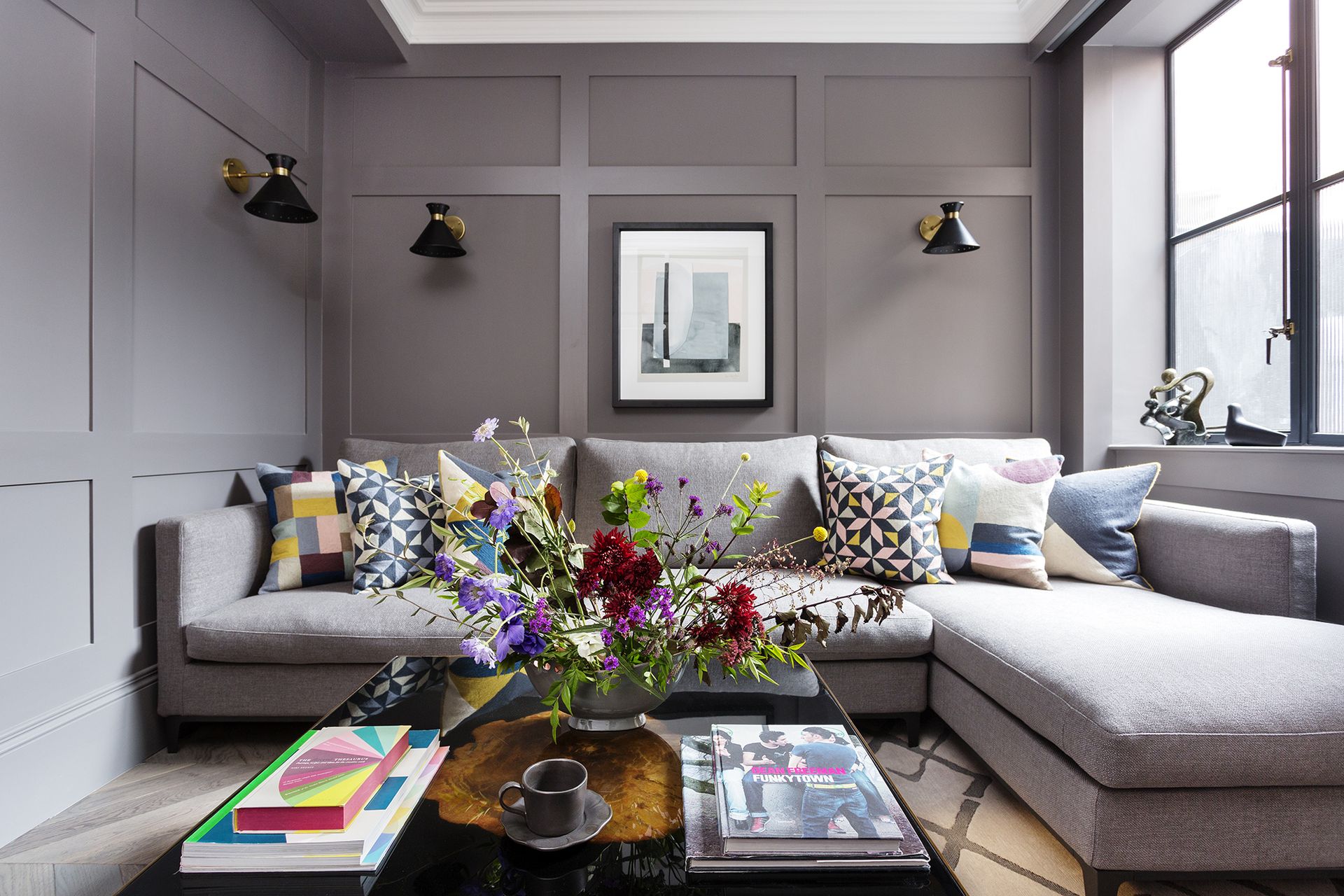 If the way you use your living room is going to change over time then grey offers a versatile base on which to build – simply change up the accessories and you can create myriad new looks.
'Grey is an ideal choice for creating a calming atmosphere in a living room and allowing for personality and detail to shine through with the choice of accessories, furniture and artwork,' says Caroline Milns, head of interior design at Zulufish.
'It's a clever color choice for a space that may need to evolve and deliver multiple functions over time, for example, a living room snug that in turn could become a teenager's den idea or a home office because it is very versatile and can be combined with a multitude of other colors.'
28. Highlight architectural features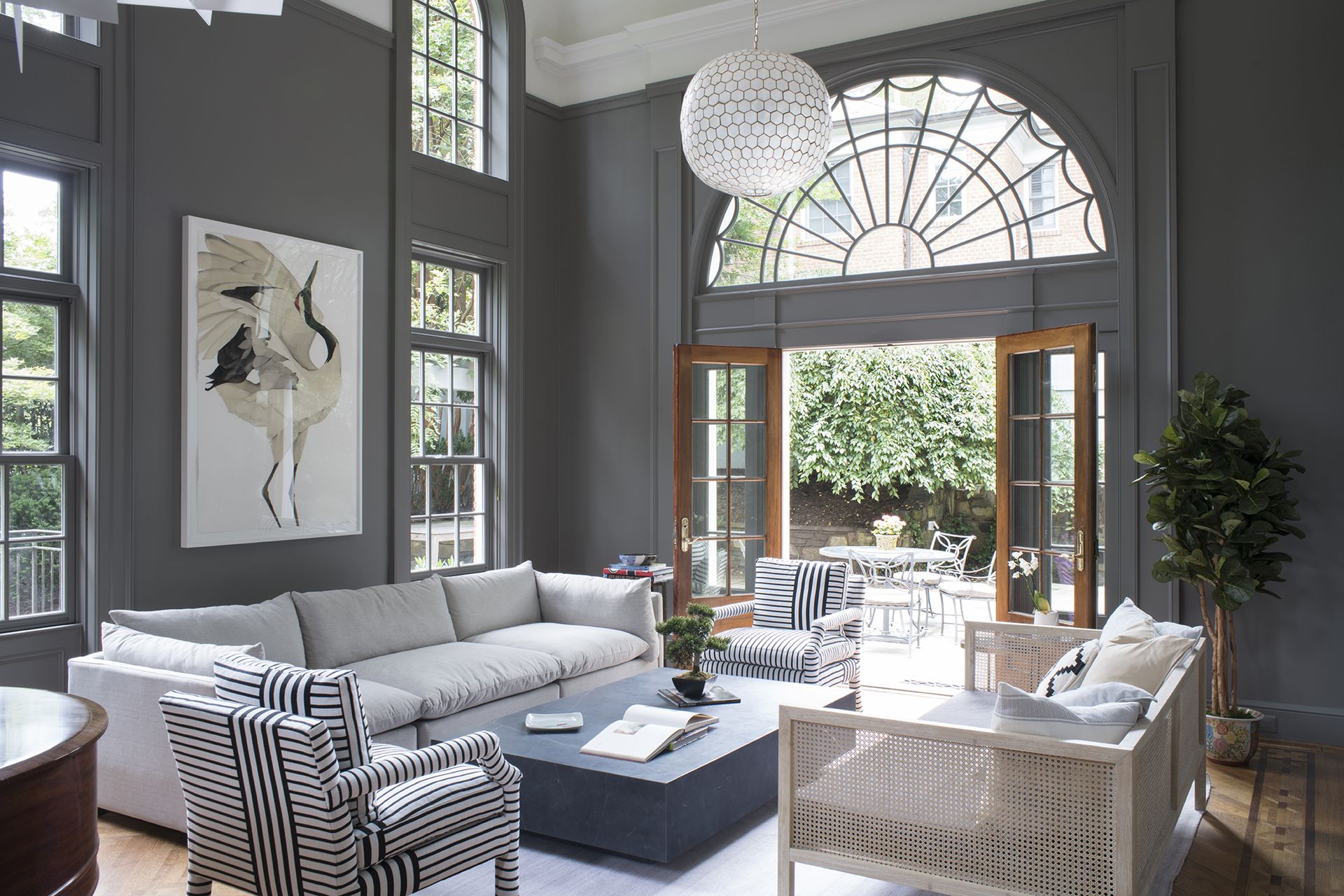 If you have a large room with beautiful architectural details, then a grey and white palette is a wonderful way to highlight the beauty of a the space, however, consider a warm grey says Catherine Fowlkes of the DC-based architecture firm Fowlkes Studio.
'I like using warm greys to give depth to walls without dictating the room's furniture palette – light greys add a layer of softness while rich greys add depth,' says Fowlkes. 'Coating the windows, doors and trim in the same grey wall color further unifies the backdrop to a living room and can give the illusion of a higher ceiling when painted in a contrasting color. I gravitate towards greys with less blue and more brown in them.'
29. Liven-up gray rooms with plenty of pattern
If you love to decorate with patterned fabrics then a neutral grey living room is the ideal place to do so. Whether it's over sofas, chairs and ottomans, or curtains and cushions, there's plenty of opportunity to experiment with different combinations.
When decorating with printed fabrics, be sure to use an array of designs, playing with scale and tone, to avoid the scheme looking too matchy-matchy.
With its warm undertones, this French Grey shade from Little Greene is ideal for period properties and cottage living rooms such as this which have an abundance timber and rustic features.
30. Warm-up gray with natural materials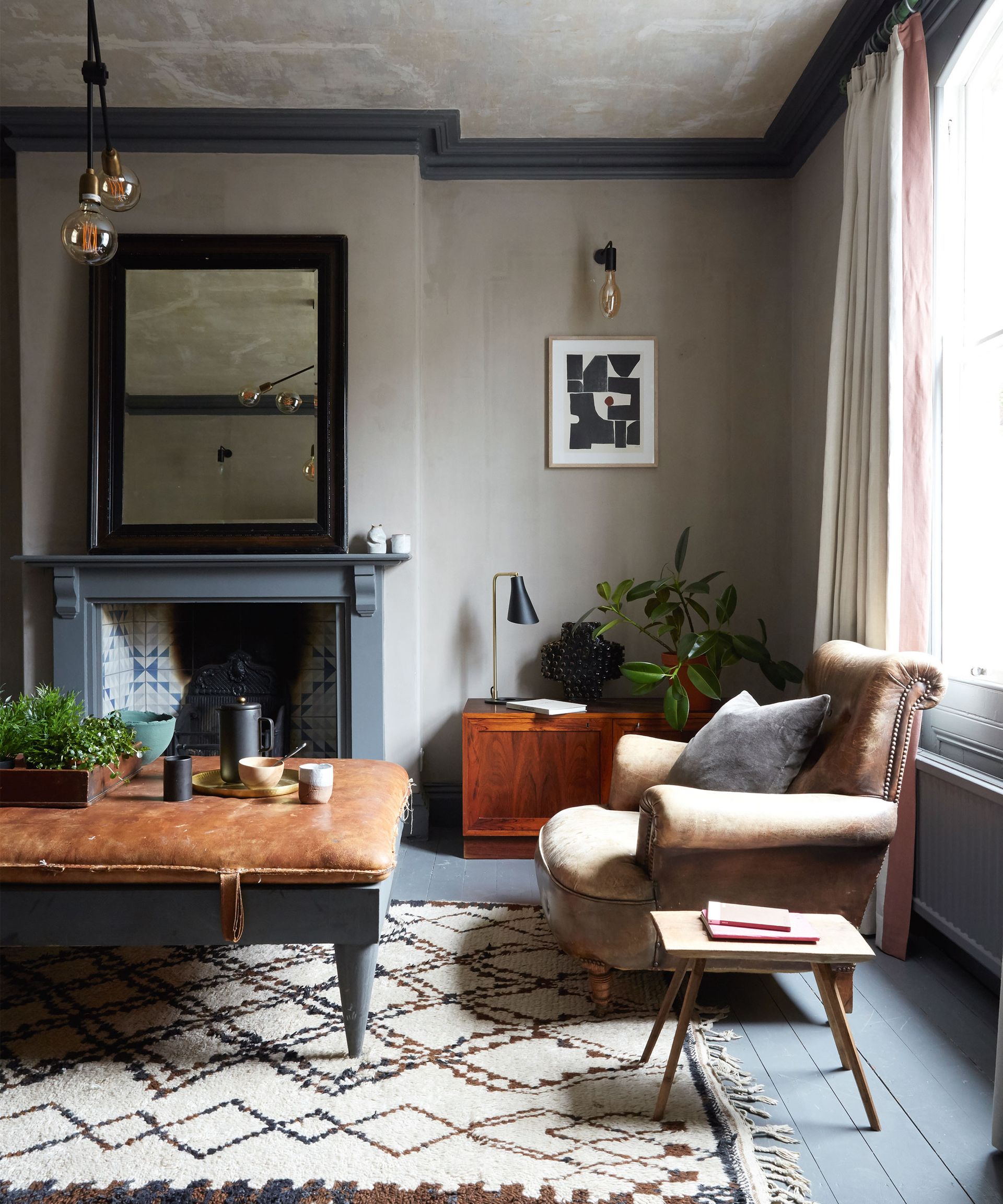 If you have a dark living room which is north facing the space can run the risk of feeling cold, however, using a warm, pale grey on walls combined with plenty of textural natural materials will make the room feel comforting and cosy.
In this grey living room, furniture in rich tan leather and timber bring life and warmth, while a woollen, deep-pile living room rug adds softness and texture to the gray flooring.
What grey paint should I use?
If you hold together a fan of grey paint charts, you'll see how widely the tones vary. The cool end of the spectrum has blue undertones, passing through tints of green and yellow, ending up at warm shades with red bases that give them brown, pink or purple tints.
Just a quick peek at a Farrow & Ball paint chart suggests the myriad possibilities of this favorite decorating shade and explains its enduring appeal: from the barely-there neutrals of Dimity and Ammonite, to the mid tones of Lamp Room Gray and Calluna, through the green-edged Mizzle and Pigeon, blue-hued Parma Gray and Lulworth Blue – and out the other side to deep dark Down Pipe, Plummett and Brassica.
How can I make my grey living room look warm?
Your journey starts with deciding on the 'temperature' of color your room needs – cool or warm – then how far you dare to take it. From moody dark grey to light pastel grey, there are endless ways to update your living room with grey.
The first question you need to ask yourself is how much natural light does your room get? Does that light come from the north, south, east or west?
'The orientation of your space will affect the way a color looks on the walls, and is the reason why exactly the same shade of grey paint can look completely different in different surroundings,' explains interiors expert Kate Watson-Smyth of Mad About The House.
What's the best color to go with grey?
As a neutral color, grey works well with many shades, making it a versatile choice for decorating with. Many of the best accent colors for gray include other neutrals. 'Gray balances well with additional neutrals or graphic black and white, as well as brighter pops of color; creating a very different finish easily within the room without having to make radical changes to the four walls,' says Caroline Milns, head of interior design at Zulufish.
'When choosing greys, go for something well-balanced like our 'French Gray' family. These greys can be paired with other shades with ease, combining well with blues, greens and pinks,' adds Ruth Mottershead of Little Greene.
Sign up to the Homes & Gardens newsletter
Decor Ideas. Project Inspiration. Expert Advice. Delivered to your inbox.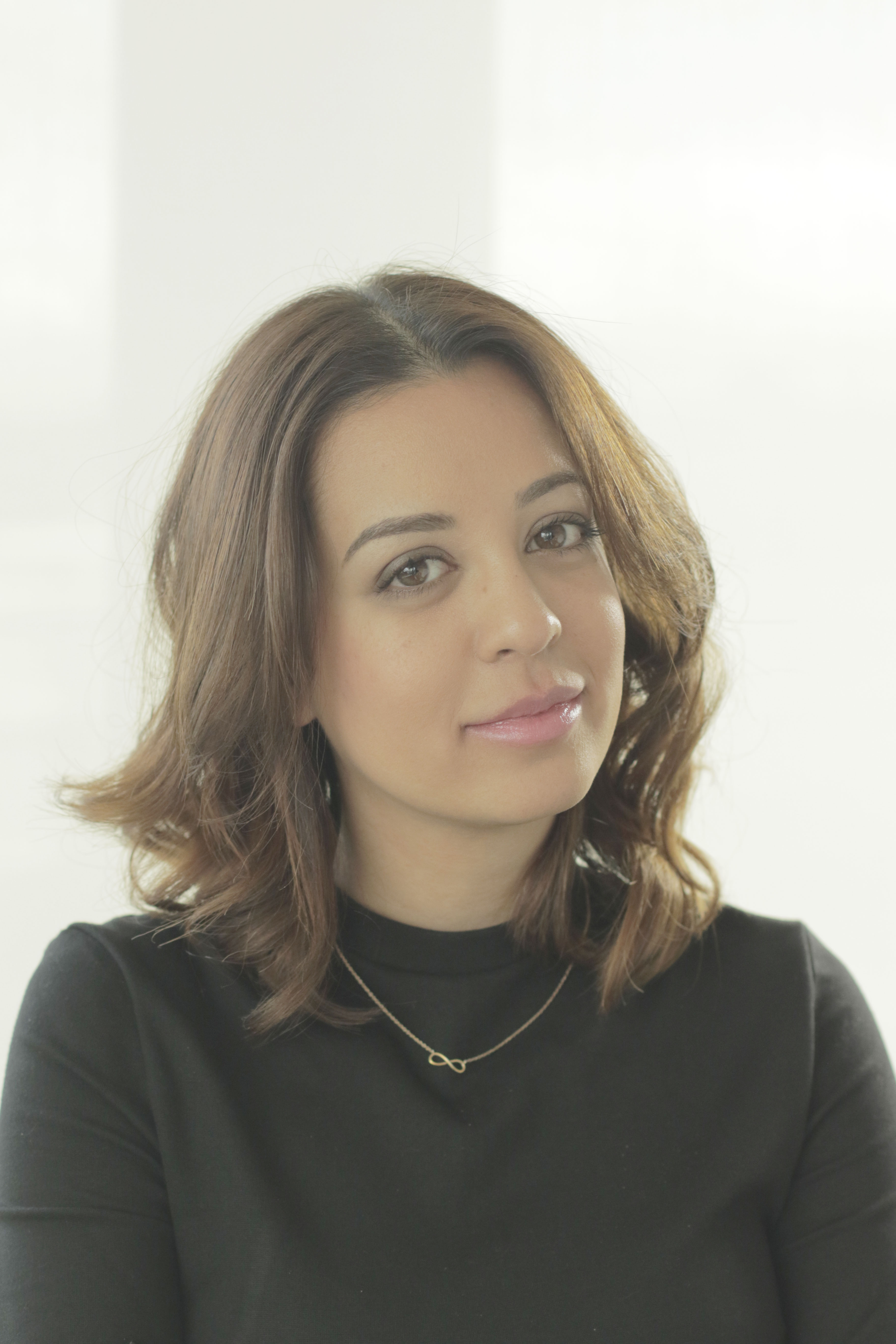 Jennifer is the Digital Editor at Homes & Gardens. Having worked in the interiors industry for a number of years, spanning many publications, she now hones her digital prowess on the 'best interiors website' in the world. Multi-skilled, Jennifer has worked in PR and marketing, and the occasional dabble in the social media, commercial and e-commerce space. Over the years, she has written about every area of the home, from compiling design houses from some of the best interior designers in the world to sourcing celebrity homes, reviewing appliances and even the odd news story or two.