Farmhouse kitchen island ideas – workstations and breakfast bars with a rural flavor
These farmhouse kitchen island ideas will get you more prep space, storage and style - without losing that rustic country vibe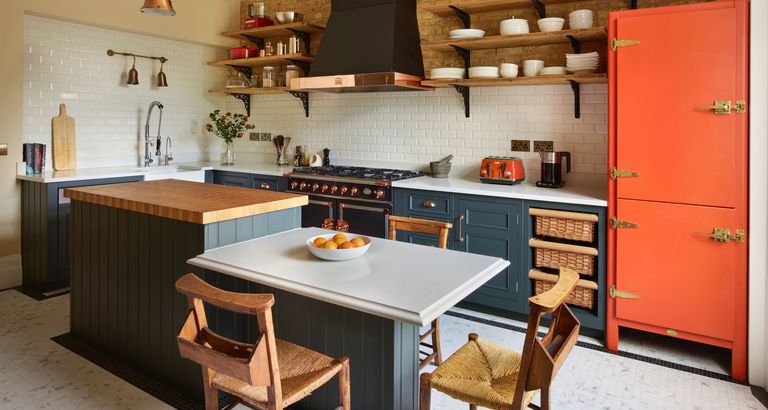 (Image credit: Harvey Jones/Darren Chung)
Once a modern status symbol, the island unit is now widely regarded as one of the most useful features you can have in any kitchen. In farmhouse kitchens, they are fast replacing the traditional cook's table; still providing a similar social role, but with surfaces at a more comfortable height for prepping.
'To maintain an authentic farmhouse style, we like to design kitchen islands that look like freestanding pieces of furniture, topped with natural surfaces such as solid stone or a chunky butcher's block,' says Richard Davonport, managing director, Davonport.
The best islands are carefully located to ease traffic flow through the space, rather than creating a barrier, and, with seating included, will help secure the kitchen as the natural hub of your country home.
You can see more kitchen ideas in our main guide.
Farmhouse kitchen island ideas
These farmhouse kitchen island ideas have been picked to appeal to a wide variety of looks within the genre – and for different sized kitchens.
1. Use it to color block
Make your kitchen island stand out from the rest of the space by giving it a different color. This is a lovely way of injecting bolder shades if you prefer to stick to more neutral tones, on the whole.
If you don't want to mess with your color scheme too much, another great way to dip your toe in the trend is to paint your farmhouse kitchen island a lighter shade for brightness, or a darker one for intensity.
2. Make a curved bar space
If you love to entertain guests, then a curved kitchen island could be a feature you didn't know you needed.
The rounded nature isn't typically like the other kitchen islands found in homes, so this instantly makes it more interesting - plus it's super practical for dishing up dinner or serving drinks to those seated around it. We love this alternative take on traditional breakfast bar ideas.
3. Add a statement sink
When it comes to farmhouse kitchen ideas, a butler or Belfast sink is a popular choice for adding to that countryside aesthetic, and some people choose their kitchen island as the spot to house this rustic feature.
This design means you can face anyone who might be sitting or standing at your island, making it a sociable design tactic.
If you're looking for more ways to create the ultimate rustic space, take a look at our country kitchen ideas.
4. Shine a light on it
Coming up with strong kitchen island lighting ideas is just as important as the feature itself. After all, what's the point of investing time and money in a kitchen island if you're not going to show it off in all its glory?
There are so many options to choose from, too, from linear varieties and modern statement pieces to spotlight lamps and industrial-style hanging bulbs.
5. House the hob
In many ways, a kitchen island is the social hub of the room, where everybody tends to congregate.
This means it's great for housing a hob, as hosts can face their guests whilst entertaining. It also offers enough worktop space for food to be prepped pre and post-cooking.
6. Stand out with stone
A seriously striking stone doesn't need to cover every surface to make a statement – allowing you to invest a little more on something truly special, like this Terra Bianca Satinato Marble.
In fact, many designers recommend switching up the worktop on an island as a way to help it stand out as a freestanding piece of furniture, lending farmhouse-style kitchens a relaxed 'unfitted' feel.
This particular one is the Terra Bianca Satinato Marble by Cullifords (opens in new tab), if you like this classic style, be sure to check out our traditional kitchen ideas.
7. Split levels
Dining at table height is undoubtedly more comfortable than when perched on bar stools, so if you don't have a separate dining table consider a split-level island. This clever design uses a change in worktop to clearly demark the cooking and eating zones.
Providing ample leg room is an important comfort factor when sitting for prolonged periods – aim for an overhang of at least 30cm.
8. Create a cook's table
Styled on the traditional cook's table typically found at the heart of farmhouse kitchens, a long-legged portable kitchen island is perfect for baking and food prep. In island form, the drawers are deeper than an actual cook's table, so there's no need to compromise on storage.
Lifting the island off the floor is also a well-recognised design technique for making a kitchen feel more spacious. Table style islands aren't usually suitable for sink installations but the electrics for a hob can be hidden inside a leg if required.
This particular bespoke kitchen by Plain English (opens in new tab) - don't forget to dive into our farmhouse kitchen lighting ideas, too.
9. Find a flow
'Planning a curved island unit within a rectangle or square room is a real joy. Curves not only introduce a safety aspect with fewer sharp corners, but a softer design aesthetic, too,' says Darren Taylor, managing director, Searle & Taylor.
'This kitchen features a lot of straight lines, especially because of the stunning beams, so we added curves to provide contrast. Seating around a circular table allows for a more sociable dining experience and we designed the breakfast bar as a raised area so that three people could sit round it comfortably.'
'This was also designed at a height where they can look directly out through the windows to the lovely countryside beyond.'
10. Start small
An island doesn't have to be huge to prove a valuable asset. If space is tight, you're not ready to commit or you just want flexibility, a freestanding unit could be the answer. Make sure it's light enough to move without damaging the furniture, flooring or your back!
This vintage style piece in the home of fashion writer Louise Roe was made from the same reclaimed floorboards as the flooring below to achieve design cohesion with an element of relaxed imperfection.
The above London Grey quartz worktops are by Caesarstone (opens in new tab), whereas the cabinets are from British Standard (opens in new tab), with Louise Roe behind the design.
If you love this countryside aesthetic, you'll love these cottage kitchen ideas.
11. Design around an obstacle
If you're for an open-plan kitchen and have unavoidable structural joists to navigate around, an island unit can play a big role in maintaining easy traffic flow through the space.
'The island in this kitchen has been designed around the large pillar in the centre of the room, creating additional space for food preparation and storage, whilst allowing the Aga range oven to remain the focal point.'
'Without the island, the pillar would have been far more obstructive and visually dominating,' explains Richard Davonport, managing director, Davonport (opens in new tab). The above design is the Tillingham kitchen by the brand.
12. Zone the surfaces
Switching up the surfaces can prevent a long island from appearing bland and monolithic. It's also a popular way to zone different uses, in this case copper defines the breakfast bar/social end, while marble demarks cooking and cleaning.
When connecting two materials it is essential to get a neat joint to avoid creating a dirt trap – request a line of silicone if there's a water source close by. Alternatively, make a feature of the divide by going chunkier with one surface to create a purposeful step.
13. Include a corner bar
Positioning bar stools at right angles aids better eye-contact for conversation compared to a lining stools up in rows.
This chunky timber corner bar puts the chef centre of attention for a sociable cooking space with ample room for four guests. Raising the breakfast bar is a great safety feature when including a hob within an island, especially for children.
Also, if you're working with limited space, these small kitchen ideas should help you along.
14. Create a display
A mix of open and glazed shelving lends lightness to this impressive 4m-long island. 'It's important to consider how an island looks from all angles, especially if it's taking up a large footprint,' says Pierce Coyne, design manager, Kitchen Architecture (opens in new tab).
'In this 18th century farmhouse, the front of the island is the first thing you see when entering from the garden. The owners wanted shelving to create attractive displays. Using bleached oak inside also links nicely with the exposed oak beams.'
If this handy clutter-free solution has caught your attention, our kitchen storage ideas should be right up your street.
15. Mimic traditional furniture
Modelling your island on a more traditional piece of furniture can feel more in keeping in a farmhouse setting. The balanced design of this island unit mimics the symmetry of a robust sideboard, complete with pot rack style centre shelf – perfect for rustic baskets and recipe books.
A clever faux door on the left allows bar stools to be tucked out of the way, without ruining the illusion.
This lovely bespoke kitchen is from Thomas Ford & Sons (opens in new tab), while the flooring is by Artisans of Devizes (opens in new tab).
How much does a farmhouse kitchen island cost?
The price can range from $350/£250 to around $3,500/£2,700 for a high-quality kitchen furniture brand to build and install an island. But, if you want something a little more bespoke, costs can reach upwards of $28,000/£20,000.
Can I have an island in a small farmhouse kitchen?
The most important thing to remember is that a kitchen island is going to take up precious floor space in a square kitchen.
Generally, it's recommended that an island is no less than 40 by 40 inches (1 meter x 1 meter) for a small kitchen. If you're going for something narrower and longer, it's important to give yourself enough work space and plenty of room to move around it.
Does a farmhouse kitchen island add value?
A kitchen island can add value to a property, due to its functionality and aesthetic. It's also a less expensive option compared to other kitchen renovation projects, so it's usually a safe bet for a high return on investment.
Linda graduated from university with a First in Journalism, Film and Broadcasting. Her career began on a trade title for the kitchen and bathroom industry, and she has worked for Homes & Gardens, and sister-brands Livingetc, Country Homes & Interiors and Ideal Home, since 2006, covering interiors topics, though kitchens and bathrooms are her specialism.