Painted kitchen cabinet ideas – the best colors and finishes
These stylish painted kitchen cabinet ideas will inspire you to refresh your cabinetry with a selection of fabulous finishes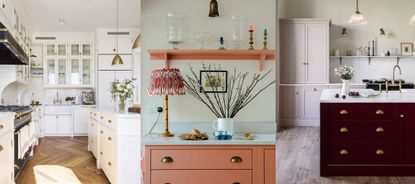 (Image credit: White Arrow/British Standard by Plain English/Harvey Jones)
Painted kitchen cabinet ideas are a great way to remodel a room. You may love the color or finish you have chosen for your kitchen right now, but what about next year or the year after? Easy: painting existing cabinets is a great way of changing the aesthetic of your kitchen without the upheaval of a full room refit – plus it will take less time, skip the disruption of renovation, and save money.
Of course, if your existing kitchen layout isn't meeting your needs, you might be looking for kitchen ideas and inspiration for a whole new scheme, with painted kitchen cupboards taking center stage.
Painted kitchen cabinet ideas
The color palette of your kitchen cabinet ideas is a massive decision. It will define the look and feel of your space – dark shades will create a sophisticated, cozy atmosphere while bright whites or yellows will brighten the room and offer a warm welcome into the heart of your home.
'Introducing a bold color to a kitchen makes for a striking design statement, the amount of color or tone you choose is a personal decision and ultimately depends on how brave you are feeling,' says Graeme Smith, Head of Retail and Commercial Design at Life Kitchens. 'Alternatively, you can take a subtler approach and choose to highlight specific aspects of the kitchen by adding a vivid splash of color like the splashback, larder, island, drawers or handles.' For anyone looking for painted kitchen ideas, it's the place to start.
No matter which shade you choose, formula is also a key consideration and your kitchen cabinetry will need to remain cleanable. Opt for a dedicated kitchen formula or one labelled washable or wipeable – these come in a wide range of paint finishes from matt through to gloss. Alternatively, opt for a gloss finish to improve its longevity.
1. Opt for white for a timeless look
If you're looking to create a timeless kitchen, then look no further than white kitchen ideas. Effortlessly chic and sophisticated, as seen in this kitchen designed by White Arrow, white painted kitchen cabinet ideas work seamlessly with a wide range of kitchen styles from sleek modern designs to vintage kitsch.
'Set inside a former 1800s schoolhouse classroom, the high ceilings and the building's history allowed us to run the cabinetry to the room's ceiling. Classic detailing, rooted in French bakery cabinetry, appears in the millwork, and arches and paneling appear throughout the room. We used warm white oil paint to infuse the room with warmth and play off the rich wood tones of the reclaimed chestnut chevron flooring,' explains designer Keren Richter, Co-Founder and Principal Designer at White Arrow. 'White is a classic choice, and when paired with unlacquered brass and wood, it feels inviting and picks up on traditional kitchens from the turn of the century.'
2. Don't be afraid of embracing trends
Painted kitchen cabinet ideas are one of the easiest ways to totally change your kitchen's look and, therefore, it is a great way to ensure that you are up to date with the latest kitchen trends. Opt for neutral walls and countertops (white quartz is a great choice) so that it can work with any color palette. 'Bolder, darker colors – like navy blues and forest greens – are very much on trend at the moment,' says Graeme Smith. 'People are wanting a richness and depth that you can't find in monochrome kitchen schemes.'
3. Consider a contrasting island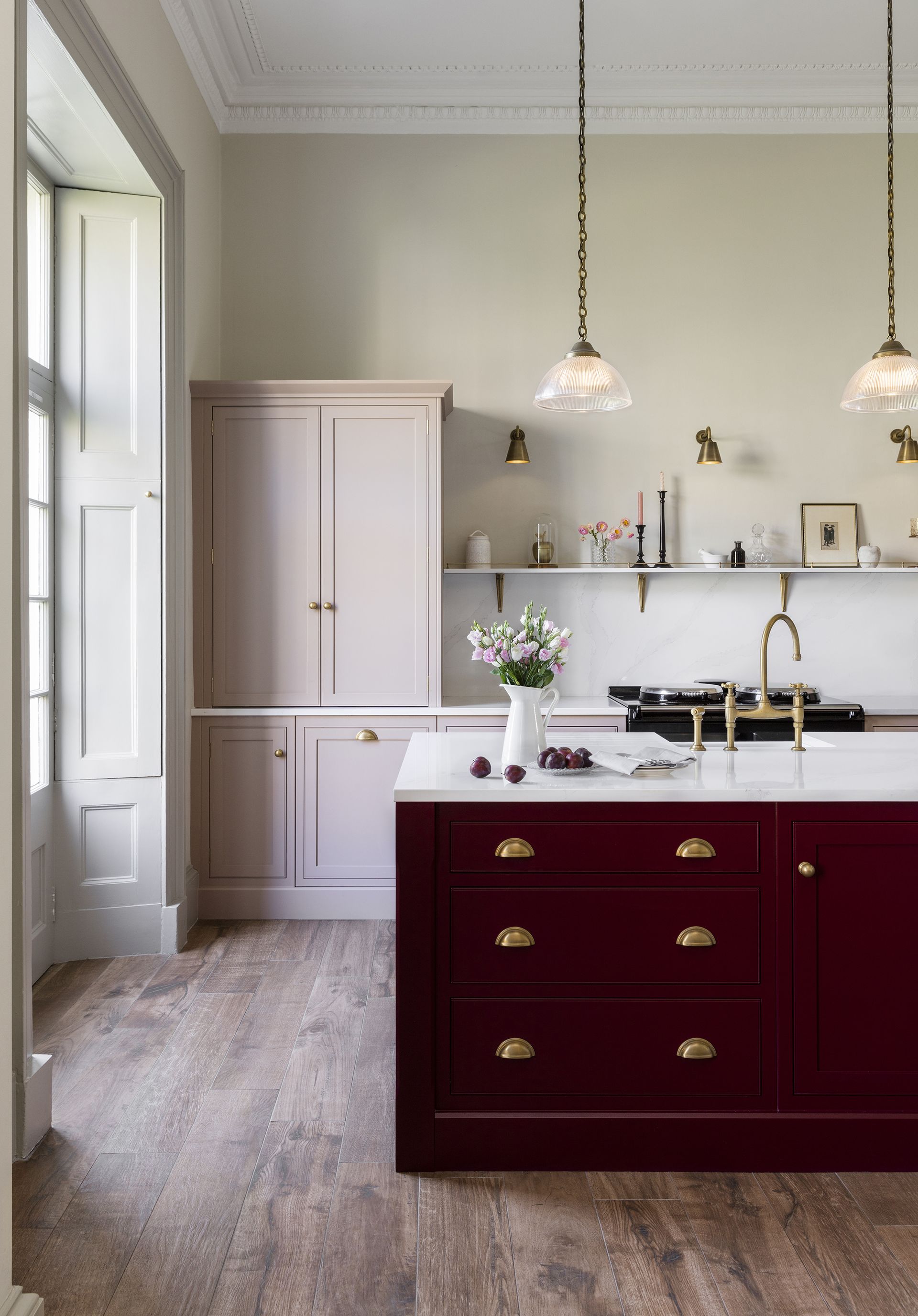 When designing a kitchen island, painted kitchen cabinet ideas will offer a host of inspiration. Your kitchen island provides the perfect canvas to play with contrasting colors in your kitchen. Painting your central island in a bold, statement shade and pairing with more muted colored wall cabinets will instantly draw people into the heart of the space, encouraging them to take a moment to sit and chat while you are cooking.
If you're looking for more inspiration, there are plenty of kitchen island ideas from modern kitchen island ideas to country kitchen island ideas, that will certainly help you to decide on the right design for your space.
4. Consider distressed paint finishes for a vintage look
If you're searching for painted kitchen cabinet ideas for your vintage kitchen, then look no further than distressed finishes. 'The finish provides a sense that the kitchen has history and character and adds a subtle painterly quality to the space. Layered, weathered finishes like this are versatile and work well on kitchens and libraries in both historic homes as well as new builds where charm, texture, and interest is needed,' says Kathy Marshall, principal at Kathy Marshall Design.
5. Embrace non-traditional colors for a kitchen that's unique to you
Corals, pinks and oranges might seem like a controversial choice for a kitchen, especially due to the reigning popularity of blues and greens, however, it is a section of the color palette that is definitely worth considering. 'Painted in Edward Bulmer's Brick, these these painted kitchen cabinets make for a warm and welcoming space that feels particularly apt at this time of year,' says Adrian Bergman, Design Manager, British Standard by Plain English.
5. Paint cabinetry a dark shade for a family kitchen
If you've got a busy family kitchen or maybe you're a messy cook, then dark painted cabinetry is a safer bet. Less likely to stain or discolor, it is easier to care for and keep clean – ideal for your family kitchen ideas. In any kitchen, cleanability is a key consideration so opt for a gloss paint or one with a cleanable formula to help keep your kitchen hygienic.
For expert advice, research how to clean kitchen cabinets or general advice on cleaning a kitchen to ensure you space is always looking its best.
6. Go bold with multi-colored cabinets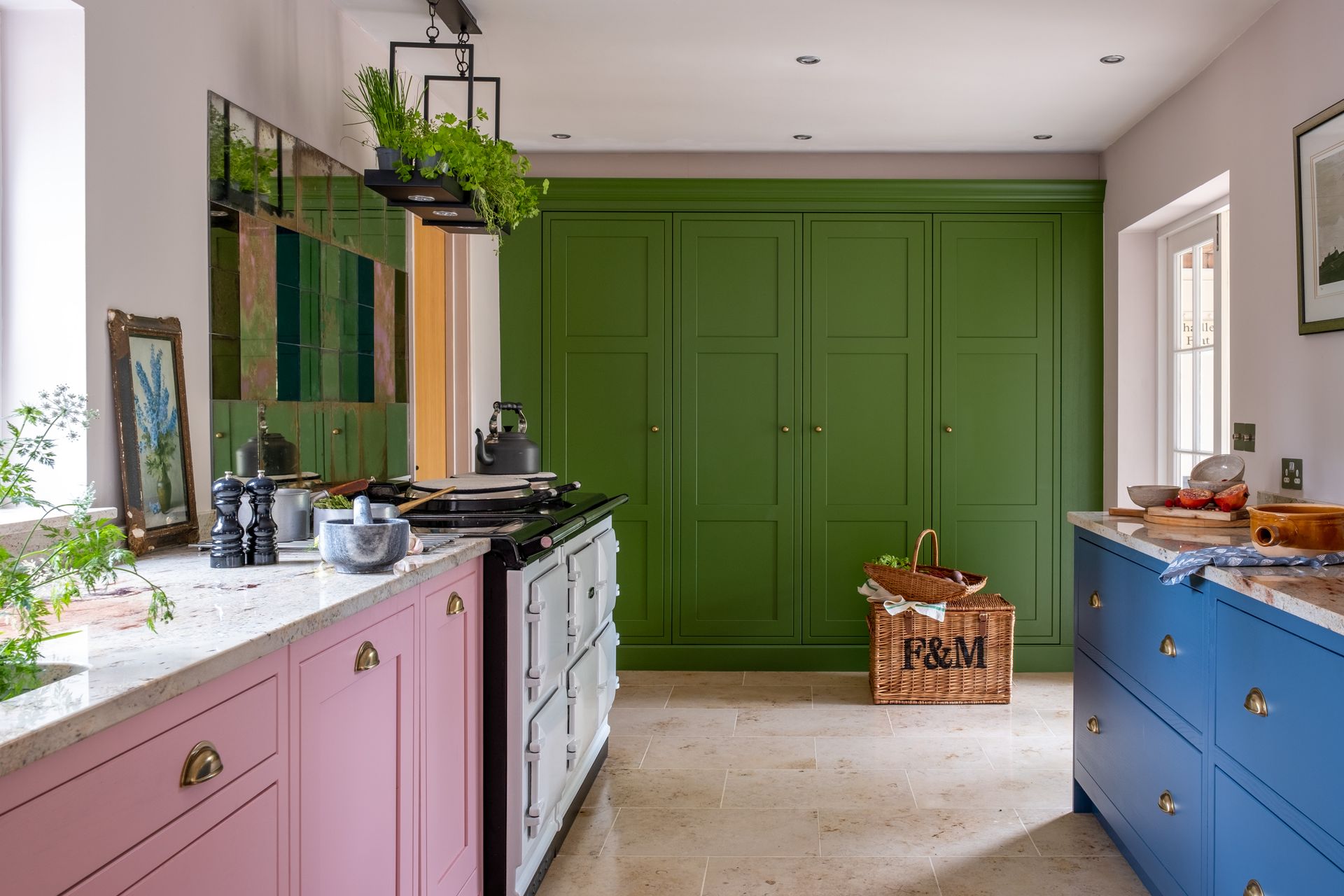 The traditional approach of kitchen design is to opt for a single color for all your cabinetry, however, combining for several different bold colors can create a fun filled atmosphere in your kitchen.
To achieve this look, turn to the color wheel: select two complementary colors (the colors next to each other) and then one contrasting shade (on the opposite side of the wheel). In this kitchen designed by Kitchen Makers, complementary blue and green cabinetry is contrasted with a bright, light pink shade. Keep the look clean by opting for neutral walls, floors and countertops – metal backsplash ideas are a great way to harmonise the look, too.
7. Be creative with color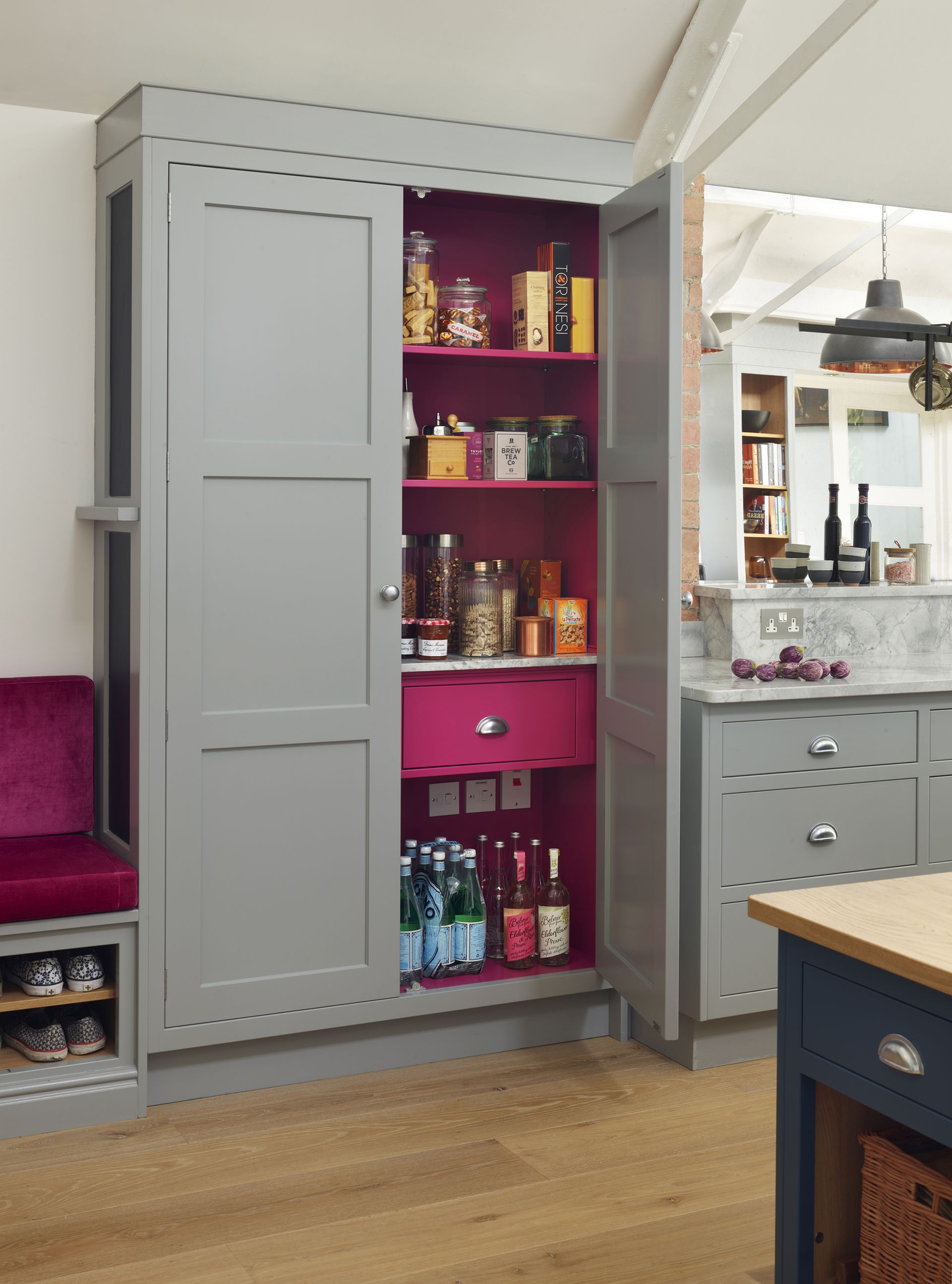 Not everyone is ready to embrace a bold shade in their painted kitchen cabinet ideas. However, this doesn't mean that you can't play with color. Neutral exterior cabinetry provides a classic look, but consider opting for a bold contrasting shade on the interior for a fun hint of color. This beautifully fitted out larder cupboard from Martin Moore, features a gray exterior disguising a hot pink interior.
8. Select a sunny shade
When selecting painted kitchen cabinet ideas, think about how it will look through the year as well as at the time of painting. 'Calling to mind sensations of warmth, a warm rich yellow shade offers a welcoming, wholesome feel for communal spaces in the home. Using this color in spaces such as the kitchen, on cupboards and doors, helps to introduce a bright, cozy feel to the room all year round,' says Emma Coles, senior stylist at Morris & Co.
9. Select painted kitchen cabinets that lighten and brighten the room
Whites and light colored neutrals are the top pick for many when it comes to choosing kitchen cabinet colors.
They are timeless options, but as well as the advantage of not being overtaken by the tides of fashion, they also have the benefit of lightening and brightening any kitchen, and making it feel larger than it really is.
These cabinets are painted in Flint 236 from Little Greene, which is a warm take on white that has room-stretching qualities but a softer feel than architectural whites would have.
10. Create a welcoming feel with color
Bring the conviviality of a French country kitchen to your home with painted kitchen cabinets in a warm and natural tone, like this saffron shade from Neptune. Alternatives with the same welcoming vibe might include mustard, olive and claret.
It's a perfect complement to other rustic elements such as stone and wood, which can give the room a long established look, along with pleasing textural quality.
Paint ideas in bolder hues can be teamed with soft neutrals inspired by nature to complete the look.
11. Choose delicate shades for painted kitchen cabinets
Depart from convention when selecting a shade for your painted kitchen cabinet ideas. Blush pink isn't a typical hue, and draws the eye for just that reason. As with other paler paint colors it reflects the light with space-expanding results, making it an ideal choice when considering small kitchen ideas.
In this kitchen by Studio Duggan, the soft pink shade is teamed with dark wood wall cabinets, along with gray for the countertops and backsplash, giving the room a sophisticated and grown-up finish.
Metallic cabinet handles and knobs and a matching faucet pick up on the warmth of the hue, too.
12. Opt for a warm take on blue
Blue is a popular shade for painted kitchen cabinet ideas, and for good reason. It has enduring style, reminds us of the natural world for a relaxing effect, and can make a statement without becoming overbearing.
For a blue kitchen color that won't feel cold, pick a shade that has a violet undertone, like this Periwinkle color from Tom Howley. Other ways to ensure a kitchen with blue painted cabinets doesn't feel cool include teaming it with accents of orange or mustard for the perfect partnership.
13. Embrace moody black
Fallen for the trend for black kitchen cabinets? This moody shade will make a statement but is also cocooning, ensuring the kitchen feels like a cozy place to spend time.
Choose between black painted kitchen cabinets across the whole room, or use it for an island and combine with other dark cabinet shades.
Liberty Brooks, of Riley Brooks interior design studio, says of this design: 'The mix of materials inject texture, along with the unpainted elements bringing warmth to the space – all aspects to consider when using bold, darker kitchen color ideas.'
14. Make a kitchen cozy with color
Painted kitchen cabinets can set the mood for a kitchen. In this room, created by Lucas/Eilers Design Associates, they were painted to match the paneling in a custom gray/blue wax charcoal, with vinyl sealer tinted with a clear acrylic top coat in a flat finish.
'The kitchen connects to a warm inglenook right off the ski slope,' say its designers. 'The stained console at the end of the large island conceals a pop-up television for watching cooking shows or the news.
Don't forget to factor in kitchen lighting ideas too: 'Urban Electric light fixtures supply up-lighting and down-lighting for reading recipes and cooking, while reclaimed oak wood kitchen flooring and antique ceiling beams give warmth and texture to the space. The deep gray blue paneling and cabinetry provide a cozy feeling.'
15. Contrast perimeter cabinetry colors with that of the island
If your kitchen is a super-sociable space, a vivid color palette can provide the perfect high energy backdrop, and that includes for the painted cabinets. However, if a bold color throughout is too much for the space – or you – limiting it to your kitchen island ideas only is a happy compromise.
'The island cabinet color (similar to Benjamin Moore's Marlboro Blue HC-153) was the perfect match to the focal tile backsplash we selected,' says Mary Maloney, from Massachusetts-based Bee's Knees Interior Design Studio, of this kitchen.
'The clients love color; their goal was to create a happy and vibrant space for friends and family to gather.'
16. Consider finish along with color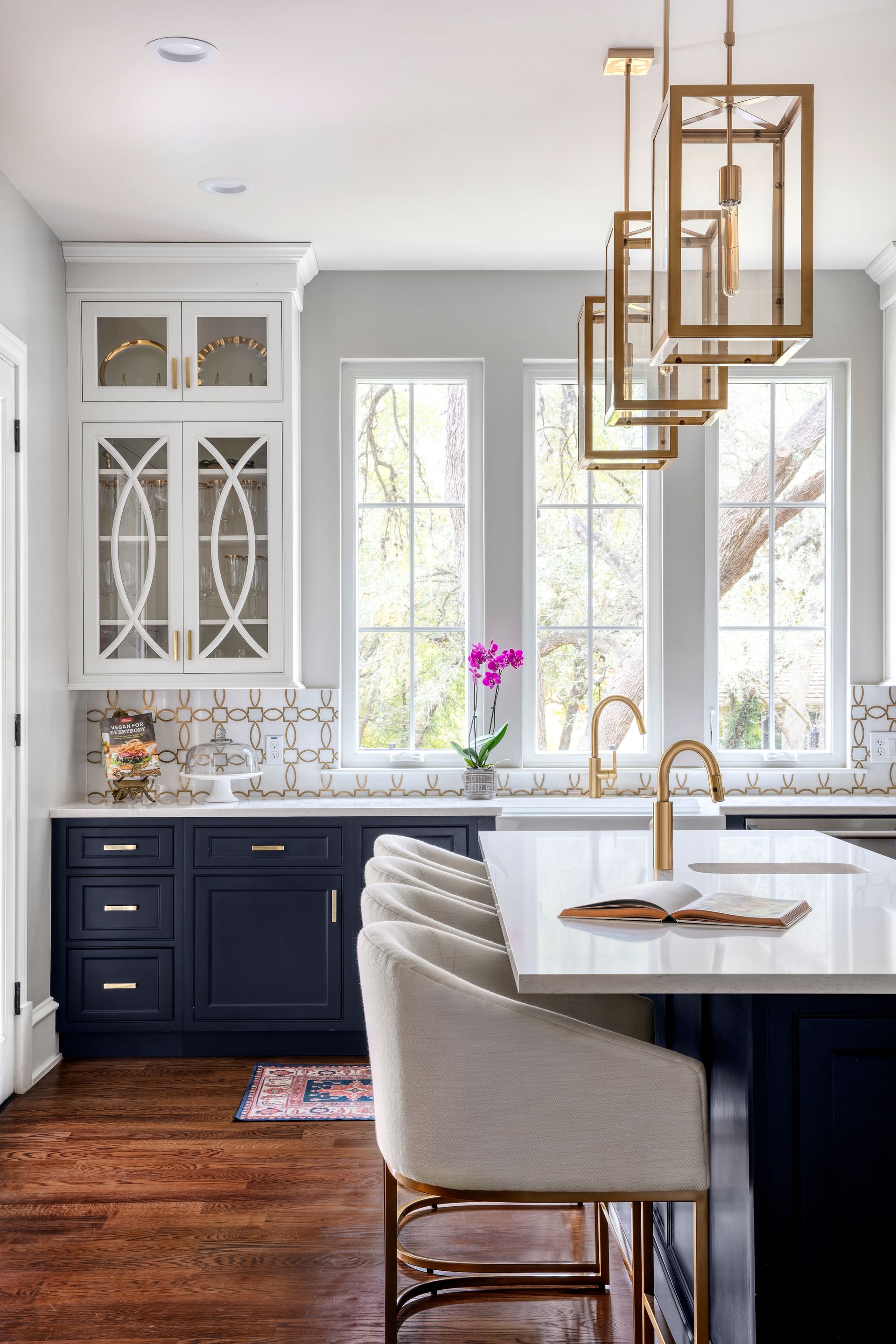 It's not just the shade of the paint you pick for your painted kitchen cabinet ideas that's crucial to the finished effect, but also the finish – whether that's gloss, matte, or something in between.
'The kitchen island is Anchors Aweigh SW 9179 and the kitchen perimeter is Marshmallow Cream from Starmark Cabinetry,' explains Stephanie Lindsey of Austin Texas-based Etch Design Group.
'We tend to stay with semi-gloss for traditional and transitional cabinetry; this sheen provides just enough cleanability without being glossy and overpowering.'
Our guide to how to paint kitchen cabinets has all the advice you need to achieve your ideal finish.
17. Add a modern edge
The choice of paint shade for cabinets is a simple way to give a classic scheme a contemporary twist, and successfully combine the two kitchen styles and aesthetics.
'We wanted to have a classic combination of elements, with the brick hood and quartz countertops, but paired with more modern choices like the gray cabinets, navy on the island and gold pendants,' says Cheri Lingafelt of North Carolina-based Accent Prone of this stylish kitchen scheme.
18. Layer shades for a custom finish
Consider using stains alongside paint to create a unique design for your painted kitchen cabinet ideas.
'This kitchen island is quite unique, with multiple colors of stain used with painted cabinetry for the rest of the kitchen,' explains Benjamin Johnston of Houston-based Benjamin Johnston Design.
'The layering of colors is a trend we are seeing more of, as your kitchen no longer has to be one color, or even two. Custom stains and glazes can be used to create combinations that are uniquely your own.
'There is a story here around the importance of sampling. With this island, we painted it three separate times until it was exactly perfect... sample, sample, sample to eliminate unpleasant surprises.'
What is the most popular color to paint kitchen cabinets?
'There is still demand for neutrals, particularly gray kitchens, but more and more we are seeing neutral tones used as the base against which bolder, brighter colors can really pop, rather than being the dominant color throughout the kitchen,' says Richard Moore, design director at Martin Moore.'In particular, we are seeing neutrals teamed with dramatic blues.
'Bold hues are now being used for larger sections of the kitchen – such as the island – rather than just as accent colors. Teamed with highly decorative marbles and metallics, they look luxurious and warm.'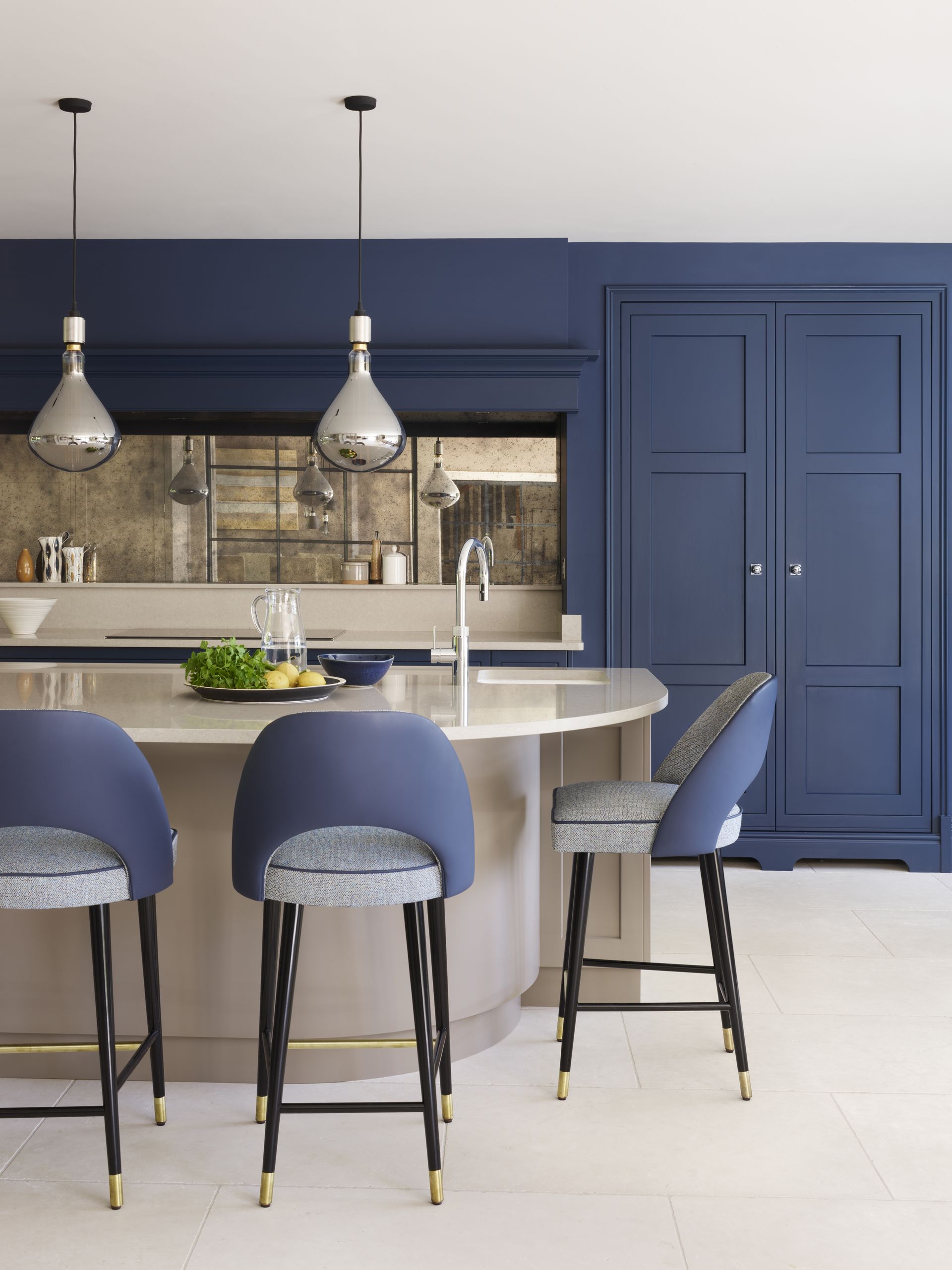 What color should I paint my kitchen cabinets?
The color you select for your painted kitchen cabinet ideas should be influenced by the aesthetic and atmosphere you want to bring to the room.
However, also consider your kitchen's size and orientation, and thus the quality of the daylight. In a room that's dark, painting kitchen cabinets in a pale color can boost natural light, and the strategy will help make a small kitchen feel larger as well.
Want an on-trend finish? 'Designers are now incorporating a bolder palette into the kitchen,' says Melissa Klink, creative director at Harvey Jones. 'Vibrant shades such as ocean-inspired blues, botanical greens and zesty oranges are accentuated perfectly when contrasted against a neutral base of charcoal, crisp white or wood.
'If you're looking to add color through cabinetry without overpowering the space, think about introducing a color pop – you could have your cabinetry painted in a neutral gray, beige or greige, and turn the island into a colorful feature with blue or green kitchen accent colors, for example. Bold pops of color add interest and character to the kitchen whilst being easy to live with, as the space still looks balanced.

'If you are planning to go neutral in your kitchen, warmer greige and beige tones are overtaking cooler and more minimalist grays. Bright and light enough to suit compact and generous kitchens alike, warmer, earthier shades give the kitchen a more homely and comfortable feel.
'Tones of off-white are also becoming particularly popular, especially for more traditional kitchen designs such as the iconic Shaker style. Off-white kitchens pair well with wood and other natural materials, giving the space warmth whilst still looking fresh and timeless.'
Which kitchen cabinet styles can be painted?
Some cabinet styles work beautifully no matter which kitchen cabinet color you're drawn to, while others make a happier partnership with certain shades.
'I've seen 20-year-old classic Shaker kitchens be repainted and look amazing,' says Tiffany Duggan of Studio Duggan. 'With a contemporary flush (flat-fronted) kitchen, think about whether you see yourself liking it in the future.'
Is painting kitchen cabinets a good idea?
Painting kitchen cabinets is a good idea. It's a relatively speedy way to transform the room when the existing finish feels dated, the cabinets look tired, or simply to bring a new aesthetic to the kitchen. When the existing kitchen layout works, it can be all that's required for a stylish update, skipping the labor and cost involved in a whole room renovation.
If you're wondering how much it costs to have kitchen cabinets painted, choosing to do the job yourself can be relatively straightforward and will save you money. Just bear in mind that it's a project that takes longer than a weekend because of the need to prepare, clean, prime and paint, with drying time in between coats.
The alternative is to pay a contractor to take on the project on your behalf, selecting between painting or respraying to create the new finish.
Sign up to the Homes & Gardens newsletter
Decor Ideas. Project Inspiration. Expert Advice. Delivered to your inbox.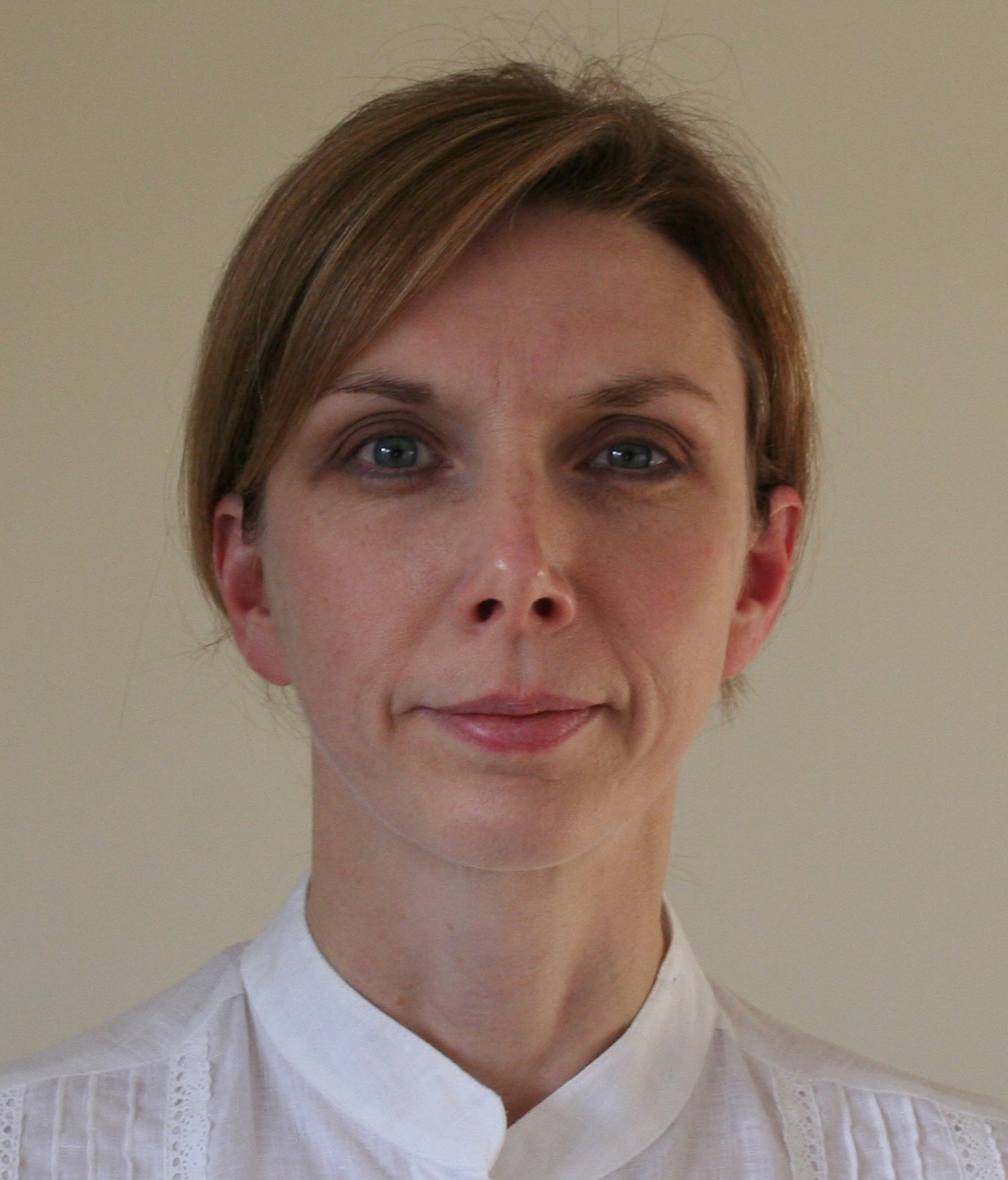 Sarah is a freelance journalist and editor. Previously executive editor of Ideal Home, she's specialized in interiors, property and gardens for over 20 years, and covers interior design, house design, gardens, and cleaning and organizing a home for H&G. She's written for websites, including Houzz, Channel 4's flagship website, 4Homes, and Future's T3; national newspapers, including The Guardian; and magazines including Future's Country Homes & Interiors, Homebuilding & Renovating, Period Living, and Style at Home, as well as House Beautiful, Good Homes, Grand Designs, Homes & Antiques, LandLove and The English Home among others. It's no big surprise that she likes to put what she writes about into practice, and is a serial house renovator.