Kitchen styles – the ultimate guide to cabinetry styles from Shaker to slab
This look at kitchen styles will help you find kitchen cabinets that suit your home's architecture and your taste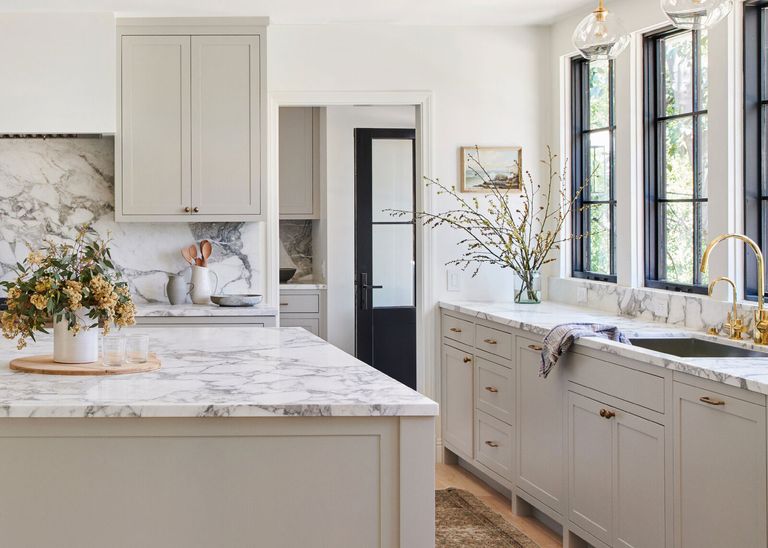 (Image credit: The Expert / Amber Interiors)
There's a wide range of kitchen styles to consider if you're remodeling your room. It's possible to create a look that's contemporary, traditional, transitional, farmhouse and more, and choosing between different cabinetry styles is crucial to getting the desired aesthetic. 
Cabinets are a major feature of the kitchen, and well-made versions will be part of your home for a very long time. They can be a major investment, too, so it's vital to select a cabinet style that you'll love now and for many years to come for your room remodel.
See: Kitchen ideas – decor and decorating ideas for all kitchens 
Kitchen styles
Read on for a guide to the kitchen and cabinet styles you can choose from and the effect they create. Browse more inspiration for your room in our kitchen cabinet ideas feature.
1. Shaker style kitchens
Although their design may date from the 18th century, Shaker cabinets have enduring style. The doors have a five piece construction with a flat inset panel framed with rails above and below and stiles on either side that gives them interest and detail but swerves fussiness. 
The Shakers emigrated from the UK to the US in 1774 in order to establish their utopian community, and the doors embody the sect's principles of honesty, utility and simplicity. The door design involves no waste of material, yet they are both sturdy and practical.
The result is a cabinet that creates an impression that's neither traditional nor contemporary, but is handsome and timeless.
Cherry and maple were often used to make Shaker furniture, so choosing these woods or – today – oak creates a more classic appearance. But painted Shaker cabinets are now favored choices, too, offering the opportunity to reflect the light for a larger feeling kitchen if pale colors are selected, or to make a statement in dark hues.
See: Country kitchen ideas – get the rustic look with our ultimate inspiration gallery
2. Modern style kitchens
Modern kitchens make the most of a wide range of materials and finishes, including for cabinetry. Think two or more colors for base cabinets, wall-hung cabinets and islands. 
The shades you might want? While grays are still a huge hit for modern spaces so are warm neutrals, while white is perennially desirable for its space-stretching quality. But moody darks that create a cozy atmosphere are on trend, too, including rich blues and greens and statement black. And think color pops as well for selected cabinetry in a modern kitchen.
Cabinets are no longer finished in a single material either: wood cabinet doors may be teamed with a manmade finish, metallics can add highlights, and smooth cabinet doors may contrast with tactile textural versions.
Often cabinets are flat fronted (see below), but while handleless is a popular choice, so too are inset handles that add subtle detail to the scheme.
See: Modern kitchen ideas – contemporary designs for cooking and entertaining
3. Slab door kitchens
Opt for slab kitchen cabinets and in place of the panel design familiar from Shaker and traditional styles, the door is flat creating a look that's sleek, streamlined and unmistakably contemporary. 
It's distinguished from the modern kitchen style that combines colors and finishes (see above) by the fact that it generally features a single hue. The finish might be high gloss, in vibrant color, or even a combination of the two for a high impact scheme, although painted finishes in more understated whites and neutrals along with darks are possibilities.
There's an alternative if this Euro style look isn't to your taste but the sleek slab door is the clean aesthetic you prefer. Woods like cherry and maple can give this style a warmer finish whether the door is solid wood or veneered.
4. Farmhouse style kitchens
The farmhouse style that's for many synonymous with Fixer Upper Joanna Gaines is a modern rustic look, and no more so than in the kitchen where shiplap walls, apron-front sinks and and open shelving filled with rustic objects combine with modern appliances in a welcoming, relaxed but functional mix.
When it comes to cabinetry think traditional raised panel designs rather than flat doors and painted finishes, such as clean white, warm neutrals and nature-inspired greens. 
Alternatively, pick cabinetry in woods such as oak, maple, cherry and walnut that offer pleasing grain and appealing natural color. 
See: Farmhouse kitchen ideas – introduce modern rustic elements for a laid-back look
5. Cottage style kitchens
Whether in locations beside the sea or a lake, or inland, cottage kitchens are quirky, compact and rustic. Original features are lovingly restored, while state-of-the-art appliances are frequently concealed or at least discreet. 
Often a space with industrial or nautical lighting, traditional metals for faucets and cabinet hardware, they're home to treasured finds and collectibles.
As for cabinetry styles for cottage kitchens, traditional is the route to take. Look for raised panels with decorative detail or try the verticals created by beadboard designs (also known as tongue and groove), or more intricate open grate doors. As well as fitted cabinetry, consider freestanding furniture for displaying china and more.
As for cabinet finishes, distressed paintwork gives a cottage kitchen lived-in style and complements industrial accessories, or opt for simple painted finishes in pure or off-white to brighten compact rooms where daylight can be limited by small cottage windows.
See: Cottage kitchen ideas – design inspiration for homely spaces
6. Traditional style kitchens
Kitchens with traditional style don't stint on embellishments. While they're as practical and functional as contemporary kitchens, they're all about the detail.
Traditional kitchen cabinets frequently feature raised panel doors. These might be scalloped or beveled, have detailed profiling and mitered corners, for example. Decorative crown molding on wall and floor-to-ceiling cabinetry draws the eye upwards and adds to the grandeur of the space, while toe kicks make the cabinets appear to be freestanding and furniture-like.
As well as solid kitchen cabinetry doors, traditional kitchens often feature glazed cabinets, too, that are perfect for display.
Island cabinetry meanwhile might have corbels or pilasters together with wainscoting that makes these kitchen features into substantial centerpieces. 
Cabinets are often painted in whites and other pale shades, but the trend for incorporating different finishes has hit these kitchens, too, and they might feature islands or other cabinetry in mid or richly toned woods, a  dramatic dark or a brighter paint hue alongside another finish.
See: Traditional kitchen ideas – timeless ways to create a stylish look
7. Transitional kitchens
Transitional kitchens remain one of the top two most popular kitchen styles in the US along with contemporary, according to the NKBA (National Kitchen & Bath Association). Blending contemporary and traditional aesthetics, transitional kitchens are elegant and classic.
Which kitchen cabinetry is best for a transitional kitchen? Shaker cabinets or similar designs with inset panels but clean lines overall are the top option, introducing detail that's nevertheless subtle to these rooms. 
Transitional kitchen cabinets are often painted wood, and white is a favorite finish, along with other pale neutrals like beige and gray. But neutrals aren't a prerequisite for this cabinetry style and blue is growing in appeal. As with other styles, a two color scheme with neutral base and wall cabinets teamed with a kitchen island in a different hue is on trend.
The alternative choice for cabinets in a transitional kitchen is to go for a wood finish that shows off the grain of the chosen timber.