Farmhouse kitchen lighting ideas – bright ideas for rustic spaces
A characterful country kitchen deserves to be beautifully lit , and this is how you do it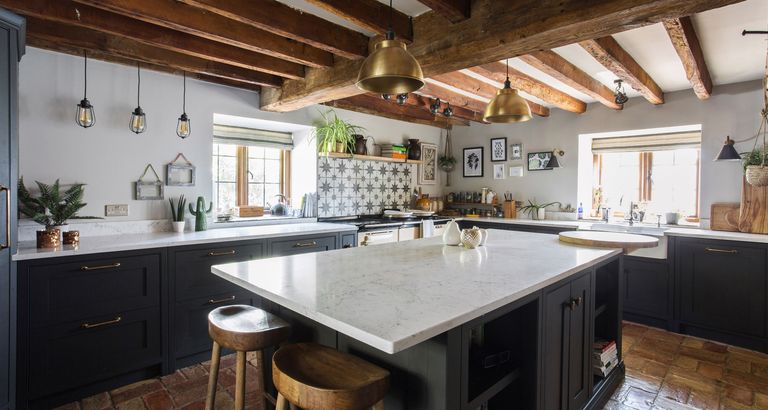 (Image credit: Industville)
A well-planned lighting scheme can have a huge impact on how much you enjoy spending time in your kitchen, whether slaving over the stove or socialising with friends.
The best laid schemes involve a complex, layered approach to achieve the right light levels according to time of day and the job in hand. Farmhouse kitchens often come with a few extra complexities, such as lower ceilings (2.1m and below is not unusual), small windows, and a plethora of beams and trusses.
And if the property is Listed, there could also be restrictions on the type of lighting you can install. The smart move is to consult a professional lighting designer, who can work with your electrician and kitchen designer to develop a kitchen that's perfectly illuminated from every angle.
1. Combine old and new
'Today, the modern farmhouse is a celebration of the historic form, updated with interiors that embrace a contemporary design perspective. With these kinds of projects our studio is always careful to celebrate the history and include a little patina while being mindful of our client's modern lifestyle,' says Anna Beeber, Partner, Champalimaud Design.
'A statement light, like this one by Lindsey Adelman, is a great way to explore the relationship between the old and the new. Harmony is essential; a striking design should stand out but work in tandem.'
Photography / Mark Bolton
2. Mix it up
Multifunctional rooms such as kitchens need a more even spread of light than bedrooms or living rooms, which is why ceiling spotlights tend to be popular. For something a little different, try mixing up mini pendants as seen in this kitchen featuring deVOL's handmade Porcelain Pendant Lights.
Each shade is slightly different, adding design interest without overpowering the space, as well as achieving great all-over coverage of light.
The Classic English Kitchen and Porcelain Pendant Lights by deVOL [devolkitchens.co.uk].
3. Embrace industrial
Industrial style lighting might feel like a modern trend. However, the simple silhouettes and raw materials associated with this look can sit very comfortably amongst the rustic finishes often found in farmhouse kitchens.
Add eclectic character by mixing up different lighting styles within the "industrial" umbrella. From simple Edison bulbs and caged pendants to articulated wall lights and large factory shades, the ability to cover all lighting bases is part of the industrial charm.
Bespoke kitchen by Burlanes [burlanesinteriors.com]. Lighting by Industville [industville.co.uk].
Photography / Sarah London
4. Supersize your shade
If you're looking for pendants with impact that won't take over your kitchen, go for an outsized shade in a neutral finish.
Despite their impressive scale, the transparency of Neptune's Shaftsbury Bronze Glass pendants ensure they won't dominate. Supplied with a 2m-long chain, they'll suit any height ceiling but don't forget that large pendants will appear even larger the lower they hang.
Kitchen, accessories and lighting by Neptune.
5. Work the walls
'These wall lights were chosen to create specific zones to prep and cook within the kitchen,' says Emma Sims Hilditch, founder of Sims Hilditch. 'Having key areas with pools of light ensures that the room can be comfortably lit without having to resort to harsh spotlights.'
It's worth investing in dimmable wall lights that can be softened when task lighting is no longer required. Do check the light fixture, bulb and dimmer switch are all fully compatible to avoid flickering light when dimmed.
Kitchen designed by Sims Hilditch.
6. Line it up
While ceiling downlights don't have to be aligned in neat rows – put them where they're needed – pendants look best when hung with perfect symmetry. Establishing which feature to anchor your pendants to can prove tricky – especially if a key focus, like the chimney breast isn't central to the room.
Planning your kitchen lighting in tandem with the cabinetry is the secret to success. 'Most pendant lights are fully adjustable but if possible be around when they are installed, to make sure they suit the ceiling height, your height and your personal preference,' adds furniture designer Richard Mason, The Secret Drawer.
Bespoke kitchen by The Secret Drawer [secret-drawer.co.uk].
Photography / Nicholas Yarsley
7. High impact
Farmhouse kitchens are already well known for their characterful ceilings so, if you have height on your side, why not take it to the next level with some high impact lighting?
These dramatic chandelier-style pendants are actually old fishing nets upcycled into fully functional chandeliers. The aged ropework is a clever nod to the rustic roof trusses above, while the jet-black finish provides plenty drama.
Bespoke kitchen by The Shaker Workshop [theshakerworkshop.com].
Photography / Maple Photo
8. Go low
High ceilings can prove problematic when it comes to achieving sufficient task lighting in the kitchen. Here, simple pared-back fittings on elongated cables brings light closer to the action, while simultaneously drawing attention to the room's impressive height.
An affordable option, experiment with coloured cables and different shaped Edison bulbs – try Dowsing & Reynolds for 'pick and mix' components. Aim to hang bulbs around 75-85cm from the top of an island, avoiding direct eyeline when prepping or sat at bar stools.
Kitchen by Mark Lewis Interior Design [marklewisinteriordesign.com]. Flooring by Havwoods [havwoods.com].
Photography / Rory Gardiner
9. Clear the way
In farmhouse kitchens that fall well below today's 2.4m-high standard, pendant lights can often appear stunted. Here, transparent glass shades bring the light a little closer, without drawing attention to shorter than normal cables.
Spanning multiple pendants the full length of the room helps to draw attention away from the beam dissecting the ceiling, while 'barely-there' recessed downlights pick up the baton above the worktops.
Bespoke kitchen by Drew Forsyth [drewforsyth.co.uk]
10. Take care in a listed building
'Wall lights are particularly practical in farmhouses that are listed, as so many are. Puncturing holes in the ceiling is a big no-no within Listed Building regulations,' says Irene Gunter, director, Gunter & Co.
'In this Grade I Listed farmhouse only surface mounted pendants or wall lights were permissible. And since the ceilings were low, wall lights felt like the logical choice. Opting for adjustable fittings allowed targeted illumination exactly where needed.'
Kitchen by Gunter & Co [gunterandco.com]. Wall lights by Bert Frank [bertfrank.co.uk].
What's the best way to light around wooden beams?
One of the best ways to light around wooden beams is to use downlights. Where not possible or the ceiling is vaulted, a surface mounted spotlight would work well and allow you to direct light where required.
'For a cross beam in a vaulted ceiling, use a linear LED such as our Contour flush on top of the beam,' says Luke Thomas, Design Director at John Cullen Lighting. 'If you have a vertical post you can up-light the beams to skim light up the wood revealing its texture.'
How do I light a kitchen with low ceilings?
It can be difficult to know how to light a kitchen with low ceilings - but the experts are on-hand to help...
'For a low ceiling, you can give the impression of height by up-lighting towards the ceiling,' says Luke. 'This may not be possible where units go straight up to the ceiling, so instead direct your light towards vertical surfaces to make the space feel wider and brighter.'
'You can still consider hanging lights, but best to keep them over a kitchen island or table where they will not obstruct you.'
What style of lighting suits a farmhouse kitchen?
Decorative lights play an important role in any space - but what style of lighting suits a farmhouse kitchen in particular?
Contemporary designs can be really impactful but if you want to stay true to heritage go for classic rise and fall pendants or understated lanterns in antique brass.
'Decorative lighting should be supported by architectural lighting, which disappears into the background and provides emphasise to the architecture of the building and the furniture of the kitchen itself,' adds Luke. 'To achieve this, use low glare miniature fittings wherever possible and conceal the light source from view.'