Farmhouse kitchen lighting ideas – 25 bright, homey spaces
A characterful kitchen deserves to be beautifully lit, and this is how you do it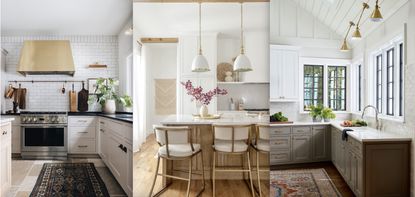 (Image credit: Stoffer Photography Interiors/Kacey Gilpin/Sarah Cole Interiors/Jared Kuzia)
A well-planned lighting scheme can have a huge impact on how much you enjoy spending time in your kitchen, whether slaving over the stove or socializing with friends.
The best laid schemes involve a complex, layered approach to achieve the right light levels according to time of day and the job in hand. Farmhouse kitchen lighting ideas often come with a few extra complexities, such as lower ceilings (7ft (2.1m) and below is not unusual), small windows, and a plethora of beams and trusses.
Farmhouse kitchen lighting ideas – get switched on
Lighting plans can be tricky, but making them a part of your farmhouse kitchen ideas from the start will give you the best chance of creating a distinctive, functional scheme.
The smart move is to consult a professional lighting designer, who can work with your electrician and kitchen planner to develop kitchen lighting ideas for a space that's perfectly illuminated from every angle.
1. Add a rustic farmhouse pendant
Farmhouse kitchens are prized for their rustic textures and wealth of natural materials, so when considering kitchen ceiling lighting ideas be sure to think about the material of the fitting and choose a design to complement the look.
When it comes to designing a lighting scheme, James Thurstan Waterworth, founder of Thurstan Design explains how material is a key design factor. 'I like to think about textures such as wood, metal, ceramic and polished and handmade finishes and what they bring to the space.'
Grown from mycelium and green wood waste (hazel and goat willow, harvested in Kent) this kitchen ceiling light from Sebastian Cox is features a characterful patina and neutral earthy tones which shine against greenish blue panelled walls. Sustainable produced and entirely compostable, the light is the perfect choice for an eco-friendly home.
2. Try table lamps in a traditional kitchen
Aged surfaces, historic architectural features and a homely, lived in atmosphere are all sought-after features associated with farmhouse kitchens. If you're looking for ways to preserve this unique character, then table lamps are a brilliant lighting solution as Melanie Griffiths, editor of Period Living magazine, explains.
'While spotlights and downlights are useful for providing task lighting in the kitchen, they can cast a harsh light. Try using table lamps to create a warm ambience that's ideal for a farmhouse kitchen, and finish them with fabric shades to add a soft touch that can tie in with window dressings or a cabinet skirt.
'Lamps are also a clever solution where you have exposed stone or brick walls or characterful original plasterwork, as they avoid the need for surface-mounted cabling or causing irreparable damage by channeling into the wall,' she adds.
3. Create atmosphere with wall lights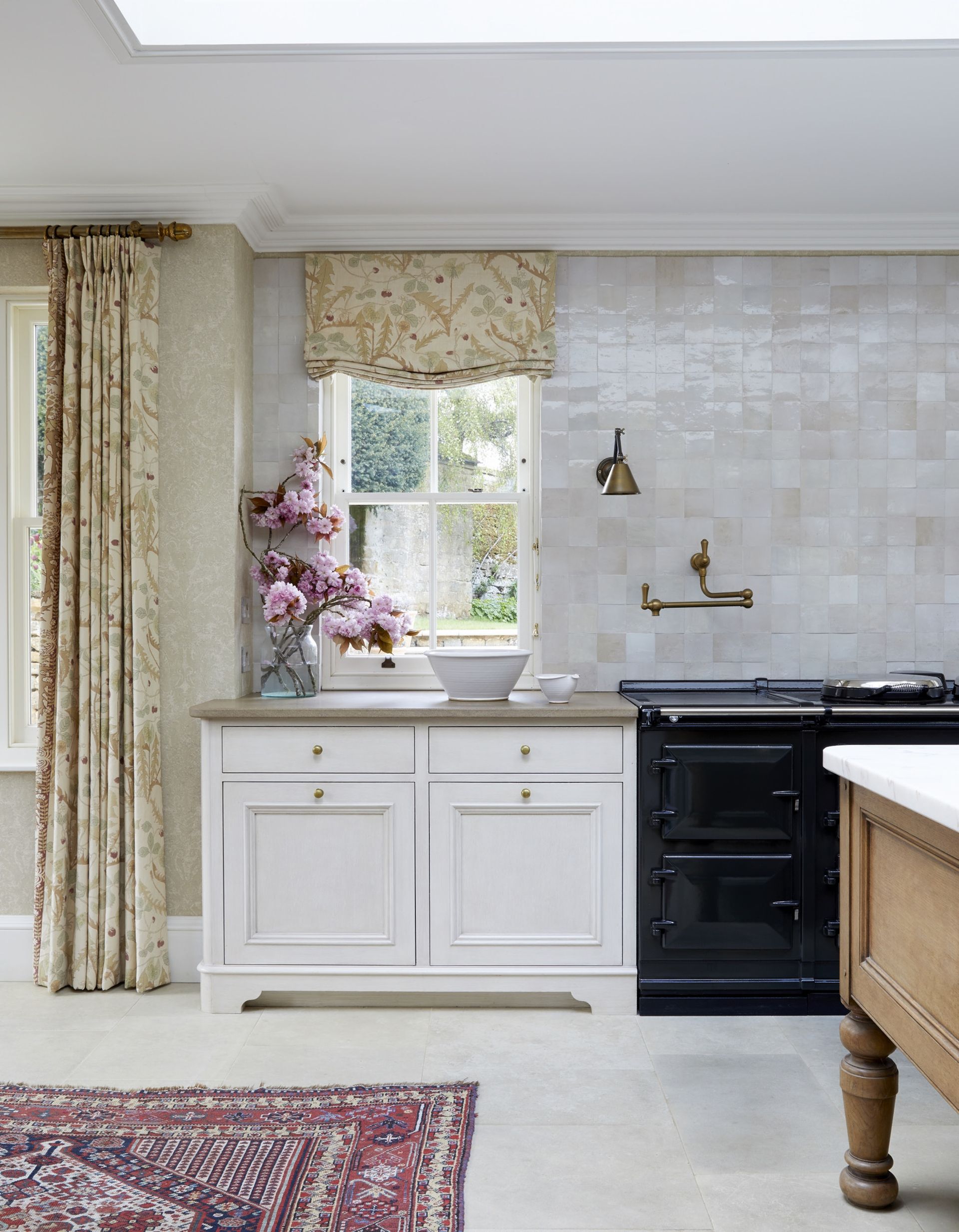 Far more than just practical spaces, farmhouse kitchens are an important social space sitting at the heart of family life. For this reason it's important to factor in atmospheric lighting suggests Henriette von Stockhausen, interior designer and founder of VSP Interiors.
'We use our kitchens so much more these days and for so many different purposes, not just cooking, so it needs to be a room for family gatherings; parties, drinks, homework so lighting is very important – wall lights create atmospheric lighting as they give a comfortable glow.' For added warmth try burnished brass fittings.
4. Add a color pop
Hanging a series of pendant lights is a great way to bring task lighting over a kitchen island, but they can also give a farmhouse kitchen a much-needed pop of color, too.
Exposed stonewalls and solid wood floors are prized rustic features of many farmhouse kitchens, so when introducing lighting in color it's important to think carefully about how it can complement the existing architectural features.
Vibrant shades will add a pop of color without distracting from the rustic character of the room and blue works particularly well alongside warm neutrals and honeyed tones of natural timber and stone.
5. Create a layered lighting scheme
When it comes to lighting a farmhouse kitchen it's important to use a variety of different sources all of which should be controllable, allowing you to alter the mood at will explains Richard Moore, design director of Martin Moore.
'A combination of ceiling spots, wall lights, pendant lights, under-cupboard lighting and freestanding lights offers a multitude of potential effects, transforming the kitchen from practical work zone to relaxed entertainment area,' he explains.
'Currently, there is a focus on character lighting; a combination of kitchen wall lighting and pendant lights which incorporate different materials and finishes, helping to introduce colour and a decorative touch to the kitchen.'
6. Add a hint of color in a subtle scheme
Modern farmhouse style is defined by a pared-back palette of whites, creams, natural wood and accents of black. But that doesn't mean it can't surprise with a subtle injection of color sometimes!
'For this Oklahoma home, BA Restored and Funktional Space collaborated to create a sophisticated take on the farmhouse kitchen,' says Jaime Parker, co-founder with husband Nick of Oklahoma-based BA Restored. 'The kitchen pendants provide a subtle pop of mint green in an otherwise muted-tone space.'
7. Contrast homey with haute design
Add a high-end touch to your farmhouse kitchen with luxe finishes and a lighting design that elevates the look. Here, it's the brass splashback and contemporary chandelier that does it.
'Unlike minimalist styles, farmhouse kitchens should have a few utensils and appliances on display in order to create a homey atmosphere, as well as giving the impression that your kitchen is a well-loved part of the home,' explains Darren Watts, showroom development & design Director at Wren Kitchens.
'For finishing touches, bow handles and cup handles, as well as brass or nickel-colored faucets go perfectly with more traditional-style cabinets. For those with large kitchens, a kitchen island can also help add a modern touch to the space whilst also creating a cozy atmosphere thanks to the space it creates for eating and socializing.'
9. Layer your lighting sources
'When thinking about lighting a kitchen, one must consider the elements of lighting and the style of the room. The three areas to focus on are ambient lighting, task lighting, and accent lighting,' explains Ben Marshall, creative director at Hudson Valley Lighting.
'Ambient will be your main source of light – your "fill light", so to speak. It's the light you turn on to generally illuminate the kitchen. You can see every space as the light here is typically an even cast. Can lights and or mini flush mounts are called into action here.
'Task lighting helps you to work – LED mounted under the cabinetry is a prime example. There are also desk areas in kitchens nowadays in which a table lamp or a sconce can also act as a task lamp.
Accent lighting is the "fun" category. In farmhouse kitchens, this means industrial pendants over the island, adjustable sconces highlighting the shelves below, and additional decorative sconces around the perimeter of a room – such as the wall light in this beautiful kitchen from Jean Stoffer Design. 'These are the lights we turn on at night after all the dishes have been done – little spotlights on your favorite details of the room.
'Farmhouse modern accent pieces tend to be more industrial-focused and to remind us of the past. They are typically paired with modern Shaker kitchen ideas and cabinets, so the actual fixtures selected are responsible for telling the farm story you wish to tell.'
9. Create a natural contrast
This sleek farmhouse kitchen is full of interesting contrasts – including the glass pendant lights, which are inspired by the shape of beehives. But it's the farmhouse kitchen island ideas that really give it standout style.
'I selected classic country elements – beehive-inspired pendant lights, a wood-paneled ceiling inset and wide plank floors – to create an ultimately modern kitchen,' explains Nicole Michael of Pasadena-based Nicole Michael Designs.
'I did that by contrasting the rustic elements with stone counters and backsplashes and minimalist finishes, including Shaker-style cabinetry and sleek hardware.'
10. Bring in a vintage touch
Farmhouse kitchen lighting ideas tend to the patinated and gently burnished, over shiny and bright finishes.
'In this kitchen we selected these articulating brass sconces by Visual Comfort to light the sink area,' says Sarah Cole, whose company Sarah Cole Interiors works out of Newton, MA.
'The burnished brass is a timeless finish that complements the kitchen's vintage farmhouse charm, and the articulating arms work well with the soaring ceilings.'
11. Nix recessed lighting fixtures
While recessed and hidden lighting can provide an elegant and upscale look to contemporary homes, it's not the vibe associated with the more relaxed farmhouse-style aesthetic.
'In a farmhouse kitchen we look for period-style pendants, casual chandeliers and understated wall sconces – layered lighting with minimal recessed fixtures,' agrees Jacie S Coleman, principal designer at Juniper Interiors in Idaho Falls.
'We love using lamps and wall sconces to provide ambience and routinely source from Schoolhouse Electric, Workstead, Urban Electric, Aerin, and Apparatus Lighting.
Take this approach for your kitchen island lighting ideas and you'll create an immediate focal point the rest of your design can build around.
12. Look for a horizontal bar light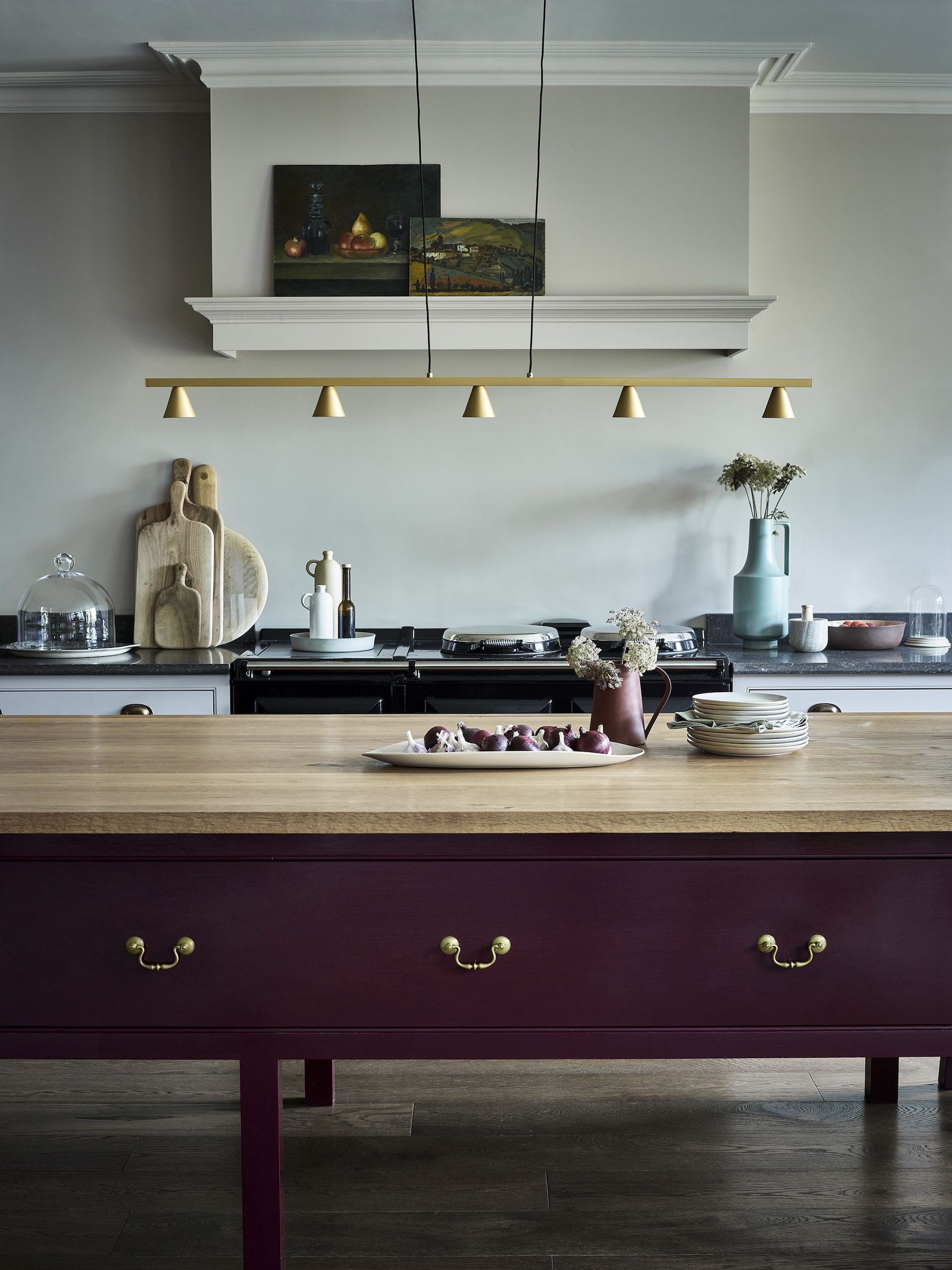 If you want something more restrained than pendants for your island, opt for a horizontal bar light that aligns with the counter below. This brings a contemporary simplicity to the farmhouse look – for extra style points, match the metal of your light to drawer pulls and handles. It's a subtle detail that integrates the lighting into your kitchen scheme.
13. Mix up lighting styles
A relaxed look with decor elements that complement each other, rather than being strictly coordinated, is key to farmhouse style – it brings the warmth and laid-back vibe that we love. For Lauren Meichtry, founder of designer pillow brand Elsie Home, that aesthetic holds true of lighting, as well as other design pieces – as seen in this kitchen.
'Modern farmhouse is about contrast; a mix of new and old,' Lauren says. 'A great way to achieve this look is by using vintage pieces paired with newer, more modern finishes.
'For the kitchen, a classic white subway tile paired with oak floating shelves and black hardware is a great place to start. Additionally, adding found pieces to your open shelves mixed in with crisp white dinnerware will achieve the look.'
For the lighting, think about mixing it up. A cloth shade pendant, alongside a glass globe design and an articulated spotlight on the wall, create a 'family' of lighting that celebrates each unique member.
14. Light up cabinets
'All too often with a kitchen, the lighting is an afterthought but it should be considered and research carried out at the initial planning stage. Don't wait until after cabinetry and appliances are place as the position of the lights may affect where sockets and cables are placed and it's much harder to alter these things further down the line,' suggests Marketa Rypacek, managing director, Industville.
Don't forget the impact that in-cabinet lighting can have. At night, you're able to switch off the harsher task and ambient lighting and instead focus on mood as you enjoy entertaining in the kitchen space.
15. Create a constellation of lights
One of the most common mistakes with lighting above a table or island is that people go too small. If you don't want a large shade that dominates the space, I advise customers to consider using a cluster of several smaller lights,' says Industville's Marketa Rypacek. 'Either arrange in a traditional line or various heights, as this will create an impressive and interesting display.'
In this kitchen from Jessie Tobias Design in Maine, a Sputnik-style pendant creates a similar effect.
16. Combine old and new
'Today, the modern farmhouse is a celebration of the historic form, updated with interiors that embrace a contemporary design perspective. With these kinds of projects our studio is always careful to celebrate the history and include a little patina while being mindful of our client's modern lifestyle,' says design studio, Champalimaud Design.
'A statement light, like this one by Lindsey Adelman, is a great way to explore the relationship between the old and the new. Harmony is essential; a striking design should stand out but work in tandem.'
17. Fit multiple light sources
Multifunctional rooms such as kitchens need a more even spread of light than bedrooms or living rooms, which is why spotlights tend to be popular for kitchen ceilings.
For something a little different, try mixing up mini pendants as seen in this kitchen featuring deVOL's handmade Porcelain Pendant lights. Each shade is slightly different, adding design interest without overpowering the space, as well as achieving great all-over coverage of light.
18. Embrace an industrial look
Industrial style lighting might feel like a modern trend. However, the simple silhouettes and raw materials associated with this look can sit very comfortably amongst the rustic finishes often found in farmhouse kitchens – giving simply a nod to industrial style decor.
Add eclectic character by mixing up different lighting styles under the 'industrial' umbrella. From simple Edison bulbs and caged pendants to articulated wall lights and large factory shades, the ability to cover all lighting bases is part of the industrial charm.
See how effective the look is in this bespoke kitchen with lighting by Industville.
19. Supersize your shade
If you're looking for pendants with impact that won't take over your kitchen, go for an outsized shade in a neutral finish.
Despite their impressive scale, the transparency of Shaftsbury Bronze Glass pendants from Neptune ensures they won't dominate. Supplied with a long chain, they'll suit any height ceiling but don't forget that large pendants will appear even larger the lower they hang.
20. Work the walls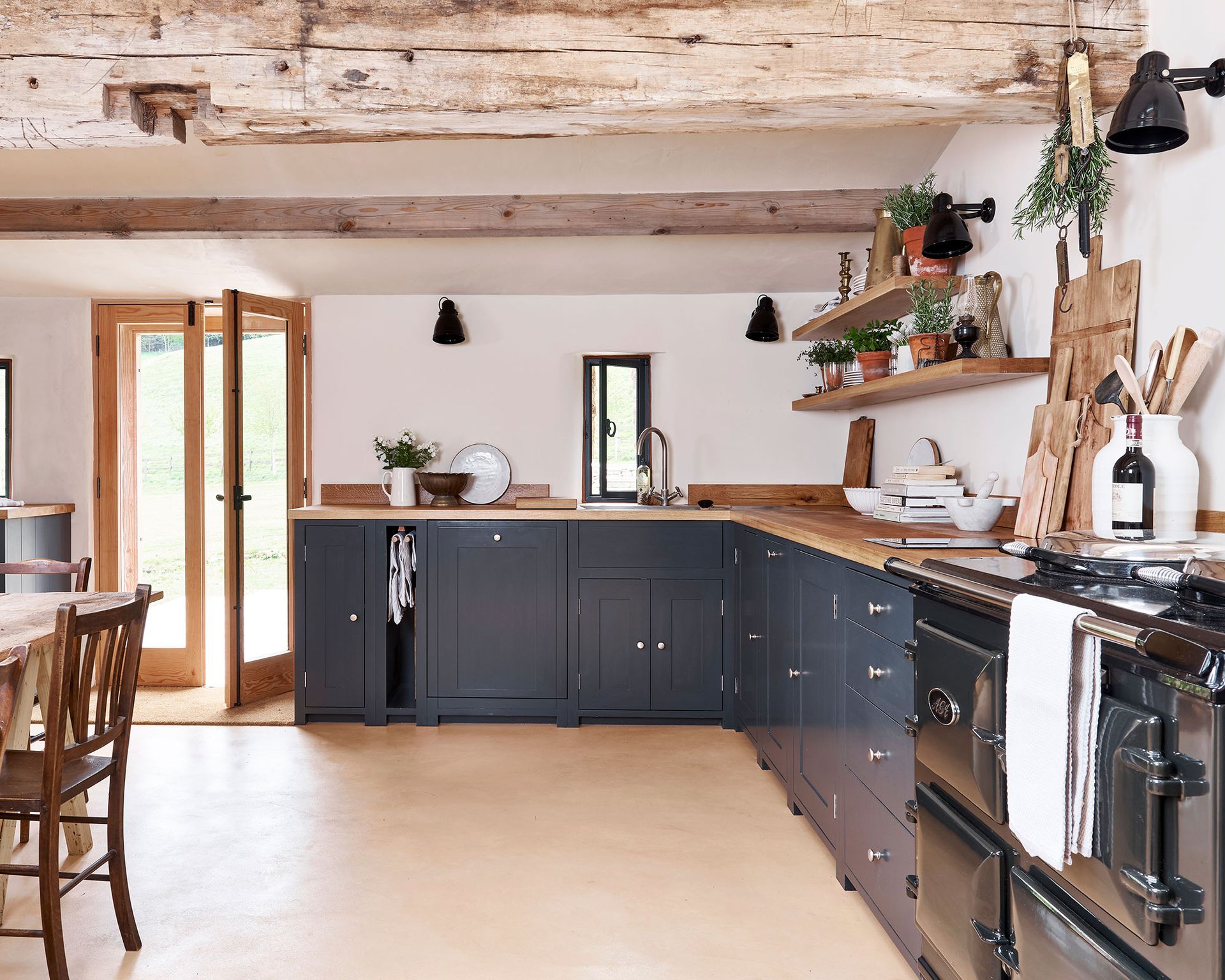 'These wall lights were chosen to create specific zones to prep and cook within the kitchen,' says Emma Sims-Hilditch, founder of Sims Hilditch. 'Having key areas with pools of light ensures that the room can be comfortably lit without having to resort to harsh spotlights.'
It's worth investing in dimmable wall lights that can be softened when task lighting is no longer required. Do check the light fixture, bulb and dimmer switch are all fully compatible to avoid flickering light when dimmed.
21. Line it up
While ceiling downlights don't have to be aligned in neat rows – put them where they're needed – pendants look best when hung with perfect symmetry. Establishing which feature to anchor your pendants to can prove tricky – especially if a key focus, like the chimney isn't central to the room.
Planning your kitchen lighting in tandem with the cabinetry is the secret to success. 'Most pendant lights are fully adjustable but if possible be around when they are installed, to make sure they suit the ceiling height, your height and your personal preference,' adds furniture designer Richard Mason of The Secret Drawer.
22. Create an impact
Farmhouse kitchens are already well known for their characterful ceilings so, if you have height on your side, why not take it to the next level with some high impact lighting?
These dramatic chandelier-style pendants are actually old fishing nets upcycled into fully functional chandeliers. The aged ropework is a clever nod to the rustic roof trusses above, while the jet-black finish provides plenty of drama.
Bespoke kitchen by The Shaker Workshop .
23. Hang lights low
High ceilings can prove problematic when it comes to achieving sufficient task lighting in the kitchen. Here, simple pared-back fittings on elongated cables brings light closer to the action, while simultaneously drawing attention to the room's impressive height.
An affordable option is to experiment with colored cables and different shaped Edison bulbs. Aim to hang bulbs around 2 to 3ft from the top of an island, avoiding direct eyeline when prepping or sat at bar stools.
Kitchen by Mark Lewis Interior Design . Flooring by Havwoods.
24. Clear the way
In farmhouse kitchens with low ceilings, pendant lights can often appear stunted. Here, transparent glass shades bring the light a little closer without drawing attention to shorter than normal cables.
Spanning multiple pendants the full length of the room helps to draw attention away from the beam dissecting the ceiling, while 'barely-there' recessed downlights pick up the baton above the worktops.
Bespoke kitchen by Drew Forsyth .
25. Take care in an old building
'Wall lights are particularly practical in farmhouses that are listed, as so many are. Puncturing holes in the ceiling is a big no-no within listed building regulations,' says Irene Gunter, director, Gunter & Co.
'In this farmhouse only surface-mounted pendants or wall lights were permissible. And since the ceilings were low, wall lights felt like the logical choice. Opting for adjustable fittings allowed targeted illumination exactly where needed.'
What's the best way to light around wooden beams?
One of the best ways to light around wooden beams is to use downlights. Where not possible or the ceiling is vaulted, a surface-mounted spotlight would work well and allow you to direct light where required.
'For a cross beam in a vaulted ceiling, use a linear LED such as our Contour flush on top of the beam,' says Luke Thomas, design director at John Cullen Lighting. 'If you have a vertical post you can up-light the beams to skim light up the wood revealing its texture.'
How do I light a kitchen with low ceilings?
It can be difficult to know how to light a kitchen with low ceilings, but the experts are on-hand to help.
'For a low ceiling, you can give the impression of height by uplighting towards the ceiling,' says Luke Thomas. 'This may not be possible where units go straight up to the ceiling, so instead direct your light towards vertical surfaces to make the space feel wider and brighter.'
'You can still consider hanging lights, but best to keep them over a kitchen island or table where they will not obstruct you.'
What style of lighting suits a farmhouse kitchen?
Decorative lights play an important role in any space – but what style of lighting suits a farmhouse kitchen in particular?
Contemporary designs can be really impactful but if you want to stay true to heritage go for classic rise and fall pendants or understated lanterns in antique brass.
'Decorative lighting should be supported by architectural lighting, which disappears into the background and provides emphasis to the architecture of the building and the furniture of the kitchen itself,' says Luke Thomas. 'To achieve this, use low glare miniature fittings wherever possible and conceal the light source from view.'
2. Try table lamps in a traditional kitchen
Sign up to the Homes & Gardens newsletter
Decor Ideas. Project Inspiration. Expert Advice. Delivered to your inbox.
Linda graduated from university with a First in Journalism, Film and Broadcasting. Her career began on a trade title for the kitchen and bathroom industry, and she has worked for Homes & Gardens, and sister-brands Livingetc, Country Homes & Interiors and Ideal Home, since 2006, covering interiors topics, though kitchens and bathrooms are her specialism.
With contributions from