Kitchen ceiling lighting ideas – 10 ways to stylish illumination
Kitchen ceiling lighting ideas are a crucial feature of the room, so be inspired by these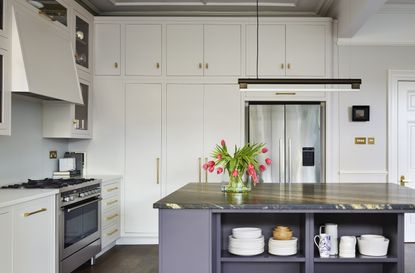 (Image credit: Harvey Jones)
Sign up to the Homes & Gardens newsletter
Decor Ideas. Project Inspiration. Expert Advice. Delivered to your inbox.
Thank you for signing up to Homes & Gardens. You will receive a verification email shortly.
There was a problem. Please refresh the page and try again.
The kitchen ceiling lighting ideas you select are an essential part of the room's layers of illumination, as well as contributing to its aesthetic. And because of the kitchen's dual role as a room for the family to gather and in which to entertain, in addition to its function as the location for food preparation, choosing well is vital.
When considering kitchen ideas, remember that the lighting included in any scheme should deliver ambient, task, and accent illumination to make the space practical and attractive, and the role of kitchen ceiling lighting is generally to create the room's ambient lighting, although it may double as task lighting.
We've put together inspiring options for kitchen ceiling lighting here, together with expert advice to inform your selection.
Kitchen ceiling lighting ideas
It's worth considering kitchen lighting ideas that are recessed and surface, as well as pendants and chandeliers. Bear in mind that different kitchen ceiling lighting ideas can be combined to fabulous effect, with can lights a subtle source of illumination, and pendants or chandeliers creating a show-stopping element of the overall design as well as helping to give the room structure.
1. Clear view
How to choose kitchen lighting – especially if you're looking to make a subtle impact? Pendant lights should be your go-to as kitchen ceiling lighting but if you want to allow a view through the room, follow the lead of this design from Karen B Wolf Interiors and use a design with glass shades.
As part of an open kitchen with an eating area with a relaxed, rustic vibe and a modern kitchen, the elegant designs from Regina Andrew help keep the room feeling open and airy.
2. Let kitchen ceiling lights fulfill different functions
Kitchen ceiling lights can do more than provide a room's background lighting. 'The LED recessed downlights provide a variety of lighting options from ambient and task lighting or a combination of the two,' explains Craig Matson, managing director at Roundhouse, of this kitchen.
This most subtle of modern kitchen lighting ideas can perform a third service, too. 'There are also recessed spotlights in the furniture to highlight objets d'art on the box shelving and crockery in the tall bifold dresser unit,' he adds.
3. Use kitchen lighting to accentuate a high ceiling
Embrace kitchen lighting trends by choosing fittings for added drama. In a room with a high ceiling, consider kitchen ceiling lighting ideas that draw attention to the room's grand proportions. In this lofty space, the two pendants hung over the peninsular cabinets lead the eye upwards to appreciate the ceiling height – a role that the recessed lights don't perform.
The design ensures they stand out. The shades are framed by the cabinets behind and the dark cables also have presence in the space.
4. Mix it up
Knowing how to plan kitchen lighting properly is vital – particularly if you are choosing a more intricate design, as above. There's no reason why kitchen ceiling lighting ideas shouldn't embrace a more playful approach – however we would recommend you seek the advice of a lighting professional who can tell you how much light a kitchen needs – and how to get the balance right.
Here, the pendants make an eye-catching feature because they don't match. The key to aesthetic success, though, is that they should have elements in common such as style – like these appealing retro designs – material, color palette and scale. Think about their scale in relation to the kitchen as well as to each other. These are petite in their proportions so they don't overfill the space.
5. Choose a statement feature
Go bold and beautiful with a statement ceiling light in the kitchen. Kitchen island lighting ideas that are decorative as well as functional should always be considered for a room that's designed for entertaining in addition to being a cooking space.
A statement pendant doesn't have to provide all the room's background lighting and can be supplemented with recessed lights to provide all-over illumination for the room. However, like recessed lights, it could be a good strategy if it's dimmable so the light level can be lowered for dining.
6. Repeat the lines of cabinetry
Looking for small kitchen lighting ideas? Subtle efficiency is key – and one way you can achieve this is to complement cabinetry with sleek modern lines with a kitchen ceiling light with the same aesthetic. This contemporary ceiling light complements the minimalist style kitchen cabinetry and linear handles in this kitchen from Harvey Jones for a cohesive finish.
The contrast with the white cabinetry means the slim light remains eye catching, while its color also ties it to the counter on the island below.
7. Zone with ceiling lighting
Ceiling lighting can assist in making different areas of a kitchen distinct, whether that's an island, seating, or a dining table. Here, it's the island with the light echoing its shape creating contemporary style.
'A larger statement hanging light is the perfect option as it can act as both task and ambient lighting, especially when placed above a kitchen island,' says David Amos, CEO at Amos Lighting. 'Flat rectangular panel luminaries are particularly popular and can be dimmed down to create more of a relaxed atmosphere for socializing or preparing food.'
8. Fall for track lighting
Track lighting can be a versatile solution for a kitchen. These types of lights can provide background illumination for the whole room but, because the individual lights on the track can be directed, they can also provide task lighting for counters if they're positioned to avoid casting shadows as you work.
Track lighting could add an industrial twist to a kitchen design, complementing other metallic finishes and woods left with a natural and time-worn finish.
In this kitchen, the track lights are combined with linear pendant lights of the same style for a pulled-together effect.
9. Consider surface-mount designs
Looking for fashion-forward kitchen ceiling lighting ideas? Think about incorporating surface-mount lighting.
'The surface-mount lighting in this kitchen is a trendier version of traditional can lighting and adds visual interest to the ceiling with its subtle cream color and design, but at the same time doesn't distract,' says Eddie Maestri, AIA, founder of Texas based Maestri Studio.
10. Bring sound as well as light
Keep a kitchen looking streamlined by opting for kitchen ceiling lighting that can do double duty. The Lumisonic design from Zuma used in this kitchen is both a low energy LED light and an ultra-compact speaker, which avoids the visual clutter of speakers positioned elsewhere in the room or the need to fit speakers along with lights in the ceiling. With the design overhead, the result is a canopy of sound and light.
What are the best lights for a kitchen ceiling?
The best lights for a kitchen ceiling will complement the style of the room, as well as its proportions – and even the kitchen wall lighting ideas. Recessed can lights are a sleek, contemporary choice and can be ideal for rooms that need a lot of lights as they're subtle. They can also be a good choice in a room with a low ceiling.
You might consider using these recessed lights as the only ceiling lights, but they can also be combined with pendant lights over an island or dining table, for example. Including these or chandeliers offers the opportunity to add an attention-grabbing feature. If you take this route, ensure the lights can be operated independently. 'Perimeter lighting should be separated from the centre,' says Piero De Marchis, director, Detail Lighting. 'Have the island or a dining table on its own circuit to change the mood.'
Consider surface-mount lights as an alternative to can lights. They'll create more of a feature and add decorative interest to the room, and installation is generally easier. Alternatively, select track lights, which can be directed to avoid shadows.
How bright should a kitchen ceiling light be?
To choose kitchen ceiling lights that are bright enough for your room work calculate its size in square feet. A kitchen needs 30 to 40 foot candles (a unit of light intensity) per square foot, so multiply the room's size by these two figures for an indication of the lumen range needed. Why lumens? Light bulbs are measure in lumens, so with the lumen range calculated you can then choose the ceiling light(s).
Bear in mind that if you have dark walls or cabinetry, you may need to increase the number of lumens as the surfaces will absorb light. Remember, too, that you might not always want maximum brightness from kitchen ceiling lighting. It's therefore always worth installing dimmer switches so you can change the ambience of the room depending on whether you're cooking or dining.
Sign up to the Homes & Gardens newsletter
Decor Ideas. Project Inspiration. Expert Advice. Delivered to your inbox.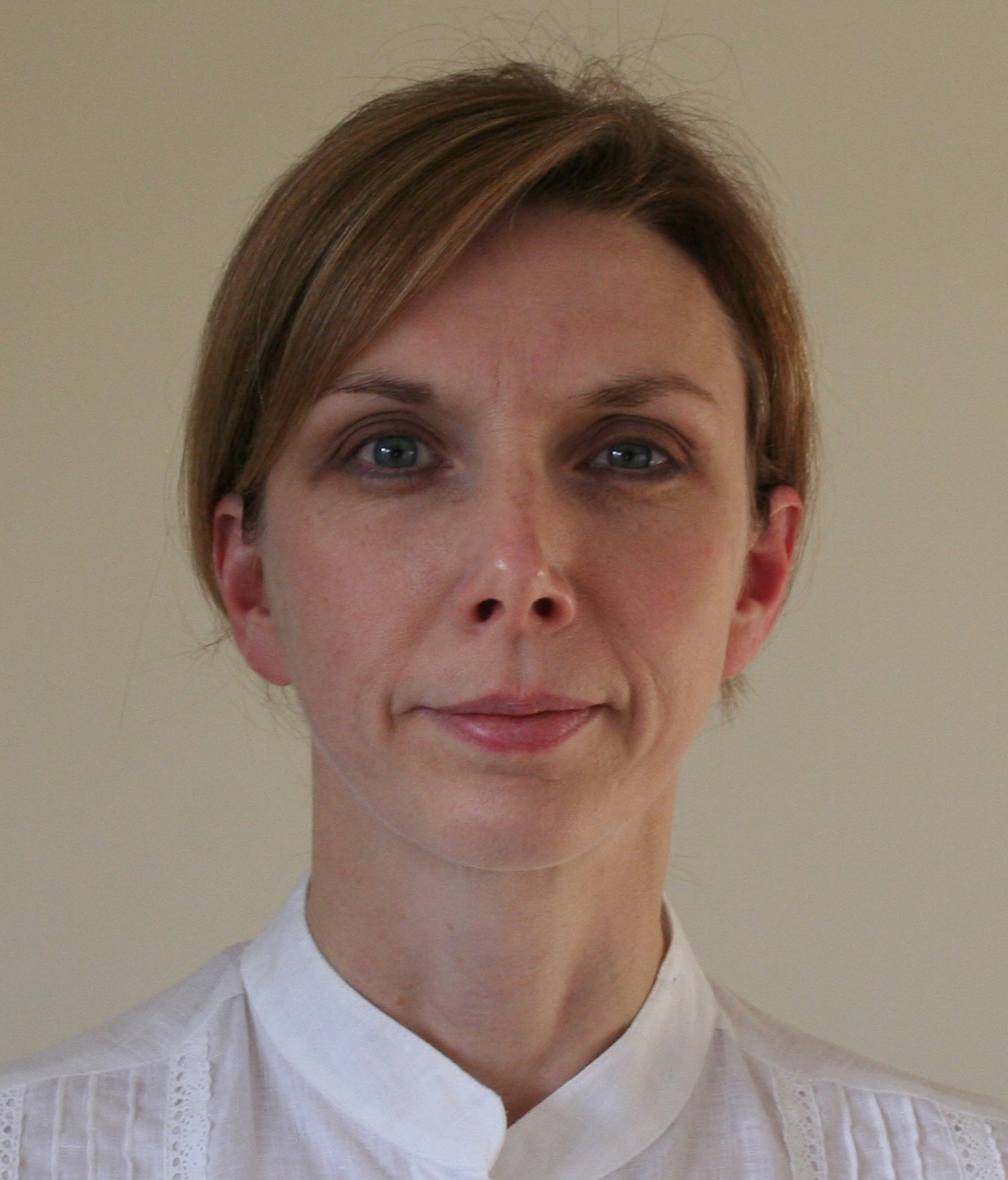 Sarah is a freelance journalist and editor. Previously executive editor of Ideal Home, she's specialized in interiors, property and gardens for over 20 years, and covers interior design, house design, gardens, and cleaning and organizing a home for H&G. She's written for websites, including Houzz, Channel 4's flagship website, 4Homes, and Future's T3; national newspapers, including The Guardian; and magazines including Future's Country Homes & Interiors, Homebuilding & Renovating, Period Living, and Style at Home, as well as House Beautiful, Good Homes, Grand Designs, Homes & Antiques, LandLove and The English Home among others. It's no big surprise that she likes to put what she writes about into practice, and is a serial house renovator.