Lighting ideas for small kitchens — ways to brighten up a dark room
These lighting ideas for small kitchens are perfect for brightening dark spaces — and even making them feel bigger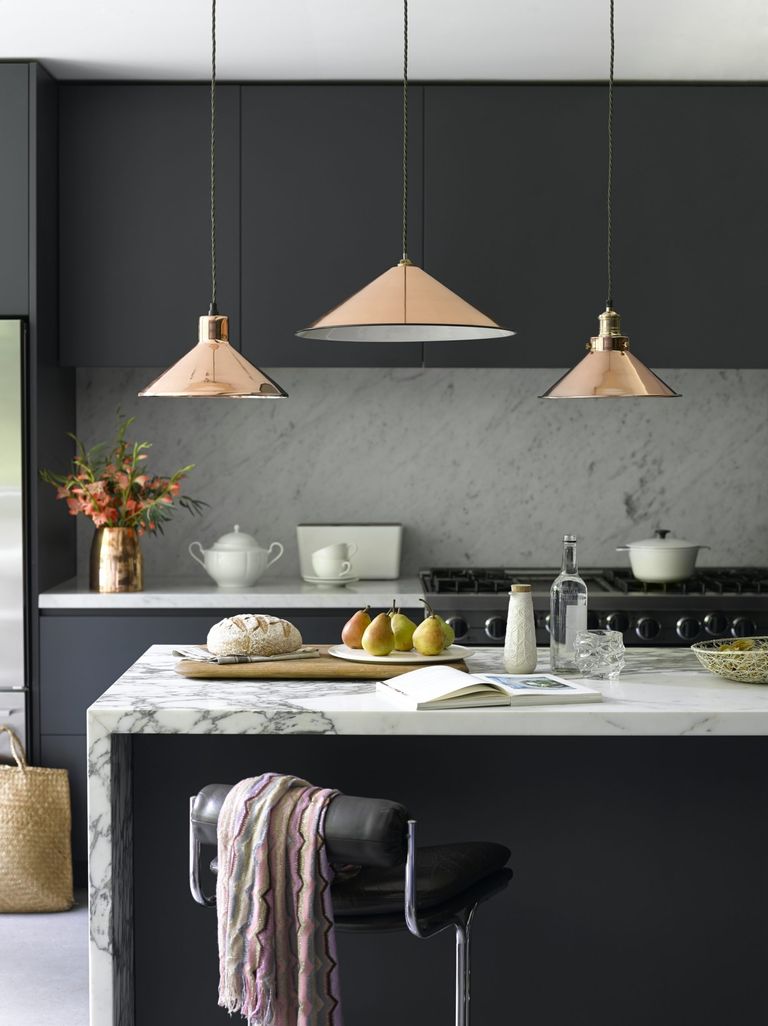 (Image credit: Pooky)
If you are looking for lighting ideas for small kitchens, a few spots in the ceiling just won't cut it.
Well-planned, hardworking kitchen lighting ideas and designs can make the difference between a comfortable, beautifully illuminated room and a dark and unwelcoming space. Well considered, it will completely change your space from something ordinary into something exceptional.
'Task lighting is especially important in a small space, so ensure you consider where you position it. There is nothing worse than being in one's own shadow, so err on more rather than less,' says Oli Moss, designer at Roundhouse Furniture.
To create a sophisticated and efficient scheme in a smaller or confined kitchen or in one with little or no natural light, it's vital to plan kitchen lighting and where best it should sit right at the start of the process, as well as where to put your appliances and cabinetry.
'Consider not just your light fittings, but how you use them. Try using wall rather than table lights in small rooms to avoid cluttered surfaces,' suggests Peter Bowles, founder and Managing Director at Original BTC.
Here are some different lighting ideas for small kitchens to consider for a compact space...
LIGHTING IDEAS FOR SMALL KITCHENS 
1. Embrace the dark
Just because your kitchen is compact, doesn't mean you can't go dark on the walls and cabinets. Deeper shades such as emerald green and navy blue are still a popular choice for kitchen cabinetry and walls.
In you have a small kitchen, you just have to make your lighting work that much harder. Pairing traditional Victorian architectural paint shades with industrial-style wall and pendant lighting, like in this kitchen by deVol, will provide areas that need task lighting, such as worktops and around the hob with an on-trend boost.
2. Look up
Make the most of what you have by adding modern kitchen lighting such as spotlights below and above wall cupboards.
'This is especially true if, as with many period properties or those renovated from former industrial spaces, you are blessed with generous ceiling height. By judiciously positioning lights on top of kitchen units, for example, you can reflect extra mood lighting to the room from the ceiling, while adding atmosphere and highlighting features, such as coving and moulded plasterwork,' says Jane Stewart, design director, Mowlem.
'Then, consider adding large decorative mirrors wherever you have suitable wall space.'
3. Light your task
Incorporating task lighting into small kitchen layouts is essential to ensure you can see what you're doing, particularly above hobs and ovens. While not being able to see clearly could not just be inconvenient; it could be dangerous, too.
Ceiling spots can sometimes mean you end up standing in your own shadow, particularly in a compact space, so a hard-working extractor with great lighting built in, like this one by Falmec, is a choice worth making.
4. Get the balance right
'Strategically planning lighting is essential in small spaces, especially if you have limited natural light. Task lights and pendants work particularly well above countertops, to illuminate preparation areas. But consider integrating lighting with dimmers throughout the rest of the space to allow you to adjust the light depending on the time of day and whether you are entertaining,' advises Ben Burbidge, Managing Director at Kitchen Makers.
5. Make it a trio
When it comes to kitchen island lighting, use the interior design rule of three. Mix it up in a compact space by combining pendant shades in the same finish but with different sizes and shapes. This will add interest and create varying pools of light over an island or dining table. These lights are by Pooky.
6. Light from beneath
Circular under cupboard spot lights or LED strip lights will bring gentle illumination in hard-working prep areas, particularly when they're reflecting off high-gloss stone or composite countertops. If you need more light on the base cupboards but you're not a fan of kickboard lighting, including a wine cooler that features a softly lit interior will help show off your collection.
This kitchen is by Harvey Jones.
7. Get on the shelf
Open kitchen shelving is a popular in both traditional and modern schemes. It can help to provide extra light, as shown here in this scheme from John Cullen Lighting. 'In a small kitchen, if one side has cabinets and one side shelves, make sure each of the shelves are lit.'
'If any cupboards are glazed, do light them from within as both these elements add depth, creating a greater feeling of space,' advises Sally Storey, Creative Director at John Cullen.
8. Incorporate an industrial style
Kitchen wall lighting ideas, such as factory-style task lighting, are the perfect accompaniment to a scheme featuring vintage-style white metro tiles and open shelving. In smaller kitchen spaces opt for a petite wall-mounted version that can be directed to shine a warming light on shelving and worktops.
'The best lighting ideas for small kitchens are those that combine many types of light in a layered approach. This will create little pockets and pools of light giving a calming atmosphere,' advises Marketa Rypacek, Managing Director, Industville.
9. Go for glass
Glass pendants, particularly smoked and ribbed styles, are seeing a huge resurgence in our interiors and particularly in kitchen lighting design. Their iridescence and light-reflecting properties bring a warming atmosphere to any kitchen, particularly when placed in pairs over small kitchen islands or dining tables.
'A large, centralized ceiling fitting, such as a chandelier or set of pendants, will create an even layer of ambient task lighting and allow for a beautiful statement feature in the room; ideally these fixtures should be positioned over an island or tabletop to help bring focus.'
'Be careful with kitchens with lower ceilings, as anything hanging too low could dominate and disrupt the space,' advises Chris Jordan, managing director at Christopher Wray.
10. Light up inside
When it comes to lighting ideas for small kitchens, think inside the box - or cabinet rather: 'Go for task lighting under wall cabinets and even inside cupboards, opting for either circular LED spots or strip lighting,' says Oli Moss, Roundhouse designer. 
A beautifully built, bespoke breakfast station with bifold-doors will benefit from interior lighting to help you prepare the most important meal of the day, particularly in the winter when mornings are darker. 
What type of lighting is best in a small kitchen?
A dark room with little natural light will benefit from a lighting scheme that not only includes ceiling spots but lighting around kick plates, under cabinets and an adjustable-height pendant if there's room. Try to use dimmers if you can and put the lights on separate circuits so you can change the mood at the flick of a switch.
What are the latest trends in kitchen lighting?
Ribbed and smoked glass are both big favorites right now, with pendant lights being the best way to show them off. Industrial-look domed metal light shades have been popular for a while but this has now expanded to include not just opaline wall lights and pendants but anglepoise-style factory lights for walls, too.
How do I add more light to my kitchen?
As a general rule, using lighter colors for walls, floors and for cabinetry will help to open up a smaller space. However, that doesn't mean you have to swerve dark cabinetry if you hanker for a design that's a touch more maximalist, it just means you'll have to be a little cleverer with your lighting ideas.
Reflective surfaces, such as high gloss cabinetry, worktops and flooring are great kitchen ideas, as they will help to bounce light around a room. But the trend for matte surfaces doesn't necessarily preclude their use in a small kitchen with little natural light.
Just keep those materials below eye level and keep the walls free of bulky light-reducing cabinets by employing open shelving instead. If you must have wall cabinets because of space constraints, give them glass fronts.