How to choose the right kitchen island size – everything you need to know
Learn how to choose the perfect kitchen island size for your space, with help from this invaluable guide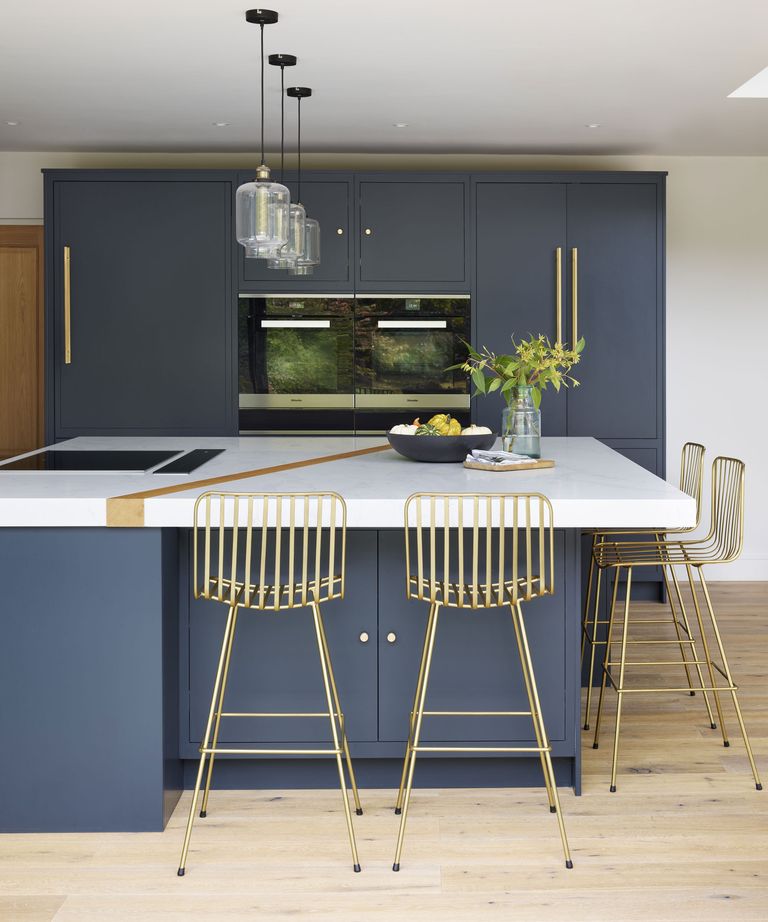 (Image credit: Harvey Jones)
Many people wonder how to get their kitchen island size right. With our kitchens now bigger than ever, an island unit has become an essential for creating a great working layout and an effective boundary between working kitchen and social space.
When it comes to any kitchen ideas, proportion is key, with dimensions dictated by the room size and layout. A long run of units calls for a long, parallel island that mimics the classic double galley layout, while a squarer room is better served by an L- or U-shaped layout, perhaps utilising square or round kitchen island ideas at its center.
Consider what you want your island for when considering its size. Is it for cooking, storage or just an extra prep and seating area? Size isn't everything – even the smallest kitchen island size can have super storage, with pan drawers, spice racks, shelves for cookbooks and the slimmest of wine chillers.
Tom Howley, Design Director at Tom Howley sees the island as instrumental to modern kitchen living: 'It can be the homework base, a relaxed office space and a home bar. A wide island counter or baker's table will provide a generous and welcoming gathering place, especially when lined with textural barstools or other kitchen island seating ideas.'
What is the best kitchen island size?
The best size for your kitchen island really depends on the size of your kitchen as a whole and whether you want to incorporate dining or breakfast bar ideas.
However, ideally you need to factor in a gap of at least 1m/3ft between the edges of the island and the next piece of furniture, whether that be the kitchen units opposite or a dining chair.
As a guide, the minimum kitchen island size should be no smaller than 4ft long by 2ft deep.
What is the average kitchen island size?
Every room is different, but it's good to think in terms of standard cabinetry sizes as a starting point when designing a kitchen island – even with bespoke cabinetry, which can ultimately be any size.
A standard single unit is 600mm wide x 600mm deep, giving the option to set in a sink, hob and/or dishwasher, so even a small island of three units can be highly practical.
All kitchen companies offer a wider choice of sizes, ranging from 300, 400 and 450mm narrow units to 750, 800 and 900mm wider options, so compare combinations to make the best of your space.
What is the standard width of a kitchen island?
Using standard units as a measure, a long, narrow island would be 600mm deep, plus a little extra for the worktop overhang. If you wanted to back this with a seating area, add at least an extra 300mm for stowing stools and giving adequate leg room.
'Stools must be the right height for the breakfast bar, comfortable, and able to withstand the daily grind,' advises Fabiana Scavolini, CEO of Scavolini.
'Adjustable-height stools are perfect if children will be using the island,' she continues. 'High-backed stools that offer full support are a good idea if the area will be used a lot for dining.'
How wide can you go with kitchen island size?
Square islands may stretch to 1200mm wide if you are looking to pack your island with kitchen storage ideas and functionality, but don't go too far.
'Wide islands make a big impact, but they're not very practical,' warns Matt Baker, kitchen designer at Harvey Jones. 'You need to be able to reach the middle, so try to keep it no deeper than 1400mm front to back.'
When considering kitchen island size in small kitchens, 450mm deep cupboards plus overhang still give good usable storage and prep space.
How much space do you need between an island and a counter?
A decent amount of space all round is a must for opening doors and drawers, and to move freely and safely.
'The desired amount of room is around 1200mm between fitted cabinetry and the island,' says Graeme Smith, head of retail and commercial design at Life Kitchens. 'But bear in mind that extra floor space may be needed around areas such as the hob that typically experience high-traffic.'
What if there really isn't the space for one?
'A kitchen island is almost a deal-breaker for some customers,' adds David Roy, country manager of Schmidt UK. 'Where they simply do not fit, we try to incorporate a peninsula with a breakfast bar to give the same spacious feel.'


Where should a kitchen island be placed?
A kitchen island should be planned as part of an overall scheme, to ensure optimum functionality and also take into account sight lines – what the island looks like in the space from all angles, as well as the view from the island. It is also important to factor in kitchen island lighting at the planning stage.
Any other considerations when thinking about kitchen island size?
Flow is also an important consideration when it comes to kitchen island size – an island is a great way to guide traffic around hotspots such as the oven and hob.
Think about how you use the overall kitchen space and any natural pathways between doorways. This is when curved designs can smooth the path or an island set at an angle can be a useful steer.
A portable kitchen island can be a good option if you need flexibility. 'It can be valuable to those who need furniture to act as a preparation-based room divider during the day, and pushed aside at night to make way for entertaining,' adds Graeme Smith of Life Kitchens.